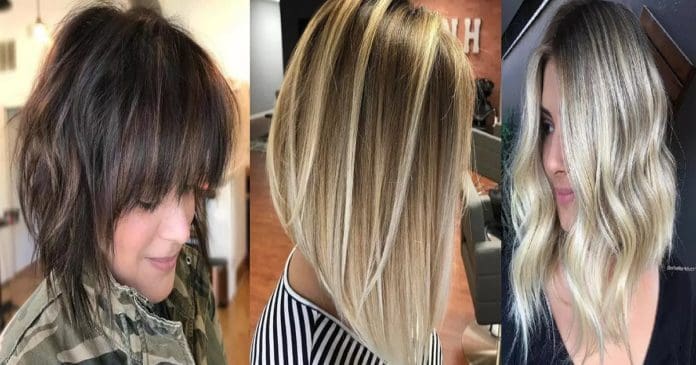 Medium bob hairstyles are classic and classy. They can look very different depending on your cut and the way of styling. Wavy and straight, shaggy and sleek, asymmetrical and symmetrical bobs offer you the modern look, diversity and convenience you want from a hairstyle. Check our gallery of 18 mid-length bobs and 18 angled bob haircuts and pick the most appealing versions to try!
The Most Inspiring Angled Bob Haircuts
Angled bobs are the most versatile of all haircuts. You can wear it straight or wavy, style updos or half up hairstyles. Here are the best haircut ideas for you.
Medium Bob Hairstyles
You'll  also see many messy, natural-looking bobs in our selection, but there are also a couple of straight, polished varieties on our list, because they are classics.
#1: Blonde Contouring
Source
Short angled hairstyles boast of beautiful shapes that can be enhanced by color. The layered locks of this asymmetrical brunette bob are grazed with golden blonde strokes, with the emphasis on the angled front piece.
#2: Medium Golden Bob
When it comes to angled bob hairstyles, pictures of the side view are the most inspiring. This set of medium curls is angled down over the shoulder, creating a longer look in the front.
Source
#3: Twisted Sister Chop
This medium, shoulder length style is simple, yet oh-so-eye-catching! Angled with longer layers towards the front and stacked in the back, this bob can be created using large rollers or simple twists of the curling iron. Then simply spritz and go!
Source
#4: Wavy Pastel Pink Bob
A baby pink hue combined with wavy curls balances the edge of the angled hairdo with a feminine sensibility. Unicorn-worthy shades are the way to go if you are trying to show off your sweet side.
Instagram / @camouflageandbalayage
#5: Purple-Pink Asymmetrical Bob
Beautiful shades of magenta and violet enliven this sleek angled bob. The subtle, gradient dye job creates a serious visual interest, with the darker, stacked back enhancing the depth and drama of the asymmetrical cut.
Instagram / @venalove
#6: Blonde Balayage Bob
Brighten your brown bob with a subtle balayage. The cool blonde highlights amp up the chic-factor of the chin-length coif, while the loose waves complete its effortless appeal.
Instagram / @hairbyjustineb
#7: Choppy Blonde Hairstyle
Angled cuts by nature give an illusion of volume to fine strands. When your hairdo is choppy and layered, it enhances the fullness even more. Another perk—you don't have to worry about the layers being neat and kept, because the frizz only complements the cool style.
Instagram / @karahurston
#8: Platinum Blonde Bob with Pink Highlights
Platinum blonde is certainly eye-catching, especially on angled bob haircuts. If you want to make a statement, team the bleached tresses with pastel highlights and ample volume. Tease around the crown of the head with a fine toothcomb and use hairspray to recreate a bob with just as much height and volume as shown in the image.
Instagram / @headrushdesignsbyjulieann
#9: Brunette Medium Angled Bob
Just barely skimming the shoulders, this medium-length bob is a sophisticated choice that anyone could easily pull off. A deep side-part gives it a little extra drama, while still maintaining understated allure.
Instagram / @hairbyedwin
#10: Loose Curls and Bangs
Nothing is sweeter than curls and bangs, but a sultry brown palette can keep your angled cut from seeming too innocent. Frizzies and flyaways only make this bob better by enhancing its texture. If you're seeking a hairdo to match your laid-back personality, then this perfectly messy cut is for you.
Instagram / @___phine___
#11: Caramel Bob with Side Bangs
This angled bob with bangs makes a case for just how stunning a simple coif can be. A side-swept fringe is always a nice touch, especially if you have straight tresses. The haircut is low maintenance without skimping on style. Just give it a little fluff before you head out the door, and you're good to go.
Instagram / @ashdoescolor
#12: Jet Black Long Bob
With the angled front falling well below the collarbone, this lob is as sexy as it is sleek. The deep black hue enhances the mystique. You can opt for some highlights or color if you want to brighten up the hairdo, but the noir shade is essential if you want something that radiates polish and confidence.
Instagram / @hairbyedwin
#13: Voluptuous Balayage
Never underestimate the power of loose curls. Their mesmerizing texture transforms a would-be-blah coif into something full of volume and feminine style. A blonde balayage only accentuates its glamour and classic appeal.
Instagram / @rafaelbertolucci1
#14: Wavy Medium-Length Bob with Highlights
Angled bob hairstyles don't always have to rely on sharp and dramatic cuts to be modern and trendy, as shown in this picture and the other images. Only a little longer in the front than the back, it's a big enough difference to count. The slanting lines mixed with subtle layers give it volume, while highlights throughout enhance the appearance of depth.
Instagram / @soraverly
#15: Sharp Angled Black and Purple Bob
The jet black base against the vibrant violet highlights creates a punk-inspired 'do that transcends the trends. The sleek lines and fun colors are a timeless choice for someone trying to show off their edgier side, while still keeping the coif a little playful.
Instagram / @emilyandersonstyling
#16: Ashen Lilac Angled Bob
Classic cuts like wavy lobs are the perfect canvas for more adventurous colors. They pare back the fun color so that your hairstyle is a little more toned down for the office or class. Try a muted shade, like this subdued lilac, for a hairdo that spotlights your personality while still looking polished.
Instagram / @jamiekeikohair
#17: Black Beauty with a Stacked Bob
If you love the idea of a short cut, but can't bring yourself to chop off all your locks, why not compromise with a long angled bob. Hold onto your length with a longer front, and opt for a stacked back to get that desired ease that goes with short hair.
Instagram / @hairartbydominique
#18: Angled Haircut with Subtle Highlights
Sometimes a solid hue can feel a little flat, but high-contrast streaks might not be your style. If you want to enliven your look in a subtle way, get highlights that are a shade or two lighter than your base. This will give you that extra oomph you're craving.
Instagram / @headrushdesignsbyjulieann
#19: Textured Wavy Mid-Length Cut
Source
This bob is composed of a ton of cute flicks, aptly chopped, tousled and skillfully toned to look this amazing. Go for a textured choppy bob with the length at the nape and angled front pieces. With a quality haircut on thick hair, styling your mane will be a breeze.
#20: Tapered Auburn Bob
Medium bob hairstyles with a tapered silhouette work best for fine and medium textured straight hair. It's better to pair such a chic haircut with a rich monochromatic hair color and style with root volume. Lovely, classy and feminine!
Source
#21: Shaved Back Bob
Make your hair lightweight and gorgeous with a slightly layered bob that features a surprise – nape undercut. Being hidden under the top layer of hair, the undercut is ideal for women who want to thin out their hair or use an easy styling trick to keep their locks in place.
Source
#22: Blonde Balayage Bob with Soft Layers
Bob hairstyles are a great canvas to show off a balayage. Short and to the point, when the cut is paired with subtly-different shades of blonde, it exemplifies effortless style. Add in layers to enhance the dimension of your look. 
Instagram / @the_blondologist
#23: Messy Brunette Bob with Caramel Balayage
Play-up your shoulder-length bob with some loose curls. It will give your cut some texture while highlights brighten the dark strands. Tousle your hair with mousse for the perfectly fun-and-flirty appeal you crave.
Instagram / @lynziland
#24: Choppy Inverted Bronde Bob
Can't decide between blonde and brunette? Go for both with the bronde trend. Messy layers teamed with a stacked back will make the out-of-the-ordinary color even more special. It gives the bob some sass and class rolled into one.
Instagram / @styled_by_carolynn
#25: Classic Bob with Full Straight Bangs
Add a fringe to the bob hairstyle for a coif as sophisticated as it is stylish. Plus, full bangs help bring some additional volume to straight tresses while keeping the timeless cut, fresh.
Instagram / @sonia_hairstory
#26: Dimensional Blonde Balayage Lob
The beauty of medium bob hairstyles is how easily you can find and create new and exciting ways to make the iconic cut unique to you. Bring some visual interest to yours with an inverted cut and high-contrast balayage. The shape is not only cute, but also gives your bob more movement.
Instagram / @corynneylon_hair
#27: Blunt Cut Bob with Textured Layers
Give your bob cut some edge with crisp, blunt ends. Just because you have an accurate cut doesn't mean you can't still have layers, however. The different lengths will soften the boldness of the hairstyle and give it a modern finish.
Instagram / @fernthebarber
#28: Feminine Rosewood Bob with Caramel Balayage
Colored rosey, this bob cut exudes girly vibes while still staying classy. The color is subtle and enhanced with a natural caramel hue. You can feel free to experiment with different shades from the rainbow without it being too bold or loud.
Instagram / @msnataliejean
#29: Curly Mid-Length Hairdo
This swanky hairstyle would work for a more formal occasion, but it is still casual enough to be suitable for everyday. The defined curls add fullness to the mid-length 'do and show off the different brown highlights.
Source
#30: Finely Chopped Honey Blonde Bob
This medium-length bob mixes feminine waves with choppy layers to create a style that is edgy yet still elegant. It's a versatile haircut that you can easily dress up or down, for work or even a formal event.
Instagram / @johnnyramirez
#31: V-Cut and Razored Blonde Bob
Make your cute medium bob even cuter by teasing out your hair. This gives it body and texture, which straight hair often needs. Set it with hairspray, for all day volume.
Instagram / @erin.boha_hair
#32: Textured Medium Hairstyle
This textured above-the-shoulder haircut is the work of a pro. Mixing very dark and light hair colors can sometimes produce a chunky, striped effect, but that is not the case here. The different colors are distinct in the wavy bob but they melt together to produce one harmonious look thanks to the layering.
Source
#33: Wavy Shoulder Length Bob
Hair that falls just above the shoulders can benefit from some extra body. Use a large barrel curling iron to bring in some loose waves that accentuate highlights and frame your face. Pairing this style with bangs brings extra softness.
Instagram/ @kellymccormickhair
#34: Discreet Brown Bob for Fine Hair
Babylights subtly lift the color of this brunette bob. The hues melt seamlessly bringing dimensions to the straight and blunt bob. Layers and volume aren't the only ways to dial-up the wow-factor of your tresses.
Instagram / @manemisfit
#35: Voluminous Layers and Dark Roots
If you want to make a statement, go for a high-contrast palette. The stark difference between the deep roots and platinum ends of this medium bob haircut gives the style so much life. The fullness of the look further amplifies its sexy allure.
Instagram / @rochellegoldenhairstylist
#36: Shaggy Bob with Point-Cut Bangs
Bob cuts with layers and bangs are a go-to for women with naturally straight hair. Firstly, straightening bangs when you have curly hair is a pain. Second, pin straight tresses have a tendency to be fine and flat. Textured layers give your hair a boost of body.
Instagram / @erin.boha_hair