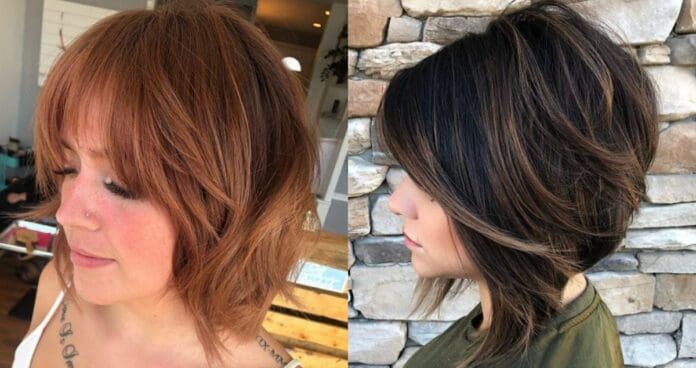 While many women think that a layered bob is a hairstyle that features some visible disconnection and shorter pieces in the back, the cut can be done in many ways using different techniques to create various effects. Some layered 'dos actually seem blunt, as they come with internal layers to deliver a seamless feel. And we have 40 photos here to show amazing looks you can get in order to help you find the right bob.
Bobs Classified by Hair Lengths
Although the bob emerged as a very short cut with the length no longer than the chin level, today we can choose from a variety of lengths, starting from an ear level and down to the shoulders. And for every length, there is a range of shapes and finishes to make the choice even wider. Feathered, shaggy, chunky, wavy or straight and sleek, those cuts look utterly gorgeous to emphasize the uniqueness of every girl.
Shoulder-Grazing Long Layered Bob
The long bob, often reduced to lob, is recognized by hair experts as the safest length for long-haired women, thinking of a big chop. If you are not sure which cut you can pull off, start with the classic lob – eventually, you can easily go shorter or longer, as well as adapt any flattering shape. "The best thing about the lob is that it becomes a haircut and a style," Jon Reyman, celeb hairstylist and Spoke & Weal salons owner, says to Refinery29, emphasizing its versatility and multiple styling options. A softly layered bob cut that hits the collarbone level will suit any face shape and hair type, while you can wear it wavy or messy in line with hot beach-y and bedhead trends. "Just make sure that whoever cuts it is able to manage your length and your density," adds Jon Reyman. Well, let's look at good cases in point.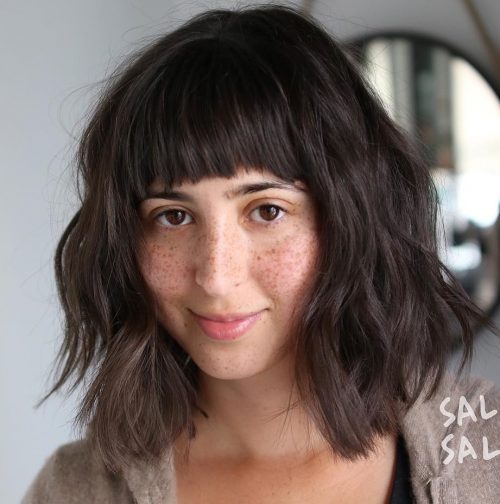 via @salsalhair
This gal rocks her long layered bob with bangs that are full and dense, yet handsomely chopped to add up to the sliced lengths.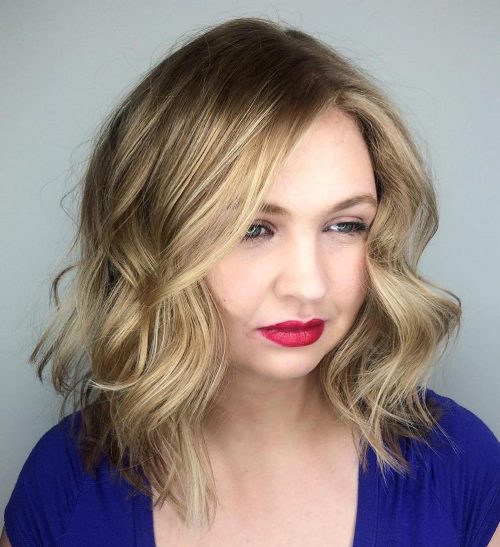 via @redbloomsalon
We know that angled cuts are good for round faces, and this lob has plenty of them along with the "right" below-the-chin length and an all natural balayage.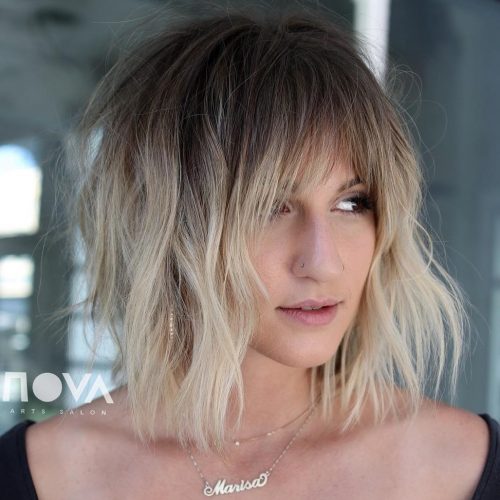 via @salsalhair
Your hair won't look thin if you have darker roots, while the big picture is still blonde. And these wispy bangs keep the scarcity behind the scene, too.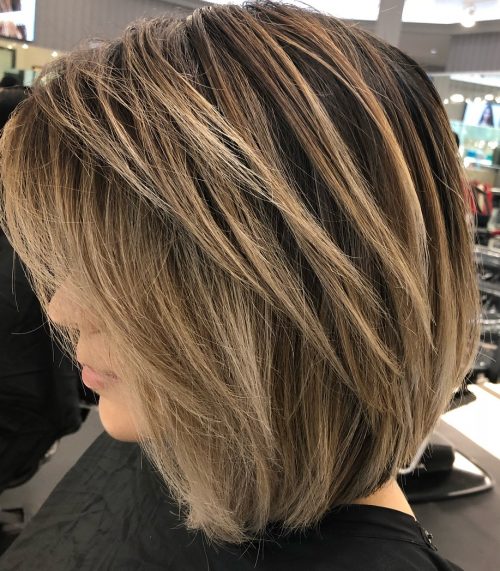 via @kathybundrick
Boasting tons of built-in volume, this thick mane gains lightness and movement thanks to added layers on top that resonate with a side fringe.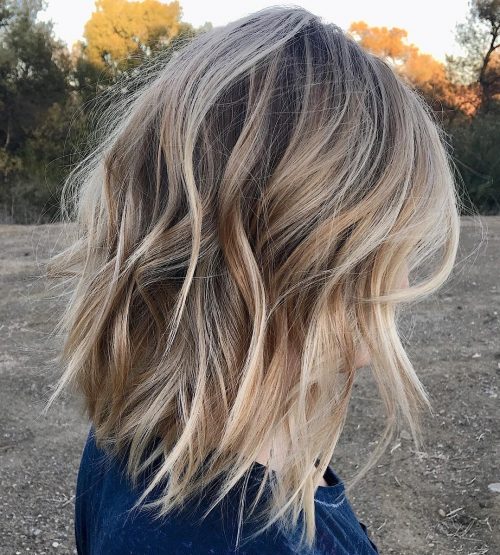 via @amrahkennedy
The trendy wavy lob is anything but flat due to the textured lengths, styled haphazardly to enhance movement and brightened up with a color transition.
Sassy Short Bobs
"So many girls I know are afraid to cut their hair because they think their styling options will be limited. It's NOT TRUE! Girls with short hair have just as much fun as mermaid-mane'd ladies," says Sunnie Brook, celeb hairstylist who does Elisabeth Moss's cut, in her blog and proves that the chin-length bob or even its shorter versions can be styled in a dozen ways. And you have no less options with layering, including hot hairstyles with shorter face-framing layers, choppy ends, beach-y waves and a slightly longer front. Explore our pick of short layered 'dos to get a better understanding of current trends.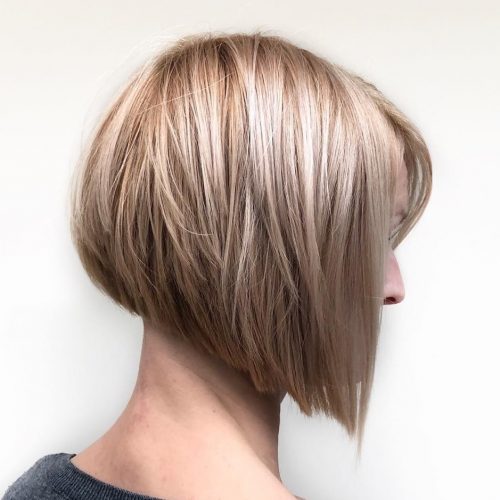 via @sanja_carica_karasman
This inverted bob boasts a clean shape with steep elongation to the front, but it's also seamlessly layered and textured for a fuller feel and vibe.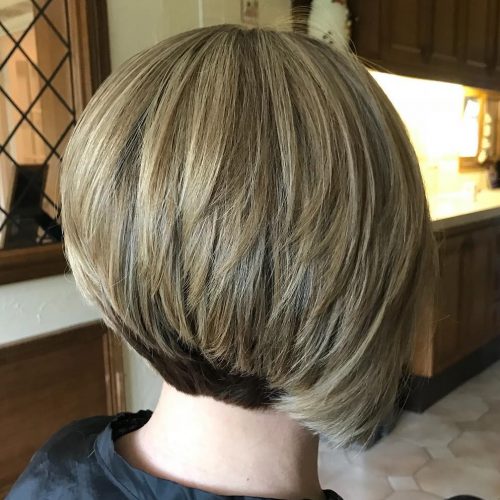 via @carlylouisehair
The stacked bob is a go-to option for those who want to get guaranteed dimension on the crown. A darker hue at the nape makes the cut even juicier.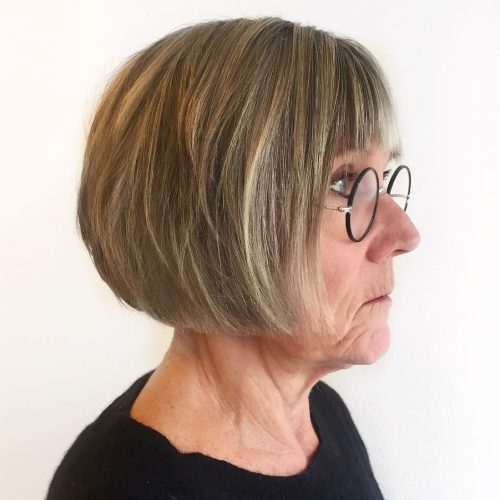 via @isabellemolina_stuhr
If you are over 60, it's a great idea to refresh your classic chin-length bob with a bit of layering and an edgy fringe.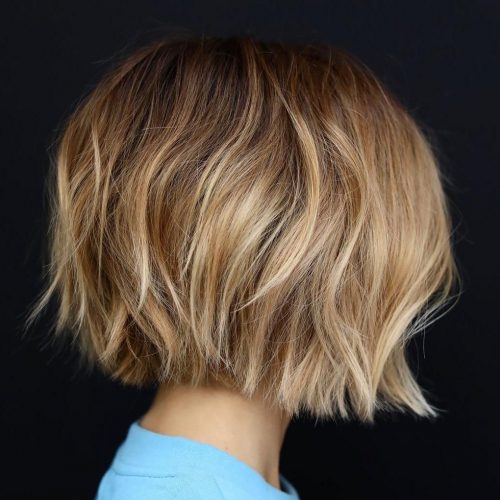 via @anhcotran
We adore choppy bobs, and this one is really cute with its lived-in color and one-length feel, while radiating texture through the razored ends.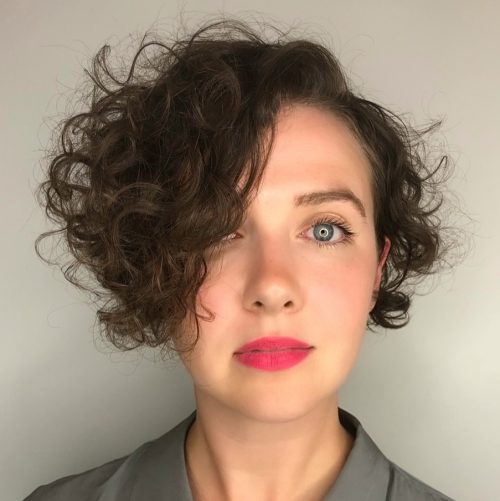 via @curlmaestro
And this curly hair is boosted by an ear-length bob with a side part and airy, bouncy curls, swooping across the face.
Comfy Medium Length Cuts
By a mid-length layered bob cut we usually mean any hairstyle that hits somewhere between the chin and shoulder. It's a nice choice for anyone who wants to frame the face and open the neck without sacrificing too much length. Medium bobs with layers allow for a blunt perimeter, an A-line shape, as well as for sleek and messy styling. Fashionable laidback waves are also doable, and you can get them easily when learning a trick. "For a loose, natural wave, twist big sections around a large curling iron, letting the hair slide out almost immediately," says Garren, hair guru and R+Co founder, to Allure.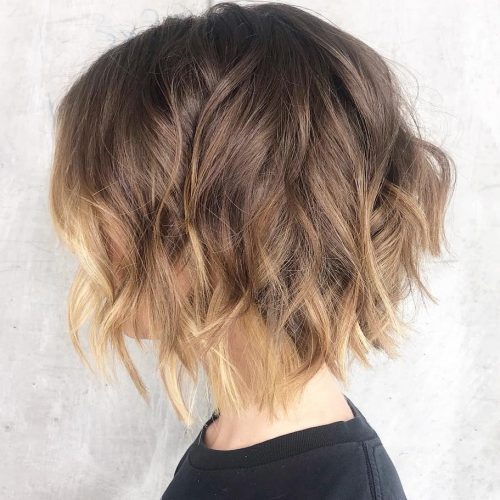 via @evolvehairstudiotoronto
When sliced for boosted texture and layered for a better lift, fine locks may seem scarce. This mix of light-brown and blonde brings in depth for a fuller feel.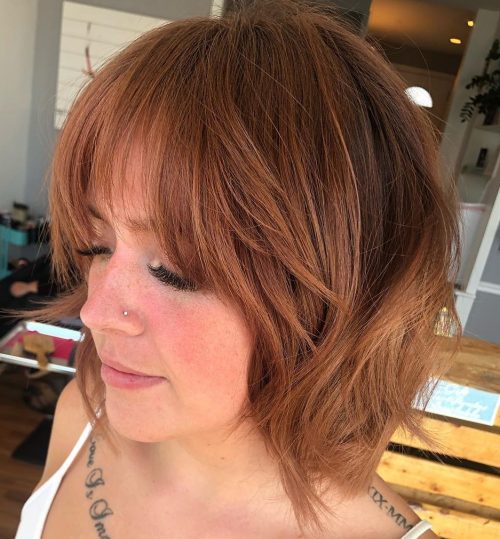 via @martyymcflyyy
The reddish bob comes with fringe that is reminiscent of the iconic Brigitte Bardot look with sexy bangs, getting longer to the temples and then blending with side locks.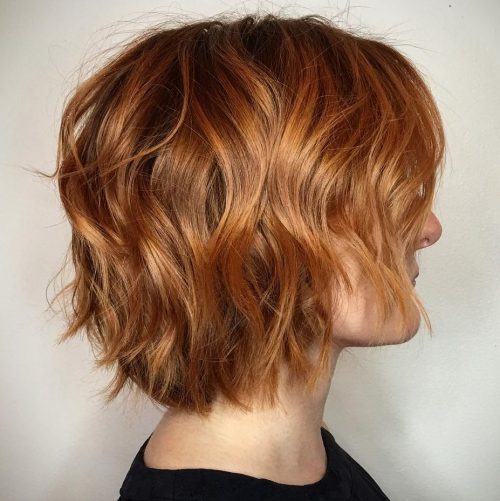 via @taylarpickettstyles
This A line cut delivers an on-trend bedhead look, while keeping the hair light and voluminous, also offering options for various styling.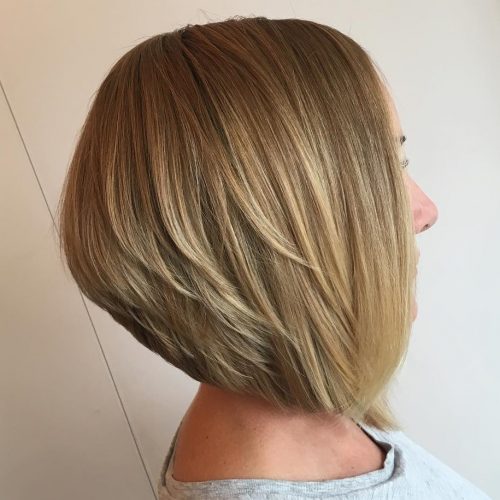 via @hairdresser_on_a_skateboard
But if you have straight hair, you can wear your angled bob with a sleeker styling – stacked layers in the back add dynamics anyway.
Tips on Layered Bob Haircuts for Different Hair Types
The key to getting a stylish bob haircut with layers is finding a good hairdresser. Seriously, you need to find a pro who can adopt the shape, length and layers to your hair type and styling abilities. Otherwise, you risk ending up with the ill-reputed triangle cut, old-fashion mullet hair or an over-graduated "mom" hairstyle. "I hate that look. It's got a bouffant crown and it's cut behind the ears. A lot of people with that cut over-style it and that's why it looks like a mom bob. A bob looks chic when it's not over-styled. A mom bob is not cut right. It's not personalized to the client," says Jeanie Syfu, who does Padma Lakshmi's hair, to Allure. Below, you will find a couple of bobs that are definitely personalized by texture and, thus, look anything but mom.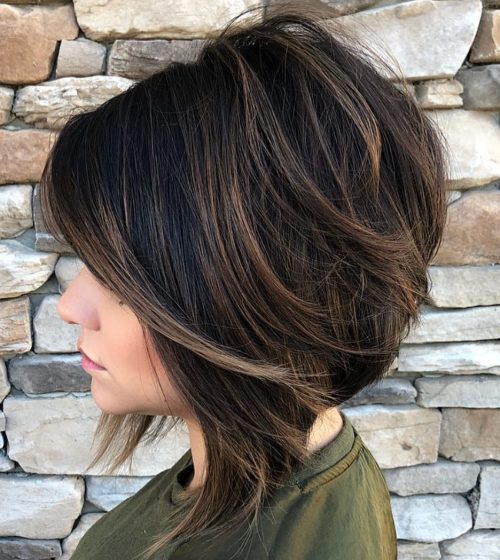 via @kendallxfire
These thick tresses are scenic thanks to the subtle blinks of highlights that serve to emphasize the movement of layered pieces.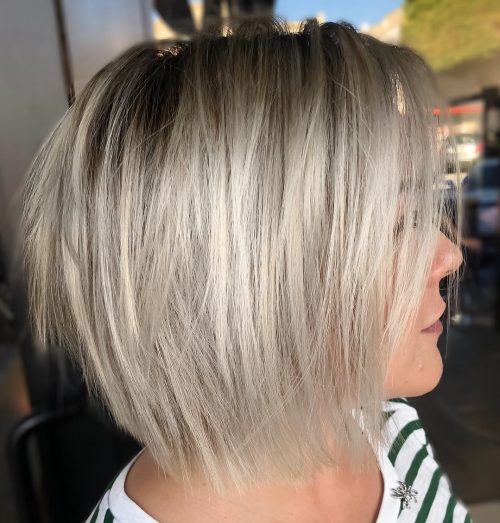 via @bri_claire_hair
Straight thin strands don't require a curling wand to look textured and voluminous, when they're skillfully razored and lifted at the roots.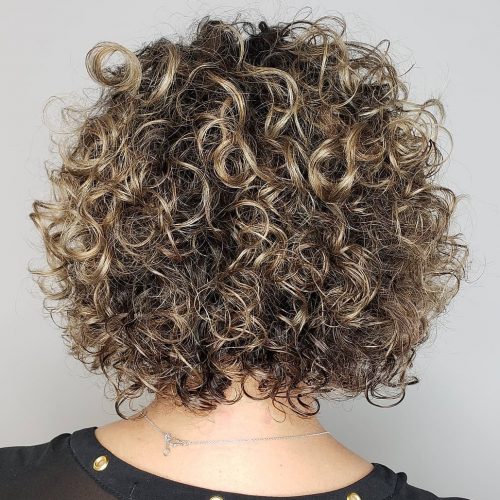 via @aadri.hair
Curly hair screams for layering to get a beautiful shape, while retaining its dimension. These ringlets have both plus some awesome bounce enhanced by highlights.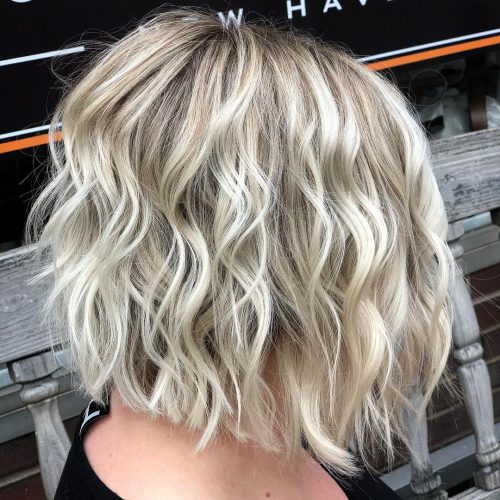 via @ladyeastrock
This wavy hairstyle features an accurate shape, slightly angled towards the front, which goes well with fine soft waves, creating a delicate look.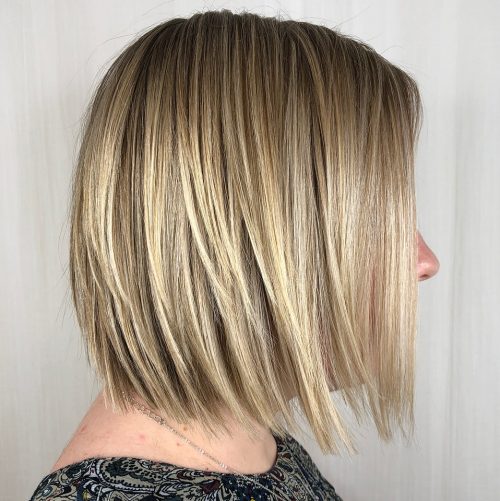 via @scottywilliamson
Here, fine straight tresses are handsomely layered to create a piece-y texture at the bottom and to keep the density on top.