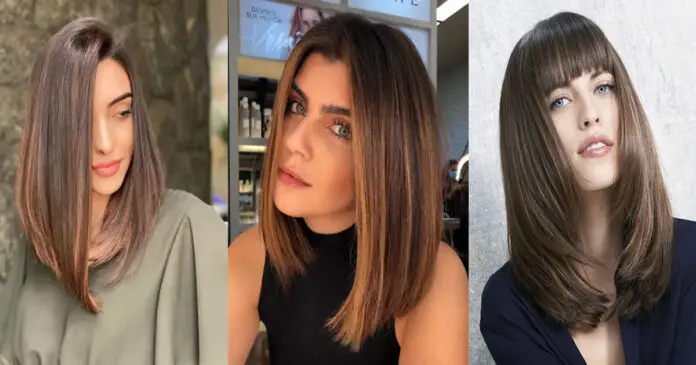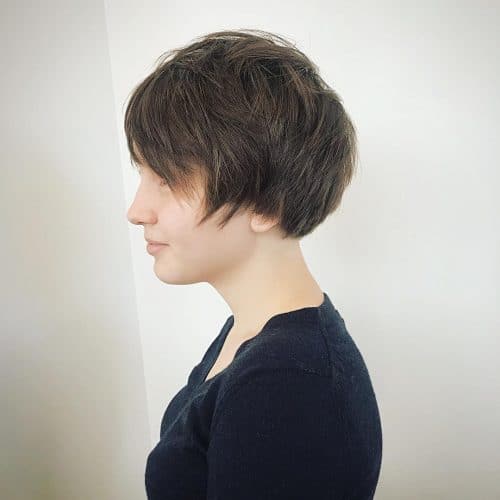 #1: Fun & Sassy
Achieving a more oval, neutral appearance is the goal of every face shape, and here the mission is to make a long face appear wider. Check out these short hairstyles for long faces that are perfectly flattering. How would you describe this look? I love this look because it is fun and sassy. You can play with different ways of styling. This client has been growing hair out from a short pixie haircut. It just goes to show, growing your hair out can be a fun experience and an experiment to test out styles that you may not have normally gravitated towards. I love that she came in all frumpy and defeated with a mullet in the back from growing it to leaving super pleased and ready to grow it out longer without giving up. Any advice for someone considering it? This style is great for someone growing out their hair because it gives the top layers a chance to catch up to the perimeter length. Plus, it's a super quick style if your hair is straight. A simple power dry and some wax to give it some direction and texture will do. This length might not be as exciting with wavier hair unless they are already used to styling their hair every day.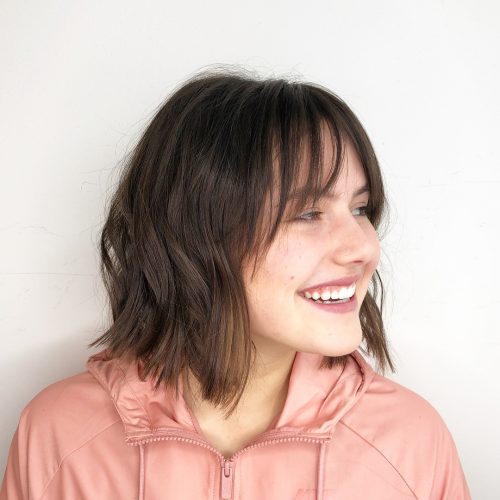 #2: Care Free
How would you describe this look? This look feels so carefree. The bangs add such a playful element to the bluntness of the bob. Any advice for someone considering it? Since the length of the bob is short and it frames the jaw, we didn't want to make the bangs heavy or covering all of the forehead. The light bang that leaves a triangle on her brow helps keep the face long. Just be aware that doing a heavy bang with this length of hair can make some faces look very round!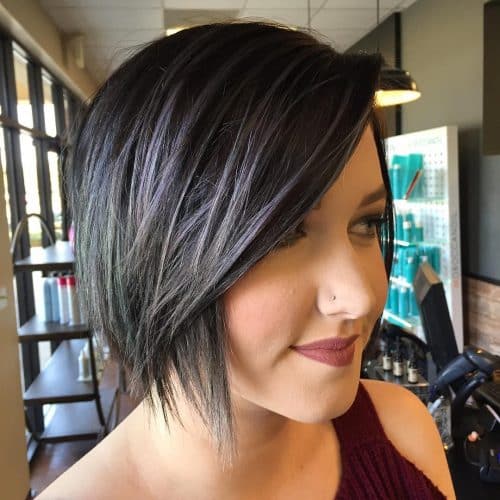 #3: Classic Textured Inverted Bob
How would you describe this look? This haircut is called a textured, short inverted bob. It is a classic cut that I made edgy by removing weight and texturizing. I love this cut because of its versatility. It can be worn in many different ways to show off your personal style. Any advice for someone considering it? This cut is great for wavy to straight hair textures. It's best to use a large round brush to blow out, then use a flat iron to straighten the ends. If you don't want to bring attention to your jawline then this cut isn't for you. Or just ask your stylist to have your inversion fall an inch below your jawline.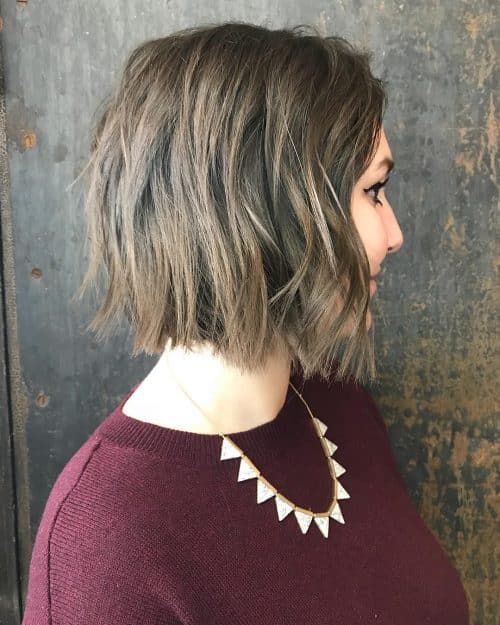 #4: Triangular Bob
How would you describe this look? This is a triangular bob (slight angle forward) with minimal layering and tons of texture for a relaxed appearance. My favorite thing about this style is the effortlessly messy vibe, the minimal maintenance, and effort it requires clients to achieve it, and its ability to translate into something suitable for many lifestyles and ages. Any advice for someone considering it? I think a lot of people hesitate to ask for a bob because that can mean a million different things. For a client looking to do something like this, ask your stylist about suitability as far as whether you're looking for something more even, more angled, or with more weight built up toward the back. These little differences allow a bob to work for all sorts of face shapes and head shapes. A lot of the layered effect comes with styling and having texture cut into it, not tons of actual layers. If you have fine hair, less layering and texture will lend itself to an overall fuller look. For thicker hair, a soft undercut and multiple methods of texturizing are required to accomplish the piece-y bits on the ends. 99% of the time I refuse to use texturizing shears. Regular shears allow for more customization to the texture and help prevent over texturizing. The beauty of this particular beachy tousled style is that it can be achieved fairly quickly and with a variety of tools. You could curl using a wand, curling iron, or flat iron. The technique requires practice and you need a good texture spray. I love Unite Texturiza or AG High and Dry. The combination of shaking out the waves and using a product not only makes them look more relaxed but helps it last all day.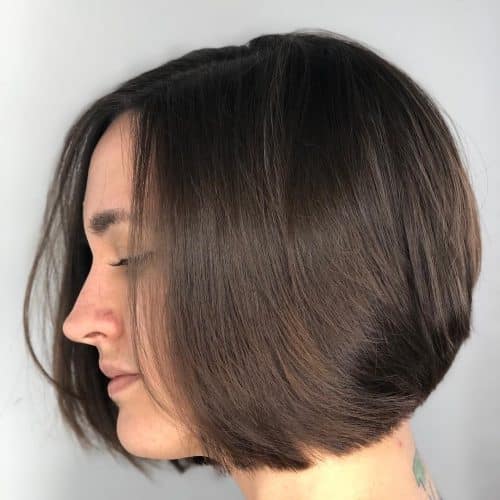 #5: Sleek Yet Edgy
Would you describe this look? This style is the perfect, classic bob constructed with clean lines and precise angles. This keeps the look sleek while giving it a bit of edge. My favorite thing about a bob is that it is timeless and truly a fashion staple. The wearer immediately exudes an air of confidence and femininity. Any advice for someone considering it? To style this look, I applied Kevin Murphy's Body.Builder to damp hair and worked the product from roots through to the ends. This gives a bit of root lift while ensuring that the hair shaft and ends remain smooth. I blow dried using a small to medium round brush starting at the nape area and continued with small sections moving upwards. To finish, I spritzed the hair with a bit of Kevin Murphy's Bedroom.Hair to add weightless texture and movement. The bob is an extremely versatile haircut and can be flattering on a multitude of hair types and face shapes. It is especially a game changer for fine hair, easily making it appear twice as full. A bob works beautiful for curly girls, although it is important to consider the amount of spring in curly hair in order to maintain the proper amount of length. Virtually everyone looks great in a lob. A lob is super forgiving and the added length is a bonus for those who need the ability to put their hair back. The options for this cut are endless as there are tons of minor adjustments that can be made in order for every client to find her perfect bob!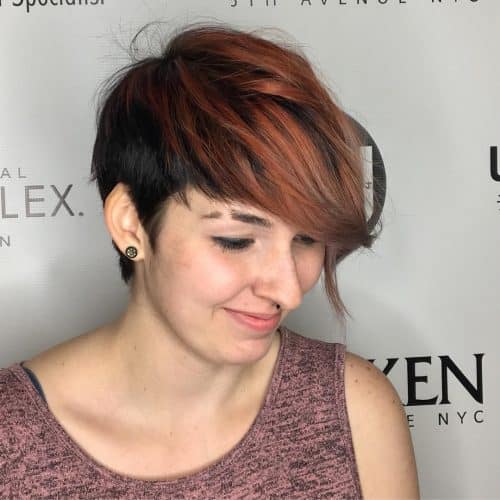 #6: Industrial and Edgy
Would you describe this look? I'd describe this look as industrial and edgy. It is inspired by steel and rust. We had no idea what we'd end up with being realistic with box color removal. We did peach and lavender tones to create this rustic smoky look!MAny advice for someone considering it? We used a styling cream on damp hair for some hold and body. This style is great for finer hair or medium textures with natural curl. This guest has more of an oval or round-shaped face that rocks the pixie cut with ease. She has a busy lifestyle so we needed something she could style with ease and minimal product. After blow drying smooth, we used a heat protectant spray and added some curls, piecing them out with a medium hold putty for some great natural texture. Super easy and out the door!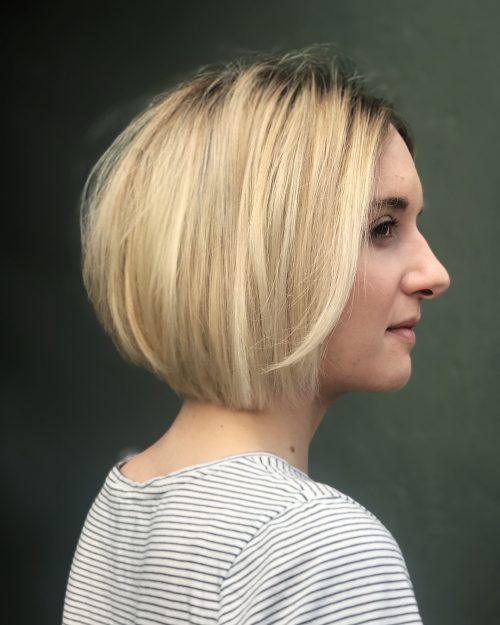 #7: Chic French-inspired Bob
How would you describe this look? I love this haircut because of its versatility. Depending on the look you're going for, you can style this chic French-inspired bob to look textured or sleek. It's a super low maintenance cut that can be flattering for any face shape. Any advice for someone considering it? Don't be afraid to play with products! This cut lends itself to all hair textures, which translates to being able to use all kinds of finishing products. My client has a LOT of hair, so I used my razor to remove weight and crafted a shattered bob as opposed to a stacked or layered bob. This allows a lot of effortless movement. I wouldn't recommend this technique for someone with finer or thinner hair as it would take away the necessary density for this cut.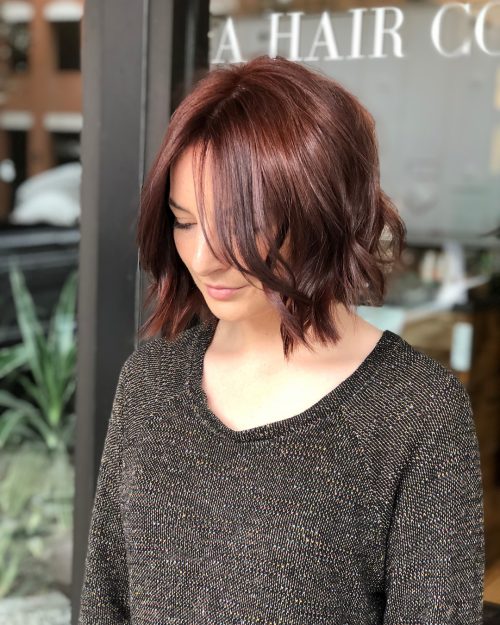 #8: Versatile Bob
How would you describe this look? I would describe this look as a versatile bob and that is what I love about it! It has versatility. The client can wear it sleek and smooth or add texture with a little curl or texture spray. The fringe can be parted to the side as more of a side bang or straight down the middle with more of a 70s effect. That's already four looks with one cut. Fun right? Any advice for someone considering it? If someone was considering this look, I would make sure they are willing to style. Going shorter, most people assume it's easier, but depending on the person's hair that isn't always true.After sleeping, most people's hair is all over the place, so using a heat protectant and re-smoothing the hair with a blow dryer is an awesome easy way to style. Like I mentioned before, dry texture spray is awesome to give it some body and movement. Also dry shampoo! I cannot stress enough how amazing dry shampoo is for short hair! Not having to wash your hair every day cuts the time spent on your hair way down, and we all love that.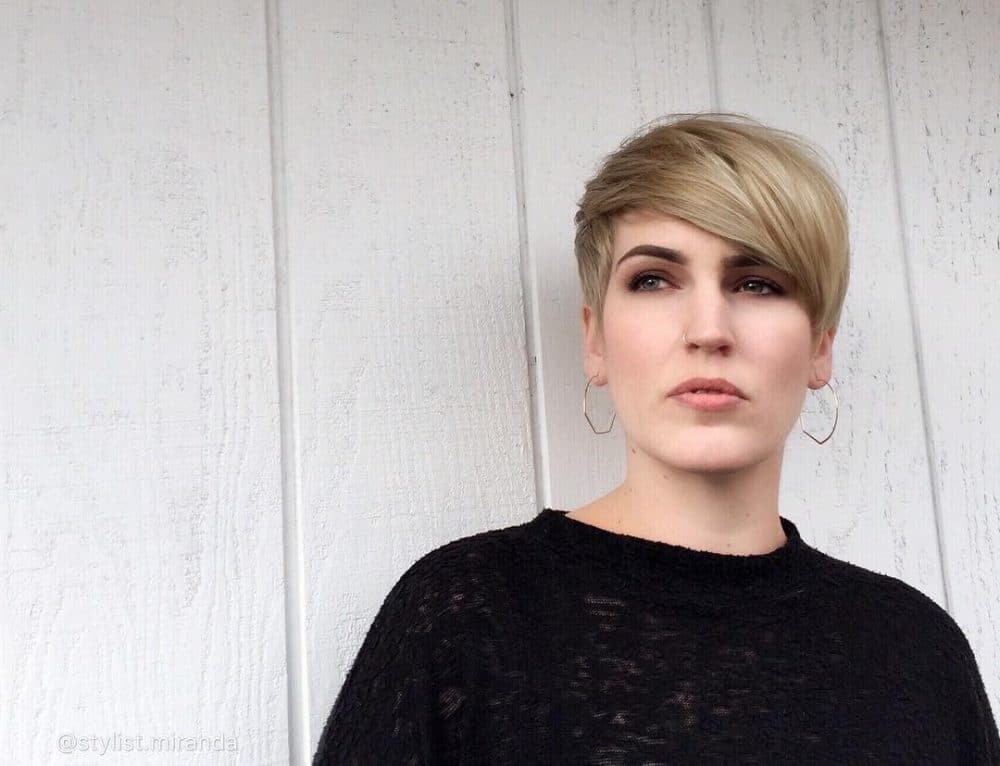 #9: Versatile Undercut Pixie
How would you describe this look? This hairstyle is a versatile undercut pixie with a sandy blonde tone. It is easy to style-forward, up, down, slick, roughed up, or curly. The longer slanted fringe gives a nice contour for a long face and brings the focal point to her eyes. The shape, texture, and color complement her skin tone and personality. Any advice for someone considering it? This is a wonderful look for someone who wants to have pixie haircut with a more feminine and softer look. It's something that can easily be funked up with a little product or styling. This style also works well for someone transitioning to longer hair from a very tight pixie. This look can work with every hair texture. Products such as a volumizer, texturing spray, dry shampoo, and shine drops are needed to achieve the end result. This style requires a salon visit every five to six weeks.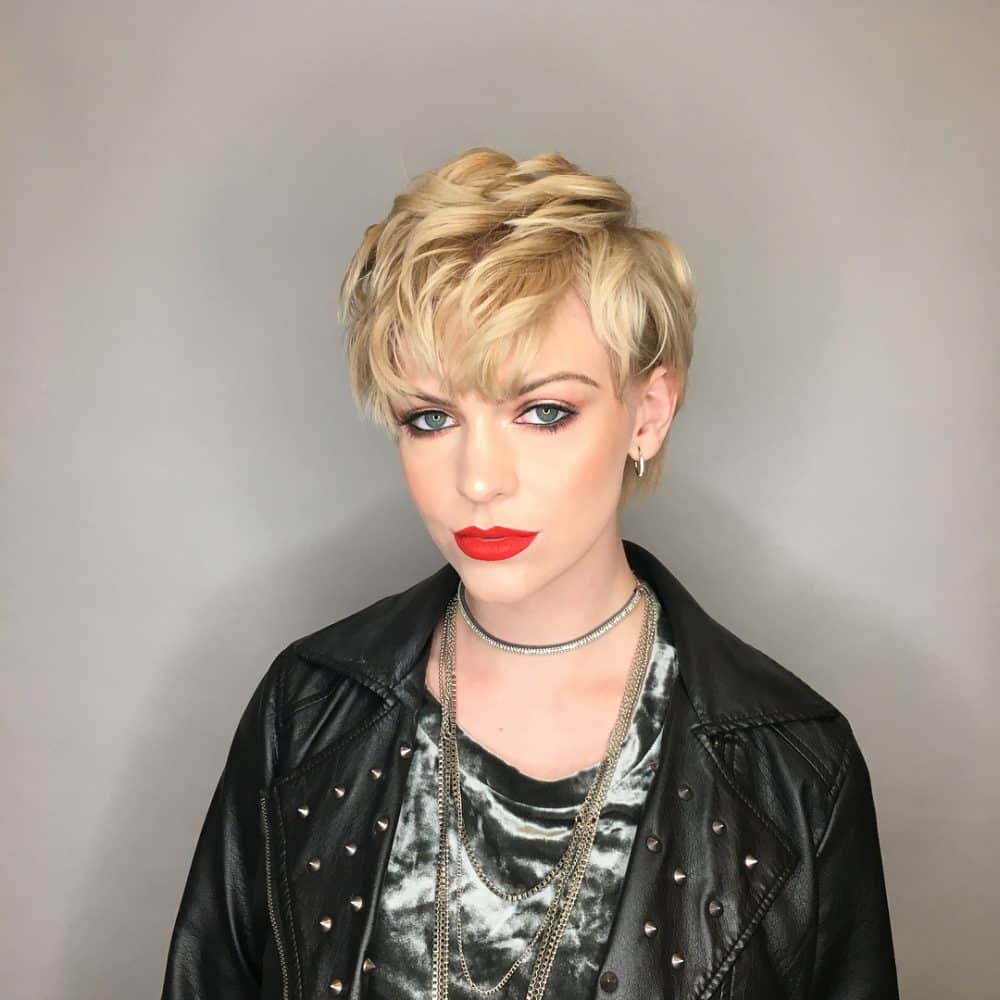 #10: Badass Blonde
How would you describe this look? I would call this badass blonde simply because that's exactly the look she is rocking in this picture. I have been doing this girl's hair for years and we have been all over the spectrum with it. My favorite thing about this look would definitely be the versatility of the styling for her. Because of the length on top, we can style up and back, straight and bold, or edgy with some curly texture. Any advice for someone considering it? I think it is a great style for a product junky or a creative personality. It doesn't take much time to style in the morning and you can typically get away with going two or more days between shampoos. The only catch with this is that you do have to blow dry and style it to get your best look. But, because it's short, it only takes up 15 to 20 minutes of your morning on shampoo days! It's definitely a fun style for people who like a different look on the daily and aren't scared of a little product!