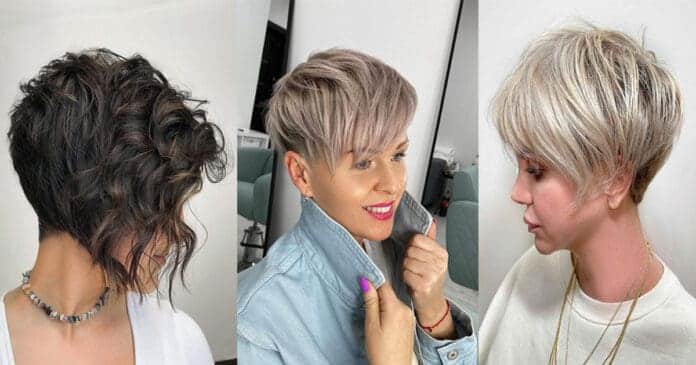 A long pixie cut is a short-length cut where the hair is longer than a traditional pixie cut. Long pixies are usually shorter in the back and sides, while longer on top with long bangs. It's the best haircut for women who want a low-maintenance, short hairstyle that isn't too short. Minnesota-based stylist Torrie Rinehart likes this type of short cut that can help women with fine or thin hair. "If you're frustrated by your hair's lack of volume or by its limp texture, shorter cuts like a longer pixie are ideal. It works only if you can commit to using products," she states. What's great about long pixies is the opportunities to change things up. Play with colors and add some details like a fringe or an undercut. "You can always grow your hair back if you think it wasn't right for you," Rinehart assures. Short, sculpted pixie haircuts tend to seem like your tresses grow a lot faster. Especially on thicker hair, you may feel like it starts to poof out as it grows. Rinehart suggests "getting weight consistently removed from your mane. Go to the salon every 6-10 weeks to keep its shape." Tips on How to Choose a Long Pixie Haircut and Hairstyle: Maintenance: If you want to keep your hair short, it will require more salon visits and styling to time. Styling and Products: Buy some texturizing paste, wax, or spray for a modern messy pixie crop. Face Shape: Round Faces: Keep the bangs longer and angled and the hair straight to make your face appear narrower. Square Faces: Consider a long shaggy pixie to balance out a strong jawline. Long Faces: Choose a side-parted look with a wavy texture to shorten your face a bit. Oval Faces: You can pretty much wear any cut you see here! Heart Faces: You can also choose any cut that catches your eye! Hair Type: Thick Hair: Will require more texture to thin and shape the cut to take weight out. Thin and Fine Hair: Ask your stylist to cut more layers for your hair to appear thicker. Curly Hair: As with most cuts for curly hair, it will require more maintenance and products to keep your curls healthy and the shape of your cut. I suggest seeing a DevaCut specialist. Wavy Hair: Don't expect a polished look unless you flat iron. Embrace your natural waves. Apply product, brush, diffuse and comb or use fingers to style. Having a consultation with a professional is advantageous in any event. Your stylist may have envisioned a haircut idea that you hadn't considered. They know what suits your hair type, face shape, lifestyle, and product regime the best. Before you schedule your next haircut, check out these examples of popular photos of long pixie cut ideas and save your favorite photo for inspiration.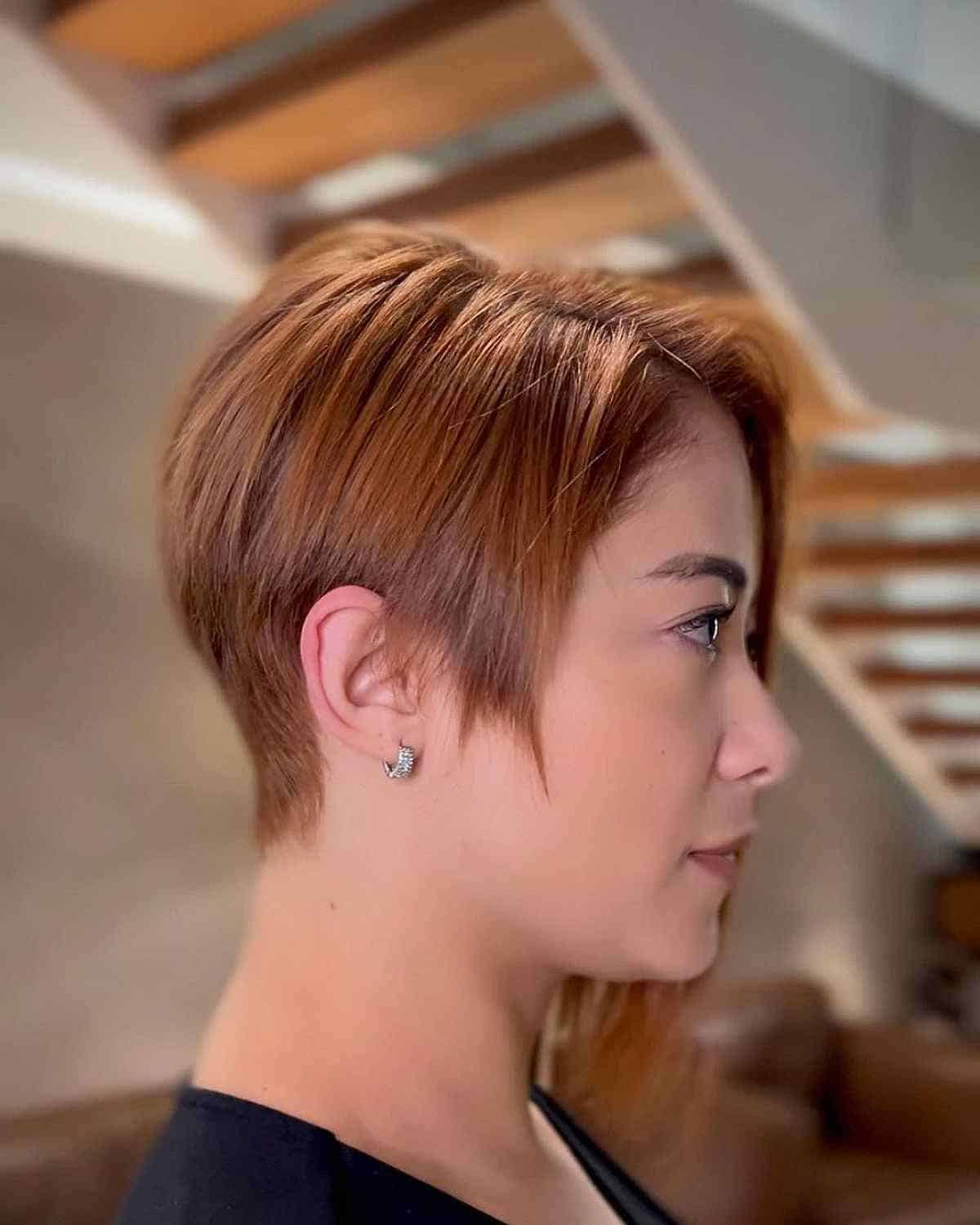 #1: Longest Pixie Cut
There are many variations of a long pixie cut that can best fit the features and densities of the woman that wears it. Often achieved with the use of a razor, the best long pixie style can be maintained over the course of 4 to 6 week appointments.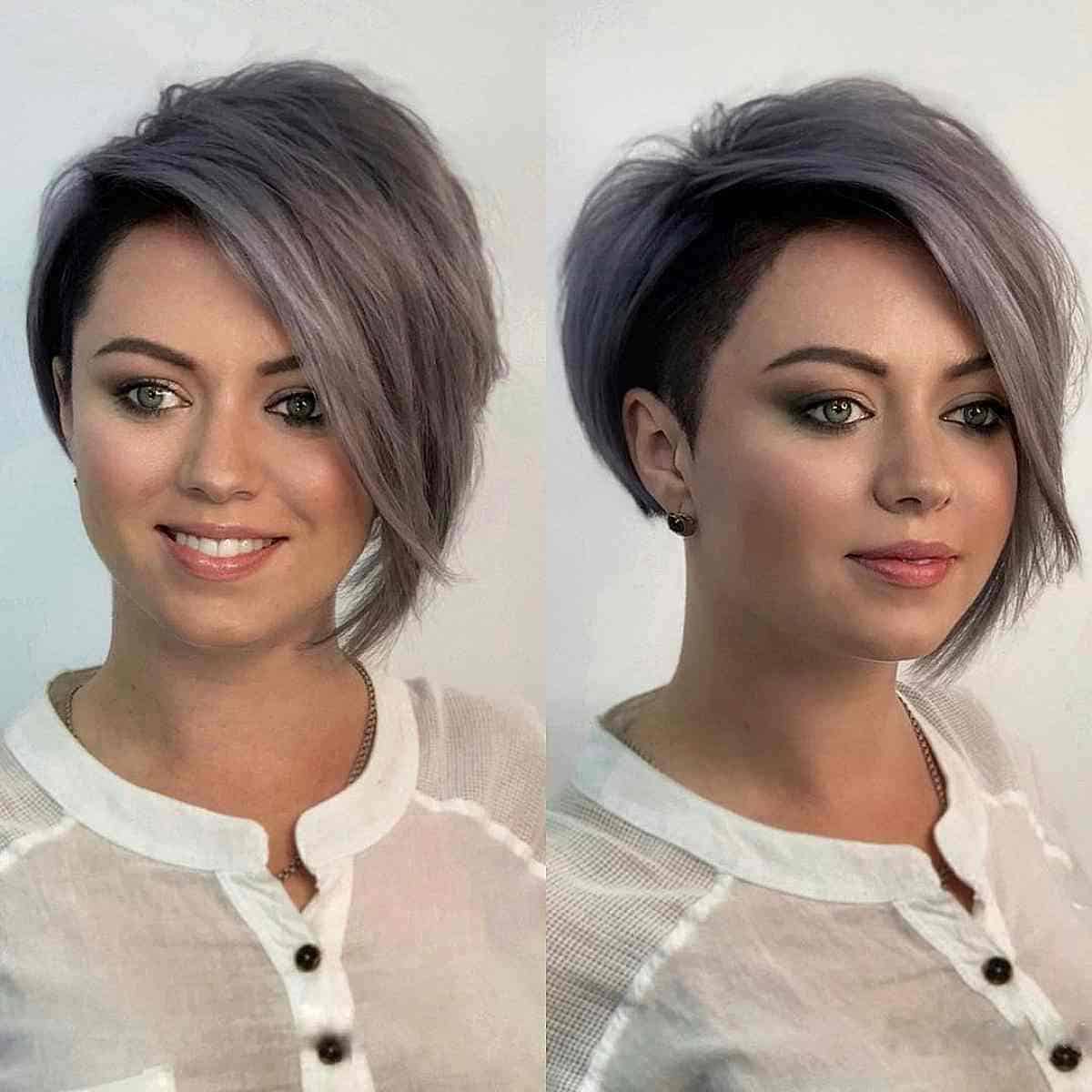 #2: Longer-Length Pixie
Voluminous pixies are creative ways to show off one's personal style. However, it's the best fit for finer to thicker densities that are smooth in texture. This style is often achieved with the use of a razor by a salon professional. Maintenance by your hairdresser can vary from neck and bang trims to all-over refreshes. Colors can complement longer-length pixies with an edgy hue or a natural color to polish the look.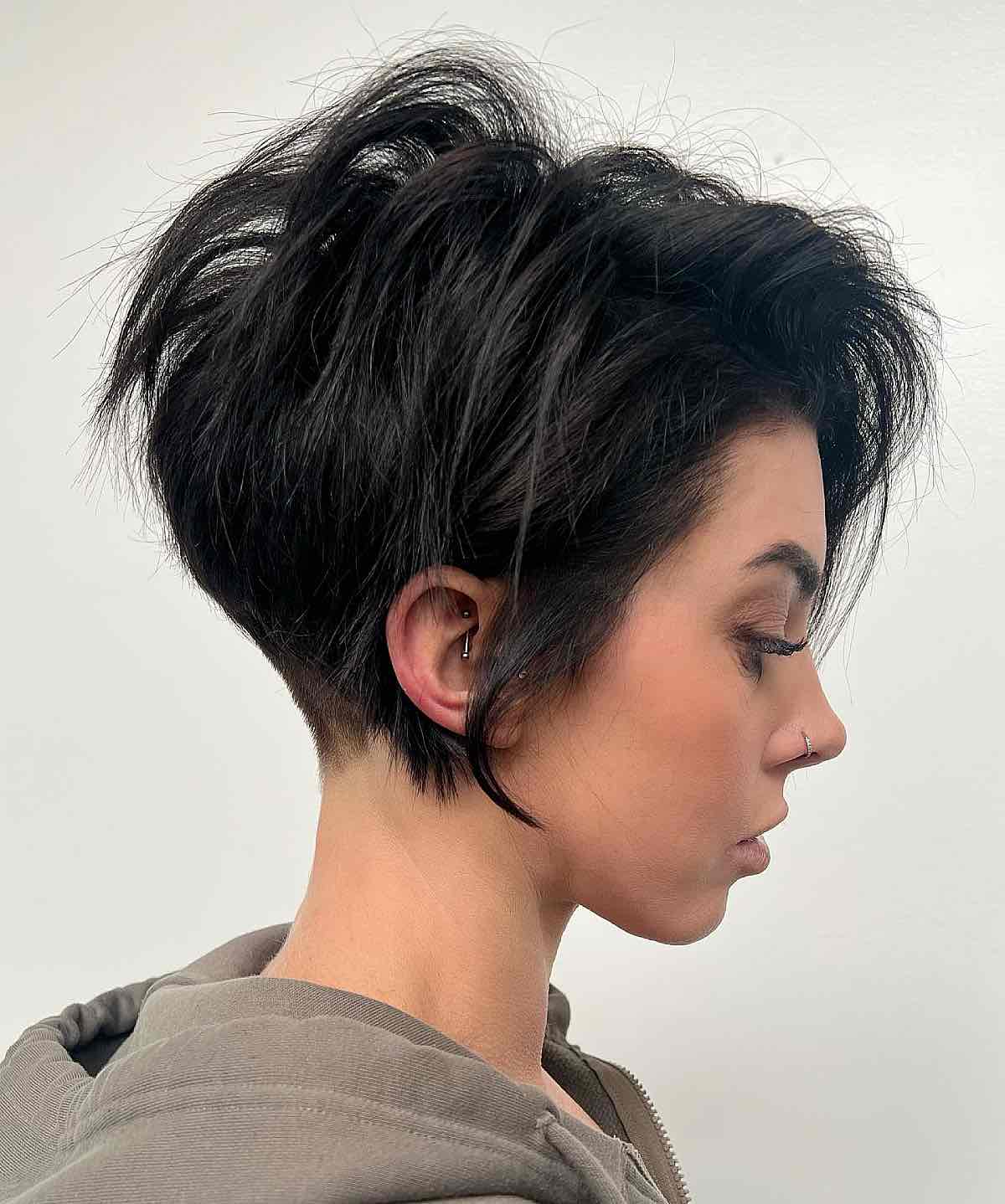 #3: Piecey Lixie with Sideburns
A stylish piecey long pixie with sideburns is an edgy haircut with an extreme texture that frames the face. The cropped undercut in the nape creates a ton of volume in the crown, while the deep side part adds volume to the fringe area. Apply a volumizing mousse to damp hair, blow-dry, and finish with a dry texturized for at-home hair care.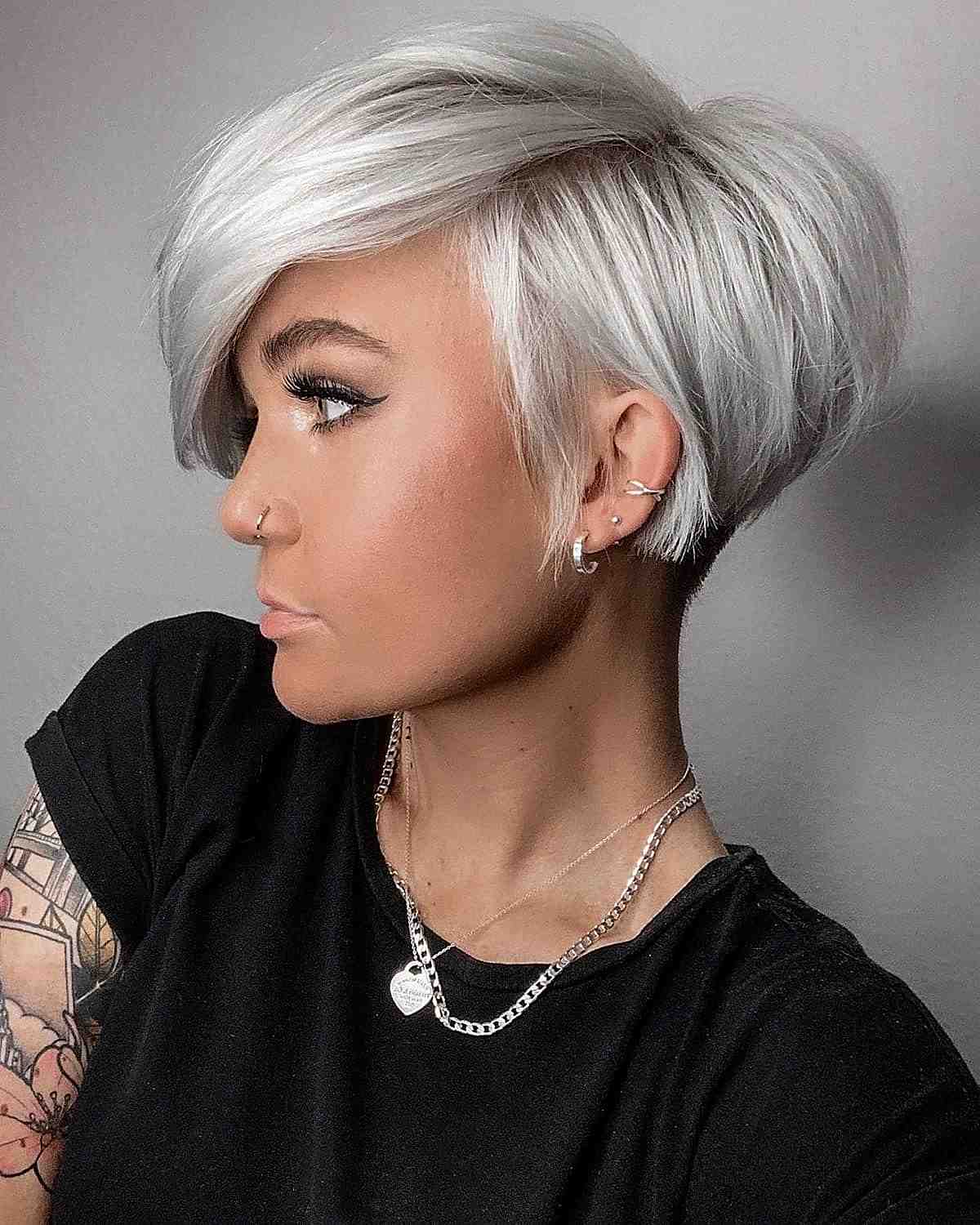 #4: Inverted Pixie Bob
When it comes to different types of long pixie haircuts, opt for an inverted pixie bob haircut because it's a shorter version of a stacked bob. If you're ready to sass up your sexy pixie styles this may be for you. Have some soft feathery side pieces cut around the face to soften the style and have the back stacked for volume and texture. You can wear it straight or curly as this cut will look fab on any hairstyle. An undercut pixie shows off the inverted stack in the back with the contrasting cut.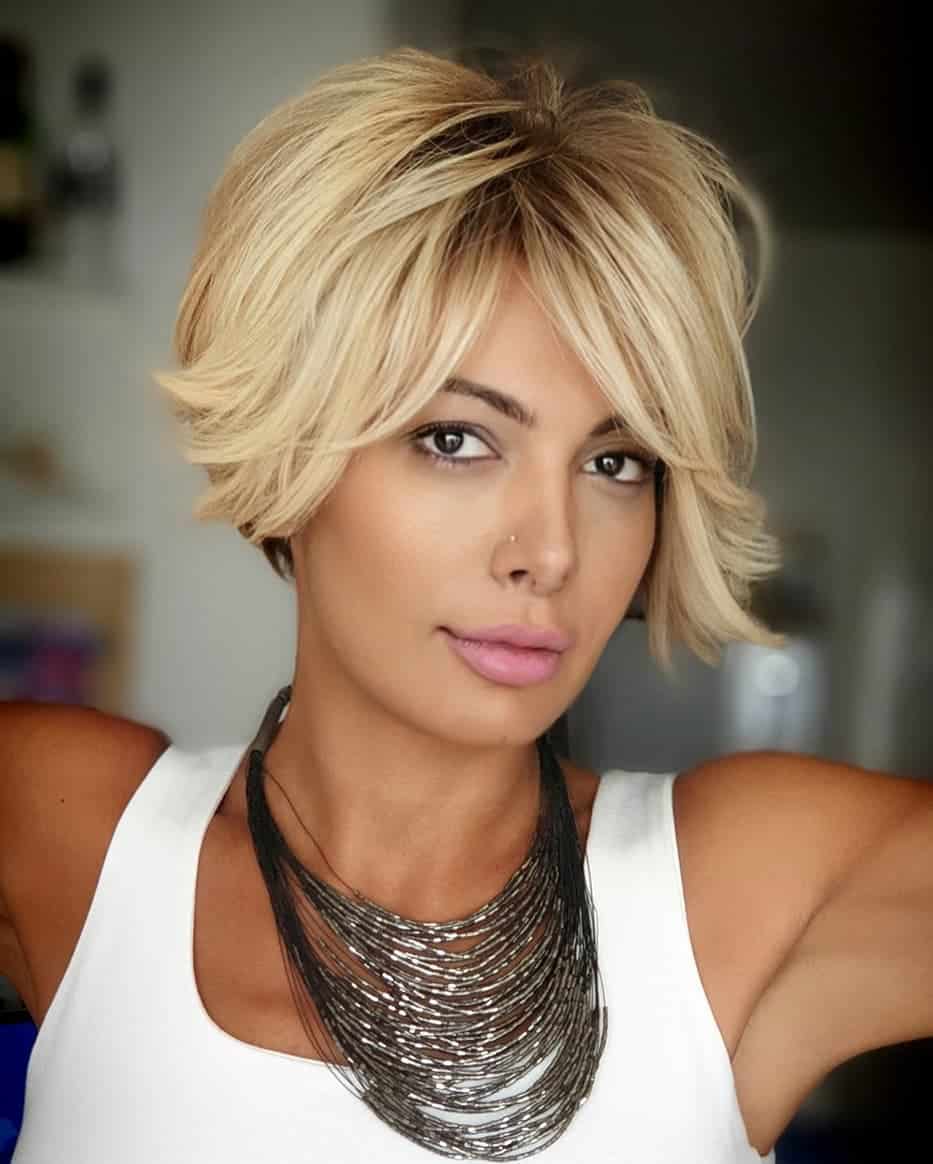 #5: Stunning Pixie with Long Bangs
I love asymmetrical longer pixie haircuts. This trend is a perfect way to have an edgy, short cut without sacrificing all of your lengths. If you want to go short without looking too masculine, this is a great option. There is so much versatility with this cut with long bangs. For example, you can wear your hair sleek and polished, full of texture and tousled, or have side-swept bangs. This is a relatively low-maintenance longer pixie hair cut without necessarily having to "look" low-maintenance.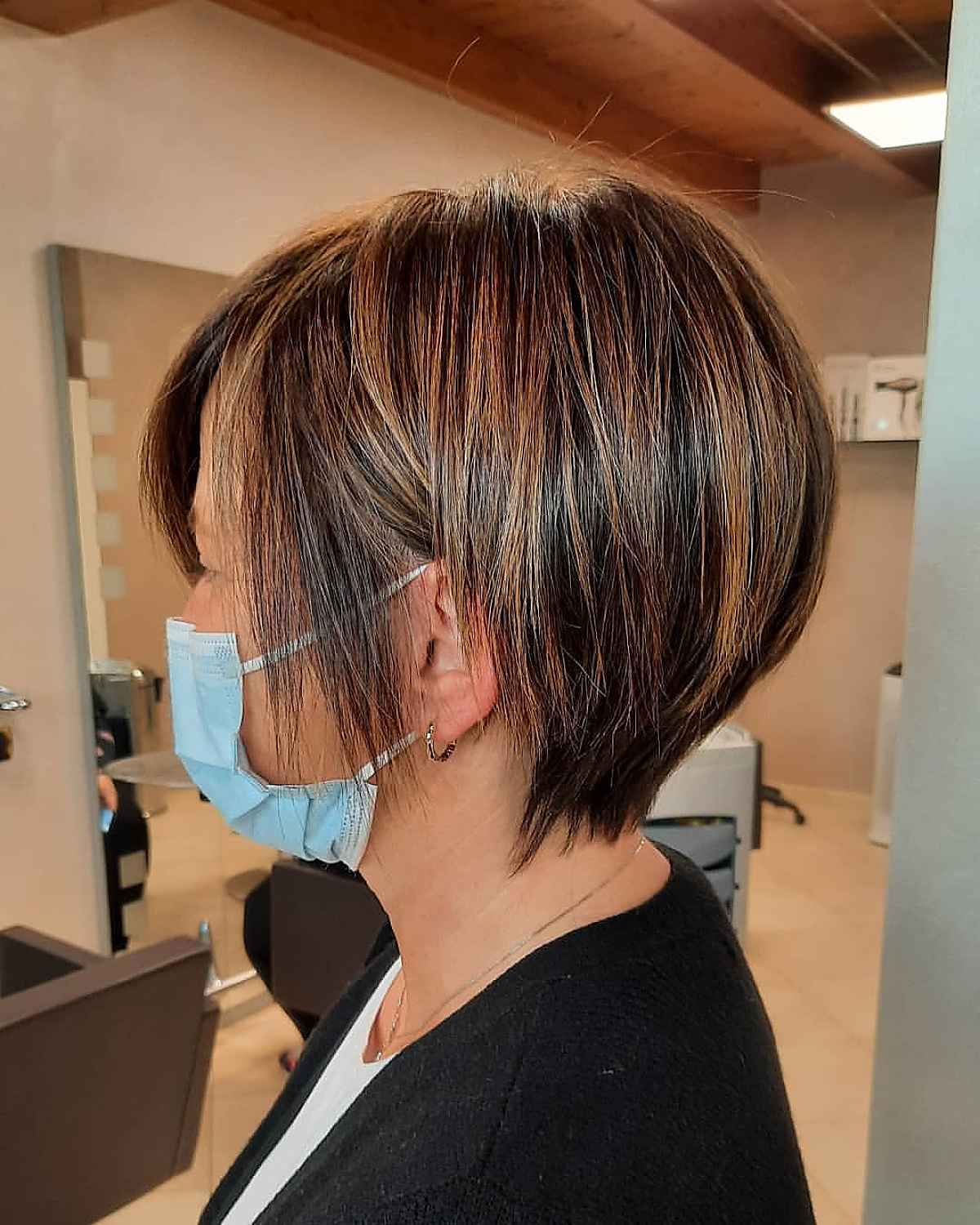 #6: Bixie Hairstyle
You'll want to try a trendy bixie hairstyle for its shaggy bob shape. Half bob and half pixie, this style is beautiful and lightens up heavy hair. To achieve this longer pixie haircut, your stylist will need to point cut into the added layers to create a beautiful textured shape. Be aware women with curly or super thick hair will have to work harder to finish this style. All you need is smoothing cream, a large round brush, and a flat iron that can help.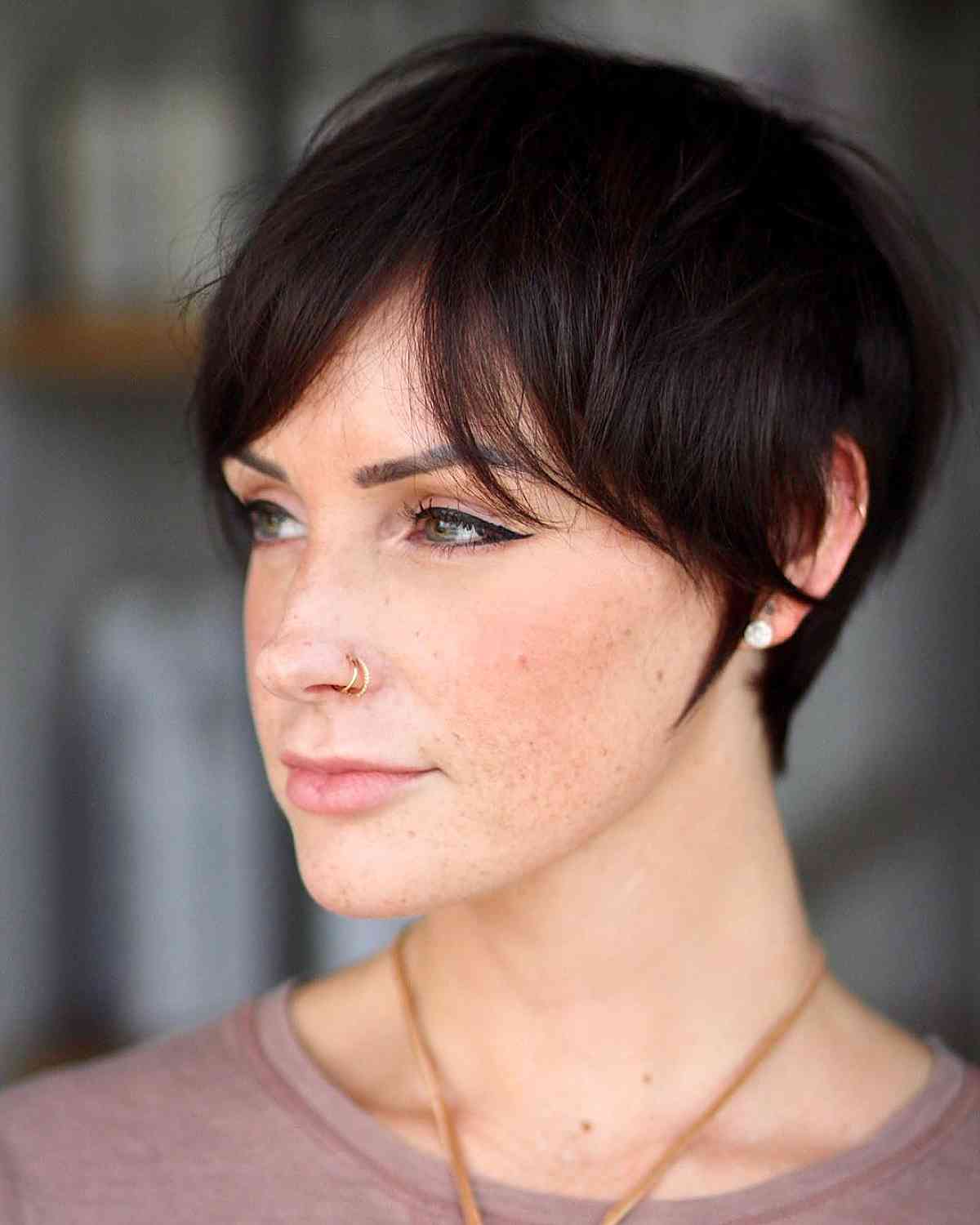 #7: Pixie with a Long Fringe for Straight Hair
Consider a pixie with a long fringe for straight hair to boost volume and accentuate the eyes. Remember, a lixie haircut is achievable by cutting the hair in the back to nape length while leaving it longer toward the front. Your stylist can customize this elongated pixie to flatter each unique face shape.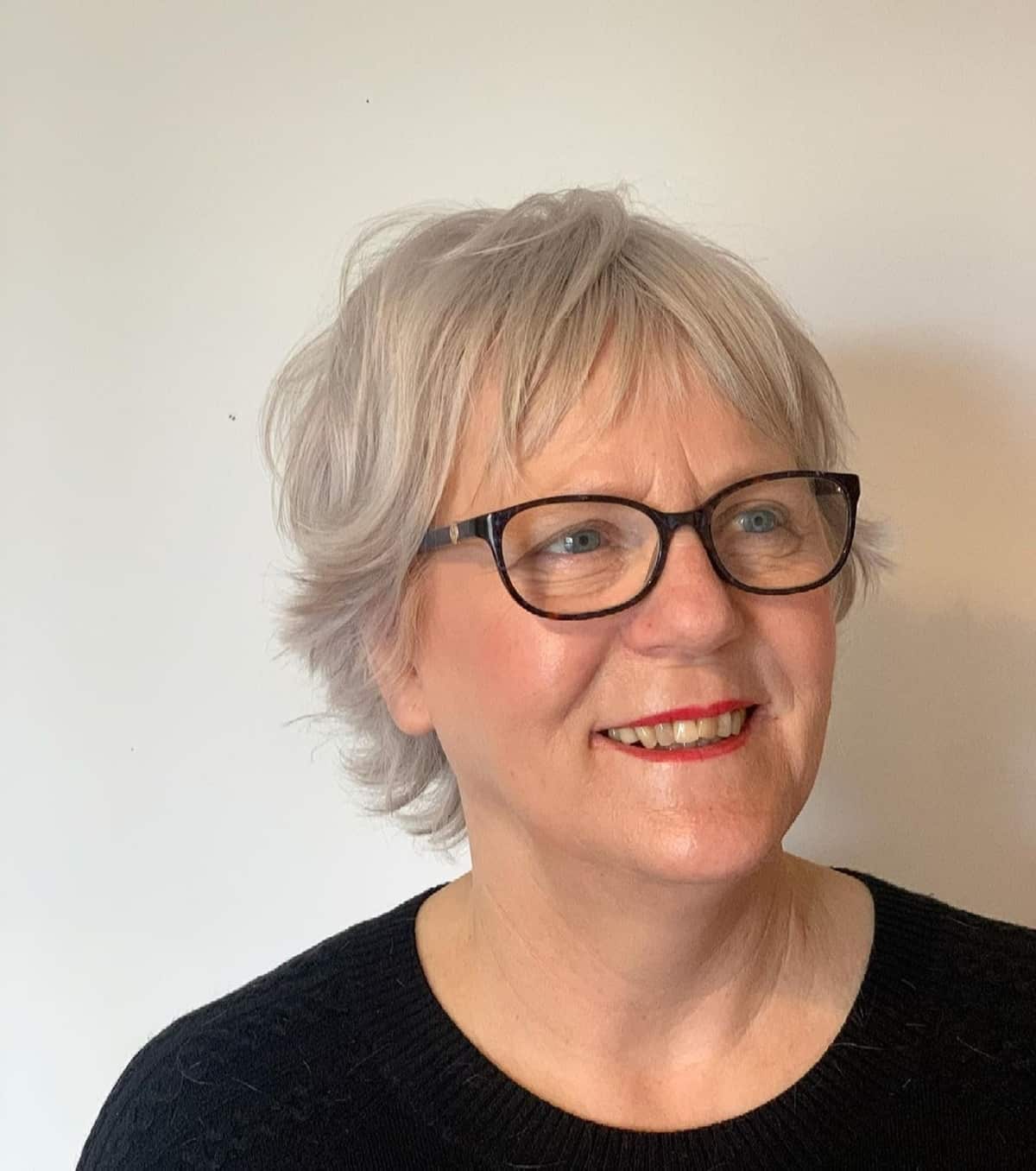 #8: Choppy Silver Pixie for Women Over 60
A choppy silver pixie for women over 60 is a go-to option for naturally fine hair. A longer pixie cut compliments any hair texture, especially when creating a style that lifts the face. If you plan on wearing a long pixie, ask for some point cutting in the refinement stage of the haircut service to guarantee low-effort styling.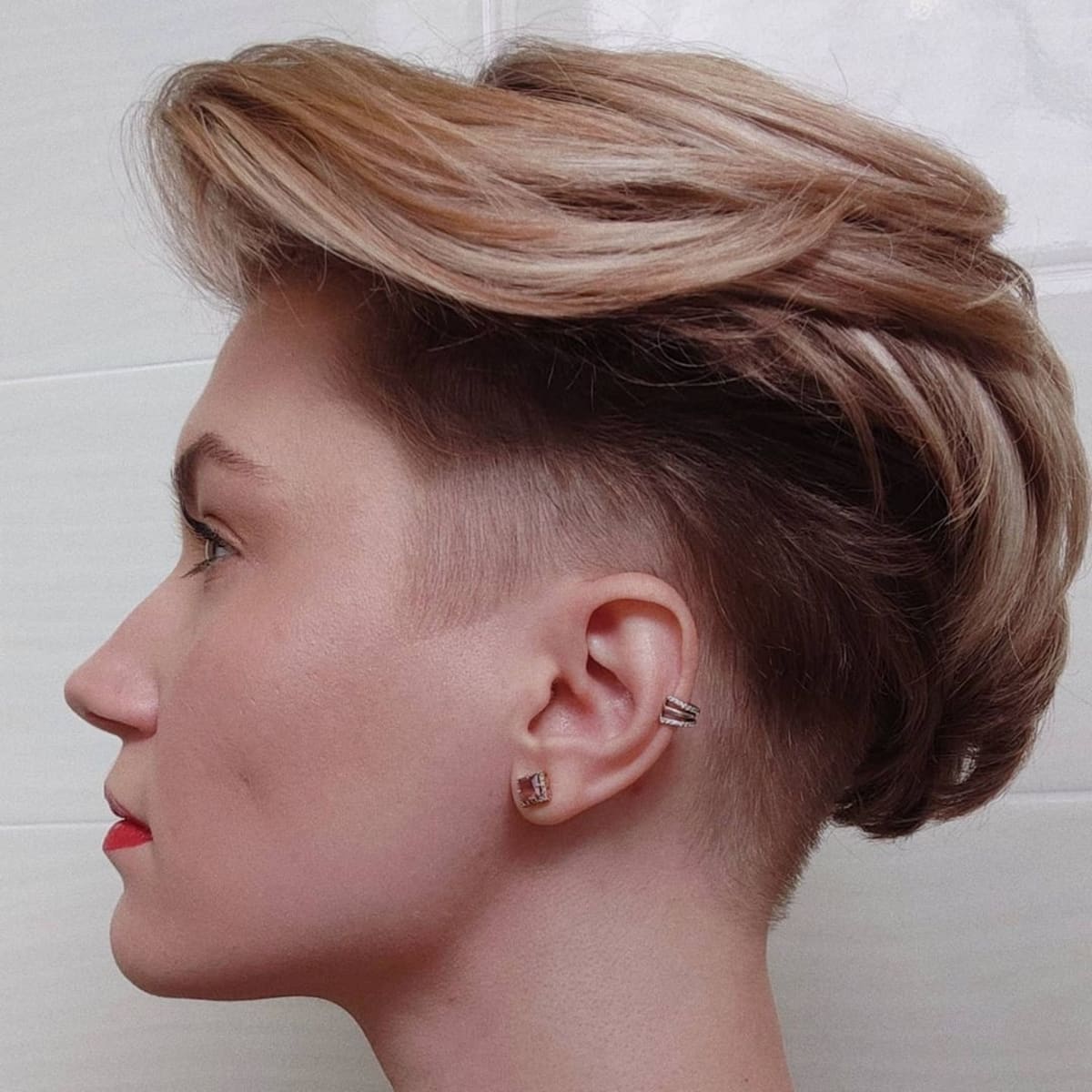 #9: The Feathered Long Pixie Bob
The feathered long pixie bob has been a classic staple option among women who want to keep their options open and free. Ask for a lixie haircut with shorter, disconnected sides to achieve the pixie hairstyle desired. So you can blow it out, straighten it flat, and have all the fun you want when styling!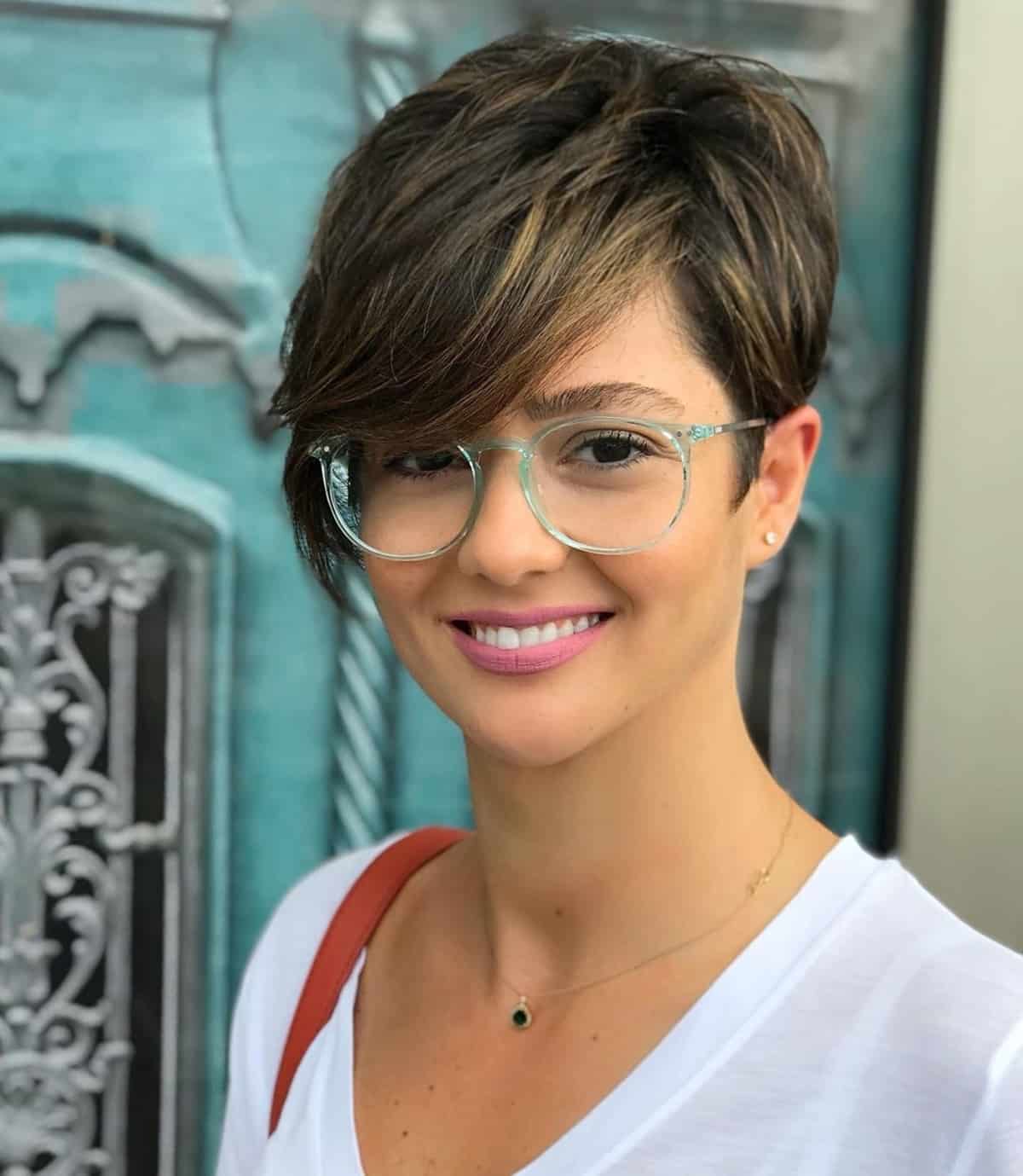 #10: The Low-Maintenance Pixie
Opt for the low-maintenance long pixie since it's perfect for busy women. This long pixie haircut can be cut in a customized fashion with a triangular shape, so the hair flows from a shorter back to a longer front, swaying toward the eyes. Great for women with any hair type who desire a trendy, easy-to-style cut.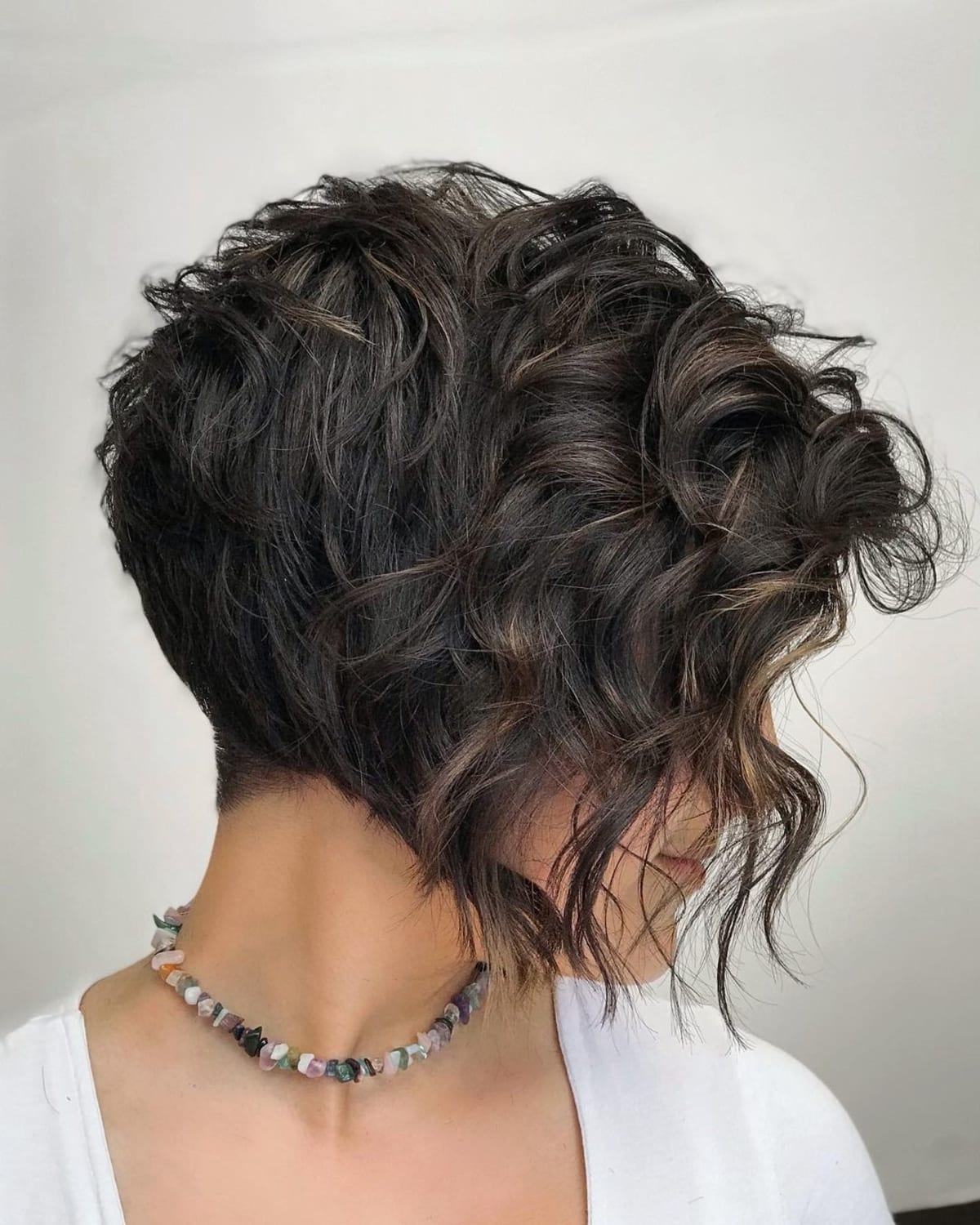 #11: Layered Pixie Bob for Naturally Wavy Hair
Try a layered pixie bob for naturally wavy hair. A long wavy pixie is a favorite among women with a hair texture that is tamable with a bit of styling cream and some finesse. This medium-length pixie cut] is a hair styling dream for any girl, and my favorite!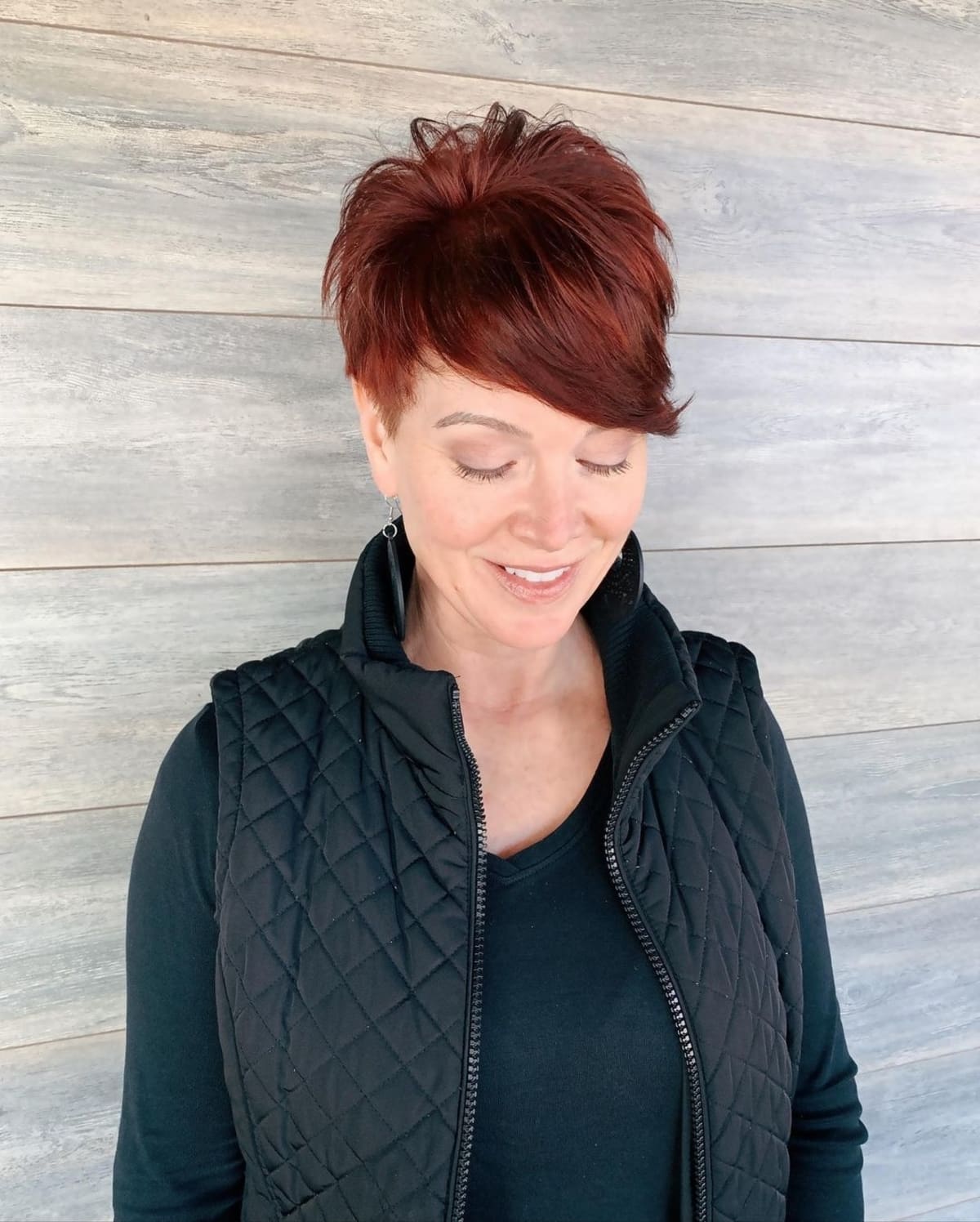 #12: Red Long Pixie with Bangs
A bold red, long pixie cut with bangs may be what you're looking for if you want to add some spice to your tresses. The rich red hue makes this full pixie cut look as fierce as fire. This long cropped hair cut is versatile and easy to style and the best option to add volume. Try using a dry texture spray to show off the texture in your long pixie!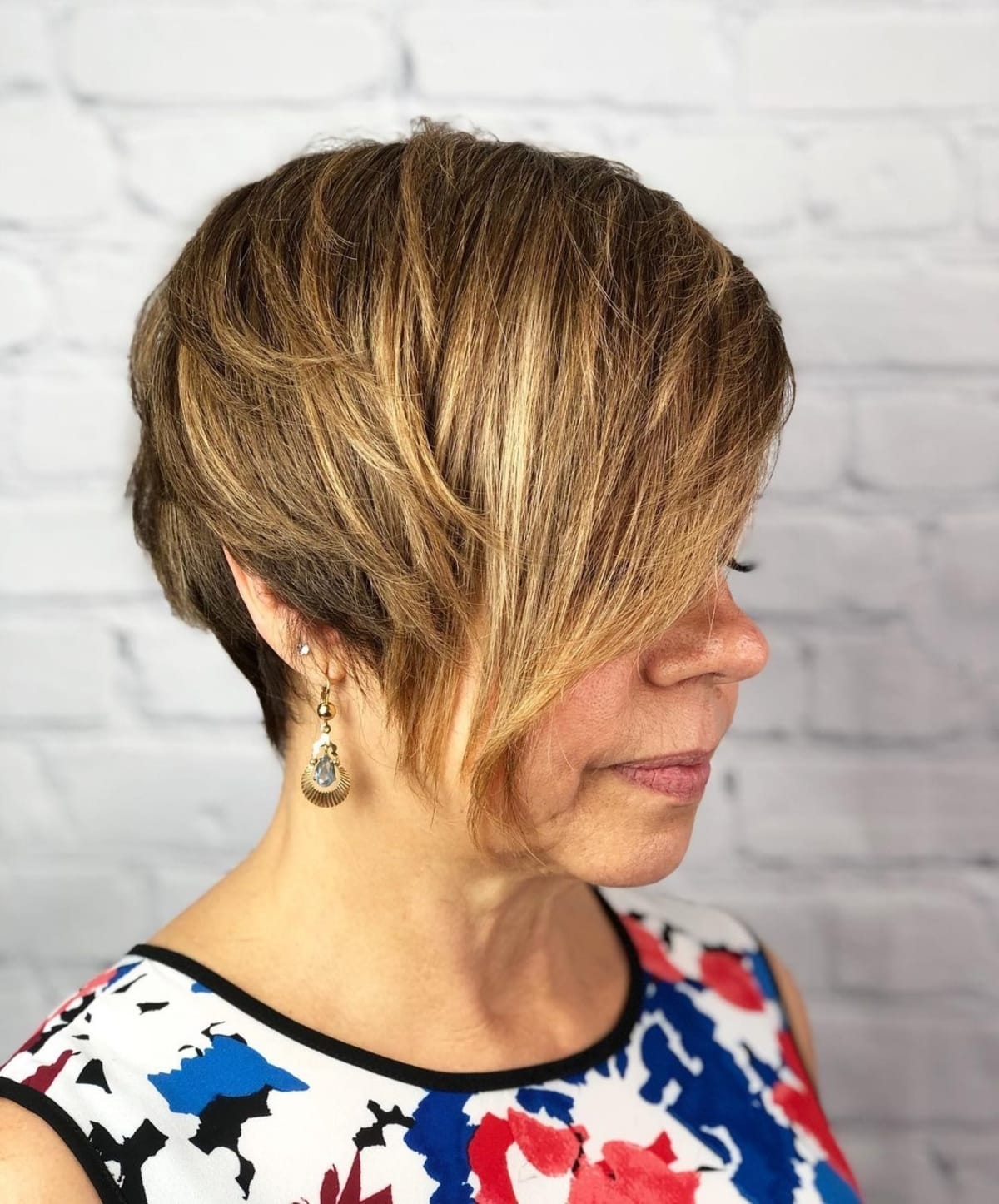 #13: Balayage Pixie for Women Over 60
Try a balayage long pixie for women over 60 if you want a low-maintenance hue but want to showcase those added textures. It is a perfect way to add depth and dimension to a length pixie hairstyle. This blonde hair color can be flattering to any skin complexion, but always ask your stylist for their advice!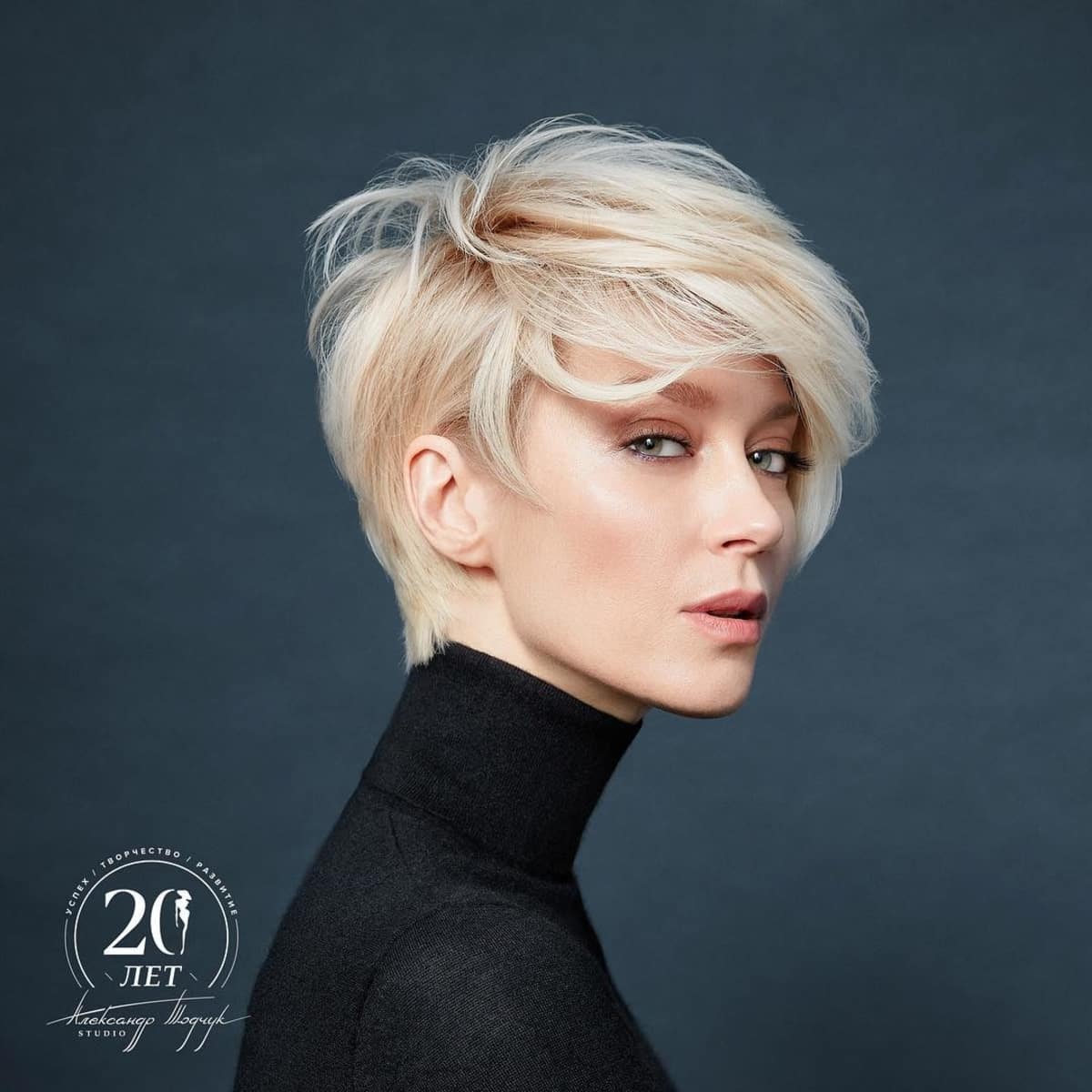 #14: Blowout for Long Pixie
A blowout for long pixie cuts has endless possibilities. In fact, a pixie cut is usually shorter on the sides and longer on top. It is important that you know mid-length pixies usually do better with choppy layers, extra texture, and more volume.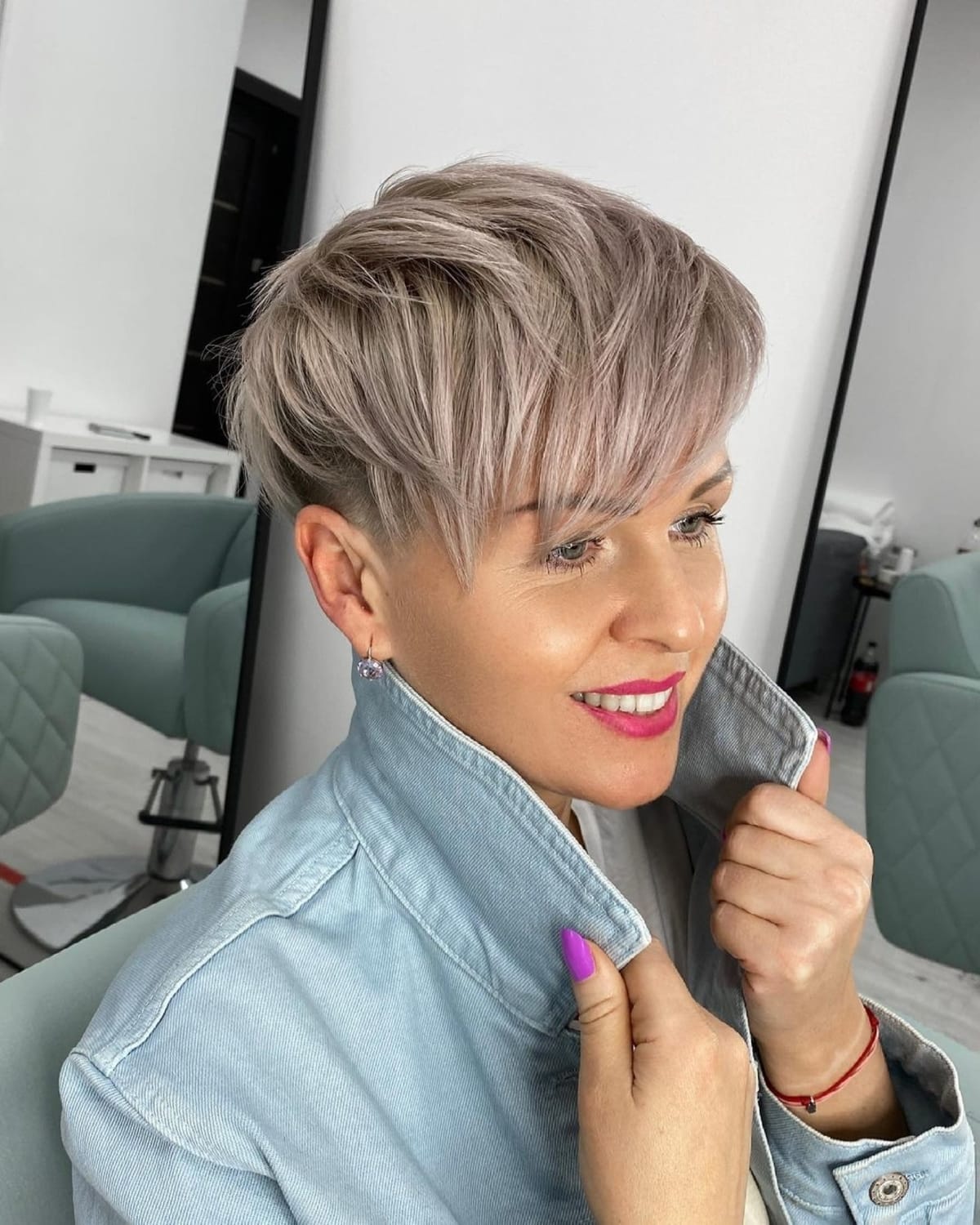 #15: Long Pixie with Swoopy Layers
A fantastic pixie hairstyle for long hair with swoopy layers is perfect for women who want a comfortable cut that is also chic. It's one of the greatest options for women who want to highlight the cheekbones and eyes, leaving the face more exposed, like in the image above.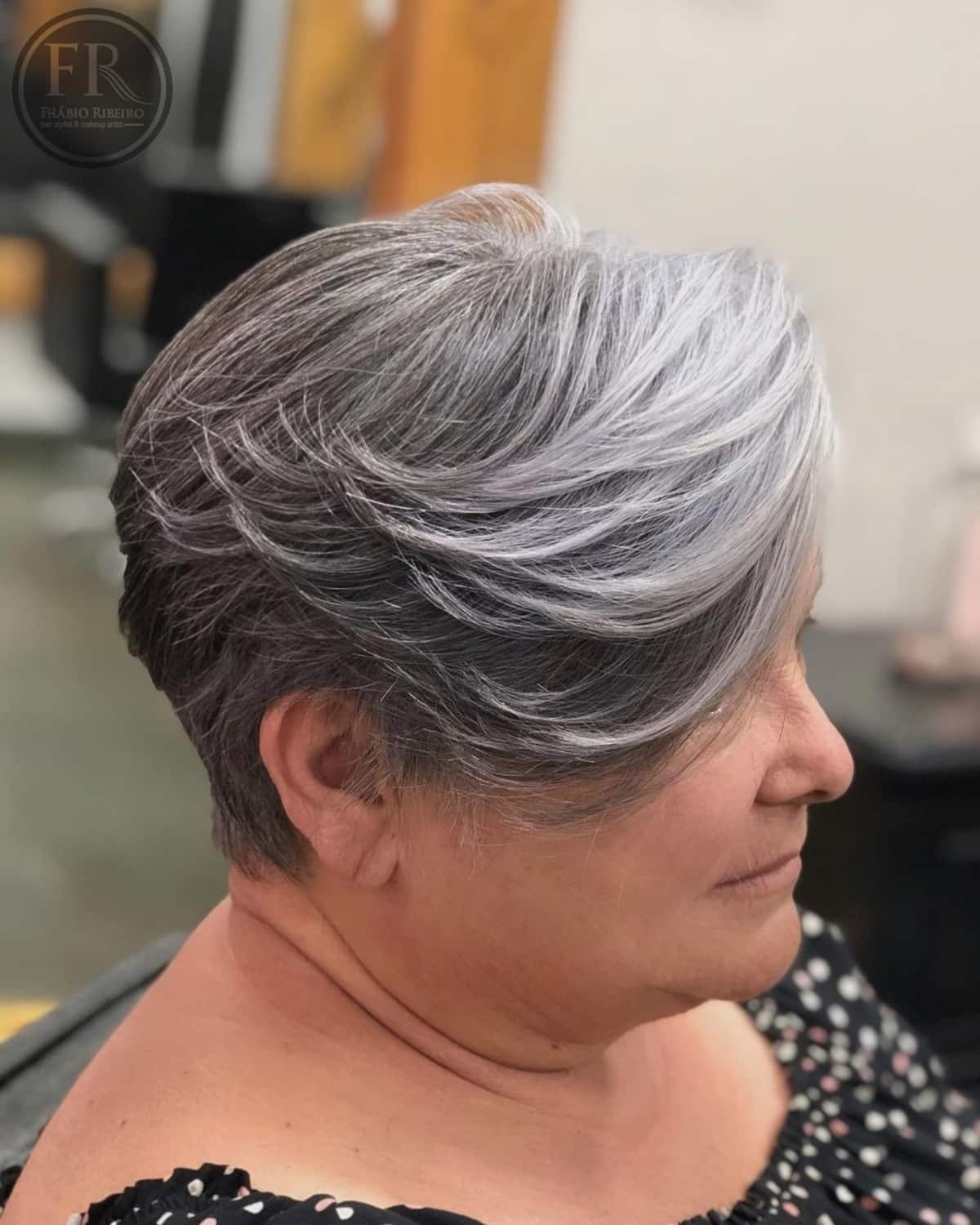 #16: Feathered Pixie Bob for Women Over 50
Try the feathered pixie bob for women over 50 if you want a modern and easy-to-maintain haircut. This gray long crop is ideal to cut it every 2 months to keep it short and with a polished finish.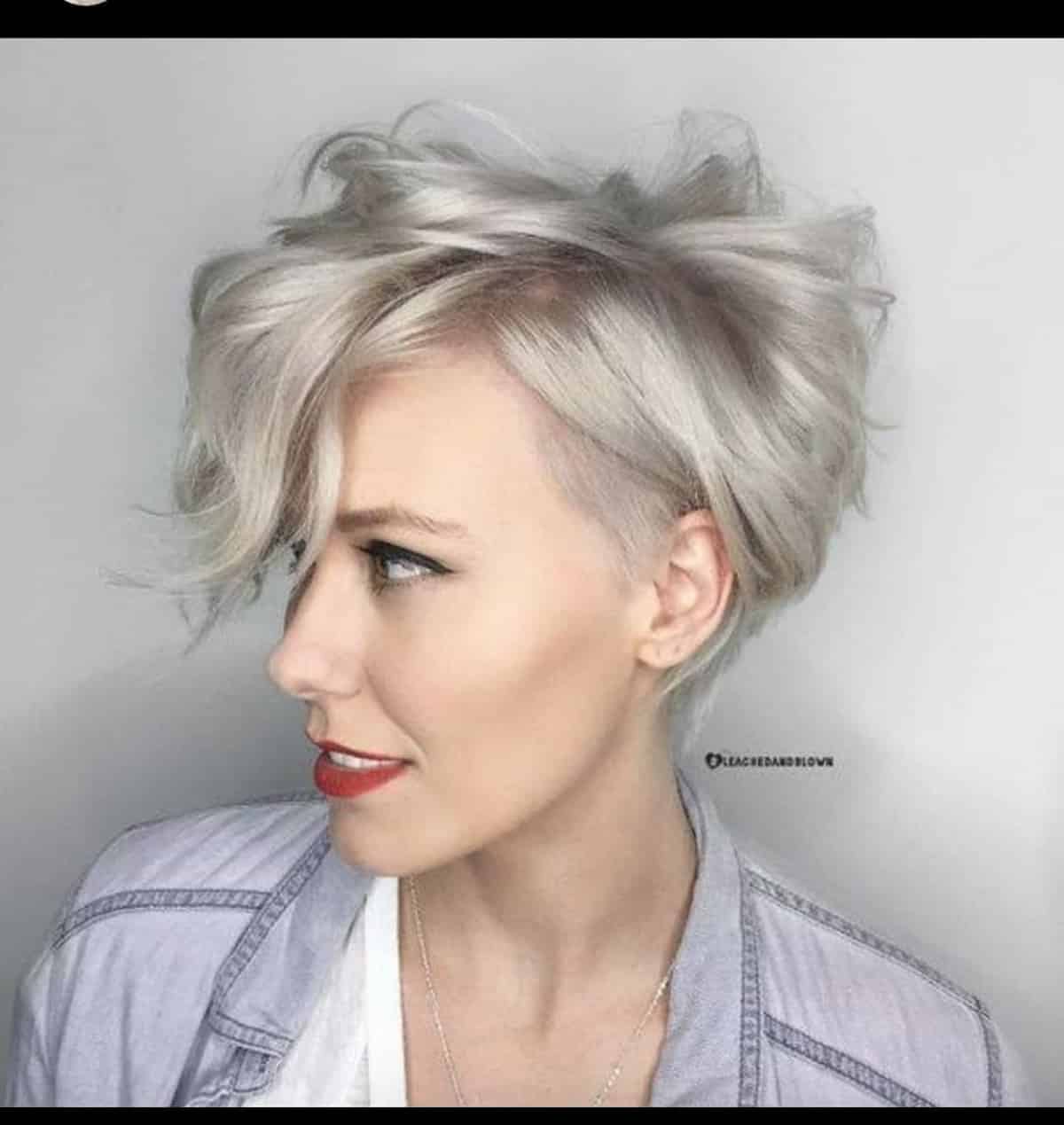 #17: Long Undercut Pixie with Waves
A long undercut pixie with waves is a trendy choice when you have short hair with a long on top. Soft waves with a wand will add a beautiful touch to a long side-swept pixie. The undercut takes away some weight from the shorter side of your haircut and gives a clean style. A long pixie can be a super feminine style where you can tuck behind the ear to show off the shaved sides. You're looking at 4-6 weeks of maintenance on this longer-length pixie.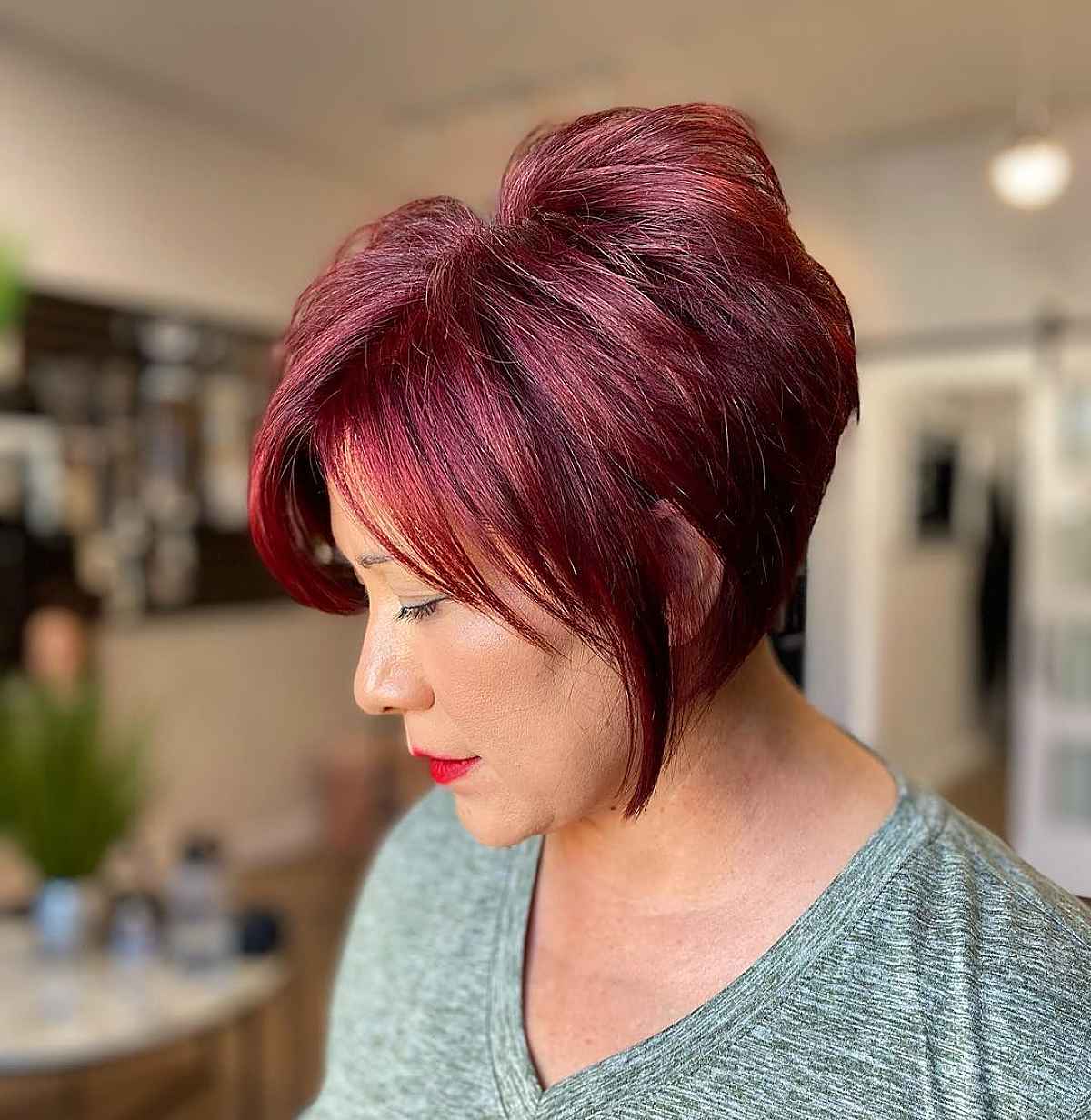 #18: Side-Parted Long Layered Pixie Cut with Choppy Layers for Round Faces
A long layered pixie cut for round faces is all about texture. An asymmetrical pixie with long bangs works well on broad faces making them appear narrower. To pull off a softer and cuter look on long pixies, add some waves or keep it sleek (as shown), and invest in great at-home products. Choppy layers make this haircut a long textured pixie. The layers offer more flattering options for a short hair style and for women who are not entirely comfortable with the shorter length.
#19: Edgy Long-Length Asymmetrical Pixie Cut
For women who want to keep their natural hair yet show off an edgy round pixie hairstyle, this spectacular pixie is for you. The unevenness of this long-length asymmetrical pixie style, plus the amazing natural texture, both work perfectly in highlighting and balancing the face shape and your facial features.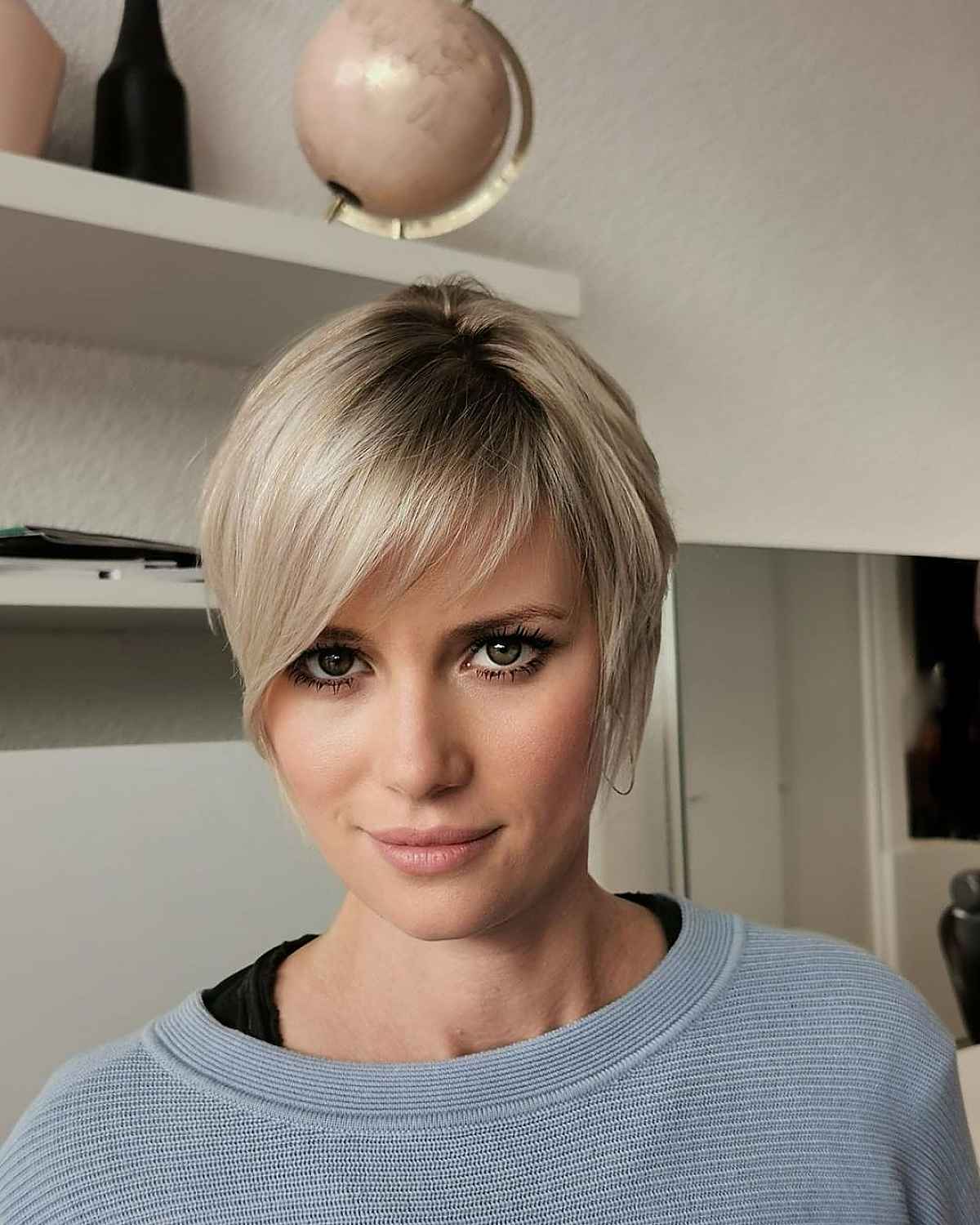 #20: Choppy Pixie with Side Bangs For Fine Hair
Who wouldn't want to chop off their hair if it will look like this sleek and edgy long layered pixie? This type is often referred to as a Twiggy haircut. Long pixies have hair that's long on top with long bangs leaving room for versatility in styling a long choppy pixie for fine hair.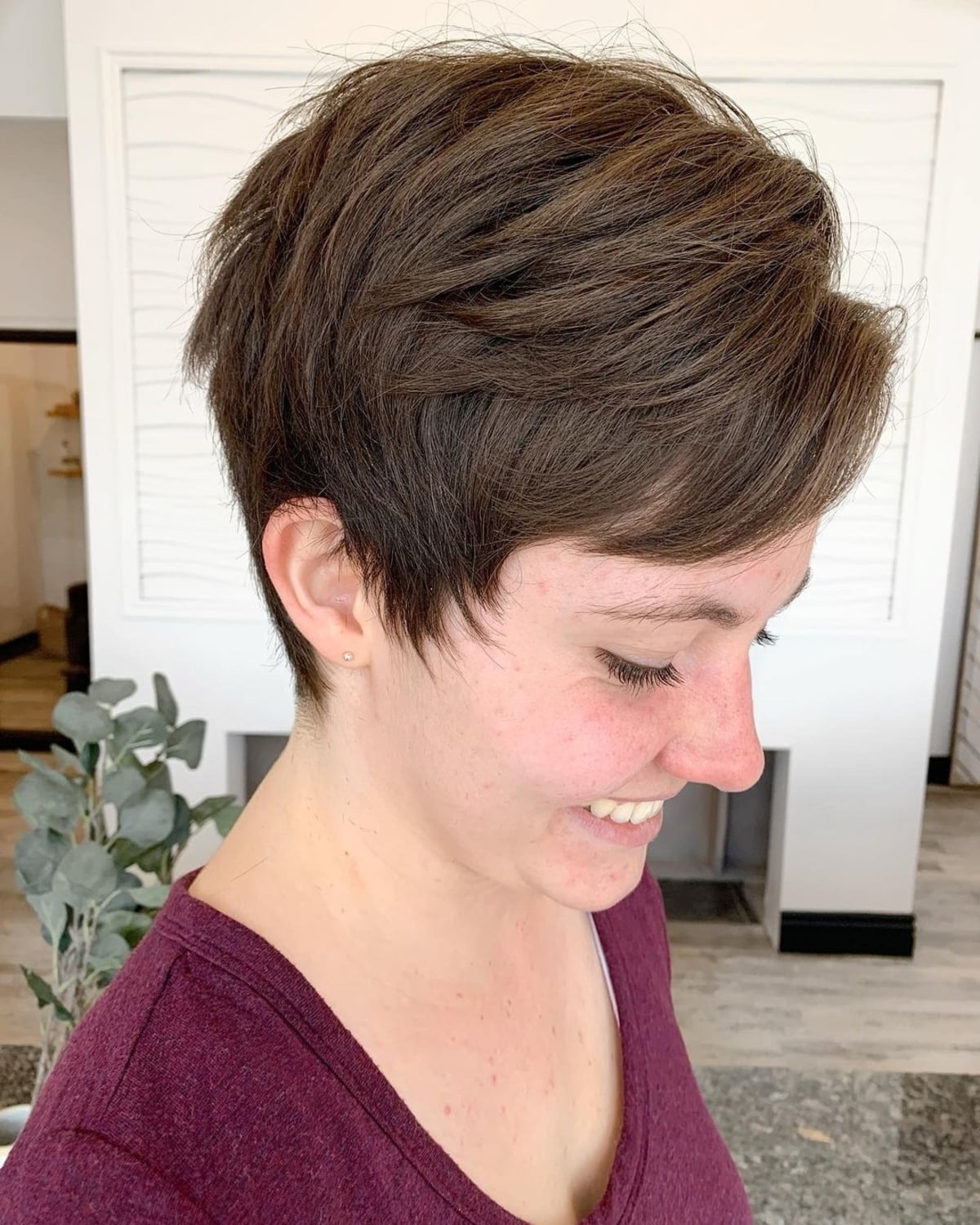 #21: Long Pixie with Razored Crown Layers
The long pixie with razored crown layers is great because it has the best grow-out and isn't bulky. Short hair with long front pieces works well on ladies with natural texture on their hair. The razor is used to cut without creating harsh lines and also removing bulk from the head. When styling, I suggest applying a good root pump or mousse if your hair is still wet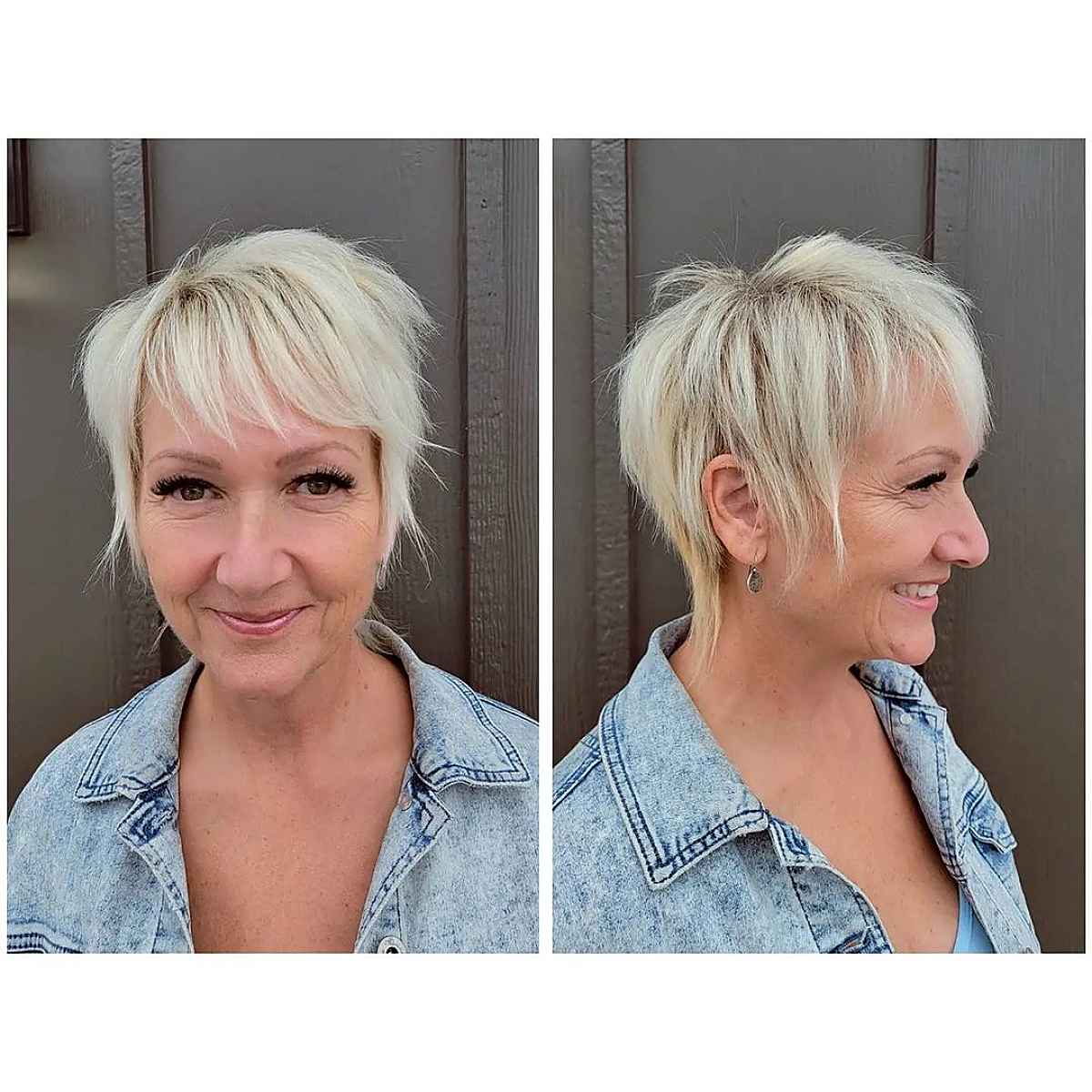 #22: Sassy Blonde Pixie Style For Thin Hair
This is a longer pixie haircut with a hidden undercut. It has a beige blonde color with dark roots, and this style has really gained popularity. A long pixie allows you to style it straight, wavy, switch your parting or tuck it behind one ear for an asymmetrical cut. Short, thin hair doesn't have to be boring! Keep the color soft with a root smudge after adding blonde highlights to a pale blonde pixie, and you'll add depth to your short hair. In case you are looking for a twist on shorter hair that's anything but boring, this square short haircut is for you! To maintain blonde tones, use purple shampoo to wash the locks.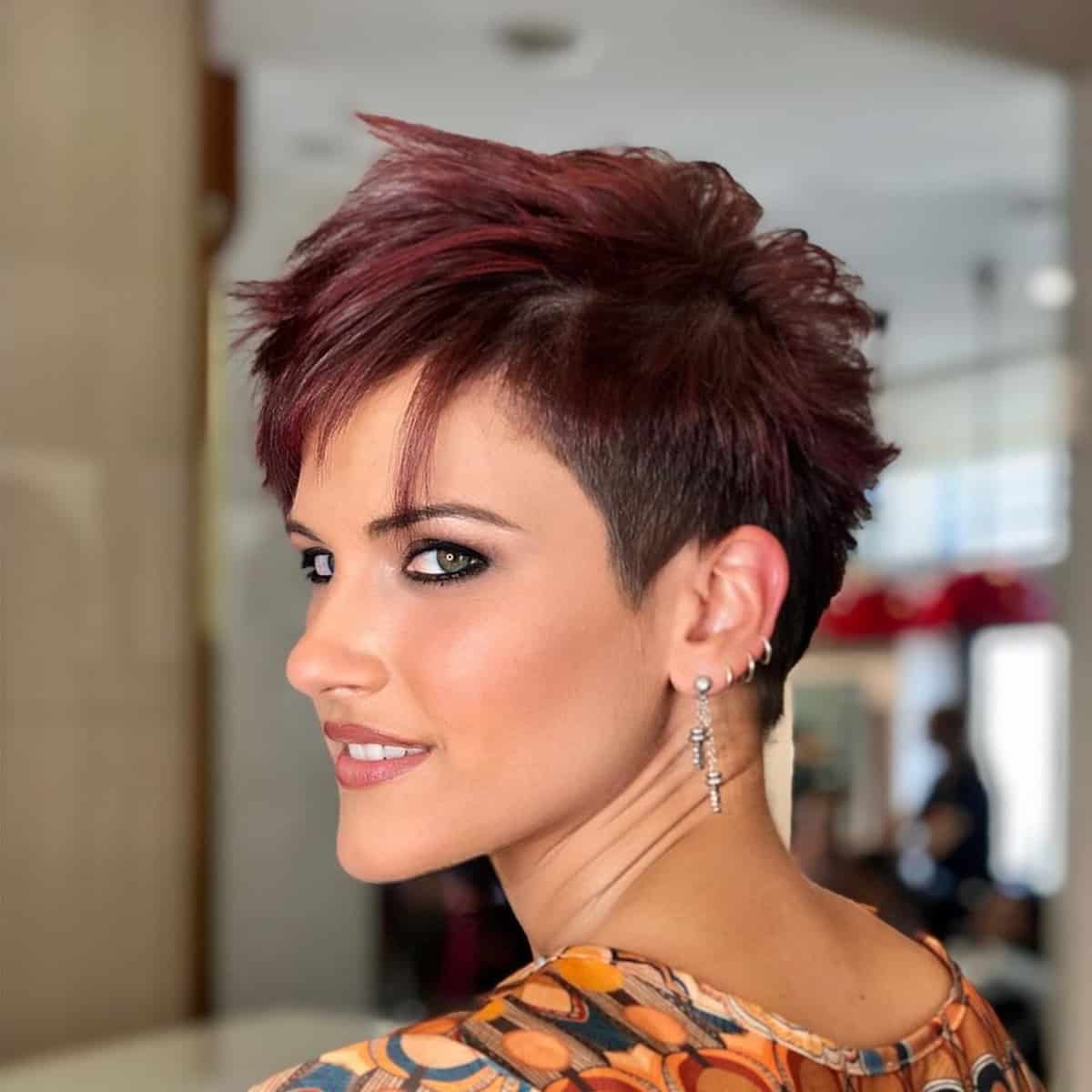 #23: Textured Long Top Pixie with the Short Shaved Side and a Fringe
This long-length pixie is non-traditional. It is a great way to be a little bit edgy and yet still feminine. The long top with longer bangs gives long pixie hairstyles a softer look, and the color screams feminine. The edgy part of this shaved pixie is in the back. It features an undercut (from sides to back) that shapes the hairline into a "V" shape. Long pixie hairstyles look great with waves, sleek, or even textured! The maintenance for this cut and color on a long pixie can last about 8 weeks. Because the fringe is longer, it can be suitable for even round faces! It does suit most face shapes. It's a great cut for women with an existing pixie who want to change things up. Some people think you can only do so much with short hair but that's not true!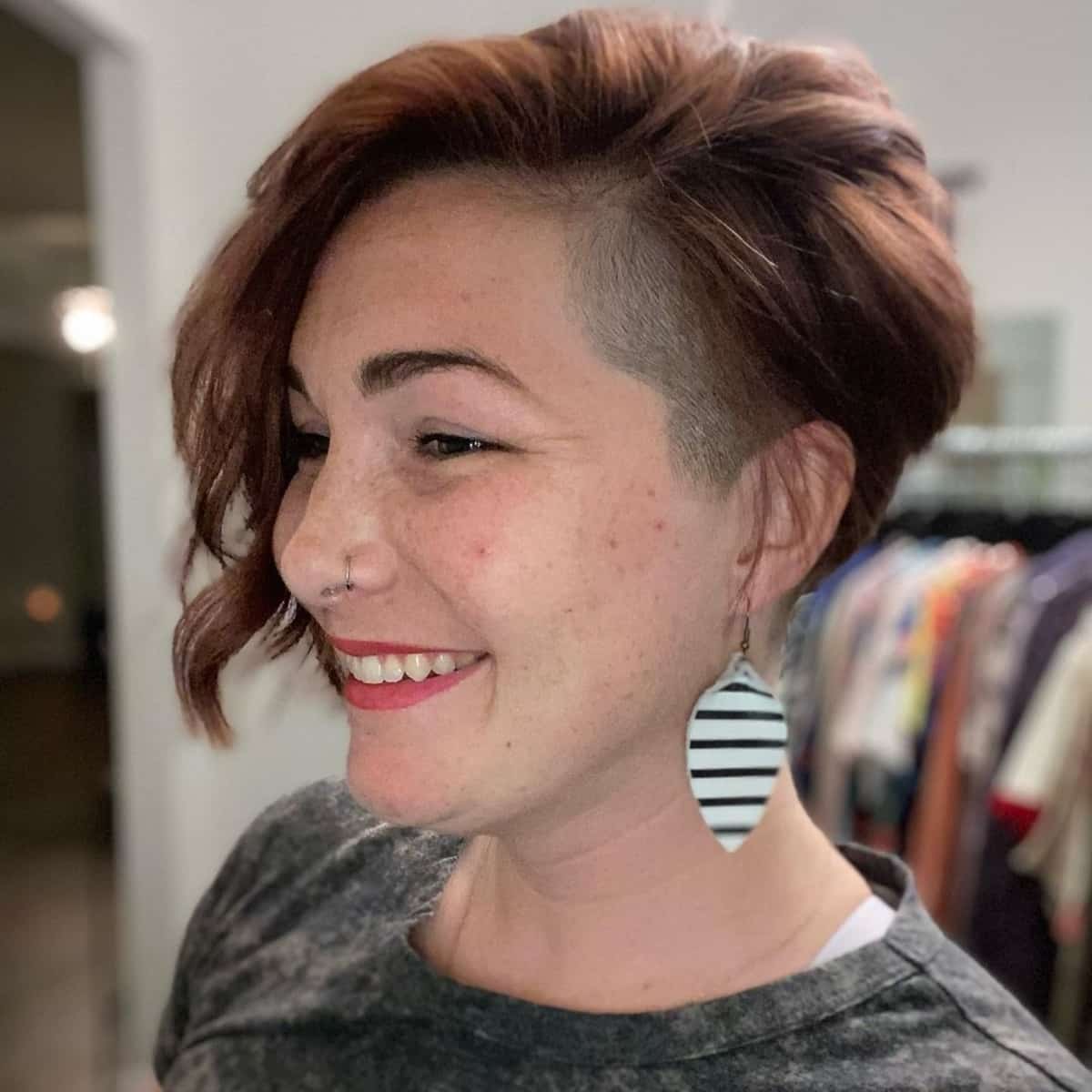 #24: Fun Pixie with Undercut
You need to channel your inner Kristen Stewart with this fun pixie with undercut! This is one of the most smartest choices for a playful disconnected contrast on the side. An undercut is a perfect option for women with thick hair that simply needs weight taken off to add extra texture to their hair.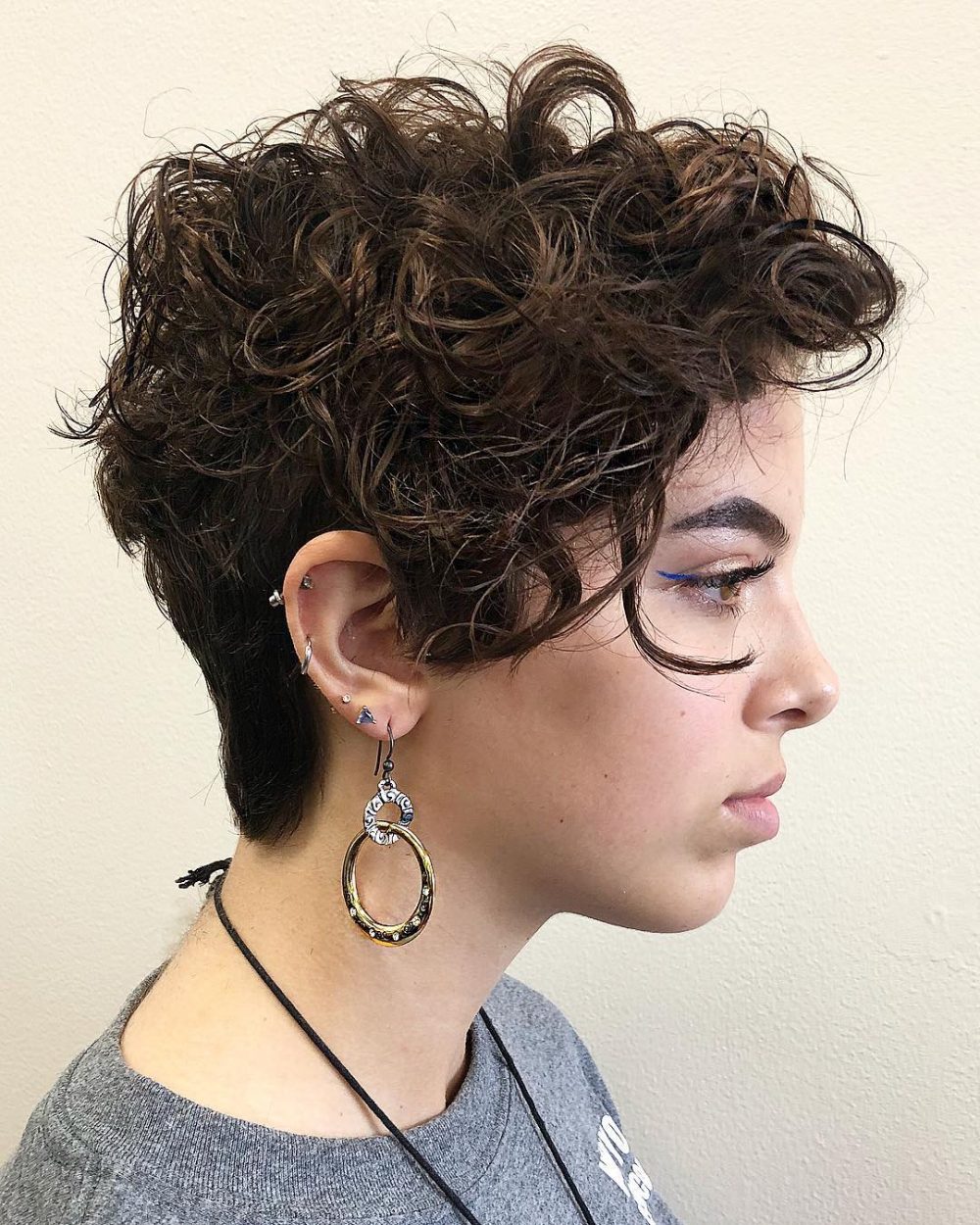 #25: Cool Long Curly Pixie Cut
A daring and sassy long curly pixie haircut is great for girls with naturally curly hair and is all about texture and definition. A long pixie hairstyle like this look great when leaving some length pieces in front for a flirty touch!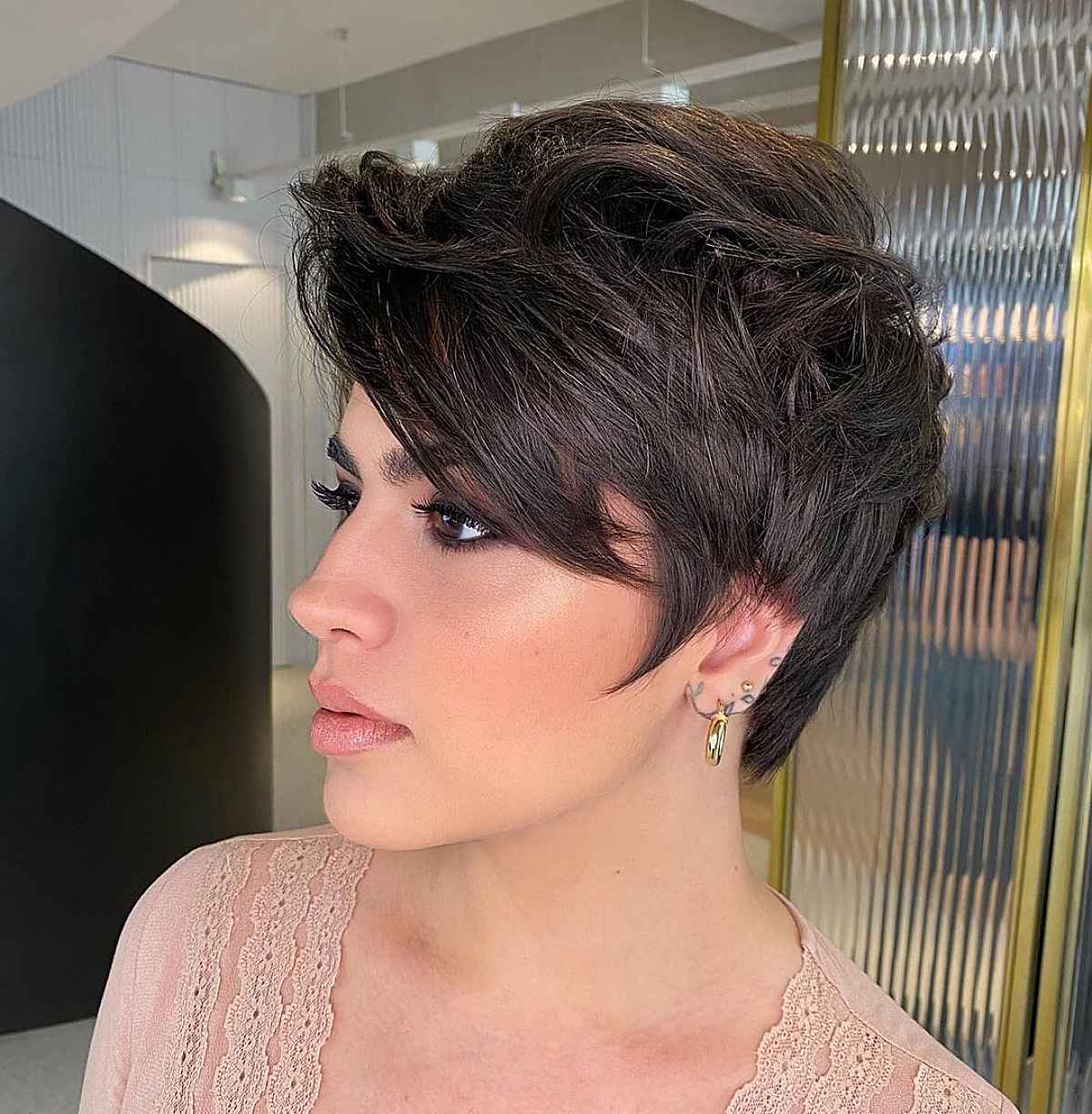 #26: Modern Shaggy Pixie with Long Side-Swept Bangs
The best thing about having super cute and short shaggy pixie haircuts is that you do not need to spend much time styling them. A lived-in tousled urchin haircut is enough for it to appear fashionable! This long shaggy pixie with a side fringe is perfect for a modern woman with curly or thicker hair.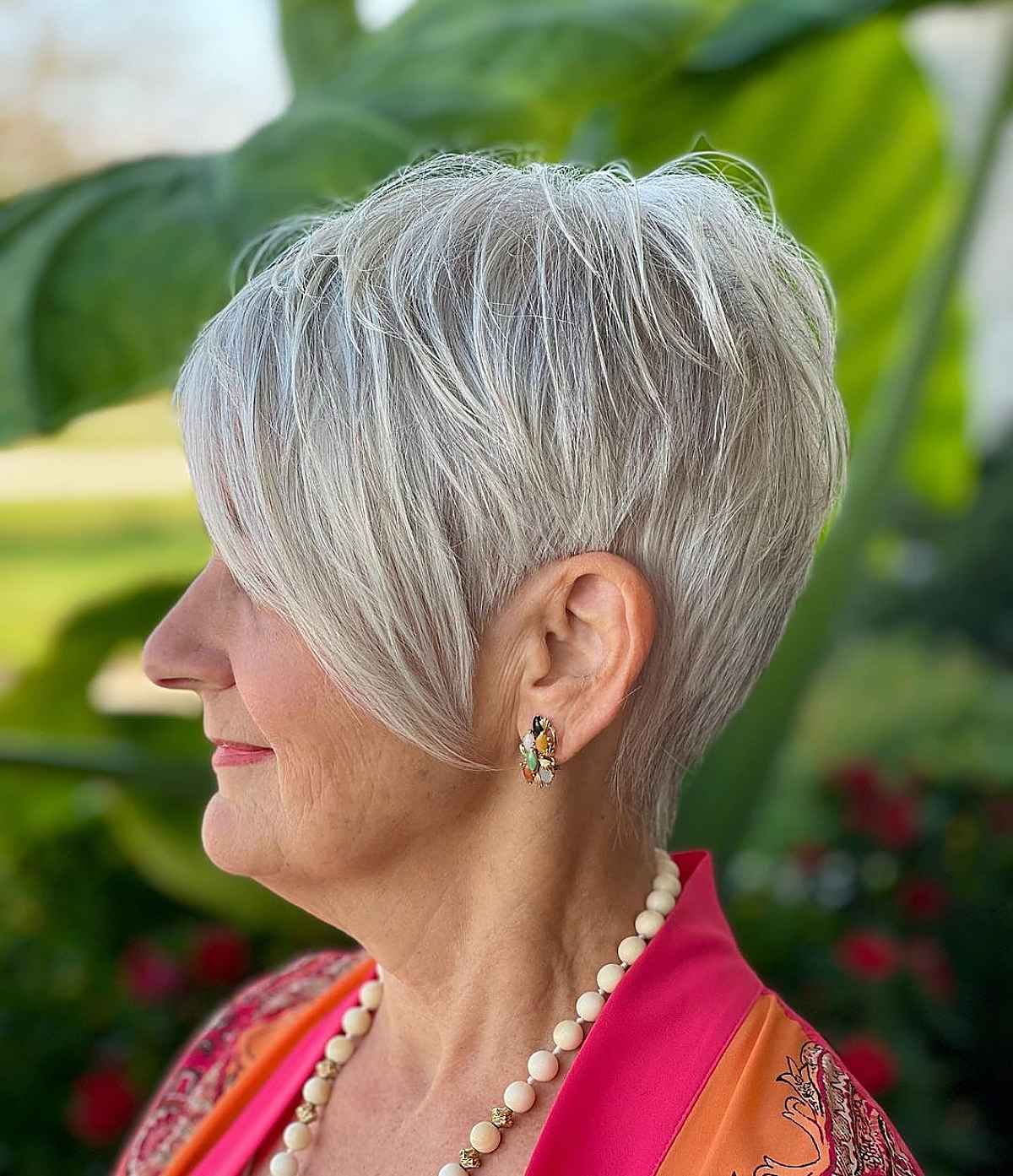 #27: Tapered Long Pixie With Bangs
A haircut this dreamy and modern only happens if you're confident enough to go with this tapered long pixie cut with bangs! The long face-framing, wispy bangs make this wispy pixie cut even edgier.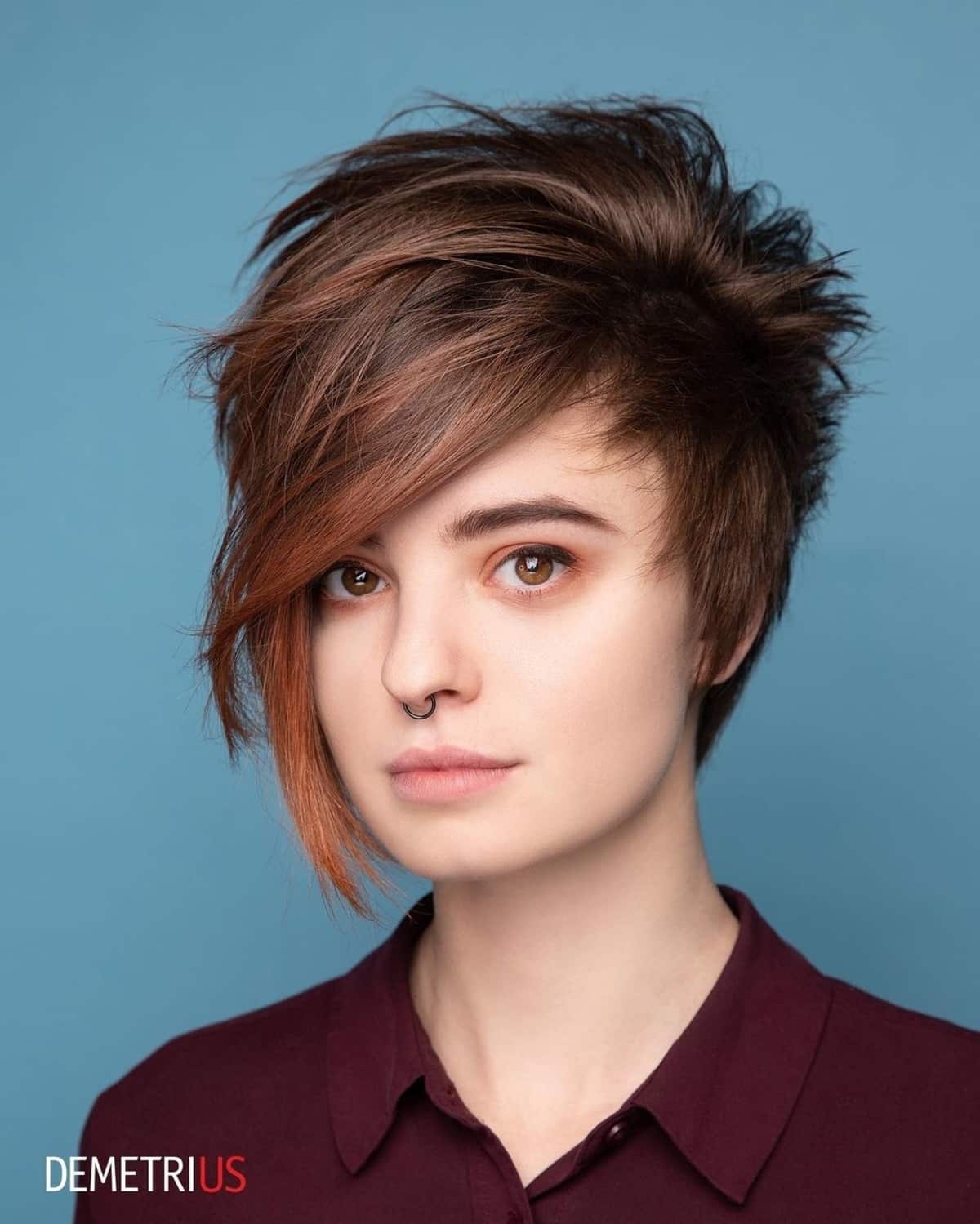 #28: Messy Long Pixie Bob Haircut with Long Side Bangs
Try an edgy long pixie bob with long side bangs if you need to update your style. Longer pixie cuts are a great choice if you're a bit timid about going into a short haircut. The longer lengths around the ears keep this pixie bob cut soft-looking. If you like variety, wear the long bangs styled to either side. It's a win-win!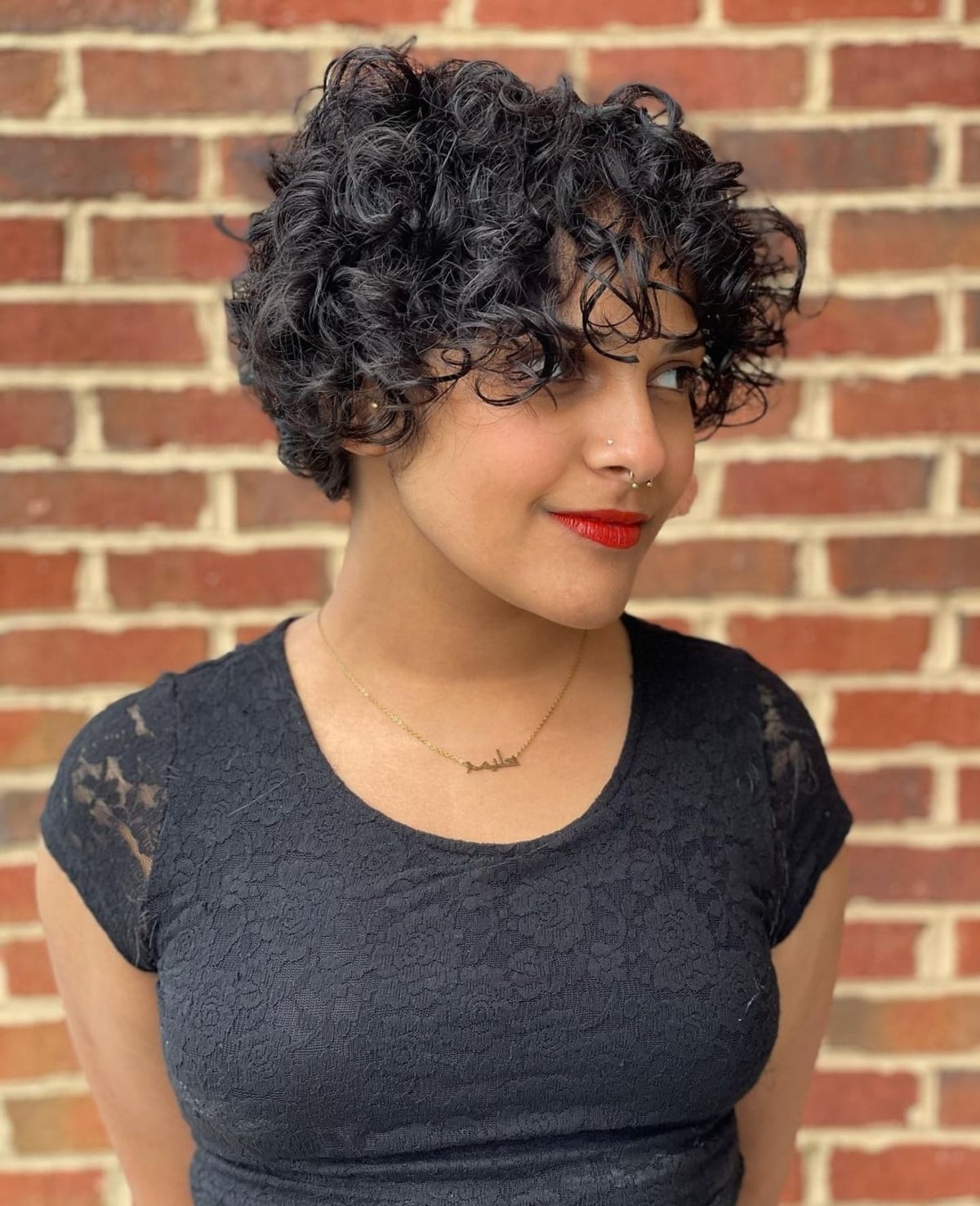 #29: Cute Black Pixie for Naturally Curly Hair
When long pixie haircuts look like this cute pixie for naturally curly hair, remember they are low-maintenance with an edgy look. Use the dry cut technique, curl by curl, to get this curly pixie cut. Layer the hair by angling the shears downwards and make sure you cut the curls where they live. Diffuse the curls when styling to maximize the volume of the hair.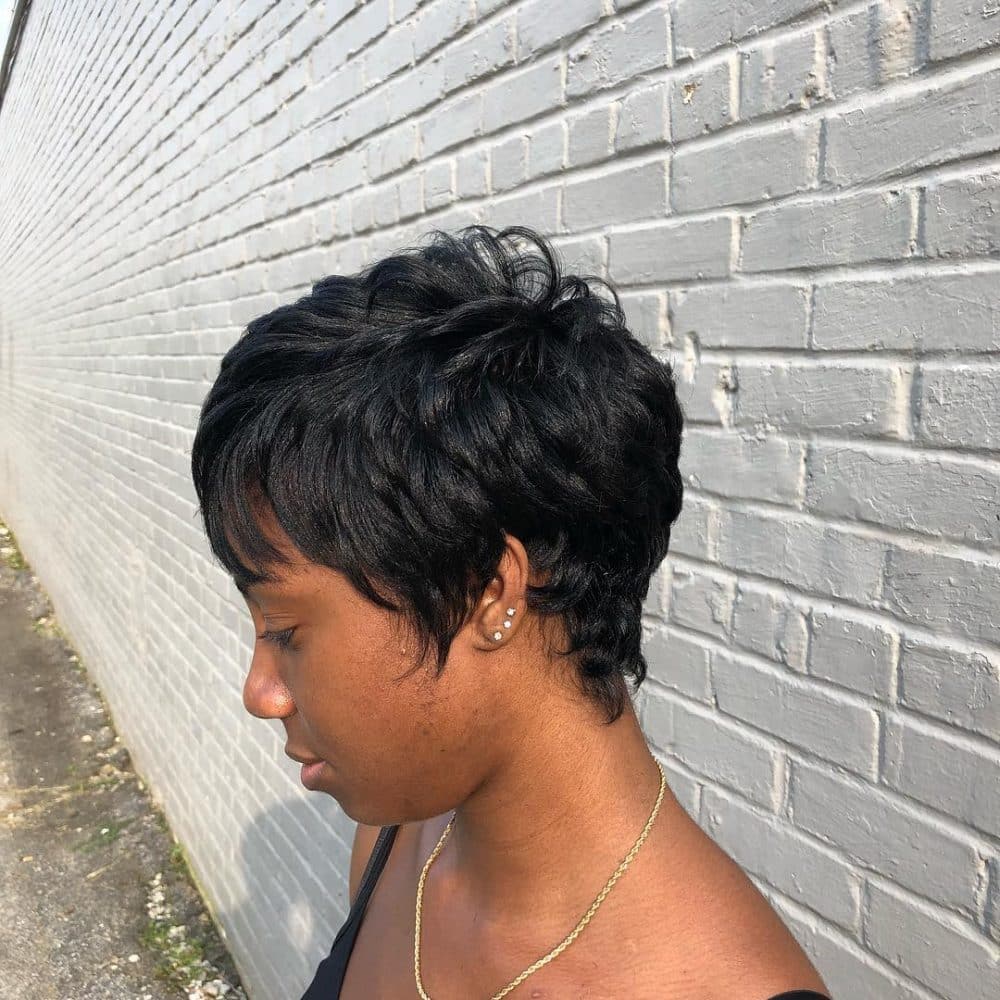 #30: Feminine-Looking Long Pixie for Black Women
Try a short hair that's longer on top if you haven't black hair. It's a great grow out cut if you currently have a really short pixie and want to grow it into a long pixie haircut. Try keeping it short but more length in the bangs area. This works best if you have very thick hair and it's relaxed. Try it with a dark brown hair color using Pravana Chromasilk 3N. It's dark but still natural-looking. For women looking considering long pixie haircuts, ask your stylist to look at your head, face shape, and hairline.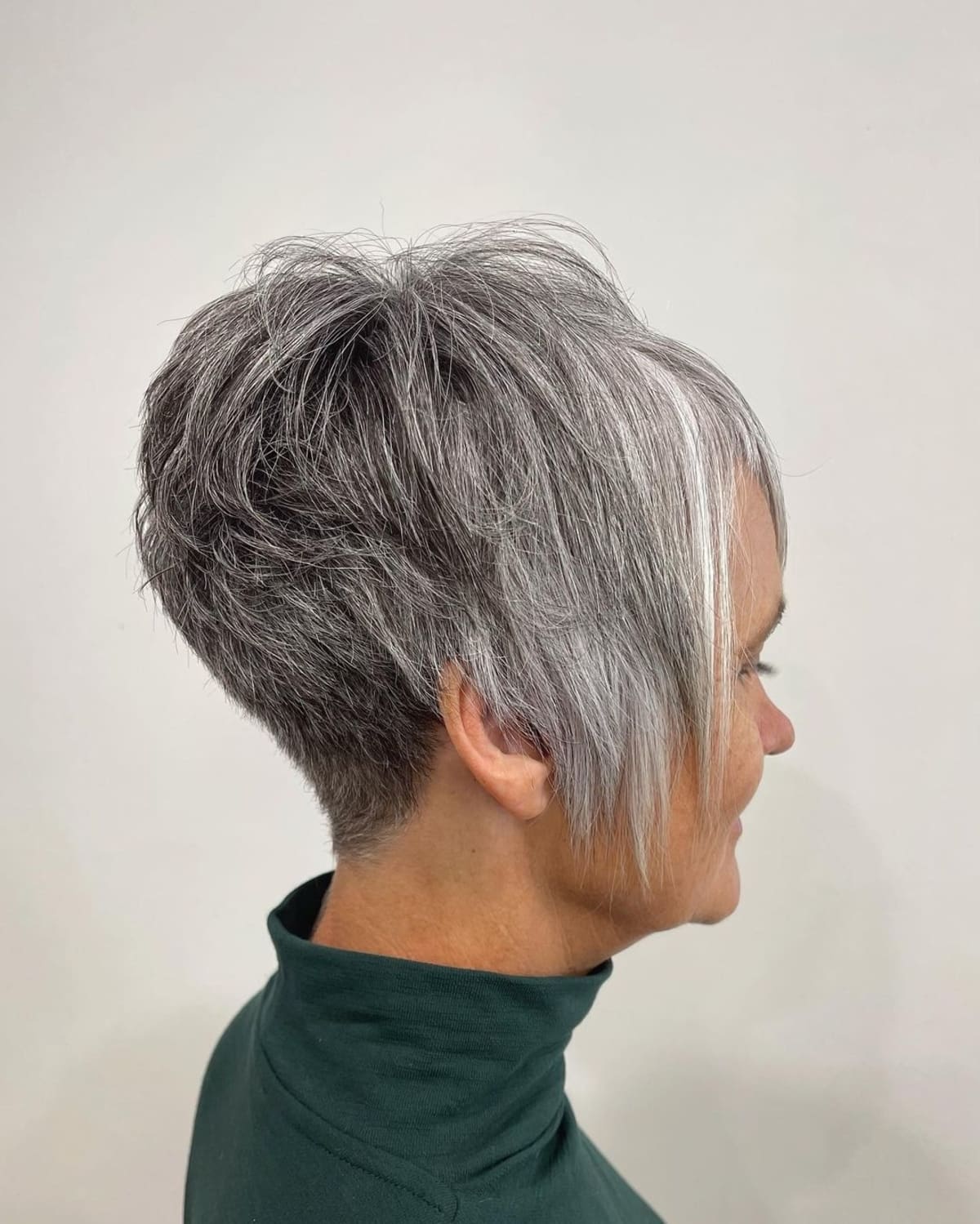 #31: Silver Pixie for Older Women
A silver pixie for older women is a very sophisticated style. A long pixie on short hair contains multiple, precisely cut layers and is often shorter in the back and longer around the face. A grey pixie cut allows women to wear their natural silver hair color with a fun style.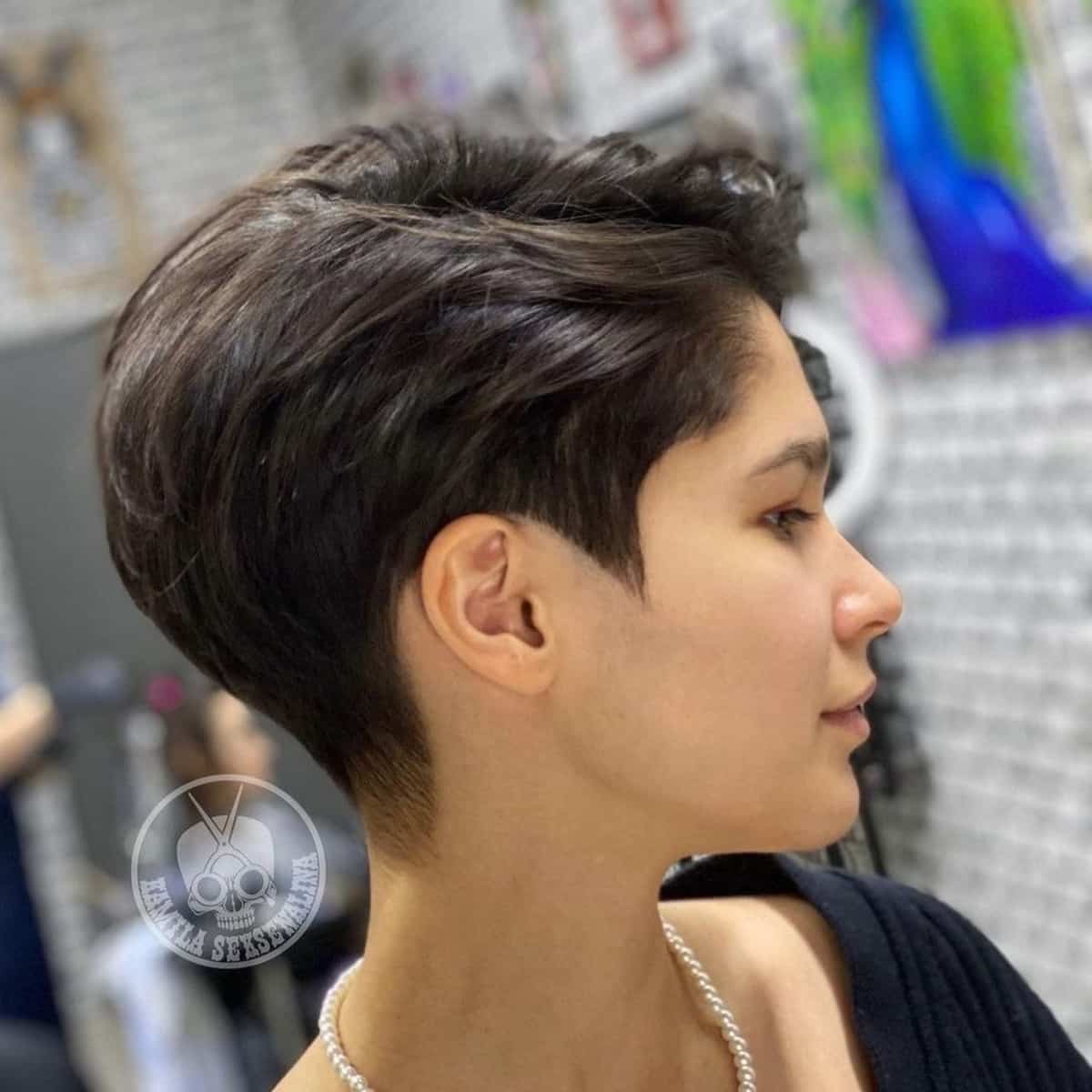 #32: A Long Androgynous Pixie
A long pixie is a perfect hairstyle choice for most women. Long androgynous pixie styles are very common and can be cut and styled in many different ways. Short hair with long sides is always in style and stunning on most face shapes.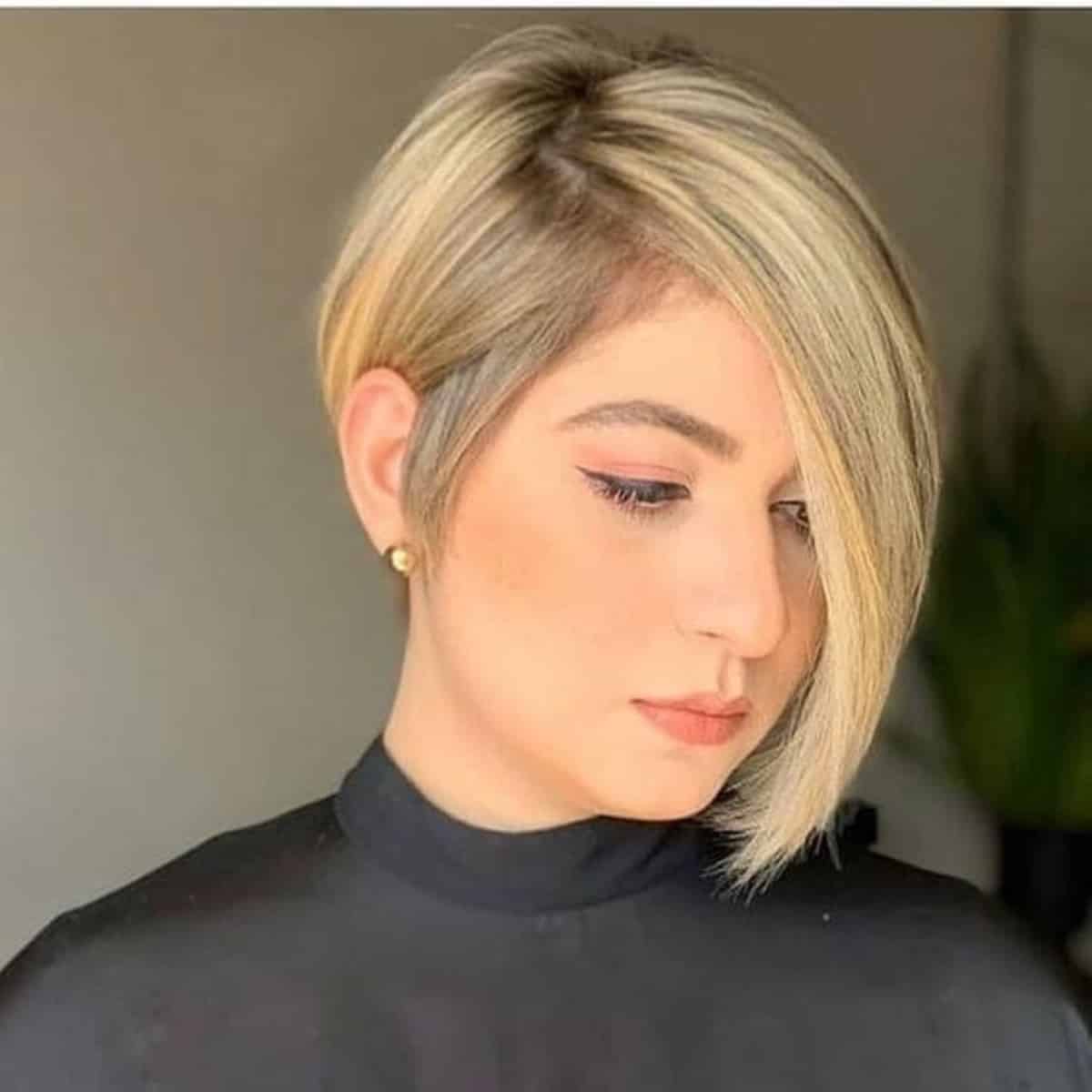 #33: Long Pixie For Thick Hair
Consider a long pixie for thick hair to keep your hair looking sleek and sharp. Long pixie hairstyles that have a side-parting for thick hair are sometimes ideal to avoid the hair from bulking too much when it's short. The medium pixie length that sits between a bob and pixie keeps a little weight to enable the hair to sit in a sleeker silhouette and thus, will be easier to maintain.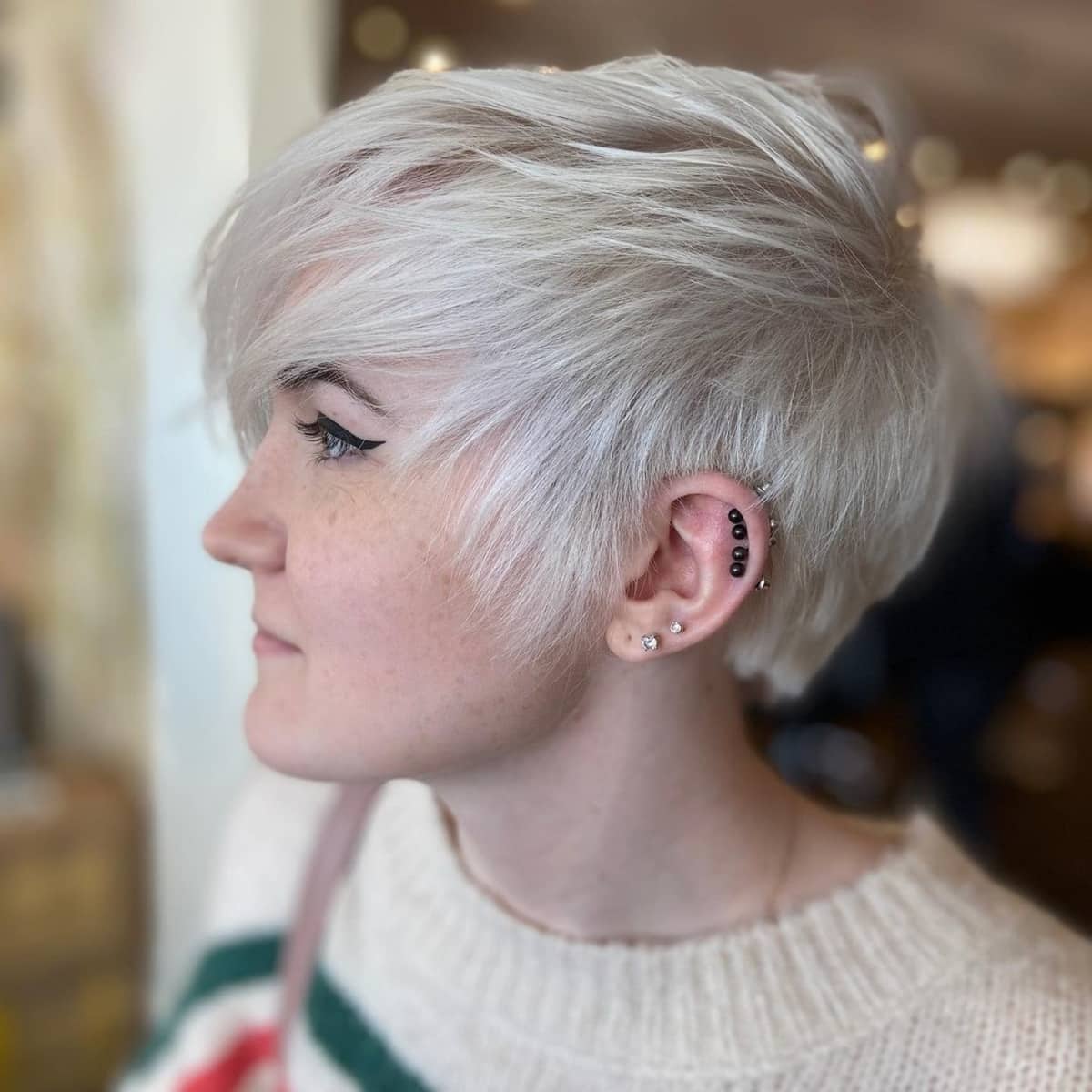 #34: Textured Pixie with V-Cut Layers
Give your tresses some life and pull off a textured pixie with V-cut layers for a quick and easy hairstyle! Ask your stylist to use a scissor-over comb technique to achieve that close tapered finish. I also recommend point-cutting to achieve a pieced-out texture. This creates super short wispy pieces around the fringe and ears.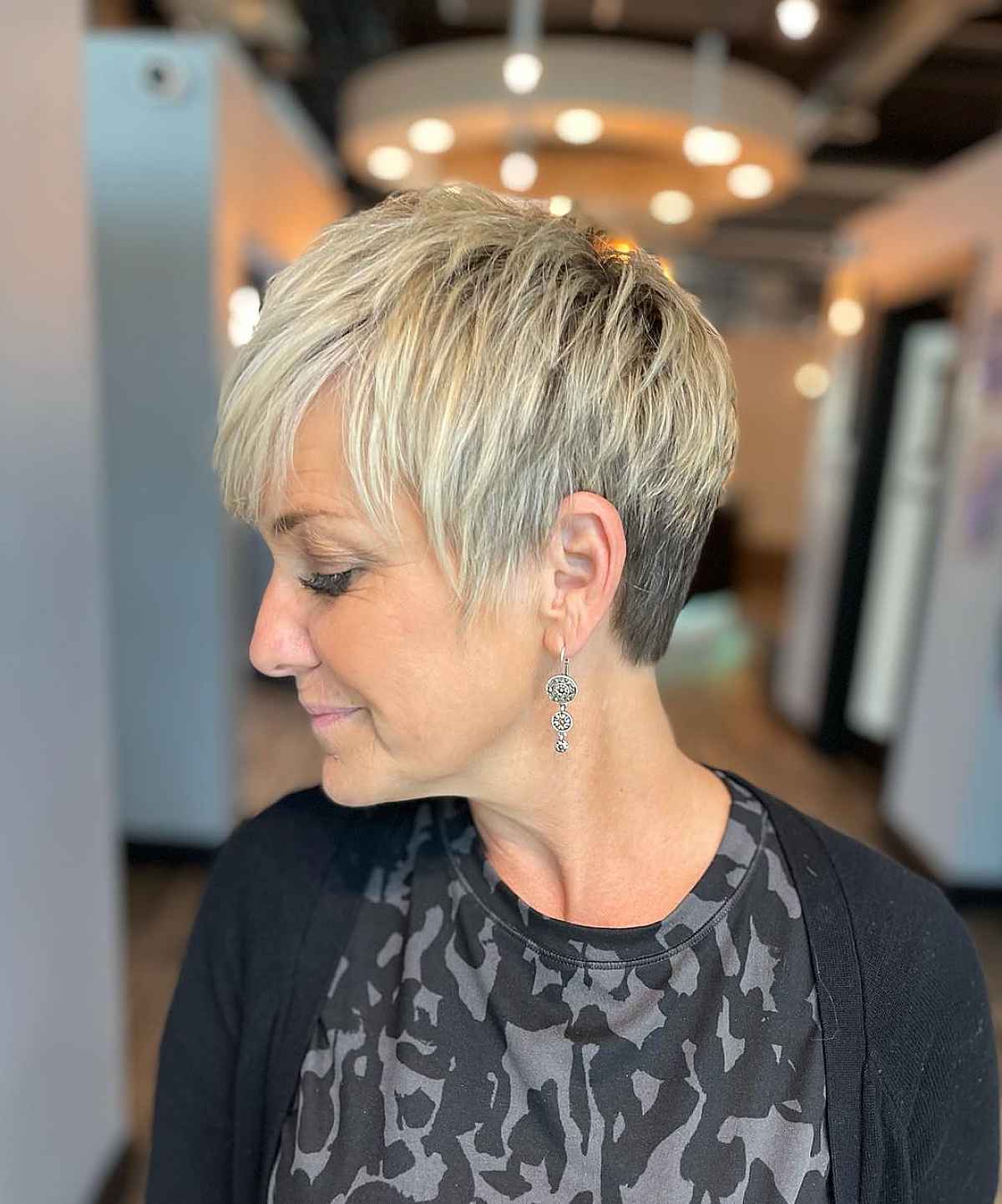 #35: Long Pixie with Bangs Haircut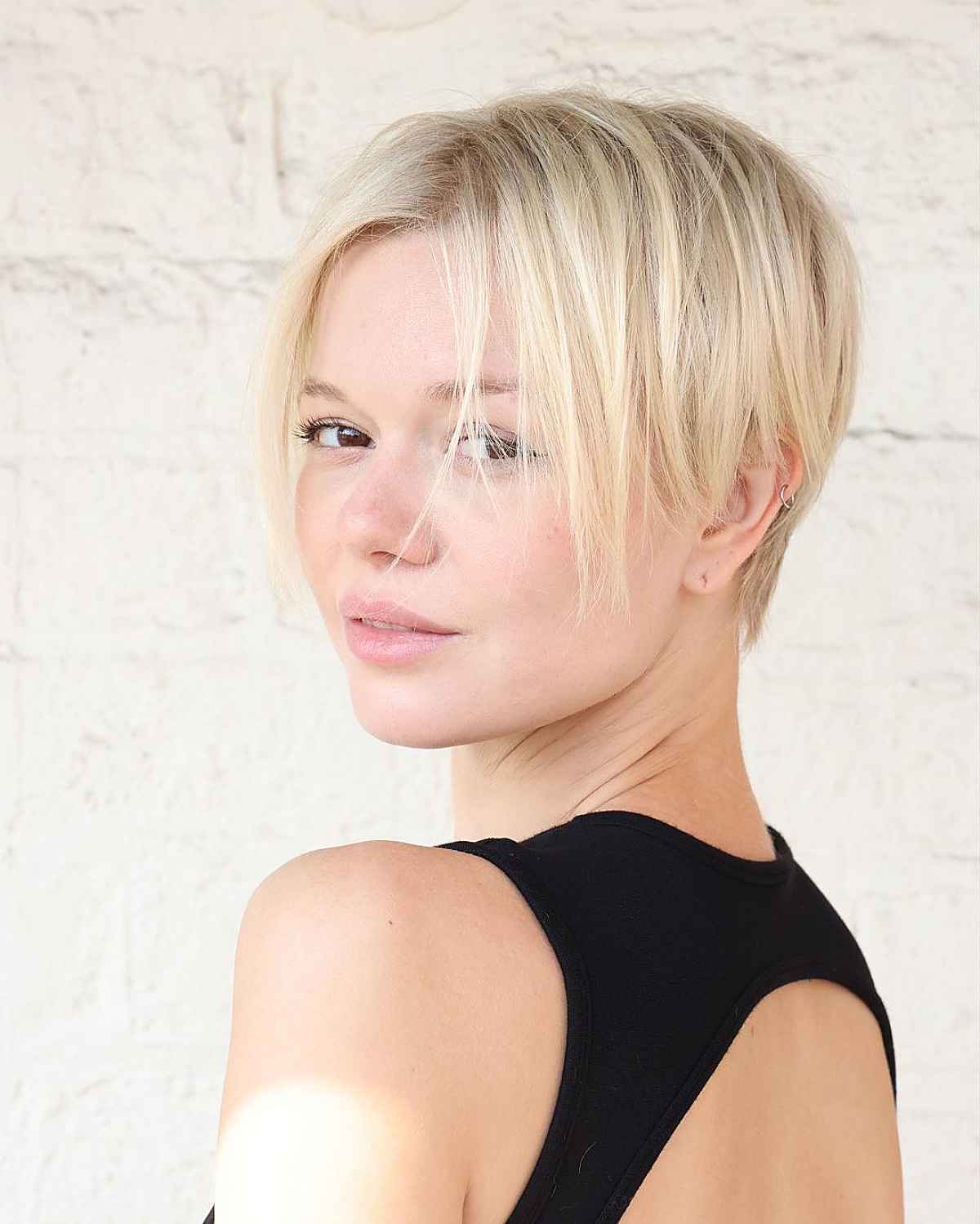 #36: Extra Long Pixie with Wispy Ends
An extra long pixie haircut with wispy ends gives you that edgy pixie style with the comfort of length around the face. Wispy ends can be achieved by adding texture to the ends of the haircut. This look is ideal for medium to fine hair textures.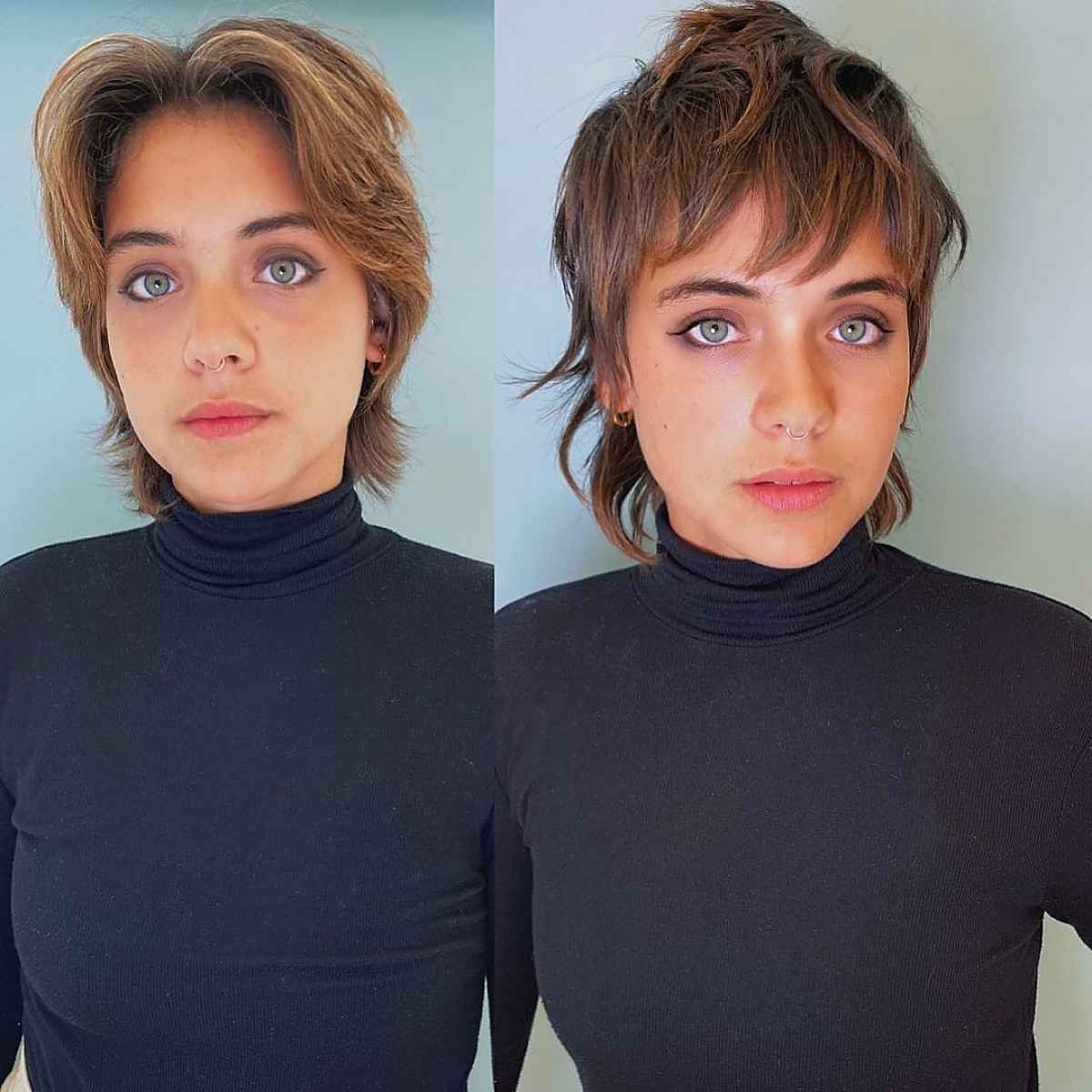 #37: Pixie Mullet Hairstyle
The pixie mullet hairstyle is an edgier version of a traditional pixie. Growing out the back length allows you to try a new look without much effort.
#38: Fiery Long Shaggy Pixie Cut
A fiery long shaggy pixie cut is an ideal cut for women looking to conceal fine lines and wrinkles on the forehead and eyes. The texturized layers make for easy styling, quick drying, and a low-maintenance style. To style, spray a small amount of sea salt spray into damp hair and blow dry in all directions or air dry. Once dry, use a pea-sized amount of pomade and rub it between hands then apply to the hair in places where you want a piecey texture.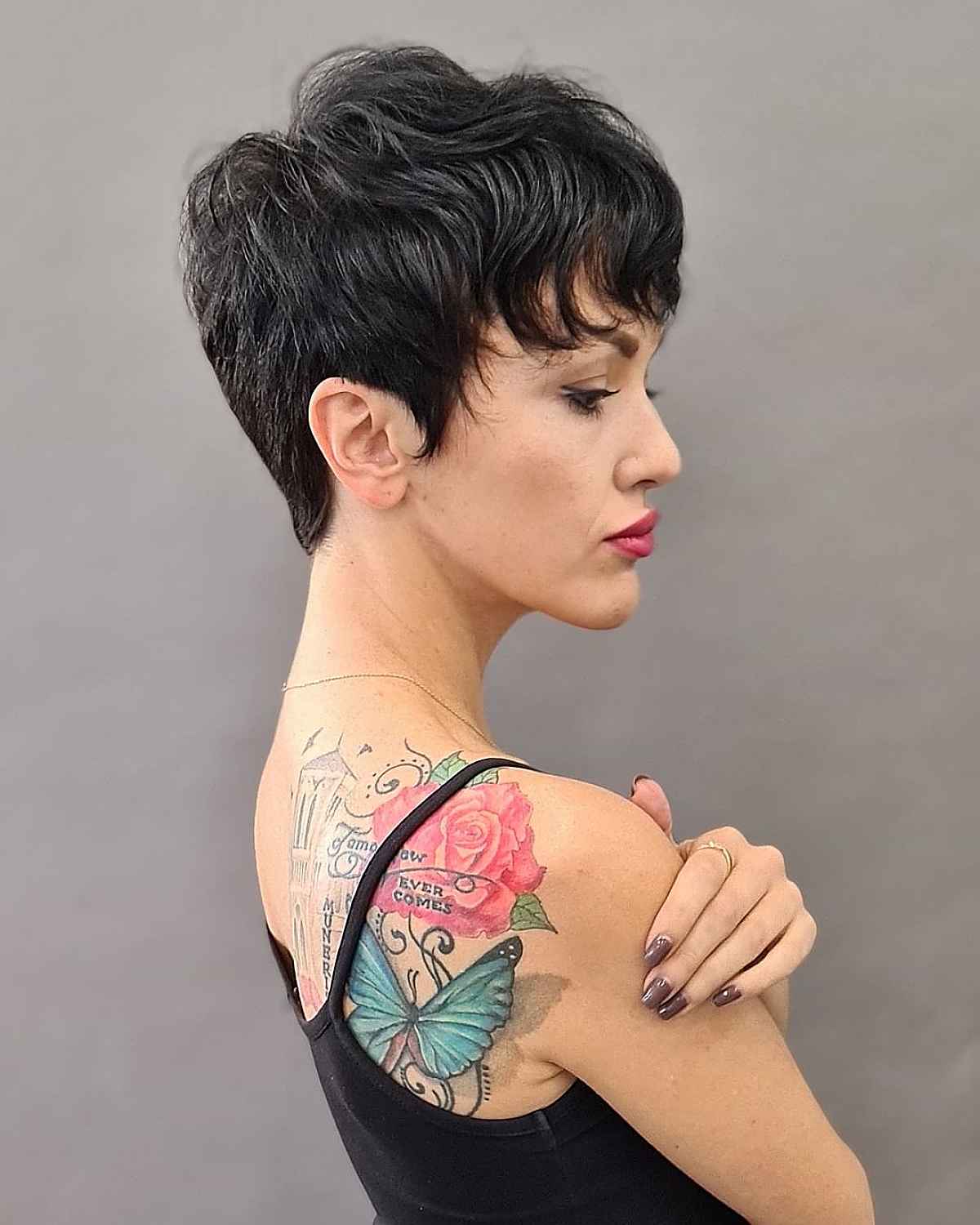 #39: Black Wavy Lixie
A black, wavy long pixie hairstyle is a great cut to step to the shorter side of life without losing too much length on the top. The soft textured bangs really soften the face shape and elongated the neck by having shorter sides. A truly effortless style for wavy-haired ladies. Throw a little leave-in curl cream into damp hair or choose to diffuse it on low speed with low heat to enhance natural texture.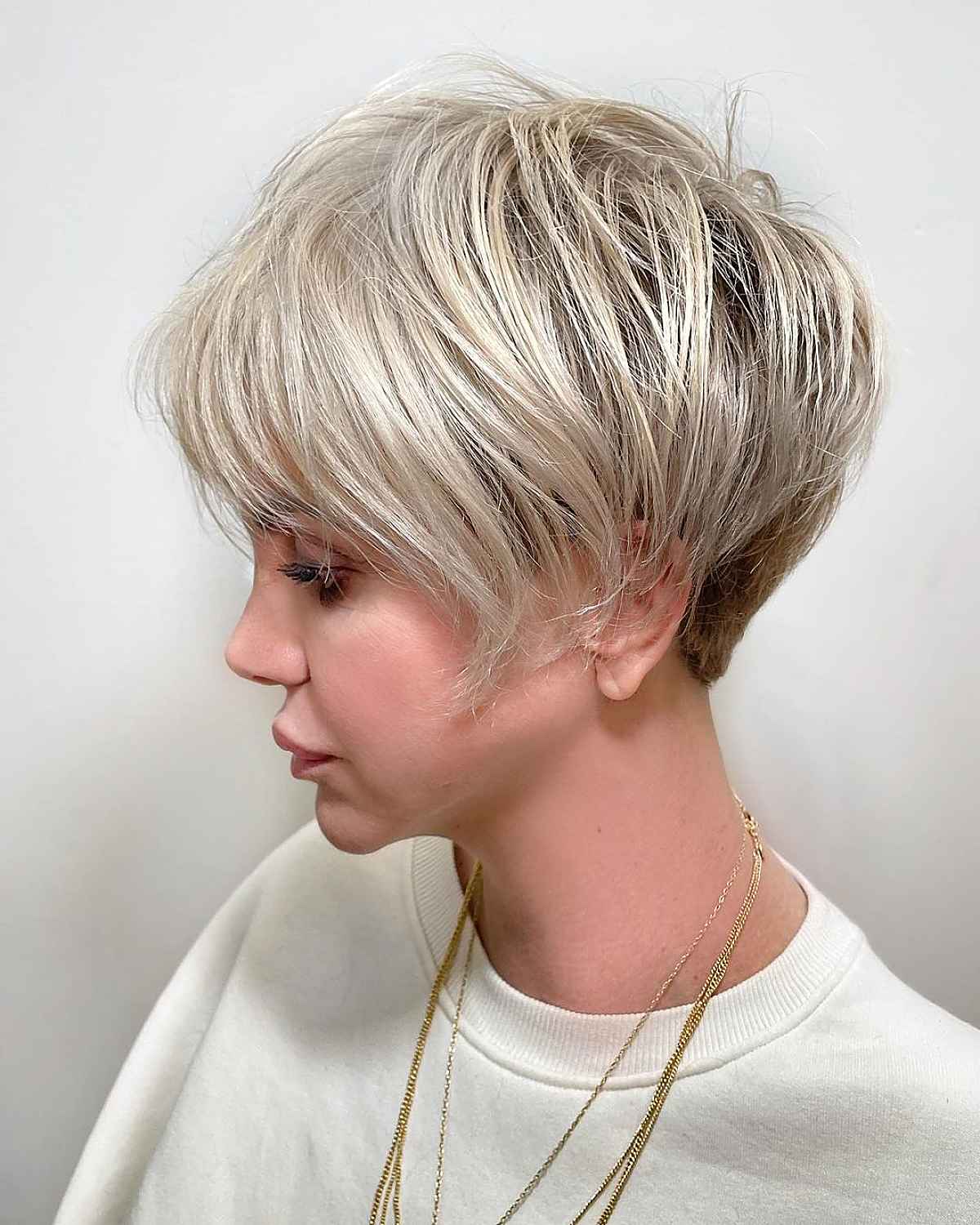 #40: Platinum Long Pixie with an Undercut
Try a platinum long pixie with an undercut if you're looking for easy styling but still want a fun haircut. This platinum blonde shade adds a feminine touch to a short style. A long pixie haircut is a great pixie for fine hair to give the shape fullness.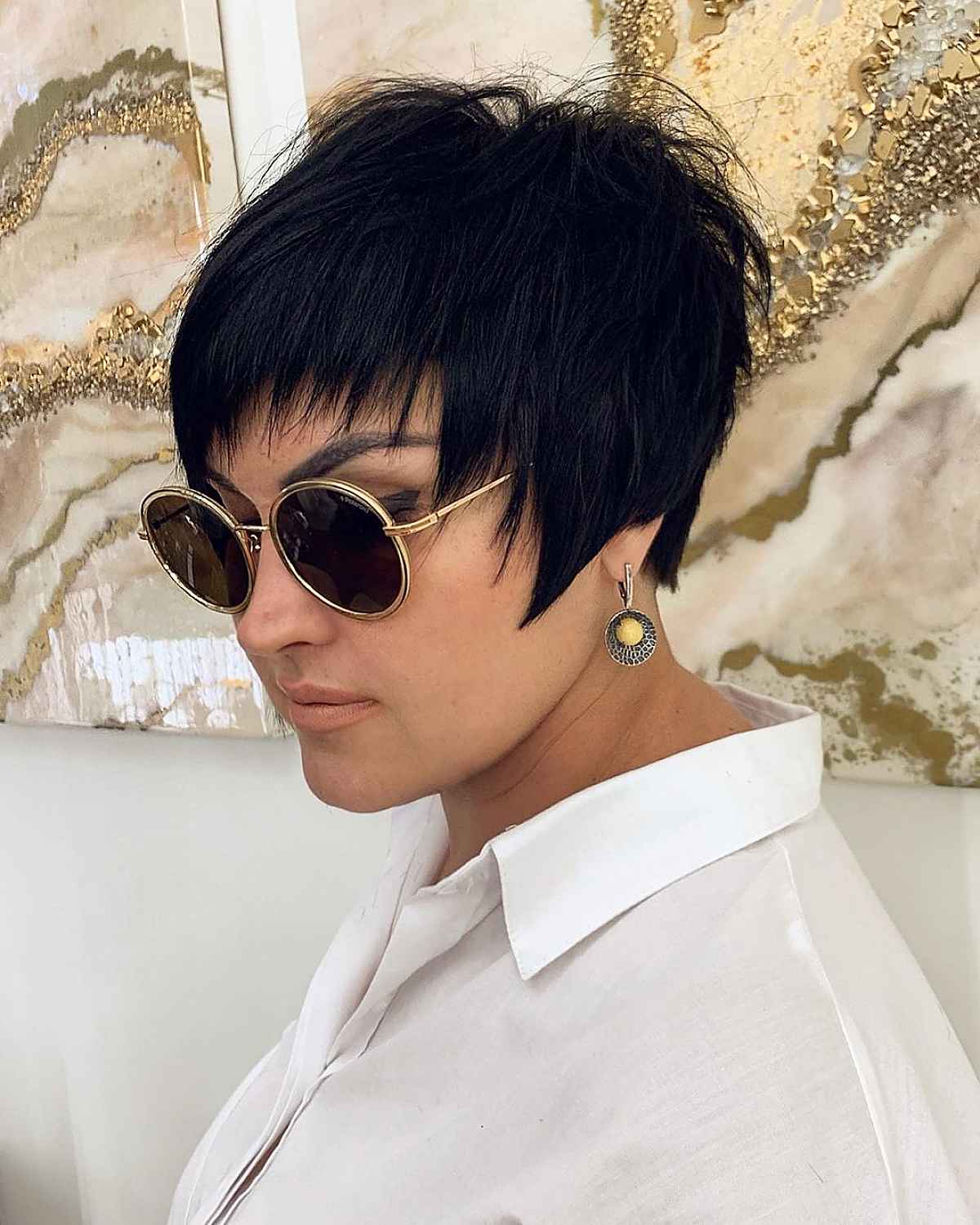 #41: Jet Black Long Pixie Cut with Side Burns
An edgy fashionable look is a jet black long pixie haircut with sideburns. With a super cropped top and textured sides, this haircut is sure to give you that sass you've been wanting. The ideal hair type for this cut is medium to thick hair. Carving out the sideburns to create softness around the face gives this haircut the uniqueness and flattery for any face shape.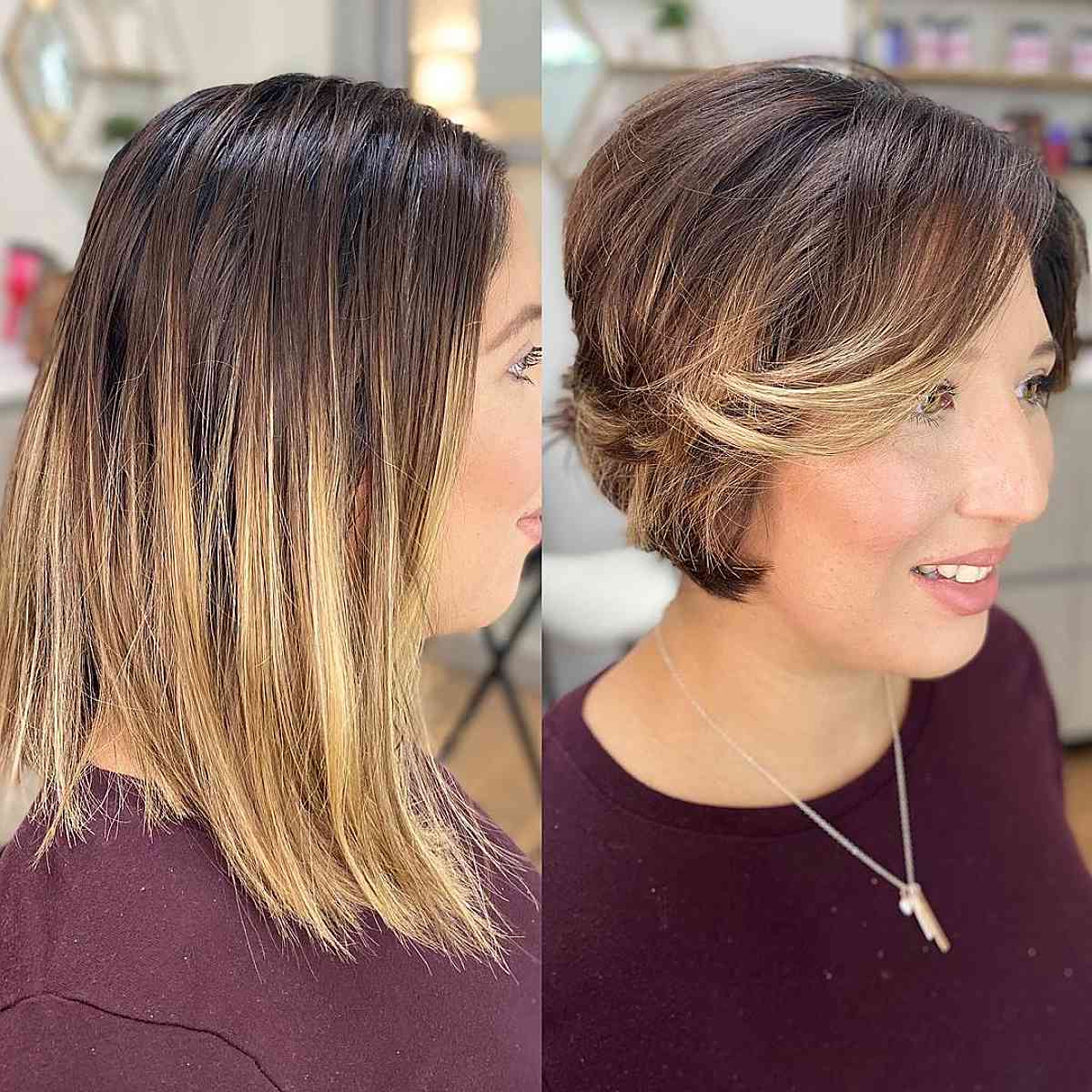 #42: Stunning Long Pixie Before and After
This before and after of a long pixie hairstyle is stunning. This transformation goes to show that sometimes you just need a pick-me-up! This length is extremely low-maintenance and very easy to style, so you will never get bored of your short hair. Before blow-drying, massage a dime-sized dollop of Schwarzkopf Repair Rescue into your hands and distribute evenly for added shine and softness.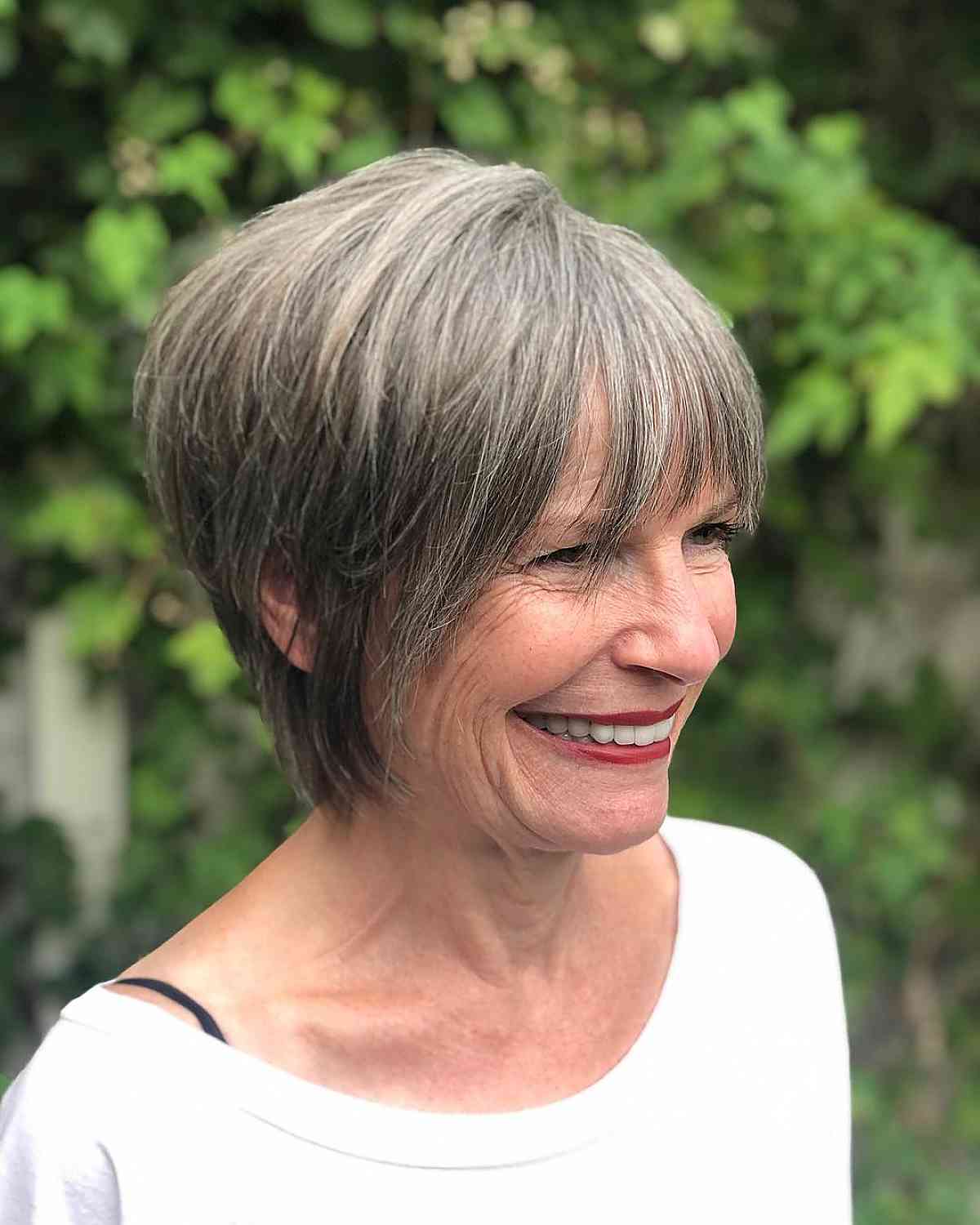 #43: A Long Pixie for Women Over 70
Women over 70 should definitely give a long pixie cut a try. This youthful style will have you feeling young and fresh again. This textured cut can be accentuated by flat ironing the very tips to give it an even shaggier appearance.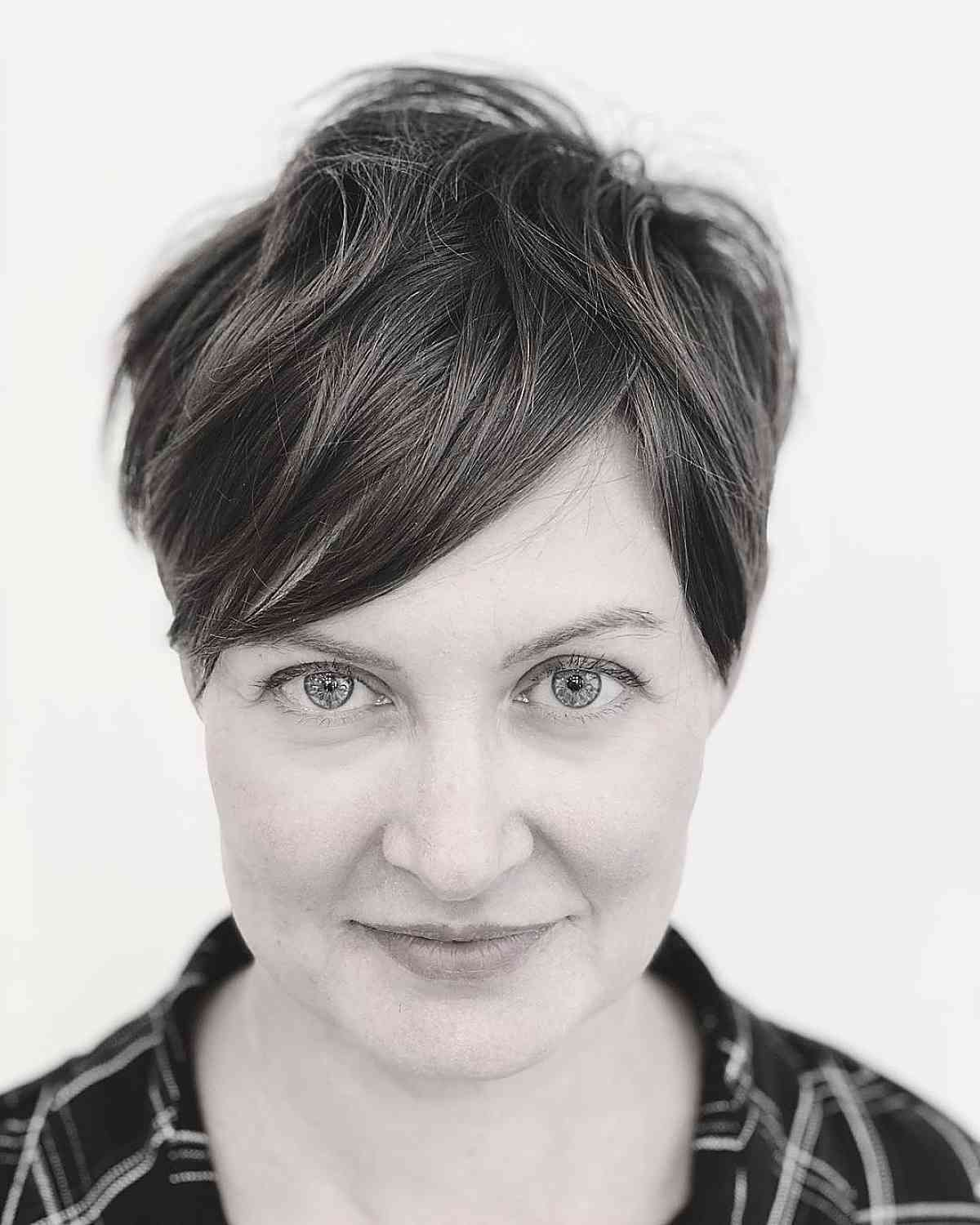 #44: Dry Razor Cut Lixie
A lixie that is dry razor cut is one of the all-time favorite looks amongst women. The softness of this style is unmatched and super low-maintenance. Taking only a few minutes to style every morning, it can't get much easier than this. Massage a nickel-sized dollop of Redken Aerate into your hands and distribute evenly for added texture and volume.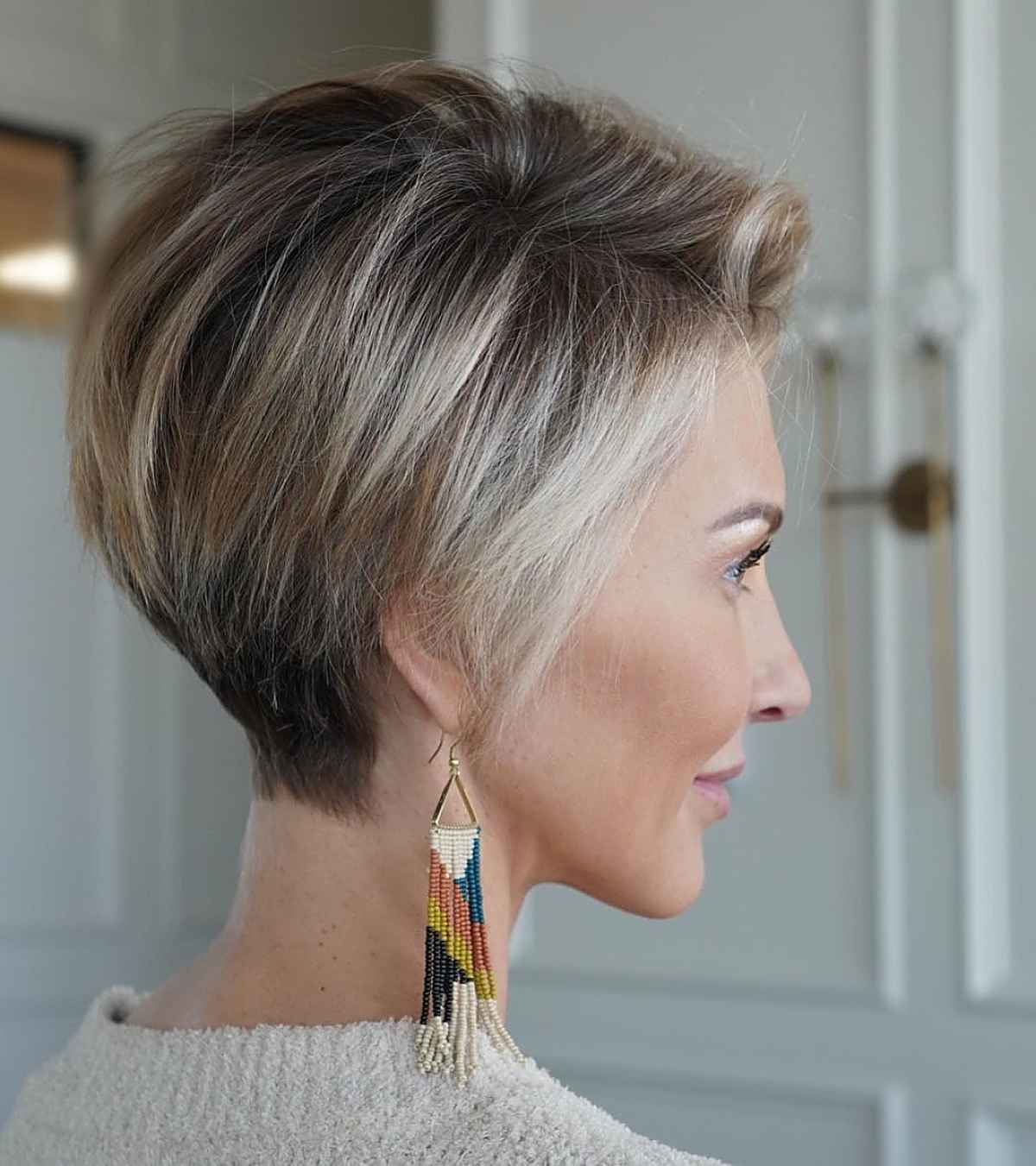 #45: Modern Long Pixie with a Smudge Root and Highlights
Longer pixies can look more modern by adding a smudged root and highlights. Classic pixies are typically too short for highlights, but with this longer version, you can pump up your brightness. A smudged root can make your outgrowth less noticeable between color appointments.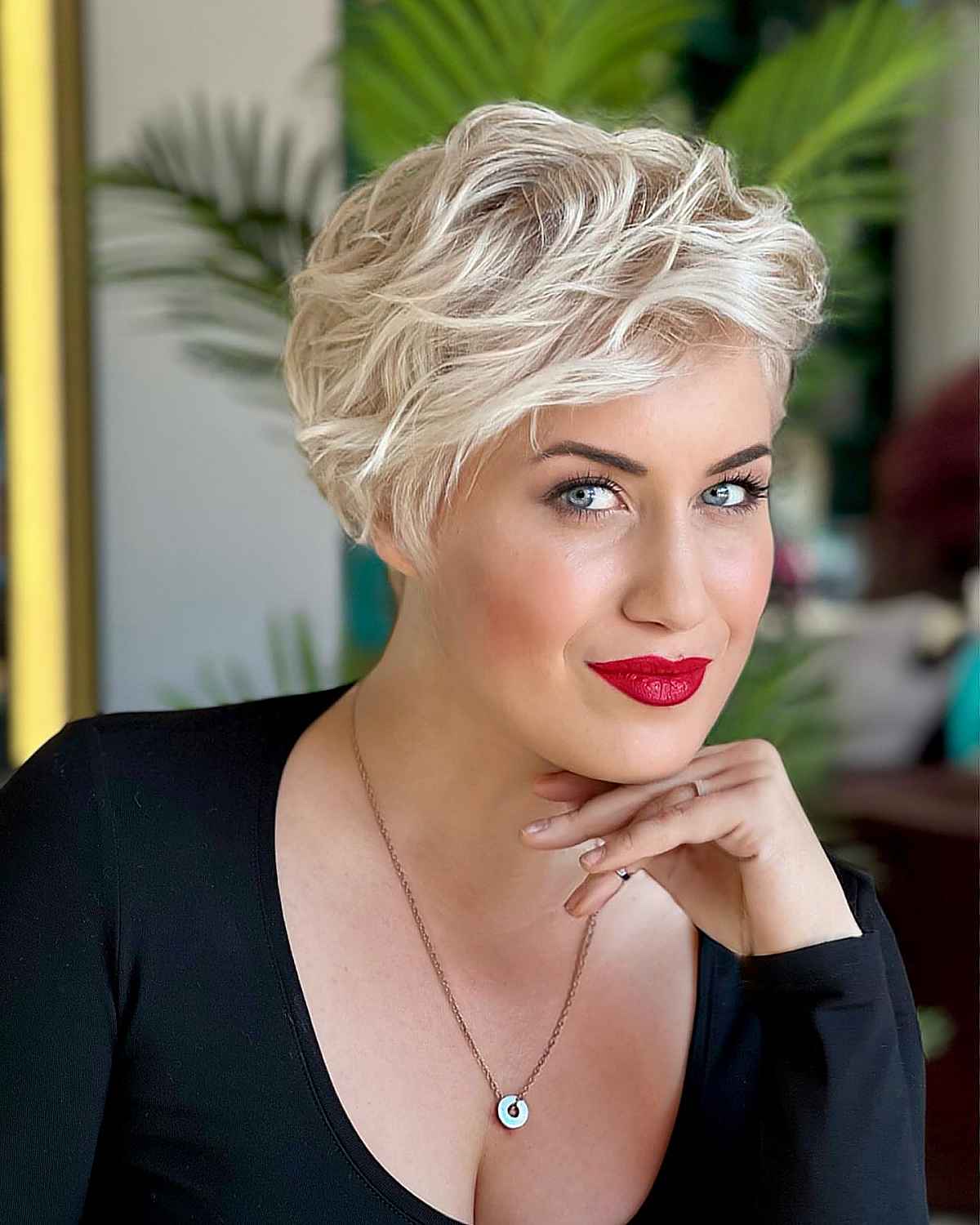 #46: Blonde Wavy Lixie
You should try a wavy lixie if you're searching for a short but feminine hairstyle. The longer lengths in the crown keep you looking soft and enables you to curl the hair in a modern fashion. An all-over blonde pixie really makes this cut pop. Be aware all over lightening can be hard on your hair, so protein treatments and heat protectant are important. Shorter hair like the lixie needs to be trimmed more often, about every 4 weeks.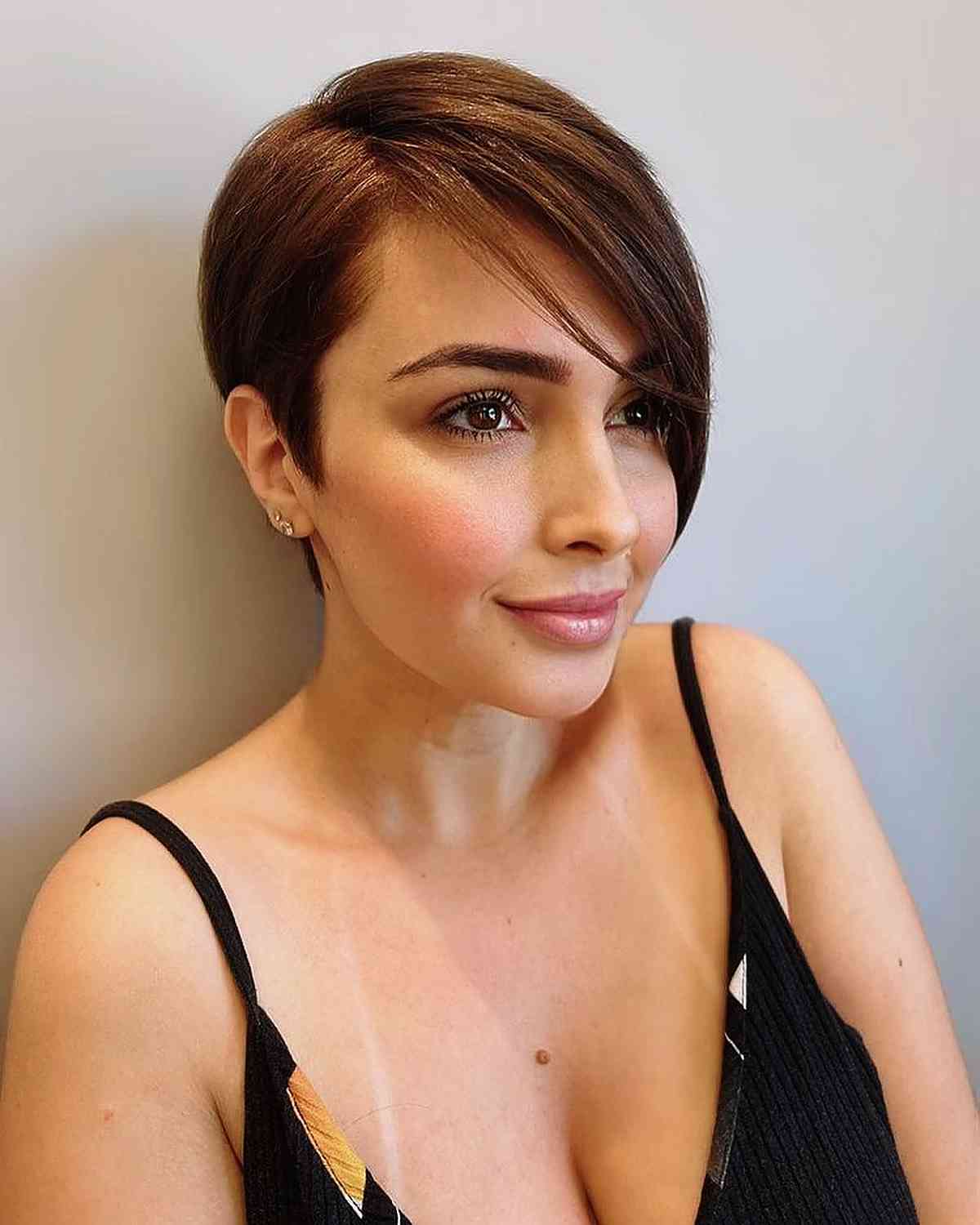 #47: Brunette Side-Swept Long Pixie Cut
A brunette side-swept long pixie cut creates lots of volume and movement for those who want effortless texture and a lived-in style. Side-swept bangs help offset any asymmetric facial features and can help bring overall balance to the face with one side cut at chin-length. Brunette hair can create a more dense appearance and can be customized to work with any skin tone.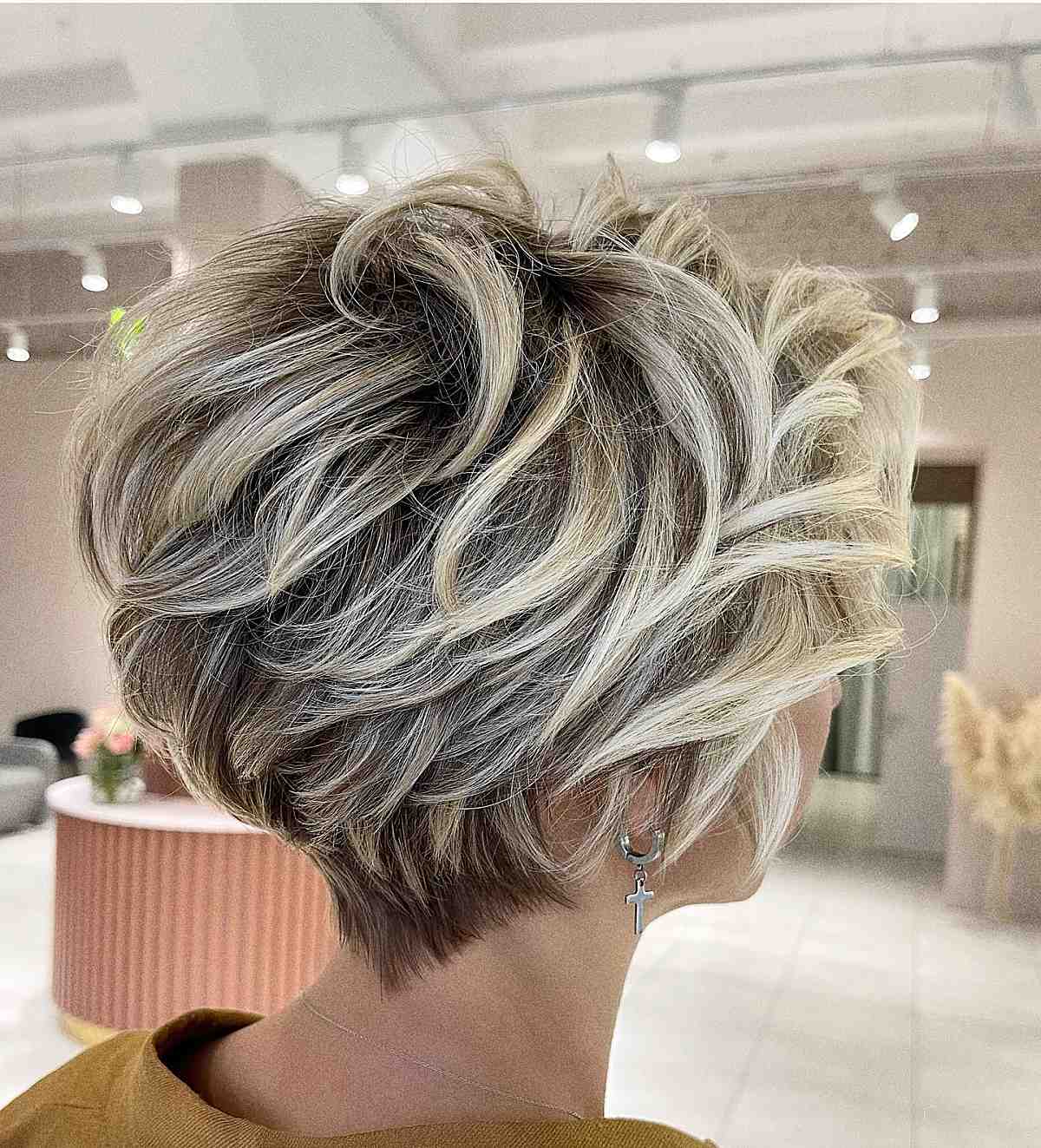 #48: The Bixie Hairstyle (Long Pixie Bob)
When you bridge the gap between the pixie and a bob, you get the bixie hairstyle! The bixie has a clean cropped neckline, but maintains length around the face, anywhere from the cheekbone to the jawline. This pixie bob haircut is extremely versatile, making it favorable for women of all ages.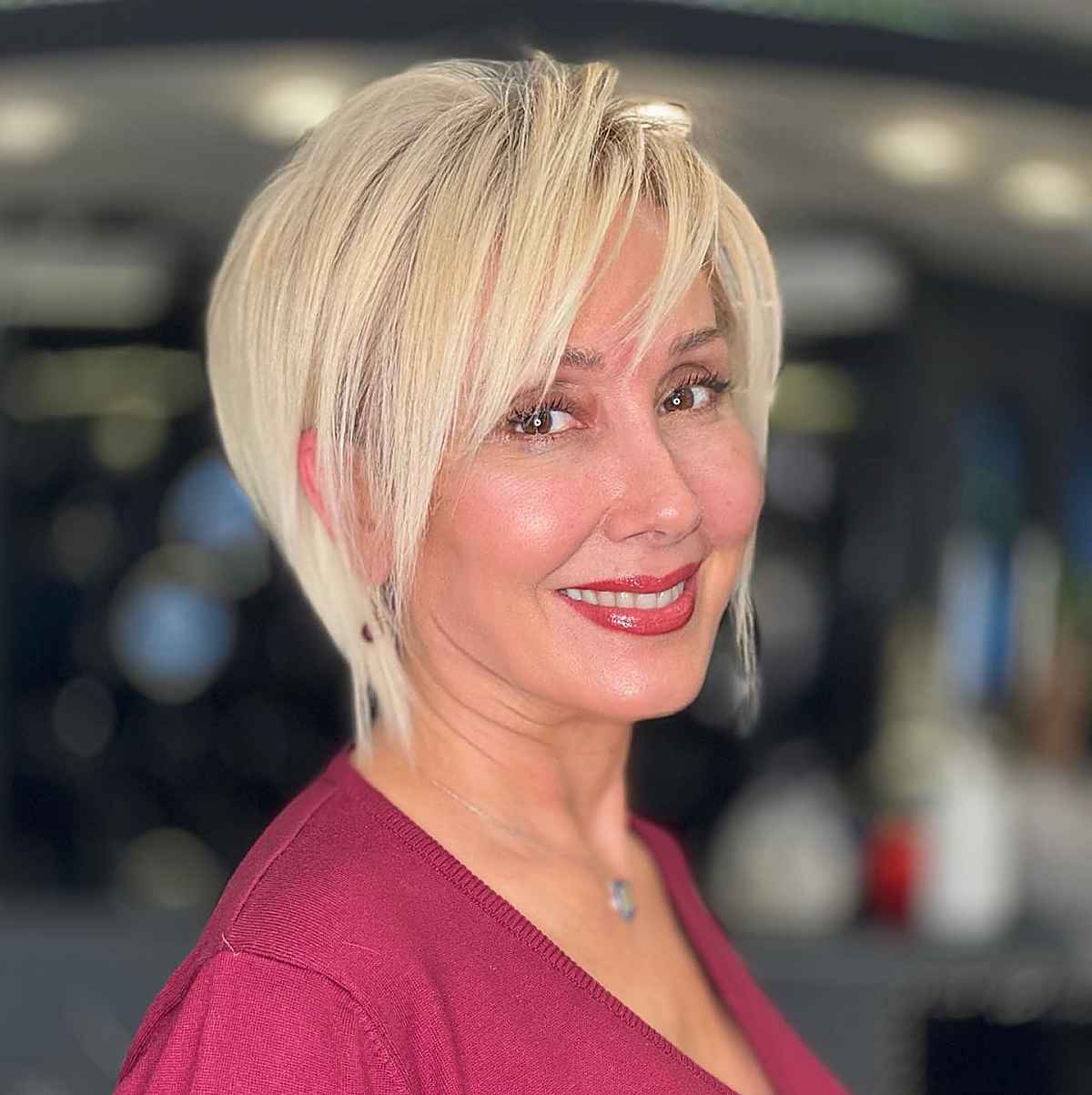 #49: Blonde Long Pixie with Fringe for Older Ladies
Try a blonde long pixie with fringe for older ladies looking for a younger style. A long piecey fringe that frames the face is perfect for hiding those fine lines, while also carving out your cheekbones. Be sure to cover those grays with a beautiful buttery blonde bleach and tone.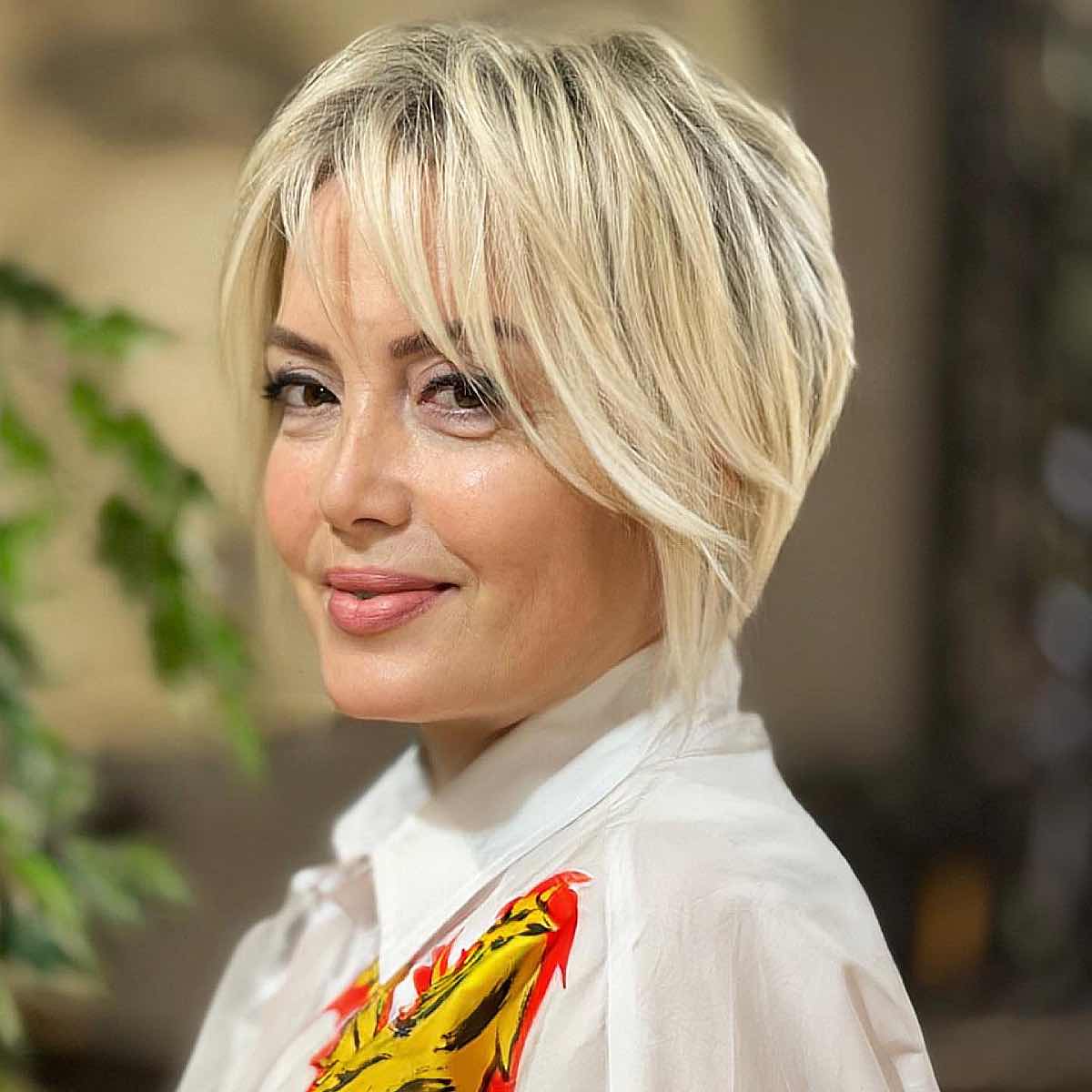 #50: Long Pixie Cut with Wispy Fringe Bangs
Go for a long pixie cut with wispy fringe bangs if you've been thinking of going short, but prefer to maintain some length around the face. A wispy fringe with long textured sideburns not only keeps things interesting but delicately frames the face. Add bright blonde highlights to play up the texture and help volumize fine strands.