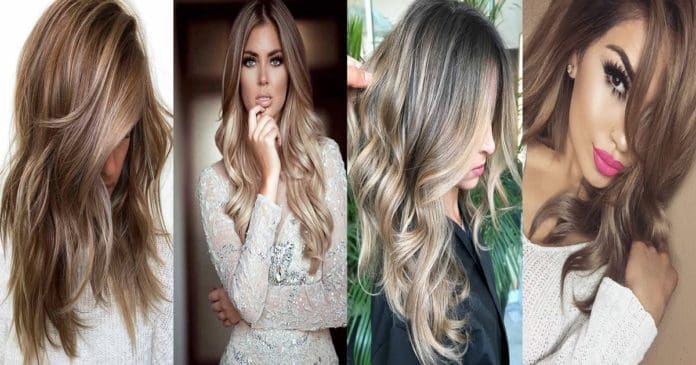 Dark blonde hair can be a nice option for those who are in pursuit of some great changes in the upcoming New Year. This color trend is drop-dead popular among many celebrities. Such beauties as Gigi Hadid, Jennifer Anniston, and Jennifer Lopez rock this gorgeous color. Moreover, it is possible to add ombré or balayage. The combination of these two and a dark blonde is jaw-dropping. You should better check out the photos.
Sleek Wavy Dark Blonde Ombre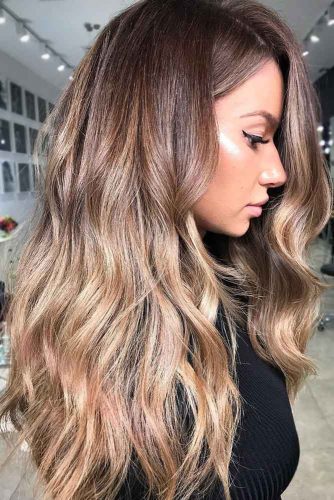 For a woman with dark blonde hair in search of a new look for the warmer months, this may be just what the doctor ordered. This dark blonde ombre fades flawlessly from the roots to the ends and provides a beautiful sun-kissed look. This would be the perfect look for a natural brunette who wants a lighter hair color but doesn't have time to go to the hair salon every six weeks to maintain the look of her highlights. This look is also adaptable to practically any hair color. Another bonus of this style is the ease of maintenance with once a week blue toning shampoo and color-safe daily shampoo. The use of blow dry heat protectant is a good idea as well to decrease the likelihood of any frizz.
Source: natalieannehair via Instagram
Dark Blonde Wavy Balayage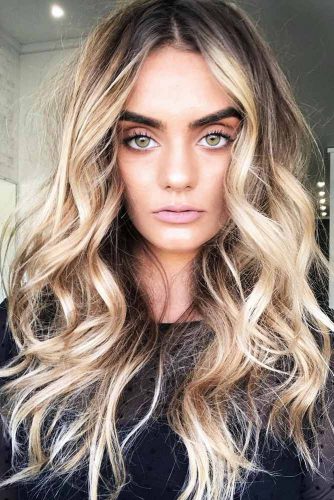 The next dark blonde hair style we are going to discuss is this wavy balayage. This style is specifically for the purpose of adding volume and dimension to the wearer's locks. The shine and softness achieved by this style is an added bonus. This style is designed for a woman who wants a trendy look without high maintenance. This style is also designed to assist in softening the angles of a face and works particularly well for women with long and diamond shaped faces. Once you decide on the desired color, your stylist can assist you in blending the color beautifully, using the balayage technique. Styling this hairstyle is fairly simple, as well. Just blow dry with heat protection and curl with a large barreled curling iron.
Source: chelseahaircutters via Instagram
Brunette To Dark Blonde Ombre
This is a perfect hairstyle for someone who loves the dark blonde hair color but is frustrated with the upkeep of their roots. It allows for a drastic change while still having a solid foundation to stand on. The dark blonde ombre blends beautifully into a gorgeous dark brown base but gives a true sun-kissed look that is an all over color rather than having the streaks that a highlighted hairstyle would have. The great thing about this color is that it works equally well for every skin tone. It has a great balance as to not wash out darker skin tones. It is a great style for everyday wear, but you can also dress this style up for a formal evening dinner or celebration. With the need of a salon visit only every six to eight weeks, it is also great for a woman who is on the go and doesn't desire to go to the salon every few weeks. This style is fabulous for women with thick hair. And even if you don't have wavy hair, you can use curling lotion to help hold curls for a longer period of time.
Source: kimwasabi via Instagram
Dark Blonde Lowlights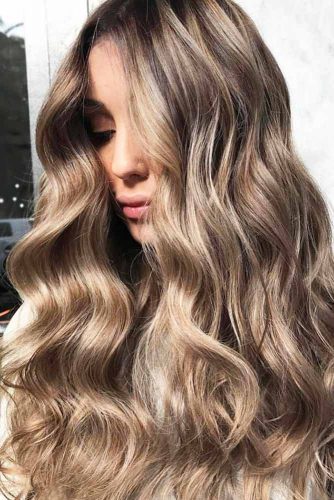 This next beautiful dark blonde color is a blend of tones. By using a mix of warm and cool tones, this style grows out easily without a definitive color change. This is allowed by the blending of colors combined with the natural hair color. This color is low maintenance due to its versatile color blending. It also works well for women who wear a lot of bright colors and someone who has combination skin. It adds depth and dimension to a hairstyle with the varied tones. Even though the name of this hairstyle specifies lowlights, it's important to know that, typically, in a hairstyle such as this, highlights and lowlights are both necessary to obtain the proper blend of colors.
Source: natalieannehair via Instagram
Dark Blonde With Black Roots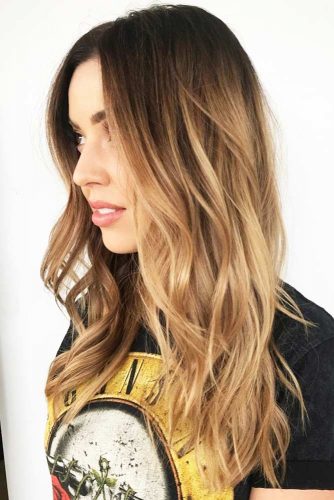 If you're looking for an easy, low maintenance hairstyle for your dark blonde hair, look no further. A style that was once taboo and considered two-toned is now acceptable in the fashion industry. Women once spent endless hours in the stylist's chair to cover their ever-growing dark roots by having touch-ups done. What was once considered a must keep appointment for covering those pesky dark roots is quickly becoming more of a choice rather than a strict must. As a matter of fact, these long dark root hairstyles into a dark blonde ombre are pushing the root touch-up trend out of the industry all together. It is now more of a rarity to have one solid color, since multi toned hairstyles are among the hottest trends. Some other added bonuses for going for this look are how well this color style looks in a combination with beach waves and soft waves because they enhance each other. As long as your hair is healthy, the two-toned look has the appearance of a casual look rather than an unkept look. One thing to keep in mind when going for this hairstyle: dark roots look better when there is a gradual transition between the dark and lighter areas of the hair. You do not want a distinct line where the colors meet. It should be a blending of the hair colors. This dark root hairstyle looks great on hair of all lengths. While it is more prevalent on women with long hair, it looks absolutely adorable on bob hairstyles, as well. There is a wide range of colors for blonde options: from platinum to dark blondes. And these also vary from cool to warm tones to correlate with the seasons. Warmer shades are typically reserved for the spring and summer seasons, while the cool and neutral tones are more reserved for the fall and winter months. Don't be afraid to try out new styles and color hues. These transitions often have a great effect on your self-confidence and image.
Source: chelseahaircutters via Instagram
Gold Blonde With Lowlights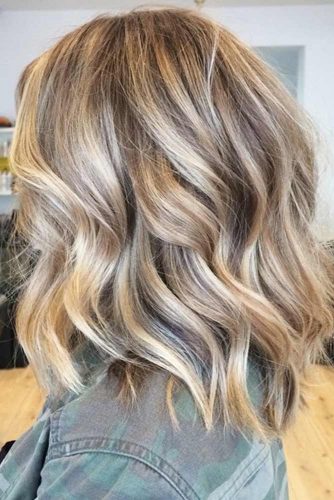 If you are looking for unique blonde hair shades, this pretty blend of dark blonde and blonde lowlights and highlights is just stunning. It is a great way to add depth and dimension to thinner wavy hair for a multidimensional look. We think it looks especially striking on blonde beachy waves.
Source: chloeward_hair via Instagram
Blonde To Rose Gold Shade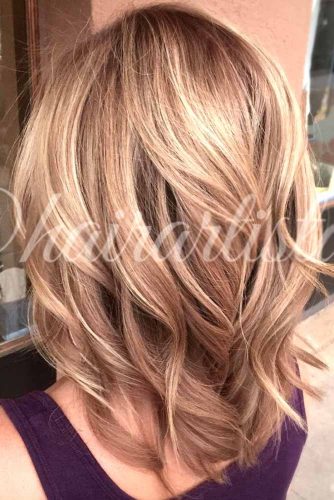 Rose gold hair is so popular right now. We think it is one of the best blonde hair ideas for this season! Rose gold hues on a darker base are great if you want to show off that summer tan. Add some flirty waves to take this style up a notch and get your game on!
Source: hairartistaly via Instagram
Fresh And Shine Dark Blonde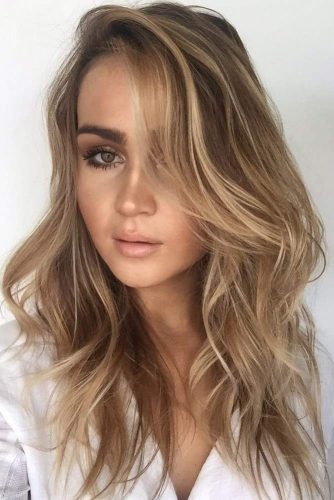 If you have dark blonde hair and want to give it a fun burst of color, why not opt for sultry blonde highlights? Blonde highlights on dark hair are a great way to add a multi-tonal look and feel to your longer tresses. Take sexy to a new level by opting for a sensual messy bedhead look like the one pictured here.
Source: chelseahaircutters via Instagram
Subtle-Darker Blonde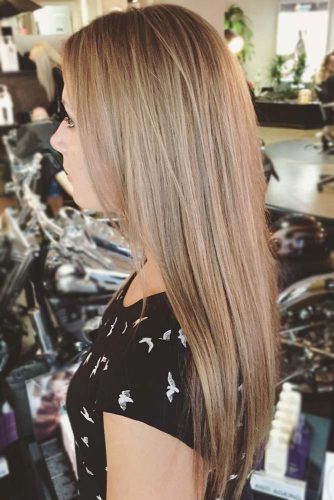 If you prefer a more dark blonde hair color, this honey blonde is very stunning. It looks really pretty on both long and short hairstyles as the balayage hues add a ton of depth and dimension.
Layered Long Blonde Hair
Source: gigihadid via Instagram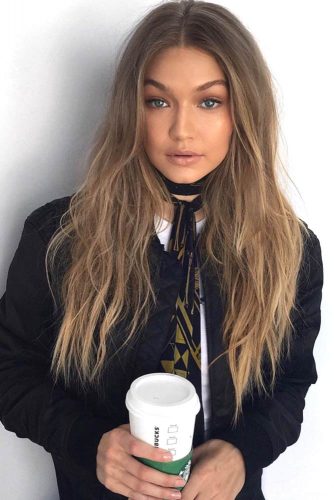 If you are not sure what is the best blonde shade for you, you can talk to your stylist. Dirty blonde is the perfect solution for those who aren't quite ready to commit to a lighter shade. Dirty blonde is the perfect blend of brown and blonde hues.