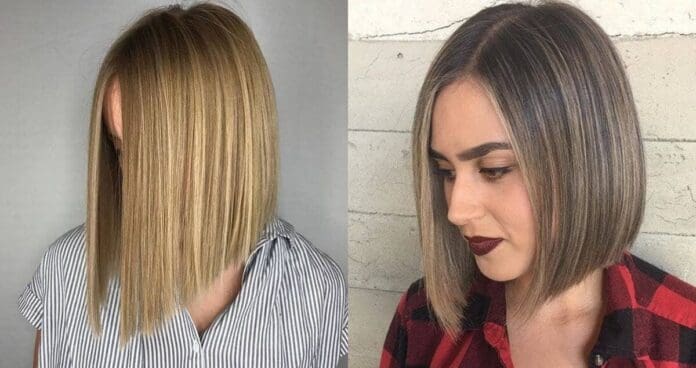 Bob haircuts are totally having a moment right now. For those who are on the lookout for a bob hairstyle idea that does not require much effort to take care of and style, this is the place to look. A good bob can be flattering and is suited to a variety of different face shapes and body types. There are of course numerous different ways in which one can wear a bob which can be stunning and give you a glammed up look you have always wanted.
When many people think of bobs, they think of very short haircuts. While it's true that many bobs are chin-length or shorter, the new crop of trendy haircuts includes medium bobs and lobs, which are shoulder-length bobs. There are so many different types of haircuts that fall under the "bob" category.
1) The Wavy Bob
This kind of bob works best with those who naturally have wavy hair, though straight hair too can be styled this way to give you the desired look. The subtle waves provide more definition to your face, which is great in enhancing your overall structure.
2) The Classic Bob
This is one of the most basic kinds of bob hairstyles and can be done regardless of hair type. Depending on how you style it, this look can go from looking like a casual day hairstyle to a super glamorous red carpet worthy one.
3) The Messy Short Bob
Messy bobs are a great look for those who don't want to spend too much time doing up their hair every morning. With a sharp cut, this look is a great, no-effort look.
4) The Blunt Messy Bob
Another easy way to wear the messy bob is by getting a blunt bob cut, and then styling your hair onto one side to achieve the desired look. This hairstyle works best for those who have slightly wavy hair and can work for those who have straight hair as well.
5) The Sleek Bob
The Sleek bob is perfect for those who have straight hair. But for those who don't straighten your hair out, this is a good way to achieve this look.
6) The Pastel Bob
Pastel shades are one of the most trending hair colors this season, and a pastel bob is a great way to wear this trend. Tones of light pink, powder blue, and even lime green work well to achieve this look.
7) The Platinum Bob
Another color trend that can vamp up the look of your bob is the platinum look. This would, of course, involve bleaching your hair to be an extremely light shade, and can be worn with a variety of bob hairstyles.
8) The Symmetrical Bob
The symmetrical bob is a perfectly cut bob that is the same length on both sides, with the back usually shorter than the front. This look works well with straight hair and does not require much styling.
9) The Straight Cut Bob
The straight cut bob is the same length all through the hair, unlike the previous hairstyle. Highlighting your hair is a great way to wear this look, adding more definition to your bob.
10) The Straight Lob
A lob is a longer bob and is perfect for those who don't want to cut their hair too short. The straight lob works well with straight hair but can work with wavy hair as well to create a messier look.