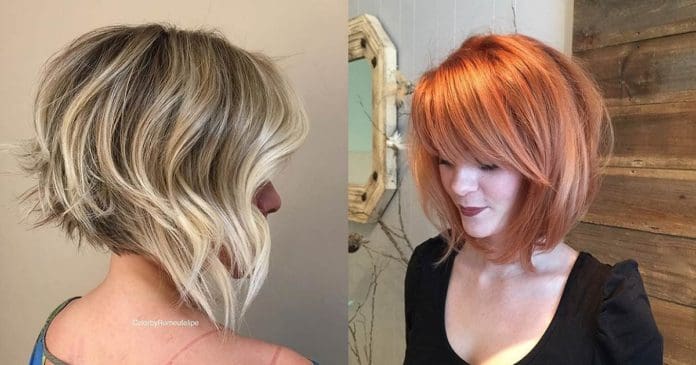 If you've been thinking about cutting your hair short for a while, now is a better time than ever before. Chopping your locks might give you a slight anxiety attack but it's the perfect way to completely reinvent yourself and your style. Whether you have a round face, a heart-shaped one, a square one or any other for that mater, there is a cute, short look for you and hopefully these 51 trendy bob haircuts will inspire your next cut!
1. VOLUMINOUS ORANGE BOB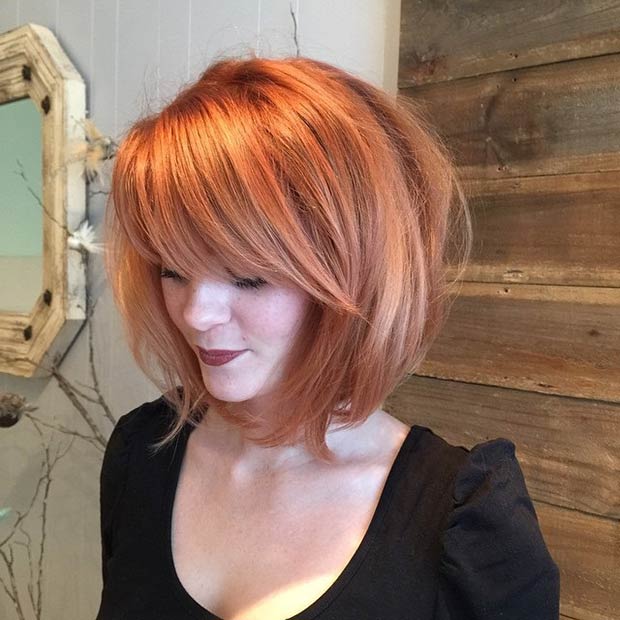 People believe that, if you have a round face, you can't get away with a short bob. This look is definitely one to recreate if you want to avoid the fat-face though, and as long as you go for that added volume on the top, it won't make your face look any rounder than it needs to! Smart, right?
2. VOLUMINOUS BLONDE ANGLED BOB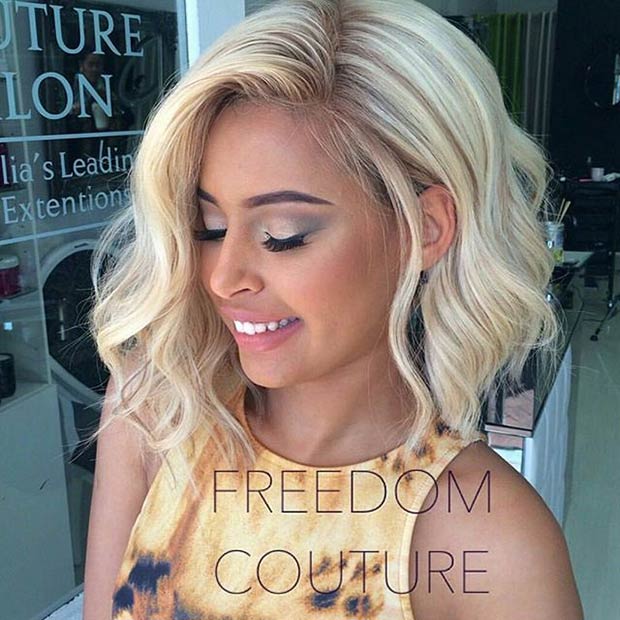 The collarbone-skimming bob is the most flattering for all face shapes and this angled bob gives you the best of both worlds. You have the long lengths at the front to help frame and lengthen the face whilst at the same time benefiting from the short length at the back.
3. BLONDE LOB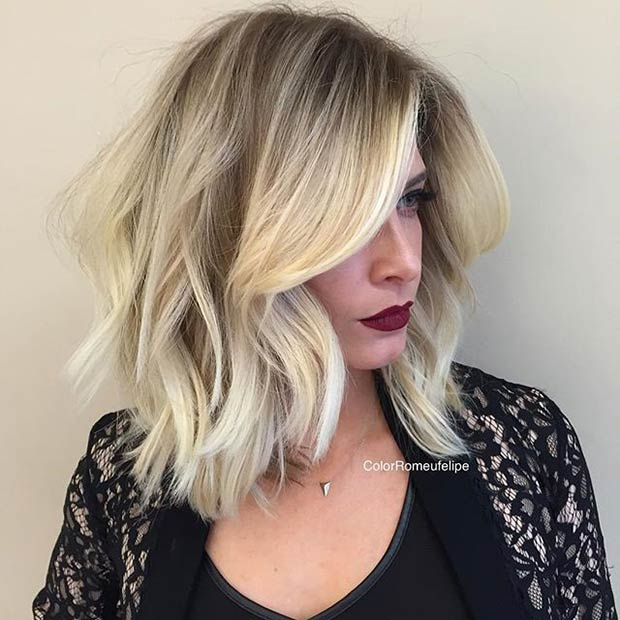 The "Lob" or long bob is very much in-trend right now. You still have enough length to get away with hair extensions on the days you want to fake it, but it's still short enough to be considered somewhat low-maintenance. The balayage style has been applied here – lighter blonde 'highlights' have been added to the places the sun would naturally hit. It's an easy way to liven up a grown-out bob, and an easy way to chop those dead-ends off long hair too.
4. LAYERED LONG BOB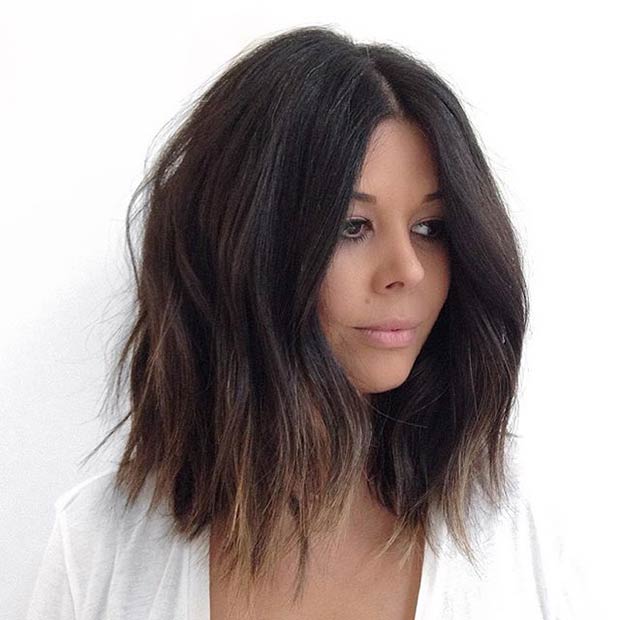 If you want to go for a bob but are worried you won't be able to play around with multi-toned color, think again. This longer bob again shows you how you can keep a bit of length whilst still playing with color. The lighter ends are not quite bold enough to be a massive difference, but it still subtle enough to liven up a style that would otherwise be seen as dull or lifeless.
5. CURLY ICE BLONDE LOB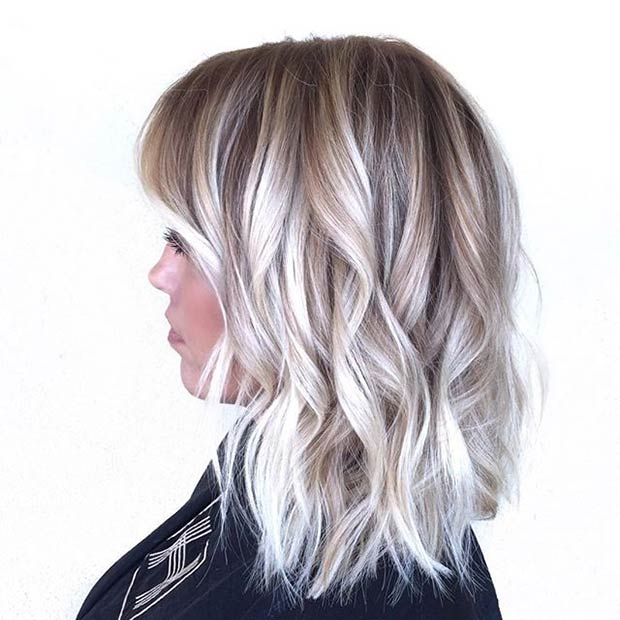 Silver hair is all the rage right now and you can achieve it without going full silver with this icy-blonde lob. Another longer bob, the loose curls help to bring out the different shades of blonde in the style, and is a classic example of how you can give limp and fine hair a new lease of life. Even short hair can be bouncy!
6. SLEEK & ASYMMETRICAL BOB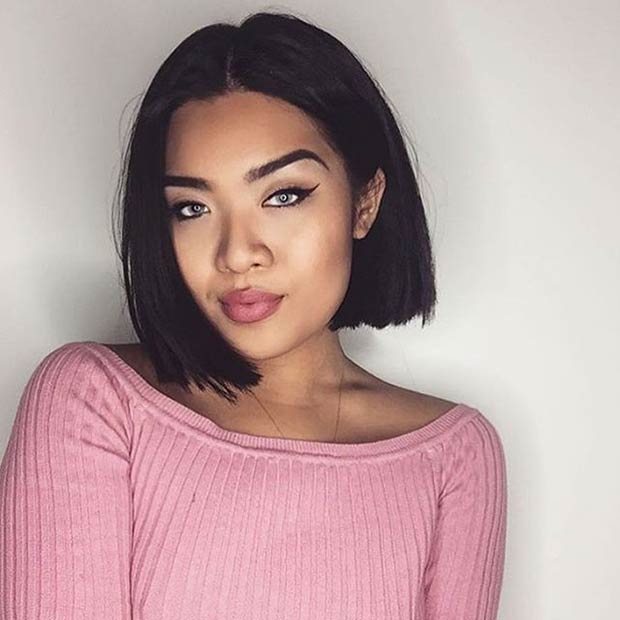 A look that simple screams 'power', this asymmetrical, sleek bob is a brave move to take if you're a fan of long hair but there's nothing more refreshing than pressing the 'reset' button – cutting off the length and dead/split ends and starting all over again.
7. CURLY INVERTED BALAYAGE BOB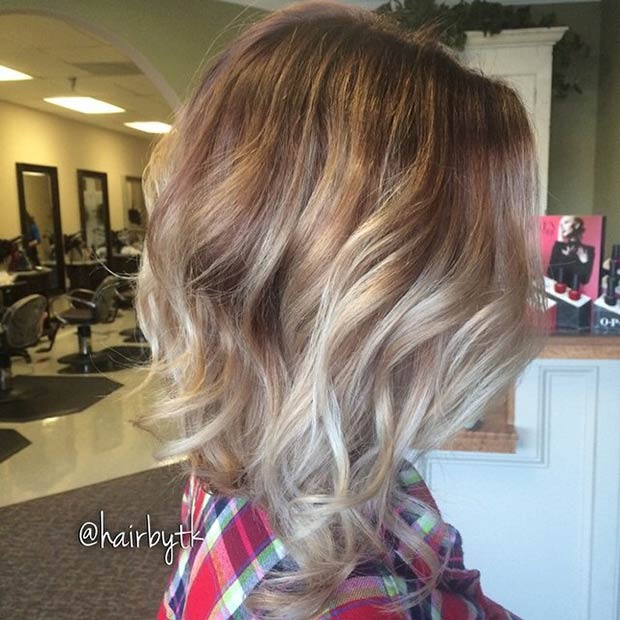 An inverted bob will have the layers safely stacked at the back of the hair, giving you flattering length at the front and still being shorter at the back. When you add the cool, in-trend balayage look to this short hair look, it adds volume to the waves. If they were one-tone, they would look a little lifeless.
8. HONEY BLONDE LOB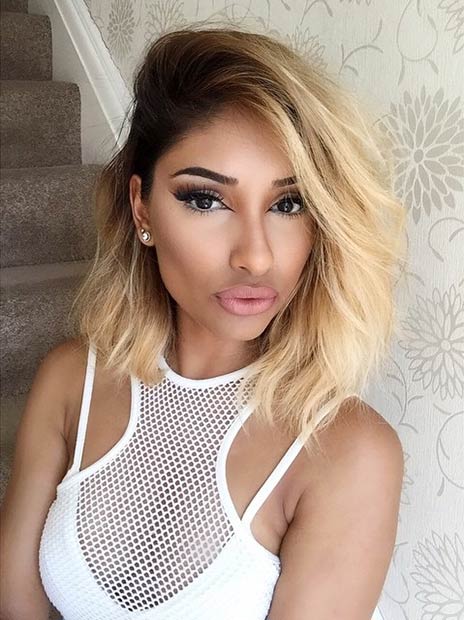 This look is fierce, don't you think? It's one you could imagine Queen Bee herself, Beyonce, rocking. A longer bob, the asymmetrical appearance has been 'faked' by a dramatic and deep side-parting, flicking all the hair over to one side.
9. MESSY BOB WITH BANGS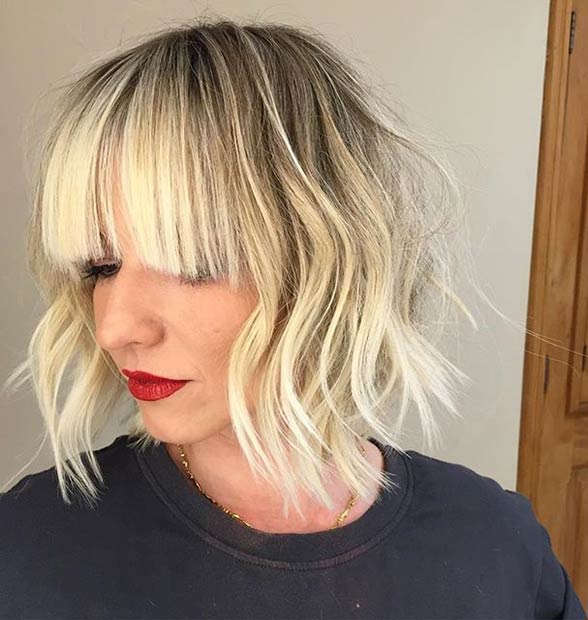 Bangs + Bob = A look not many women think they can wear but in actual fact, you can. If you have a very rounded face, you might want to avoid this look but if you have a thinner or oval face, this one is perfect. The bangs help to detract from a larger forehead while the chin-framing layers help to cute-up the look.
10. SLEEK A-LINE LONG BOB HAIRCUT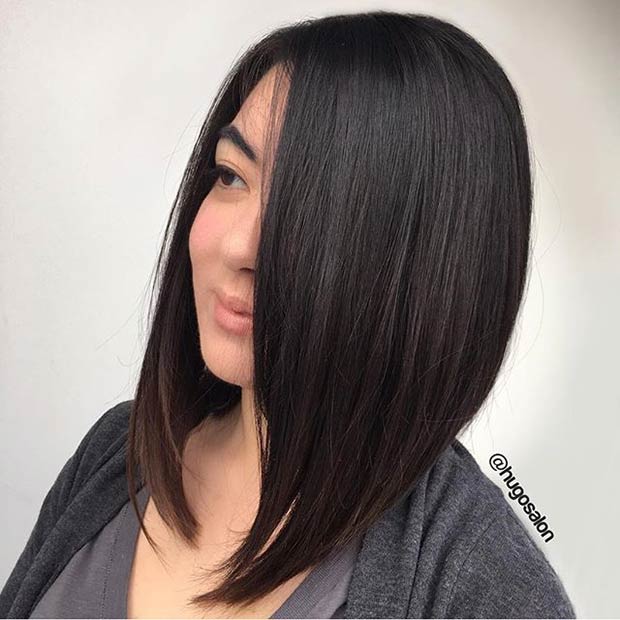 A side parting instantly makes short hair easier to wear so if you do want to go for a sleek look, make sure you start off with a slightly off-centre or side parting. In order to get a super-sleek look like this one, you'll need to be prepared to get your straighteners on but make sure you use a decent conditioning product to protect your hair from the heat.
11. SHATTERED BOB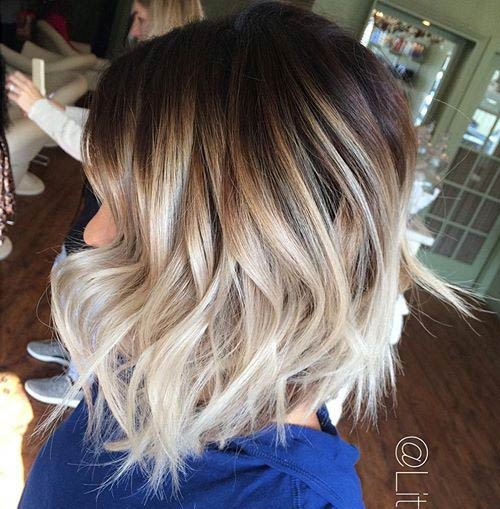 Back to balayage again and this is another classic example of how short hair and this color style works so well together. Heading from a darker brown, almost natural root to a really cool, almost icy blonde, every shade is used in between to make this stunning look come across as somewhat natural.
12. BLACK TO ICE BLUE BOB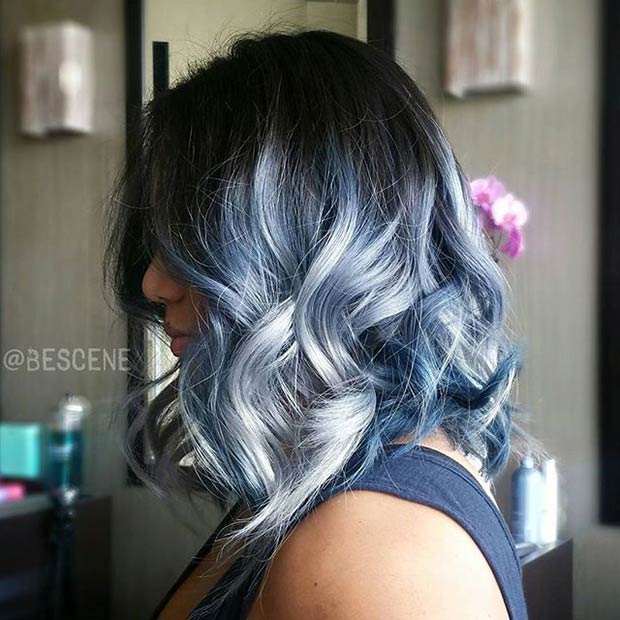 Everyone is dyeing their hair cool and crazy colors right now so why not look at thinking outside the box and heading away from the usual browns, blondes, and reds you'd normally opt for. Blue hair, for example, is very much on-trend right now and with different shades of blue, lilac and silver, you can recreate this beautiful short and curly look.
Don't forget – if you have longer hair, the curls help to make it look shorter so you can easily recreate this exact length if you have shoulder-skimming hair or just below.
13. LAYERED BOB + CARAMEL HIGHLIGHTS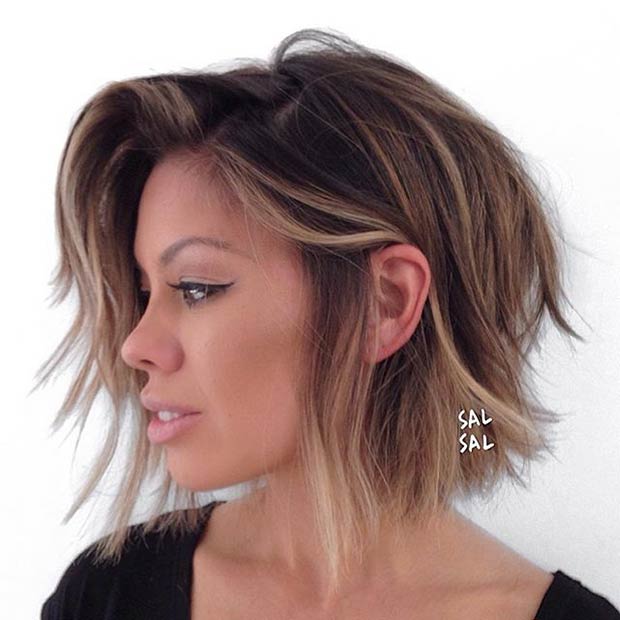 If you have delicate and cute facial features, small hair is just perfect for you. This is a look that Victoria Beckham was seen sporting a few times in her short 'pop' days. (The posh-bob.) The caramel colored highlights help to add depth here and is a great idea if you also have fine or thin hair.
14. GRADUATED BOB CUT WITH A POP OF COLOR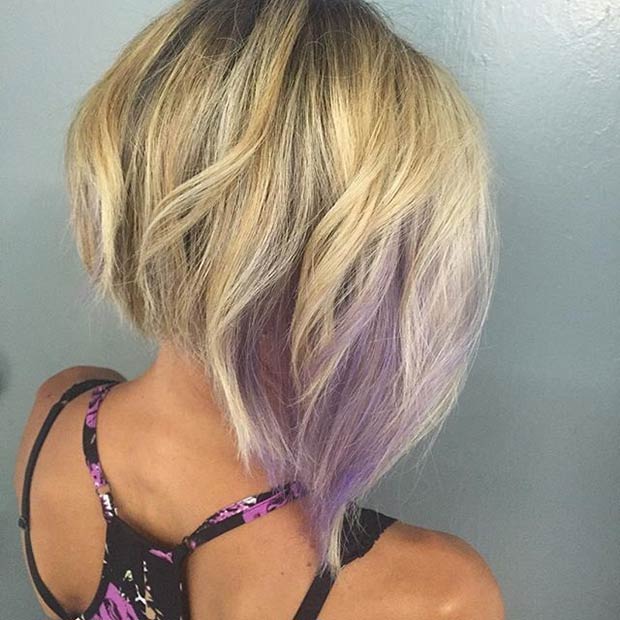 Just because you have short hair doesn't mean you don't get to play around with color. What about a pop of color such as this purple/lavender delight? Blonde and lilac go really well together but you could also go for blue, red, pink or in fact, any color you like. It's a very simple way to instantly revitalise a short look, and if you keep the length at the front like you can see here, you can make the most of that pop of brightness.
15. ORANGE CARAMEL BOB + LONG SIDE SWEPT BANGS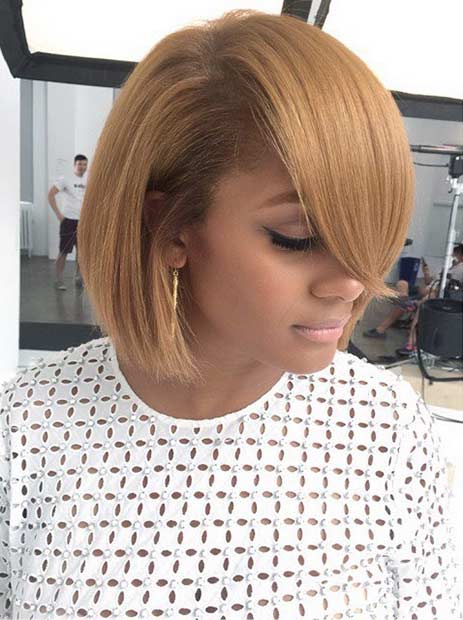 If you don't have bangs but you fancy giving them a try, fake it like you can see here. The deep side parting helps to create a flick of shorter hair which helps to frame the face and with the help of a heated styling brush, you can achieve the high-glam flick. Plenty of smoothing serum will be needed to keep this look in check but if you've got short hair, it's definitely one you could recreate.
16. LAYERED LONG BOB CUT + GOLD BLONDE HIGHLIGHTS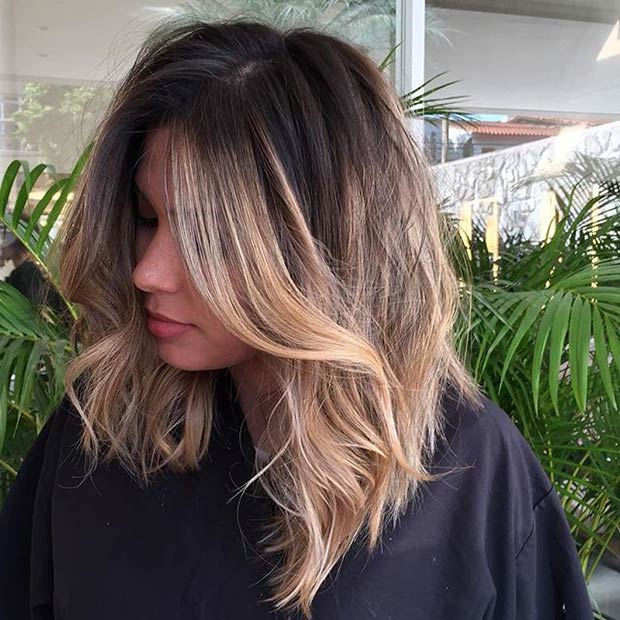 This is a great style if you're growing out a shorter cut into longer locks. The in-between stages are always a nightmare but with this layered long bob, you have the perfect solution. Keeping the front long and the back short, you get the flattering face-framing tendrils to keep things feminine, and the gold blonde highlights help to pump up the appeal.
17. INVERTED BOB HAIRCUT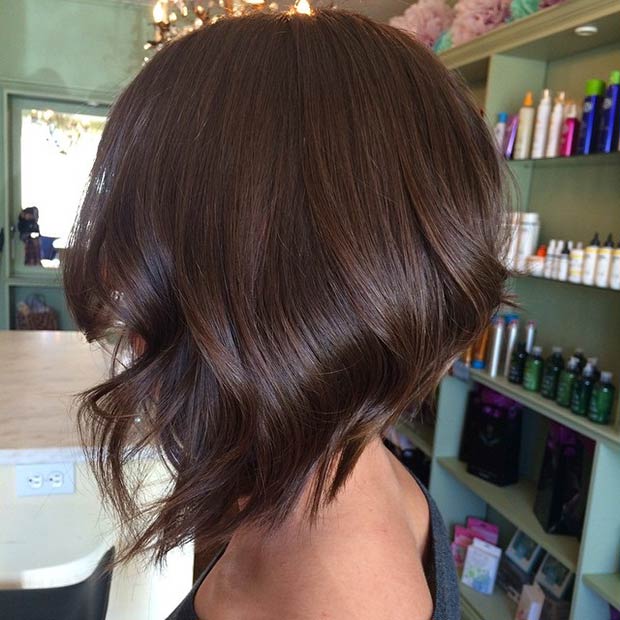 Another inverted bob, this one looks simply stunning. Easily tousled into curls with the help of a curling iron, there is still enough length to the style to be able to twist it into various designs, while still being short enough to be low-maintenance.
18. ORANGE RED LONG BOB HAIRCUT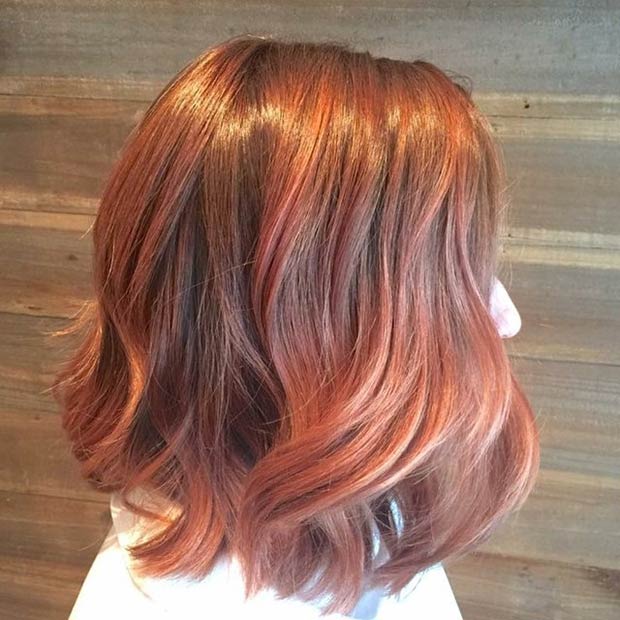 You don't need to go bright red in order to go red and although the balayage style gives you the opportunity to play around with brighter tones of the colors you love the most, you don't need to go all-out with it if you don't want to. Keep things muted by sticking with your usual browns and blondes and add a hint of color just like the slight hues of brown – strawberry blonde – red you can see here.
19. BLUNT BOB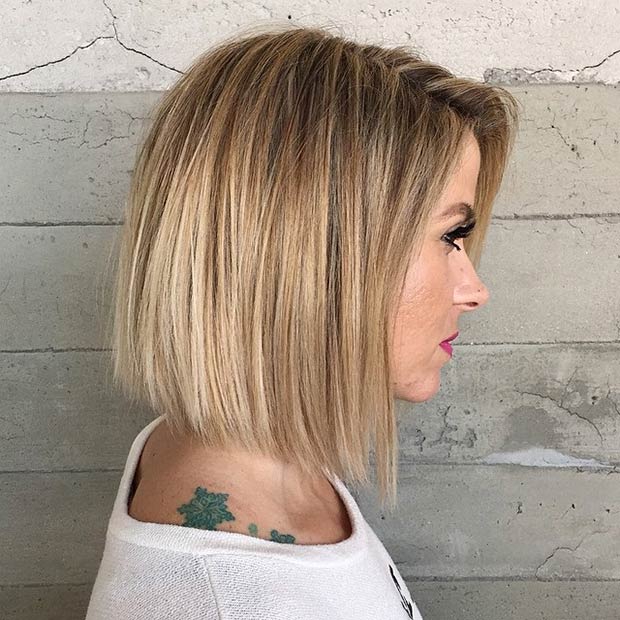 Gigi Hadid recently sported a faux-bob like this on the red carpet and it will shut you every bit as much as it suited her as long as you get the length right. If you're worried about a round or square face, always go longer and more tapered at the front to make it more flattering, and if you have long or oval faces, make sure you add a little extra volume at the roots to stop it looking too limp.
Who said short hair needed to be hard work?
20. RAVISHING ROSE BOB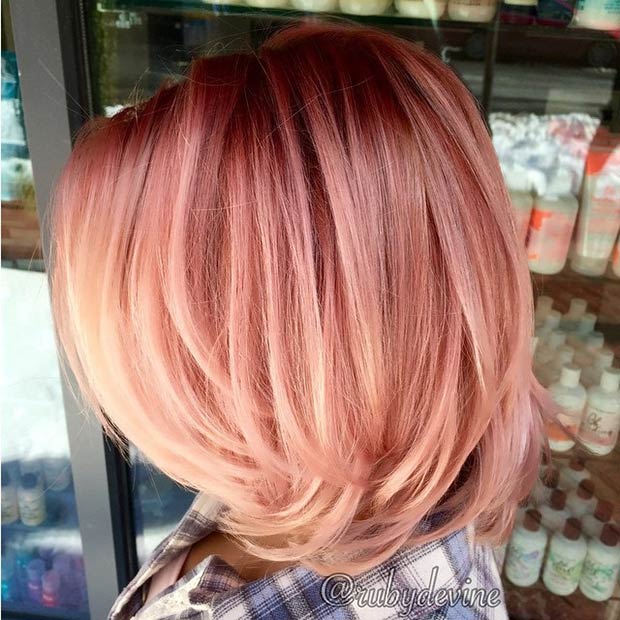 If you're going from long hair to short hair, you might as well make a massive style statement by playing around with a bit of color too. While you're rocking this super cute short and choppy/flicky bob, why not add a statement color like this rose gold and pink design? Muted/pastel pinks work really well with most short cuts and there's nothing to stop you from going bolder and brighter later on if you wanted to.
21. CURLY & MESSY A-LINE LOB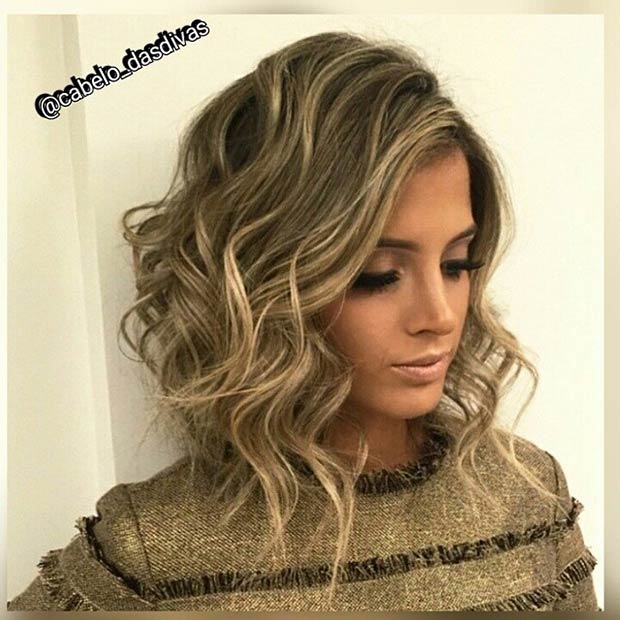 Short hair definitely doesn't need to be picture-perfect and this messy A-line bob is a perfect example of that. Sometimes it pays to let your hair do it's own thing. Let your hair follow it's own natural wave and then accentuate it with the help of a curling iron.
22. BLUNT BOB AND SOFT HIGHLIGHTS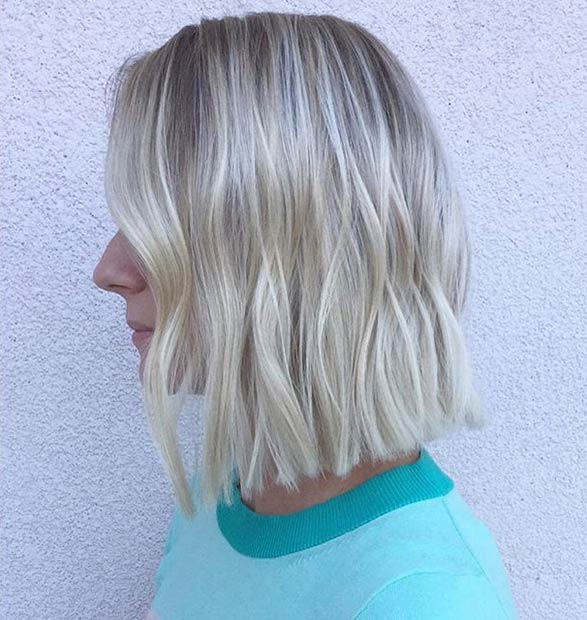 Although it seems everyone is going for the choppy-edged bob, there's something to be said for the blunt edge too, a look that works spectacularly well with these soft blonde highlights that are barely-there, and the very loose waves just to add a bit of something extra to the style. Easy, simple and low-maintenance. It won't even matter if your roots grow out a little.
23. SEXY & EDGY TEXTURED BOB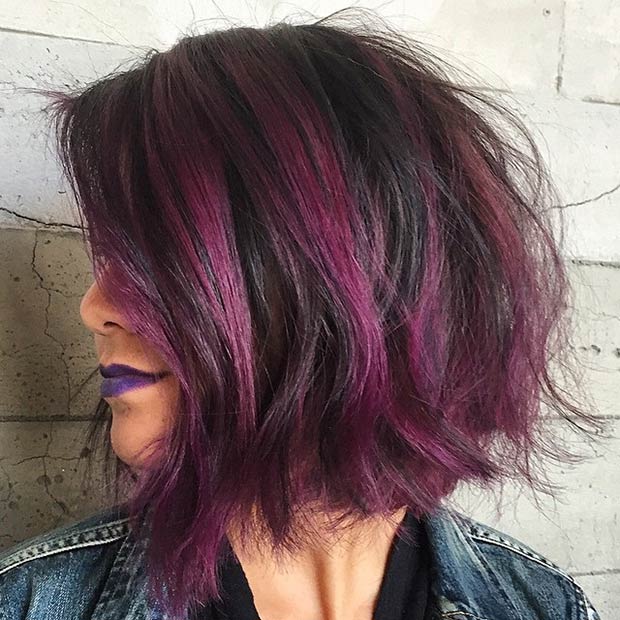 If you're going to go with a blunt bob, you might as well make it edgy as shown here with this beautiful plum-purple sexy and edgy textured bob. You really don't need a lot to get this look finished – dry your hair upside down to give it the volume and then use mousse and your other favorite styling products to bring it to life. It's easy styling without the heat!
24. INVERTED BOB CUT + ICE BLONDE HIGHLIGHTS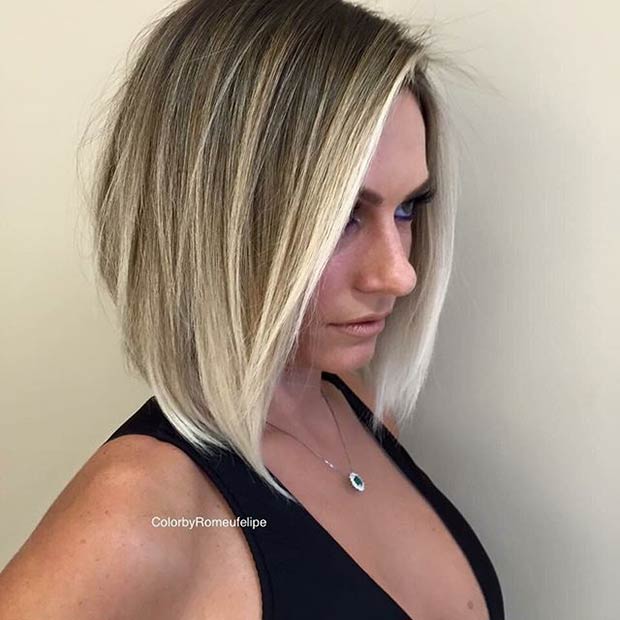 With cool and dark blonde highlights, this inverted bob really has been brought to life. If you're looking for an easy way to reinvent your short hair, just add a few subtle highlights to add depth. You don't even need to go with the inverted finish if you don't want to – these highlights would even look great on one-length hair, short or otherwise!
25. METALLIC GREY TEXTURED BOB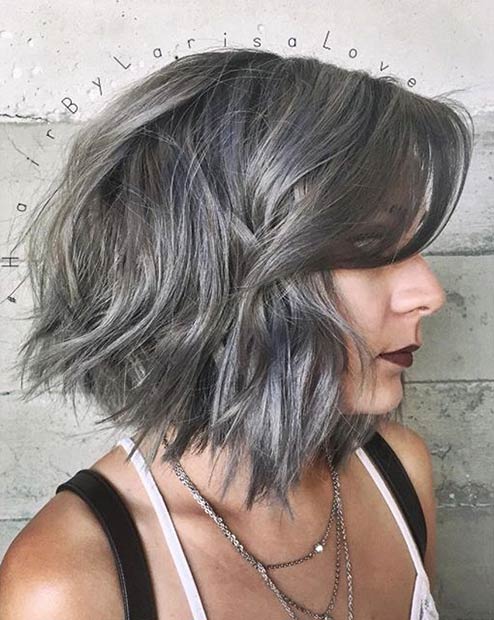 Grey was once a color only associated with the elderly but #silverhair is everywhere right now. This dark/platinum silver/grey color is perfect for this shabby bob, not quite curled but more tousled, it's another look that will only take you five minutes in the morning… Leaving you more time to perfect those brows!
26. SLIGHTLY A-LINED LONG BOB AND LOWLIGHTS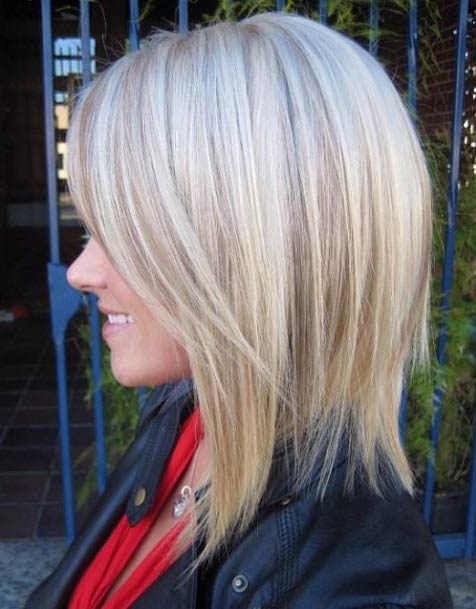 Lowlights are used when you want to add 'dark highlights'. It's the opposite (in a sense) and you can see how to achieve it subtly by looking at this beautiful slightly A-line bob with the darker blonde lowlights peeking through. It can be quite hard to get the kind of depth you're looking for with highlights and short hair, so these lowlights give you the perfect solution.
27. STRAWBERRY BLONDE LONG BOB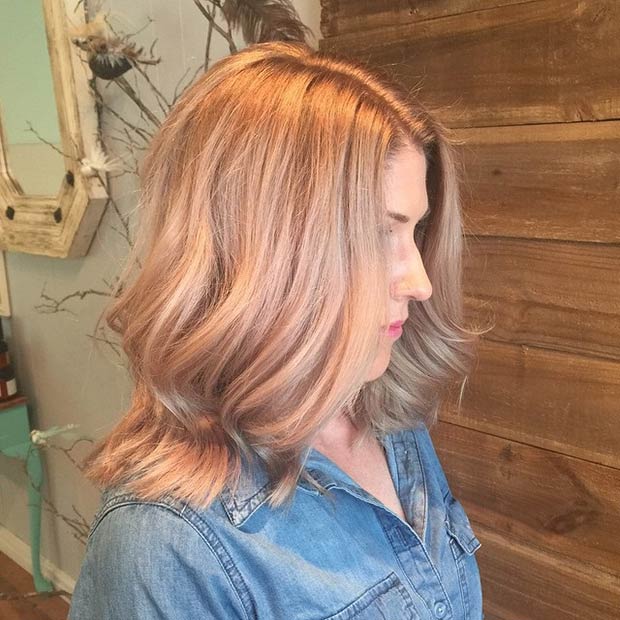 Flicking the hair out from the face in this way is very flattering and can be used for a number of different face shapes, and with a number of different hair cuts and styles too. If you've spent a lot of time on your makeup, short hair or otherwise, get the curling iron or your dryer and a round brush, and tease the hair outwards to open your face rather than close it in.
28. MESSY GRADUATED BOB HAIRCUT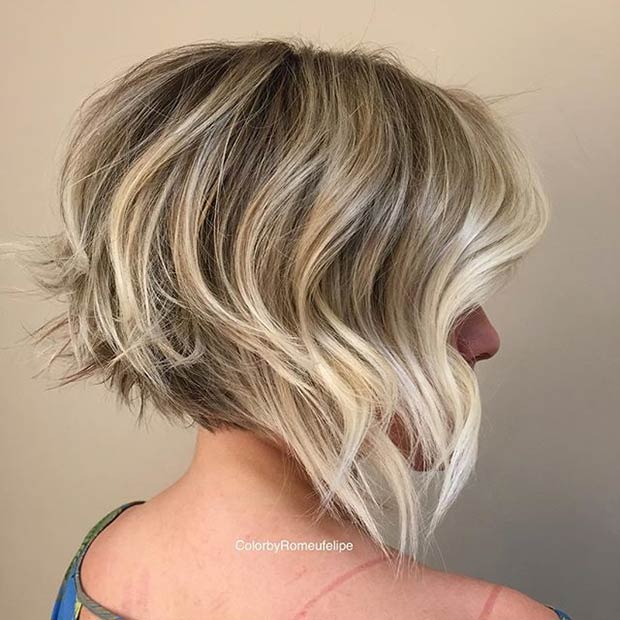 By keeping the length on the top of this style, you have a great way to thicken hair. The back graduation of this style is very short but the longer lengths left at the top and the sides help you to create a style where it wouldn't have been possible with a shorter one-length all over.
29. BLONDE BLUNT LOB HAIRCUT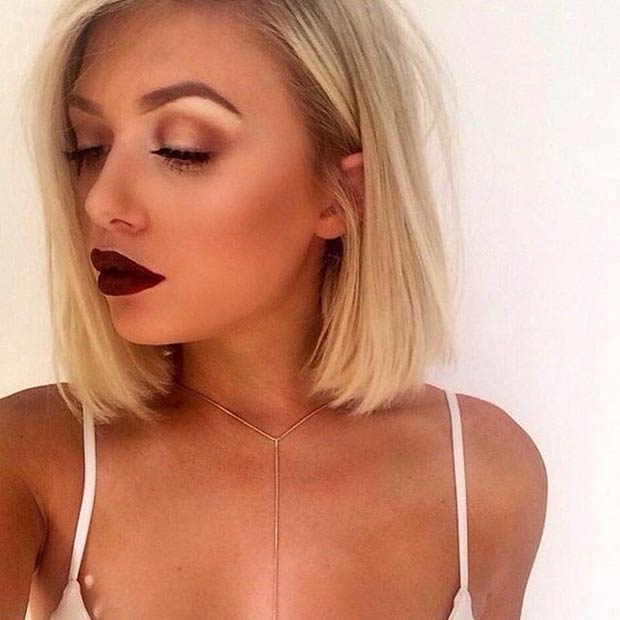 Simple, stylish and elegant – three words that could easily be used to describe this beautiful blunt bob. Hitting just above the shoulders, this is a great look to show off that great new highlighter you just bought, especially if you flick the hair over to one side like this. Keep your hair simple to make your makeup more accentuated.
30. SOFT TEXTURED BOB CUT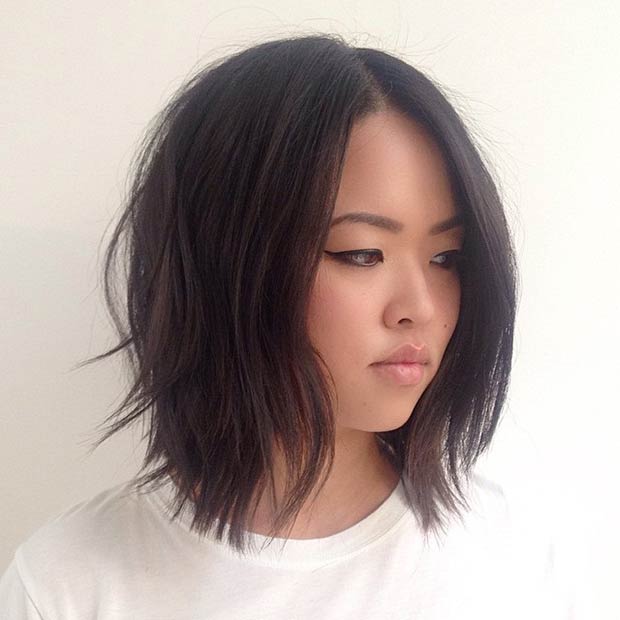 Who said you couldn't rock a centre-parting with a short bob? This collarbone-skimming look works because the ends of the hair have been tousled into waves. A centre-parting can be hard work if you have straight and limp hair so if all else fails, add some mousse or dry shampoo and get some volume injected into it
31. CURLY PASTEL PINK BOB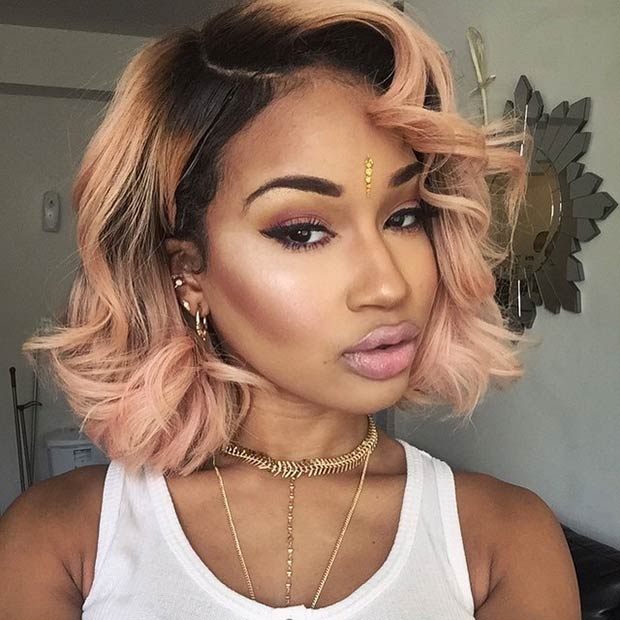 If you were going to go with lighter, blonde tones in your curly bob, why not think about baby/pastel pinks instead? It's not far off the blonde color (think strawberry blonde) anyway and it's a real head-turner. This pink looks beautiful with the model's skin tone, don't you think?
32. BALAYAGE BOB CUT + SOFT BEACH WAVES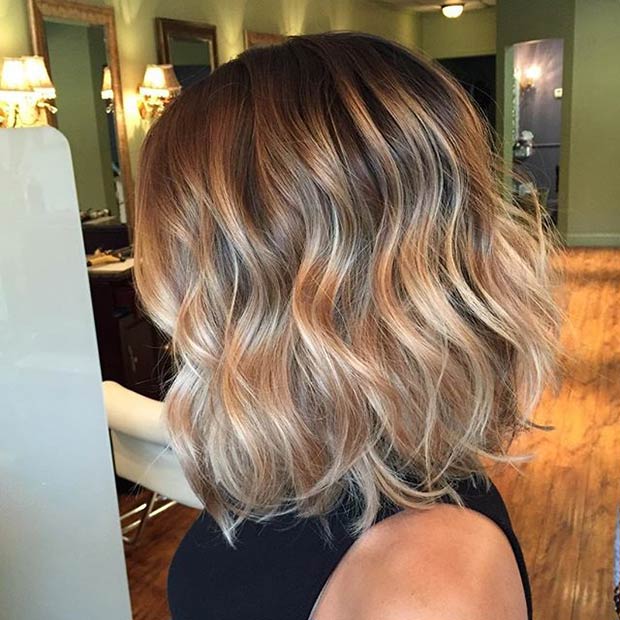 If you want an easy way to get these beachy-boho waves in your short hair, put the curling iron away. By mixing sea salt with water in a spray, you can scrunch your hair into natural curls and waves without even having to put a heated styling implement anywhere near your head. Just a tip for you!
33. CLIPPER BOB WITH AN UNDERCUT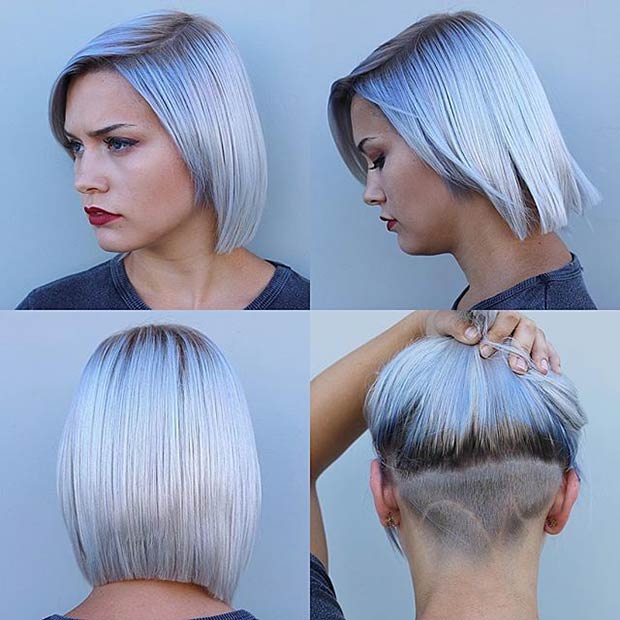 This is the perfect edgy, modern hairstyle if you want to rock it throughout the night but still look professional throughout the day. Put the hair up in a pony and that undercut shines through but if you leave the hair down, no one would ever know what was going on underneath. The question is – are you brave enough to shave?
34. SLIGHTLY A-LINED LOB + SILVER BLONDE LOWLIGHTS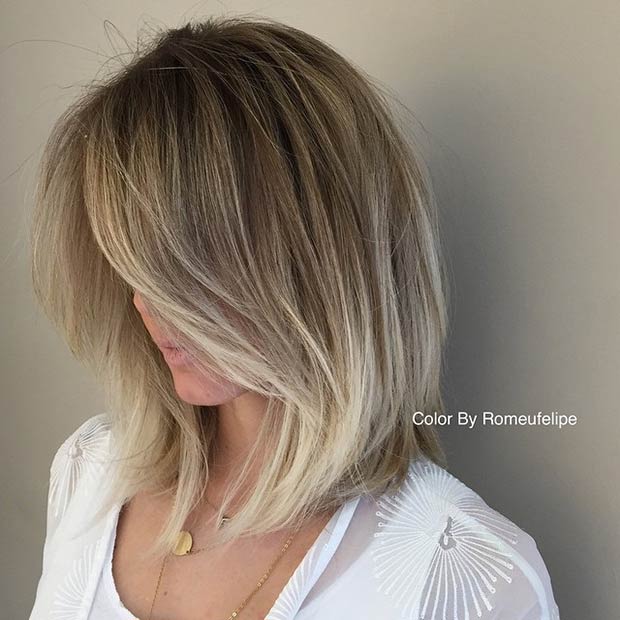 If you want volume without the curls, heated rollers really are your best friend. Use them before you brush it out and style it with this classic blonde bob. Add a few lighter highlights around those swept-to-the-side bangs you love so much and your look is not only finished, but super simple too.
35. MESSY LAYERED LONG BOB + CARAMEL HIGHLIGHTS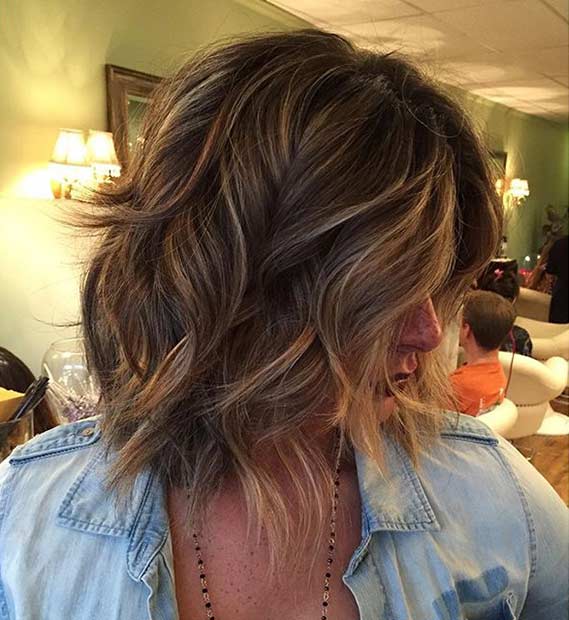 You know when you go out for a night on the town and you wake up with your hair still in the lovely curls you rocked the night before? Well, rock them all day too. If you've got a half-decent style left over from the night before, add some perfume and dry shampoo to make yourself look (and smell) a bit more presentable and you have a ready-to-go look.
36. GRADUATED BLONDE BOB HAIRCUT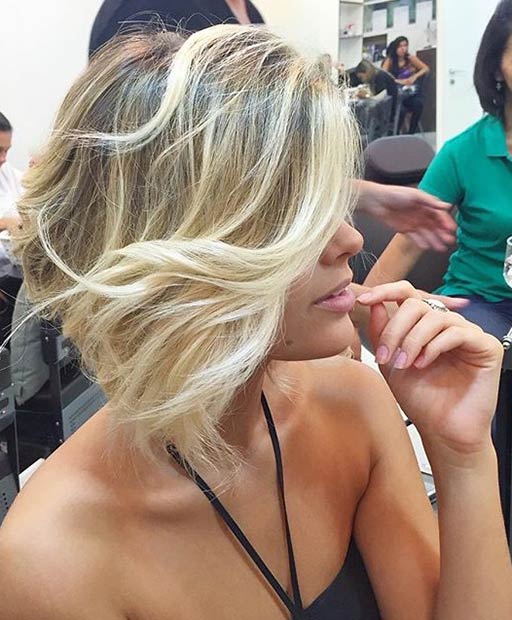 It can be hard work making short hair look super glamorous but here is just one example of how you can do just that. Using a wide-barrelled curling iron (or your hair straighteners), take the hair away from the face as you flick it out to get this sophisticated short style.
37. MESSY LAYERED A-LINE BOB HAIRCUT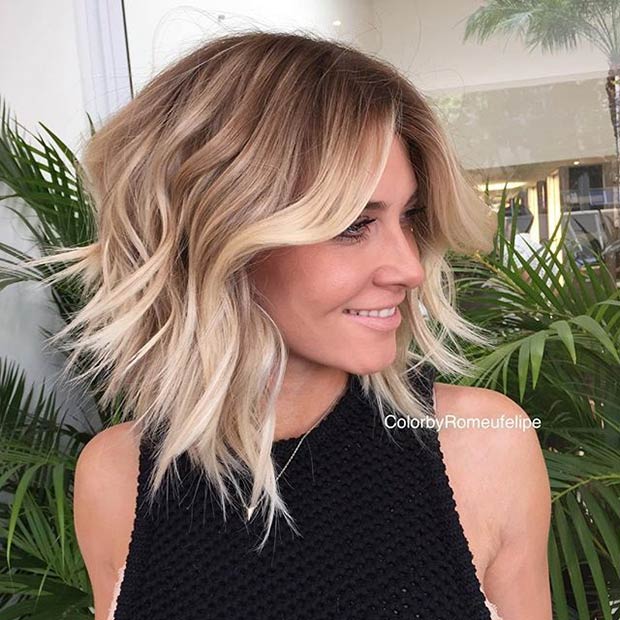 Did you know that you could achieve this effect without even using a curling iron? You can achieve these tousled waves with your hair straighteners if you use them to flick the hair out as you're running it down the length. You don't even need to do all the hair either. Simply flick it upside down while you dry it to add some volume, and pick a few thicker strands once your head is back up the right way to flick out. Simple!
38. CURLY, SOFT GRADUATED BOB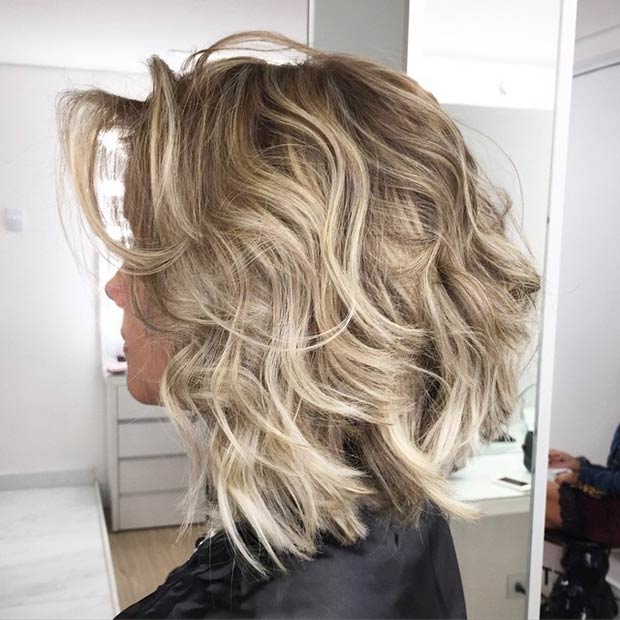 It's short, it's sweet and it's very sassy… Don't you think? If you're slightly more mature, you could consider this modern look. It's still stylish enough to be in with the latest fashion trends but at the same time, the colors are beautiful yet muted and kept neutral. Shades of ash blonde help it to look like a more grown up approach to high-hair-fashion.
39. TEXTURED A-LINE BOB CUT + SILVER BLONDE HIGHLIGHTS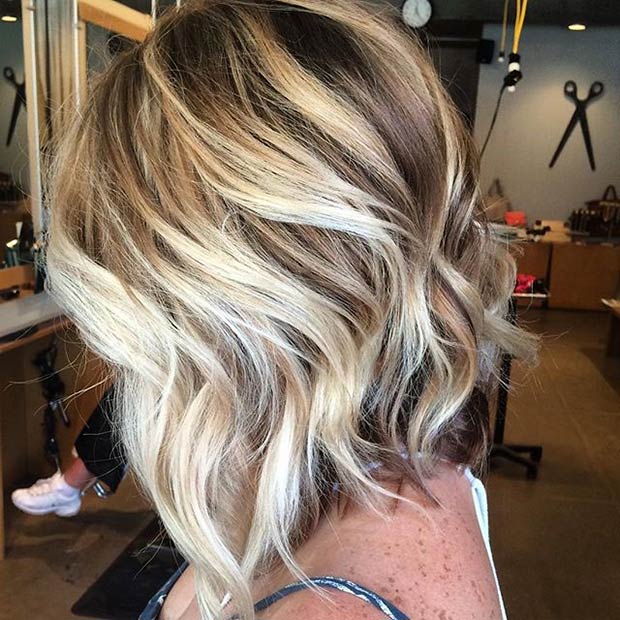 If you were blessed with beautiful, wavy hair since birth, congratulations! You have the kind of hair that the rest of us girls have been dreaming of for years. If you have gone for the chop but have naturally curly or wavy hair, don't spend hours straightening them. Instead, let your natural waves come through and give them a little helping hand with some mouse, using it to scrunch through your hair as you're drying/styling it.
40. MESSY A-LINE LONG BOB HAIRCUT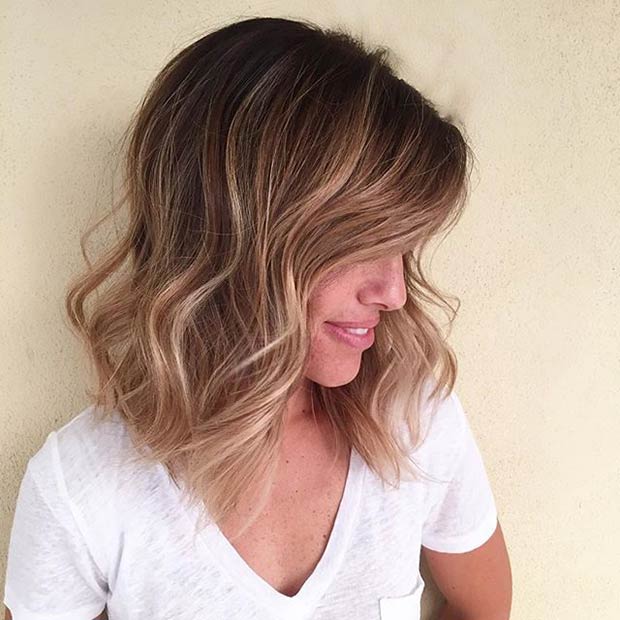 A-line bobs are great for beginners because it gives you the chance to play around with textures and layers you might not have had the chance to explore before. Also known as the inverted bob, it's just the same as an A-line skirt just with your hair. Stylish, fun and a little bit different, it's the perfect place to start if you're a hair-style newbie.
41. BLUNT LOB + BLENDED BALAYAGE WITH SUBTLE HIGHLIGHTS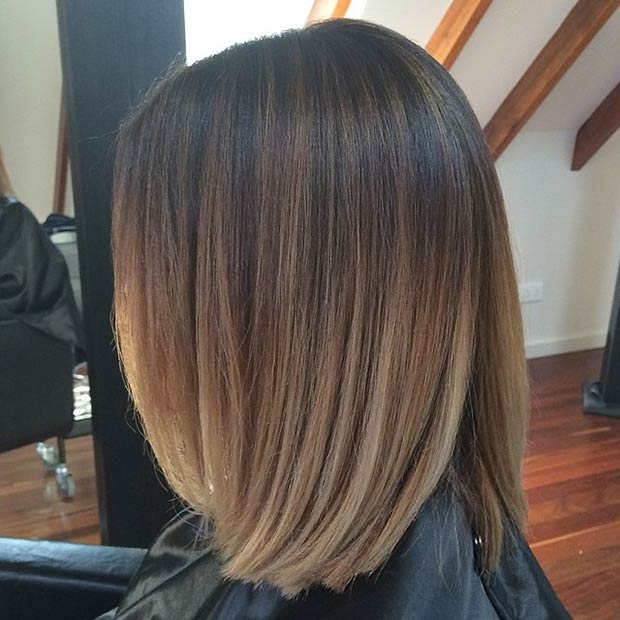 You'd normally associated the balayage look with less structure than you'd see here but this hair style just goes to show you how many different ways there are of playing around with it, especially when you don't have the length to work on your side. Blend the colors in rather than leaving them scattered and unfocused, and finish the look with as blunt an edge as you dare!
42. GREY MESSY ANGLED BOB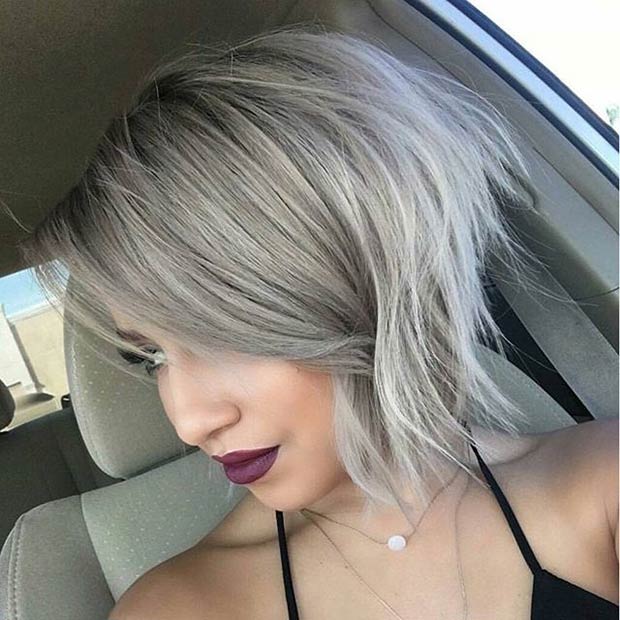 If you have a larger forehead and are worried about a really short style, don't worry. This gorgeous gray design shows you how a side-flick of your bangs (or faux-bangs) can instantly revamp the image, making it sexier. Keep the front section relatively smooth and sleek to hang seductively over one eye and get as frisky as you like the back and sides. Tousle with your fingers or make the curls a little tighter with a curling iron. Your opportunities are literally limitless.
43. SLIGHTLY GRADUATED AND LAYERED CUT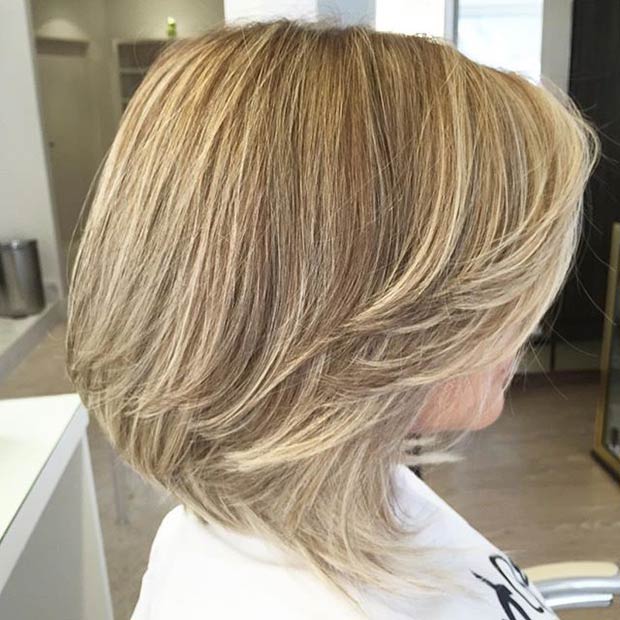 This is a graduated bob although you wouldn't know it instantly to look at it. The slight graduated helps to keep this natural-looking bob modern and fresh, and the longer lengths at the front again help to lengthen the face if you're worried the short locks will make it appear wider.
44. SHORT BLUNT BOB HAIRCUT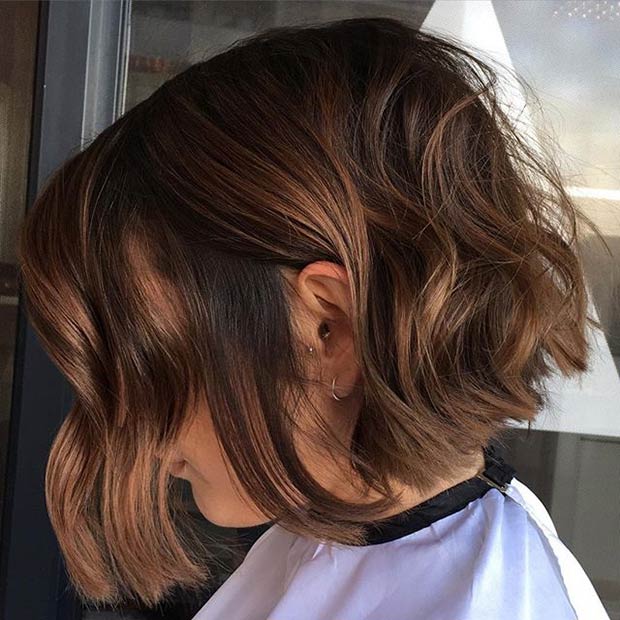 If you're going to go for a one-length bob, make sure you don't leave it too structured or finished or you may find yourself with a super-sleek reenactment of Christina Ricci's bob which no one was really that into… When you have a limp and lifeless bob, add some mousse (and never underestimate the importance of dry shampoo) and jazz things up with your fingers to add some 'oomph'. If you have a little more time, get your curling iron out and twist the hair into these loose waves. It'll help to revamp the look and it won't even matter if you haven't had time to wash it that day!
45. TEXTURED & LAYERED BOB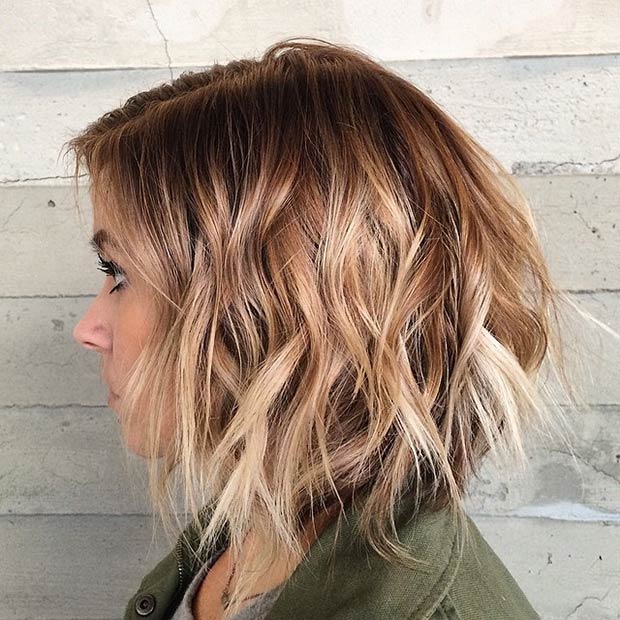 Textures and layers go really well together and this is a very neat trick if you have very fine or thin hair. When you add the layers, there is a new depth-perception, and the multi-toned layers also help with this. When you add the texture – the waves you can see here, thin hair no longer looks thin. It looks alive and full of life!
46. TEXTURED LOB WITH HAND PAINTED HIGHLIGHTS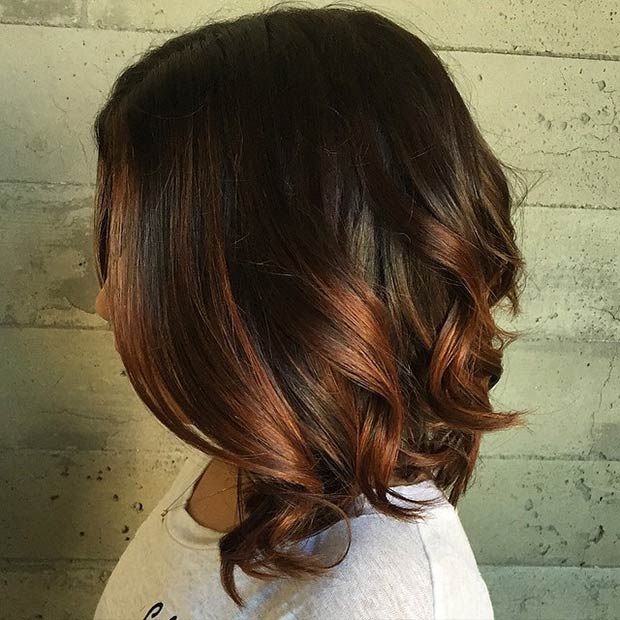 A slightly new fresher to look at highlights, hand-painted highlights are a new way to bring your hair to life. Cut and style the hair and then work out where the highlights should go in order to perfect the look and make it come across as perfectly finished. It's a lot of working out but when you get it right, the look is spot on. And you'll love it!
47. TEXTURED BLUNT BOB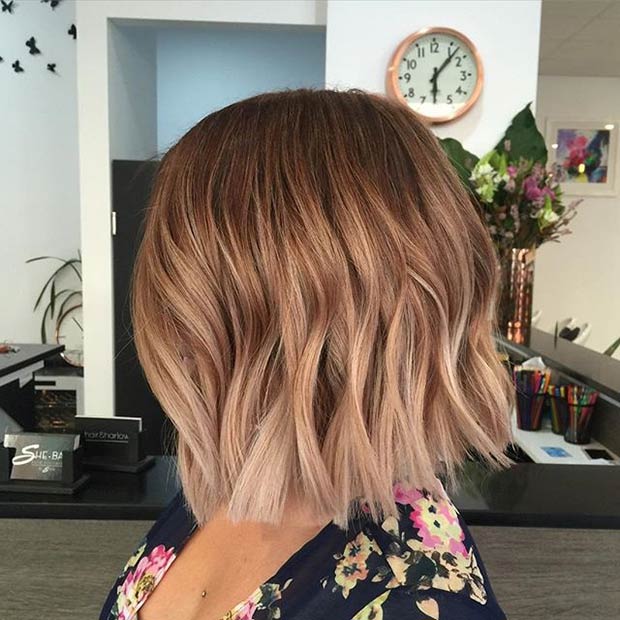 British TV presenter Caroline Flack is often seen sporting a look very similar to this one and because of the edgy finish, it means you have the opportunity to play around with edgy colors too. Starting with this beautiful almost-strawberry blonde color, the textured, blunt bob could be livened up with any number of semi-permanent hair colors or shades to liven it up.
48. TEXTURED & A-LINED LOB STYLE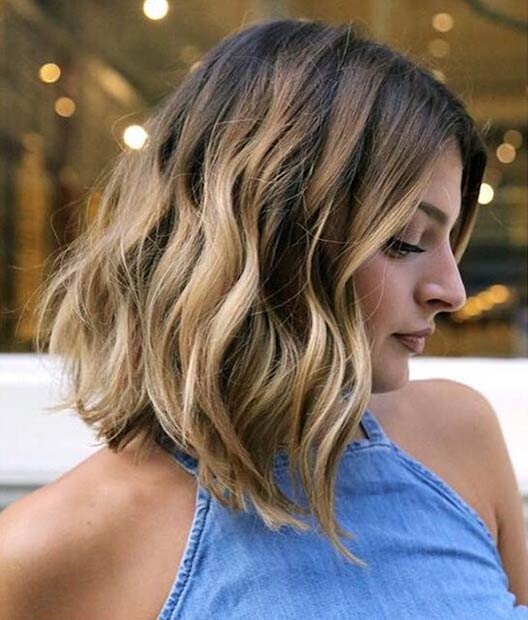 Although you want texture, you don't want too much hair around the face, especially if you have a heart-shaped face. If you have a face shape similar to Kerry Washington, Eva Longoria or Christina Ricci, you should be aiming for a sleeker look but with still enough bounce to stop it becoming lifeless. These tousled waves in the slight A-line frame works great if you're a heart-shape with shoulder-skimming hair. Those long lengths at the front help to balance things out nicely too.