Undercut styles have been, and still very much are, on-trend right now and there have been a whole host of celebrity names who've gone for the chop in this bold and dramatic way. Kelly Osborne has rocked the look in lilac and black shades too. Miley Cyrus had it for a while. Ke$ha's worn it, Rihanna's styled it (multiple times), Sheridan Smith, Ellie Goulding, Jada Pinkett Smith, Scarlett Johannson and more! If you want a little inspiration, or are looking for a simple way to jump into the undercut styles, check out these 31 undercut styles for bold women:
1. RAINBOW HAIR + SIDE UNDERCUT
If you're rocking a bold cut, you might as well rock a bold color too and we love this rainbow hair look!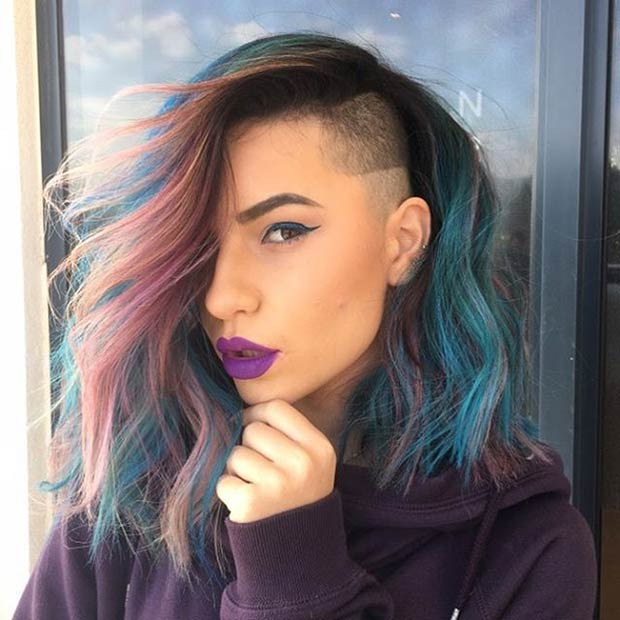 Colored hair is all the rage right now so by combining these two looks, you can make damn sure you're very much on-trend. Pick your favorite colors and go a little crazy. Wash-in / wash-out colors and shades make it easier for you to change the look back if you don't like it. Or if you get bored easily like us.
2. STAR UNDERCUT
If you're scared of taking the leap for the first time, opt for something very small and easily hidden so you can adapt to the new look or hide it if you're not sure once you've done it.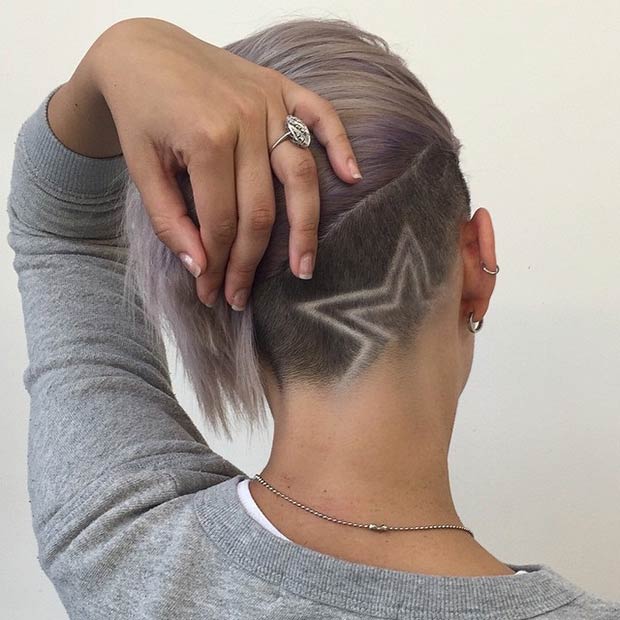 It's easier to take more away later on than it is to grow it back so start small and work your way up from there. There's nothing wrong with taking baby steps when you're going for something as dramatic as this look.
3. FAUX LOCS + SHAVED SIDE
Two looks rolled into one – faux locs and shaved side go well together and we keep spotting the look popping up everywhere over Instagram these days.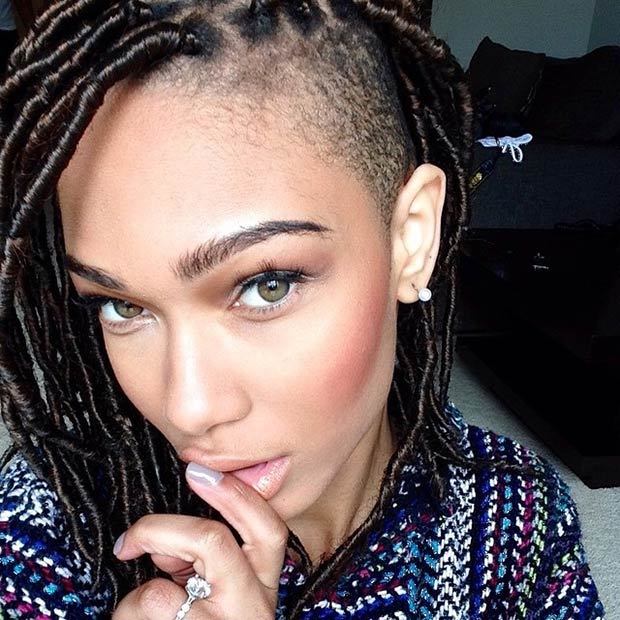 Just take a peek for yourself – there are so many ways to wear this style, and so many designs you can achieve with it too. We think this is going to be the latest trend for locs and undercuts for 2016. Just you wait and see!
4. MESSY BUN + UNDERCUT
Before you head off to the salon, make sure you have a few reference photos safely stocked away in your back pocket to whip out when she asks that question – "What can I do for you today?"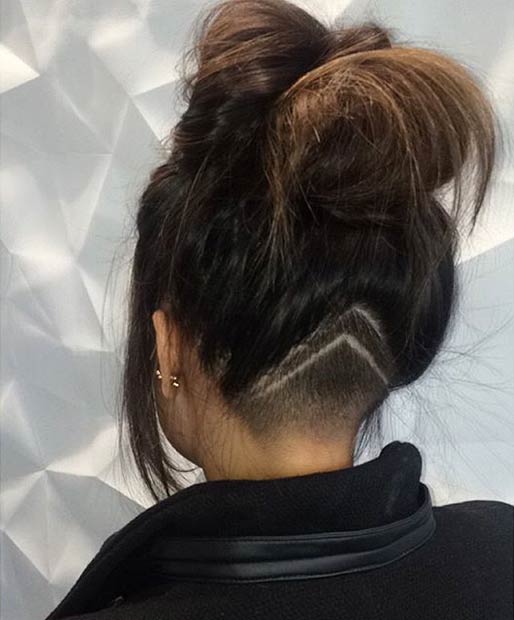 If you have just one photo, your hairstylist only has one reference point. When you have multiple photos, you can say which bits you like from each one, giving your stylist a chance to create something perfect and unique to you. It might not be exactly the same as the photo you walked in with, but you'll generally find it looks much better because it is tailored for you.
5. SIMPLE UNDERCUT DESIGN
A simple design like this can be easily hidden if you want to look more professional than punk.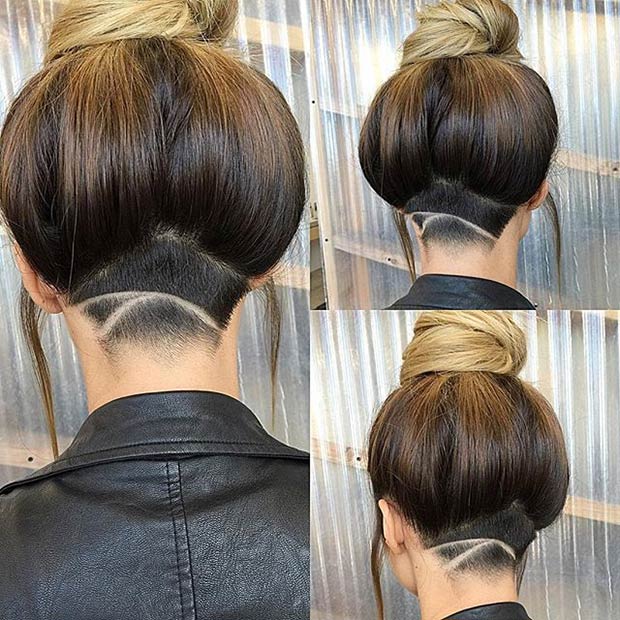 By keeping the color neutral, you can simply pull the hair down from the bun you can see here and cover your undercut styles. It's the perfect compromise – sensible by day, daring and bold by night!
6. EDGY MERMAID
Mermaid hair is very much in right now. Haven't you gotten the memo?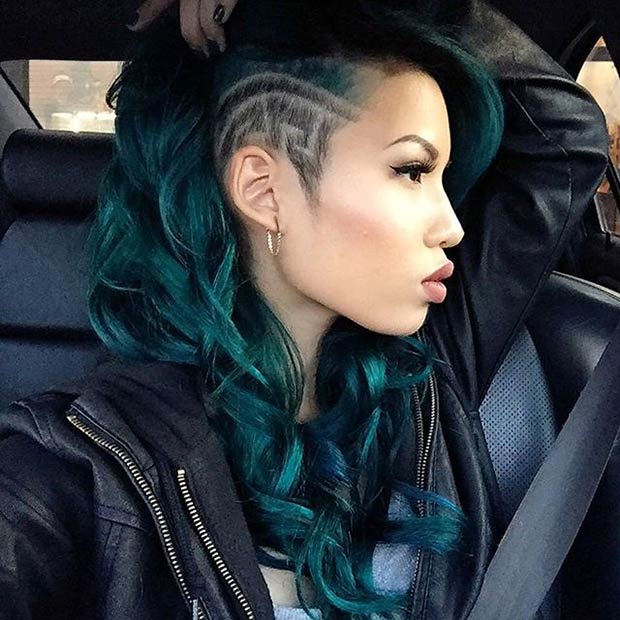 Shades of blue, green and black work perfectly with the edgy undercut styles to give this look a totally different appeal. If you're bored of changing just your color alone, why not combine color with cut for something that looks simply outstanding!
7. CHEVRON DESIGN
If you want something stand out, think about a design that contains a lot of features. We think this chevron design offers simplicity with complexity perfectly.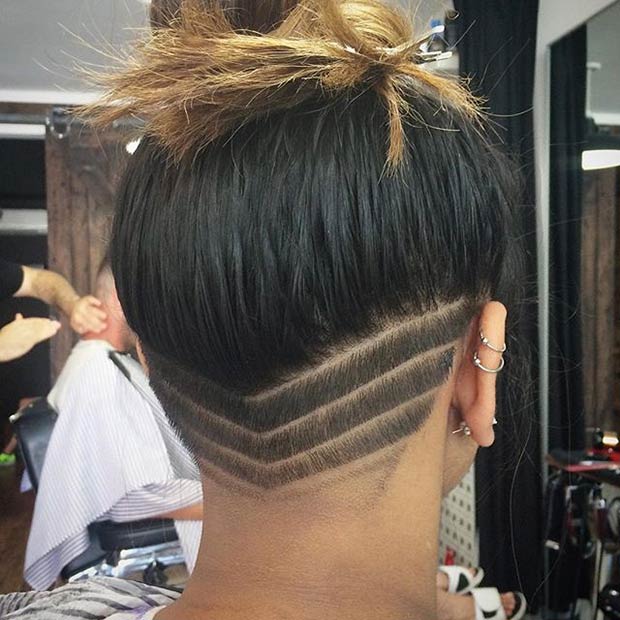 Starting short and close to the neck and working your way longer in straight lines like this is hard work but an experience stylist will be able to help you to achieve it. Just remember the look won't stay this way for long. It's a lot of maintaining if you want to keep it looking fresh.
8. PASTEL HAIR, BRAIDS AND AN UNDERCUT
Who said an undercut couldn't be romantic and girlie? You couldn't get more girlie and cute than this pretty pastel hair and we couldn't help but fall in love with it.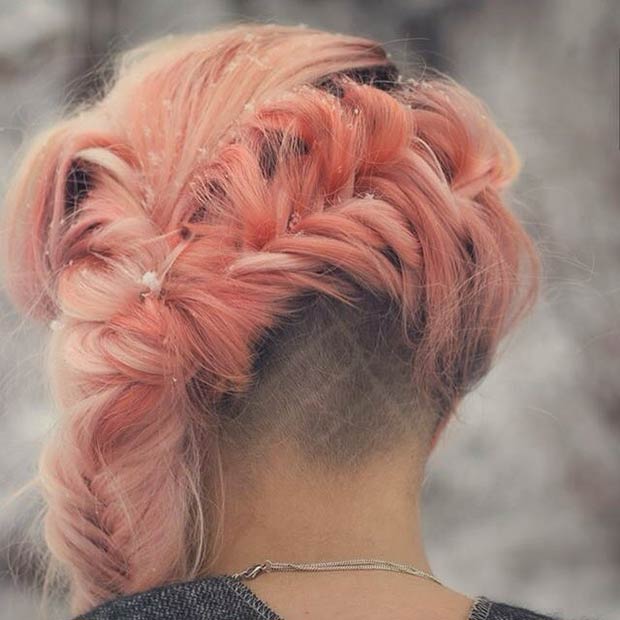 The undercut is relatively simple and well hidden by the cute and girlie locks. It's the perfect way to combine two looks with one- you're still feminine but with a real tough edge!
9. SHORT NATURAL HAIR + COOL UNDERCUT
You will need to have a chat with your stylist to make sure this look will work for you. High-shaved undercuts can be quite harsh on the face, especially if you have a rounder face, and more delicate features can sometimes become swamped by a radical hairstyle.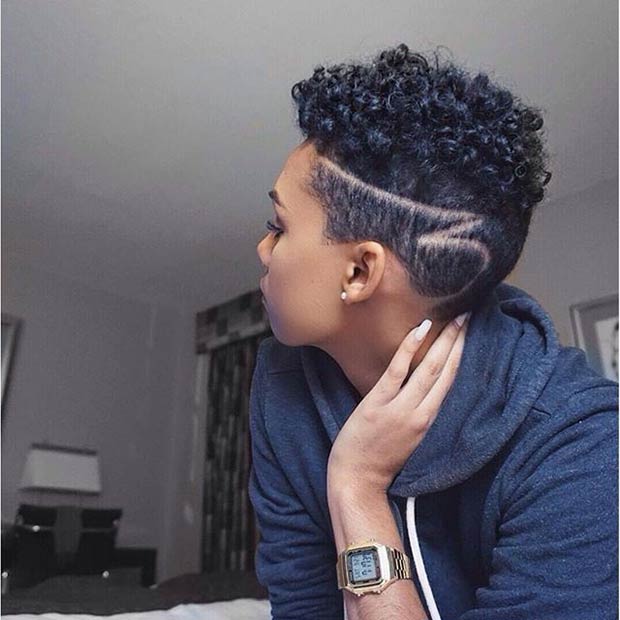 Your stylist will need to think about the effect your new haircut will have on the bone structure of your face among many other things. This is not something you can do 'on a whim'.
10. PIXIE CUT WITH AN UNDERCUT
Speaking of whims, this is a look that obviously requires maintenance. What are you going to do about it growing out? Have you included color? How does that feature in the growing out? How long are you going to have the undercut for?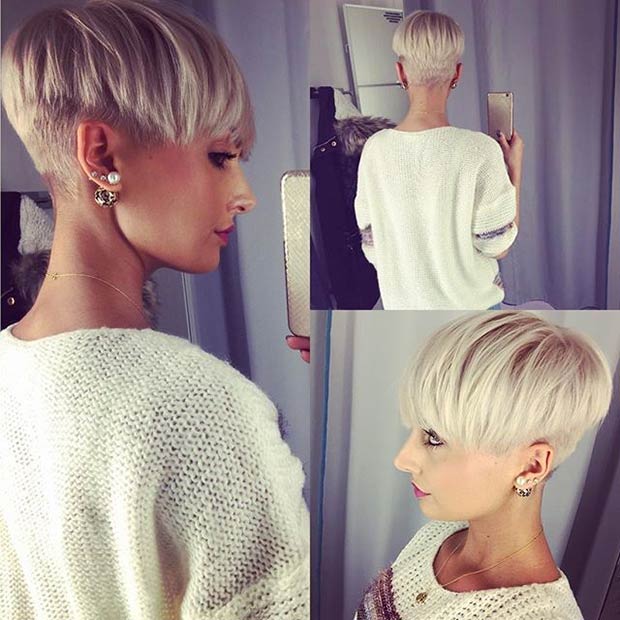 Not only are you going to need to plan for the future for a style quite like this, you'll also need to consider the maintenance. It's not so obvious for long hair when it grows an inch but when shaved hair grows an inch, it changes the look completely and it won't look as great as it did when you first had it cut.
11. SHORT, EDGY & SEXY
Rather than heading to the salon every six to eight weeks as you would with your regular longer-haired style, you're going to need to commit to more frequent cuts than that.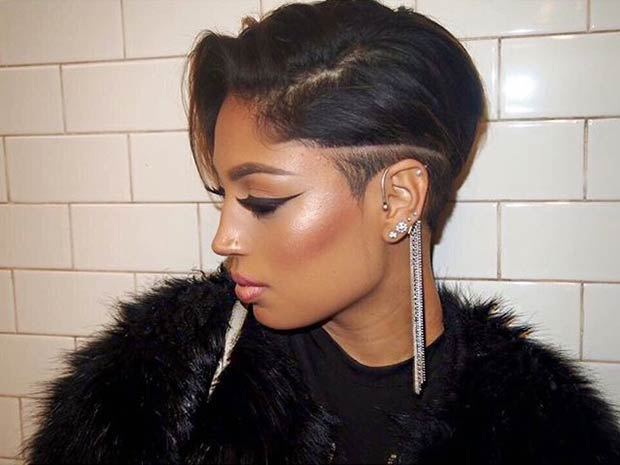 To keep your look fresh, you should be heading to the salon every couple of weeks for trims and to keep it all in check. Regular maintenance also makes it easier to grow the look out once you're bored with it.
12. NAPE UNDERCUT + LONG LOCKS
There are two real ways to grow out an undercut and that's the one thing most women are not prepared for. Having the undercut done is one thing, dealing with the growing-out stage is something else entirely.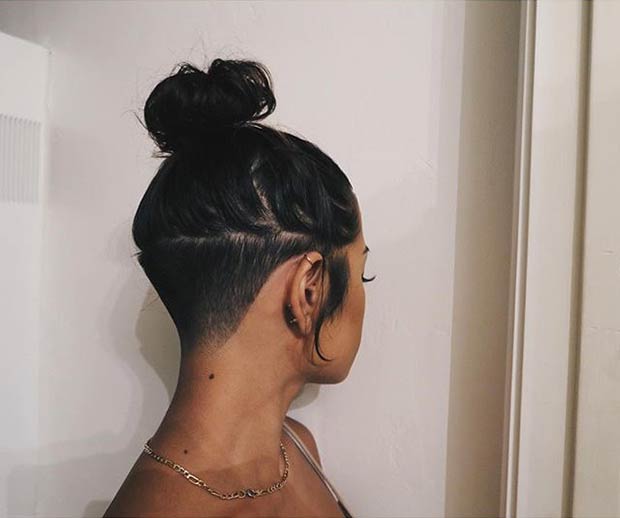 You will need to discuss with your stylist the best way to plan for the future. Will you cut your hair short and give the newer hair a better chance at being healthy? Or will you go for layers to graduate the look back in?
13. GEOMETRIC UNDERCUT DESIGN
I think it's pretty safe to say the classic undercut is making somewhat of a comeback and these days, it's not just for punk rockers.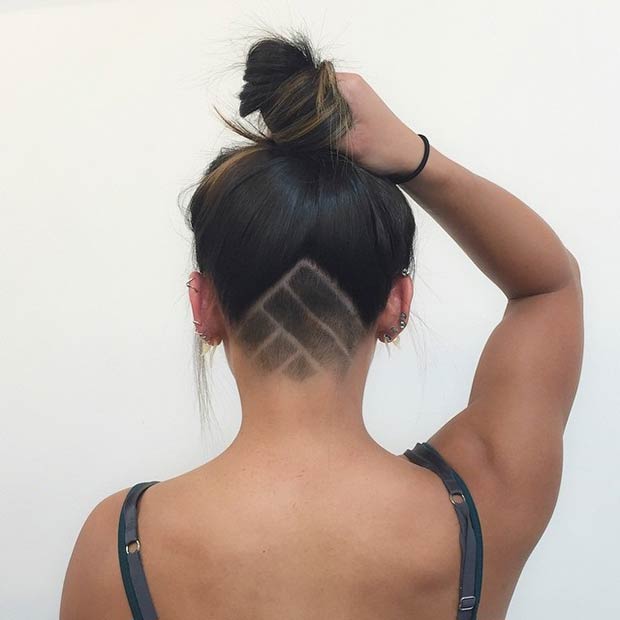 A radically different look, the remaining hair takes such a short time to blow dry, you'd be surprised at how quick you can get ready. The undercut is already a focal point so it's much easier to leave the rest of the hair just falling down and natural, but a quick once-over with the hair straighteners always perfects the look.
14. LOTUS DESIGN
Originally coming about for women in the punk era of the 70's, the more modern undercut styles for bold women are definitely a long way away from what they once were.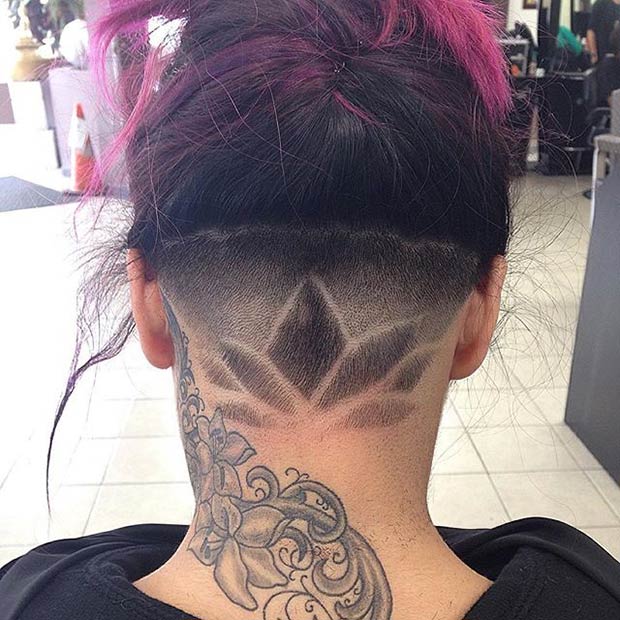 Incorporating more intricate styles and designs with bright colors and even tattoos for accessories, the undercut has been revived and we are thankful for that!
15. LONG HAIR + SHAVED NAPE
You will need to consider the change this undercut will have on your wardrobe now. Your hippie and boho-like clothes might not work quite so well with your new grungy, punk look.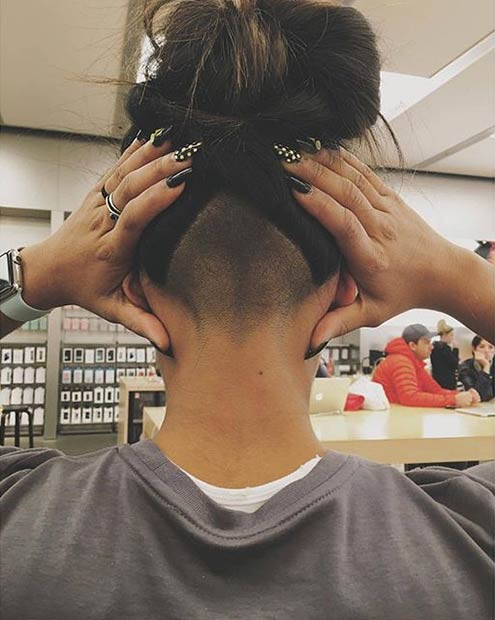 Perhaps you should use it as an excuse to go shopping? Think about more simple, edgier, clean-cut fashion items and you have about the right idea. Your hair is already making a statement, giving you the perfect chance to leave everything else relatively simple.
16. GOOD GIRL… OR BOLD GIRL?
On the outside, you look like a good girl with picture-perfect hair.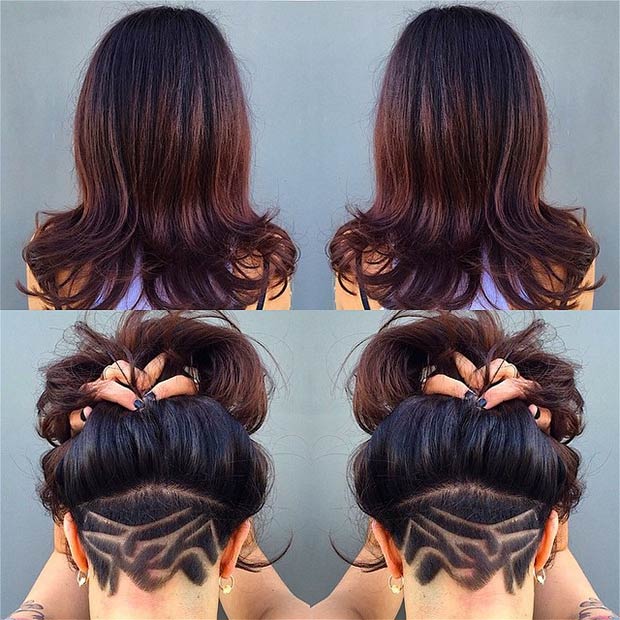 The inside looks pretty picture-perfect too, just with a hint of a badass side! 😉
Why not reveal your naughty but nice side with this cool undercut look?
17. SHAVED SIDE WITH A DESIGN
Rumer Willis wore her hair like this recently  except she did hers with a bob. The classic side-shaved design is one that works on many women but you must make sure your makeup is on point.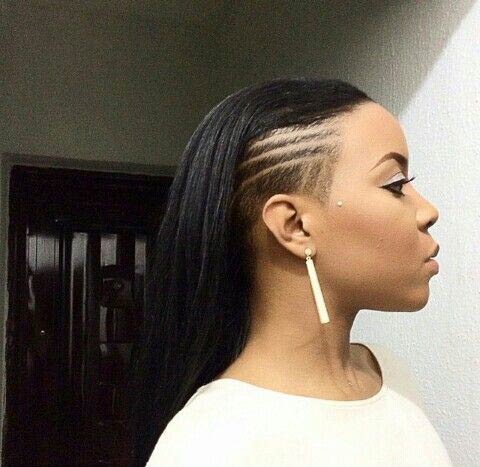 You can still pull the top section down to frame your face if you want to cover the side-shaved spaces, or pull it all back and wear it sleek and to the back like you can see here. It's a look with many variations and that's why we love it so much.
18. SHAVED LONG PIXIE CUT
Rita Ora recently rocked a look like this and if it's good enough for her, it's good enough for us too.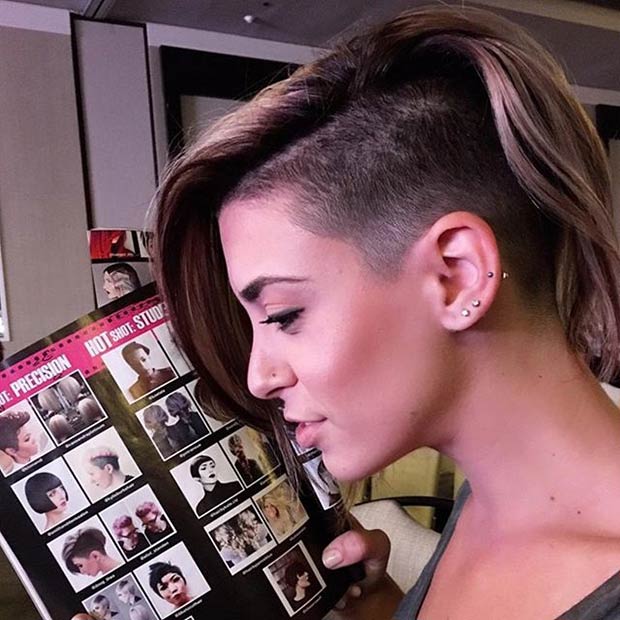 It's simple yet effective – undercut but not too much. If you're thinking of going all-in, what better way than with side-shaving?
19. UNIQUE DESIGN + MESSY BUN
This is one way to liven up an ordinary bun and we must admit, we heart it so much.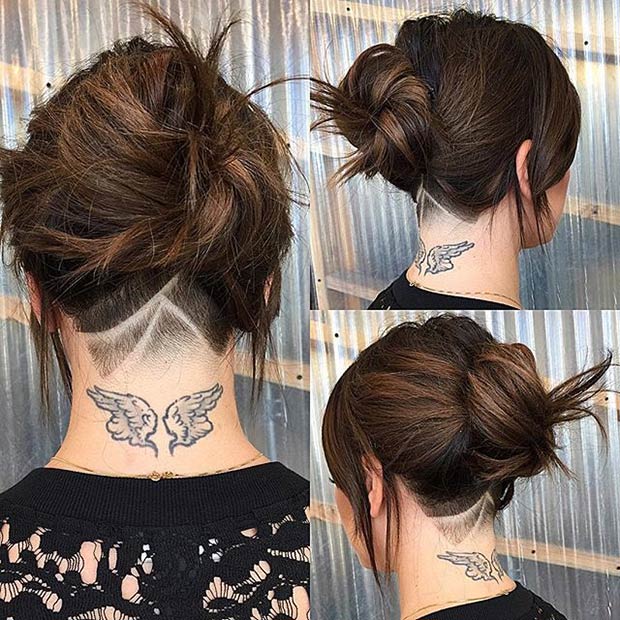 The tattoo is optional, obviously, but the graduated, asymmetrically flowing lines work so well with the messy bun. If you want a way to easily wake up and revitalise a look you're already wearing on a daily basis, this is definitely it.
20. CLASSIC DESIGN
It's cute, it's dainty and it's still feminine. What more could you ask for? It's the perfect first-time undercut look.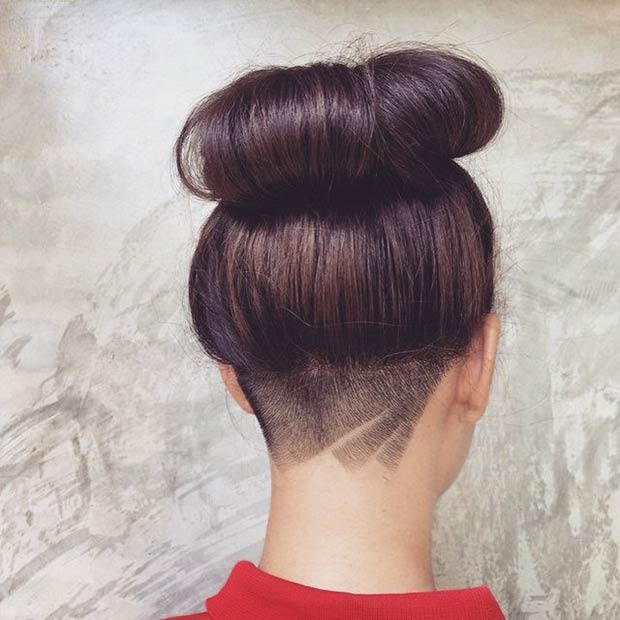 It's edgy but not too much. It's obvious but can still be hidden. If you want a way to test the waters, this is most definitely it.
21. LONG, BLACK LOCKS + BLONDE UNDERCUT
If you're going for an undercut, why not make it stand out even further by opting for a dyed undercut – a completely contrasting color to the rest of your hair.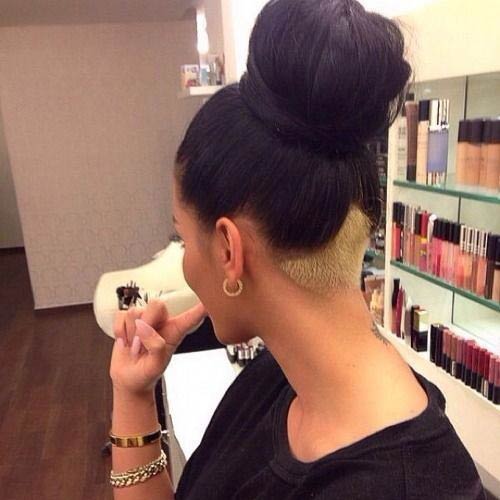 This one will take a little more maintenance as it won't be long before the roots are on show but for an event or occasion you could even consider wash-in / wash-out products for a quick update.
22. UNDERCUT STYLE FOR CURLY HAIR
If you think you can't have an undercut style because you have curly or afro hair, you're very much mistaken. You can absolutely rock it and this shows you how.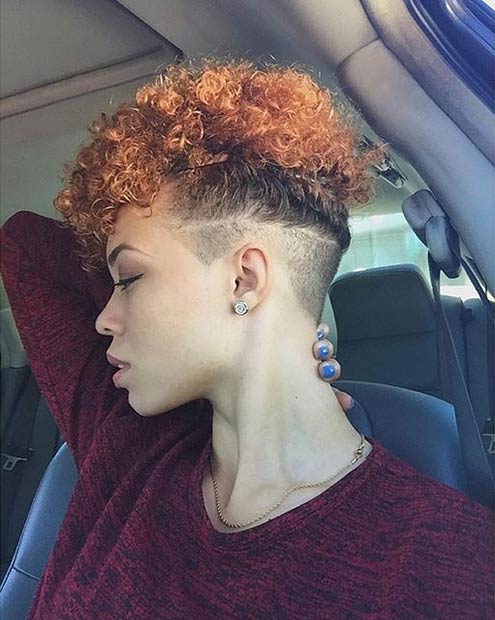 A look often loved by singer Pink, it's easy and classic, a great way to show off great bone structure… Or just picture-perfect makeup that fakes it! Did we hear you say contouring?
23. EDGY SHAVED SIDE
If you want to soften up a side-cut, the easier way to do is is to flick the hair over to create faux-bangs, or to have wispy bangs snipped in for good measure.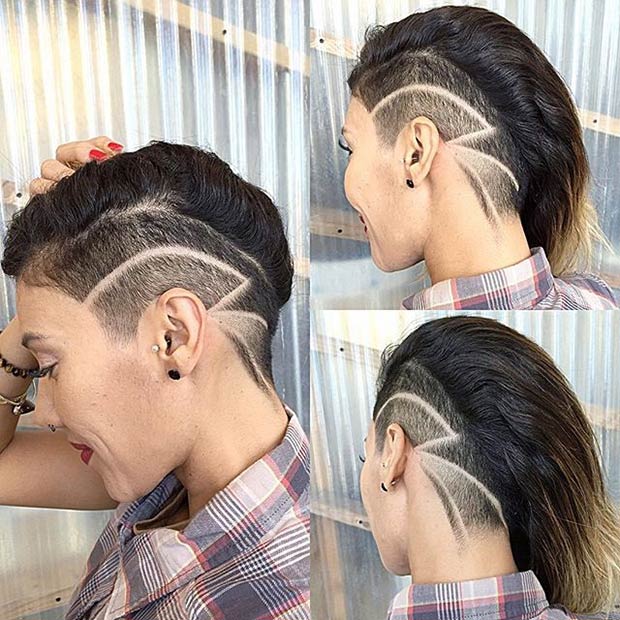 We know you want to be edgy but still hold your femininity too so don't be afraid to soften the look with lighter features to the rest of the hair.
24. STAR DESIGN
You're a star! It's only fair you should that off and what better way than with this super cool star design undercut?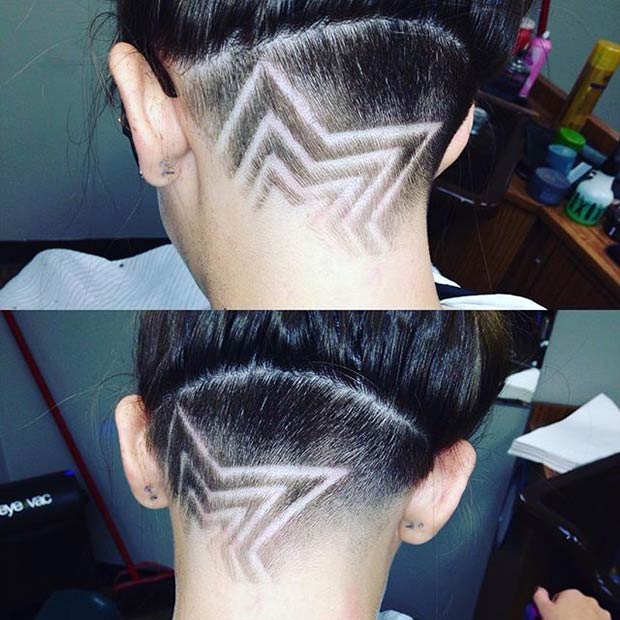 Another look that requires more maintenance than your average undercut, the star look is definitely paying close attention to detail although one wrong move and the whole thing could be ruined!
25. EDGY NATURAL LOOK
When you have such structure as this edgy undercut, it makes sense to let the rest of the hair be a little wild and free so why not let it do it's thing just like you can see here?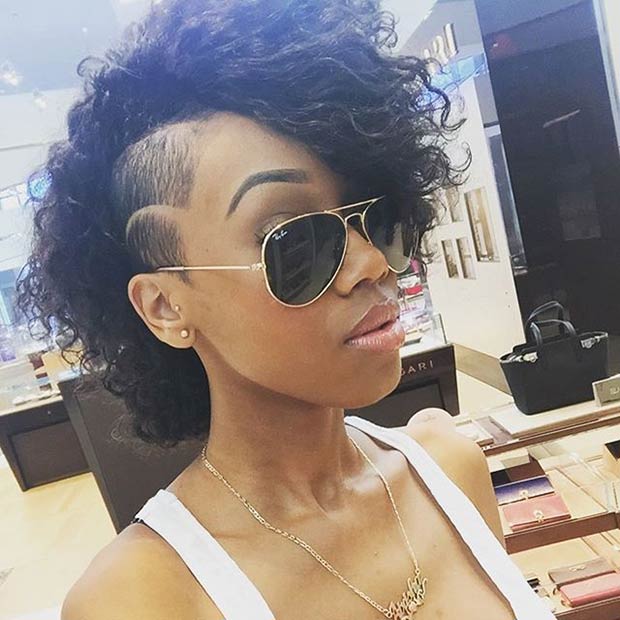 Two quite contrasting looks, they work very well together tomato this chick appear edgy and on point. If you want something that really does stand out, opt for big hair alongside the short hair too. Another set of contrasting looks that has a great impact if that's what you want to achieve.
26. PURPLE HAIR + UNDERCUT
If you're paying attention to detail, pay attention to color. We love purple. We love undercuts. We love purple undercuts!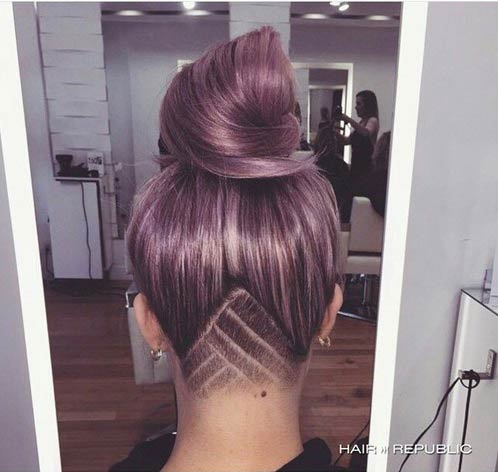 Can you do your own undercut? Well, yes, of course you can if you're brave! However, the thing you need to remember is that you can't see the back of your head so what might look great at the front won't always have the same impression from the back, and thats the part people are going to see if you wear your hair up.
With such precision looks as this one, it makes sense to pay a little extra and see a professional. You don't want to lose friends over an accidental balding do you?
27. ZIG ZAG DESIGN
If you don't fancy masking your growing-out undercut, make a feature out of it by dying it a bright color or making a grand feature out of it such as an intricate design or shape?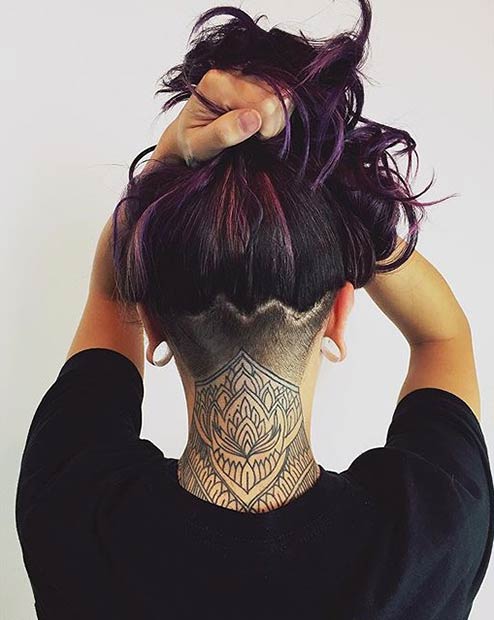 If you've had the cut, you need to go through the in-between stages so why not just rock it. You might start a brand new fashion trend!
28. GOOD GIRL GONE BAD
The placement of your undercut is important because you will need to dress it both up and down for different occasions.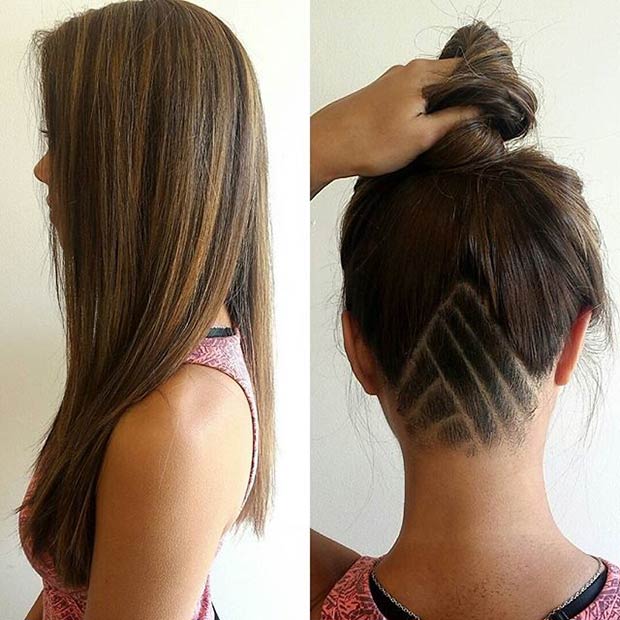 If you opt for the sides, they will be noticeable more often than those at the nape or back of the head. Also, the deeper you have the cut, the more noticeable it will be too. Ideally, for a first-timer, it is worth looking at something that is both small and discreet to help you get used to the new look.