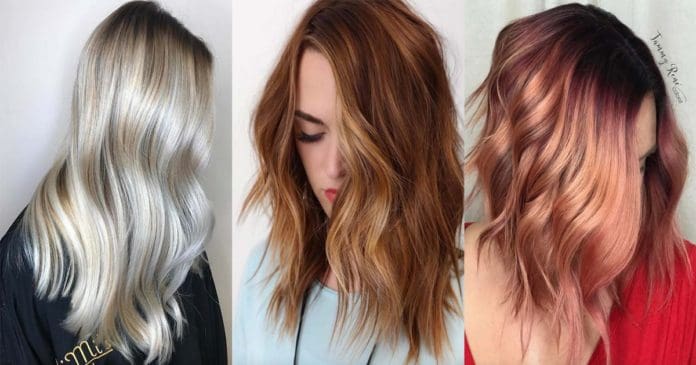 Balayage hair colors are eternal and perfect. Let no one ever tell you otherwise. While balayage technically is a hand painting technique used to achieve it, at this point it just as strongly correlates with a specific way of dispersing color through the hair.
Balayage is an easy-to-maintain hair color option that looks youthful, chic, and effortless. Balayage hair colors have a magical way of adding intense dimension and depth to a hairstyle, and look incredible when paired with soft curls. The gorgeous effect and ease of maintenance are the main reasons why balayage hairstyles are an excellent choice.
In this article, we'll take you through everything you need to know if you're thinking of switching over the balayage hair colors, including what a balayage is (and what it isn't), how to get perfect balayage highlights, and how to make sure it looks incredible for a long time, no matter what kind of hair situation you're starting with.
When Balayaging Always Keep in Mind
Anytime when you are dealing with bleach, you run the risk of your hair not coming out the perfect color. Brass and green hair are unfortunately all too common results of bleaching hair, even when done by talented professionals.

Balayage hair colors can sometimes come out too random and awkward: look for a hair colorist with a lot of experience balayaging hair, so that the results turn out perfect.

Allergic reactions to hair dye are all too common. Perform a patch test by applying a small amount of mixed dye to a small area of your skin, where a tint or rash won't be too big an issue. If no allergic reaction occurs, you can go ahead and use that hair color.

Balayage is a hair coloring choice that can look amazing or awful depending on the styling. Curls and waves are normally best paired with balayage highlights, while pin straight hair only looks good with an amazing and thoughtful balayage.
@off7thsalon
How to Balayage Dark Hair
Balayage hairstyles work really well for those with dark hair, since they soften and brighten it without forcing you to use massive amounts of bleach. If you want to balayage your dark hair, make sure to take it slowly, and start with a blonde dye that is not too strong.
Opt for a lighter brown or a darker blonde the first time you add balayage highlights – you can always lighten it further later on. Since you're starting off with dark hair, a bit of bleach will be inevitable, but you can always punch it up with other colors, like reds, pastels, greys, and even wild mermaid colors.
How to Balayage Blonde Hair
Those with blonde hair have a few options as to how they can rock balayage hair colors.
The easiest one is by brightening their blonde hair. Simply add balayage streaks of a lighter shade of blonde or platinum, for an ultra shiny and high dimension blonde bombshell look.
If you are hoping for a more traditional balayage look, with darker roots and lighter streaks and tips, you can actually achieve the balayage effect by dyeing your roots a darker color. While this defeats functional purpose for balayage hairstyles (i.e. low maintenance and virgin roots), the effect is so cool that we understand why you might want it.
Additionally, those with blonde hair can also try a reverse balayage – in other words, using the traditional balayage hair coloring techniques, but with darker colors. Since the hair is naturally light, darkening the tips would hardly cause any damage, and the effect is quite unique, adding a touch of mystique to the blonde.
Lastly, a way to make the best of naturally blonde hair is by playing with ultra trendy unnatural hair colors. Both permanent and semi-permanent hair dye options exist, so if you've always wanted to try something out of the box, balayage hairstyles can be a great way to experiment. Both pastel and metallic hair dyes work really well as balayage hair colors, especially with blonde hair.
Caring For and Maintaining Balayage Hair Colors
Isn't the whole point of balayage that it doesn't require too much maintenance? Well, while bi-monthly salon visits are not necessary, there are still a few steps you can take to keep your balayage hair colors looking bright and fresh, and the rest of your hair gleaming with health.
Try to limit how often you wash your hair. Over washing will either fade or dull your beautiful balayage highlights. After dyeing your hair, try to wait at least a full day (waiting 3 days is best) before washing your hair.

If you haven't done so yet, make the switch to a sulfate-free shampoo. The Perfect Blonde Shampoo by Pravana (available at

Ulta

) will do the perfect job of keeping your blonde tips bright and beautiful.

Get in the habit of deep conditioning and masking your hair, at least once a week – especially the dyed ends. Some masks, like the Christophe Robin Shade Variation Nutritive Mask, from

Sephora

, can multi task by both nourishing and hydrating the hair, and by amping up the color a bit.

If your hair gets greasy, instead of washing it mop up the grease with a

dry shampoo

powder, like Living Proof Perfect Hair Day (PhD) Dry Shampoo, from

Ulta

, which smells beautiful, and takes away excess oils without leaving a residue.

Before styling your balayage hair, make sure to use a

heat protectant spray

, especially on the dyed parts of your hair, which are now much more susceptible to damage. You can try Redken Pillow Proof Primer Spray, available at

Ulta

, for that protective layer.
@off7thsalon
How Much Does a Salon Balayage Cost?
Prices vary very widely from salon to salon, but you can expect to spend a minimum of $100 on a balayaging session. You might be able to work out some sort of maintenance schedule with your hair stylist that will reduce costs.
How Long Do Balayage Hair Colors Last?
It's difficult to predict how hair will respond to balayage hair colors over time, and this also depends on what kind of color you started with.
Once the hair has been bleached, it will not get darker, so this mostly depends on how quickly your hair grows out, and whether you were wanting your balayage highlights to stay at a specific shade. On average, 3 months is long enough between touch-ups.
Balayage Hair Color Ideas
So you think you're ready for that gorgeous balayage look? We have a ton of examples off of the different balayage highlights you could try!
1. Extreme Balayage Ombre
This take on balayage hair colors is on the heavy-handed side. The ends are fully dyed a cool blonde shade, and the blending of the natural dark roots and the highlights begins very high near the scalp, giving a look that will require more maintenance, but is quite striking.
@hairbyhaleyh
2. Coppery Blonde Balayage Bob
This is a perfect spin on balayage highlights for anyone who likes a lot of warmth in their hair. Dark brown roots blend into a coppery gold that cools down at the tips, in a bob that has a lot of warmth and dimension.
@hairbyamyz
3. Slate Blonde Balayage
This is another extreme balayage hair color idea that would be ideal for those with naturally light hair that want to interject an icy, high fashion twist into their look. Dark blonde roots, lots of bleach, and a metallic finish make for a look fit for a slate queen.
@hairandharlow
4. Platinum Crisp Balayage
This is another example of balayage highlights for natural blondes from Hair & Harlow, this time with lots of platinum curls. Interestingly, a hint of the natural blonde works its way almost all the way down into the tips.
@hairandharlow
5. Classic Cool Ombre Balayage
This is a classic balayage hair color that would work on nearly anyone. The bottom half of the hair is dyed a golden sombre, with the balayage hand painting technique ensuring a subtle shift from roots to highlights.
@hairandharlow
6. Caramel Balayage
This delicious balayage is like a caramel latte, with naturally espresso roots warmed up by the reddish blonde balayage highlights.
@hairandharlow
7. Multi Metal Balayage
Balayage hairstyles are a great way of rocking metallic hair colors, because they allow you to keep your roots healthy and natural, while still turning heads with that metallic sheen. This picture is an example, with a blend of pure titanium and a bit of blonde highlights.
@hairbyamyz
8. Dark Chocolate and Blonde Balayage Lob
In this balayage, tradition is slightly broken since some of the golden blonde streaks make it all the way to the roots. However, once the long bob grows out a bit, it'll look like a traditional balayage, with ombre'd ends.
@monicadelarosa
9. Bombshell Blonde Balayage
This take on balayage hairstyles is actually much more representative of the hand painting technique, since the blonde covers almost all of the hair, only leaving the roots a natural chocolate brown.
@monicadelarosa
10. Rose Gold Balayage
Balayage hair colors don't have to be natural. In this look, gleaming shades of rose gold hairblend with blonde to showcase what a balayage showcases best: texture, volume, and dimension.
@baileyage
11. Subtle Chocolate Balayage
This is one of those balayage highlights that own my heart. Dark chocolate tresses have been very lightly accented with caramel hand painted strands to give just a hint of warmth.
@baileyage
12. Rose Gold Balayage Lob
Balayage hairstyles are a great way to give presence and volume to understated haircuts like long bobs. Here, natural dark roots contrast beautifully against blonde and rose gold balayage highlights.
@baileyage
13. Caramel and Chocolate Balayage
A side effect of balayage hair colors looking so natural is that they remind me so much of food. In this case, a melted chocolate and caramel effect is achieved with coppery curls and dark roots.
@daribhair
14. Beachy Subtle Balayage
Another look with chocolate and caramel balayage hair colors, but this time it's much more subtle and breezy, which works well with the tousled, wavy hair styling.
@daribhair
15. Warm Copper Balayage
This is one of those classic balayage hairstyles, with differently sized streaks of color adding dimension to nearly black hair. The uniquely warm shade of mahogany in the highlights is sophisticated and unusual.
@daribhair
16. Blonde Cascade Balayage
This hairstyle shows that balayage hair colors do not get in the way of gorgeous princess hair. These long, lush curls only seem brighter and richer thanks to the contrast of darker roots.
@colorbyashley
17. Feathery Balayage Curls
Balayage hairstyles work best with curls, and thankfully it doesn't matter if the curls are loose or tight, small or big. In this case, feathery curls work nicely with the tighter blonde streaking in this balayage.
@colorbyashley
18. Shades of Brown Balayage
While blonde and brown might be tradition for balayage hair colors, a tawny brown works just as well with naturally espresso hair. You can see that the dark color runs all the way down to the tips, even though a lot of the hair has been lightened.
@colorbyashley
19. Golden Dimension Balayage
The secret to astounding balayage highlights is a lot of natural shine. These golden blonde curls pop all the more thanks to expert curling and a lot of hair serum.
@colorbyashley
20. Coral Reef Balayage
This is a great example of how balayage highlights can be changed and upgraded overtime. What started as natural toned balayage was elevated with a wash of different shades of blonde, copper, and magenta to create a warm coral look worthy of any mermaid.
@michellehair
21. Rich Brown Balayage
Depending on the styling, balayage hairstyles can look effortless or super clean. Lush curls all going in one direction look super organized up against the caramel balayage highlights.
@off7thsalon
22. Ginger & Spice Balayage
If you've always wanted to go redhead, but were worried about the drastic change, balayage hair colors can give you a taste. Dark brown hair with lots of red streaks is fun and fiery.
@off7thsalon
23. Azure Wash Balayage
Unnatural balayage hair colors like this gorgeous blue don't stick around long, but that just means you can play with a lot more colors once it fades! Balayage hairstyles are a great way to experiment with color, without getting too crazy.
@off7thsalon
24. Princess Peach Balayage
These ultra long tresses in shades of pastel peach and pink are a more extreme take on ombre balayage hair colors. Interestingly, this look retains a bit of elusive darkness because the highlights on the face-framing bangs on long hair don't go up too high.
@hairandharlow
25. Steel Blue Balayage Gradient
This hand painted blue balayage is an ultra clean version of balayage highlights. The tips have been dyed a brighter blue, with shades of steel grey acting as transition colors between the dark roots and the ends.
@bescene
26. Smokey Lavender Balayage
No one does a colorful balayage quite like Guy Tang. This blend of smoky silver hair color and deep lavender is expertly hand painted for beautiful depth and dimension.
@guy_tang
27. Magenta Magic Balayage
There is a lot of freedom with balayage hair colors. Bleached ends here were covered with a wash of magenta, while darker magenta streaks create a beautiful gradual transition.
@michellehair
28. Cherry Cola Balayage
Black and red create the perfect femme fatale blend for balayage highlights, like in this gorgeous, curled hairstyle.
@off7thsalon
29. Pink and Gold Gleam Balayage
Long, healthy tresses, and a complex combination of gold, pink, and peach hair shades make for one of the most astounding balayage hairstyles, that is totally perfect for a blooming spring.
@guy_tang
30. Cool Balayage Ombre
Cool blonde hair shades are harder to achieve, but they certainly create an edgy balayage that is perfect for winter. Pair them with loose but uniform curls, and you will be the height of casual coolness.
@hairbyamberjoy
31. Soft Smokey Balayage
This is like a gentler version of the previous hairstyle, with the same cool balayage hair colors. Here, however, the dye was applied to thinner strands of hair, leading to tighter highlighting and a really unique contrast.
@hairbyamberjoy
32. Sandy Beach Balayage
This take on balayage highlights blends sandy brown with golden blonde, for a bright and natural look that reminds us of our favorite summer vacation.
@cemgumush
33. Port and Coffee Balayage
This is the kind of simple balayage you might even be able to achieve at home, but the effect is oh-so-magical, thanks to this shade of port red blended with naturally dark coffee hair.
@paintedbycourtney
34. Silver and Blonde Balayage
If you like living on the edge, you can try and incorporate both cool and warm shades into your balayage hair colors. In this hairstyle, the cool silver contrasts against a similarly light yet warm blonde to create a mesmerizing effect.
@paintedbycourtney
35. Feathery Blonde Balayage Curls
Feathery curls and a bright blonde balayage with dark roots are a classy choice that works well with this layered haircut.
@chitang_hair
36. Melted Gold Forward-Facing Balayage
Aside from the astounding shade of melted gold used for the balayage highlights, the other thing that really stands out with this hairstyling is that most of the gold is concentrated near the face, while everywhere else the natural brown hair color reigns supreme. This totally brightens the complexion, without using too much dye.
@_ceairrak
37. Brightening Touch Balayage
Golden balayage highlights start at about eye level in this gorgeous hairstyle, so the overall look is still undeniably brunette, but a bright and healthy looking one.
@_ceairrak
38. Lush Gold Color-Melt Balayage
Different shades of gold and blonde in these balayage highlights create a deep, metallic effect, while the darker roots lend a serious contrast.
@allievilla
39. Metallic Brunette Balayage
A wash of light brown and an even subtler hint of blonde run through brunette strands, creating one of those balayage hairstyles that cease to look like hair, and look instead like molten metal.
@allievilla
40. Gradual Ombre Balayage
This is a take on balayage hair colors that requires seamless blending to create a perfect transition from the dark brown roots to a lighter brown middle shade, to gleaming golden ends.
@allievilla
41. Coral and Pink Unicorn Balayage
These gradual color changing balayage hairstyles don't have to be natural, as we can see in this look that goes from dark brown roots to a bright coral, and ends with cool pink ends.
@allievilla
42. Shades of Blonde Balayage
Normally, looser waves work better with balayage highlights when the hair is tousled. However, as we can see in this hairstyle, featuring a mélange of warm and cool shades of blonde, when the highlights start higher up near the roots, even straighter styling works well.
@allievilla
43. Cascading Chocolate and Gold Balayage
Balayages are oh-so-glamorous on super long hair. The contrast of chocolate brown roots and warm golden balayage highlights is full of depth and beauty.
@styledbycarolyn
44. Ginger Snap Balayage
Feathery, tousled long bobs are a perfect accompaniment to balayaged hair. While most of the head has been dyed auburn, brighter balayage hair colors add whimsy.
@kimberly_call
45. Rose Copper Balayage
Ultra light copper was accented with pink balayage hair colors in a look that is eccentric and modern, yet soft and romantic.
@kristen.lumiere
46. Smoke and Lilac Balayage
Traditional balayage hairstyles, where darker hair is balayaged with blonde ends, actually create an opportunity for a lot of versatility. Here the balayage was punched up with lilac dye that looks bright and vibrant over the bleached ends, and dark and subdued when applied over the darker, natural roots.
@kristen.lumiere
47. Berry and Peach Sangria Balayage
This beautiful color-melt balayage features a fruity blend of light peach and dark berry red. While, with the exception of the roots, all of the hair is dyed, the hand painting technique is apparent making this a clear balayage.
@__tammyrene__
48. Golden Blonde Color-Melt Balayage
This is both a very wearable balayage and a really easy way of going blonde, with a lovely dark brown to dark blonde, to platinum gradient.
@littleblacksalon
49. Platinum Blonde Balayage
There is no subtlety in this hand-painted balayage – just fierce platinum waves, with the tiniest hint of a dark root and some blonde streaks.
@littleblacksalon
50. Dark Auburn and Gold Balayage
There is so much fiery volume and dimension in this ginger take on balayage hairstyles. The gingery gold streaks running through the dark auburn hair are warm and high energy.
@davefunseeka
Photos via Instagram