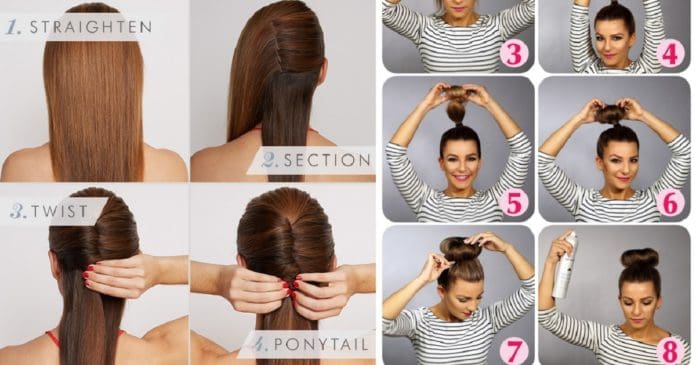 Ever need some hair ideas for on the go? Check out some fun and easy looks for looking great every day.
Notice how cute the first one is. It's a ponytail and a braid combination with ponytail ties every couple inches. This take a regular up-do to a whole new level! The next one has a side braid from the bangs that is clipped with a cute pink bow. This is a great idea for school pictures or a family outing. The last one is adorable because they actually took her hair and made it the bow. It's such a creative idea to make a half up, half down look look even cuter.
2. Ever have those days when your hair is just a bit too frizzy? Here's a braid for thicker hair that looks well groomed and professional. Follow these easy steps for a great bun look. It's so cool how four easy steps can take an everyday ponytail to a star worthy bun.
3. The next six steps are your key to learning how to create a sleek vixen hair do. The first step is starting with straight hair. Next, you begin to section it. This can be done using bobby pins. Thirdly, you start to twist and then you keep twisting until it is in a ponytail. Afterwards you wrap the hair around the bottom part and stick a pin in it for a finished, well put together appearance.
4. This is such a helpful guide for the much loved honey bun. All you need is scissors, a sock, hair pins, a hair tie, hair spray and a brush. First, begin by cutting the toe part off of the sock and open it up. Next put your hair in a tight ponytail and extend your hair in a vertical line. Slip the sock over your ponytail and start rolling your sock down, along with your hair. Once you've rolled it down to the bun position, pin it, spray it and then enjoy it!
5. The chignon look appears complicated at first but this step by step guide helps you create a look that is flawless and elegant. The first step begins by twisting each side of the head's hair into a twisted ponytail. Then you take the hair and invert it. Next you take the bottom of the hair and stuff it into the center so that it creates a bun. It's perfect for your next formal occasion or even just an evening out with friends. It's a simple, classic look that never goes out of style.
6. The top knot bun is so popular but there's definitely an art to making sure it looks just right. To begin, take your hair and put it into a ponytail but don't put it in a rubber band. Simply use one arm to hold the hair in place and the other to start the next step. In step two, you begin by twisting the ponytail from the bottom, up towards the top. By step three, you should have a nice, twisted ponytail. Next, start wrapping the hair up into a bun. Once you are done wrapping, tuck the end of the hair under the bun. From here, start pulling out some fly aways for a softer overall look.
7. There are a lot of great ways to spice up your average ponytail. Here's a way to take something ordinary and make it original. Take a bit of volume mousse and run it through the ends of your hair. Then take your hair and literally tie it in a knot. From there, tie it into one more knot and add bobby pins to keep it in place. This creates a knotted tail in your hair that is both edgy and chic.
8. The hair bow is surprisingly simple and absolutely adorable. Here's how to do it. Take two small strands of hair from either side of your head. Tie your hair in a bow and enjoy this cute idea. You can secure it with bobby pins or a bit of spray if you need help getting it to stay.
9. The low knot has become increasingly popular and here is a great guide on how to accomplish the low knot you've always wanted. Take your hair into two parts and tie them into a knot at the base of your neck. Once you've done that, pull the ponytail part down so that it's an inverted tail. Stuff the bottom of the hair back through the opening and enjoy a messy yet ever popular knot.
10. This is a great example of a low ponytail meant for a more formal type of event. It's well groomed and exact. The stylist took the hair and fastened it at the nape of the neck and from there, curled the ends for a wavy finish.
11. This has more of a greased back look and you can literally see it from the image. Do you like this particular look? They used a silver accessory to add a bit to an overall simple do.
12. This low knot has been accented with rather large roses. It almost takes away from the prettily styled bun but nevertheless, it's a cute look.
13. This is a rather dramatic piece but here's the thing, with a low ponytail, you can do just about anything in terms of accessories. It's not a complicated look so it's easy to incorporate bows, feathers, or whatever you want to sport in your hair.
14. This is a very pretty look with the simple up do and very beautiful jewels in her hair. This headband does a great job of tying the whole style together.
15. Do you spy the feathers intermingled in her hair? Notice the tiny braid on the other side to complete the look. This has an exotic feel to it.
16. The curls at the ends of her hair are on point. The stylist did a tremendous job of accenting the layers around her face and the overall work has such a beautiful look.
17. Here is a simple up do with some wispy fly aways added in order to give it a softer, more gentler look.
18. Check out these different ways to style for pretty summer looks. The first one is a short pixies with bangs. She's parted them off to the side and they are almost long enough to tuck behind her ear. The next shot is a great way to wear your hair down but make it look like it's been styled more than usual. They used product to help create that sleek, overall finish. The third picture with the headband is a great idea to add a little fun to your do. The last image is another idea of how to style your hair when it's down.
19. This look has a ton of curls! It's a full and bold look. It's not inundated with product and seems light and airy. Her bangs hang in a laid back look that is in contrast to the rest of her hair. The added clip is an interesting choice in accessory. What you think of this look? We kind of really like it. She rocks it with confidence and the various styles going on her all seem to flow really well.
20. This style is more of a wind blown look. They've added some curl to give it some wave and have pulled the part a little deeper than her natural part. It's a really great style.
21. This is a great style that demonstrates beautiful and subtle waves within this great style. the mix of blonde and brunette is the perfect combination and the part that goes down the middle of the head is a great addition to the hair style.

22. This long brown hair looks perfect and stunning as it flows effortlessly down this woman's back. the waves that go through this woman's long flowing hair is a perfect combination of beauty and elegance.

23. This is a beautiful and simple style of hair that promotes how a simple hair style can remain timeless and classy. This pony tail effortlessly flows down this woman's back with ease.

23. I love how the hair ties in this hair style are well placed in distinct places to give this long pony tail a little more of a modern style and modern look. The open shoulder shirt gives this hair style a little more attention and compliments this woman's style very well.
24. This messy style up top is a very popular style and has so many facets to the style in itself. The pony tail aspect of this hair style is very creative in the fact the the first part of it is actually braided and twisted slightly as well as styled. The lower section is a classic style and promotes a great elegance. 
25. Now this hair style looks like it was give much time and effort to create a picture perfect style. Every single piece of hair is in place and not out of order. The color of the hair is a whitish silver and almost looks like some sort of fairy would have this color of hair. As the braid starts at the top of the neck and fluidly flows down the middle of the back, the hair looks as if it is a tight knit rope of beautiful hair. This hair style is a great example of an amazing piece of art. 
26. to the untrained eye, this may look like a thrown together hair style, but once you look closer you can see that their is a lot to this style. Right in the middle of the part you can see a braid that leads to the back of the head. This style takes quite a bit of effort and time to get just right and this woman has spent her time wisely. 
27. This is a great style that promotes a timeless style. This simple yet beautiful pulled back hair style looks very good on this girl. This can be worn to an upscale party or two a slumber party.Either way you are going to be considered the best dressed with a trditional style like this. 
28. I love the added style in the back of this hair style that they have done. Along with the earrings, this hair style makes this woman look incredibly gorgeous and like she belongs to royalty. The way that the hair is pulled up into an elegant bun onto the top of the head shows that this hair stylist knows exactly what they are doing to make her clients looks ready for the red carpet.  
29. This is a very natural and artsy looking hair style. The waves within this hair and the head piece bring you to another world of wonder. The long wavy hair flows perfectly down this woman's back to create an effortless flow. 
30. This blonde pony tail is able to speak for itself. It has a voice of its own as it explodes onto the back of this woman and commands the attention of everyone around. The bright blonde color also shows you that this girl means business and is ready to take over the world with her style. 
31. Talk about blue eyes that compliment a perfectly crafted blonde hair style. This blonde haired blued eyed bomb shell is rocking a perfect part down the middle of her hair that has a perfect amount of volume and texture. The waves within this girl's hair and the slight curls at the end really bring this whole hair style together to wow and impress anyone who sees it. 
32. This hair style looks like its also blowing you a kiss. The elegant and classy look of this hair style brings out the true glamour in this woman and the pieces that are falling look like they are intentional to frame this woman's face. 
33. These four hair styles are totally different in a lot of ways but they also all demonstrate and fancy, and elegant style that would be a fit for any event or party. The top left hair style has a beautiful and perfect part on the left side of the head. The hair is closely placed to the skull and is short enough to create intrigue. The eyes really make this hair style come together in a beautiful way. The top right hair style has an elegant look to it as well that combines a blonde shine and a long flowing hair style that goes down the back. the waves within that hair style are free flowing and have a mind of their own. The bottom left hair style is accompanied by a beautiful head band that accents the hair very well. All the hair is pulled back in a tight and well styled bun. The bottom right hair style is another good example of free flowing and wavy hair that looks effortless and but a lot of work has gone into it. The color on the underside of the hair is a good accent to this piece as well. 
34. This over the shoulder braid is perfectly placed and excellently done.The long bangs that flow onto the right side of the face and to the ear create a small amount of mystery. The braid flows really well down the shoulder and onto the chest and as well as the dress that this woman is wearing. Its symmetrical and perfectly straight. 
35.This may seem like a messy hair style but their is quite a bit of TLC that has gone into this hair style. This messy look is very popular and gives this person an adventurous and wild style. The long braid is well done and styled perfectly. 
36. This tightly pulled back bun is a good mix of blonde and brunette. The bangs are pulled back this beach-like and messy style works really well with the classy and beautiful look that this woman is going for. 
37. This short hair style is a bold look and is allowing this girl to make a statement for herself. This straight and plastered hair style is a brave look to pull of because it doesn't allow you to hide behind any sort of large style. nothing is framing your face, so well done.  
38. This is a beautiful hair style that is accented by a wonderful head band. It is all pulled back into a tight and stylish messy bun. The mix of the dirty blonde hair and the head band really allows this woman to look glamorous and classy at the same time. 
39. This is a beautiful style of blonde hair that is perfectly wavy. The clips are added accent of beauty and creates and whole new level of the wow factor. I Love how the clips in the hair add a sense of layers to this hair style and almost creates stairs in this woman's hair. the waves and the curls add just as much joy as this girls smile does.
40. This hair style has a lot of volume and a lot of personality. The curls at the bottom of the hair gives this hair style life and creativity. The part down the center is beautiful and looks natural. This woman has a lot of hair and knows how to wear it well. 
41. This is an interesting style because it seems like its a mix of both elegance and creativity. This perfectly executed bun is wrapped up and finished up with what looks like a braid that has been curled up on itself. This hair style is eye catching and uniques. I would recommend this style for anyone who is looking to change things up while being classy at the same time. 
42. This hair style may seem dull or simple at first but look again. This hair style goes from dark to light effortlessly with almost no obvious transition. As this short hair style frames this woman's face and stops a few inches above her shoulders, you cant help but be impressed.
43. This red head is using her unique hair color to her advantage by adding a bit of pop to her hair with those flowers. This is a clean look that is a good choice for any occasion with a little accent of flair with the flowers. You can tell that this person is modeling this hair style off with confidence and swagger. 
44. I'm not sure what is more seductive, the eyes or the hair. With this effortless wind blown look, you cant help but be impressed by the way that her hair is perfectly flowing in all the right places. It looks like she just ran her hands through her hair and ha a perfect hair day at the same time.
45. Once again we see the addiction of clips in the hair play a very fun and spunky role. This short hair style is accompanied by an array of great colors within this woman's hair and provides the one looking at this hair style with texture, volume and intrigue. 
46. This strawberry blonde hair style has princess written all over it. the straight hair that accompany the long waves make you wonder if you have seen this woman as a disney princess of some sort. Her eyes draw you in and her hair blows you away. 
47. This hair style gives you the impression that this is a thrown together hair style but this is a really well done piece. The braid that goes down the back is beautiful and artistic. The way that this woman's hair has waves and volume gives this hair style that much more beauty and an impressive look. 
48. This hair style is the type that you would see a professional dancer with or a gymnast. Its tightly pulled back and wound into a bun to make sure that no strand comes out of place or gets in your face to interrupt your performance. 
49. This is an interesting hair style that is unique and makes a statement. As it is pulled up and connected to the top of the head, it allows a small amount of hair to flow on its own all the way down this woman's back create almost a tail for this woman. its a bold and brave style that she pulls off well.
50. Bold and slicked back: This is a great vibe for summer.