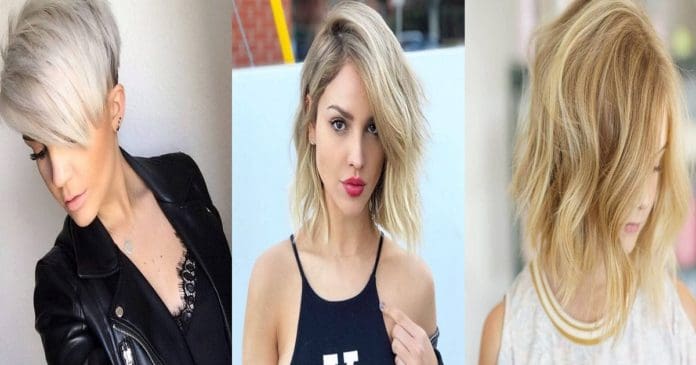 Have you ever noticed how short hairstyles for women totally pull focus? A short hairstyle on a woman is unexpected and shows off her facial features in a way that long hair just can't. Short hair is liberating, light, and makes you stand out. There are so many different hairstyles for women, too. It's easy to get bored with the same old long layers (it's 2018, time for an update) but with short hair, you've got all these unique types of haircut to choose from! Yes, you might miss that ponytail. But not being able to just "throw your hair up" forces you to look your best day in and day out, which can really pump up your self-care routine overall and make you feel even better about yourself! Seriously, who doesn't want that?
1) Short Wavy Haircut, Brown
Simple and elegant, this short hairstyle with a bit of wave is perfect for a subtle and classy look. Paired with a skirt and blouse it looks classy and a bit rebellious.
2) Blonde Bob Cut
This bob cut is done by cutting straight around the head close to the jaw and above the shoulders. Adding a bit of blonde and a fringe makes this type of haircut very sexy.
3) Blonde Contrast Haircut
The contrast from the roots in this blonde contrasted haircut give it an elegant and sophisticated look. This haircut looks like the pixie cut, but with regular sideburns and an elegant finish.
4) Classic Wavy Short Black Bob
You can't go wrong with this black bob. Adding some waves to the fringe gives a hint of mystery and adventure to your demeanor. Paired with a shoulder-less top will have heads turning everywhere you go.
5) Side-Swept Short Pixie Cut
This pixie cut focuses on the left side with a swept fringe. It is on the lower end of the pixie haircut scale, but a short pixie cut nonetheless.
6) Super Blonde Shaggy With Side Bang
Beautiful bleached blonde hair that anyone can achieve. It's a mixture of three of the best haircuts a woman can have, blonde, pixie, and bobbed. A little shagginess and you're ready for the beach or a fancy dinner.
7) Short Wavy Bob Haircut
A back-view of this short and wavy hairstyle with highlights and contrast explains it all. A picture is worth a thousand words, but here you can see how beautiful and casual this look can be.
8) Shoulder length with Highlighted tips
A nice haircut if you're trying to keep attention away from you. The highlighted tips make this haircut look very healthy, cropped to the shoulders.
9) Ombre Style Short Messy Haircut
The ombre has been a trend this past year and in this picture, you can see why. Typically darker at the roots, this two-toned hairstyle fades into another color. It usually fades from dark to light.
10) Short Wavy Bob With Bun
Why not add an extra layer of style to this wavy bob? A simple bun makes this haircut twice as fancy and it's a great way to let the bottom half of your head breathe a bit; Great for summer.
11) Short Wavy black with pinned bun
Just like the previous photo, this black wavy short haircut has an added sense of class with a golden pin to wrap the backward bun. A simple way to add a wearable to your outfit.
12) Shaggy Dyed With Bun
This haircut is awesome. Not only is the hair dyed a darkened platinum, it is also short and wavy and has a bun added to it. This is a combination of haircuts that was done right.
13) Platinum Bob With Bun
This color has gained so much popularity that even men are doing it. Not to blame; this haircut is sophisticated and the ombre concept of darker roots flowing to a light color make it a piece of art.
14) Purple Short Wavy Hair
In my opinion, this is the best hair color ever invented, hands down. This hair color worn with this exact hairstyle will make you look like a goddess
15) Platinum Purple Wavy Pixie
Deep purple hues, platinum contrast, and dark roots give this haircut a futuristic look.
16) Wavy Layered with double bun
Double buns paired with layers and waves, perfect.
17) Platinum Wavy and Dark Roots With Bun
So amazing hair color with an added bun.
18) Short Blonde Double Braided
If you have short blonde hair and know someone that can braid well, this is the haircut for you, if you like it.
19) Messy Straight Short Bob
Chic, sexy, and very Hollywood. Wear this haircut to the beach or cruising in your convertible with some dark shades.
20) Classic Short Bob With Bang
This has stood the hands of time as a classic haircut. My mom has had this haircut ever since I can remember. I don't blame her, it's a classic haircut for women.
21) Platinum and Magenta Semi-Curled
Whoa! Looking for something flashy and out of your zone? Here it is. Purple and silver look amazing and fancy paired together.
22) Unique Short Haircut
The picture tells it all.
23) Chic Short Wavy
A chic and simple short hairstyle. A bit wavy on one side.
24) Street Style Short Blond Haircut
This blonde style of hair doesn't need much explaining. Wear it on the street, to the mall, or to a date. It's very versatile.
25) Messy Ombre-Style Graduated Hair/h2>
This last hairstyle is unlike the rest. Take the picture to the salon if you want it exact.
26) "Faux-hawk" Cute Easy Hairstyle for Short Hair
Think you can't have creative up-dos with short hair? Think again. This unique "faux-hawk" style uses a small Dutch braid down the center part of a smooth low ponytail. This is a simple, trendy style that anyone with chin-length to medium-short hair could pull off. It's also a great way to pull back long bangs or layers.
27) Silver Blunt Bob Modern Hairstyle
Of all the short hairstyles for women, you're probably most familiar with the bob. It's the best of both worlds. A little bit of length but still short and sweet. This trendy take on the bob is a perfect example. The blunt style and color (ombre silver) make this a great option for those with fine hair.
28) Simple Short, Wavy Haircut for Women
This is one cool haircut! It's an angled bob with longer layers in the front. The color is a pretty ombre between silver and platinum blonde. Those gorgeous loose curls are really one of the best hairstyles for this length. The curls are more structured in the back and get looser toward the face. So pretty!
29) Sexy Tousled Short Wavy Hair
This is a really cute natural hairstyle for short hair, but don't let that "messy on purpose" look fool you – there is some work involved! For this style, short wavy hair with a few layers is curled, and then messed up with texture spray and paste on the ends to thicken up the look. It's simple, modern and stylish.
30) Basic Layered Medium Short Haircut
If you're toying with the idea of shorter hair but aren't 100% ready to take the plunge, this is a good modern hairstyle for in-between length. The shoulder length hair has short layers all around that break up the ends. The style has a deep part that gives the illusion of side-swept bangs. The highlights and lowlights are incredible!
31) Trendy Blonde Layered Short Hair Cut Idea
Holy bombshell! This awesome short layered hair is thoroughly on-trend and sure to turn heads. This color is beautiful, but this cut would also look great with brunette or red hair. The layers are choppy and lift the focus to her face. Natural waves are defined with some product and that imperfect side part screams "I woke up like this."
32) Colorful Hairstyle for Medium Short Straight Hair
Lovely lavender hair looks ravishing in this cut. What wouldn't girl with short hair feel special rocking these locks? This cut is best for thick, straight hair, but the color processing can also make it work for fine hair too. Razor-cut layered ends break up the blunt lob, and long bangs frame the face.
33) Cool Haircut for Medium-Fine Hair
When you've gotten used to shoulder length hair and you're ready to start going shorter, start here! The lob is shortened a bit, and rough layers are cut up to ear length from front to back. In this medium-short haircut, balayage color is used to add even more texture. Deconstructed curls finish off the look beautifully.
34) Cute Simple Wavy Haircut Style
This is a really nice, easy hairstyle for short hair. The cut itself is just a slightly a-symmetrical lob with long bangs. The color adds some thickness and movement, with face-framing highlights and some minimal matching highlights all around. Use a wide barrel curling iron to curl pieces in different directions, starting from about 3 inches from the scalp. Finger comb the curls and use a finishing spray to set the style.
35) Blunt Lob Haircut Style for Thick Hair
This is one of those perfect trendy haircuts for thick hair. Yes, you can have shorter hair without it being pouffy! Just check out this hair idea. It's a shoulder-grazing bob with textured ends, subtle highlights, and center-parted subtle straight iron curls. Use some shine spray to finish the look.
36) Pretty Short Hair for Women With Modern Waves
This is totally Jackie O. at the beach. Polished and classic but ever so slightly messy, too. A chin-length bob is an easy hairstyle and a great way to go short. This one has some layers in it, and the curled style angling toward the face is tousled just so.
37) Best Cute Natural Hairstyle for Short Hair
Look at this girl with short hair. How adorable is this pixie cut?! This is such a great example of a short female haircut. Lots of women are worried that short hair will look masculine. This style should relieve you of any such worries. It's razor cut with loads of piece layers and longer pieces toward the front. Fringe pieces around the ears and nape give the cut a soft, lovely shape.
38) Messy Done Right Tousled Layered Bob
This is an easy short hairstyle for medium to thick hair textures. It's a traditional bob length cut with choppy layers. There are also some shorter pieces around the face. You could easily create these unstructured waves with a straightening iron by bending the hair using the edge of the iron. This is also one of those short hairstyles for women that you can style straight or curl more for very different looks.
39) Awesome Modern Lob With Subtle Waves
Looking for short hairstyles for women with straight hair? Here you go! The ombre color combined with the center part and blunt bob really make it cool and stylish. It's pretty low-maintenance, too. A single wave is ultra-trendy and fresh. You can do that with a straightening iron or a large barrel curling iron.
40) Cute and Easy Short Haircut for Girl
This is one sassy short haircut for girls. It's a cross between a pixie cut and an asymmetrical bob, with the best parts of both cuts. The back part is short like a pixie. There are longer chin-length pieces toward the front and long bangs. This is one of those perfect short hairstyles for women with thin hair or fine hair that will style up quick. Just dry using your fingers to comb the hair into place using your favorite styling products for hold.
41) A-symmetrical Short Wavy Hairstyle
This is a really cute haircut for girls who like a little edge to their style. The combo of silver ombre, an a-symmetrical lob, that deep side part and sexy waves is a winner! This short wavy hairstyle is styled by blow-drying for volume, then using a large barrel curling wand and finger-combing to loosen them up.
42) Simple Wavy Layered Lob
This haircut idea is so natural and pretty, and so easy to pull off. The one caveat is that this works best with hair that's medium thickness. The cut is a blunt lob with a tiny bit of texture at the ends. Blow dry, and curl using a brush to get those big, voluminous curls. Use a texture paste to piece out the strands.
43) Curly Lob That's Full of Texture
You can get so many different hairstyles out of this nice versatile bob cut, but this is certainly one of our favorites. The angled bob is brightened up with gorgeous buttery highlights. Use plenty of root lifter around the crown to start. Dry upside down, then part in the middle. Use a 1-inch curling iron and curl small sections in different directions. Shake out the curls a little bit and use some finishing product to separate the curls.
44) Modern Short Straight Hair With Color
When you have a short hairstyle like this sleek pixie you will be amazed at how easy it is to style and look totally put together every. single. day. It dries so fast, then you just use a little heat protectant, straighten with a flatiron, and use finishing paste to give it some texture. You may never grow your hair out again!
45) Easy Short Hairstyle for Fine Hair
This is a great version of short hair for women with fine hair texture. First, the color (lots of pretty highlights) adds dimension. The cut (a piece angled bob) adds thickness. The styling (soft waves) adds volume. It's the short wavy hairstyle trifecta!
46) Trendy Short Layered Silver Bob
OMG, that color! This angled bob hairstyle shows off the color so beautifully. If you're investing all that time and effort into awesome color, you'd better have a cut that showcases your work. Styling this is so simple, just use some root lifter and a round brush and finish with a texture spray, but it's gorgeous and soft and it makes the light shine off of that silvery white color.
47) Perfect Short Hairstyle for Thin Hair
This style of short hair for women is proof positive that you can pull off short hair no matter how challenging your texture is. Short hair can be cut to work with your natural texture, even if that's partly curly, partly wavy, fine hair like this chica. The stacked layers in the back and longer pieces in front perfectly structure her natural texture and make daily styling so easy to do. This would also be a really cute haircut for girls who want to try a short style.
48) Medium Short Lob With Choppy Bangs
This is one of those hair ideas that are ideal for transitioning from long to short hair. If you have the popular long layers and blunt bangs look, you can easily change it up with this long layered bob. There are tons of texture with the layers and choppy ends, and the bangs still beautifully frame the eyes to give you that signature look.
49) Cool Angled Bob for Fine Hair
One (of the many) reasons that you may be considering short haircuts for women is that you've been coloring your hair and it needs a break. If the ends of your hair are damaged from color but you don't want to give up your hue, try a cut like this. It will take off the damaged ends and let you hang onto your platinum with a fresh new style.
50) Natural Chin Length Short Layered Hair
The classic bob is the best. It's one of the types of haircut that will never go out of style. Doesn't this just capture that effortless sexy vibe so perfectly? It's simple: a chin-length bob with a few layers and long bangs parted on the side. Make sure you use volume products and finish by finger-combing texturizer into the hair.