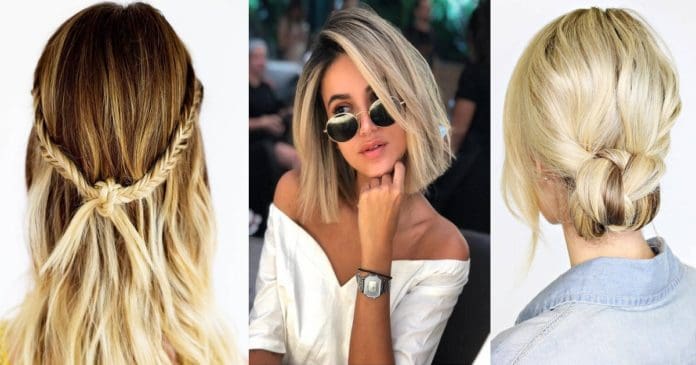 Hair length often determines the kind of styles except with the medium length hairstyle. This is a length that is open to all types of styling from the simple to complex for this length of hair. It includes waves, braids, updos, half updos and maximized volume. This is an easy to take care of length and fun because it isn't too short or too long. But just right for the latest styles, the throwback romantic braid or up-do styles. At this length, every day can be a new hair day, even on work days since most styles take little time or experience to get the most fashionable looks.
1) Medium Length Loose Wave Half Knot
This is a look for sitting home or out and about. A style that is perfect for work or dressing up for a night on the town. It's an all around style that is easily accomplished even without a mirror to see the process.
2) Loose Wave Blunt Shoulder Cut
This is a look that can be achieved with a single layer blunt cut that is easy to accomplish. It's fast enough to wear to work or out for the evening. This look may be achieved with a longer length, but not with the same fullness.
3) Braided Knot Throwback to Bellbottom Days
This braid that only uses the front pieces of hair is a throwback from the days of bell bottoms. But this is a perfect choice for bangs that are growing out or just for a different look without taking much time to style.
4) Full Medium Length Glamour Beach Waves
This is a full wave look that can be elegant enough for evening, yet simple enough for a day at the office. It is easy to style and a style that shows off the highlights in the hair.
5) Fun and Free Loose Knot Ponytail
The loose knot ponytail is a fun look for work or a day on the town. It's a play on the standard ponytail with the flair of a sophisticated knot that is perfect for solid color, highlighted or balayage painted hair.
6) Popular Soft Golden Beach Waves
This style is fast and fun to wear with loose waves. It can be worn day or night and is a good style for blunt cuts, the updated shag or while growing out bangs. This looks great with highlighted hair and just as terrific with solid colors.
7) Blunt and Breezy Bangs Bedhead Look
This style is full and reminiscent of bed head since it is not a combed tame look. The look is perfect for day wear and works great with short bangs or long bangs, but can look just as good without them.
8) Structured Wave Long Medium Bob
This style is separated structured waves that is a style that can be worn during work or for a night out. It works with the long bob that is a blunt cut.
9) Elegant updo for day or night
An elegant updo that can be worn when dressed for an event or for a Saturday running errands. It's a sophisticated braided bun, a hair style for medium length hair that is fast and easy to get the look.
10) Soft Waves for medium lenght hairstyle
This is a natural looking style with little product needed to achieve the look. This is loose waves that other than straight hair could be done using a blow dryer. Straight hair may need an iron used to get the look.
11) Choppy Natural Beach Wave with Style
The choppy wave is easy to achieve and a great style for work, a day on the town or an evening out. This has curls that are semi separated yet has a natural look without that just styled look.
12) Half Updo Beach Waved Elegance
The half updo look is good for work or a day of running errands that is easy to accomplish. The top bun is loosely fixed and simple loose waves finish off the look. This is a great choice for growing out bangs.
13) Medium Length Loose Full Waves
The loose waves are fast and easy to style before work or a day out. This is a look that can even be accomplished with a blow dryer and gives fullness to the medium lenght hairstyle.
14) Relaxed Longer Length Beach Wave
These loose waves are a fun and unstructured look for a day out or even at work. A style that never goes out of style and works well with bunt cuts while adding fullness.
15) Wispy Long Waved Shoulder Bob
The shoulder length bob with the fullness of waves is a look that does not take a lot of time to accomplish. But it is a look that is good for every day or a special night out on the town.
16) Balayage Long Bangs Layered Bob
This look can be accomplished by simply using a blow dryer and works well with all hair colors cut in a shoulder length bob with long bangs. The pictured style is with Balayage showing layers giving the style fullness.
17) Highlighted Below Shoulder Loose Waves
The below shoulder length hair with some simple loose waves can look elegant for a night out or fit in for the work day. This is an easy look that spotlights highlights and can even compliment layers.
18) Girl Next Door Classic Waves
These loose waves work for below the shoulder hair that is highlighted or multi colored. It's a look that is fast to style for work, a day out or a special evening. This is the style that never goes out of style.
19) Below Shoulder Beach Wave Charm
The below shoulder waves are loose and free and work perfectly for work or fun. The look is fast to style and works with highlighted, non-colored or balayage hair with or without long layers.
20) La Natural Below Shoulder Length
This is a fun and natural look that takes little product and can even be a natural hair dry with some scrunching, though a blow dryer will get the same effect faster. Hair with a natural wave could need some taming to get this look.
21) Blunt medium lenght hairstyle Volume
This is an easy style for every day whether highlighted hair or natural with a few waves throw in to bring it up a notch. It's fast to create and go without worry about a perfectly styled look all day.
22) Straight and Blunt is the Look
Fast and free is the feeling with this style that can be a simple blow dry or a flat iron depending on hair texture. It works well with long grown out bangs and layers that add some volume.
23) Wild and Wavy Medium Length
This is an extra fun look that is easy to get with a few waves without the structure of just styled hair. It works perfect for just at the shoulder hair for day or night.
24) The Long Shag is Back
The shag is back with a few alterations, the layers are there, but complimented with long bangs and a few waves. The waves give it the bounce and fullness that complement the cut.
25) Shoulder Length Layered Tapered Volume
This layered tapered cut with a blow dry adds the volume that gives it a great natural look without spending a lot of styling time. This style works great with highlighted or multi colored hair to give it flair.
26) Layers of Volume for Medium Length
This is a free and fun style that is great for every day with a few waves to add the extra volume. It works well with layers more than it would with a straight blunt cut to get this look.
27) Carefree Volume and Shoulder Waves
Short and spunky is the way to describe this style for just touching the shoulders. The waves give it the added bounce and fullness to achieve the look with a few layers and long bangs.
28) Long Bang Soft Beach Wave
Full and bouncy is what the loose wave can do for medium lenght hair with some layers to add to the fullness when styled. This look is fast, easy and one for every day.
29) Loose Beach Wave for Every Day
This style while easy to get has a look of freedom with some elegance mixed in for the shoulder length with some waves. The style is one that is great for day or night and shows off highlights.
30) Relaxed Shoulder Beach Wave Curl
Fun and full with just a touch of waves is a look for a day out, work or a night on the town. This is fast and works well with layered hair or a blunt cut.
31) Elegant Beach Waves for Every Occasion
This is an elegant look that is perfect for a day at the office or a night out. It can easily be created and with some product to hold it in place will look perfect all day or evening.
32) Beachy Wavy Medium Blonde Hair
This is the gorgeous medium haircut for women to channel their inner Sienna Miller. The simple lob shape has some short choppy layers around the ends. The color os an ash blonde with sunny highlights. Style with finger-combed flatiron curls. Stay away from shine sprays for this style, it's meant to be matte.
33) Long Bob Hairstyle With Bangs
This cut is such a great example of why medium hairstyles are so popular. You can make a simple, classic shape like a shoulder length bob chic and trendy with choppy layers, blunt bangs, and loose waves. This style can go from workday to date night with ease.
34) Classic Shoulder Length Layered Hair
It's a classic haircut idea that never goes out of style: shoulder length layered hair with pretty natural highlights. It's got tons of beautiful movement and feels nice and light. This shape can work for straight or curly hair. The subtle highlights within a couple shades of the natural color give a lovely shine and brightness to the cut, too.
35) Angled Shoulder Length Bob With Highlights
This is so pretty! It's a blunt angled lob, but the curls break up the ends and give it a nice shape. Let's talk about those curls. This brunette has caramel highlights, and the curls are strategically placed along the highlights. The result is a luminous style that shines bright with every wave and highlight.