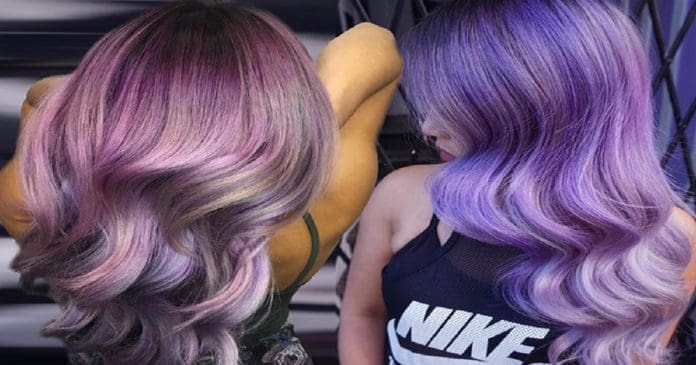 Pastels are in right now, and what better shade of pastel than ultra flattering and feminine lavender hair? Lavender, lilac and purple hair colors are an excellent choice, because they are unusual but also very soft and subtle. If you're thinking of taking the pale purple plunge, I have some pretty purple hair color ideas coming up for you! This article is all about how to choose the best shade of lavender for your hair, how to take care of your lavender hair, how to match your outfit and makeup to your purple hairstyles, and last but not least, I have 50 awesome purple and lavender hair color ideas coming up!
Makeup Tips for Lavender and Purple Hair Colors
My makeup mantra is "there are no rules – only guidelines". You can do whatever the heck you want, but I have some suggestions that will hopefully make it easier.
For the Eyebrows: With really pale, cool hair, your best bet is to choose a grey taupe color that is maybe just a shade darker than your purple hair. If you've chosen a warmer lilac shade, a taupe that leans toward red is the way to go.
For the Eyes: In a similar fashion to crafting an outfit, the color wheel is once again your friend. Yellows and golds will seriously pop, while matching lavender and rose shades to your hair will be very soft. Going neutral is always safe, but if you want to look like a real makeup maven, a bold green smokey eye could be really stylish.
For the Cheeks and Lips: Don't be too matchy-matchy with your purple hair and lip or blush color, but do try to stick to the same undertone. If you've gone for a very cold lavender hair shade, a cooler lipstick will look better than an orangey red one. With warm lilac hair, since there is still a bit of blue undertone present, you could rock almost any shade of lipstick.
@guy_tang
How to Find the Perfect Stylist for Your Purple Hair
Purple hairstyles are not most people's cup of tea, so most stylists and color technicians don't have experience dyeing hair lavender. You really can't go into any old salon, and expect to leave with perfect lilac hair.
Look for an edgier salon in your city, and go on their website or instagram. Look for examples of the exact kind of dye job that you want. If you're going for more user-friendly lavender balayage hair, make sure the artists you're looking at are not only good at creating vivid colors and charming pastels, but are also great at balayages and hair painting.
Read reviews of the stylist and the salon, especially ones that talk about how well their hair looked after fading a little. You want your hair to look good not only when you leave the salon, but also a few weeks afterwards when some of the color has faded.
50 Mesmerizing Lavender & Purple Hair Color Ideas
So you're doing it? Awesome! I've got you covered with some gorgeous pictures of lavender and purple hair color ideas!
1. Purple Haze
What a better way to start than with a smoky lavender hair look? This gorgeous gradient begins dark gray, and slowly the color fades into a smoky lavender, with bright lilac tips. It's cool for winter, and ideal for those with neutral-pink skin tones.
2. Lavender Balayage Crimp
Crimped lavender balayage hair is the perfect look for anyone going to an '80s themed party, but rest assured that even blow dried, this Guy Tang balayage would be full of depth and character.
@guy_tang
3. Flower Garden Double Ponytail
This mixture of violet and lavender hair colors in this look reminds me of a beautiful and fragrant spring garden. The effect of the messy curls and crown double ponytail is soft, romantic and perfect for spring.
4. Retro Purple Gradient Curls
1940s curls are ultimate sleekness and sophistication, even if you choose unusual gradient shades of violet and purple hair colors. By keeping the roots dark you ensure that maintenance will be painless.
@evalam_
5. Purple Ombre Mind-Blowing Double Braid
This ombre dark black to lavender hair color is lovely, but it also shows how great ombres lend themselves to awesome hairstyling. This purple hairstyle is basically a side fishtail braid that is incorporated into a Dutch braid – the effect is kind of like that of a visual illusion painting, it's hard to tell where it starts and where it ends.
6. Dark Orchid Ombre
In this purple hairstyle, smokey dark purple fades into pale lavender hair colors at the tips, to create a really dark yet warm ombre.
@guy_tang
7. Opal Balayage Lob
Guy Tang is rocking it again with lilac and lavender balayage hair. The effect of the two colors mixed together in this long bob is like that of an opalescent jewel, glinting in the light.
@guy_tang
8. Messy Lavender Mermaid
This look is simple, with just solid lavender locks dyed all the way through. However, keeping the hair a little messy, and adding flattering layers near the front to frame the face a little, makes this shimmery metallic color a little more natural, as though you've just burst through the ocean's waves.
@kirstenzellers
9. Metallic Lavender Lob
Tousled waves are always stylish, and they make this long bob haircut look a little shorter and funkier. Ombre lavender hair color ideas are all the rage, with a darker purple near the top fading into a metallic pale lavender.
10. Warm and Cold Balayage
This two-toned purple balayage hair is a flattering mixture of warm and cold shades of purple that'll suit most skin tones. Keeping the roots dark saves you salon visits, and the combo of the relaxed half knot at the crown and loose curls is a soft and effortless look.
@evalam_
11. Silver and Lavender Bob
Ultra light, feathery bobs pair so well with ombres, and this is one of my favorite examples of bobbed lavender hair color ideas. The dark silvery grey at the top keeps the roots healthy, and blends into the metallic lavender in a soft way thanks to the shimmer in both colors.
@bescene
12. Rose and Lilac Balayage
The beautiful thing about lilac hair colors is how refreshing and flowery they are. This purple hairstyle shows how well rose pink, indigo, and lilac purple blend together, in a loosely wavy balayage style.
@stylistssupportingstylists
13. Amethyst and Rose Quartz Treasure Ombre
I am so happy dark roots are in style right now, because they're one of the best ways to keep lavender hairstyles healthy! These cool shades of pink and purple are reminiscent of the semi-precious gems, and are extremely luxurious.
14. Bridal Violet Updo
Who says lavender hairstyles can't be classy? This titanium and violet balayage braided updo proves them wrong. A bit of glitter along the part gives a sassy type of glamour to this gorgeous look.
@candicemarie702
15. Lavender Galaxy Balayage
Indigo blends really well into these purple hair color ideas, and this balayage certainly proves it. Just start off with dark indigo roots, let them fade into a lighter purple towards the end, and add a touch of lavender dye by hand, and the effect is ethereal and space agey.
@sirenssalon
16. Dark Violet and Pale Lilac Ombre
Keep the roots a dark violet for a chic look, and brighten everything else up with pale lilac hair colors. The effect is fresh and excellent for summer.
17. Multi Purple Color Melt With Braided Top Bun
This vibrant purple hair color is sure to stand out. The roots are dyed a vivid indigo, while into the rest of the hair there is a blend of blush, lavender, and lilac hair colors. The top was pulled into a French braid, and then styled into a topknot bun – a very unique casual semi updo.
@glamiris
18. Metallic Lavender with a Touch of Magenta
Metallic lavender hair color ideas are pretty safe right now, so adding a bit of warm magenta to the root really stands out. The soft, loose curls work quite well with the shiny hair color.
@glamiris
19. Retro Mermaid Ombre
This lush lavender hair combines warm and cool purple hair tones to flatter most skin undertones. Long, thick waves and the unusual shades of cool violet and pale magenta are simultaneously a little '40s and very mermaid princess.
@glamiris
20. Smoked Cotton Candy
Smoky violet roots, a lavender transition tone, and cotton candy pink roots make up a really gorgeous lavender balayage hairstyle that is unique, understated, and thanks to messy waves, ultra comfortable and stylish for autumn.
@glamiris
21. Knotted Garden Bun
Lilac and lavender balayage hairstyles have a really unique effect when pulled into updos. The warm magenta roots peek through the knots below the lavender bun, which contrasts everything nicely.
@glamiris
22. Blueberry and Pink Grapefruit Balayage
This fruity purple balayage hair is vivid and attention grabbing. The purple starts off very dark at the roots, and fades into a bright grapefruit pink, with lilac as a transition shade.
23. Smoke & Garnet Balayage
The colors in this gorgeous purple hairstyle are expertly painted, and the metallic shine proves how healthy the hair is. The mixture of darker and lighter shades of violet and lavender gives this balayage a lot of texture.
@caroline.anythingbutbasic
24. Crown Braid Balayage
If you're looking for purple hair color ideas that won't damage your hair, definitely stick to darker roots like in this style. The hand painted lavender and indigo dyes combine to give depth and lushness to this crown fishbraid style.
@caroline.anythingbutbasic
25. Titanium and Lavender Streaks
In this look, the lavender hair colors are actually not the predominant color – the titanium is. However, the lavender really stands out, and the effect is subtle and sleek. Curling the ends adds an extra touch of sophistication.
@shelleygregoryhair
26. Violet Flower Semi Updo
Get bright with these gorgeous indigo, lavender, and lilac hair colors. In this look the indigo is mostly kept to the roots, as a balayage of lilac and silver is streaked through the ends. The flowery crown updo keeps to the theme of the flowery colors chosen.
27. Exotic Ocean Waves
Mixing indigo blue, pale blue, silver, and lavender hair colors creates a tropical ocean effect. Even though just a tiny touch of lavender runs through this cool collection of colors, it gives everything a pop of brightness that really stands out.
@taylorrae_hair
28. Pale Lavender and Lilac Balayage
We've seen a few lilac and lavender balayage hairstyle ideas so far, but few have been as expertly dyed as this one. While the hair is curled, this hairstyle could be mistaken for being just lavender, but when it's straightened you realize that the roots are a darker violet, while most of the hair is subtle streaked with pale lavender and lilac shades.
@stylistssupportingstylists
29. Purple Smoke and Mirrors
If you've been looking for purple hair colors ideas, and you have warm undertones to your skin, this is the look you've been searching for. Raisin roots become a reddish violet with just a touch of ashy platinum, only to fade into a metallic lavender at the ends, which will perfectly complement a warm skin tone.
30. Pastel Mermaid Hair
Lilac, pastel blue, and silver curls create a fantastical effect that is totally accentuated by the gorgeously long purple curls. This is the perfect look for a human mermaid!
31. Deep Blue & Violet Ombre
This is a dark example of purple hairstyles that would definitely be more suited to neutral and cool undertones. Dark violet roots fade into a metallic lavender in messy waves.
@hairbykristinamarie
32. Smoky Lavender Bob
Did you think only long hair worked with purple hair colors? This slanted bob proves you wrong. A mixture of darker violets and smoky lavenders blends together beautifully in this sassy haircut.
@hairbykristinamarie
33. Magenta & Lilac Triple Dutch Braid
Dutch braids and balayages go so well together – it's like the braid accentuates the depth that the balayage brings to the hair, and shows off the roots in a daring way. This look is dominated by warmer magenta and lilac hair colors, with just a touch of cool lavender, making it another excellent option for warmer skin tones.
34. Romantic Violet and Lilac Balayage
This violet lilac balayage hair is super romantic thanks to really neat, curled ends, and a crown twist.
@hairbymisskellyo
35. Violet Double Dutch Braids
Since double Dutch braids go so well with lavender hair colors, why not make two of them? I find the color blend of magenta, violet, lavender, and warm brown really remarkable in this gorgeous, warm balayage.
36. Platinum and Lavender Balayage with a Crown Braid
The dominant platinum in this gorgeous balayage is ultra modern, but lavender streaks and a touch of violet give it a lot of much needed color. There is also just a hint of peach hair dye thrown into the mix in, and it really nicely contrasts with all the cool purple hair colors.
@liz.colors
37. Cool Lavender Balayage Hairstyle with Knotted Bun
The great thing about purple hair is that you can go extremely light and soft, and still have a unique color. The dark roots blend well with the streaks of violet that run through this style, and the knotted bun is effortless and intriguing.
@liz.colors
38. Smoky Purple Ombre Lob
Super textured, layered long bobs will always look good, no matter the hair color. In this case, purple hair colors go from dark to light in a lovely gradient.
39. Braided Top Knot with Lavender and Violet Ombre
Semi-updos are extra cheeky when the roots are kept a darker shade, like in this violet and lavender ombre hairstyle. The braided topknot is very flowery, and the lavender curls have a gorgeous metallic glim.
@taitkieuapril05
40. Pastel Lavender Balayage
Ultra cool strands of a nearly white shade of purple, and pale violet run through this textured lavender balayage hairstyle. To ensure healthy hair, the roots were kept natural.
@taitkieuapril05
41. Tri Color Lavender Balayage
This is a warmer take on purple hair colors. Slate starts at the roots, and snakes its way downwards, but it soon gives way to a warm and bright lilac, with some touches of cool lavender.
@taitkieuapril05
42. Purple Satin Curls
Sometimes a stylist can get the hair so shiny, healthy, and soft that it looks like a luxurious fabric. The touchable curls work so well with one of my favorite purple hair color ideas.
@stylistssupportingstylists
43. Dark Grey and Lavender Ombre
This lavender hair look features a crown ponytail, to show off dark grey roots that contrast nicely with the lush periwinkle waves.
44. Peak of Lilac
Metallic lavender is the predominant shade in this luxurious curly 'do, but the lilac hair colors peeking through in the bottle curls at the ends add a touch of cheekiness.
@megryanhair
45. Dark Violet Balayage Waves
Shiny and dark purple hair colors are dominant in this beautiful balayage, but a touch of amethyst warms up the lovely loose waves.
@megryanhair
46. Oil Spill Curls
This painted look mixes so many lavender and purple hair colors together, that it almost ceases to look like hair and starts looking like light shining on an oil spill. The touch of grey running at the edge of the purple colors definitely helps with this effect, as does the apparent health of the hair.
@kristi_mac_of_hair
47. Lilac Hair Melt Curls
Mixing together cool and warm shades is safe, but still flattering. In other words, these kinds of balayages are some of the best purple hair color ideas. This purple hair color melt features warm lilac, cool lavender, and a touch of ashy grey on beautiful big curls that are always in style.
@hairbyfranco
48. Neon Top Knot
While a lot of lavender hairstyles are quite soft, you can also go all out by adding neon pink to your metallic lavender hair! The sassiness of this ombre is only increased by the cute topknot.
49. Flowers and Steel Balayage
This lavender balayage steel is clearly extremely wearable – a half ponytail makes it seem like an ombre hairstyle, while once it's braided you realize that it's actually a balayage, with the natural dark brown color offsetting the metallic lavender in a way that creates a lot of depth.
@jeni_does_ham
50. Lilac Mermaid Gradient
Lavender and purple hairstyles are perfect for longhaired wannabe mermaids. The deep violet roots reflect the ocean, while the progression towards a pale lilac is wavy and reminiscent of bright corals.
@unfade_royren
Photos courtesy of Instagram