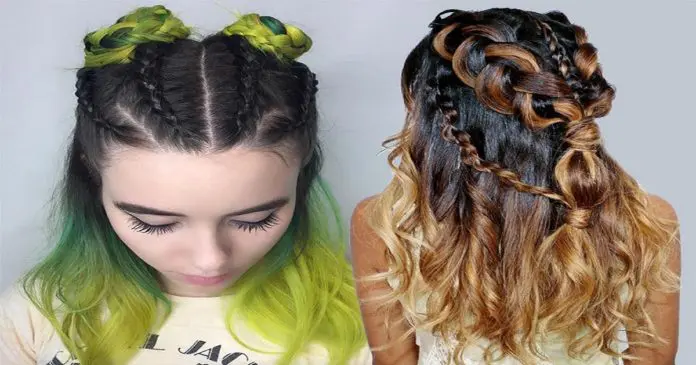 Braids are a practical and beautiful addition to any hairstyle. They offer texture, support and style and can be achieved in a variety of ways, shapes, types and sizes. If you are looking to spruce up a hairstyle with a quick braid or two, below you will find 100 different braided hairstyles that you can try.
1. Yellow and Green Braided Spacebuns
This is a quick and easy braided hairstyle to duplicate, once your hair is colored. You need to plait four cornrows back to the middle of your head, and then braid the loose hair all the way down. Take two braids on one side and twirl them flat to create a bun and secure with a bobby pin (wiggly side down) so it doesn't slip. Duplicate this with the remaining two cornrows and you have your braided space buns!
2. Loose Plaited Ponytail
This is another braided hairstyle in the 'stylishly messy' hair category, where the ponytail is strategically placed for there to be face framing tendrils and a great anchor for a loose plait. The goal is to look structured, but loose, messy but planned, so the long plait is actually two, loosely done and then interwoven on the bottom.
3. Pulled Pastel Plaits
The colors are the star as much as the braids, as the colors complement the style and vice versa. The variety of braids range from pulled Dutch braids to regular braids, fishtails and loose cornrows.
4. Braided Rainbow Wraparound Updo
This is an elegant and fun braided hairstyle done on rainbow colored hair. This is also known as my little pony hair for the variety of color, each of which has a chance to shine in this very interesting updo that features a Dutch braid wrapped artistically around the head.
@chitabeseau
5. Low Space Buns on Cornrows
Cornrows are braids, where the hair is continuously fed into the braid to keep it along the scalp. This style works similar to the one listed above, but the buns are made at the top of the neck once the cornrows end.
6. Loose French Braid on Long Hair
This is a long standing favorite for long hair. It's chic and easy to do without putting too much stress or tension on the roots. This braided hairstyle allows the wearer to show off the length of their hair and any color treatments as well. There are innumerable ways to customize this style, so it isn't boring.
7. Dutch Braided Mohawk Ponytail
Ponytails are always fun and practical and easy to spruce up. In this case the addition of the slightly loose Dutch braid on the top creates a slight Mohawk silhouette that ends in the mid height pony, done with voluminous curls.
8. Lavender Braided Roses
This is a great way to show off an ombre look with a bit of detail. The hair in this braided hairstyle is parted in a half-up, half-down style. On the top there is a center cornrow and one on either side starting at the temple and curving around. From there the braids are continued to the part, then the length is braided, wrapped and pinned into the desired rose.
@lo.reeeann
9. Glitter Parts and Cornrows
Blonde cornrows with dark roots are further dazzling with the addition of glitter gel at the roots. In this case, multiple colors and shapes of glitter are showcased down the center part from green to gold, rose to amber and ending in a sparkly purple that stands out even more next to the blonde braids.
@chitabeseau
10. Cute Cotton Candy Braided Wraps
This intricately dyed masterpiece shows off every nuance of color in these small braids wrapped and pinned into a flattened ram's horn style up-do. It is fun and quirky with a plethora of color.
11. Y Braided Hair
Two French braids down the side meet at the bottom of the hairline and are wrapped into a ponytail. The ponytail holder is masked by wrapping the hair around it, and the resulting ponytail is placed into a fishtail braid.
@missysueblog
12. Rainbow Nuanced French Braids
French braids are one of the best ways to show off an intricate color job. The style is easy to duplicate, but the color takes some planning and care to make sure the colors do not bleed or run into each other when being done. Two French braids with the ends pinned up in the middle have never looked this whimsical.
13. Pastel on Gray Woven Fishtail Braid
The interwoven fishtail is accentuated by the pastels, showing how great and edgy this half pulled back braided hairstyle is implemented. The fishtail is done on a center portion of the top, then locks of hair are pulled from either side and woven into the braid and down.
14. Viking Style Triple Braid
The center section of the hair is parted into three equal sections. Each section is cornrowed loosely, then continued as a free braid. The three are joined at the halfway point on the length of the hair for an easygoing, yet structured braided hairstyle paired with loose waves.
@missysueblog
15. Zipper to Infinity to Fishtail Braid
When you are going for the wow factor, intricate is definitely a way to go. This is definitely an intricate braid, beginning at the top with an interwoven pattern that goes down to the bottom of the hairline. Then it transitions into a tightly done infinity braid, ending classically in a fishtail braid and closed with a hair band.
16. 5-Strand Feather Loop Braid
Peach and pink hair with gray highlights is already interesting, but in this braided hairstyle every color stands out. The 5-strand feather loop braid is a great braided hairstyle because it is visually interesting and still allows for a certain amount of movement.
@hairbyjoel
17. Zipper and Slip Tie Braids
So many different hairstyles are enhanced by color or braids, it's nearly always gorgeous when both of these meet. An enhancement on an enhancement looks excellent and the intricacies of the zipper braid and allure of the slip-tie ponytail are as beautiful as the lightly colored pastel hair.
@hairbyjoel
18. Stacked Dutch Braid with French Rope Twist
Just the slightest hints of pink and peach are amazing in this centered Dutch braid with a French rope twist braid working its way down the middle. It is a great look that is sure to garner lots of compliments.
@hairbyjoel
19. Dutch Braid with a Rosette Bun
The Dutch braid swoops from one side to another in an interesting aesthetic twist, while a rosette bun made of another Dutch braid adorns the center. The range of pinks looks great in these two braids creating an overall sweet style.
@hairbyjoel
20. Soft Romantic Braids
The crown is braided back in four-strand plaits, directly beneath are French rope twists and then the style flows down into pancaked stacked French braids. Overall it's a very pretty, soft yet structured look.
@hairbyjoel
21. Formal Braided Updo
Pancake stacked French braids make another appearance, this time as a braided headband that fits in beautifully to the updo.
@ulyana.aster
22. Top Knot on French Braids
French braids that are starting at the bottom of the hairline and go up to end in a top knot are a fun and easy to do braided hairstyle. The color just gives it an extra pop.
@chitabeseau
23. Flowing Braids on Mermaid Hair
Light yet bright colors are given a chance to shine in this swooping, curled hair full of twists, rope braids and knots. As a braided hairstyle it is unique and stunning.
@chitabeseau
24. Pulled Dutch Braids and Rosettes
A set of 3 pulled Dutch braids forms a beautiful rose on the back of the half-up, half-down hairstyle that's accentuated with pastel shades. This braided hairstyle is sure to look good on natural hair colors as well.
25. Half-Up Ladder Braids
Half-pulled-back braided hairstyles are a dime a dozen, but this one really stands out. The ladder braid is pretty and intricate.
@missysueblog
26. Dutch Braided Flower
Easy, simple and sweet are the perfect descriptors for this braided hairstyle. The Dutch braid reaches from the front, gathering the hair from the top of the head and sweeping into a soft hair flower in the center.
@missysueblog
27. Rapunzel Fishtail Braid
Fishtail braids offer a great amount of texture in a braid that is soft and pliable. The long braids are simple loose 3-strand braids, all together creating a flower adorned Y-shaped braided hairstyle.
28. Y Shaped Pancake Braid
The longer the hair, the more Rapunzel-esque the style, and the addition of flowers certainly helps as well. This is a great style for a very long hair length and even better for a Rapunzel cosplay!
29. Cosmic Messy Buns with a Glitter Braided Parting
This hairdo is strategic from the zig-zag front part and the well placed glitter. The ponytails are loosely wrapped into buns and the whole look features soft curls on dreamy unicorn colored curls.
@lalasupdos
30. Triple Stacked Braids
The top braid is a simple three-strand plait, but it connects the two pancake braids below in a textured style that is interesting to look at.
@lalasupdos
31. Braided into a Side Bun
The braid around one side of the crown is adorned and spun into a very loose boho bun. The look is an intentionally messy and interesting braided hairstyle.
@glambytoriebliss
32. Stacked Crown Braid
Regular braids and pancake braids are united in French braid style across the crown. It looks more complex than it is, but will definitely draw an eye.
@glambytoriebliss
33. Rosy Fishtail Braids
Strawberry blonde, raspberry and rose colored hair create this pink balayage hair color, which features Y-shaped fishtail braids, and even a three-strand braid tossed in for more texture.
@glambytoriebliss
34. Braided to Accessorize
The crescent moon hair clip is shown off well, right at the point where the hair is twisted together and above where the fishtail braid begins. Still soft, still structured, but a perfect background for a cute accessory!
@glambytoriebliss
35. Modern Rapunzel Braided Hairstyle
These widely looped braids have a tightly woven plait down the center, maintaining the shape and providing structure. The additional of all the little flowers makes this look sweetly complete.
@lalasupdos
36. Angelic Braided Twists with a Pin
This is a great braided hairstyle, done with two-strand twists! There are two sets of two-strand twists on either side, meeting in the middle and adorned with an angel pin. Four flattened twists flow down with the remaining hair to create the waterfall style look.
@lalasupdos
37. Crown Braids and Jewelry
Underhanded braids create an interesting texture, and the continuing braid is wrapped around and meets at the top of the twisted outer portions of the remaining hair.
@lalasupdos
38. Infinite Infinity Braids
Underhanded plaits make another comeback in this braided hairstyle that starts out with French braids. These braids continue with the hair added further down the length so it is not attached to the scalp, and criss-crossed to create the infinity symbol. Fun and cute!
@lalasupdos
39. Silver Elven Queen Braids
The color alone is beautiful, but the use of the braids in this hairstyle, juxtaposed with the curls and the use of clever hair pinning makes an overall look that seems fictionally inspired. The flowers are well placed and the curly tendrils are perfect accents.
40. Adorned Silver Dutch Braids
Dutch braids are loosely done and intentionally placed directly next to each other in this braided hairstyle to allow for the flower crown to sit perfectly on either side.
@hildeee
41. Half-Up Easy Braided Style
Not only is this color job stunningly beautiful with the dark roots and soft pink tinted brown ombre ends, but the loosely done French braid into a pancake braid is really boosting the overall look.
42. Half-Up French Braids
Minimalist styling can and does include braided hairstyles and here is a great example. Three flowers meet at the center of the Y before leading down to a finished braid.
@goldilonglocks
43. Silver Fishtail Crown Braid
A stunning silver bob is accented with a fishtail braid crown. The crown is made by creating two fishtail braids on either side of the front, grabbing the closed ends and joining them in the back center.
44. Ladder Braids and Plaits
Ladder braids always look interesting, and this one helps pull the hair from one side to the other and closed in two plaits that further accentuate the length.
@hairstyles
45. Red Mermaid Braided Style
While the braids are well done and cleanly visible, they serve as a textured backdrop and holder for the accessories. It is a simplistic braided hairstyle that is gorgeous and well done.
46. Dreamy Teal Braided Rosettes
Pinned braided rosettes are beautifully accentuated by the stunning teal colored mermaid hair. The braided bottom ends in a curly pony and the whole look is just as dreamy as mermaid lore itself.
@hairbyfranco
47. Purple Woven Braid Updo
This braided hairstyle is stunningly gorgeous, allowing the different hues in this hair color job to shine beautifully through the woven style, then the braid around the bottom seals it.
48. Multitextured Pull Back Braid
Blonde and purple ombre hair with different types of braids show off a transition in color and additions of texture with waves, thre- strand braids and rolled hair sections.
@caitlinfordhair
49. Braided Headband and Updo
A cute braid headband also serves as a light bang. The French braid continues up into a top knot.
50. Braids on Rainbow Box Braids
Rainbow box braids are providing a lot of color, and loose diagonal cornrows bring the colors together in another way to show them off across the length.
@styles_by_reneemarie
51. 3-, 5- and 4-Strand Mixed Braids
This side pony features an interesting mix of 3-strand braids, 5-strand braids and 4-strand braids for an all over interesting mix.
@styles_by_reneemarie
52. Textured Dream Braid
Playing with textures in braided hairstyles is a huge part of the fun. Here the crinkled lengths of hair work with the smooth hair, with a long fishtail braid on lavender and gray hair creating a mermaid hairstyle that is outright amazing.
53. Large and Small Detail Braid
This is a stunning show of the different braided hairstyles you can do with sizing on a braid, a looser, large braid leading into a tighter fishtail over pancake braids.
@guy_tang