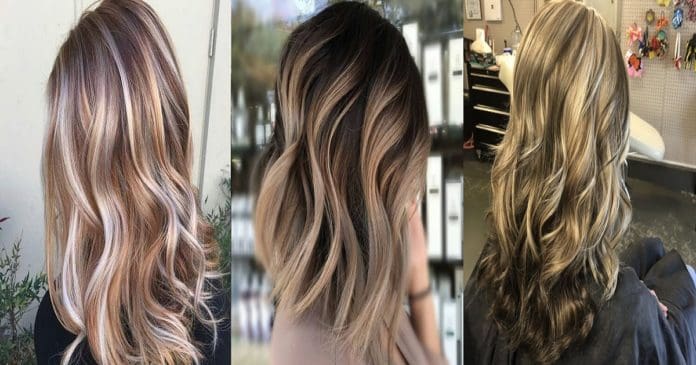 Brown hair with blonde highlights has been one of the cutest hair trends for as far back as we can remember. It's a classic blend that suits both reserved and outgoing personalities. What makes this timeless combo so wonderful is that it's perfect for fancy and easygoing events alike. In addition, it's appropriate for school, work, and other professional environments. So what are you waiting for? Pick your favorite way to rock brown hair with blonde highlights below.
1. Dark Brown Hair with Blonde Highlights
If you have naturally dark brown hair, a fabulous set of platinum highlights is just what you need to bring it to life. The gorgeous contrast will not only shape your lovely locks, but it will also add some color to your rich roots.
2. Blonde Highlights Underneath
To add a twist to your brown and blonde makeover, you can go for highlights underneath. All you have to do is maintain your brown base and lighten the second part of your hair below with your favorite shade of blonde.
3. Light Brown Hair with Blonde Highlights
Blonde streaks and light brown hair go hand in hand. The fact that the tones are similar makes this a soft and splendid blend that won't come off as flashy. Actually, it will give you a sun-kissed look you'll adore.
4. Half Brown Half Blonde
We all know that ombre hair revolutionized the beauty industry, but what do you do when you don't want an abrupt transition? You can combine your blonde ombre with delicate highlights that spring from your brown roots and into the gradient.
5. Brown Hair with Blonde and Red Highlights
What makes blonde highlights even more delightful is that they work well with streaks in other colors too. For instance, brown hair with red and blonde highlights is one of the most enchanting ways to bring some warmth to your overall look.
6. Short Brown Hair with Blonde Highlights
Having short hair doesn't mean that you can't sport a fabulous set of highlights. Bob haircuts, in particular, look ravishing when you add blonde streaks to a brown base. Moreover, they outline the curvy haircut amazingly.
7. Brown and Blonde Balayage
Another way to absolutely own a brown-blonde gradient is with a balayage coloring technique. This ultra trendy method can help you transition from a brown base to eye-catching blonde locks, all without drawing too much attention to the dye.
8. Highlights and Bangs
If you want an adorable outcome, you can always consider adding some sweet bangs to your brown and blonde highlights look. To contour your highlights and your natural features simultaneously, go for some side swept bangs with wavy hair.
9. Platinum Blonde Highlights with Brown Hair
Contrast is a main point for quite a few girls though. If you do want to accentuate your blonde highlights, go for ash or platinum blonde. The combination will glow with a black and white effect that you'll love with each passing day.
10. Discrete Highlights
Subtlety, on the other hand, is a key aspect for other women. Gigi Hadid, super model and major beauty muse, prefers to use blonde highlights for a touch of shine to light brown hair. This is the ideal technique if you want a natural appearance.
11. Medium Brown Hair with Blonde Highlights
Is your natural color not too dark, but not too light either? Well, you should know that medium brown looks brilliant with some blonde streaks scattered in between. To maintain earth tones all around, opt for some honey or caramel highlights.
12. Highlights around Face
Did you know that highlights around your face can have a major impact on your features? Contourage highlights, as they are also known as, frame a girl's face in a dazzling way. By sporting them, you'll bring out your natural beauty and enhance your qualities.
13. Bronde Hair
If you haven't heard of bronde yet, you need to catch up on your beauty trends. To put it simply, bronde is a flawless combo between brown and blonde. It has become a Hollywood favorite recently, with A-list celebs like Taylor Swift and Jessica Alba rocking it glamorously.
14. Chocolate Brown Hair with Blonde Highlights
A breathtaking mixture indeed involves milk chocolate brown and honey highlights. These two natural tones blend remarkably, with seemingly effortless results. It's a versatile hairstyle suitable for various types of women.
15. Brown Hair with Chunky Blonde Highlights
In most cases, you'll find thin highlights spread out randomly through a woman's hair. Nevertheless, some ladies opt for chunky blonde streaks, which provide a greater contrast. This is an excellent idea if you prefer a bolder approach to your hairstyle.
16. Reverse – Blonde Hair with Brown Highlights
You can always experiment the other way around – brown highlights on blonde hair. While this idea is fantastic for girls with naturally blonde hair, it's also a superb choice for those who want a complete makeover.
17. Long Brown Hair with Blonde Highlights
Being able to have long hairstyles means that you can gloriously show off your new highlights. In addition to this, long locks allow for more playing around with the distribution. For instance, you can get frontal highlights and some lowlights.
18. Blonde Highlights and Dark Brown Undertones
On the other hand, you can also considering maintaining dark undertones. This is a terrific idea if you have an asymmetrical haircut, like an A-line bob. It helps contour the precise cut in a highly flattering way.
19. Reddish Brown Hair with Blonde Highlights
To enhance dark ginger hair, a set of subtle highlights will definitely do the trick. If your natural hair color has red tones, you're best off with some strawberry blonde highlights that blend well with the rest.
20. Dark Blonde Highlights
If your hair is naturally dark brown, you might want to go for some discrete highlights. For example, you can try out dark blonde streaks. However, this doesn't mean you can't experiment with platinum or silver highlights if they represent you.
21. Blended Blonde Highlights
Well-blended highlights will make it seem that you have a solid hair color with plenty of shine. You should choose this option if you want to add some shimmer to your light brown locks. They will glow beautifully in natural sunlight.
22. Dark Brown Hair with Blonde and Red Highlights
You'll often see red and blonde highlights as a pair. One of the reasons is that, when applied on dark brown hair, they provide a rich burgundy shine. This alluring mixture can be easily sported by ladies with rebellious personalities.
23. Brown Hair with Blonde Highlights and Lowlights
If you want to maintain your brown base, but you long for bringing it to life and light, go for highlights and lowlights. To add dynamism and shape, choose highlights in a lighter color and lowlights in caramel or dark honey.
24. Rose Gold Highlights
Both rose gold and strawberry blonde are super trendy shades for highlights, balayage or ombre. You can combine these styling techniques to get a vivid shade of dirty blonde with a splash of pink over your naturally brown roots.
25. Subtle Blonde Shine
This is another example of the impact that subtle highlights can have on your hair. For a chocolate brown base, all you have to do is blend some honey colored highlights to add some glam.
26. Brown Hair with Caramel and Blonde Highlights
This pretty mixture makes you think of a steaming cup of Irish coffee. It's not a hairstyle for typically reserved women, but it's a dream come true for boho gals. The key is to evenly mix caramel and silver blonde highlights.
27. Ash Brown Hair with Blonde Highlights
Various shades of both ash brown and ash blonde are all the rage these days. Nonetheless, you can stand out from the crowd with some platinum highlights gracefully wrapped around your ash brown locks.
28. Caramel Blonde Lowlights
Not all ladies want highlights to go with their brown hair, but rather some strand-shaping lowlights. For a subtle approach, choose a deep caramel tone to outline wavy or curly hair with lowlights.
29. Copper Blonde Highlights
Another alternative for flashy blonde highlights is a blonde copper hair color. This warm shade allows for a more natural transition from your natural hair color to your highlights, especially if you have a reddish brown base.
30. Brown Hair with Blonde and Purple Highlights
Bohemian souls can express their youth with blonde and purple highlights. This combination is feisty, fresh and funky all in one, simply perfect for a girl who's not afraid to show her true colors and attitude.
31. Blonde and Orange Mixture
Although this isn't your typical highlight mixture, blonde and orange have quite the visual impact together. By adding bright red-orange highlights in front, you can contour your face shape and bring out your facial features impressively.
32. Honey Brown Hair with Blonde Highlights
If you were born with honey brown hair, you don't even need to stress a lot about lightening it with blonde. What you can do to make the color pop is scatter some highlights that are just a shade or two lighter than your roots.
33. Blonde Undertones
Instead of opting for dark undertones and a lighter top, you can always have fun the other way around. Similar to lowlights, this balayage-inspired look contributes with volume and a charming shape.
34. Short Dark Brown Hair with Blonde Highlights
This is yet another example of the contrast you can achieve with placing platinum or silver highlights on dark brown hair. As we previously explained, it offers a black and white look that you won't see very often.
35. Between Balayage and Highlights
A stunning way to get a rich color with using different shades is by mixing highlighting and balayage coloring techniques. You can choose two colors that go well together, such as honey blonde and ash blonde.
36. Silver Blonde Lowlights
With silver, ash and charcoal hair colors conquering the beauty world, you might want to think about switching up classic blonde streaks with one of these shades. Both lighter and darker silver tones are chic, so choose your desired intensity according to your tastes.
37. Curly Brown Hair with Blonde Highlights
Naturally curly hair looks astonishing with highlights. The reason is that highlights fabulously contour your corkscrew curls. We recommend that curly girls opt for thin highlights to get that picture-perfect outline.
38. Golden Brown Hair with Blonde Highlights
This coloring job is so well done that you can barely notice that highlights were applied in the first place. It's another prime example of how you can get a boost of shine without going over the top.
39. Blonde and Burgundy Highlights
If you want even more contrast out of your red and blonde highlights mix, go for burgundy. This combo looks especially radiant on dark brown hair, so keep it in mind if this is the case for you.
40. Brown Hair with Ash Blonde Highlights
One of the numerous benefits of ash blonde highlights, especially on brown hair, is that they add to the natural tone of the look. They come close to your earth tone base, all while providing the eye-catching effect that highlights are meant for.
41. Blue and Blonde Streaks
A truly spectacular mix is dark silver blonde with electric blue highlights. Yet again, this is a flattering hair coloring choice for bohemian or rebellious women. It might not work at the office, but it's just for you if you're a free spirit.
42. Caramel Brown Hair with Blonde Highlights
To switch back to natural approaches, this is what caramel brown hair with blonde highlights looks like. The results are appealing, classy and visibly appropriate for all sorts of situations.
43. Autumn Colors Blend
Regardless if you're in the middle of autumn or you're just dying for fall-inspired colors in your hair, here is the solution. This is a complex mixture of blonde, honey and caramel highlights and lowlights. The cinnamon-like results are marvelous.
44. Brown Hair with Strawberry Blonde Highlights
Strawberry blonde is always a sweet option for your highlights. This lavish choice helps you get an original edge on your highlights, while adding warmth and a playful touch.
45. Brown Hair with Blonde Tint
This ever so subtle blonde tint is yet another exceptional way to get a bit more shine out of your natural hair color. You won't notice the individual highlights per se, but you will enjoy absolutely shimmering results.
46. Blonde Highlights and Splashes of Rainbow
If want your hair to be as colorful as your personality, go for it! In addition to blonde highlights, splash some memorable colors like red, purple or blue. Feel free to go with any tones that are representative for you.
47. Brown Hair with Lots of Blonde Highlights
Keep the highlights coming! This abundance of magnificent platinum highlights result in an extraordinary half and half look. In the end, most won't be able to tell if your natural color is brown or blonde!
48. Brown Hair with Light Blonde Highlights
These chunky ash blonde highlights look nothing less than phenomenal on light brown hair. An exquisite twist is provided with the auburn lowlights, which make the whole hair color work look delicious.
49. Blonde Top, Brown Underneath
You can also choose to keep a portion of your brown hair without highlights, like the lower part in the example above. To compensate, lighten the entire top part with champagne blonde highlights, leaving a few wisps of your natural brown here and there.
50. Sunny Pixie Cut
Not only is Jennifer Lawrence one of the most respected actresses in the film industry, but she's also a style icon for girls who love to keep it natural. Furthermore, she proves that brown hair with blonde highlights are totally doable even if you have a pixie cut.
51. Straight Brown Hair with Blonde Highlights
Women who have naturally straight hair should really consider a set of visible blonde highlights. The fact that your hair is straight will make the streaks stand out without too much effort. The long bob in this photo is also a nice idea.
Conclusion
In conclusion, brown hair with blonde highlights can be rocked by absolutely any type of woman. If you're more laid back, you have countless ways to subtly incorporate the streaks to get a bit of shine. On the other hand, bold and fearless gals can go wild with an abundance of highlights or combinations with additional colors. Go with your instinct and enjoy your new sparkling locks, and make sure you tell us what your choice was in the comments!