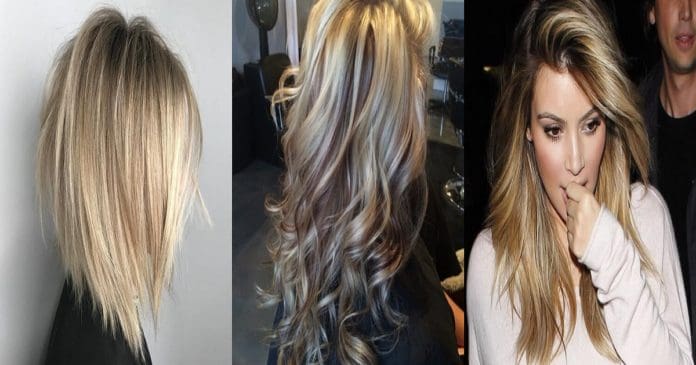 One of the numerous beauties of blonde hair is that it provides countless options for those rocking it. As the main hair color, blonde can vary from warm to cool shades and everything in between. Even more so, you can combine blonde with other hair colors, thanks to trendy techniques like ombre or balayage. With so many possibilities at hand, you're sure to find the picture-perfect shade of blonde for your hair. Check out some of our favorites below.
1. Blonde Balayage
Wherever you search for the latest beauty trends, balayage hair will be everywhere. It's all for a very good reason, as this blonde balayage clearly shows. What could you want more than warm tones harmoniously mixed?
2. Beach Blonde Hair
Whether or not it's summer, you can take the sun with you everywhere thanks to beach hair. This combination of light blonde tones reminds you of a sunny day at the beach anytime.
3. Rose Gold
As far as blonde hair color trends are concerned, rose gold is definitely among the most popular this year. It beautifully mixes the two shades in its name, all to obtain a gorgeous metallic strawberry blonde that flatters any gal.
4. Brown Hair with Blonde Highlights
If your hair is naturally brown and you're not ready to bleach it all, you can go for some classic blonde highlights in the shade of your choice. For example, these honey highlights shape and define locks without severe damage. We always recommend brown hair with blonde highlightsfor a natural, sun-kissed appearance.
5. Dirty Blonde Hair
For another natural look, you can always try out a dirty blonde hair color. While numerous women are born with this hair color, others have to dye their hair to get it. All the same, it will never come across as flashy.
6. Warm Blonde
Another shade that's quite popular is this warm blonde hair color. It's basically one of the first tones you think about when you hear blonde in the first place, so think about it if warm colors are representative for you.
7. Caramel Blonde
The way that this caramel color lies between blonde and brown is great if you can't make up your mind. In addition to this, it is a warm earth tone that provides an all-natural look.
8. Strawberry Blonde Hair
If you tone down rose gold, you get a shimmering shade of strawberry blonde. This hair color works especially well for women with blue or green eyes, as the contrast complements their natural features.
9. Icy Blonde
On the other hand, you can play around with cooler shades of blonde. Especially in the last few months, varying shades of grey and silver have been all the rage. Get inspiration from this tasteful trend for an icy blonde color.
10. Dark Blonde Hair
Yet another way to rock a natural blonde is to go a few shades darker. It's not as eye-catching as typical blonde, but it still has a light and warm tone that can be rocked on all occasions.
11. Champagne Blonde
Going back to cooler tones of blonde, this champagne shade provides metallic glimmer for days. It's just shimmery enough to make you dazzle and adore your hair color.
12. Blonde with Dark Roots
Speaking of ombre and balayage, dark roots have also been on the rise again. Not only is this a major bonus for cutting down on the high maintenance that blonde comes with, but it also looks superb.
13. Platinum Blonde Hair
If you consider yourself to be outgoing and you love making a statement through your hair color, go platinum. Indeed, it is a challenging shade of blonde to keep up with, but the results are fantastic.
14. Mixed Blonde Hair Colors
With the help of highlights and lowlights, you can mix all of your favorite shades of blonde into the ultimate hairstyle. In the example above, you can find everything from silver and ash blonde to caramel and rose gold.
15. Bronde Hair Color
If you're not already familiar with the term, bronde refers to the mix of brown and blonde. It's yet another way to have an all-natural look that won't even give off the impression that you've colored your hair.
16. Ash Blonde Hair
Ash blonde is easily one of the top 3 blonde hairstyles this year. While many women opt to go directly for grey locks, this mixture has just enough blonde in it to maintain that natural glow.
17. Buttery Blonde
Blue eyes, lightly tanned skin and buttery blonde hair – now that's a sight for sore eyes. This is a lush blonde that will surely make heads turn wherever you go.
18. Short Blonde Hair
When you do research on blonde hair, you almost always find references on long locks. But how about short hair? Blonde honestly looks outstanding on all haircuts and textures, from bobs or lobs to silky or afro-textured hair.
19. Beige Blonde
Also known as café au lait, beige blonde also falls under the natural blonde hair color category. It's a bit towards light brown, while having plenty of glowing blonde tones to brighten up your complexion.
20. Honey Blonde Hair
Just like warm blonde, honey is a staple for this type of hair coloring. Basically, it's the warm blonde tone that gets even warmer through the honey reflexes. It's a lovely color that works well on all hair types.
21. Silver Blonde
Another hair color choice for the young, wild and free is silver blonde. It is a bold color indeed, but it will give you a mysterious and almost fairytale-like glow that you will adore.
22. Creamy Blonde
This specific shade of blonde has the perfect name, as creamy truly describes it better than anything else. You can appreciate this delicious shade on straight hair very well, but it also looks spectacular on wavy or curly locks.
23. Blonde Ombre Hair
Ombre hair is still as hot as ever, especially when you bring blonde into the mix. A popular and easy-to-wear option is a brown to blonde ombre. If your roots are dark, just work with the second half of your hair for lightening it.
24. Kim Kardashian Blonde Hair
Even though we usually associate Kim Kardashian with rich, dark locks, she's also had her fair share of blonde looks that have inspired us. We all know her platinum blonde long bob, but this natural approach to lighter locks is a lot more wearable.
25. Auburn Blonde
Speaking of natural, this particular blonde tone almost doesn't seem to have been applied by a colorist at all. It has a refreshing glow about it, all while keeping those pretty natural vibes.
26. Copper Blonde Balayage
Just like auburn, copper blonde is a fantastic way to spice your look up a bit without overdoing anything. The reddish tones bring the blondes to life and vice versa wonderfully.
27. Blonde Hair Blue Eyes
If you have blue eyes and you're thinking about going blonde, actress Indiana Evans might give you an idea of how the outcome will be. In other words, blonde is one of the most flattering hair choices for light colored eyes.
28. Cherry Blonde
Channel your inner redhead with a fabulous cherry blonde hair color transformation. Even though the shade is dreamy and you won't find it on everybody else, it still honors the key word for successful blonde locks: natural.
29. Blonde and Brown Hair
While bronde is certainly an option, you can mix blonde and brown hair creatively through highlights and lowlights. The final impact is truly special and balances the contrasting shades nicely.
30. Chocolate Blonde
Chocolate blonde also plays in the same arena as bronde, but it stands out by exploring rich shades. The chocolate brown undertones make the look complete, while the blonde coat is like the icing on the cake.
31. Red and Blonde Hair
Another idea for ombre hair that involves our favorite light hair color is red to blonde. This stunning transition will leave a long-lasting impression on those around you, and it will most likely play a significant role in boosting your confidence.
32. Chestnut Blonde
Warm, playful and completely suitable for work or school, chestnut blonde is another delightful shade you should take into consideration. Like with most other blondes, it works for short and long hair alike.
33. Yellowish Blonde
Although yellowish blonde is generally avoided, Carey Mulligan proves that you can rock it like a superstar. In the end, it's all in your attitude, how you hold yourself and whether or not the specific tone is fit for your personality.
34. Golden Blonde Hair
One of the most beautiful hair colors for tanned skin is golden blonde. The two shades go hand in hand perfectly, especially if you have a bronze skin tone all year round.
35. Blonde Highlights on Brown Hair
If you're out of styling ideas for your brown hair and highlights, you should start learning how to braid. This styling technique is honestly one of the absolute best for enhancing your different hair colors. French braids, fishtail braids and Dutch braids are just a few ideas for you to get started with.
36. Blonde and Pink
For balayage or ombre hair that's light all around, you can try mixing platinum white blonde with cotton candy pink. Even though pink is far from being a natural hair color, the two will flow together amazingly.
37. Neutral Blonde
Not too flashy, not too boring – neutral blonde will pave your way to balance. It's as natural as blonde can get, while still standing out in a positive way.
38. White Blonde Hair
The next level of platinum is white blonde. It's an eye-catching shade that works wonderfully for the girl who isn't afraid to express her personality.
39. Blonde Tips
Before we had ombre hair, we had dyed tips. Nevertheless, the trend has not disappeared just yet. Go for bleaching your tips if you don't want a full head of blonde hair.
40. Red Hair with Blonde Highlights
You already know that burgundy and blonde go quite well together, but how about if you combine them differently? Instead of getting a gradient from one color to the other, experiment with equal amounts of each through highlights.
41. Sun-kissed Streaks
If you have natural red hair and you want it to seem like you're always soaking up the sun, go for blonde highlights. They look marvelous on cinnamon locks and will bring the whole look to a new level.
42. Amber Blonde
Just when we thought that auburn or copper blonde had it all, Pamela Reif proves that amber blonde should also be among options. This tone leans more towards blonde then red, and it also complements brown eyes magnificently.
43. Black and Blonde Hair
There are various ways you can combine black and blonde hair. As an unconventional alternative, you can go for a rebellious half and half look. Do this either vertically, like in the image above, or horizontally, through ombre. Highlights are also a good idea.
44. Blonde Hair with Lowlights
Platinum hair with ash blonde lowlights is quite the breathtaking combination. You can really appreciate the technique on long, curled hair, but feel free to get it even if you have a pixie haircut.
45. Light Brown Blonde
Light brown blonde is really as natural as you can get. This earth tone is fit for all women, regardless of hair length, face shape or skin tone.
46. Dark Brown Hair with Blonde Highlights
If your hair is naturally dark brown, then a few scattered ash blonde highlights are just what you need for a twist. This is an excellent idea if you still want to keep your natural hair color as the base for your new style.
47. Blonde Afro-textured Hair
Corkscrew curls look absolutely charming in blonde. Nevertheless, we recommend speaking with your hair specialist about how to protect your natural hair while going blonde to not undergo  lot of damage during the process.
48. Blonde Hair Brown Eyes
Among modern celebrities, Rita Ora sports blonde hair with her brown eyes like quite few others do. It goes to show that you don't have to be a light-eyed woman for blonde to look glamorous on you.
49. Silvery Ash Blonde
Instead of choosing between silver or ash blonde, get a mix of the two. They have pretty much the same base tone, but adding a bit of both will make the final look even more special.
50. Blonde Hair with Brown Highlights
For some major eye candy, here's a reverse approach for a popular blonde mix. You can often find blonde highlights on brown hair, but the other way around looks even more interesting. If your hair is naturally blonde, think about getting some chocolate highlights for your next hair appointment.
51. Wedding Hairstyle for Blonde Hair
If you're prepping for the most important day of your life, you're going to want to look your very best. Blonde hair is a lovely idea for wedding hairstyles, as they always boost the femininity of your overall look. Style yours in a loose, ornate French twist updo.
52. Blonde A-line Bob
Let's say that you have picked your favorite shade of blonde. Wouldn't you want a neat new haircut for the makeover to be complete? There are tons you can try out, but we say the choppy A-line bob has a specific charm of its own.