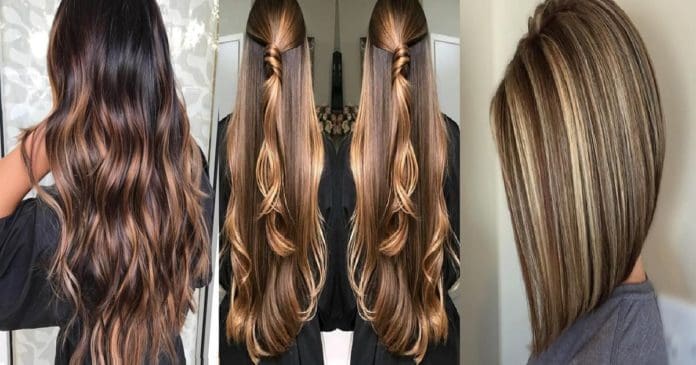 Chocolate brown is one of the most popular brunette shades out there. If you are looking for a shade that will brighten up your look, then this is the one for you. Regardless of the season chocolate brown hues just keep growing in popularity. They are just as popular now as the platinum blonde hues. There are many different hues that fall into the chocolate brown variety and they can be anything from a milk chocolate color to some with some red tones in them. There are also some deep and rich chocolate browns that are all about warming up your features.
These types of shades are generally considered to be classy and dramatic. It sounds like the perfect shade for a brand new season that is upon us. Men are more likely to trust a brunette with rich shades than they are a blonde. Hey, we didn't make the rules. It's all about the fact that men consider brunettes to be more strict, loyal and trustworthy. As funny as it is, there are more brunettes running top positions in business then there are blondes. There is just something more trustworthy about a brunette. Lighter brown though will give you a less severe tone, and leave you with a more romantic and softer look.
What Is The Right Hue of Chocolate Brown Hair For You?
Choosing the right brown for you depends on your skin undertones. Whether you have cool undertones or warm ones will determine the best color choice for you. It's also based on personal preferences as well. Some women want a straight brown color while other women want a chocolate tone with some red in it. The idea is that the brown you choose should make you look younger and completely freshen up your look.
Some Red Hues
This chocolate brown style is one that has the red hues in it. It's the type of shade that will warm right up your face.
Medium Brown
If you don't want to go too dark or too light, then this shade will be perfect for you.
Add Some Highlights
Maybe you already have chocolate brown hair and you want a change. Adding highlights to your color can give you a whole new look.
Basic Brown
A great style that is almost too good to be true.
Softer Shades
This brown is more on the lighter side which gives off a softer look.
Dark Designs
This brown is so dark that it's almost black.
Red Tones
A great style that is brown with some red hues. There is a lot of warmth in a style like this.
Chocolate Highlights
If you already have dark hair and you want to lighten it up or create dimension in the style then add some chocolate brown highlights to it.
Lighter Styles
Highlights are a great way to lighten up your whole look.
Dark Hairstyles
Jenna Tatum-Dewan has been rocking this dark chocolate brown style for a long time now and it totally suits her. It makes her gorgeous blue eyes pop.
Chocolate Milk Colors
This light shade is really beautiful and it will give you a softer more romantic style.
Blonde Styles
You might not think that chocolate brown will go with platinum blonde but it totally will.
Light Chocolate Styles
A great style that you are sure to love. This chocolate brown style just lights up Jennifer Lopez's face.
Darkening Designs
Sarah Michelle Gellar really changed up her look when she went from blonde to a very dark brown. It completely changed her face and brightened up her look.
Beautiful Styles
This actress pairs her brown eyes with this deep chocolate brown style. It's gorgeous and suits her skin tone perfectly.
Reddish Brown
You can still be a brunette and have red tones throughout your hair.
Many Different Tones
This style has many different shades in it. We love this style because the highlights really make the whole look pop.
A Bold New Look
This style is sure to be one that you love because of this rich brown color.
Gorgeous Tones
These multiple ones are truly beautiful when they are combined with a darker shade.
A Seasonal Change
If you are looking for a whole new shade this season then why not go with a light chocolate shade.
A Soft Brown
A great color that is light and will tend to lighten up your face. You don't need to go dark to brighten up your look. All you need is the shade that's perfect for you.
Dark Brown Styles
Brown is a great shade and it suits many different skin tones.
Bold Browns
If you are looking for a fresh new shade, then this medium brown color is the one for you.
Beautiful Hues
This gorgeous brown has some lighter hues throughout the style.
Dark Brown Colors
A great shade that you will love for the brand new season.