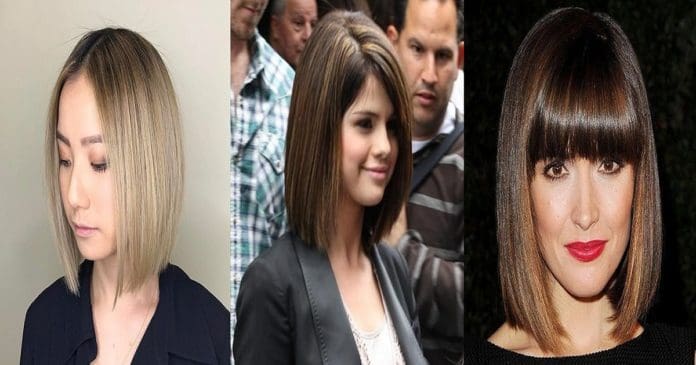 The blunt bob has been around for centuries. It's certainly a popular hairstyle. If you are looking to change up your look this spring then you can go wrong with the blunt bob. It's stylish and sophisticated and even a little sexy. It started out as a totally Haute Couture style and many people are still wearing it to this day. It's a popular look that we always see on the runway as well. It's an angular style that can be worn with any length of hair, the sky is totally the limit for you and the kind of style that you want to have.  The best part about the blunt bob is that it suits many face shapes so that should not be a concern for you. No wonder it has been around for so long. The thing about blunt styles is that they always look healthy and that's because you are always cutting them bluntly. They can be worn curly or straight, it really doesn't matter. But if you are going to try out the blunt bob you will end up with a style that is stronger and healthier than ever before. The great thing is you can style the bob in many different ways and we have lots of styles to show you. Check out these 108 Stunning Blunt Bob Ideas for the Spring:
A Sharp Style
It's bold and unique and very stylish.
The Messy Style
Who says that you have to be polished all the time. We don't!
Sleek Styles
This bob is quite short; it falls just at her chin to frame her face. It's a bold look that you are sure to love.
Sexy Style
The sexy part about this style is that it looks so free. you can easily wear it anywhere that you go.
Celebrity Style
Even Paris Hilton knows a good bob when she sees one. This stunning blond style will make you feel like a true fashionista.
Icy Blonde
This blunt bob is made evident by the blunt bang as well.
Wavy Styles
If you prefer a looser look, then you can style it with some amazing waves.
Simple Styles
You can still have a blunt bob even if you are into casual styles. This one looks perfect.
Sweet Styles
You are sure to be considered the girl next door with this sweet style. We love the side bang.
Plenty of Volume
Michelle Williams looks amazing with this voluminous blunt bob. We love her celebrity style. There is plenty of volume to keep you happy for days with this style.
Sleek and Beautiful
This beautiful look is sure to wow the crowd wherever you go. If you have thin hair then this is the perfect style for you because it won't require a ton of straightening.
Icy Hot
We love this stunning look because not only is the color on point but the blunt bob is totally stylish right now. The Jenner's are rocking amazing styles these days.
Simple Styles
This is a simple yet classic look. You can wear this to a BBQ or to a red carpet event. If you want a style that is great for any occasion then this is the one for you.
Gorgeous Waves
We love these waves and it's the kind of style that you can wear anywhere. It's simple and yet still very stylish.
Classic Styles
These styles are classic and no-nonsense.  It's a simple style that is totally casual. You can basically wake up and go with a style like this.
Simply Stylish
A short bob style that is filled with waves. This is a very sexy look. We can see this style at a fancy event, it would work for any occasion.
The Side Style
You can add a little more volume to your style by adding a deep part. The side part is always a popular style. We are a big fan of the blonde styles as well.
A Straight Cut
This is a very polished look if you are working in an office. It's the kind of style that demands that people take you seriously. Try it out for your job and you will see what we mean.
Add Some Bangs
This classic style has been used by many celebrities. Adding bangs will create a totally different look for you. Bangs are very in this season.
Choppy Bangs
With this sleek style, the bangs are just a little choppier than the rest. It's a sleek look that will draw the eye to you immediately.
Green With Envy
If you have that mermaid vibe then why not try out this stunning shade with your blunt bob. We like the edgy cut as well as the color.
Stone Style
Emma Stone has had many different looks over the years and we can't help but love this cute style on her. It makes her look a lot more sophisticated.
Dark Designs
Emily Blunt looks incredible with this dark ombre look. We love how free and casual her hair looks. It's a great look for a fun event.
Try the Pink Style
When it comes to spring and summer, it's all about light colors. It's the perfect time to try out a little pink.
Grey Designs
This bob is quite short and very daring. The back has the shaved design as well.
Blonde Designs
This is a great design that you can wear in many different styles.
Be a Redhead
That fashion police would never even dare touch you with a stunning look as this one. Not only does it scream of awesome fashion sense but the color is to die for.
Fashionable Styles
Styles like this are all the rage right now. It's easy to style and yet still beautiful.
A Blunt End
The cut at the bottom is quite blunt; there is not much room for error with this style.
A Ruffled Look
This style is a little more shaggy than most and you probably wouldn't have to spend a lot of time styling it.
Elegant Styles
We love this polished look and so will you!
Gorgeous Designs
Cutting your hair doesn't mean that you have to cut it short. This is a great length for a bob and there's more than enough room for some waves.
Celebrity Designs
This vampire has a brand new style and we have to admit that it's very sexy. If you are looking for something that stands out, then this is the style for you.
Choppy Styles
Your bob does not have to be all one length. There are a ton of layers in this style and they look amazing.
A White Light
This amazing blonde style is short and choppy.
Singer's Style
Ashley Simpson is really rocking this short bob style. We love how she just tucks the style behind her ears.
A Fresh Style
This gorgeous style is perfect for a fresh start. If you want a new look, then you should totally try this one out.
Special Styles
This special blunt bob is truly a classic style. You can wear this anywhere and look spectacular doing it.
A Perfect Style
This is the perfect style to have this summer. It's blonde, daring and will keep you cool in the heat.
Sexy Styling
This bob is red hot, and you will feel amazing everywhere that you go. This is truly a sexy style that is sure to draw the eye.
Sophisticated Style
If you are all about sophistication and grace, then you are sure to love this style. Jessica Alba sure knows how to rock the sophisticated look.
A Darker Shade
This messy style looks amazing in a darker shade with some bangs.
The Ombre Look
You can't go wrong with this wavy style and the ombre look is still very much in.
A Middle Part
Another great example of how a casual look can be made perfect.
Messy Waves
Another great look that has some seriously sexy waves to it. We love the highlights added to the style as well.