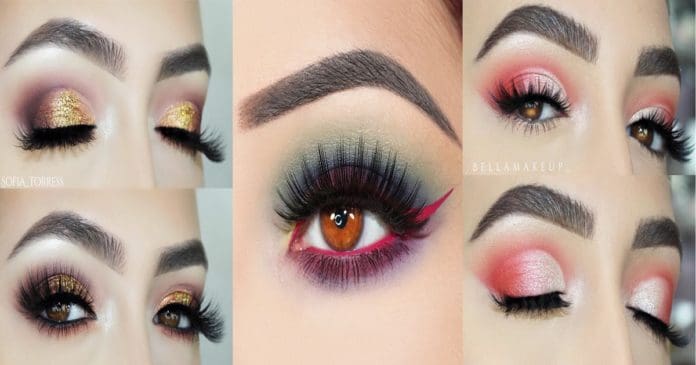 There are few people with amber eyes, so few that it is even possible to state that this eye color is quite uncommon. In its essence, the amber eye color is a combination of yellow and orange which is quite unique. This eye color is often called wolf eyes.
As for the amber eyes rare occurrence, truly, this eye color is considered to be the rarest. People with this eye color tend to live in South America and Asia. And this trait is inheritable which means that based on this eye color, you can learn a lot about your ancestors.
If you are in the company with such amber-eyed celebs like Evangeline Lilly, Nicole Richie, and Darren Criss, explore which makeup will be ideal for your hypnotizing eyes!
Blue Cut Crease Makeup For Amber Colored Eyes
Source: littledustmua via Instagram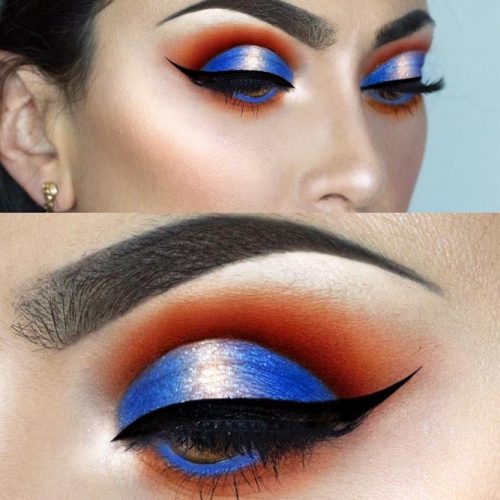 Blue eye makeup has become one of the most sought-after ones for amber colored eyes since KKW X Mario palette release. This stunning idea gives you an admirable way to wear dark blue on your eyes. This look incorporates a gorgeous black liner flick with some gold shimmer atop and striking blue over the lid and waterline. It is undoubtedly a look that will help you make a statement at the prom.
Pink Shimmer Smokey Eyes Look
Source: bellamakeup_ via Instagram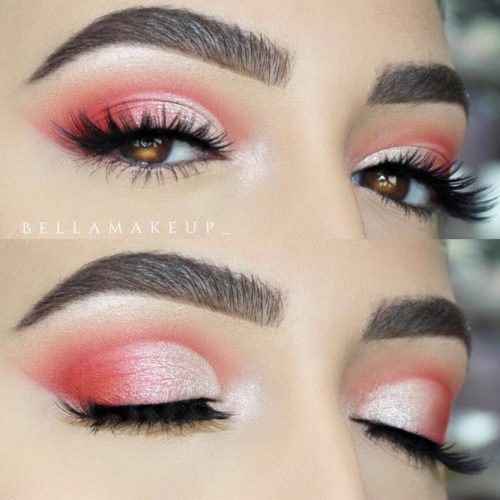 Incorporate some pink color sparkles into the prom image with such a Smokey eye look like this. The pink Smokey eye with eyeliner flick and pink glitter over the lids make this look simply irresistible. This makeup will suit any lady as well as any special occasion.
Green Smokey Eyes Makeup
Source: shannelsmakeuplooks via Instagram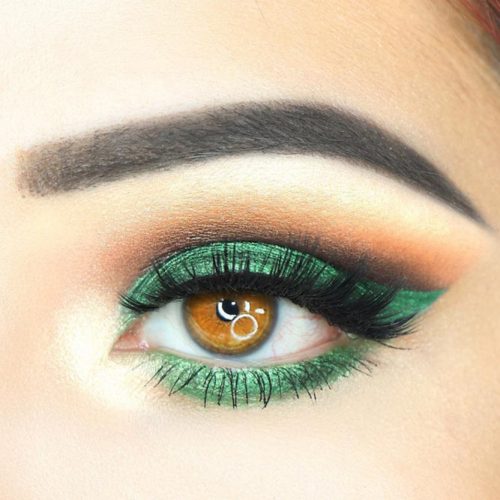 Undoubtedly, green is one of the boldest and oldest colors. However, you can achieve this gorgeous look easily you know how to apply it correctly. For instance, green Smokey eyes rock. However, it is essential to choose the perfect green according to your hair color and skin tone too. The way you apply, it will also affect your final look. In order to get a bold hue like this dark green makeup look – you should not bother touching the foundation and any other eye makeup detail until everything is done. Don't forget that the eyes and the brows are significant contributors to this look, that is why you should start with them and let them work on the rest of the makeup.
Pink Cut Crease Look With Black Eyeliner For Dark Amber Eyes
Source: alyciamarie via Instagram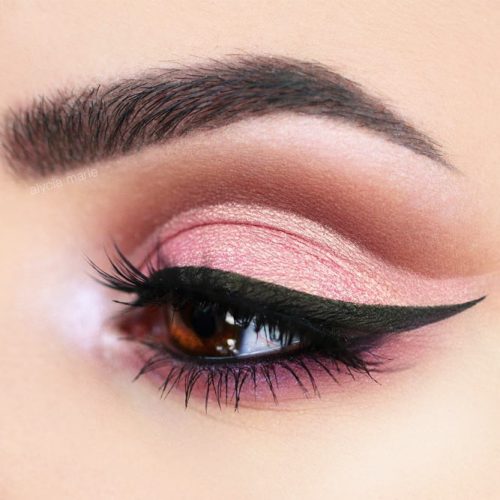 Here comes a sassy and dramatic pink eye makeup that incorporates black liner. The black liner helps the cool dark amber eyes stand out stunningly. Pink eyeshadow and black liner make the eyes look conspicuous. This is a must-have look for any lady with dark amber eyes. Besides, incorporation of pinky tones makes the look more appropriate for summer. Well, if you are searching for some stunning look for your 5th of August party, this one will fit in perfectly! You might have been told that pink and black make a terrifying combo, but this gorgeous look gives you all the reasons to refute that like idle talk.
Everyday Smokey Makeup Look
Source: alyciamarie via Instagram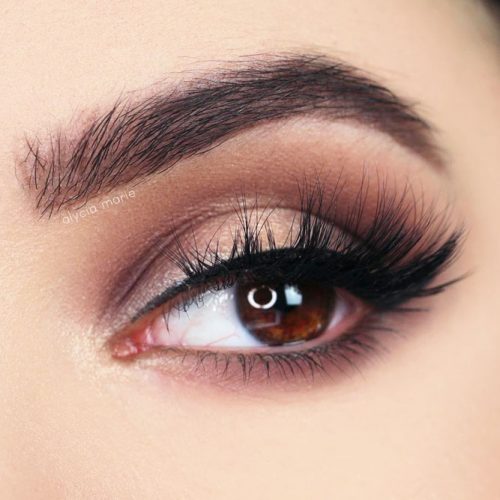 Is nude makeup the only thing to make you look gorgeous, sexy and attractive as you prepare to attend that come together party? Well, one thing you can rely on to look more erotic and insanely beautiful is to apply the mystical and magical Smokey makeup. Though it may be tricky to put on appropriately, it is undoubtedly pretty goofproof.
Gold Smokey Eyes Makeup Idea For Special Occasions
Source: sofia_torress via Instagram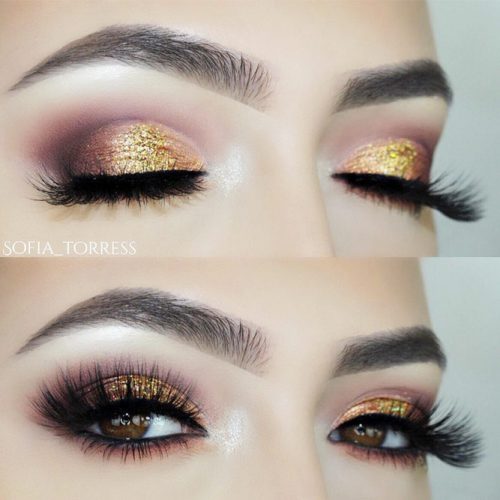 How about a classical holiday makeup? Gold makeup, with plenty of liquid eyeliner, and a pop of pale red matte lipstick to grant it definition is a fabulous choice. It is sassy, and gorgeous too, and it brings you closer to understanding why it is on the top of Christmas makeup ideas list this year. If you have a problem with keeping your hands steady while putting on the eyelashes, which are very important to achieve this beautiful look, ensure your elbows are held on a flat surface while you look into your mirror. This will help you stop the trembling that usually happens when you are trying to pay attention to getting them done, and stability is crucial for the substantial part of the look like this one.
Matte Smokey Makeup Idea With Glitter Eyeliner For Light Amber Eyes
Source: shannelsmakeuplooks via Instagram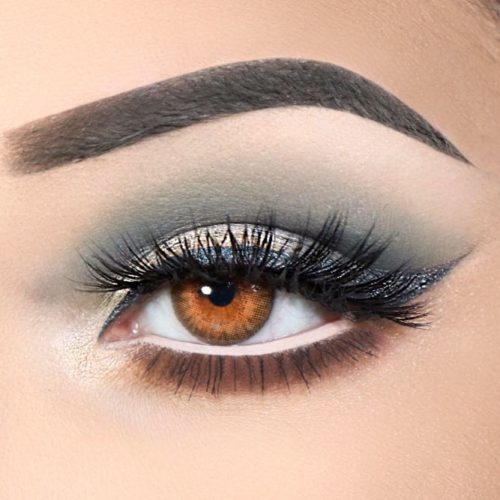 This look will make your light amber eyes stand out. It features a sparkly pale blue liner with white on the top. This classic combination of white and pale blue grants your amber eyes a beautiful look. This makeup is ideal for the night out and can even be worn during the day if you like to rock it too. Try it out!
Bright Pigment Eyeliner Accent
Source: shannelsmakeuplooks via Instagram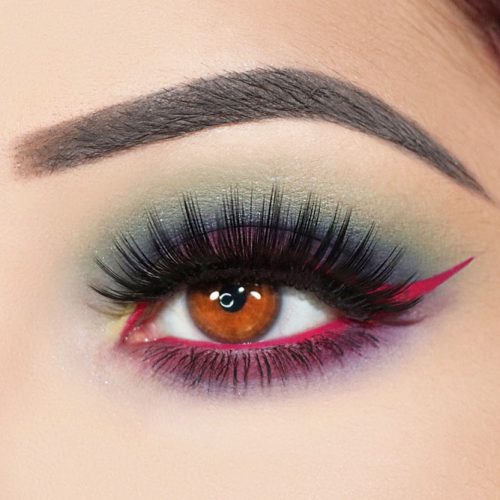 Pink and blue hues work perfectly well together. For instance, in this look, the eyelid is blue with a black eyeliner flick, and along the waterline, there is a gorgeous pink eyeliner accent. A bright makeup like this is ideal for the modern prom queen who in search of a vibrant look. If that is just about you, give it a shot and see how bright and daring you would look.
Glitter Eyeshadow For Amber Eyes
Source: sofia_torress via Instagram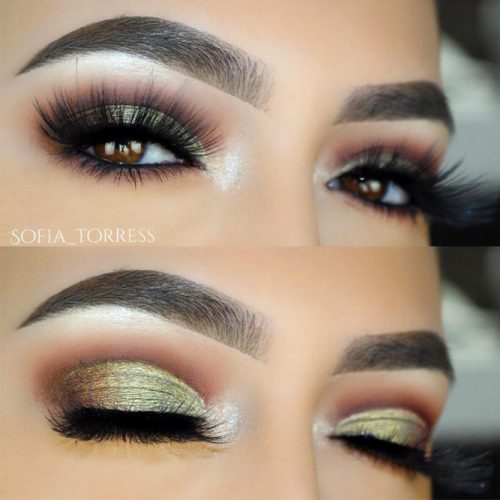 It is clear that it can be a difficult task to wear bold eye makeup and bold lips at the same time. However, this gold makeup with glitter eyeshadow gives you the proper way to rock it. To rock this look, accentuate it with red lips. The shimmering eyes will look muted, and the red lips will finish the look off. The subtle hints of white shimmer in the corners of your eyes play a significant role when you are opening the eyes up, and they work perfectly with the gold eyelid color.
Black Smokey Eyes Look For Amber Eyes
Source: littledustmua via Instagram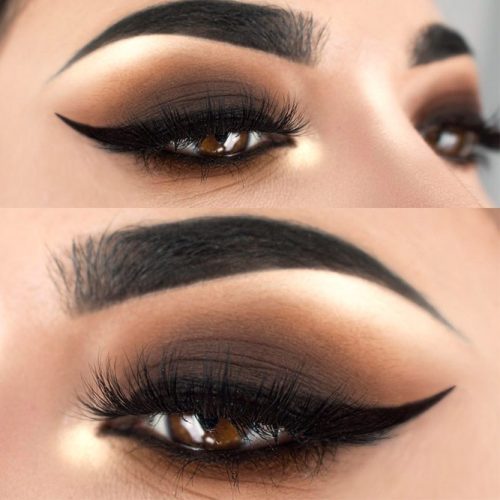 It goes without saying that Smokey eyes are classic. We can even dare to say – more classic that bold red lip. Regardless of whether it is grey and dark hues or subtle bronze and brown shades, a smokey eye will look gorgeous to almost everyone. You will always get it right if you go with black Smokey eyes. The intensity brought by the black hues brings out your eye color extraordinarily. It gives a visible contrast to the cool colors usually found in amber eyes.
The process of getting a classic black Smokey look done is simple and straightforward: After framing your eyes, use a brown shadow that fits your skin tone right beneath the browbone to create the perfect transition. Add some batches of black eyeshadow and build it up to get the needed intensity. Blend it all well with a clean brush and apply some product at the lower lash line. Finally, line the upper and lower lash lines with black liner and finish it with mascara.
Cut Crease Eye Looks For Amber Eyes
Source: bellamakeup_ via Instagram, littledustmua via Instagram, bellamakeup_ via Instagram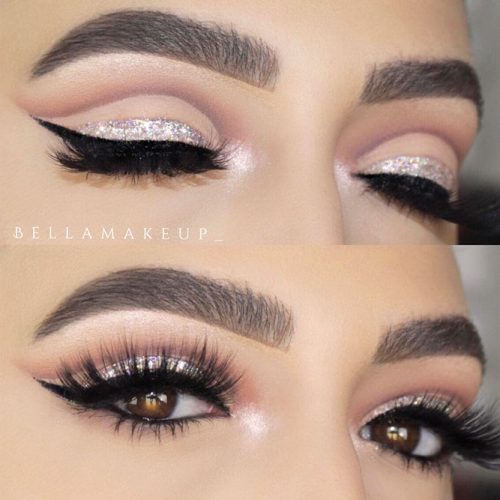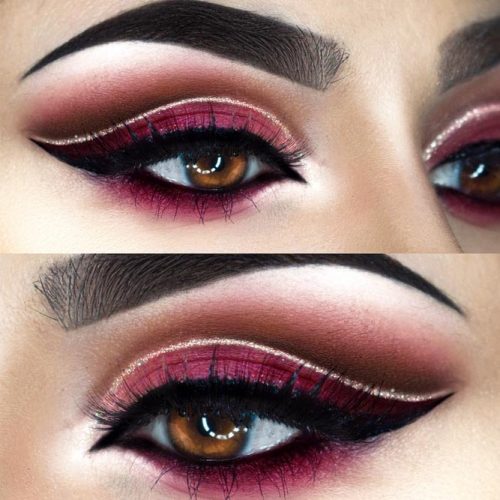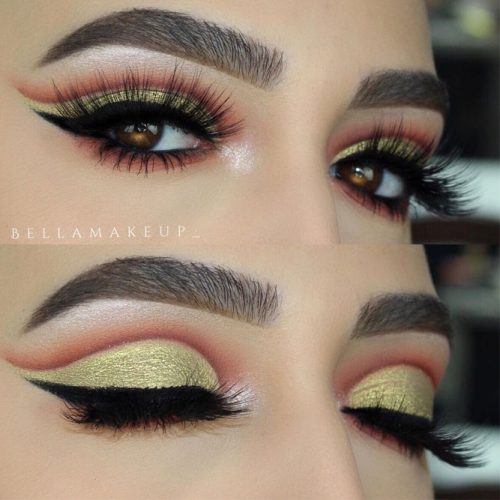 To show your creative side and exciting and complex personality you can always opt for fancy cut crease makeup. While choosing the shades we suggest you opt for the ones that enhance the beauty of your eyes entirely, and that would be gold or bronze shades. Altogether with fabulousness, your eyes will project warmth and mystery!
Smokey Eyes Makeup For Girls With Amber Eye Colors
Source: shannelsmakeuplooks via Instagram, alyciamarie via Instagram, littledustmua via Instagram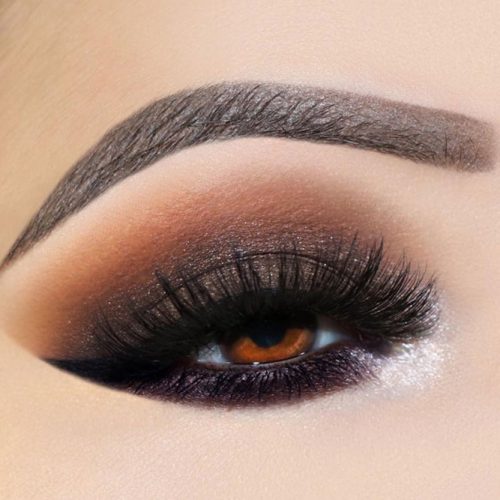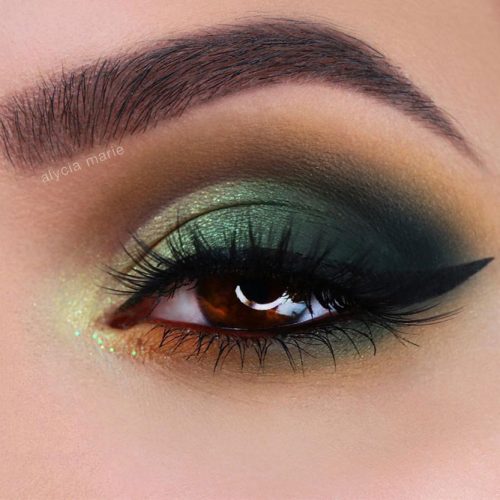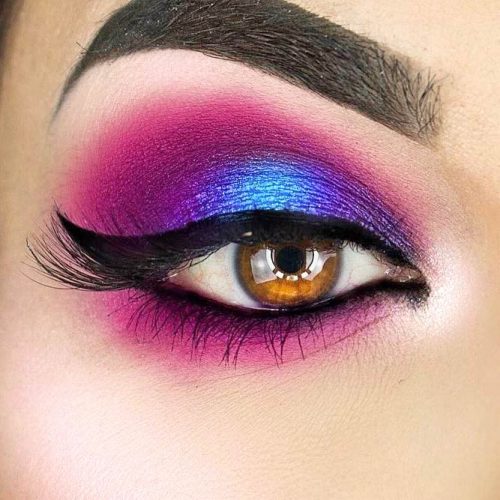 Smokey eye looks are undoubtedly classy and sassy, but sometimes a wrong choice of shades can ruin the whole look. To embrace the inner strength of people with amber eyes, we suggest you opt for purple and plum shades when trying fresh smokey eye look. These shades are opposite on the color wheel which makes them exceptionally suitable to complement the wolf eyes. If purple shades are not your cup of tea, all the earthly tones will deal with the task perfectly well too.
Creative Eye Makeup With Eyeline
Source: shannelsmakeuplooks via Instagram, shannelsmakeuplooks via Instagram, shannelsmakeuplooks via Instagram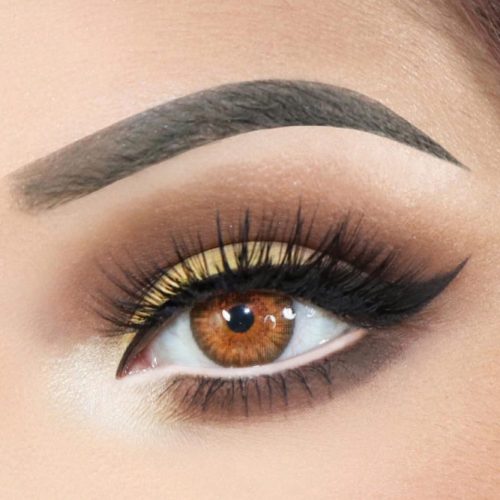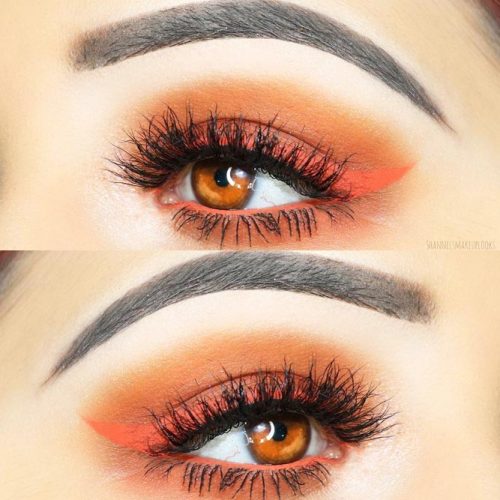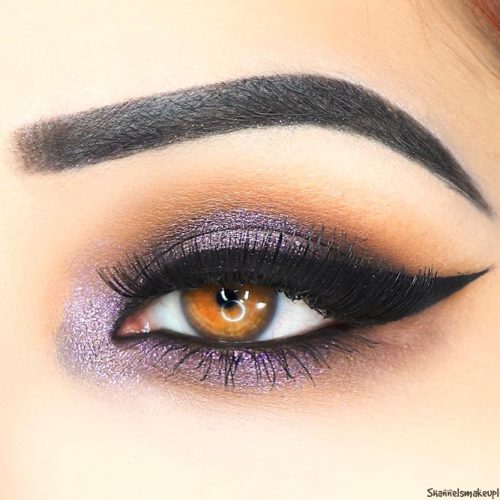 When you are a professional at what comes to the choice of proper eye makeup shades to suit your eye color it is time to experiment. The fact that people with amber eyes are creative is well known. That is why embrace your creativity with the unusual choice of eyeliner when you are putting on your makeup next. For a subtler look you can use a brown or copper-shade liner, but what comes to dramatic look then there is nothing better than to opt for a precise and smooth winged eye in combination with exquisite eyeshadow.
Festive Eye Makeup Ideas For Amber Eyes
Source: sofia_torress via Instagram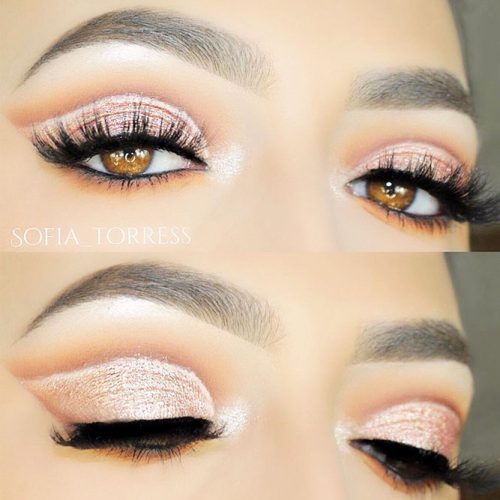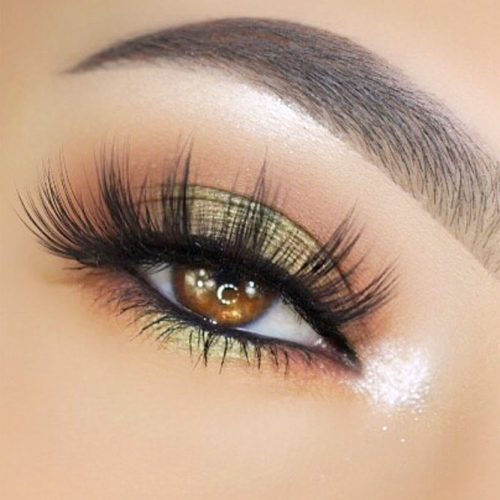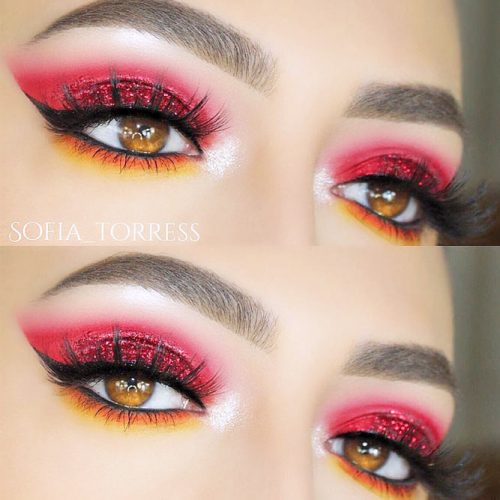 It is a fact that amber-eyed beauties are mysterious and passionate. The best way to show the world your intense and secretive nature is to choose a suitable makeup. When there is a celebration ahead, there is no need to refuse yourself the joy of enhancing and defining your eyes with some shimmery and bright shade.
Popular Eyes Makeup Ideas To Inspire You
Source: alisa.beauty.pro via Instagram, shivangi.11 via Instagram, makeupby.mf via Instagram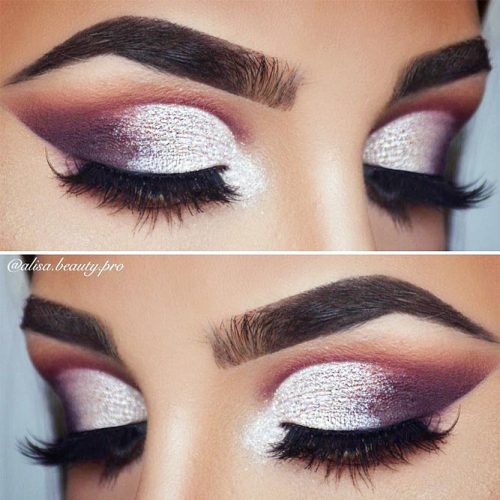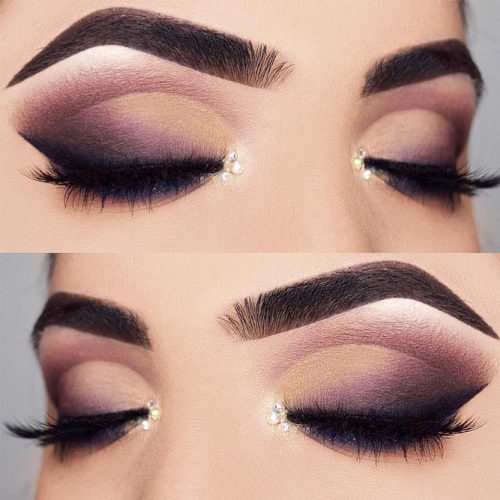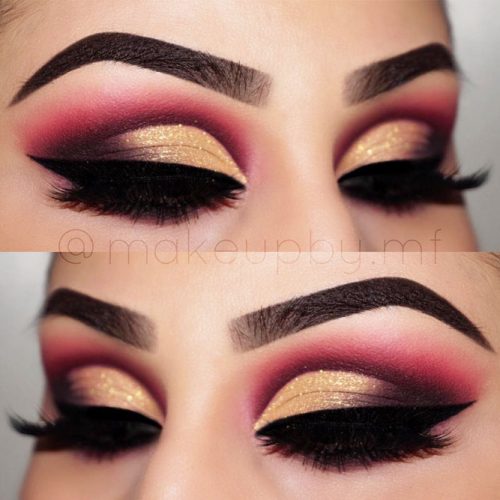 It is true that according to eye color meaning people who have amber ones are pretty reserved, but that does not mean that they are not friendly or warm and trustworthy.
Lovely Makeup Ideas For Any Eye Color
Source: makeupbyjcole via Instagram, c_flower via Instagram, vemakeup713 via Instagram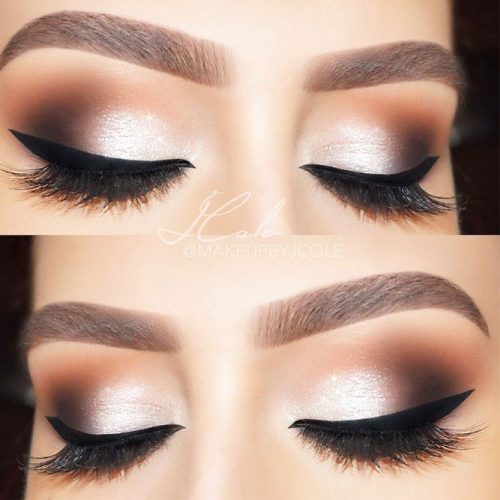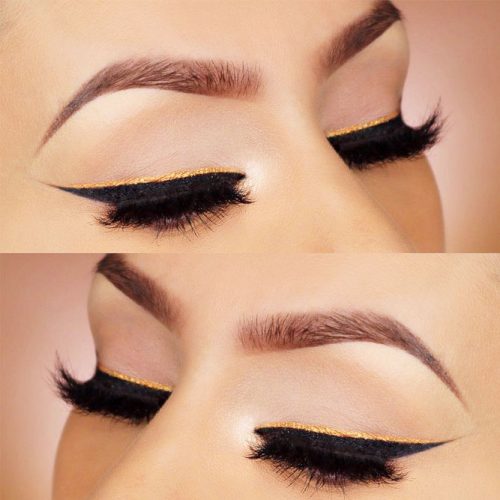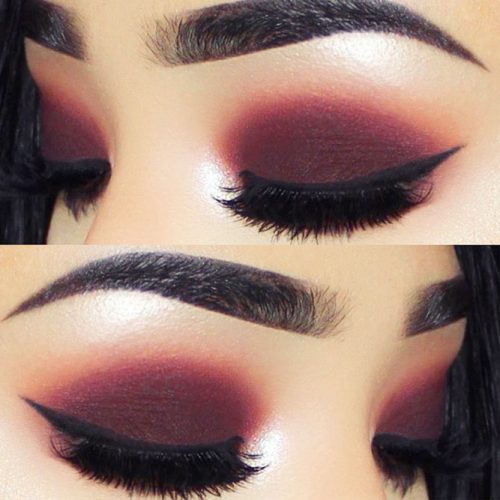 There are our lovely makeup looks for any eye color. Take a pick and become the center of attention with these ideas!