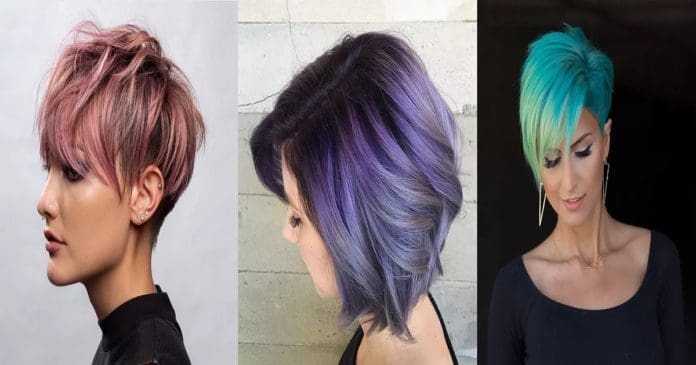 Beautiful Hair Dye Styles for Short Hair
Fashion industry gave us a lot of cool products that allow us to change something we do not like and highlight features we consider to be perfect. Today we have different clothes that allow us creating unique styles, makeup products that provide us with an opportunity to be different every single day, and of course, hair dye that can change us completely. We do not have to choose between black, blonde, and red anymore – today we have a wide range of colors and shades to select from! Just take a look at the photos in our gallery – blue, red, burgundy, violet, yellow, turquoise and a lot of other shades are here! They look especially great on short hair, so select your perfect color and go ahead!
Stylish Short Colorful Hairstyles
Undoubtedly, bob is one of the most awesome hairstyles ever. It is a compromise between the very short haircuts and long hair, and it never goes out of fashion. Still, such haircuts have one disadvantage: such haircuts are really, really popular so it will not be easy to wear a bob and stand out in the crowd. However, there is a lot of cool colored versions of this hairstyle that can inspire you! If you want to look feminine, you can choose the light shades of pink, blue, and violet and dye your hair or add some colorful highlights.
Cool Short Hair Color Ideas You Will Like
Some people think that only long wavy locks can highlight femininity. Well, we do not judge them, but what about these girls with awesome colored pixies? Do they look manly? Absolutely not! They know how to create a beautiful contrast between a short dyed hair and beautiful features. No matter if your hair is turquoise, grey, ash blonde or pink: if you know how to mix colors and what clothes to wear, you will always look like a Hollywood star or a top model, and we have some cool pictures to prove this. Here are some awesome ideas to try on!