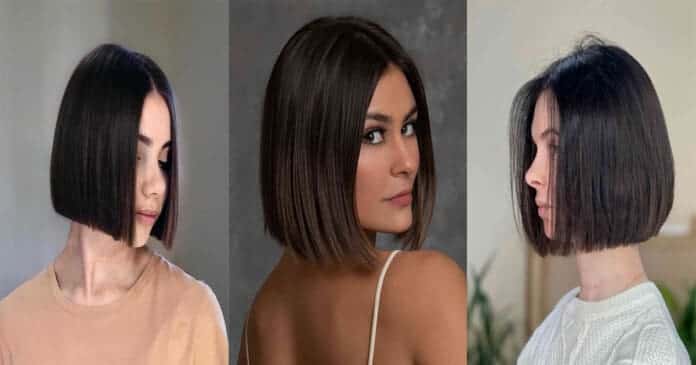 A chin-length blunt bob is a short haircut with a sharp, straight line at the ends. Hairstylist Yasmin from Boca Raton, FL explains which type of woman benefits from this chop the most. "I recommend this blunt cut for women with thin, fine hair as it can appear thicker and fuller. It's also great for women with high cheekbones. However, if you have a round face, this short haircut will only make your face shape appear wider," she notes. On the other hand, thick-haired ladies must be diligent when considering short haircuts. Their locks can get too poofy when cut blunt and one-length. A dry-cutting technique is a much better option when getting a blunt bob. "If the hair is dry, you'll see how it naturally falls, making it easier to cut," Yasmin explains. Otherwise, if the hair is cut wet, it'll shrink and you'll find cowlicks that you didn't know were there. Understand the maintenance before diving into this hair trend. "To keep the sharpness of a chin-length bob, you should be going to the salon every six weeks," Yasmin suggests. In this photo gallery, you'll see some of the trendiest ways to wear the all-time fave chin-length blunt bob. Enjoy!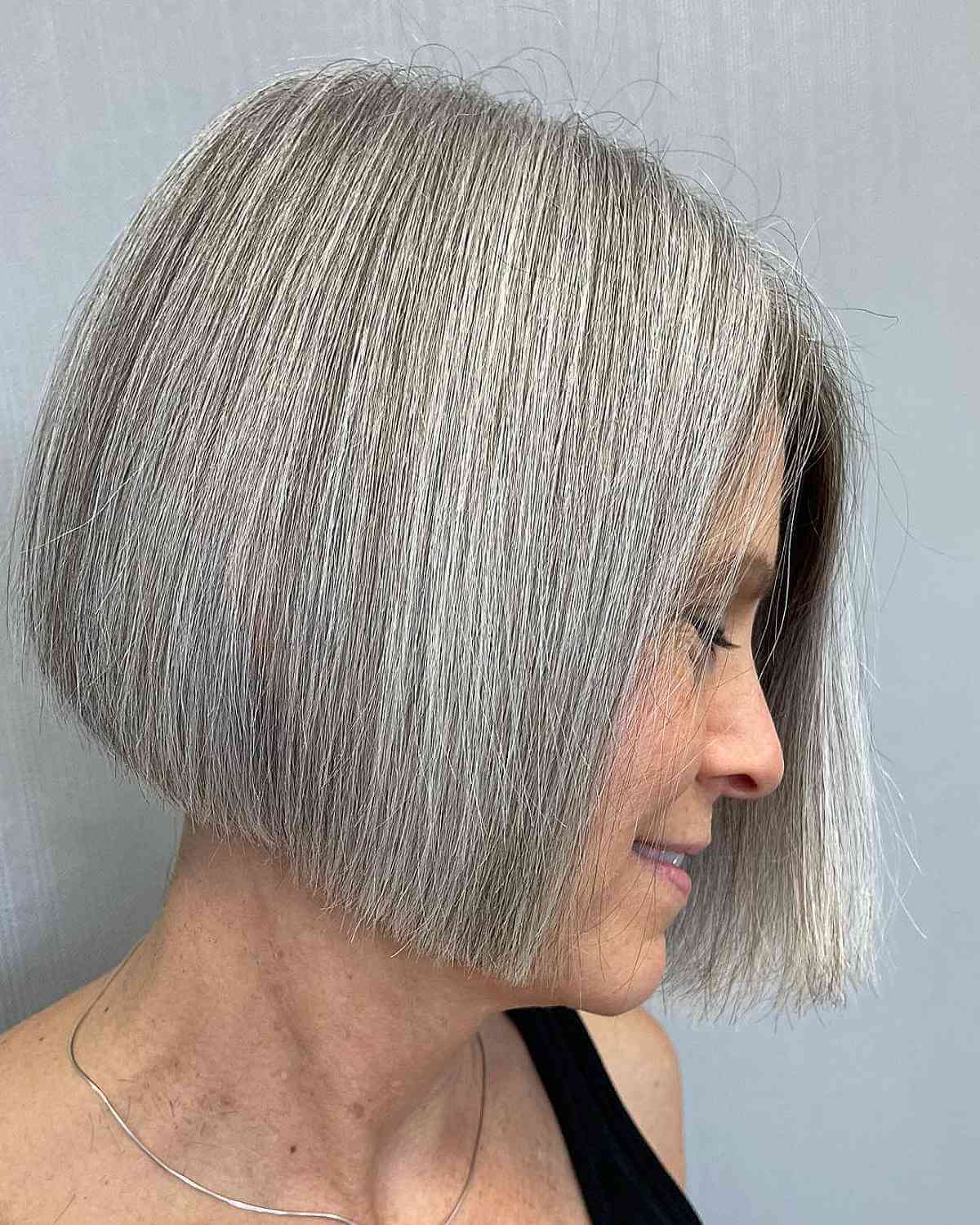 #1: Grey Blunt Bob for Older Women
A beautiful choice if you're an older woman, a blunt bob truly shines on grey hair. One of the best cuts for fine tresses because the blunt cut can make your hair appear thicker and fuller. Plus, this style is low-maintenance and easy to style. If you can, go see your stylist about once every 8 weeks for a trim.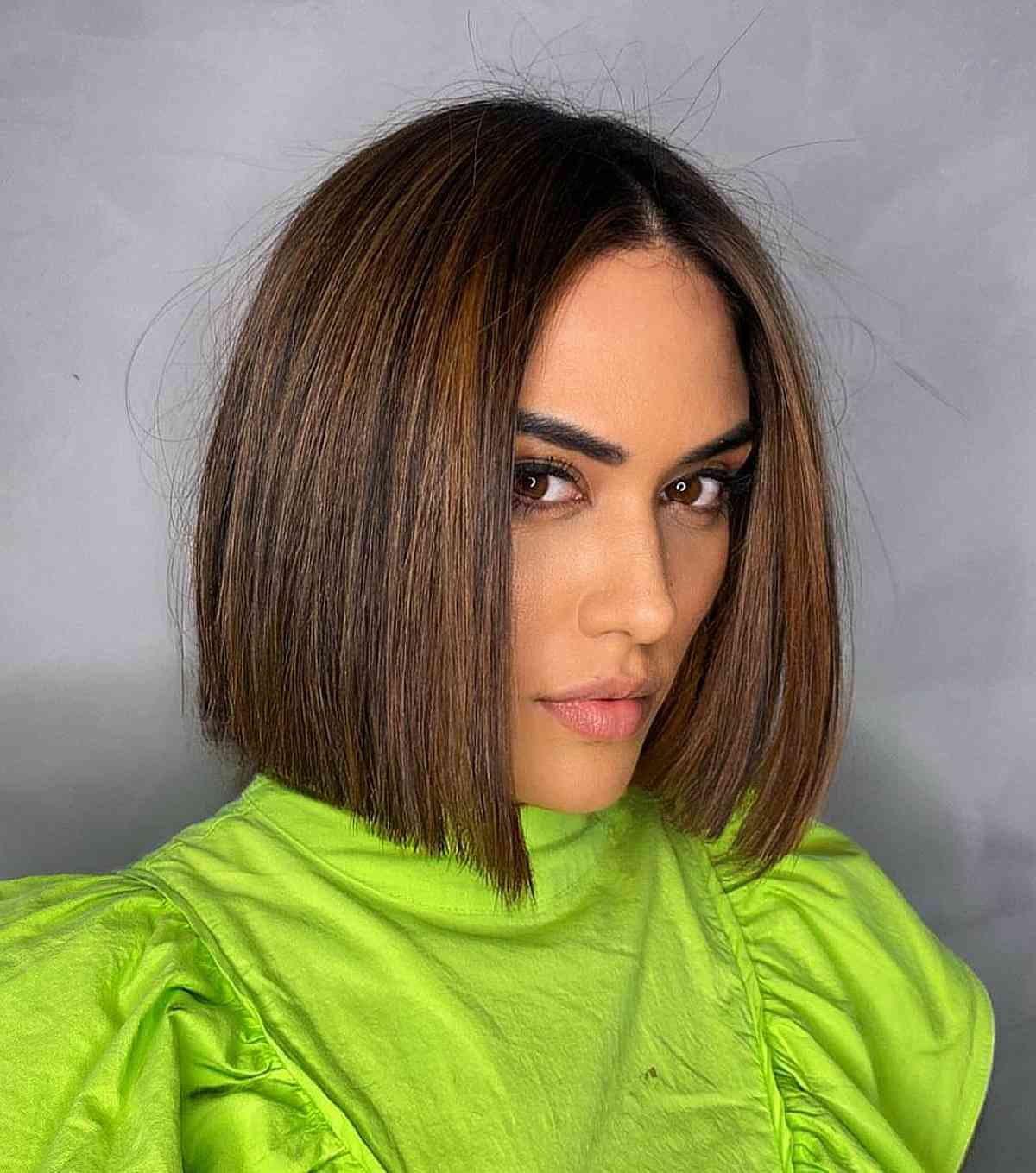 #2: Short Blunt Cut for Straight Hair
If you're searching for a more professional shape, you should consider a short blunt cut for straight hair. A chin-length hairstyle is modern, but corporate as well. If you would like to be taken more seriously this is a power haircut. Blunt haircuts are easy to manage, but keep in mind to have your hairstylist cut your shape with the part in the correct place. Since there are no layers you don't want any overhang.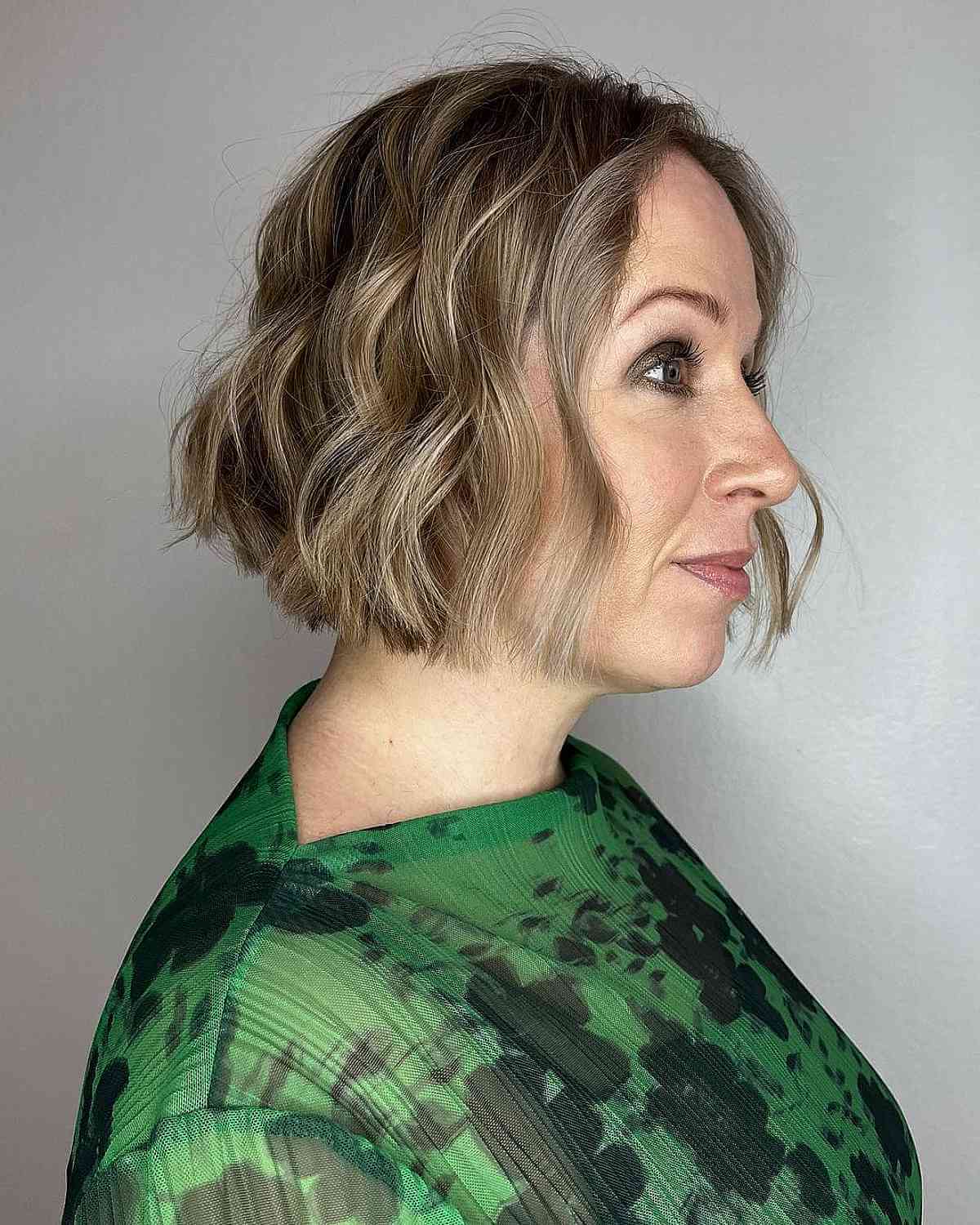 #3: Beachy Bob for Women Over 40
Women over 40 should try a beachy short bob for its ease and style. A chin-length style takes little time to dry and is a great choice for most face shapes. After your quick blow dry, add some curls with a wand by simply wrapping your hair around starting about mid-shaft. Don't worry too much about the ends, as this will give you a cute beachy finish.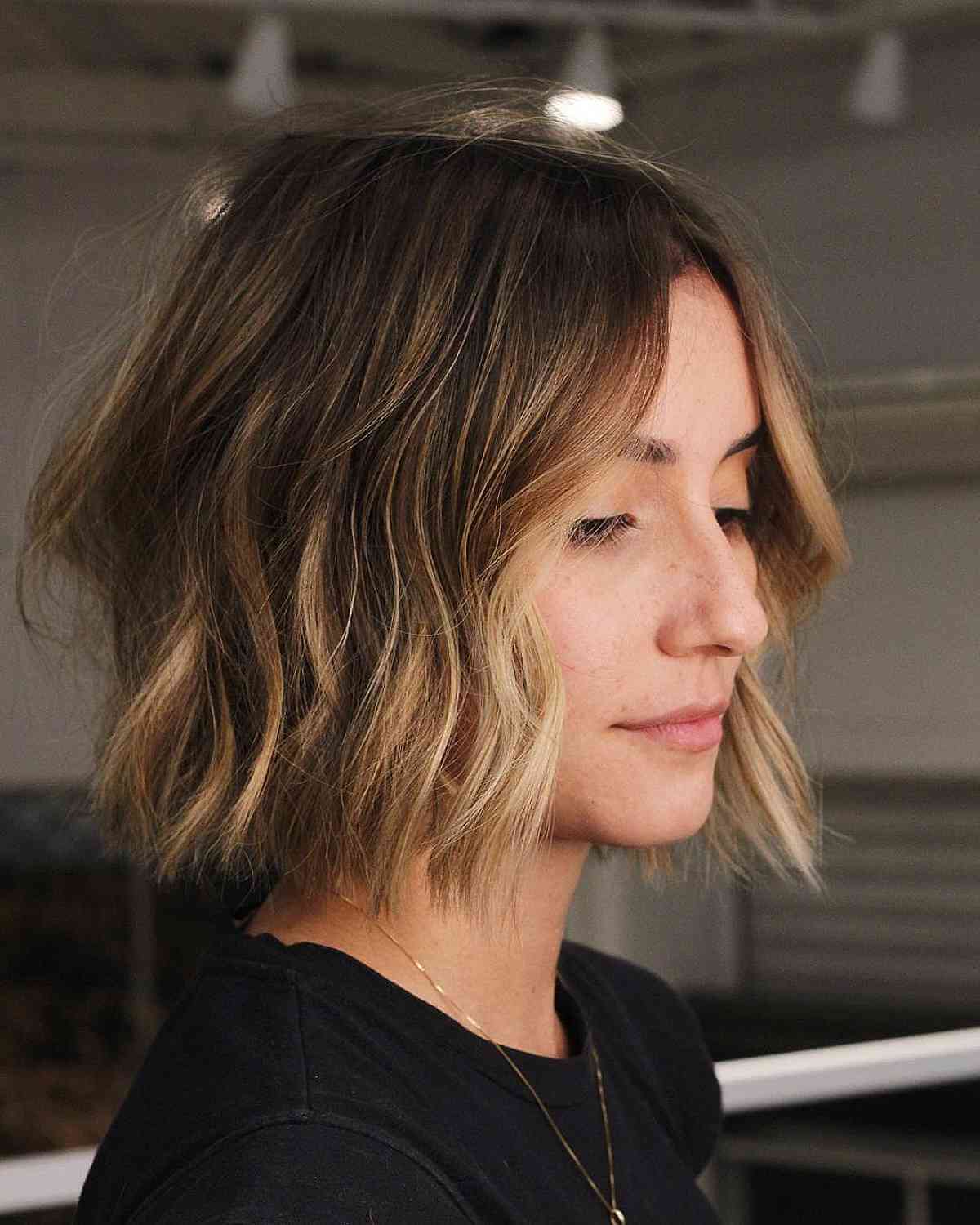 #4: Chin-Length Wavy Bob
Bobs are extremely versatile and suit all hair types. To achieve the tousled bob hairstyle, curls and a texture spray will be your best friend. Your stylist may want to use a razor on the ends just to add some extra texture for the wispy look.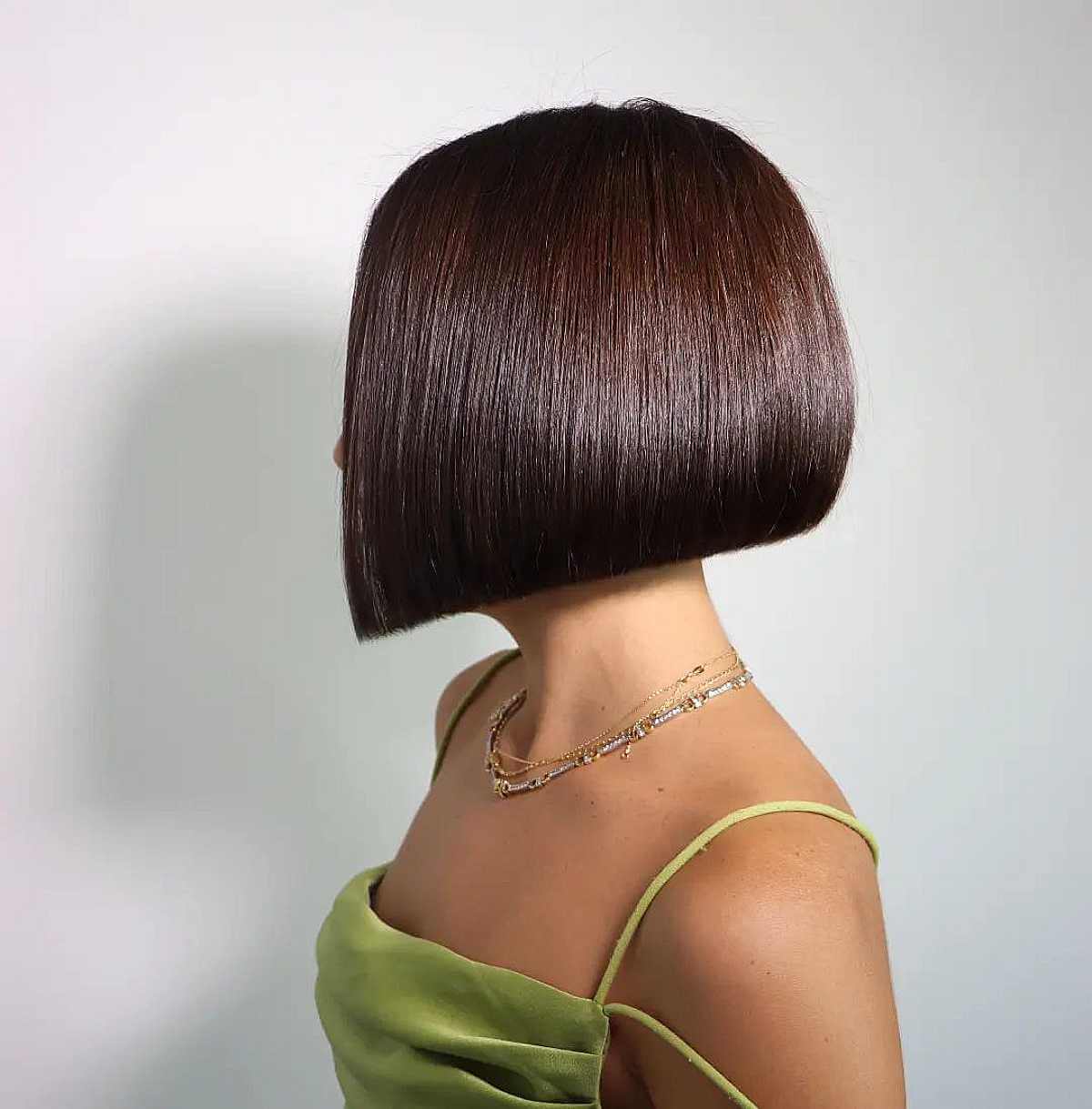 #5: Blunt Angled Bob Cut
A blunt angled bob cut is a hairstyle for all ages. Short bobs are a popular style, but angling the bob can give a new feel to the haircut and make you stand out. If you've never tried short cuts before, a blunt angled bob is a great place to start. It's easy to style and grows out gracefully if you decide to grow your hair long again.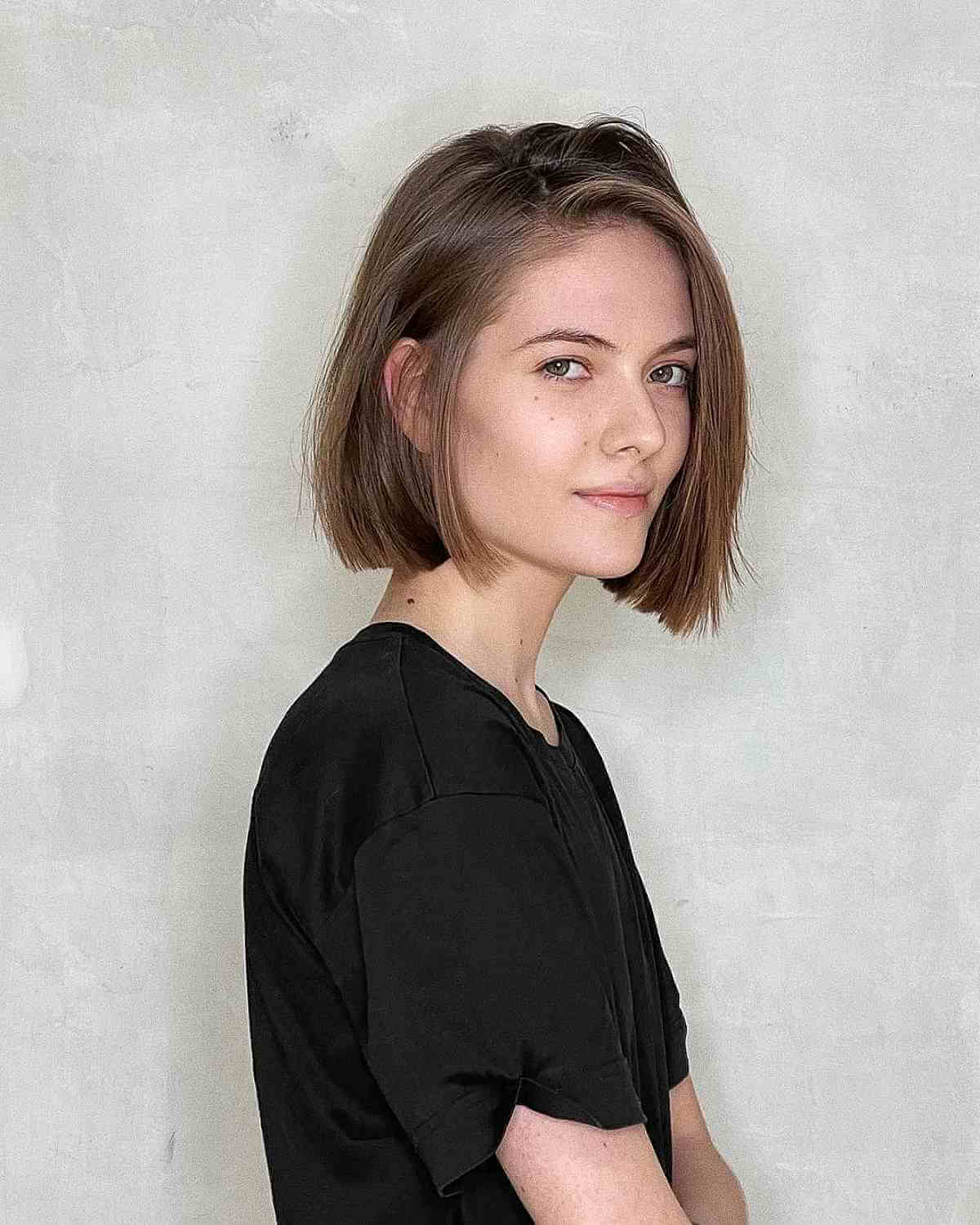 #6: Side Part Bob with Blunt Ends
Side part bobs with blunt ends are a great option for women with thin hair. The blunt ends on a chin-length cut will give the appearance of thicker hair while looking stylish and full.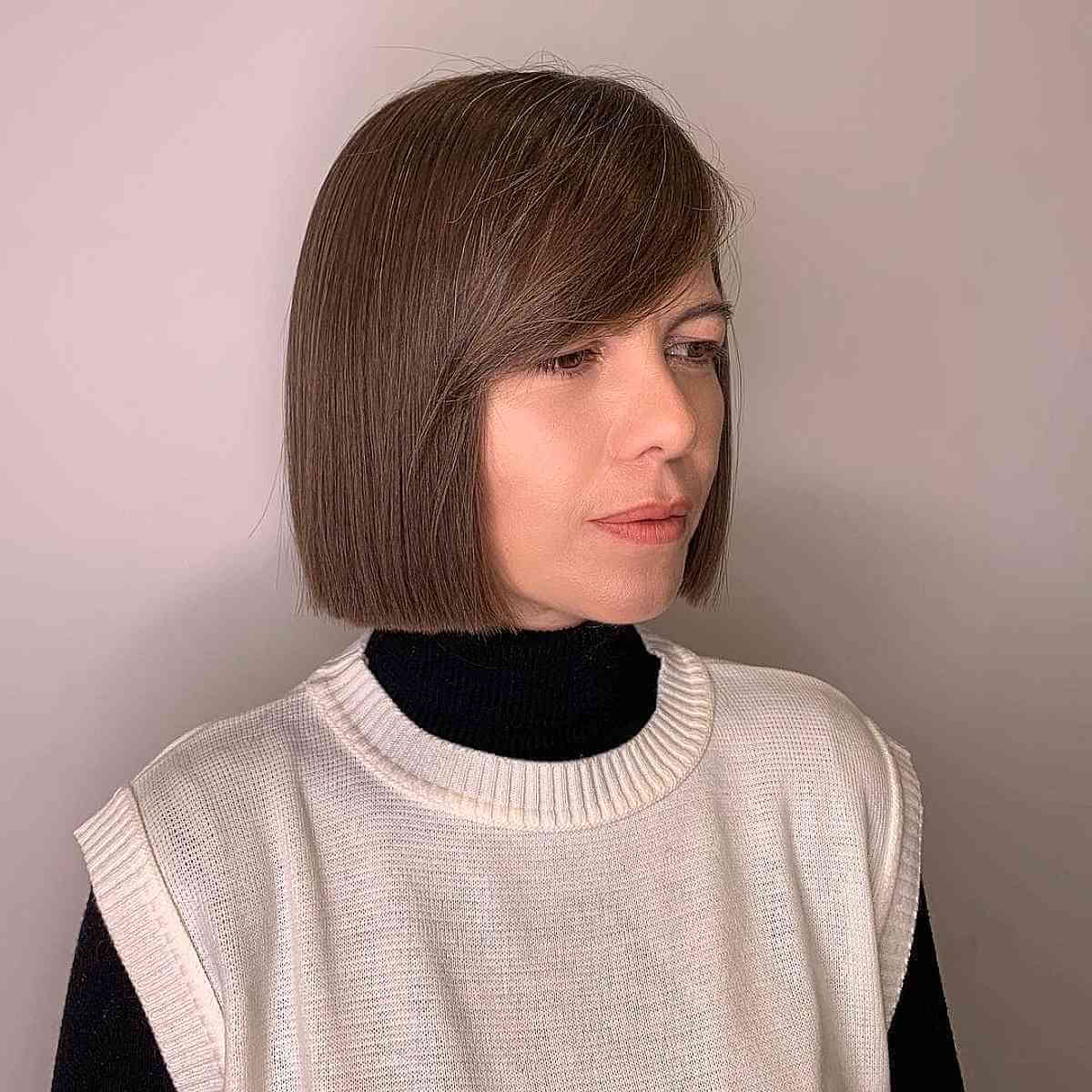 #7: Side Fringe on Short Symmetrical Hair
Short symmetrical hair with a side fringe gives a gorgeous mix of texture and structure. A chin-length blunt bob with side-swept bangs has no layers, which will bring attention to your jawline, but the bangs will frame your eyes softly.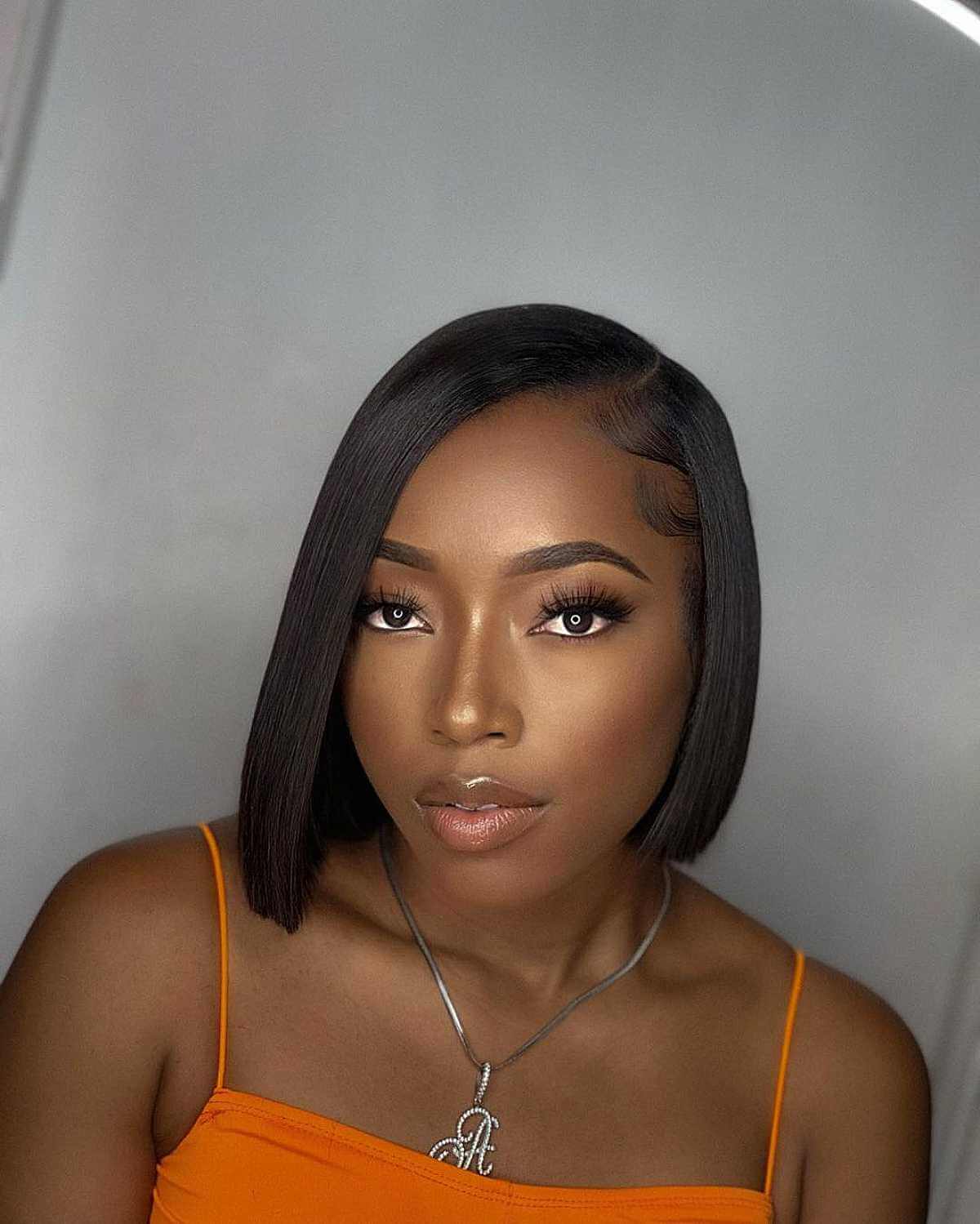 #8: Asymmetrical Blunt Cut for Black Girls
An asymmetrical blunt cut is extremely flattering on black girls. Short styles on natural hair textures will need flat ironing and Aveda Heat Relief spray will keep the crop looking sleek with no heat damage.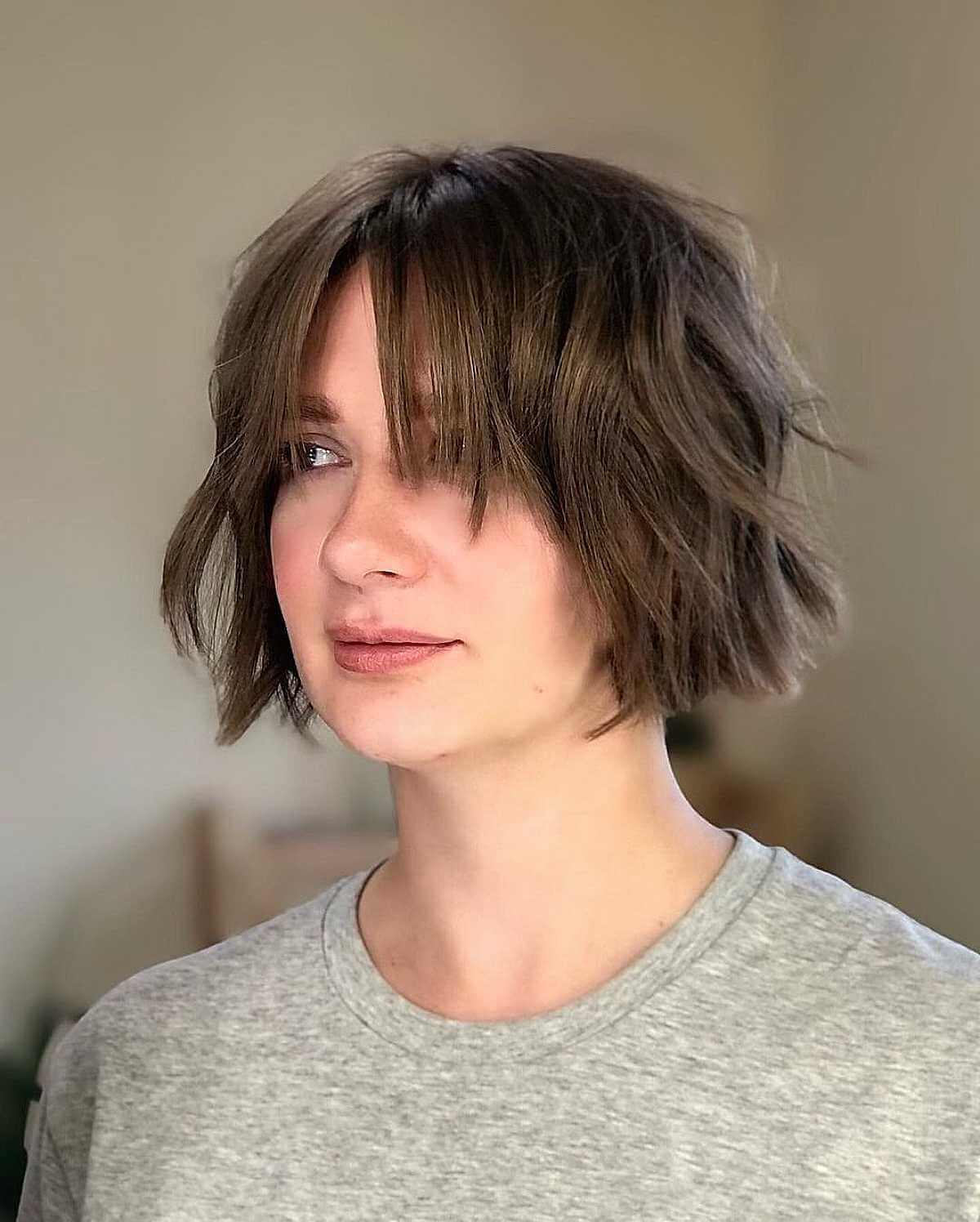 #9: Short-Length Messy Bob with Bangs
Bangs on a short-length bob are a fun way to elevate your hairstyle. A blunt chin-length bob can be styled many ways. To get the messy look, try curling the top layers of your bob with a large curling iron.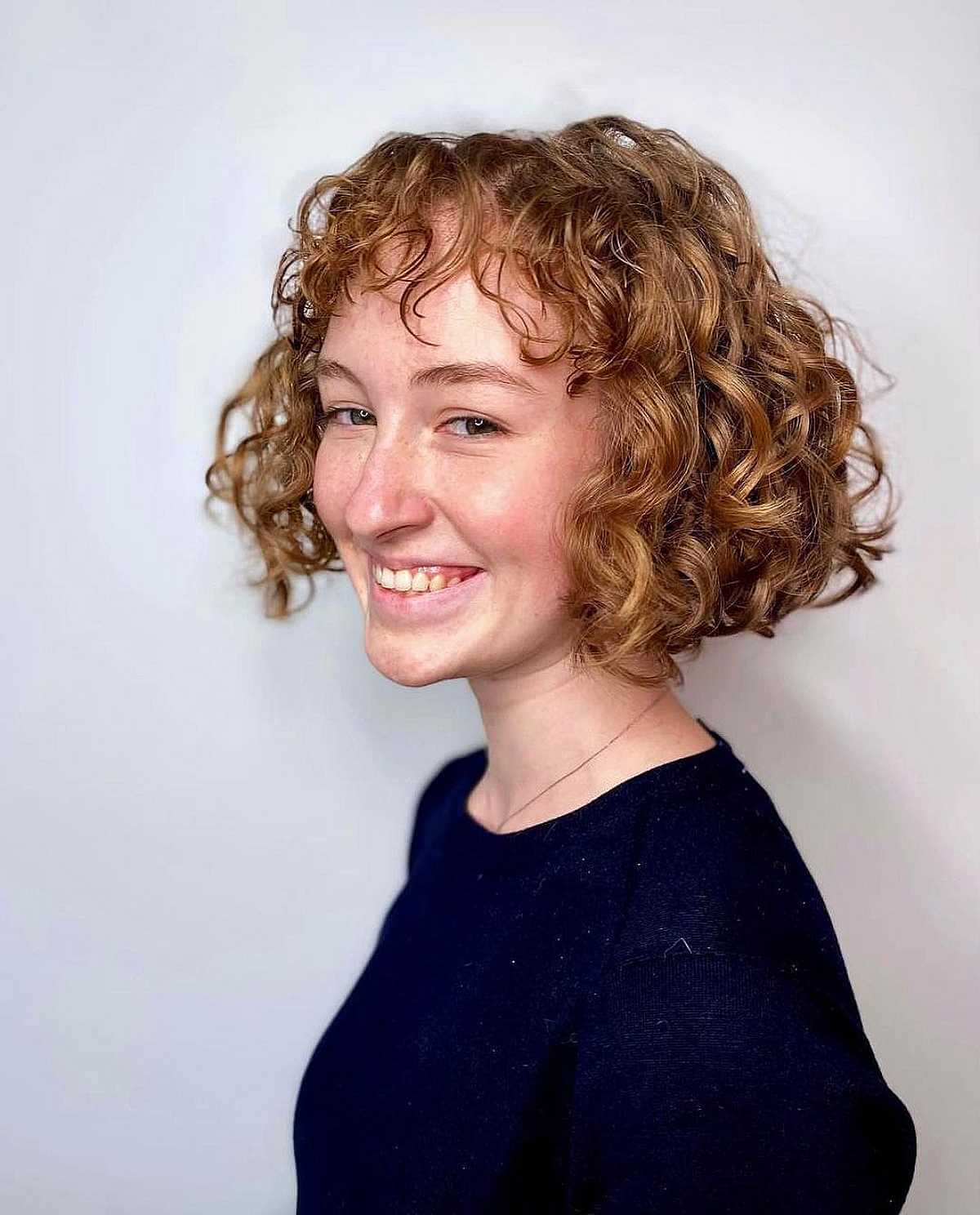 #10: Chin-Length Curly Bob with Short Bangs
Chin-length curly bobs paired with short bangs can bring new life to natural curls. Women who feel their curls are being weighed down should try a chin-length blunt bob with a fringe. This haircut will lighten the weight of your hair, bringing back your gorgeous curls while giving a fun new style.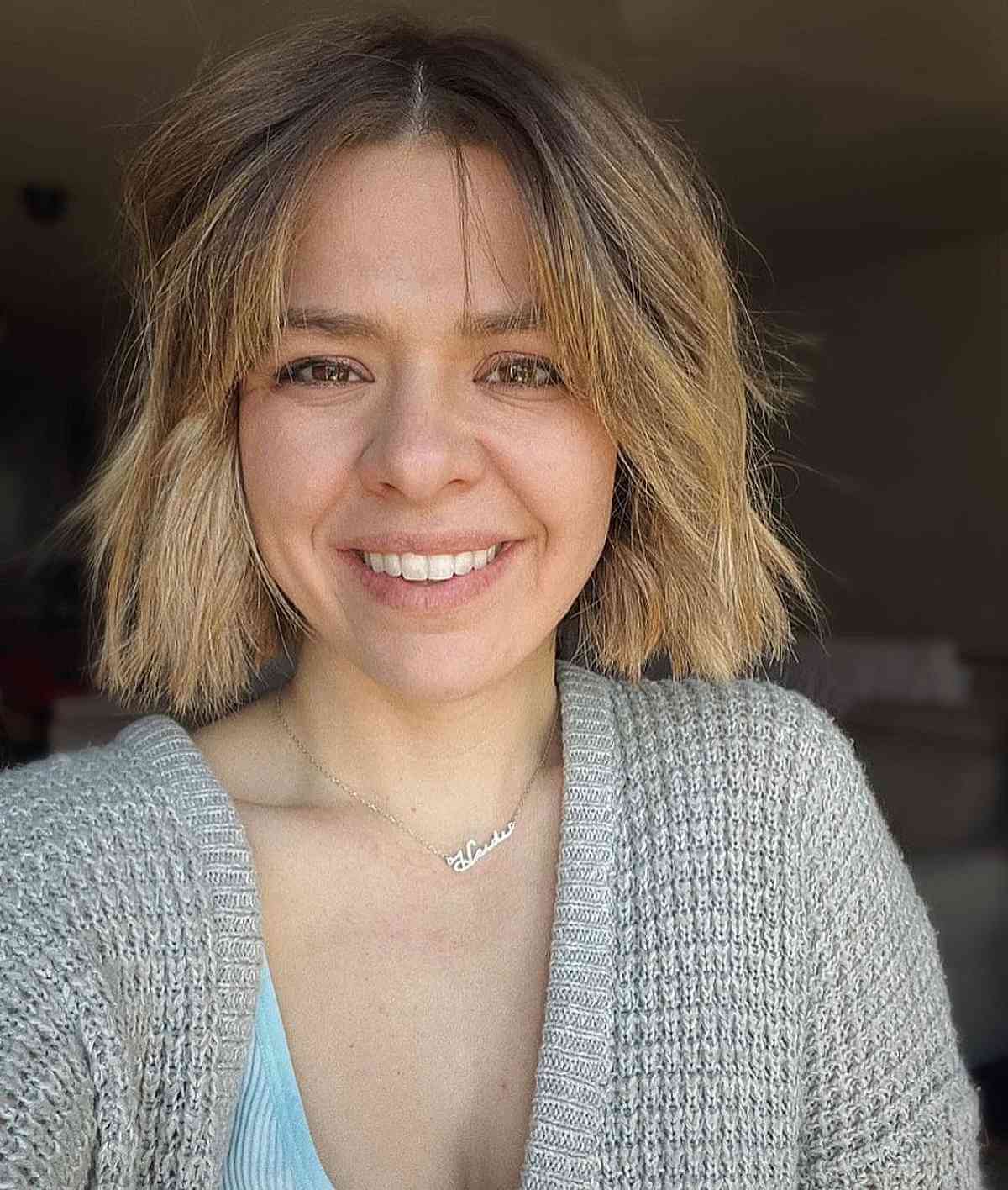 #11: Short Razor Cut Bob
A short razor cut bob will have soft ends throughout. Chin-length blunt haircuts can still have texture, and using a razor to cut the style will give the perfect amount.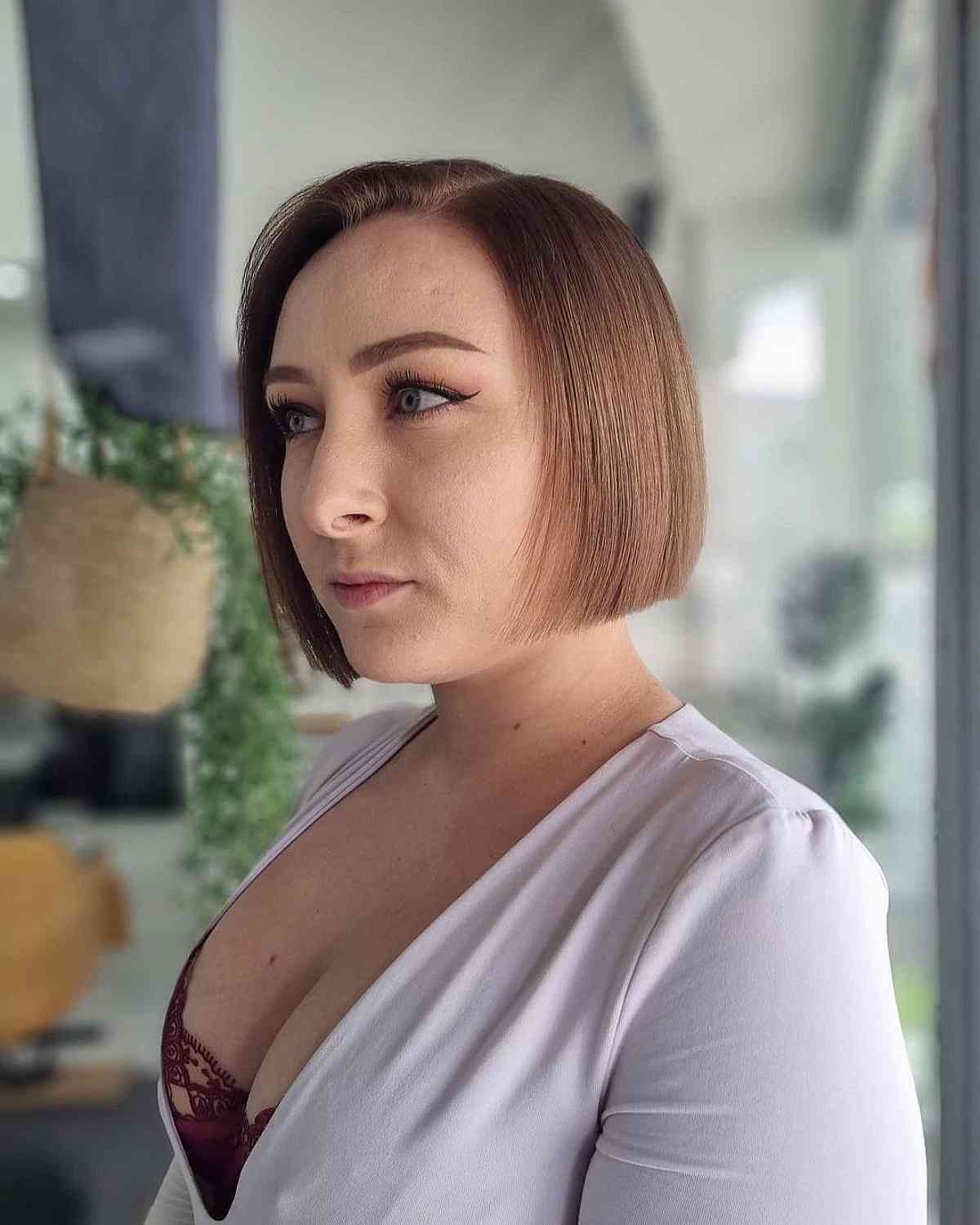 #12: Blunt Chin-Length Hair for Round Faces
Blunt chin-length hair can be the perfect haircut to balance out round faces. To be the most flattering on a round face shape, keep the length at or below the jawline. Blunt cuts will also add weight to the ends of the hair, which will help slim the face.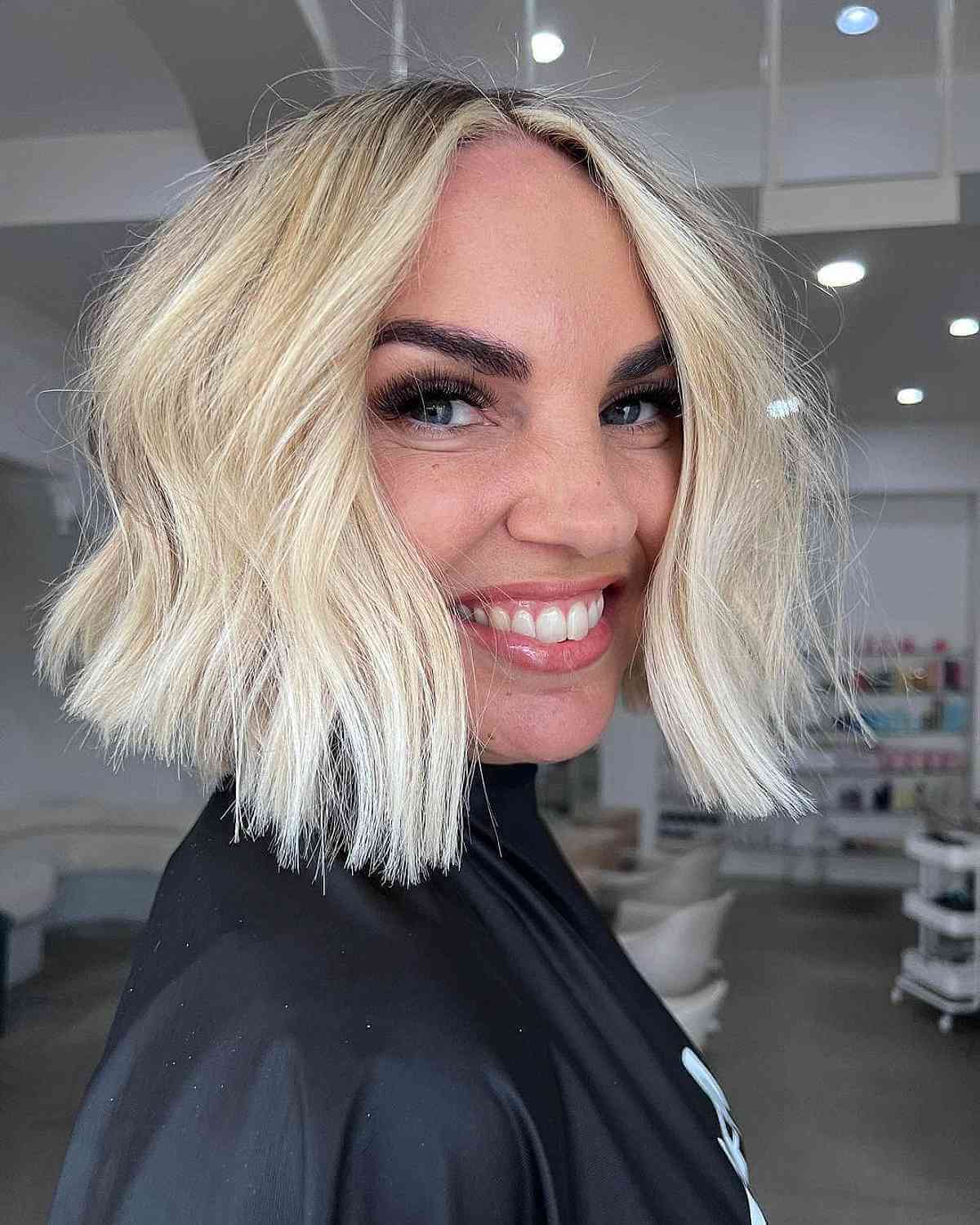 #13: Chin-Length Blunt Bob for Thick Hair
Try a chin-length bob for thicker hair if you like blunt cuts. Blunt bobs are dramatic but easy to care for. You aren't creating a lot of fullness with this shape, so air drying is definitely an option. Go with air-dried and messy, or curl with a wand leaving the ends out for a funky finish. Chin-length haircuts are versatile and beautiful.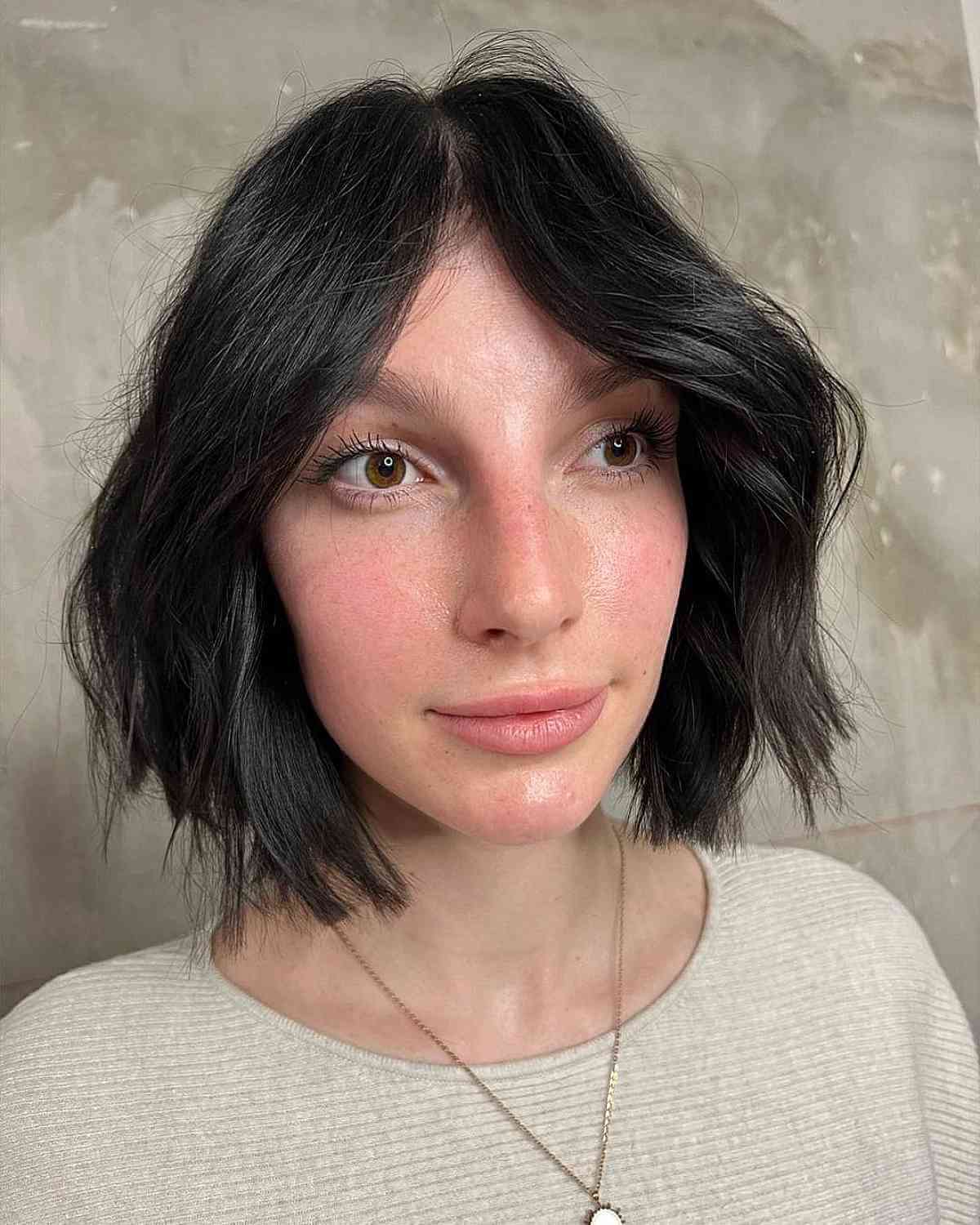 #14: Face-Framing Soft Choppy Bob
Choose a soft choppy bob and add some face-framing for a beautiful and trending shape. Have your stylist cut the face frame starting at the bridge of the nose and getting longer towards the corners. This will give you a perfect cut that works well styled backward. A chin-length blunt bob haircut compliments most face shapes and needs to be trimmed about every 6 weeks to keep it fresh.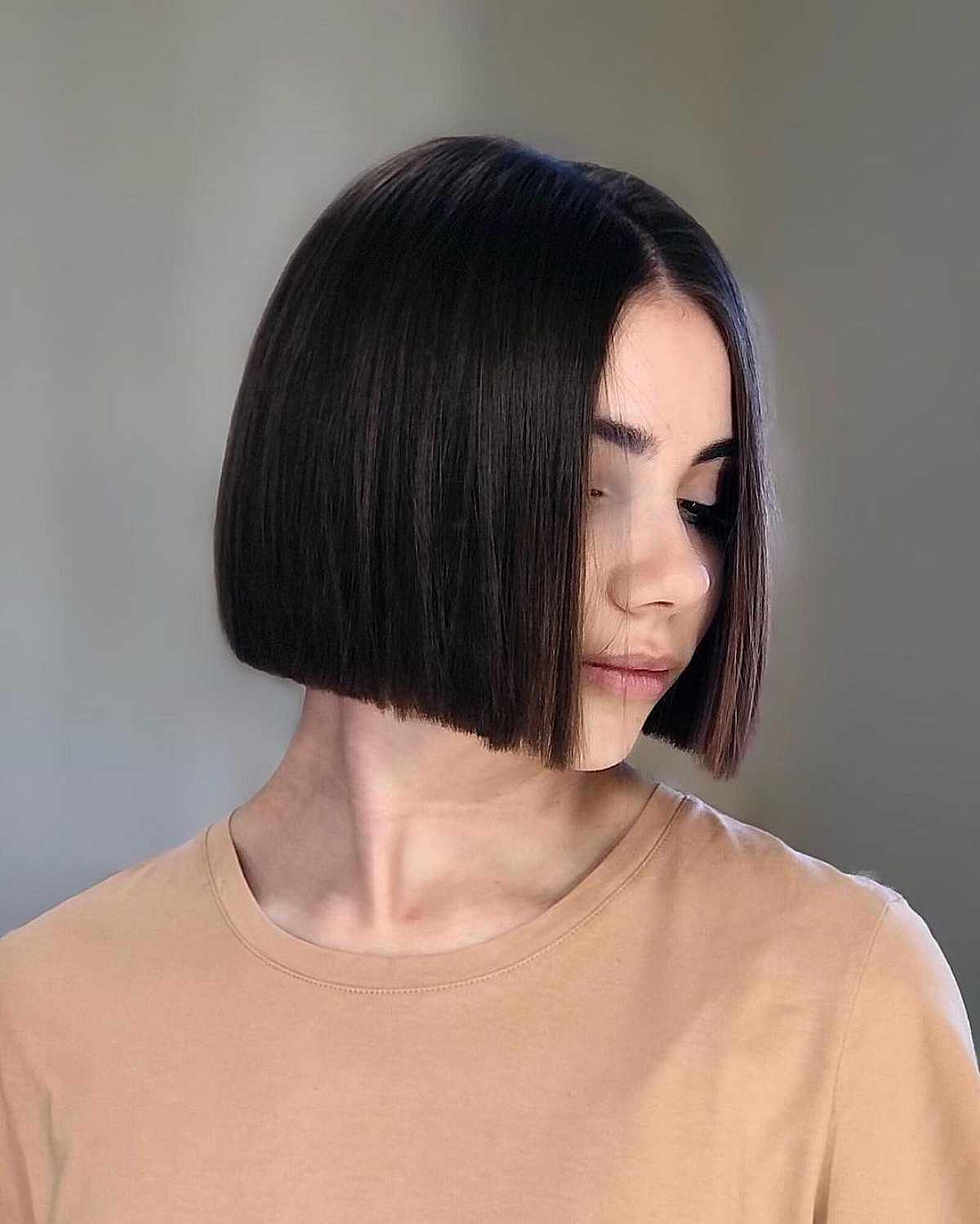 #15: Chin-Length Cropped Cut with a Center Part
Try a chin-length cropped cut with a center part. Bobbed hair is easy to care for with a quick blow dry using a large metal barrel round brush. Keep in mind, if you're searching for a short hairstyle but have a long neck, you might want to leave the length a bit longer to balance things out.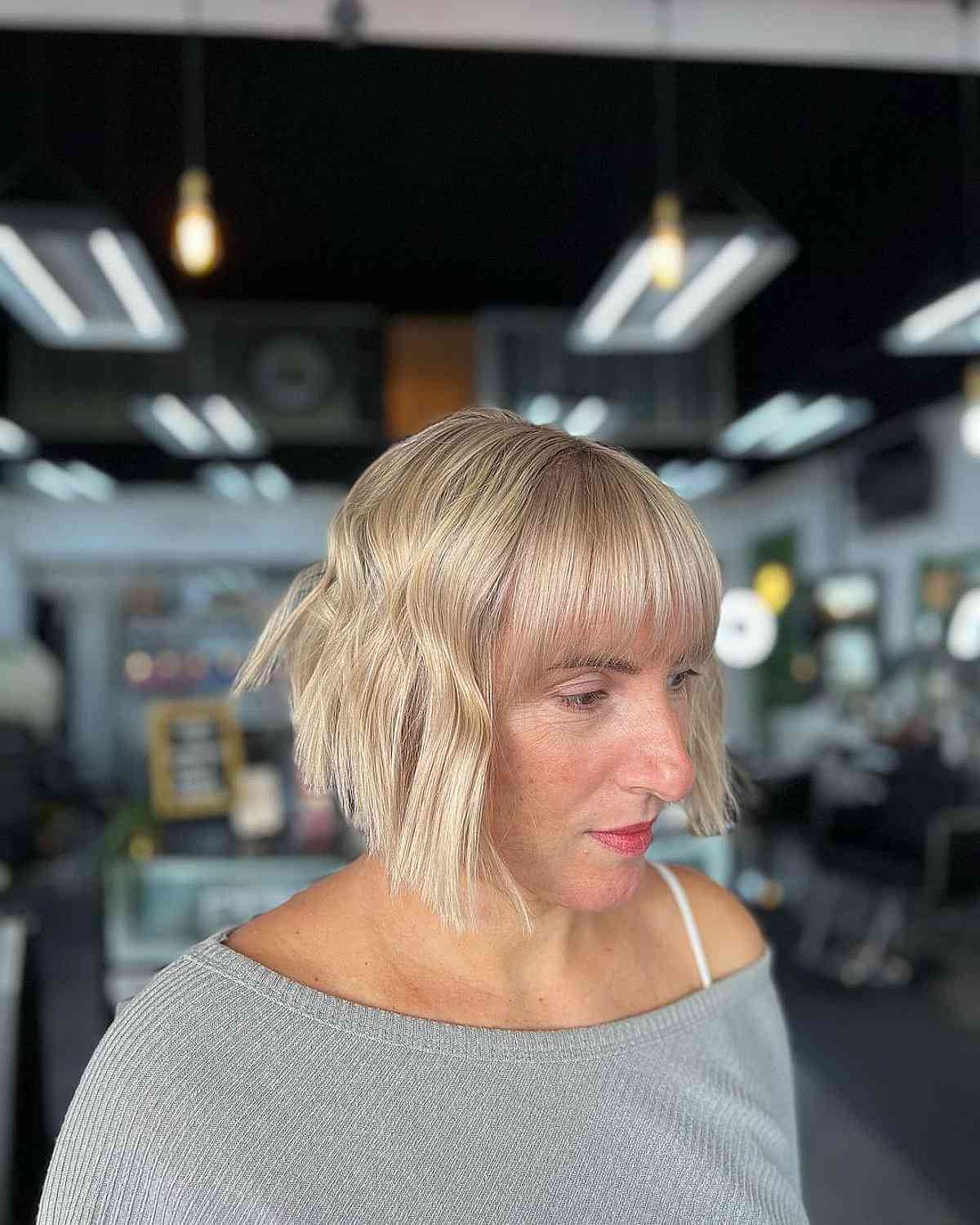 #16: Wavy Bob with Straight Bangs
Consider a wavy bob with straight bangs as your new cut, especially if you have a long face. The bangs and width of this shape really work well to balance facial structures. A blunt style is also a great choice for fine hair, making it appear thicker. Blow-dry with your hands to retain body, then curl with a 3/4 inch iron or wand leaving the ends out for an awesome finish.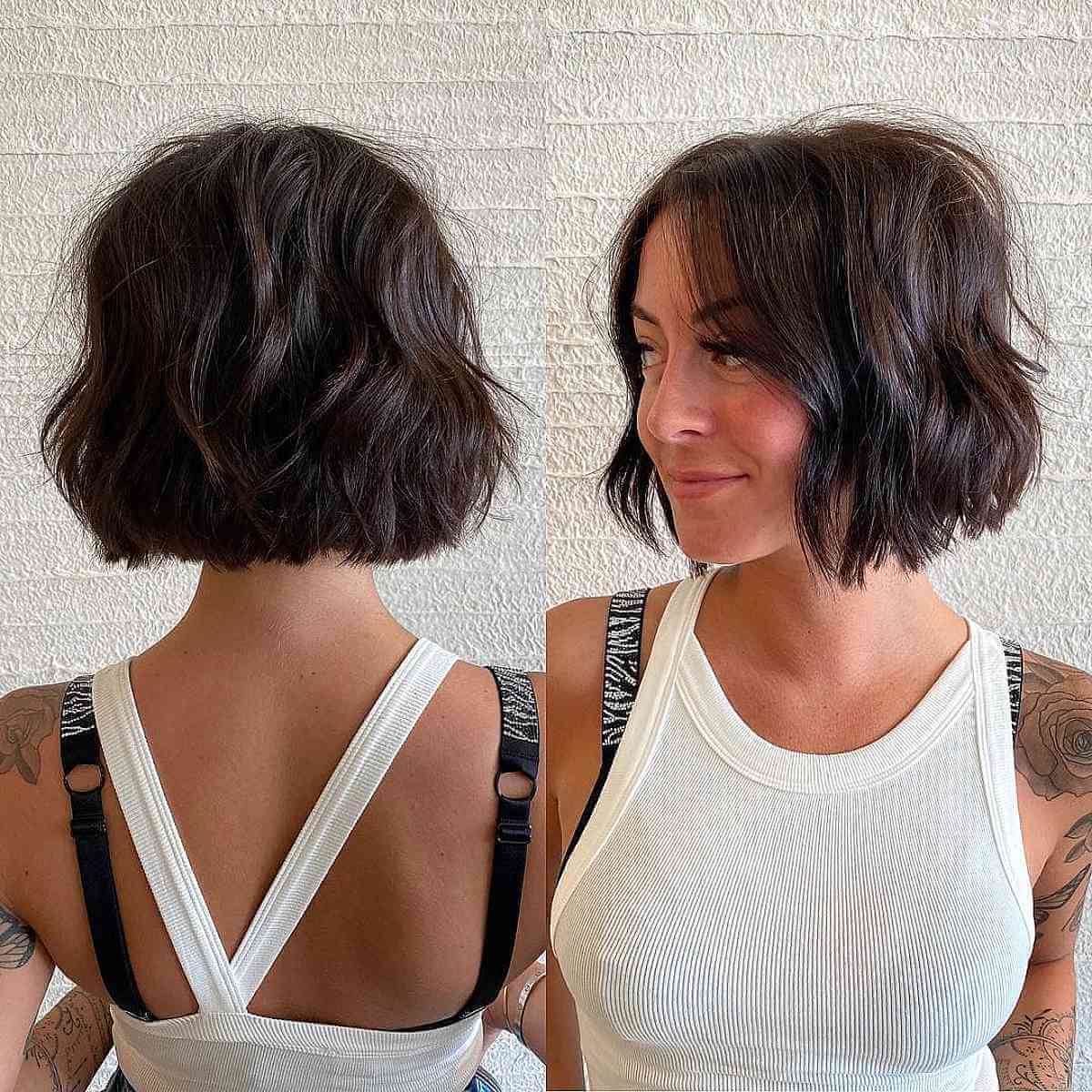 #17: Textured Bob with Curtain Bangs
Add some curtain bangs to a textured bob and you'll have a cute and soft style. A blunt hairstyle can have a sharp bob line with a light layer to create movement and increase texture. Ask your stylist for some soft layers and key short pieces around the face. Wavy-haired ladies might be able to air dry with some texture cream. Straight hair can be curled in a randomized fashion for cool results.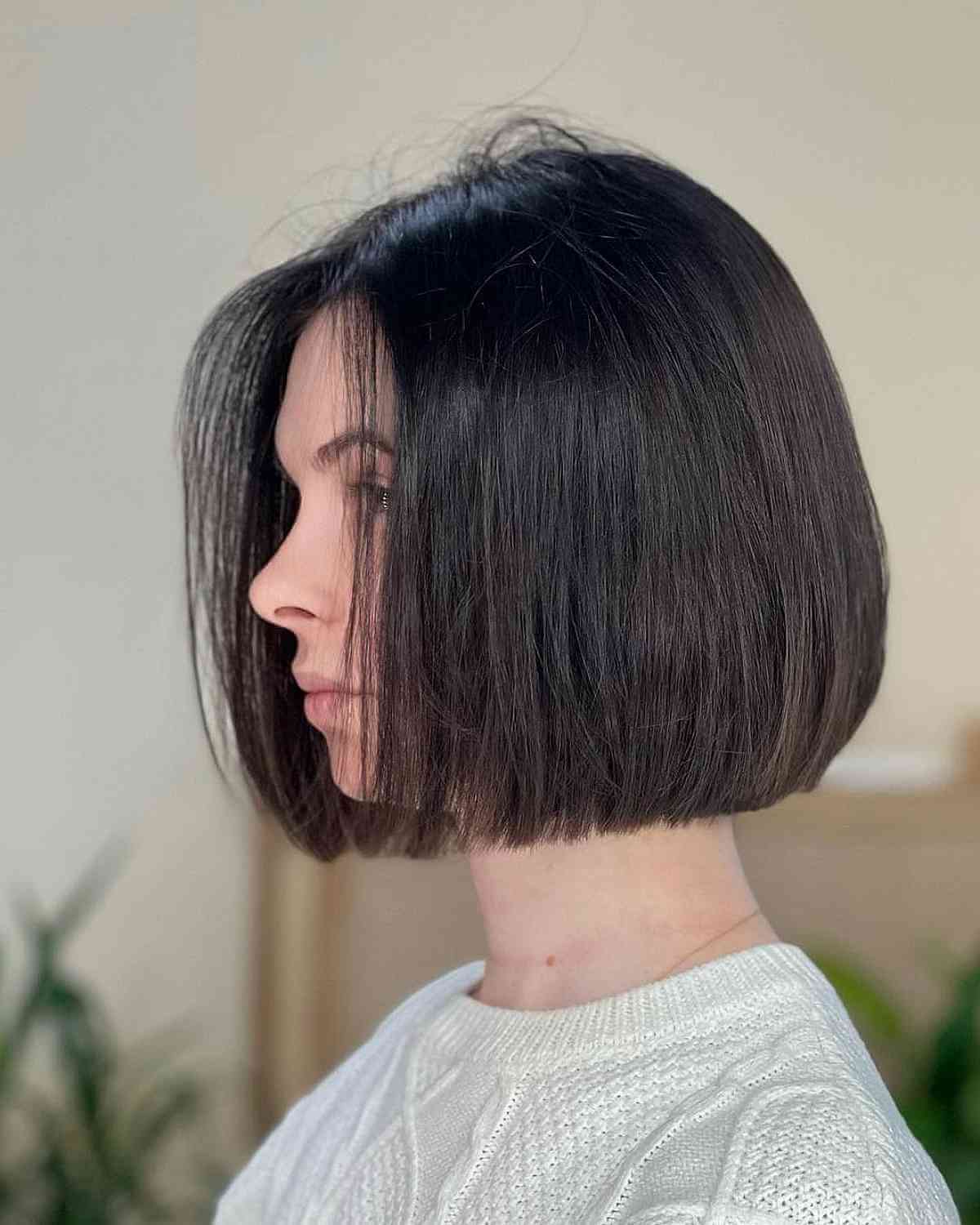 #18: One-Length Blunt Bob
A modern, blunt hairstyle with slight graduation will help build weight to create fullness. Once styled, ask your stylist to clean up the ends for a sleek, sharp cut.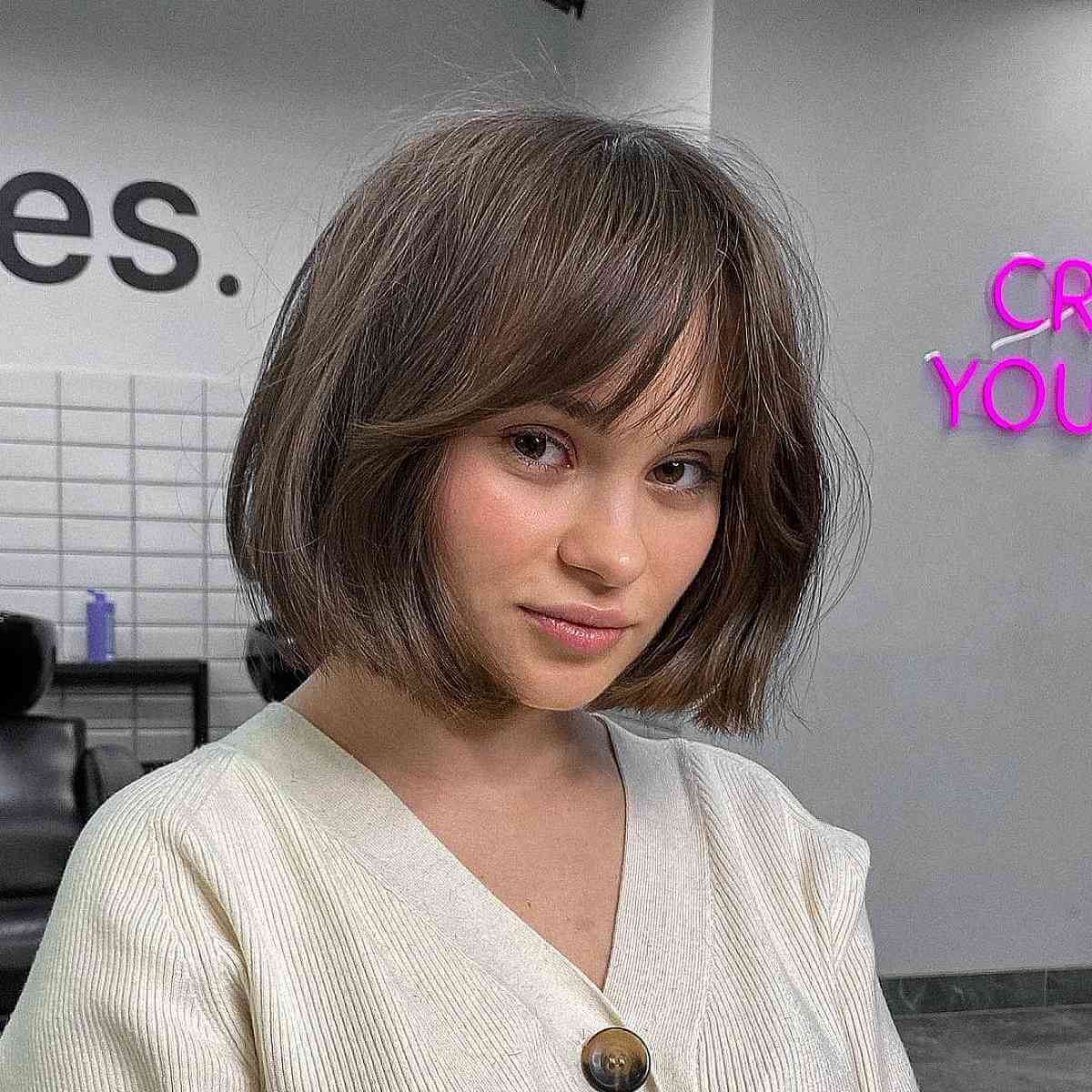 #19: Soft Blunt Bob with Wispy Bangs
Ladies with longer face shapes, usually look best with a shorter cut, such as a blunt bob with bangs. The shortness of a bob paired with fuller, curtain bangs evens out the face shape and creates a more full hairstyle.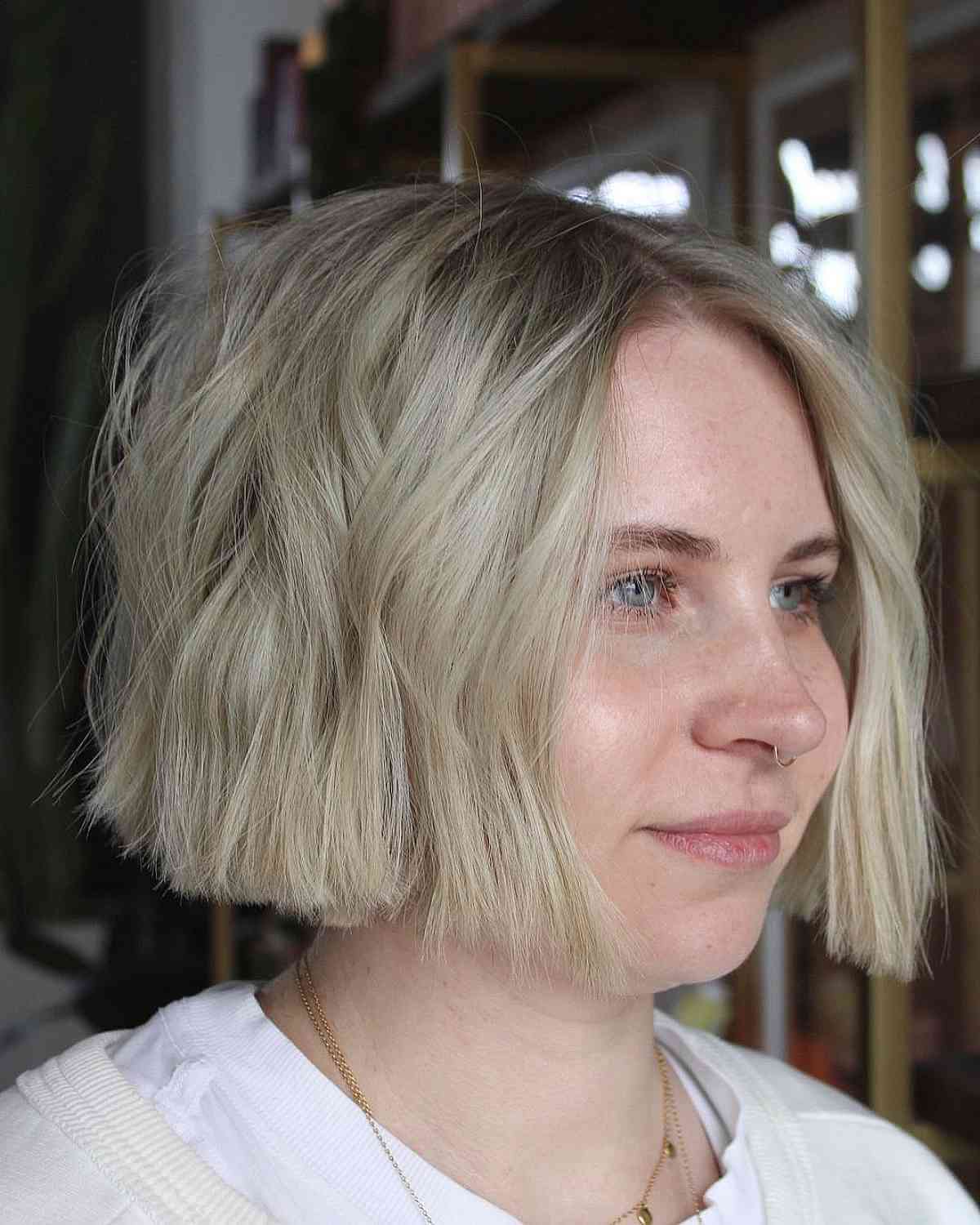 #20: Short Bob with Soft Waves
Consider a wavy bob and amp up your style. A chin-length blunt cut is a trendy cut and works well on most face shapes. If you have long facial features be sure to give your style width and volume with a medium round brush or curling iron for the best results. A blunt cut will grow out well, but if you love the chin length you'll need to get a cut about every 6-7 weeks.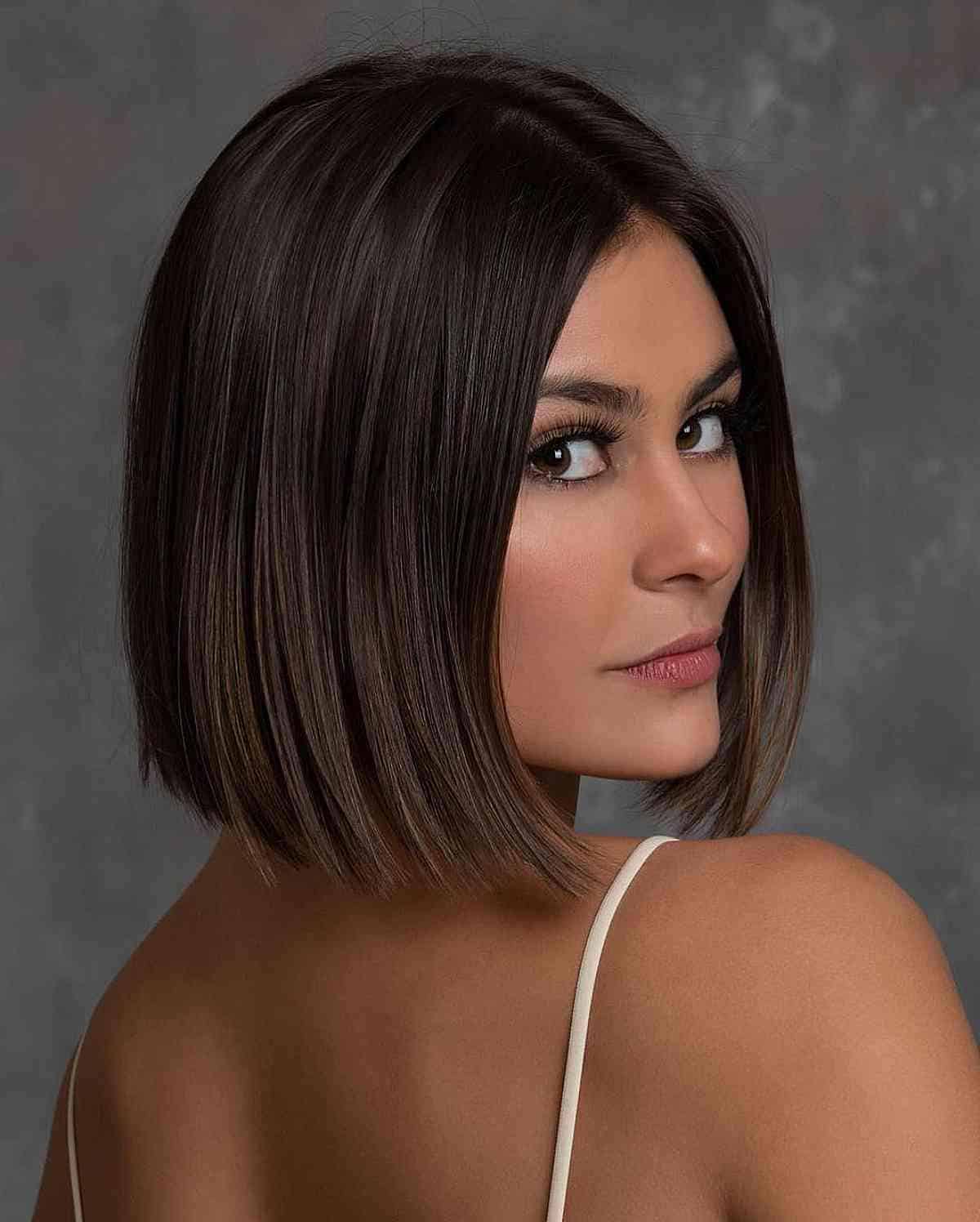 #21: Sleek Bob Cut on Fine Hair
A bob cut is a striking shape and makes the most of your hair. A blunt chin-length bob for fine hair has little to no layering and makes your hair appear thick and healthy. Narrow face shapes should probably avoid this style or wear it curly. To achieve a silky and straight style, apply a light smoothing cream such as Olaplex smoothing serum and blow-dry with a large round brush.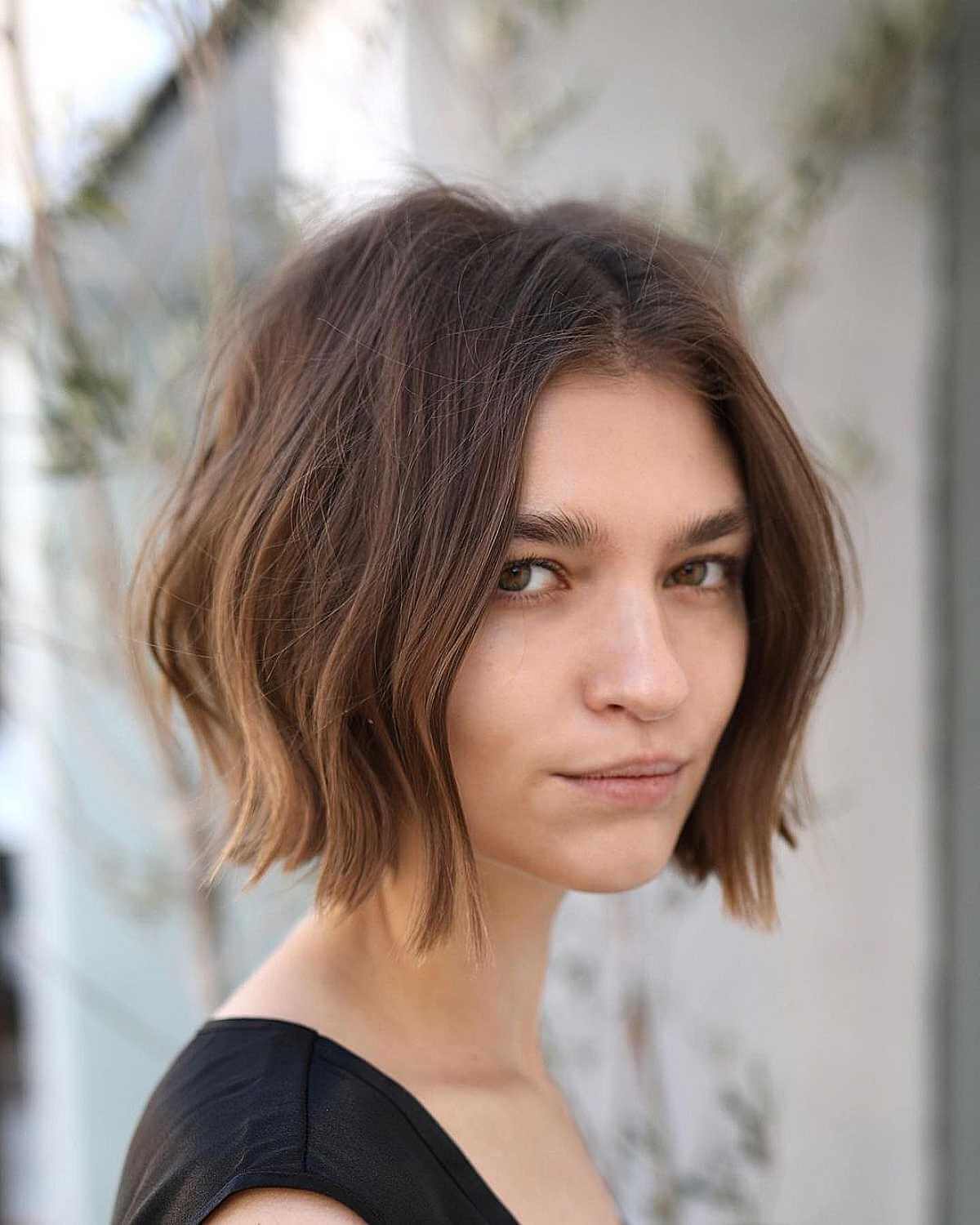 #22: Short Middle Part Style for Thin Hair
Try a short middle part style for thin hair if you want your hair to appear thicker and fuller. Sometimes, a side part can create the illusion that the side you part your hair on is thinner than the other side. Having a middle part will help give your hair balance and giving your hair a short blunt length will mean you'll be rocking a trendy bob style that makes your hair appear fuller.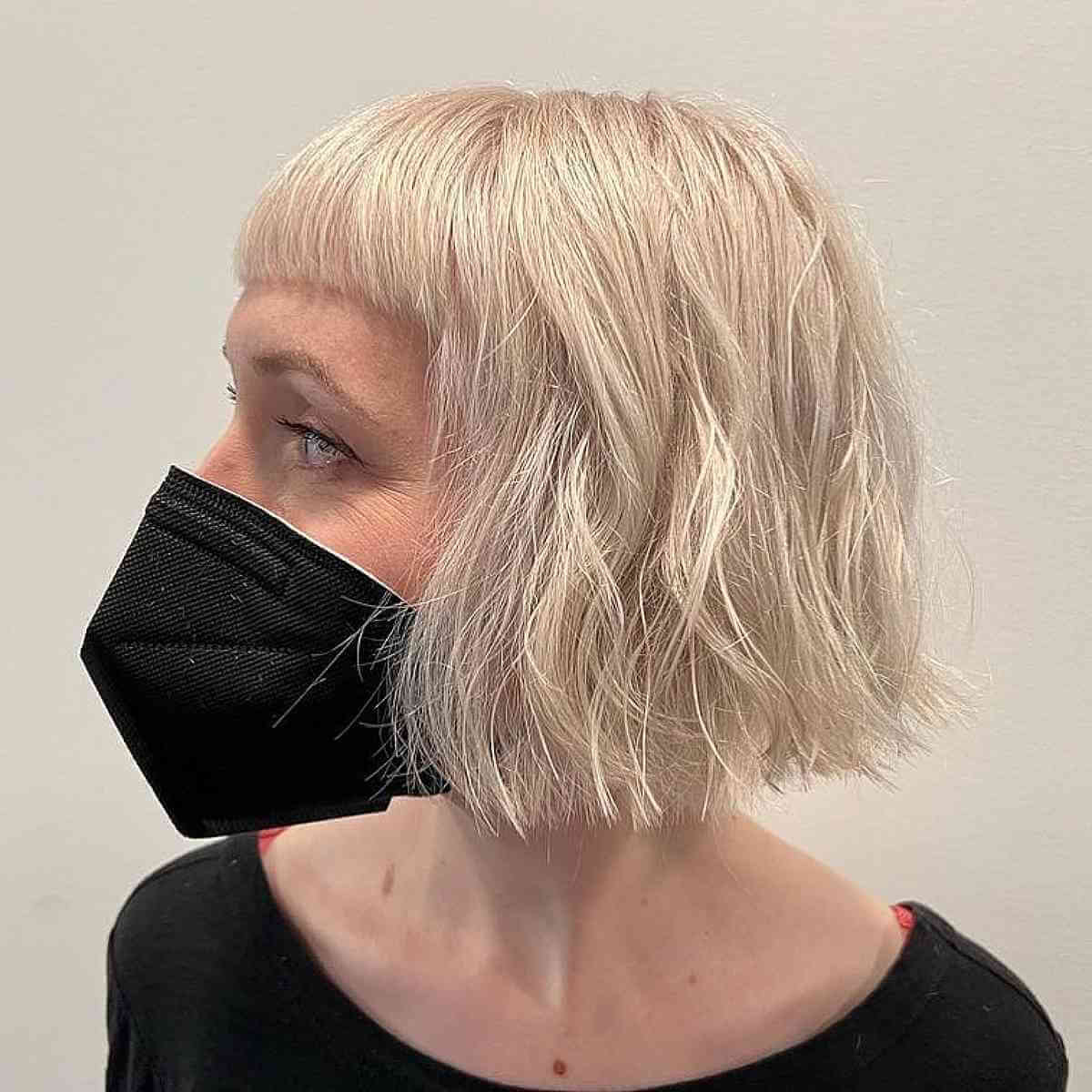 #23: Chin-Length Haircut with Micro Blunt Bangs
Chin-length haircuts with fringe are a daring style for women of all ages. If you're looking to try a new haircut to feel more youthful, consider a chin-length bob with blunt bangs. The micro bangs give the overall appearance a young vibe and are easy to style.