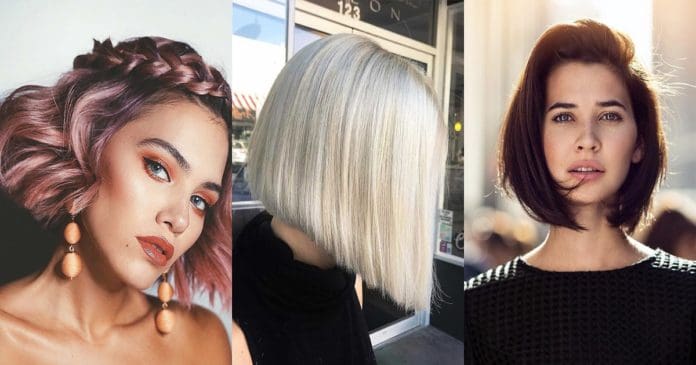 Short bob haircuts, have you ever wondered why they are so popular? What is so special about this style, initially longer at the front and shorter at the back? It appears interesting but we are all used to that look already. Yet, we do not think that it is boring, and women all around the globe keep sporting bob haircuts. It is because besides being versatile, quite complimenting, and not difficult to maintain, a bob is a symbol of high style, individuality, and self-confidence. Subconsciously, we think that a woman who wears a bob breaks from tradition. It is our history, our legacy, and the style is too chic to deny.
But as it is timeless, a bob often needs upgrades. So, what exactly are short bob haircuts? A bob cut or bob is a short haircut for women (and occasionally men) in which the hair is typically cut straight around the head at about jaw-level, often with a fringe (or "bangs") at the front. The bob is cut at the level of ears, below the ears or above shoulders.
However, modern bobs are usually longer in the front and shorter in the back. Bobs can be worn with or without bangs. They are believed to have originated shortly after World War 1 when many women were starting to seek independence, break away from tradition and express their individuality. They didn't become popular, however, until the 1960s and since then have evolved and become quite stylish.
And the reason that short bob haircuts are still popular today is that modern bob haircuts are extremely versatile and somewhat edgy. They add a lot of texture to your tresses and are a great way to express your inner style! And if you don't like it, you can always grow it out. However, we are certain that you will love a trendy short bob cut as it will give you added confidence and attitude!
If you are looking for a new-look for your short layered hair, a bob is the way to go! You can sport a chic, sophisticated bob, a classy "girl next door" look, a daring punk rock look and many others.
Better yet, short bob hairstyles with bangs are all the rage this season. From blunt cut fringe to sexy, side-swept bangs, there are dozens of cute looks for short bob cuts with bangs so you will not be at a loss for a sassy new hairdo!
Another plus of bob haircuts is that they leave plenty of room for imagination! You can experiment with different color techniques from brilliant ombres to subtle highlights, lowlights, babylights and even soft balayage hues, the possibilities are endless for short bob hairstyles with bangs as well as without!
Still not convinced that short hair is the way to go?
20 Reasons to Get a Short Bob Hairstyle
You might be asking yourself why you should get a short bob haircut? Many women have had long hair most of their lives and are a little scared to cut it such a drastic length. However, short hair can be just as sexy as long hair! So many of today's celebs have opted for short bob hairstyles. Of course Pink can totally rock a short bob with her punk rock attitude but there are countless other female celebrities who made this shorter hairstyle quite popular. From Claire Danes to Jada Pinkett Smith to Jennifer Lopez, female celebs are taking the world by storm with their short and sassy bob haircuts!
Source: timm.morrison via Instagram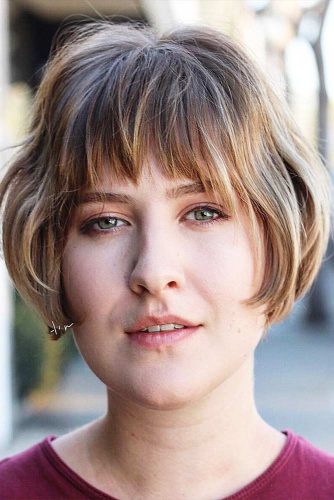 Short haircuts are a great way to add volume to thin or fine hair.
Your hair will look and feel healthier.
Short hair is easier to manage.
You will save a ton of money on styling products and tools.
You can save a lot of time. Many styles are "wash and go."
Short haircuts are a great way to add life to long hair that has become dull and lifeless.
Short hair gives you confidence
You can express your individuality.
Short hair is sexy.
You won't have split ends with a short bob.
It will grow back if you don't like it!
It will dry faster.
You won't have to wash your hair as often.
You will use way less product which is better for your hair.
You won't have knots or tangles
Short hair is less frizzy
Short hair won't blow in your face or get in your eyes.
You can experiment with different styles and colors.
You will receive a ton of compliments.
You will be a trendsetter!
Know Your Bob Style
One of the best things about a short bob haircut is that it is extremely versatile. When it comes to types of haircuts, the bob cut is probably the most diverse and widely popular haircut to date. Some popular styles for short bob cuts include the following:
Source: salsalhair via Instagram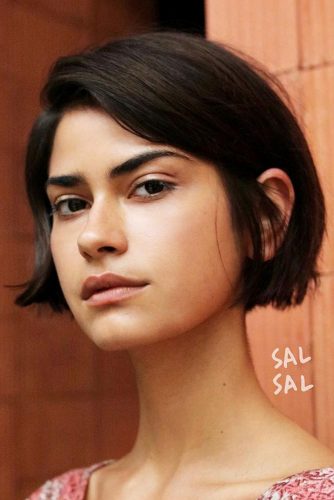 Blunt bob haircuts
Lob haircuts (longer bobs)
Short asymmetrical bobs
Inverted bobs
Traditional a-line bobs
Stacked bobs
Wedge Cuts
Shaggy Bobs
Choppy Bobs
Edgy Bobs
Pixie-Bob Cuts
Bobs are also the perfect choice for those who want to thin out their thicker hair or add volume to thin or fine hair with layered haircuts. Haircuts such as short shag haircuts, short choppy haircuts, and short wedge haircuts are perfect examples of edgy haircuts for those who are looking for popular choices for short layered haircuts.
Source: salsalhair via Instagram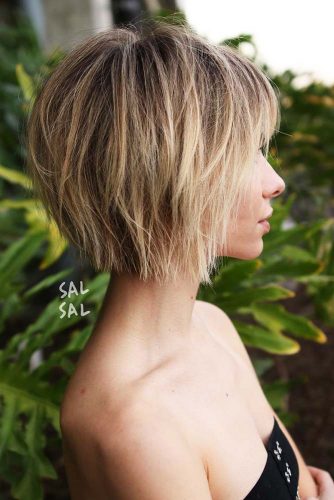 For those who do not prefer short edgy haircuts, you can opt for other styles such as a short bob or short blunt haircuts. There is a bit more refined if you are going for a more professional look and feel.
Of course, you will want to find a short bob haircut that will work with your hair type and texture, as there are plenty of ways to style different types of hair including the following:
Short haircuts for curly hair
Source: salsalhair via Instagram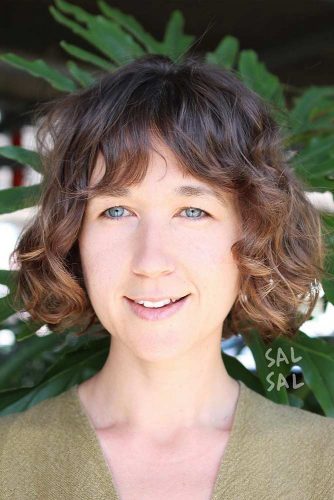 Short haircuts for wavy hair
Source: emilyandersonstyling via Instagram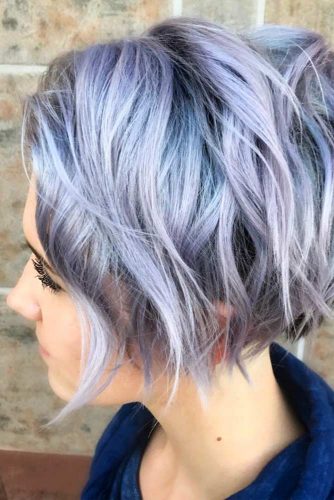 Curly and wavy hair can look especially stunning with the right short bob hairstyle. A short layered bob will add life to your curls. Most girls with curls can attest to the fact that longer hair only weighs down curls or waves and makes their flat and lifeless, not to mention frizzy. A short bob will bring your curly tresses back to life!
Short haircuts for straight hair
Source: bescene via Instagram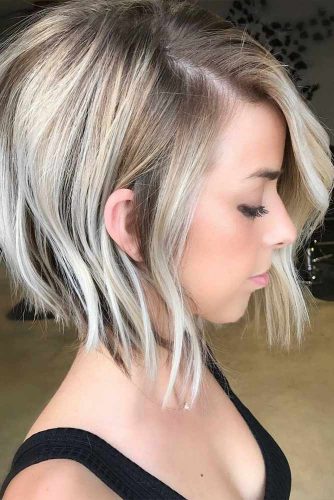 Quite often, straight hair can be difficult to style and as it grows longer, it tends to become rather dull. A short bob, such as a layered cut or a sleek chin-length bob can do wonders for poker straight hair!
Short haircuts for thick hair
Source: emilyandersonstyling via Instagram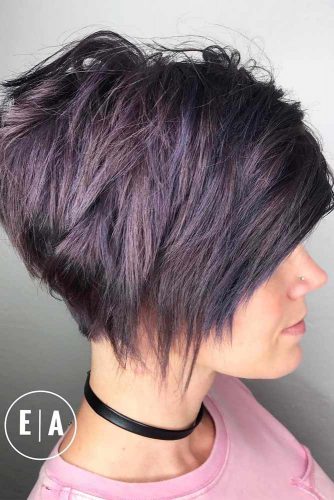 Thick hair can be both a blessing and a curse. The longer it gets, the more difficult it becomes to manage. A short bob cut will make your thicker tresses much easier to style and control! Imagine all of the weight you can remove from your hair and how healthy your hair will feel in a shorter style!
Short haircuts for thin hair
Source: emilyandersonstyling via Instagram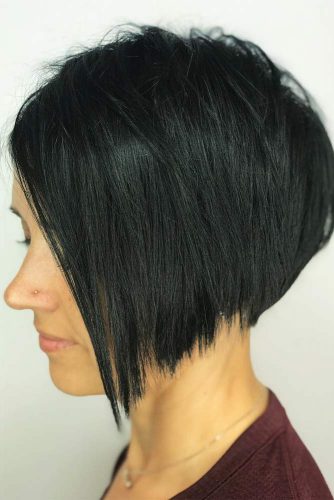 Short haircuts for fine hair
Source: salsalhair via Instagram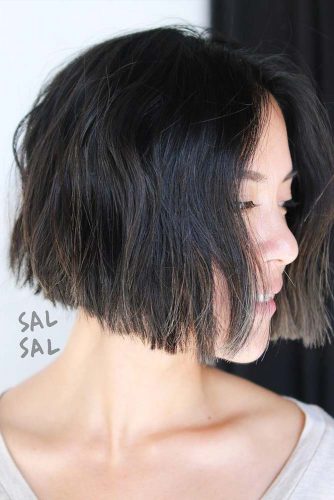 Fine and thin hair can often be difficult to style. A short layered bob can work miracles! Layers will add texture to your tresses and you will ask yourself why you didn't opt for such a style sooner!
As well, your hair texture should help determine what type of short bob cut will best suit you. Those with thick, curly hair will not want to have the same style as cut as those with poker straight fine hair. In addition, you can also use your short bob cut to express your personality! Want a sexy new look? A pixie cut might be just what you're looking for! Or are you going for a more timeless and sophisticated style? Then you should opt for a classic a-line bob. But don't worry, no matter what your style, there is a short bob haircut tailor-made just for you!
If you are unsure of what style will be the best for you, consult your stylist. And read ahead as we have included some photos of New hairstyles for short bobs by face shapes including flattering styles such as angled bob, inverted bob, layered bob and shoulder bob hairstyles.