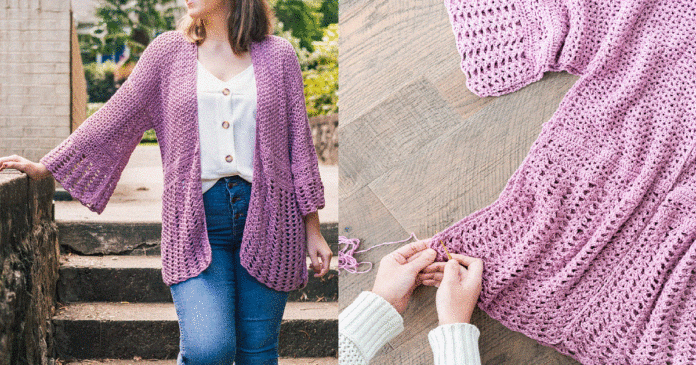 A garment you'll love My Hydrangea Crochet Cardigan is an absolutely free pattern available on my blog! Explore my inspirations the design process, my design, and a lot of details about the yarn I picked and scroll down to download the free pattern.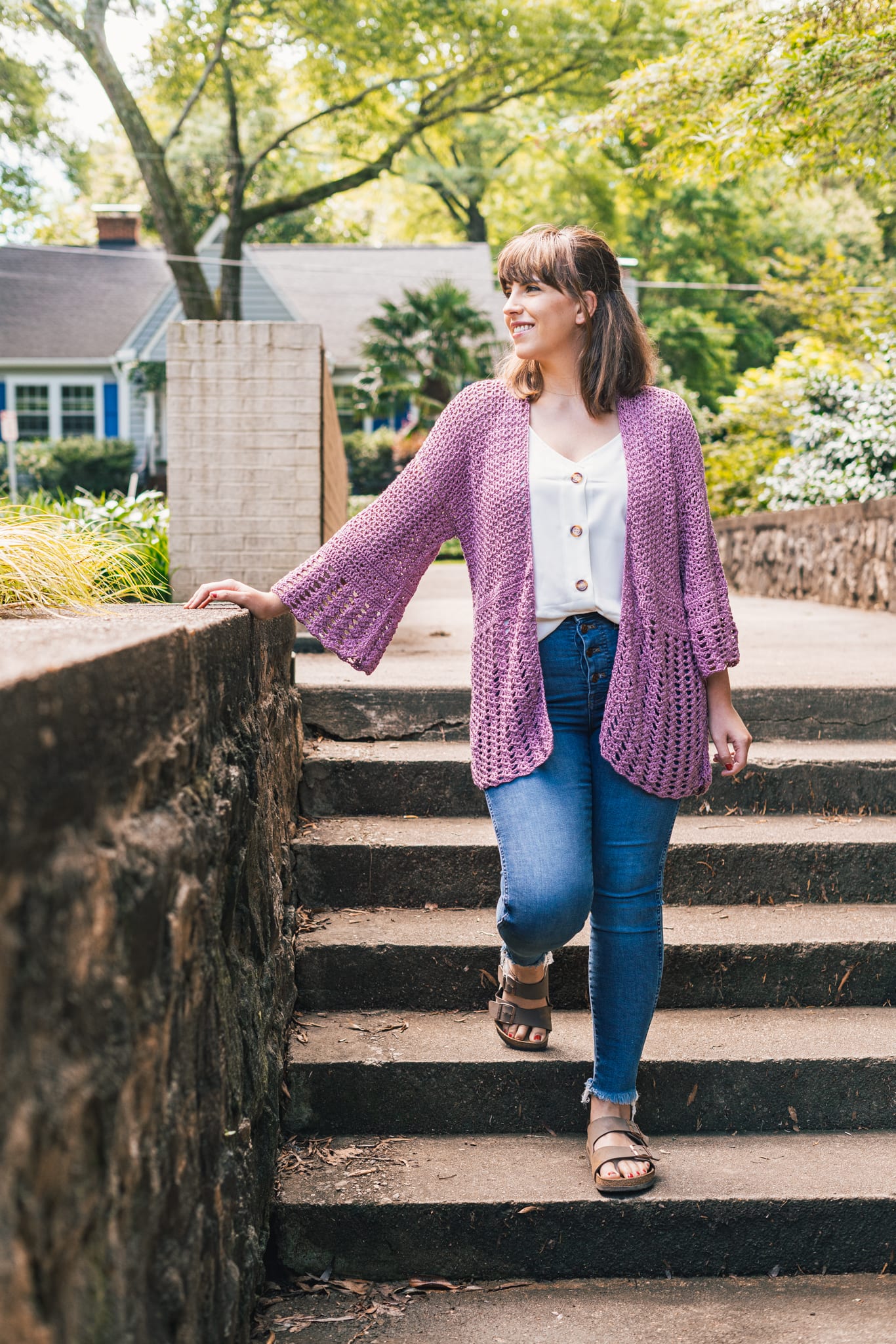 The Inspiration + Design
It's been one year since I made my previous crochet cardigan, and I decided that it was the right time to make another one! This time I made it with the lacy stitch and a flowing bohemian sleeve that's stylish and comfy.
It was difficult to decide the kinds of crochet lace stitches to use on this sweater. Because we're making the garment that isn't a garment, I didn't want make it too complicated to make the pattern simple to follow. I went with simple V stitches for the bodice, and some waist details in simple double crochet, and an easy fan stitch section around the hip. The same process is repeated on the sleeves which I love. feminine and delicate look of the entire sweater!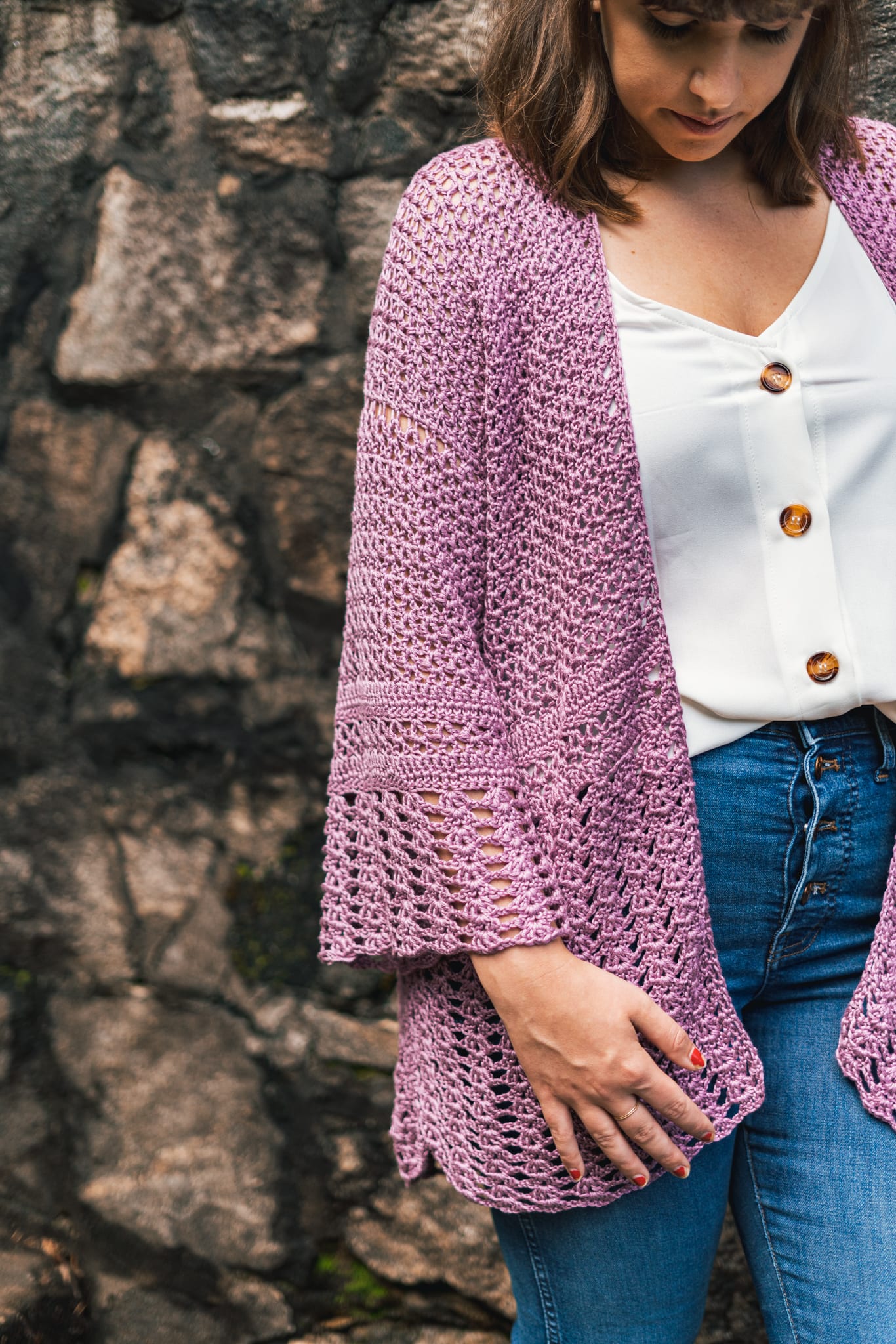 Can a beginner actually knit this cardigan?
I think there is a yes! The cardigan I created was designed to be made of only rectangular-shaped pieces. If you're familiar using the fan and V stitches that are used for the design, you are able to complete this project. There's not any fancy design or increasing or decreasing to confuse you. The drape and fit are entirely a result of the yarn I used and not fancy shaped!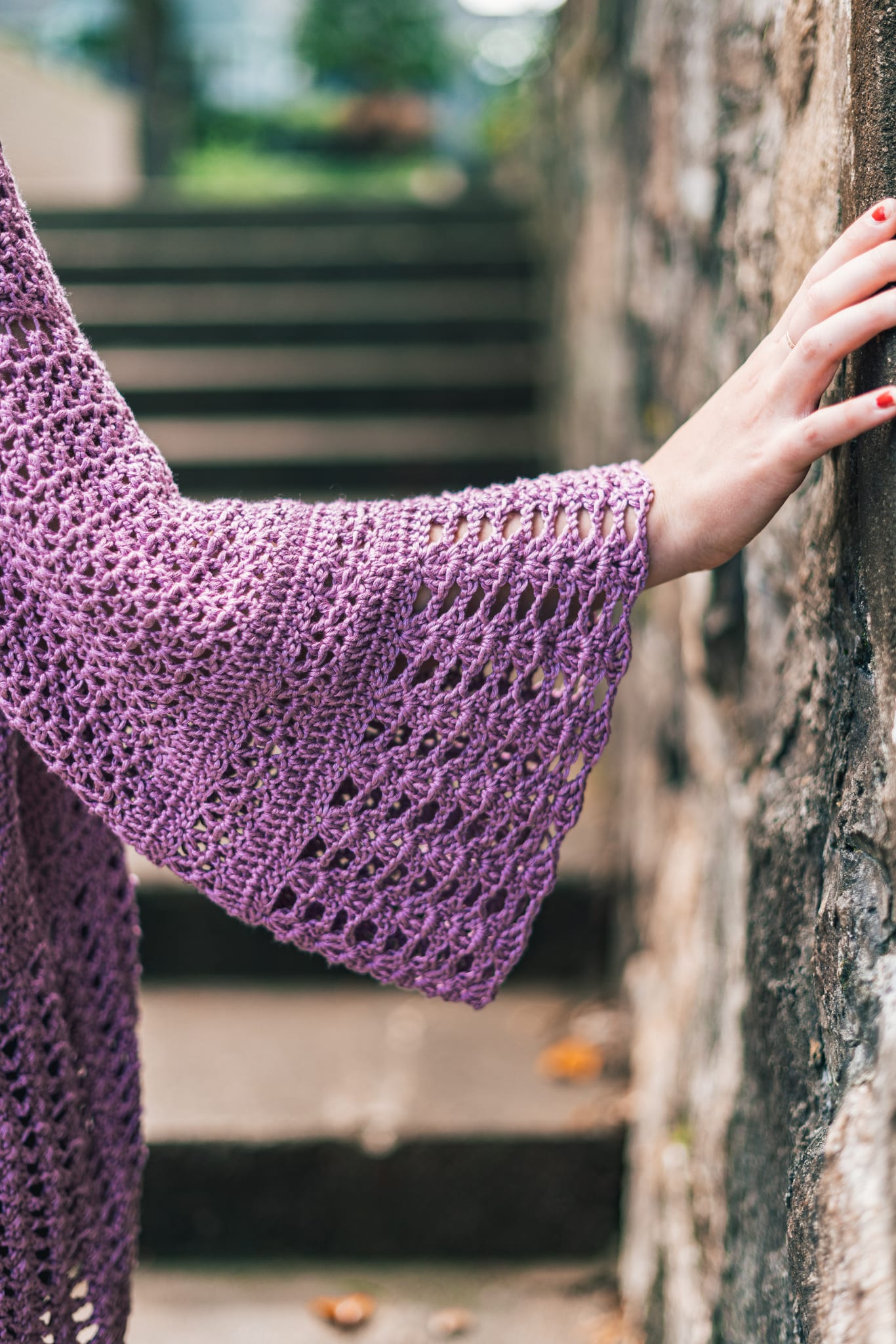 The Yarn
I decided to go with Lion Brand Truboo for this project. Truboo is a brand new yarn which was released earlier this year, and I haven't had a the chance to test it yet, so I pulled out the Mauve skeins I had in my stash to finish my sweater! I'm going to tell you that this is the perfect yarn for the piece. It's silky soft with a great drape and movement. It's very comfortable to wear and it's a joy to crochet.
I can't emphasize enough just how much love the palette of colors in Truboo yarn. There are a variety of colors from neutrals that are dusty to vibrant summer shades, which means you're able to choose the right color for your fashion.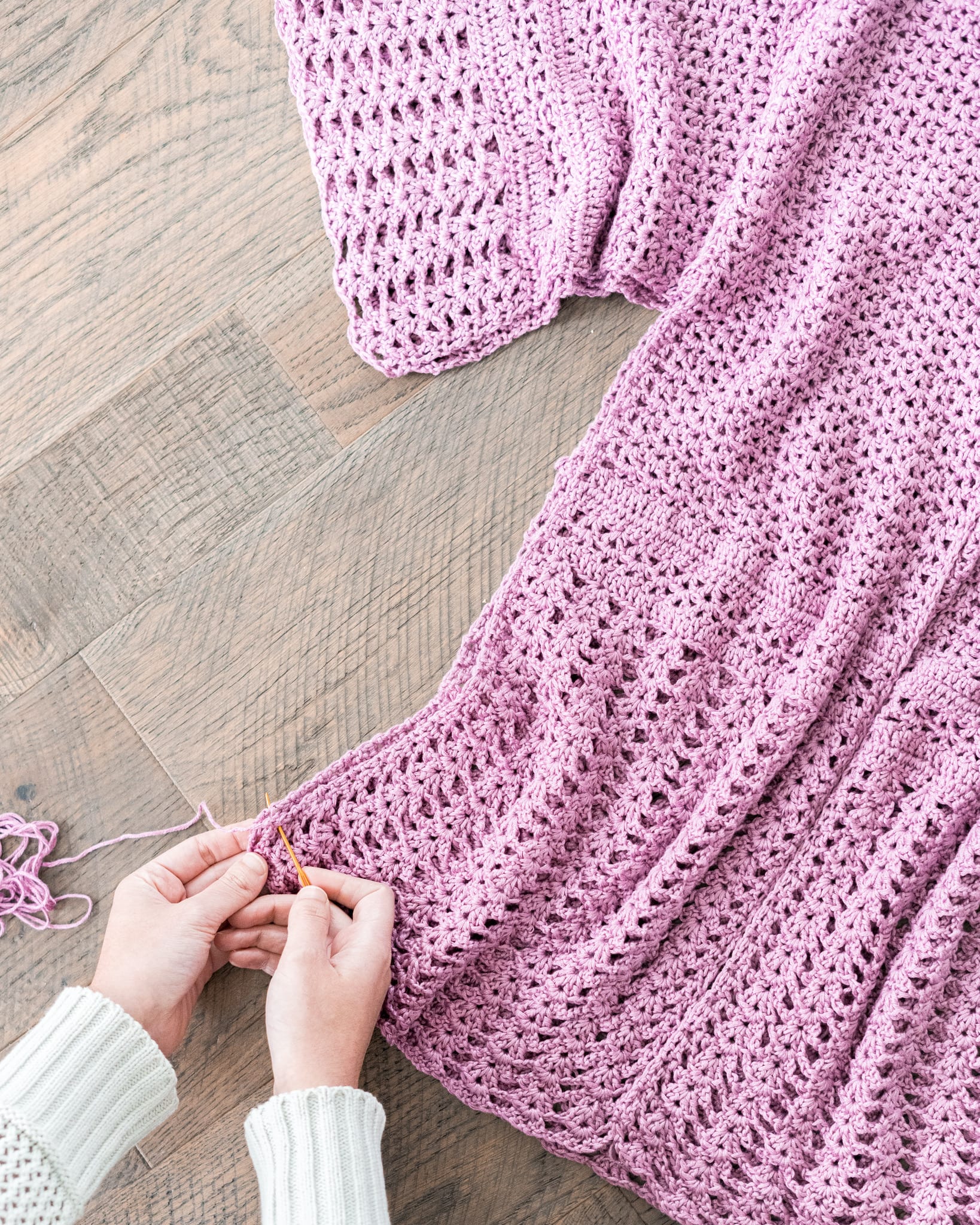 PATTERN
Description:
A lacy cardigan that is large and oversized for the warmer months, that was inspired by the beautiful nature of my garden. This project is just the right amount of excitement by using two different lace stitches to keep it exciting but not overwhelming – it's constructed entirely of rectangles! Lightweight Truboo yarn feels silky and soft on the skin. It has a comfortable texture that keeps your body cool and comfy. The loose boho style sleeves pay homage to the laid-back look , and are easy to create.
Materials:
-Lion Brand Truboo yarn
(Weight 3/light, 3.5 oz/100g, 241 yds/220 m)
(5, 6, 6, 7, 8, 9, 10, 10) skeins in Mauve
Or (1120, 1290, 1450, 1570, 1800, 1980, 2220, 2410) yds
-Size H 5mm crochet hook
Tapestry needle
Measurement tape
Sizes:
XS, S, M, L, XL, 2XL, 3XL, 4XL
Gauge:
18 sts x 8 rows in dc = 4"
Finished Sweater Measurements:
Bust: (32, 36, 40, 42.5, 48, 52, 57.5, 61.5)
Length: (29.5, 30, 30.5, 31, 31.5, 32, 32.5, 33)
Sleeve (to underarm): (12.5, 13, 13.5, 14, 14.5 15, 15.5, 16)
Armhole: (8, 8.5, 9, 10, 10, 10.5, 11, 11)
Skill Level:
Level 2 – Easy
Pattern Notes
The pattern is illustrated in the size M. The person wearing it has a height of 5'5″ tall, and the real bust is 38″ to give a purposes of. This pattern comes with the 10″ positive ease. Reduce the size for an a more fitted appearance.
The pattern's sizes will be XS, Small Medium, Large 2XL, XL, 3XL 4XL, and 2XL in parenthesis, such as (95, 112, 116 128, 150, 139, 161 170) while 95 is for size XS or sizes S and 106. 128 for size M 128 for size L or XL, 139 for size 150 in the case of size 2XL and 161 for 3XL sizes and 170 for size 3XL. If there is only one number the pattern will apply for all sizes. To follow the pattern more easily print the pattern and highlight all numbers related to the size you are using before starting.
The pattern is made using flat panels starting from top to bottom – one back panel and two front panels. Two identical sleeves that can be put together in the last step.
3. Ch 3, count as stitch through.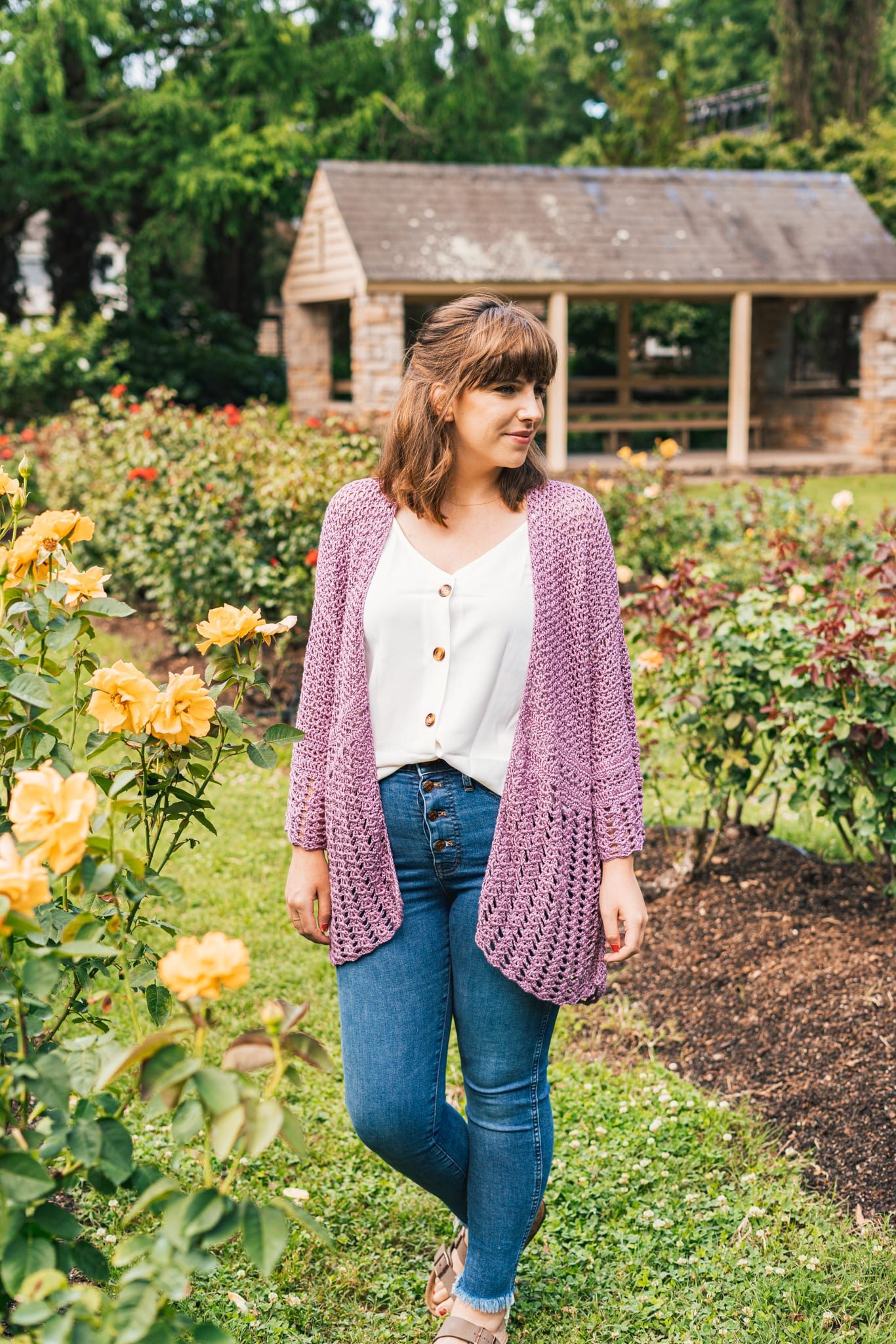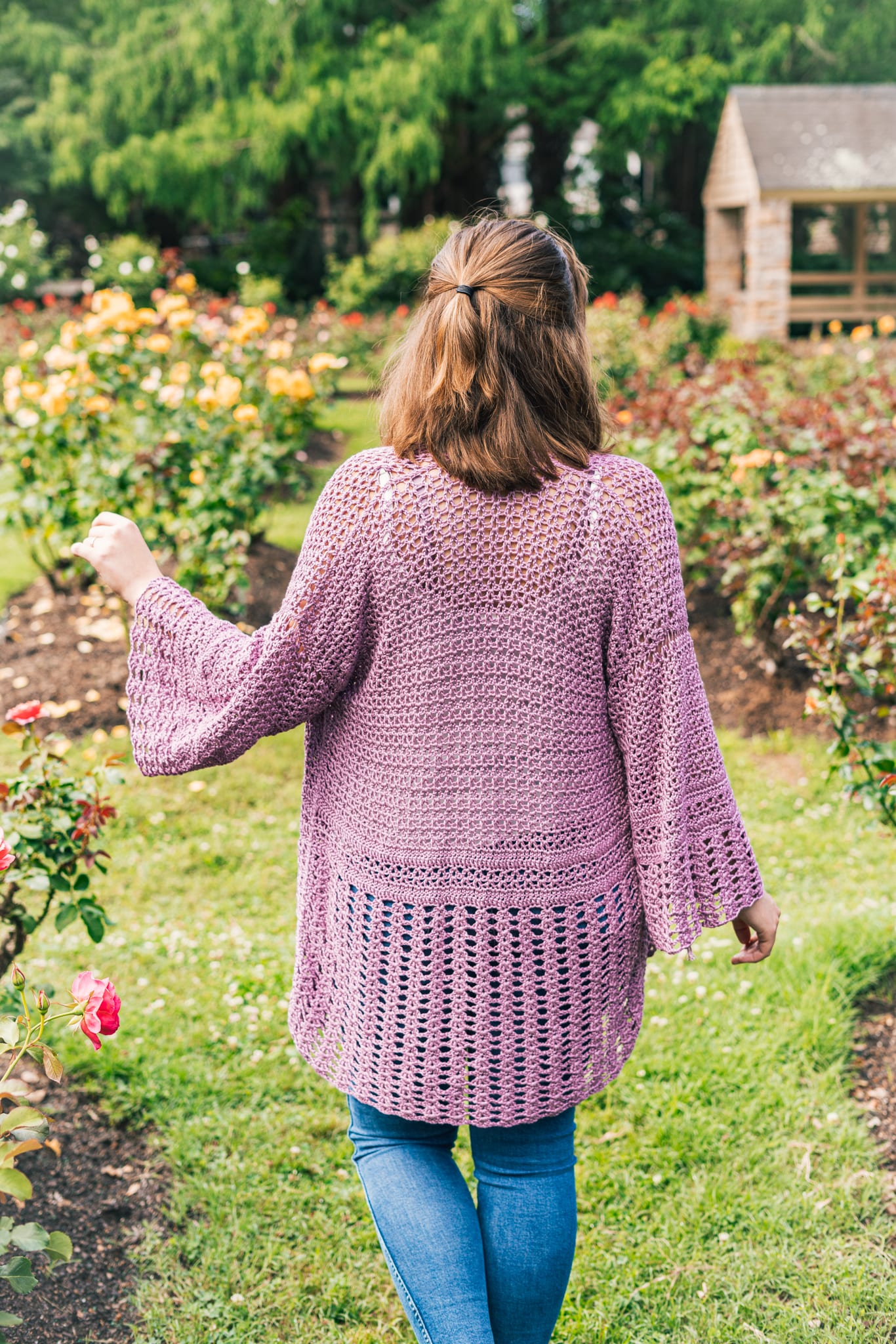 Hydrangea Crochet Cardigan
Back Panel
*make 1
V Stitch Section
Ch (74, 80, 92, 98, 110, 116, 128, 140)
Row 1: skip 3 stitches (counts as stitches throughout) Dc in the fourth ch from hook. Ch 1, skip (dc, Ch 1, Dc) in the next stitch. *skip 2 (dc, ch 1) dc ) repeat from * until there are 4 stitches left and ch 1 skip 2 crochet in the 2 last stitches, turn 52, 56. 64, 68. 80.
Row 2 3: Ch 3 Dc, ch 1 then skip to center of V stitch ch 1, *(dc, ch 1, Dc) into ch 1 repeat from * across all V stitches until the final V stitch ch 1, dc in final two stitches, then turn
Continue row 2 until panel measurements (13, 13.5, 14, 14.5, 15, 15.5 16.5, 16.5)" or you've completed (26 27, 28 29, 30, 31 32 33) rows.
Waist
Rows 2 and 3 1 – Ch 2, dc through each st acrss (including all spaces in ch-1) then turn 72, 78, 90
The 3rd row: Ch Dc, ch 1 *skip 2 (dc, Ch 1 and dc) into the next stitch; repeat * until you have 4 stitches remaining Ch 1 and skip 2 crochet in last two stitches, turn to 52, 56, 64.
Rows 5-6: Ch 2 and dc through each st in the acrss (including all spaces in ch-1) then turn 72,78,90, 96, 110, 126,
Fan Stitch Section
Row 1 Ch 2 and dc first stitch, ch 2 skip 2, (2 dc), ch 1 2 dc) in the next stitch. repeat ch 2 and skip (2 2 dc), ch 1 2 dc) in the next stitch; repeat until there are 3 stitches left in the stitch. Ch 2, skip dc in final stitch, turn 52, 56, 64, 68
Row 2: Ch 2 and dc in the first stitch Skip to middle the ch-1 of the next fan stitch (2 dc, ch 1 2 crochets) into ch-1 repeat across from * the entire row, ch 2, skip to dc in the last stitch, then turn
Repeat row 2 until panel measures 11.5″, (or 23 rows).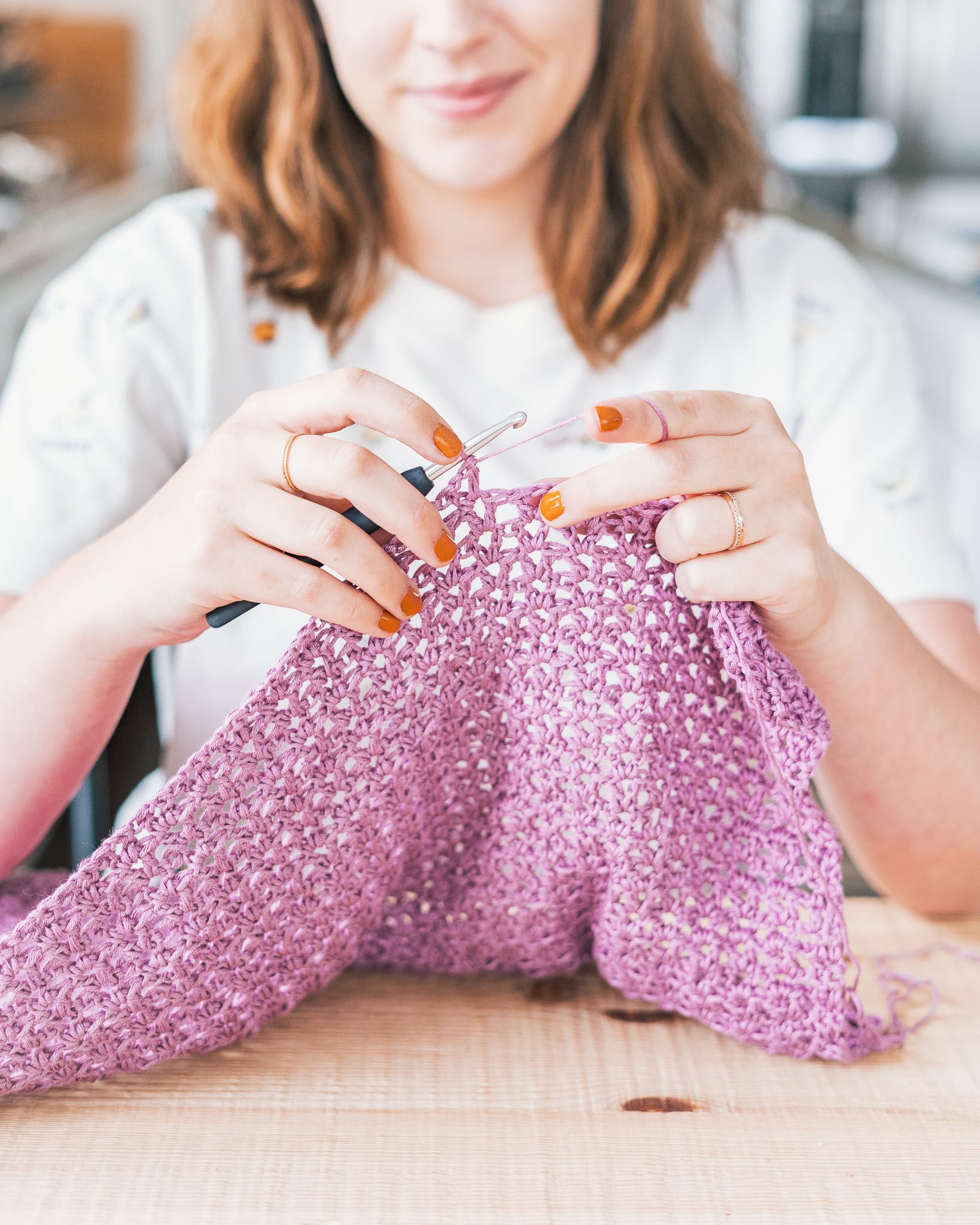 Front Panels
*make 2
Ch (38, 44, 50, 50, 56, 62, 68, 71)
Repetition V stitch, waist and Fan stitch sections as for the back panel.
Sleeves
*make 2
Ch (80, 86, 92, 98, 98, 104, 110, 110)
Repeat V stitch section until panel measures (5, 5.5, 6, 6.5, 7, 7.5, 8, 8.5)" or (10, 11, 12, 13, 14, 15, 16, 17) rows.
Repeat the entire Waist section.
Repeat Fan Stitch Section until panel measures 5" or 9 rows.
ASSEMBLY
Shoulder seams: Lay back panel upside down with the upside down, lay front panels with the wrong side up and align the chains that form the foundation to stitch shoulder seams. Sew using whip stitch. Weave ends.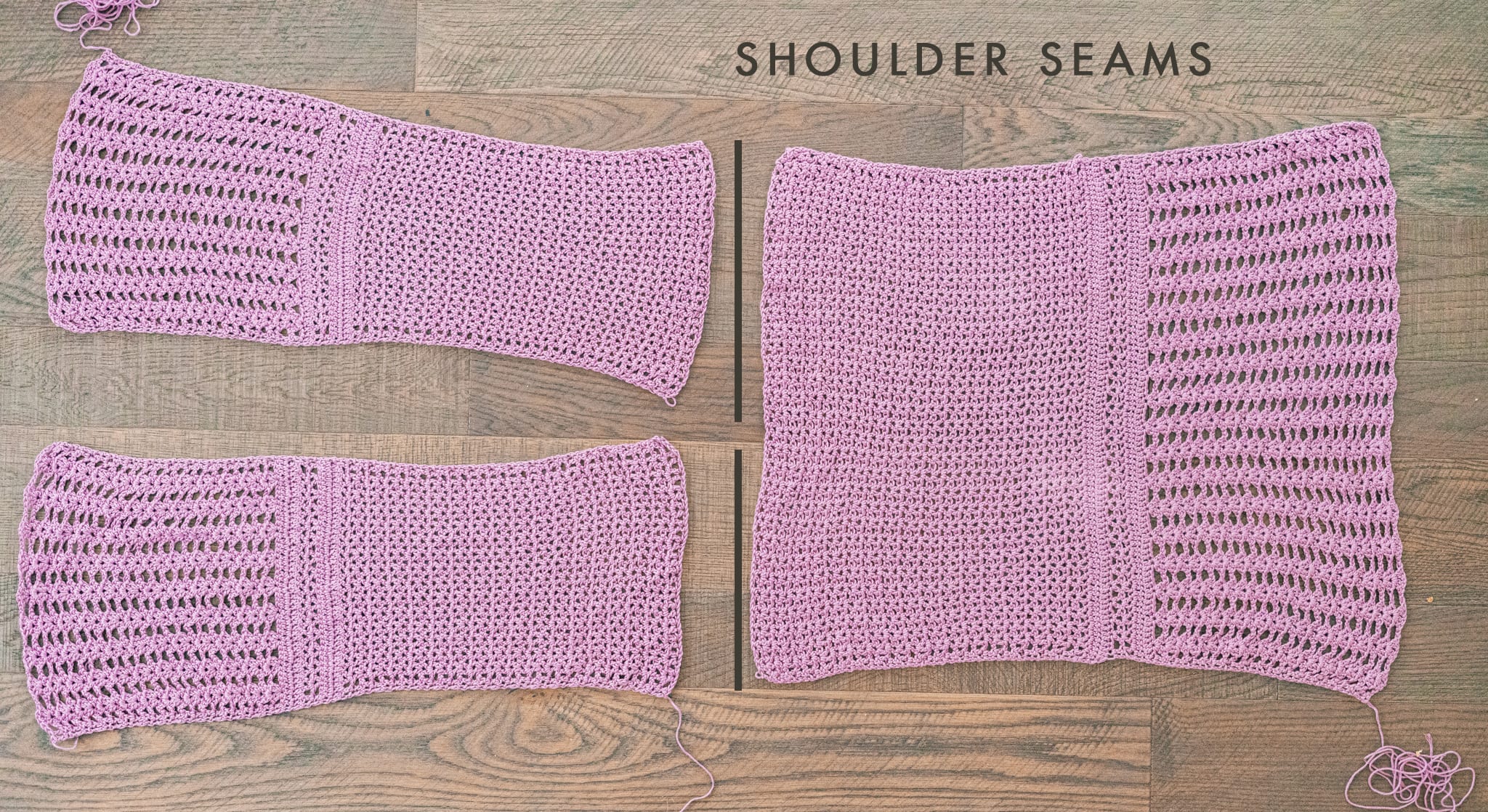 Sleeve seams: leaving front and back panel as is, place sleeves with opposite sides facing up on either side as shown. The sleeves should be aligned in the center and shoulder seams using a measurement of the middle or counting stitches on each side. Put a stitch marker in place to secure this If you prefer. Sew using whip stitch. Join ends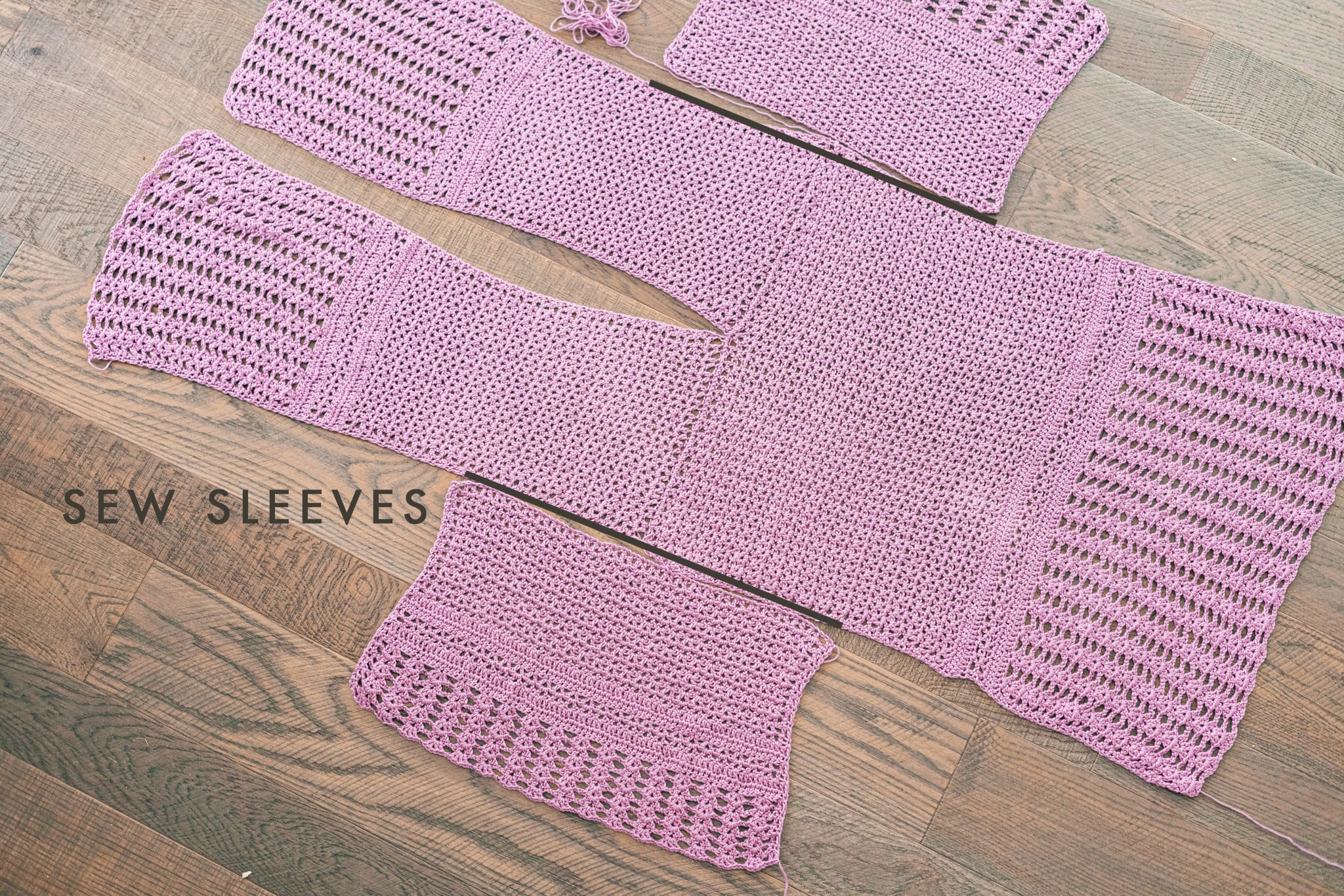 The side seams should be folded the sweater lengthways across the shoulder seams as shown. It will look somewhat like one!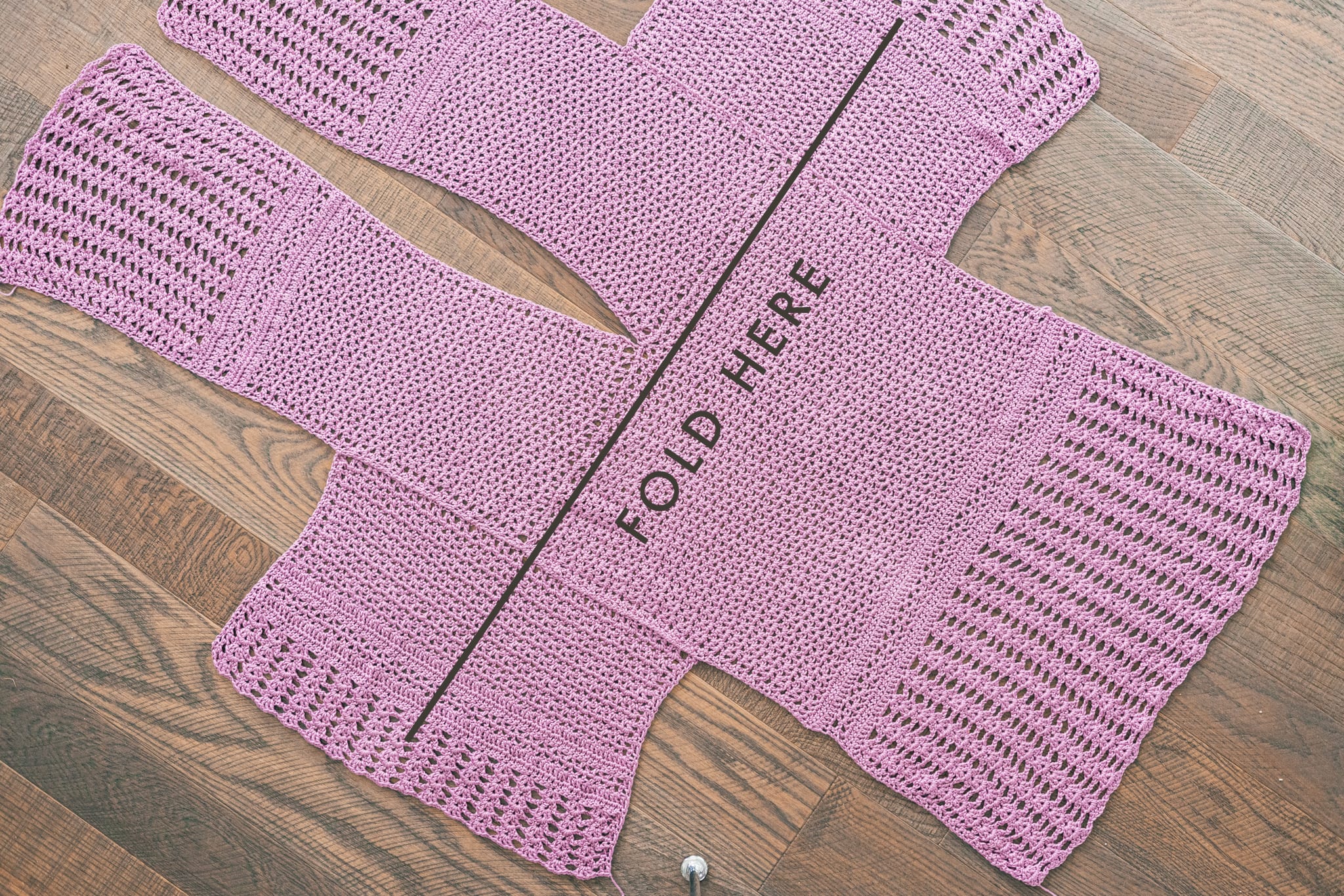 Sew using a whip stitch on the seam on the side, up to the underarm and then across the seam of the sleeve. Join ends.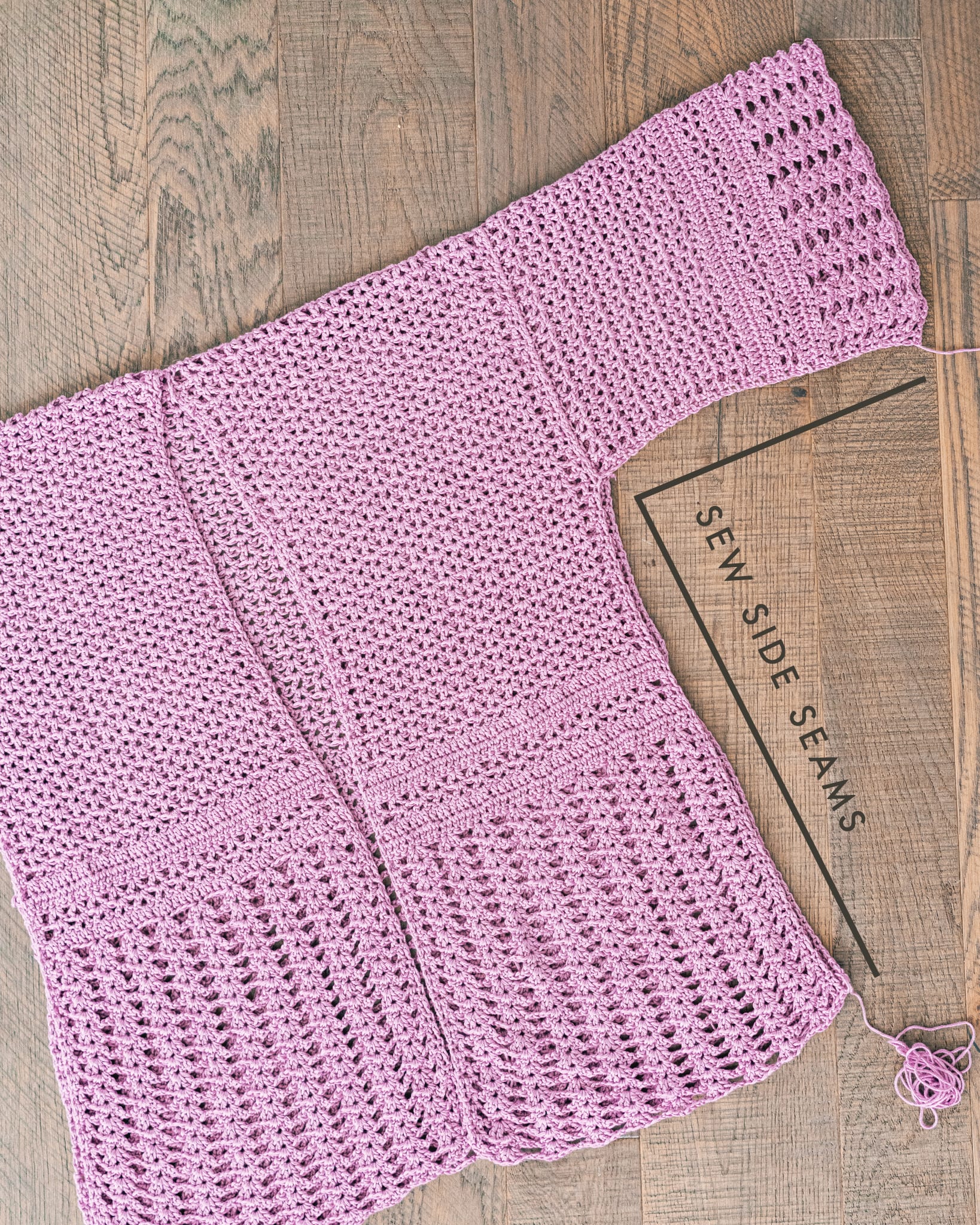 Abbreviations (US terms):
Ch – Chain
dc – double crochet
sk – skip
st(s) – stitch(es)
* – stitch count