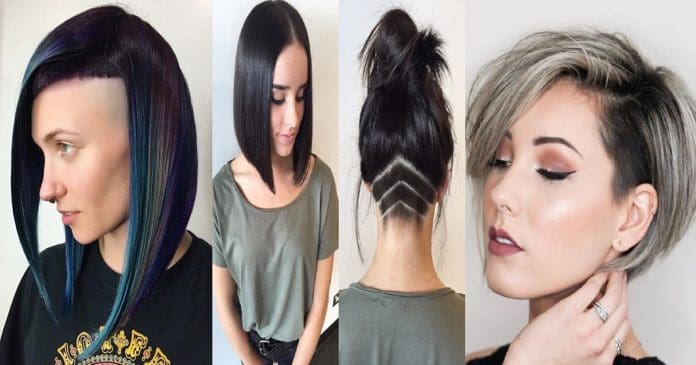 At first sight, undercut bob is just a combination of two popular trends that women of all ages pull off today. But if you look closely enough, you will realize that it's one of the few cuts that can really show how different women can be. One day we're feminine and subtle, and then we want to break all the rules to meet the other day. Believe it or not, the bob undercut can adapt to all your moods and fit all images you change through the week.
Unlike many common bob haircuts, this idea offers plenty of ways to individualize your hairstyle so that it matches your inner-self. Ladies who are tired of common, familiar hairstyles should see the ideas we've selected for this post. Once you check them out, you will see how stylishly you can customize your bob, thus brightening up your daily styling routine. Let's mix the trends together!
Pixie-Bob With Undercut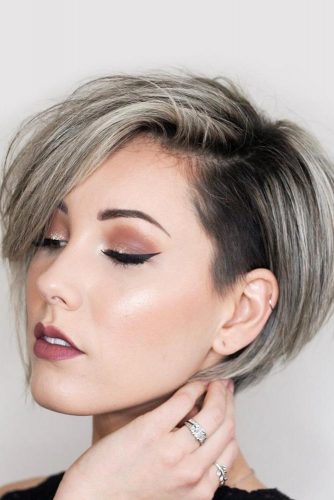 The well-groomed and voluminous silhouette are the calling cards of the famous pixie-bob. How about you to make it different? This pixie bob with undercut shows how the bold move of shaved sides can enhance the volume on top, adding some wild, modern vibes to your look.
Source: chloenbrown via Instagram
Shaggy Undercut Bob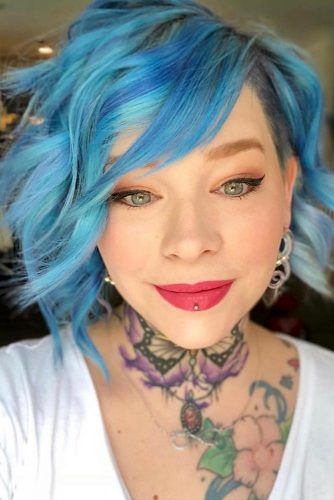 Obviously, all those bright souls who love to express themselves through colors can't do without the right, flattering cut. And even when we experiment with our image, it's very important to keep our femininity. A shaggy bob haircut with undercut like this can nicely finish the creative look and bring a very girly mood at once.
Source: xostylistxo via Instagram
Short Undercut Bob + Fade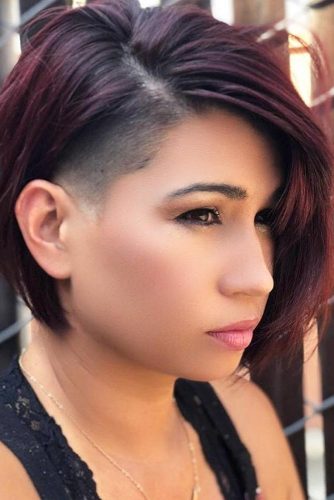 Don't forget about the diversity of undercuts! For example, you can spice up your short bob undercut with slightly faded sides and give it a totally different look. In this way, the length contrast won't be too sharp, yet the style will look pretty balanced.
Source: sm_lawless via Instagram
A-line Bob With Undercut + Baby Bangs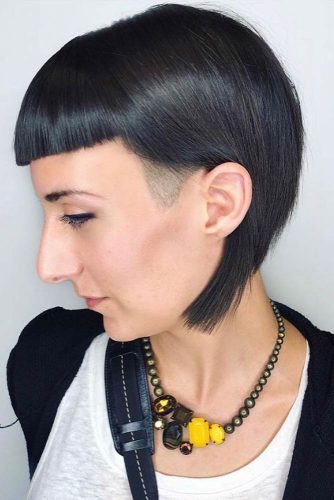 Yes, undercut bob haircut has many faces. So here comes its latest version – undercut bob with bangs! The angular body of A-line bob wouldn't look that striking without the neatly shaved sides and precise baby bangs.
Source: mslameylynn via Instagram
Messy Layered Undercut Bob With Waves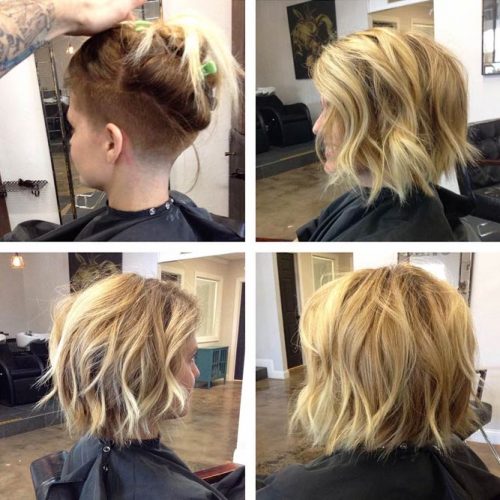 Here comes the undercut bob women of all ages would like to try! This idea features buzzed sides and back of the head hidden under the top layer of hair. Such a haircut is a nice option for summer, as it involves less hair, which gives a lighter overall texture. A tip: it will look wonderful with some tousled wavy charm.
Source: dillahajhair via Instagram
Super Short Bangs And Long Sleek Bob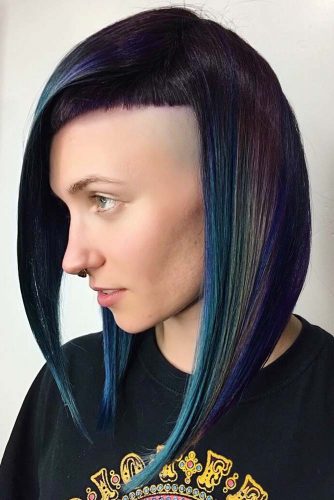 We can't even imagine a more creative and unique idea than this long bob with undercut. The whole body is perfectly sharp and defined, and the shaved portion changes the way such bob haircuts usually look.
Source: isaac4mayor via Instagram
Side Undercut For Layered Wavy Bob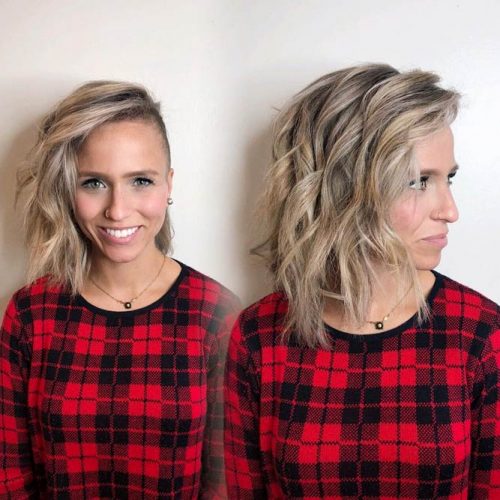 You can either get one side shaved or go for a classic undercut; the point is that you can experiment with the top in any way you want. To enliven your volumetric wavy bob that is full of movement, sweep the top to the side and show up with an outweighed, awesome look of the brand new undercut bob haircuts.
Source: lena_piccininni via Instagram
Flower Design For Straight Bob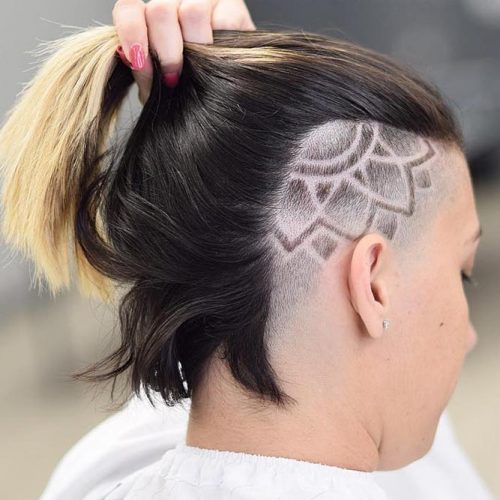 Whether you are about to finish your short bob with undercut or you feel like your long mane needs a touch of faded neatness, a fascinating floral design will make your look even more outstanding.
Source: jeffthebarber via Instagram
Short Bob With Nape Design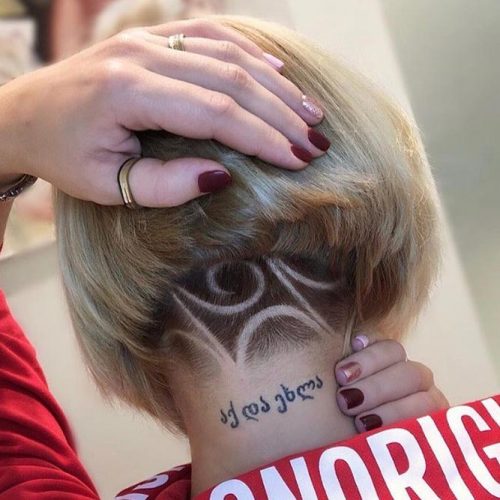 Here's another way to customize your trendy cut. This shaved undercut bob, accentuated with glamorous nape design that is hiding under the inverted cut is the proof that this haircut knows no limits.
Source: hairmastertanya via Instagram
Short Bob With Heart Undercut Design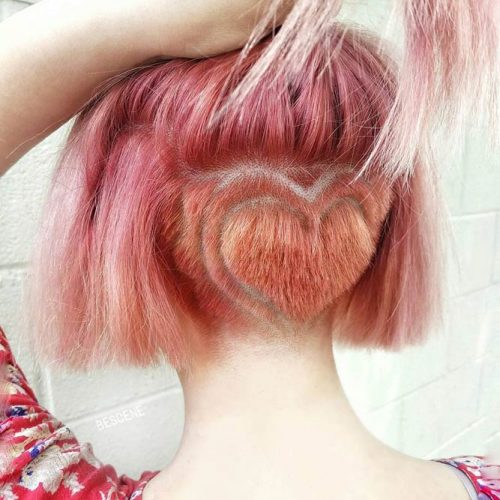 Who says that short undercut bob can't look girly? Even though such a detailed idea may be a commitment, it can be the embodiment of who you are. Girls who are into soft, gentle colors and heart designs should look no further than this combo.
Source: bescene via Instagram
Side Undercut Design For Medium Wavy Bob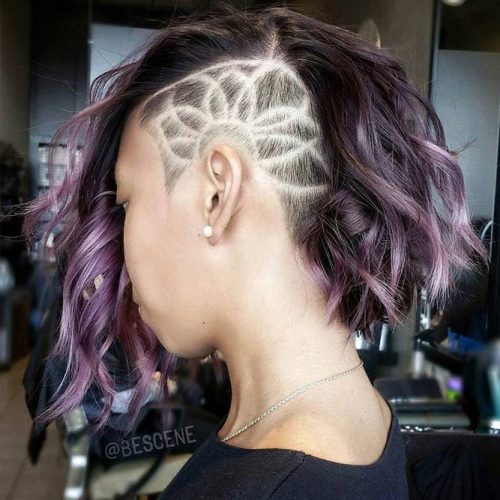 Besides adding new colors to your medium bob, you can make it more distinctive with a side undercut design. Of course, you will need to maintain your asymmetrical bob with undercut regularly, yet the result is worth a try!
Source: bescene via Instagram
Nape Design For Curly Bob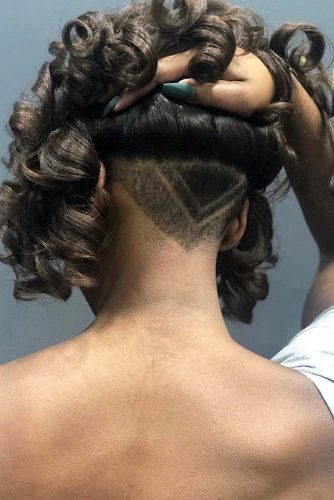 For those who fight with thick, coarse or simply unruly hair, some lightness won't hurt. This undercut bob for thick hair involves a nape design for two reasons. First of all, it looks super stylish. Secondly, it can give your chevelure some rest.
Source: toiacuts via Instagram
Bird Undercut Design For Long Bob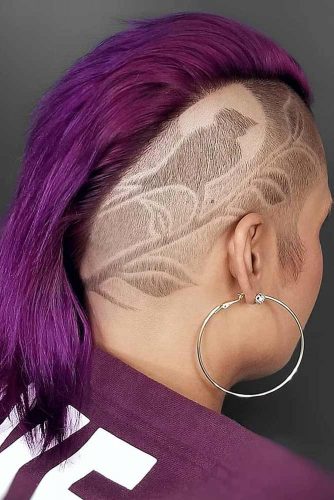 Your hair is nothing but a canvas to your imagination, and you are the only one who knows what colors and designs to use. If you're bold enough to embrace approach like this undercut long bob, make it big and finish everything with an eye-catching color!
Source: jubei_ma via Instagram
Some Ideas To Style Short Bob With Undercut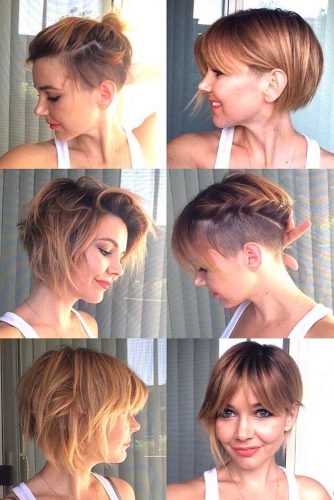 Styling variability means the world to modern ladies. Luckily for undercut bob lovers, this haircut has a lot of things to offer. You can turn your top into a chic, minimalist bun, create a braid that will outline your sides, add some messy waves or play around with bangs. Undercut bob hairstyles can be anything you want them to be, remember?
Source: brianacisneros via Instagram
Short Pony For Undercut Bob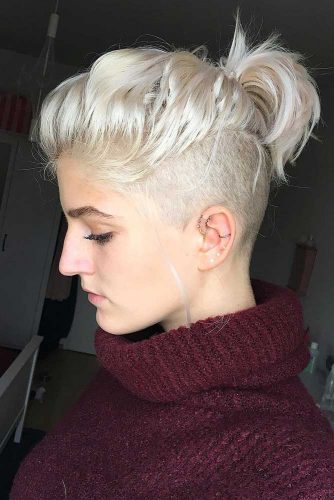 Even a simple ponytail will introduce itself from a new perspective once you shave the lower portion of your short bob. On top of that, the length contrast will visually add more volume to the top, which is a win-win for all girls.
Source: c_you_ via Instagram
High Bun With Nape Undercut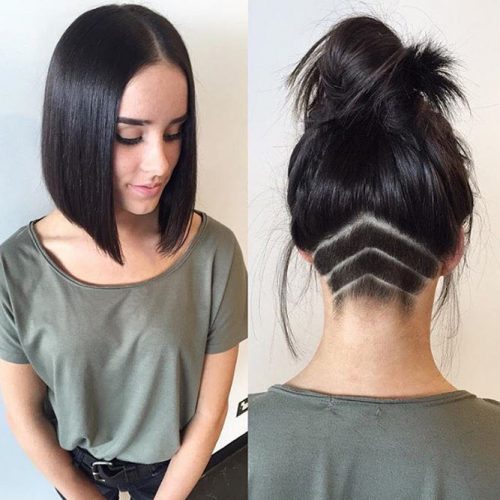 The best thing about nape designs is that they can take familiar hairstyles to the next level. Check out the enviable look of this messy high bun with the angular hair tattoo!
Source: hairbyrubymay via Instagram
All the ideas you've seen today are only the beginning of stylish options that undercut bob can offer to you! The only rule for this cut is always to let your imagination run wild. So if there's a need for style changes, you know what to do: just shave the sides of your bob.