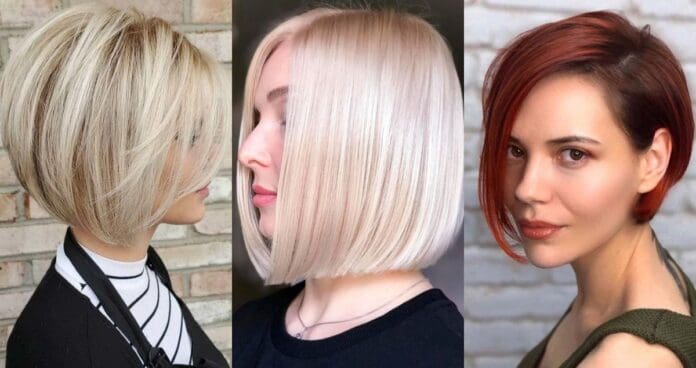 Short bob hairstyles have been popular all the time, it is not a secret. The thing is that these days, the variety of options we have for chin-length hair, which is the perfect short bob hair length, is more than breath-taking. You can opt for a short bob with bangs, if there are some features you would like to hide away with the help of a haircut, or you can opt for a layered bob to add some volume to your mane. In fact, there are dozens of options to suit even the most demanding ladies. Of course, we can't leave out the fact that all the colors and coloring techniques you can pick for your bob haircuts are extremely versatile. Besides, bob hair styles are easy to style and the number of options is limitless. Just be able to make up your mind, and all the best ideas will be supplied with our help.
Straight Short Bob Hairstyles
Though bob looks great on any texture, its very first version was done on perfectly straight hair. That's because the structure of this haircut is what can enhance the smoothly flowing texture of straight locks, adding a sense of sharpness to it. On top of that, a bob can build tons of volume for your straight hair, giving it a bulky twist and sharp appearance!
Short Bob With Bangs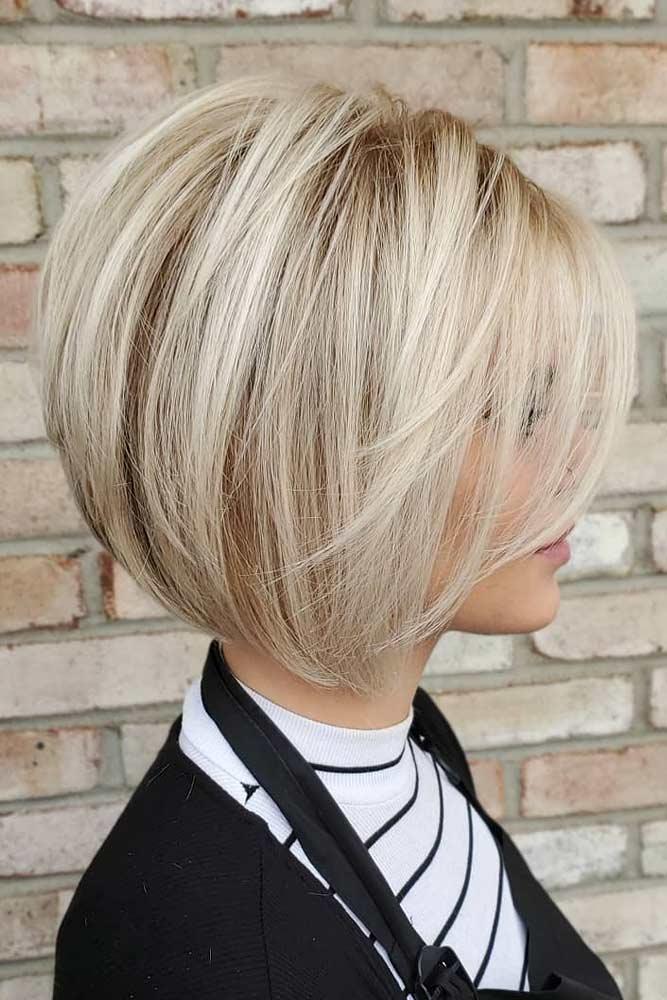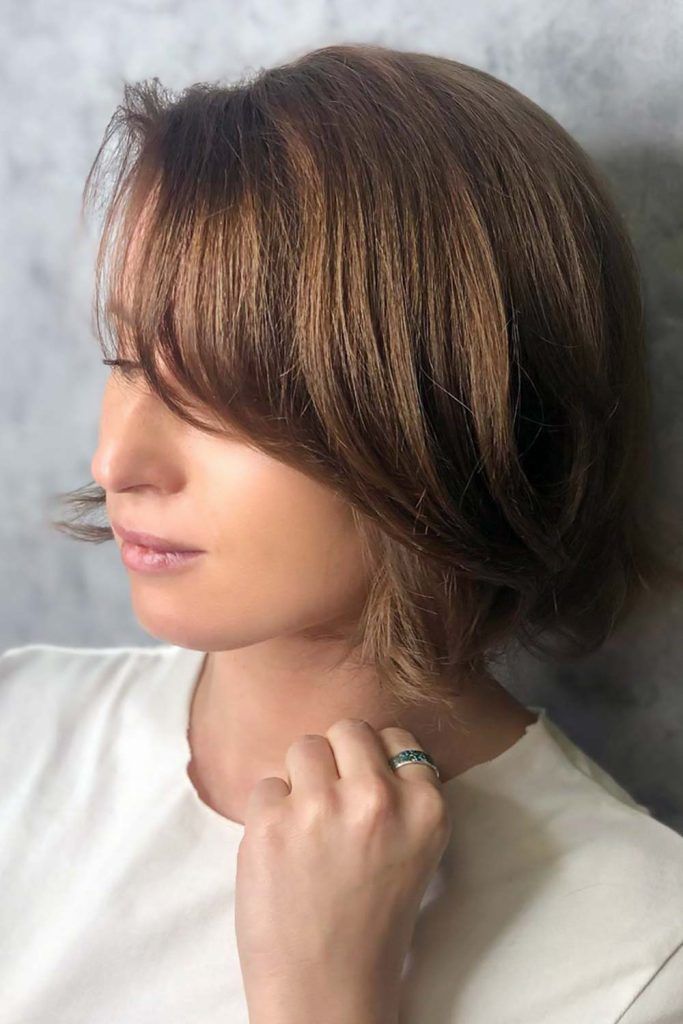 Feel disappointed about your face shape? Bangs can easily put an end to such hair troubles! Ask your hairstylist for a blunt or choppy bang to hide your big forehead and side-swept fringe to frame your round face.
Classic Short Bob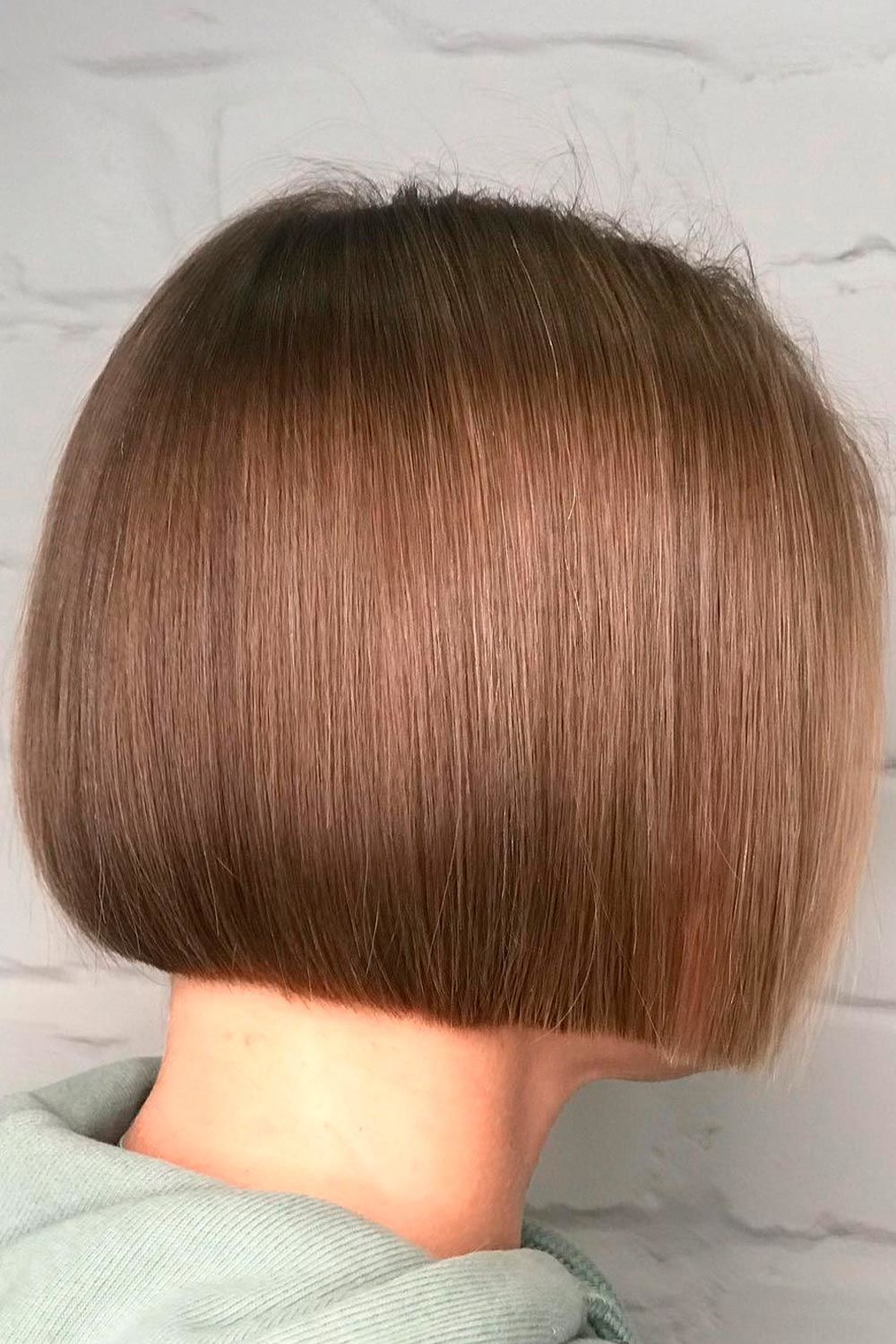 When you see the word 'classic' accompanying the name of a haircut, you can be sure that this is the cut you won't go wrong with. The very first variation of the overwhelming bob haircut features a perfectly leveled chin-length body with sharpened ends for an edgy silhouette. Although the structure is simple, it adds a very refined, sophisticated character to the look. Also, you can always individualize this cut with an outstanding texture by going for layers, feathers or choppy ends. Still, the initial look of this amazing cut looks wonderful when it's sleek and straight. Plus, it can adapt to any sort of look you going to show up with.
Straight Stacked Bob Cut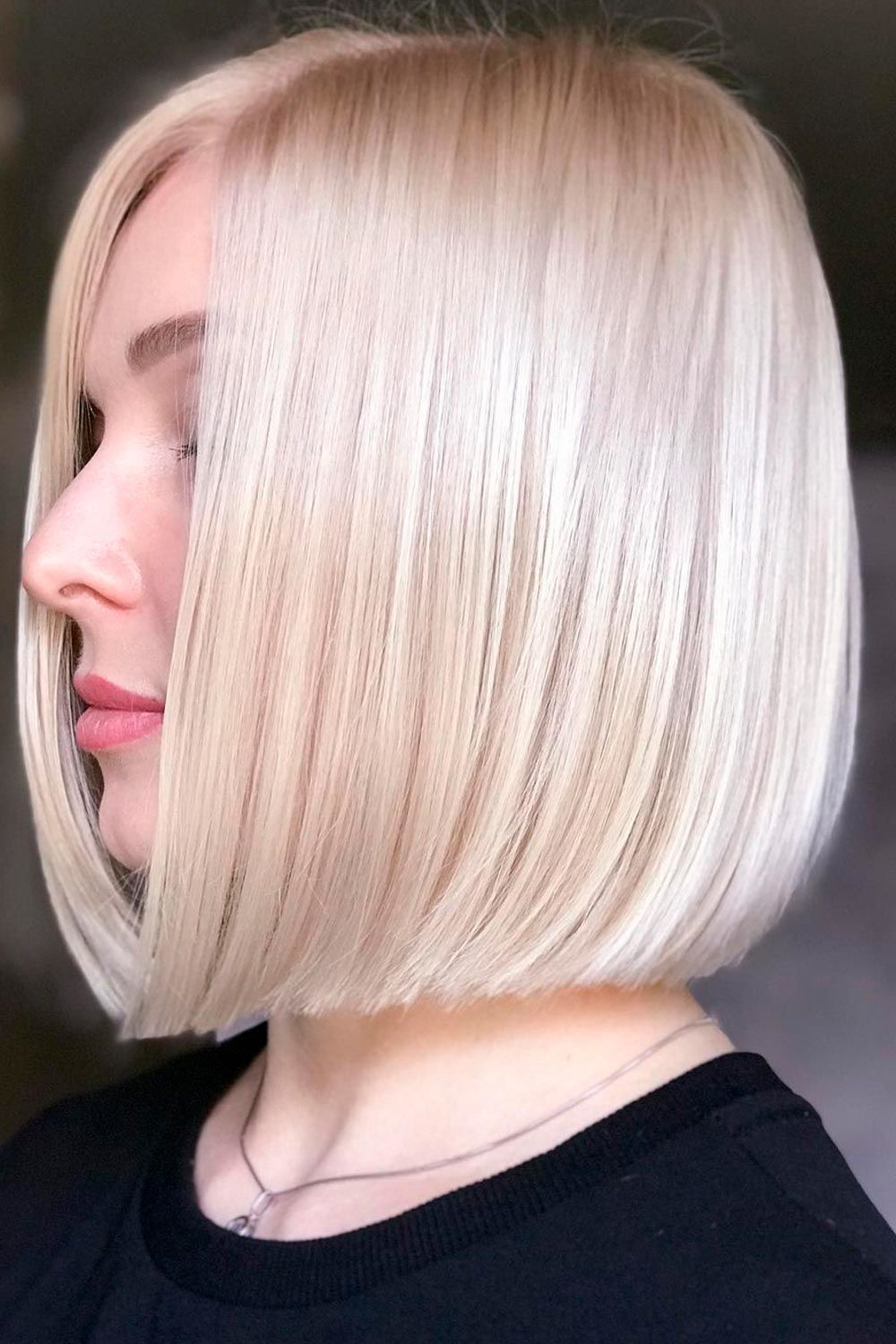 There's nothing more comfortable, straightforward, and stylish than styling a short stacked bob. It features a bit angled length graduation where the front tresses are longer than the hair on the back of the head. That is to say, you can simply get the look done with a round brush and a hairdryer or with a flat iron. The best thing is, you can regulate how drastic the length graduation will be: the front can be either significantly longer than the back or just change the angle a little. This look, for example, it an absolutely balanced stacked bob with slightly longer front tresses. And it looks fabulous, especially on thin hair: since the cut is short enough, the volume of your locks won't be outweighed by heavy long hair.
Short Bob With Sharp Edges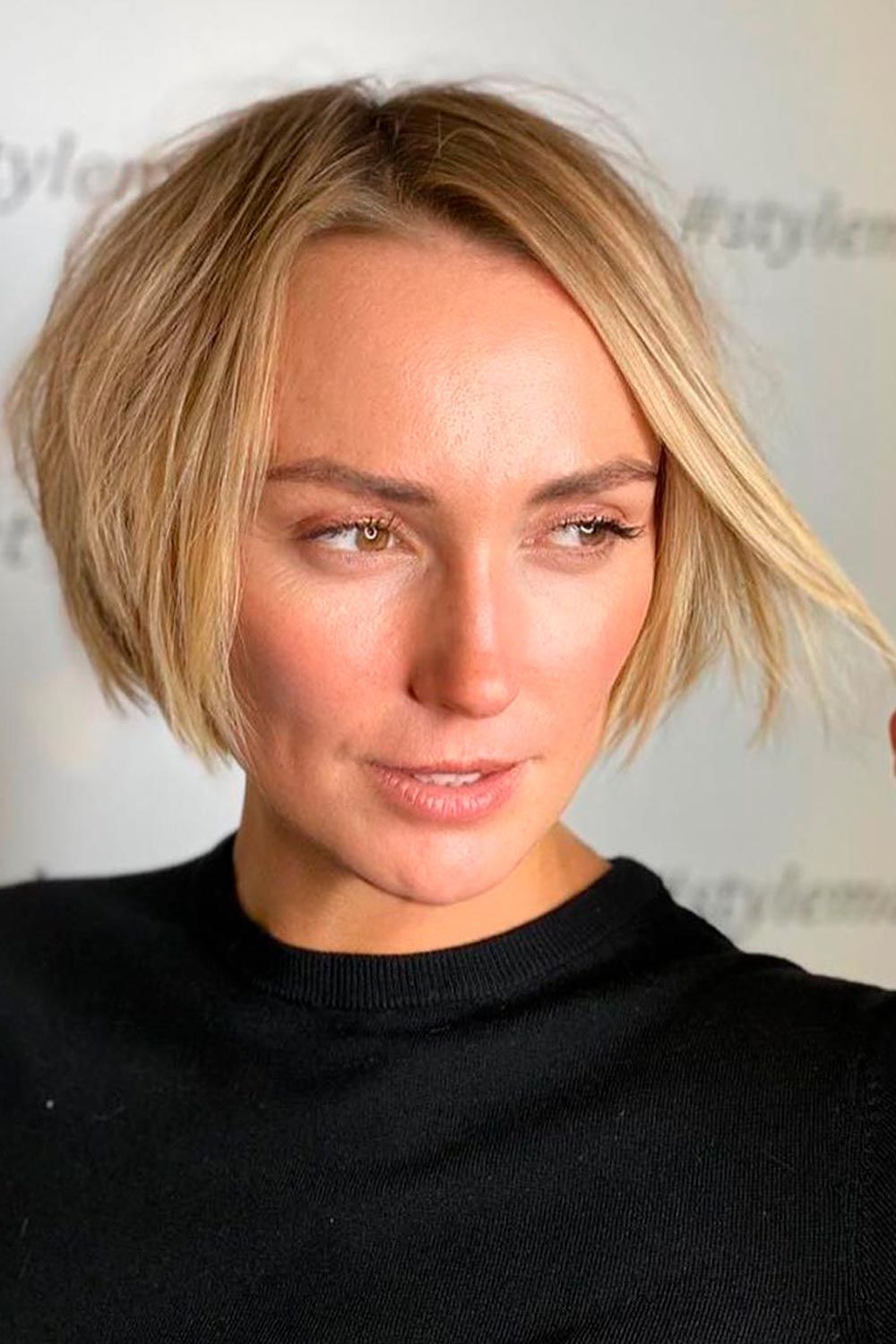 Layered short bob hairstyles work wonders not only for women's styles but also for their hair types. Those with fine and thin hair can amp up their silhouettes, making their hair appear fuller due to the sharp edges falling dynamically on one another. And if you have thick hair, these edgy ends can lighten up your mane and finally give you a sense of lightness and manageability. Now, let's focus on its visual side. These sharp layers bring such a great visual impact that it's hard to imagine someone skipping this idea.
Neatly Rounded Bob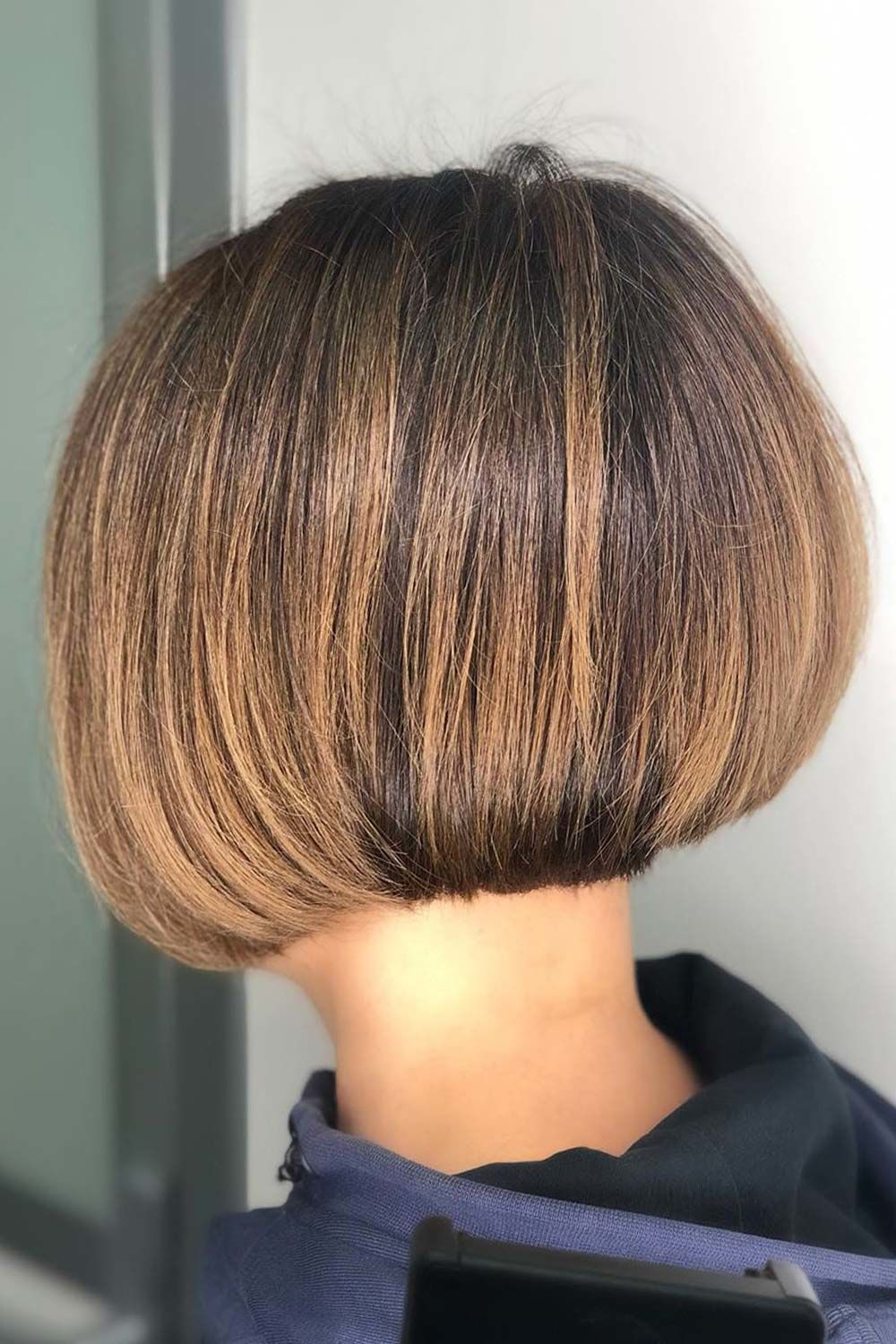 There's a stunning hairstyle for women with thick hair that can actually let the fullness and richness of your hair type show up. First of all, it's better to go short, as the shorter the length, the bouncier the pattern. Second, don't forget to get your ends texturized to achieve the shape you want. This neatly rounded bob simply takes thick hair to the next level, turning unmanageable strands into a round, well-shaped, and super voluminous mane. Again, a round brush, blowdryer, and a couple of minutes are all you need to keep up with this cutie.
Tousled Blunt Bob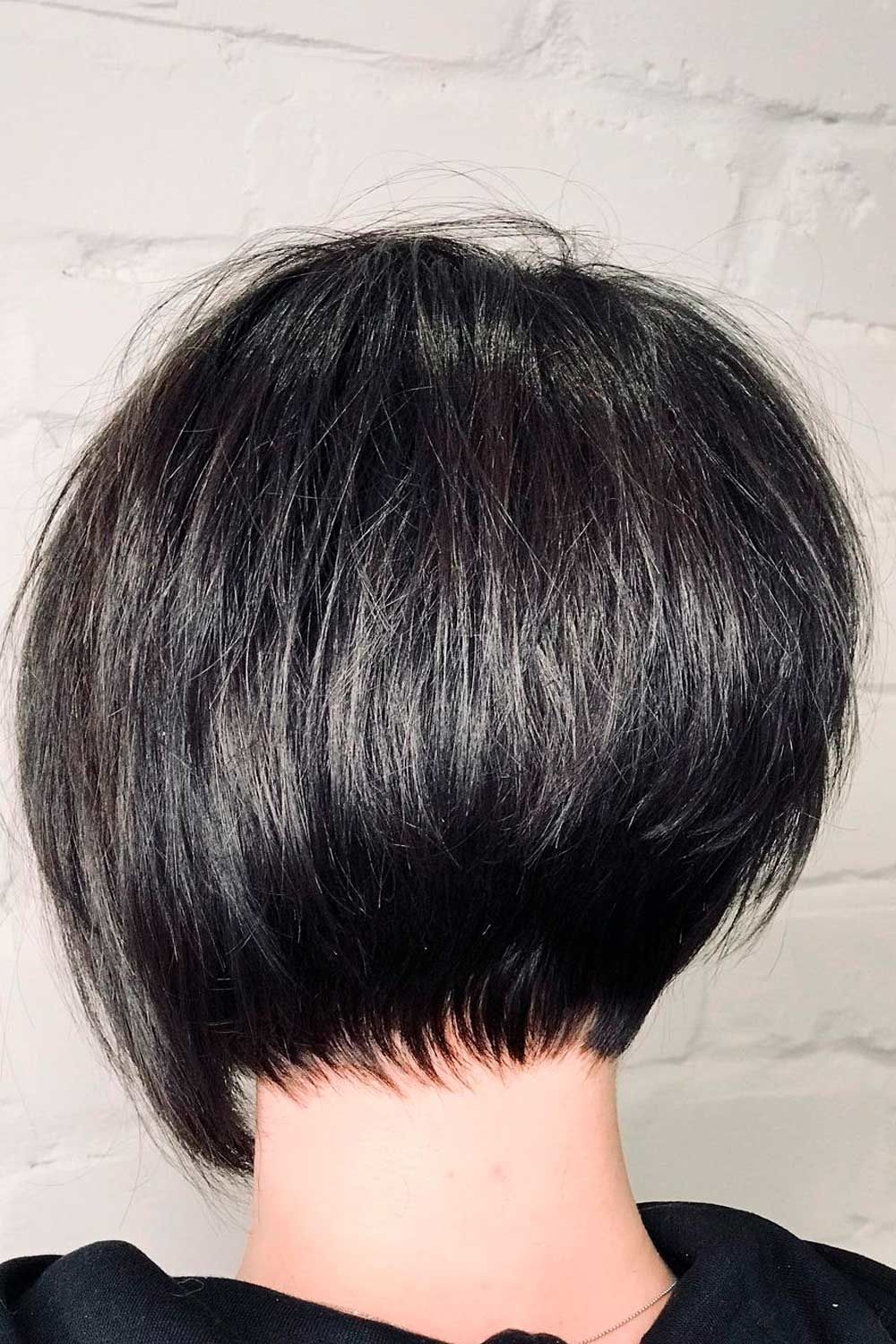 Messy, tousled hairstyles are getting more and more popular each day. And there's no need to look for reasons why it's happening; their volumetric, carefree locks that are full of life and movement speak for themselves. With a blunt bob, you can always change the mood of your sleek one-length cut by coating it with a texturizing product and giving it as much tousling as you can. Isn't that a perfect idea to add more freedom and relaxing vibes to your casual look?
Center-Parted Ear-Length Bob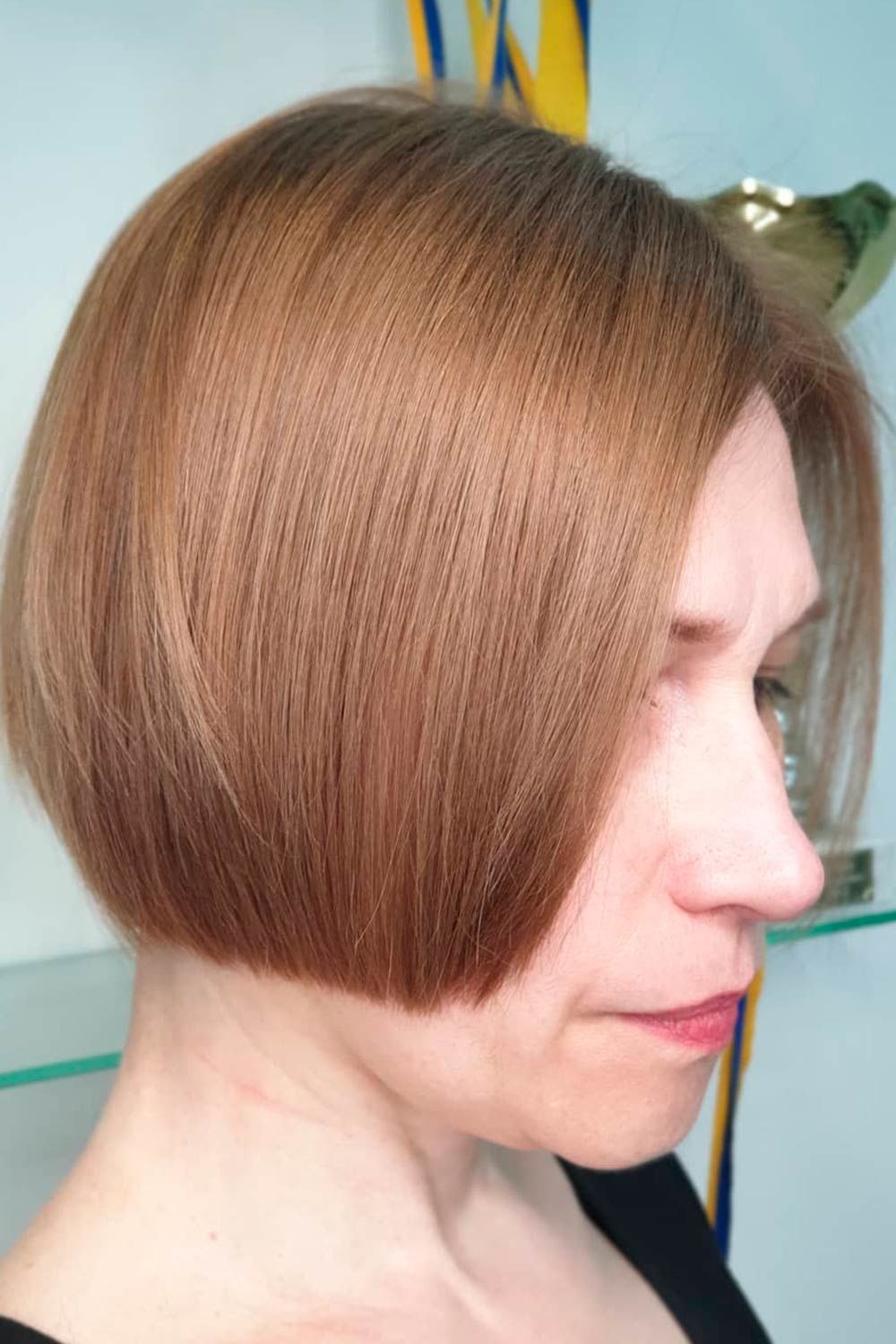 Ear-length bob haircuts look different and striking, even though they're nothing but one-length cuts. Due to the very short length that barely hits the cheeks and crosses the line between a long pixie and a regular bob, they add a ton of an edge to the look. They work ravishingly on any hair types and textures and look their best with center-parted hairstyles and perfectly balanced silhouette.
Short Feathered Bob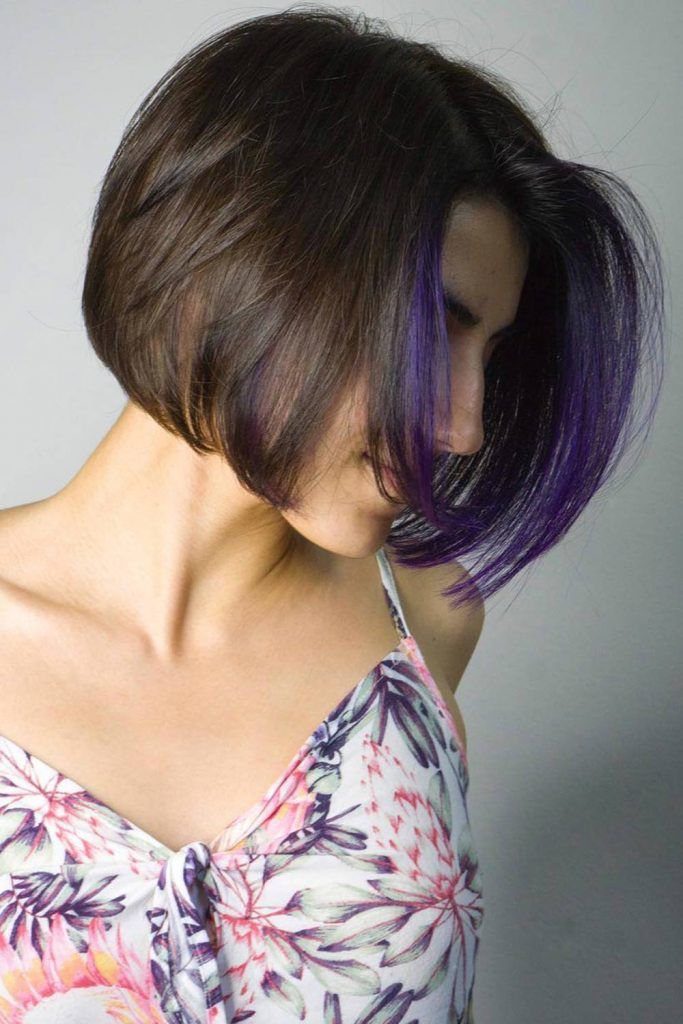 When your hair lacks dimension and natural volume, be it a thin or thick mane, feathers are the most powerful weapon to sort things out. They're medium cascading layers that usually take place on the top layer of hair to boost the body visually. And styling them is not only a breeze but also a pleasure: you just need to point your dryer toward the back and tousle your locks with your fingers to lift them up. To make the bottom portion well-groomed and defined, work with a round brush.
Deep Side Parted Short Bob
Side parted looks have always been the most attractive hairstyles: when one side outweighs the other, it creates a stunning, a bit asymmetric, and lifted silhouette. It's so easy to change the parting, which means that looking fascinating is even easier than you can imagine. Besides the awesome body of her hair, the soft light coppery hues nicely play on the short bob.
Short Angled Bob Hairstyle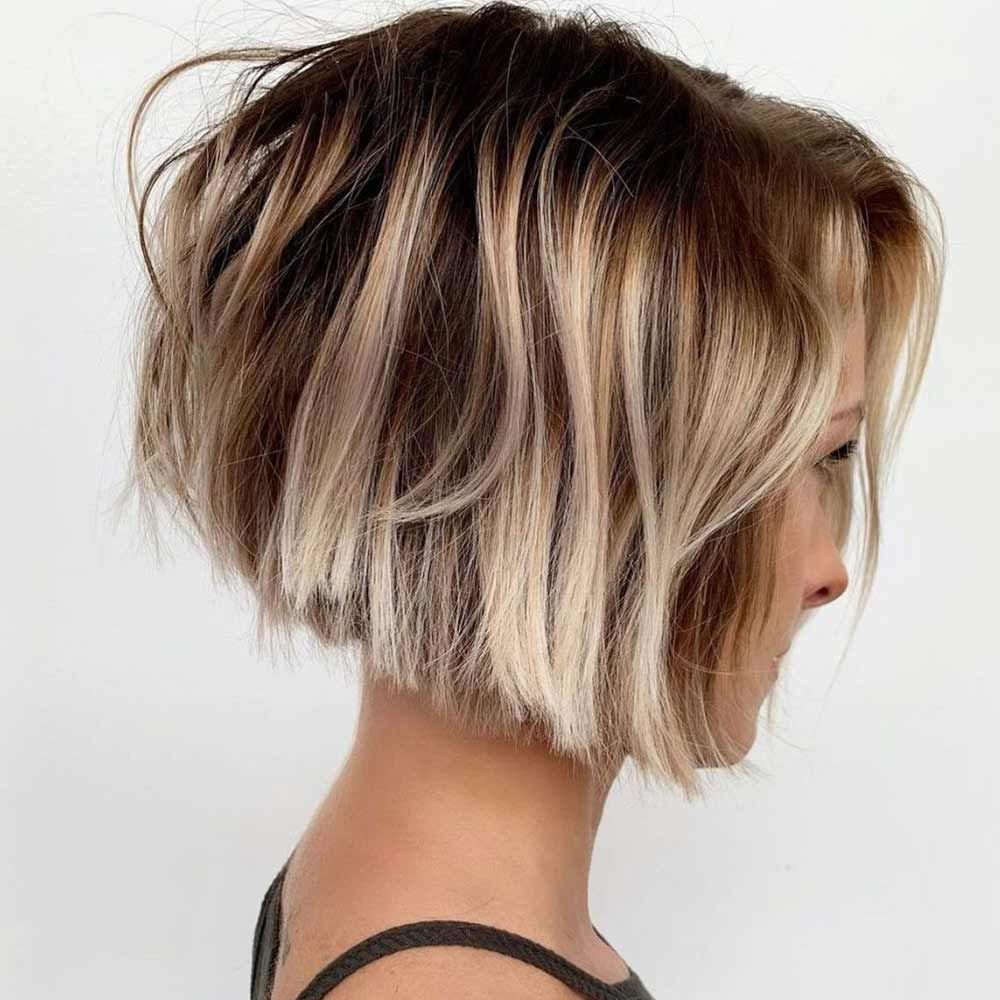 If you have a preference toward straight hair, then this is an excellent choice for you. This short-inverted bob has the classic stacked appearance in the rear of the cut, adding volume to the hairstyle. This model's dark brown hair has a beautiful wedge or horseshoe shape that you would expect with the inverted style. It also has a gorgeous balayage that provides depth and dimension to her hairstyle. This angled bob is a fun, chic way to add a flair of interest to your hairstyle.
Textured Brown Side-Parted Bob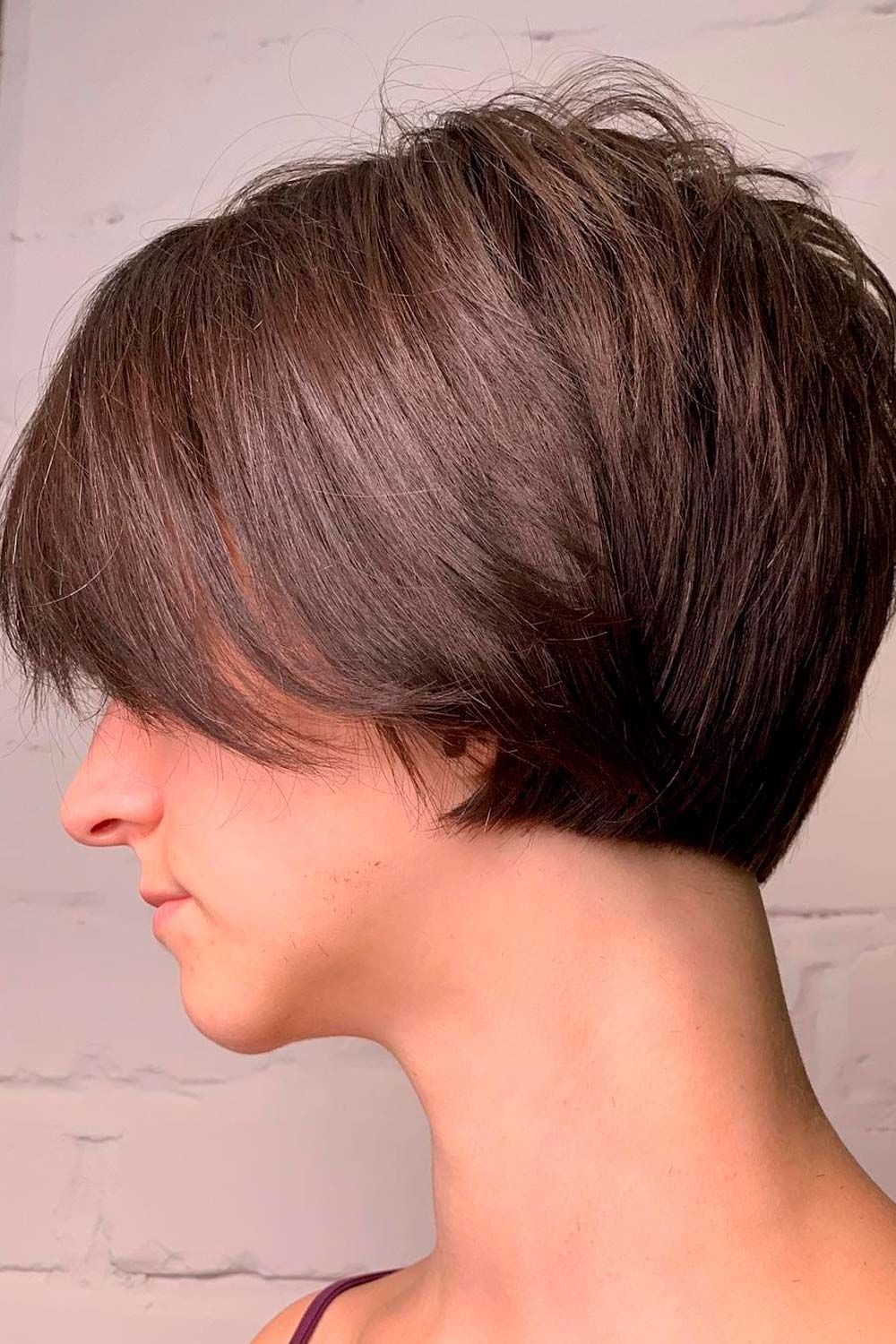 For some reason, most women think of complicated braided updos or tons of products applied when they think of hairstyles. But, in fact, a well-groomed shape and beautiful finish that holds throughout the day is the best image of a hairstyle. Condition your bob with softening mousses, style it with a nozzle, and set the look with a lightweight salt spray to enhance the texture. While taking a couple of minutes, these tricks will give you a stunning look for all occasions. For a more flirty vibe, flip one side of the bob!
Inverted Blonde Short Bob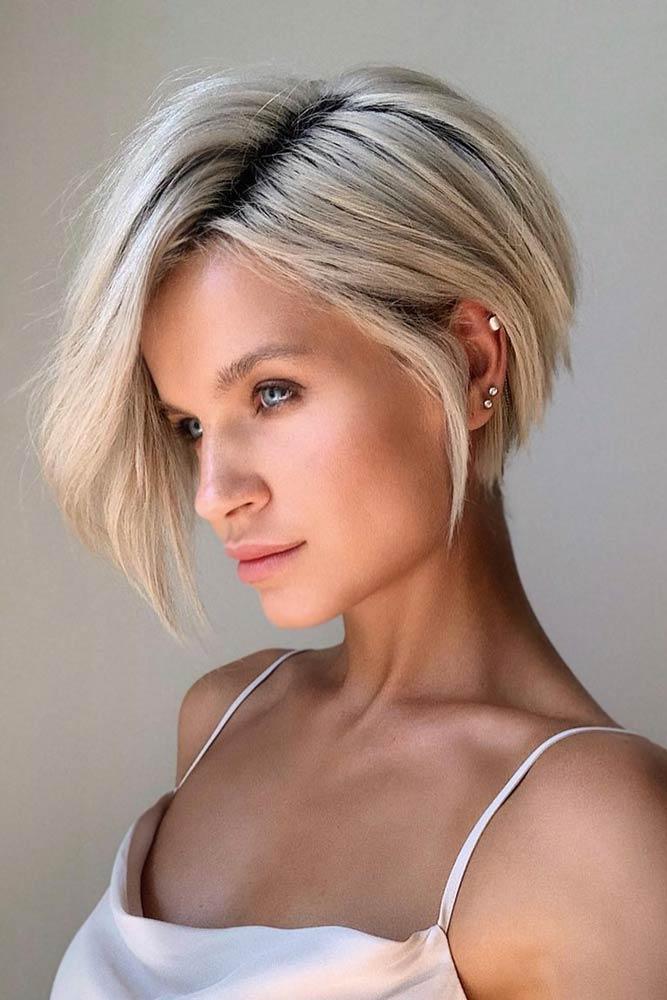 Want to be different in every way? Then, you can break the rules with an outweighed, inverted bob. Although it usually comes with a classic structure where one side is longer than the other, you can adjust the length of each one, thus creating a totally unique look. Also, such haircuts will give your face a framing touch you didn't even dream of, hugging your face with the charm of asymmetry.
Dark Blonde Straight Bob With Side Part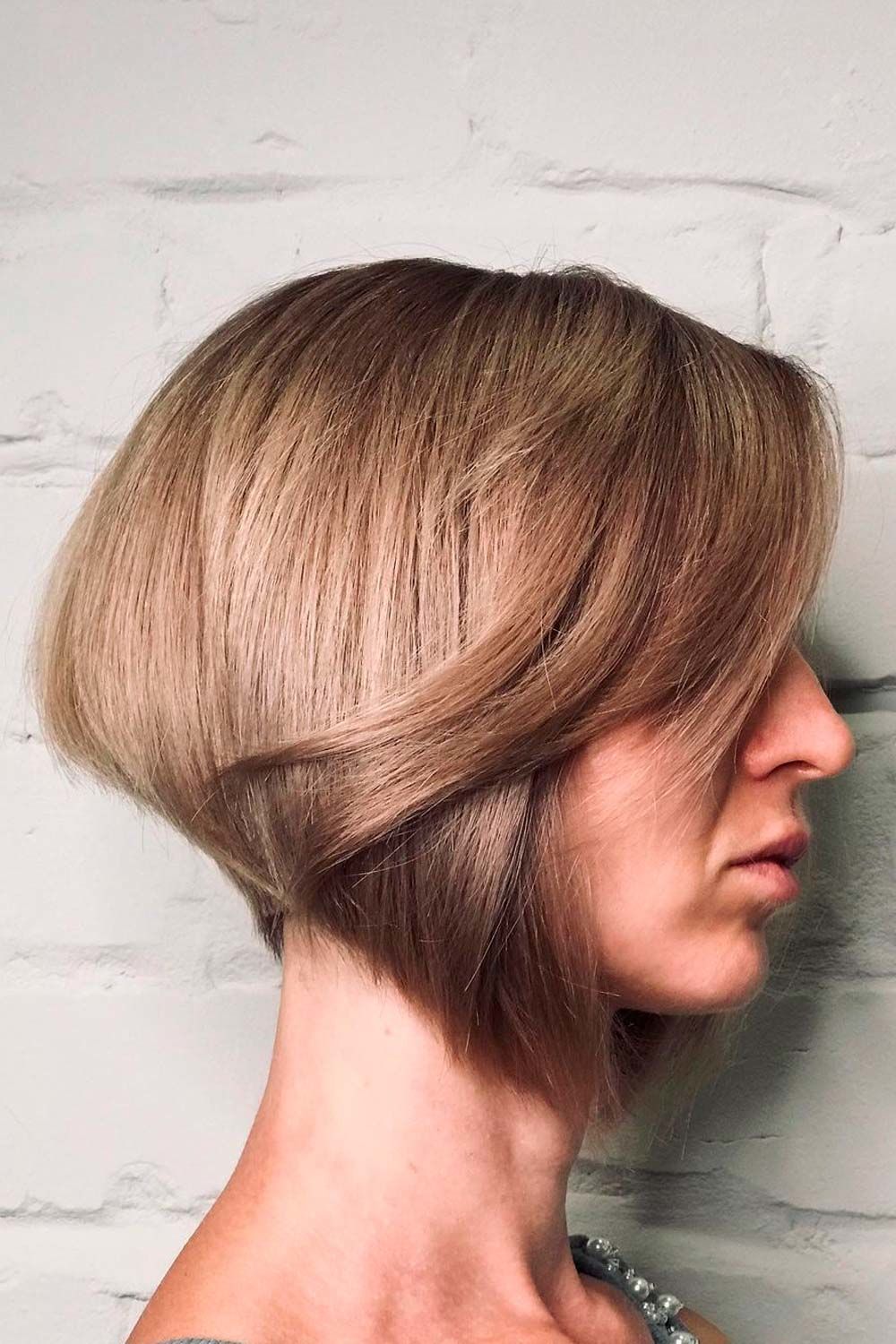 Sleekness, shine, and precision – that's what modern girls want to have in their styles. Of course, it may take some time to achieve the look, yet it's not about two hours of styling when you have the right cut. A bob with a well-shaped crown and pointed ends will get the most of your straight hair, easily adapting to all your styling needs. Get yourself a bob, style it with a nozzle, condition your hair prior to styling and the look above won't be a dream!
Straight Bob Hair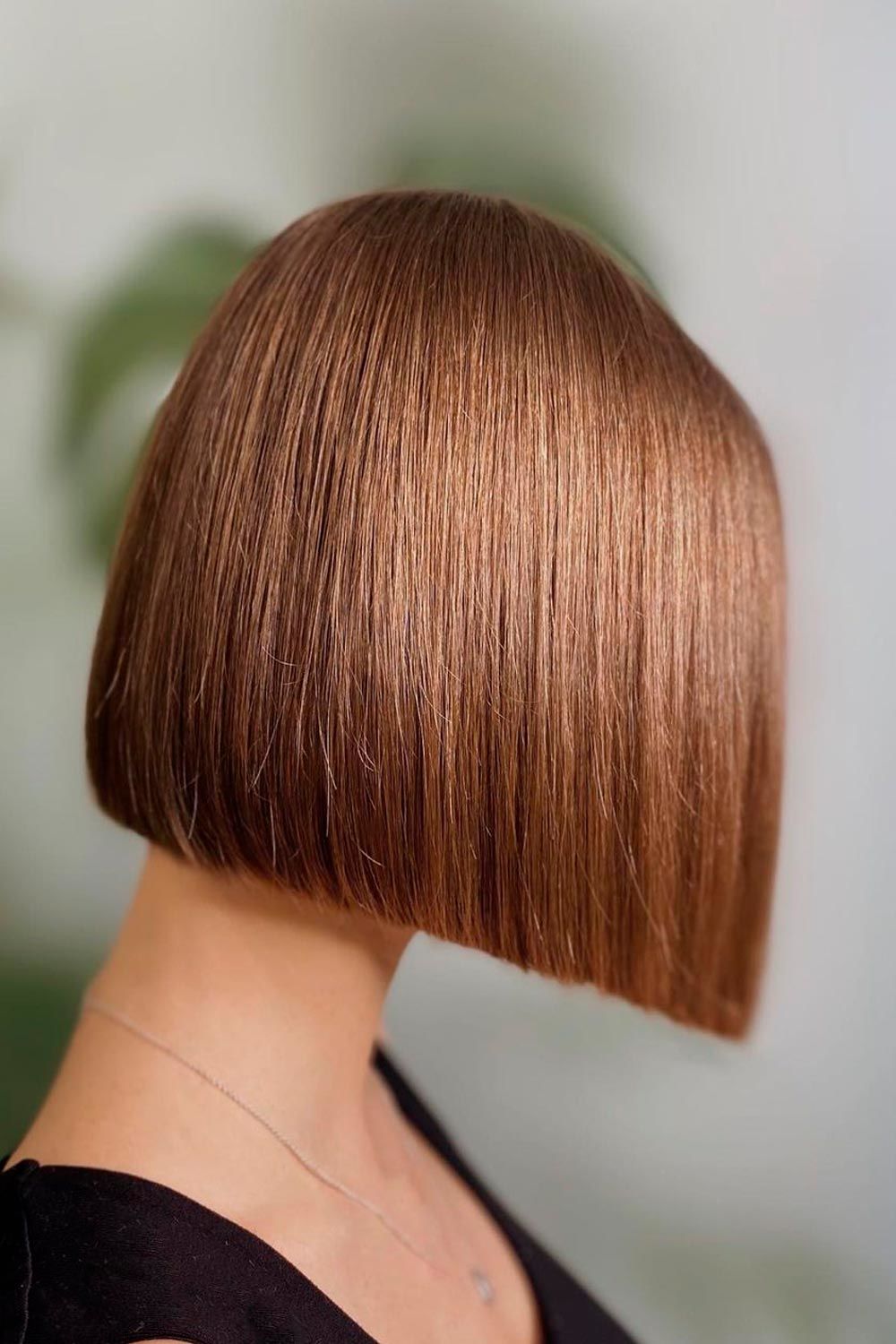 Straight hair isn't boring at all! When you wear a short bob, your straight locks can frame your face in the most flattering way, so you can forget about face shape insecurities. P.S. Bangs won't hurt!
Layered Bob Hairstyles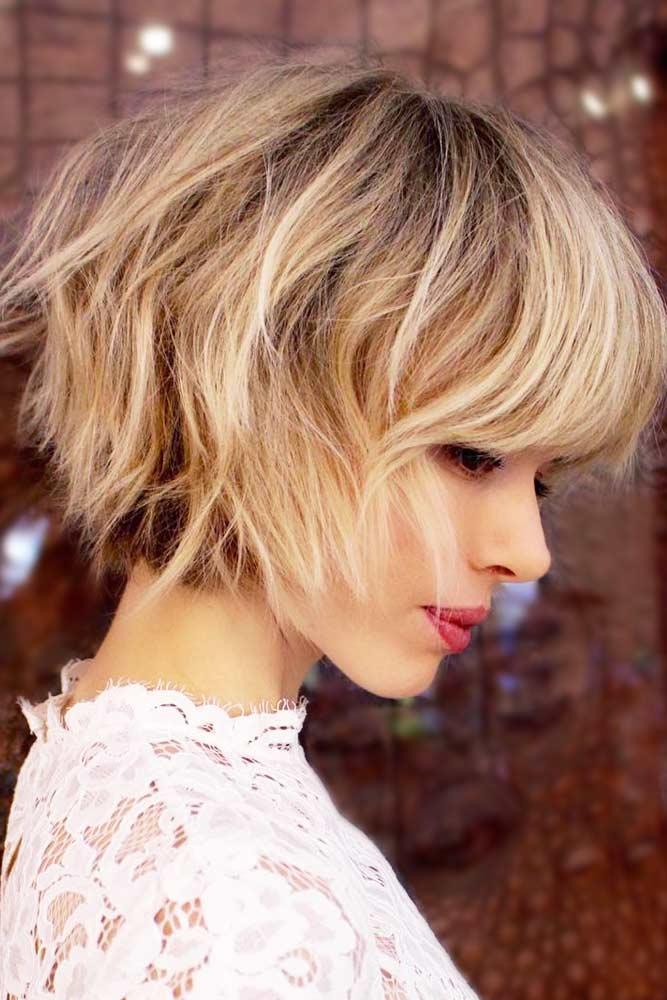 The layered bob is here to upgrade your thin hair. This haircut will bring the needed volume back, as each layer adds a lot of movement to your hair, making it appear fuller.
Wavy Short Bob Hairstyles
Since you can't go wrong with waves, it would be a good styling idea for your bob. In fact, if you usually wear your hair wavy or have such a pattern by default, you can ask your hairstylist for a haircut meant for such texture. When it comes to waves, these ideas will be your guide to flawless and trending looks!
Bob With Undercut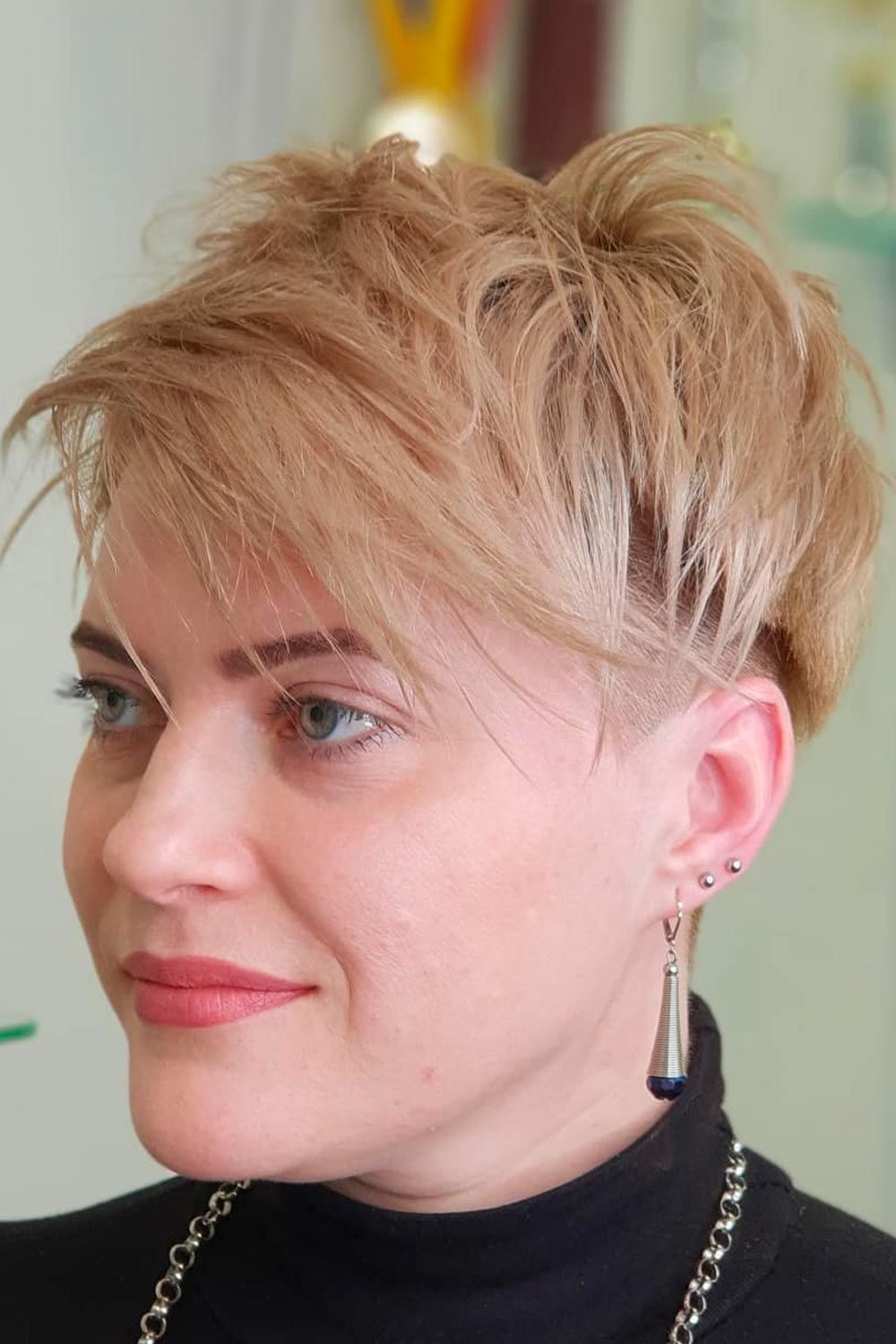 Bob hairstyles and haircuts have many facets that are full of surprises. They are as bold and punky as they're feminine and delicate. Obviously, this idea shows how sassy, daring, and simply different you can look with a pixie bob undercut. Three iconic haircuts become a single whole to help modern ladies reveal their inner-selves. A voluminous crown with face-framing front tresses of a pixie bob and a smooth shave on the sides of an undercut is what your style is missing if you want to stand out. Besides, this look is not only easy to maintain; once the sides grow out, you will get a versatile hairstyle suitable for your business and casual image.
Bob With Scrunched Waves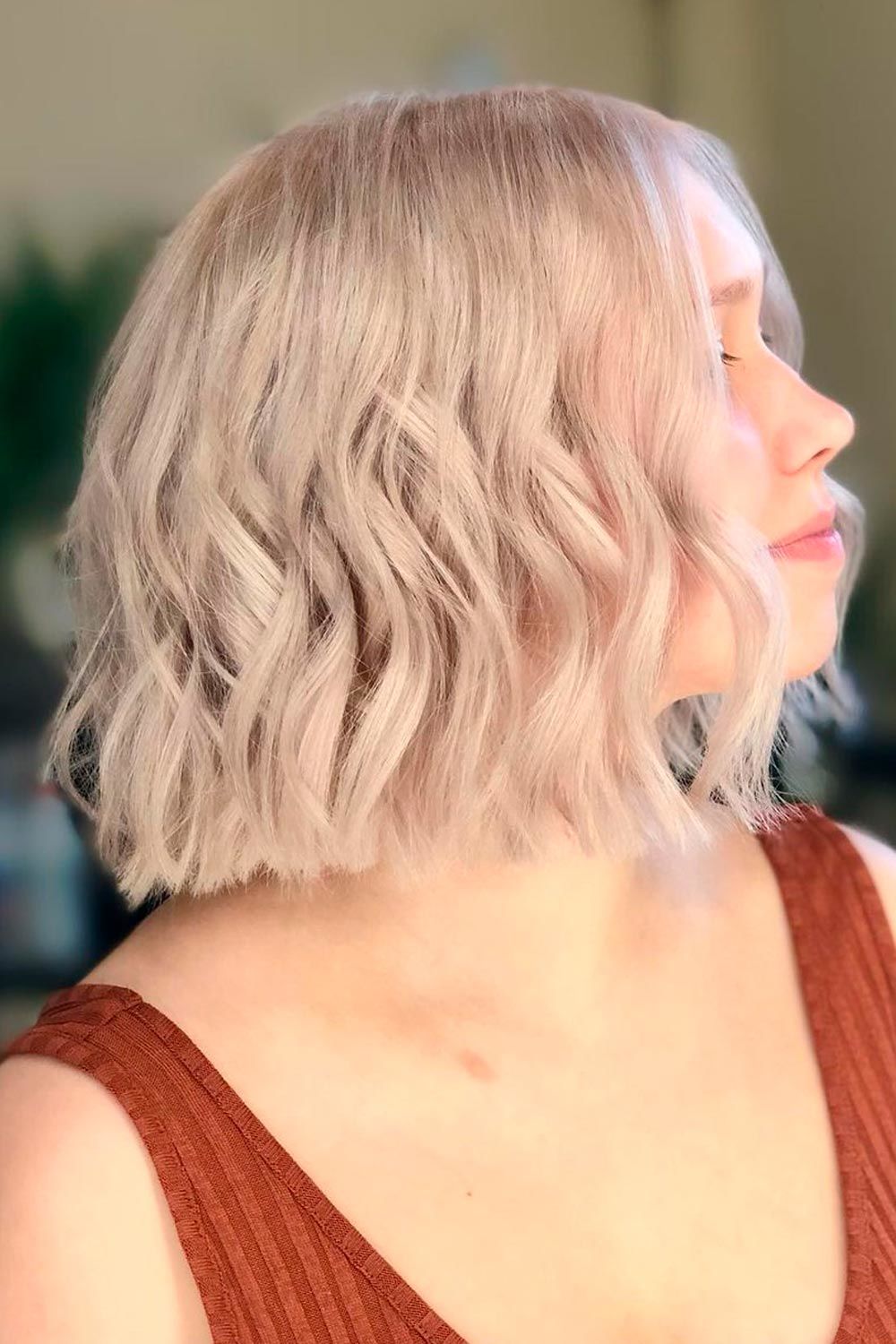 Just like peanut butter and jam, waves and bobs are a tasteful combination that will never lose its popularity. And if your bob is layered, any type of waves will be even more accentuated, defined, and attention-grabbing. These scrunched waves look very effortless, yet, with a posh accessory, they will nicely complement your festive outfit. To recreate the idea, start waving your hair from the bottom section: it will make them dimensional. Also, change the direction of your flat iron or curling wand every time you grab a new lock: it will make them look alive.
Short Bob With Soft Curls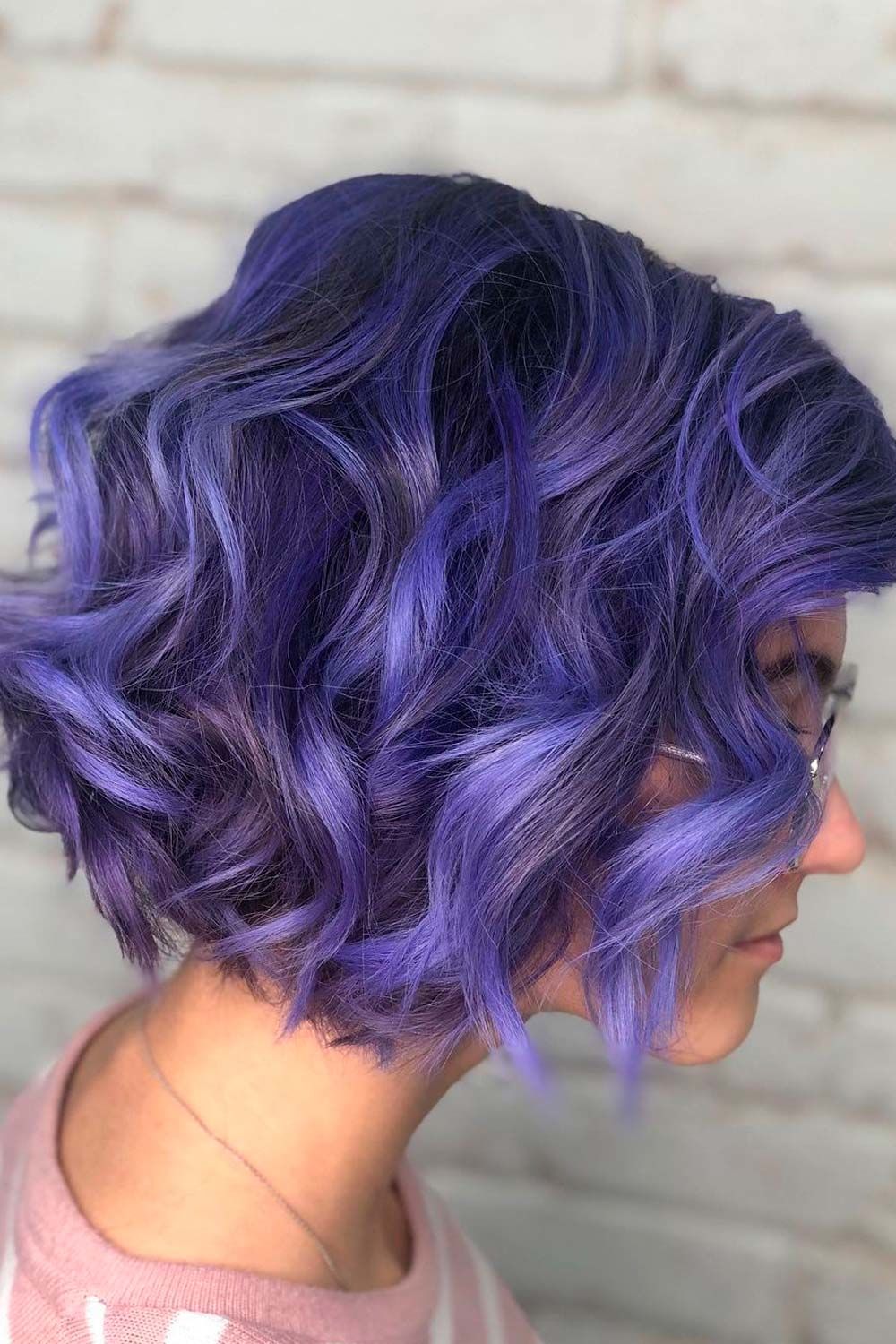 Every woman has her own image of curly hairstyles. But, most ladies still take them as tight ringlets that look ridiculously inappropriate for casual looks, resembling hairdos from the '60s. If you're one of such women, you've come to the right place. This short bob is here to show you that curly bob styles can be as different as you want them to be. Its soft waves twist at the ends gently, adding just a hint of curly texture to the look. By the way, modern curly short bob hairstyles have whole lotta options to choose from: they can be messy and carefree, loose and lightweight, thick, and distinctive.
Short Layered Bob Haircut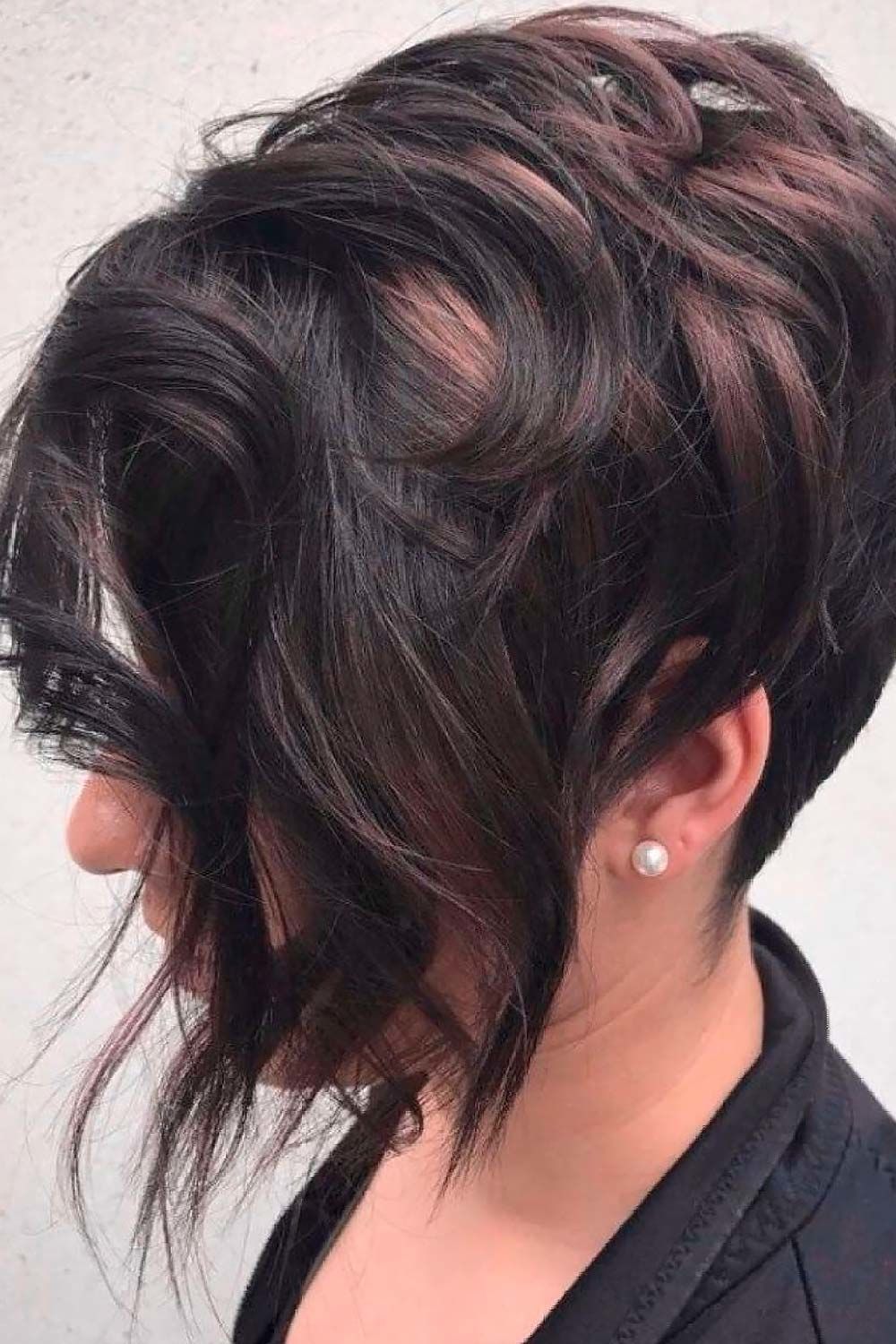 If you don't mind taking a bit of a leap, then jumping into the category of layered hair may be just what you need to spice up your hair-do. If you're ready to really take a daring step, there's no better time than summer to add an ashy brown color to your hair. The style and color pictured in this photo is a beautiful representation of how this would look on a wavy hairstyle. It would also look exceptional on other types of hair. The balayage color in this cut is so well blended that it is hardly noticeable.
Bob Hairstyle With A Bang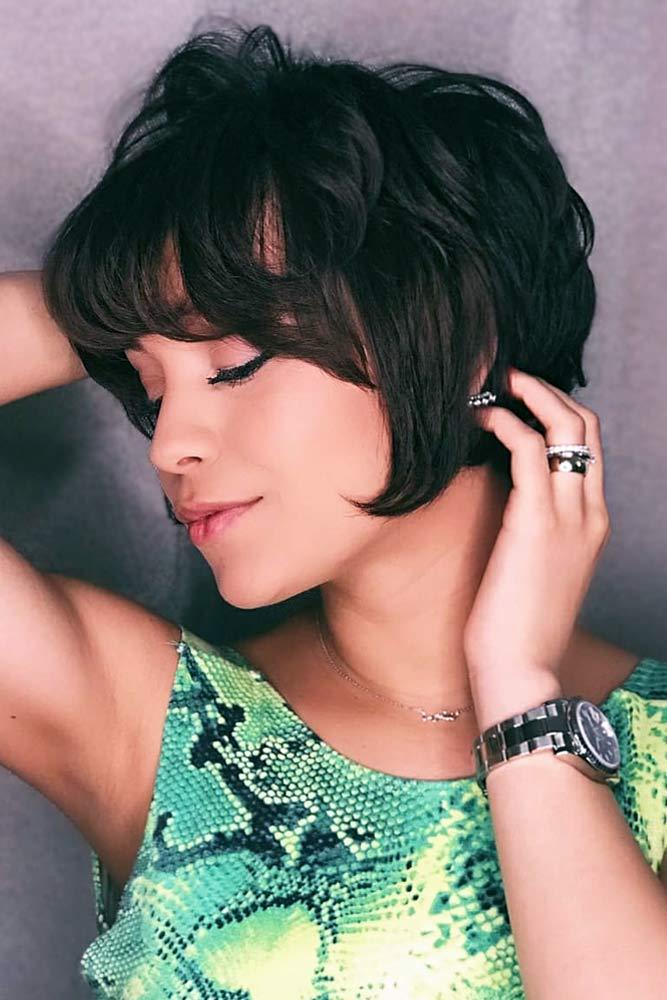 A cute, sassy option for the bob haircut that has held timeless beauty is the bang haircut. This style was exceptionally popular in the 60's and 70's and is making a roaring comeback to the beauty scene in this modern era. This model has a beautiful, sleek black hair color that compliments her skin tone and makes this cut all the more alluring. The trendy layered cut adds loads of volume to her hair, giving it a beautiful depth and dimension.
Short Bob Haircut For Wavy Hair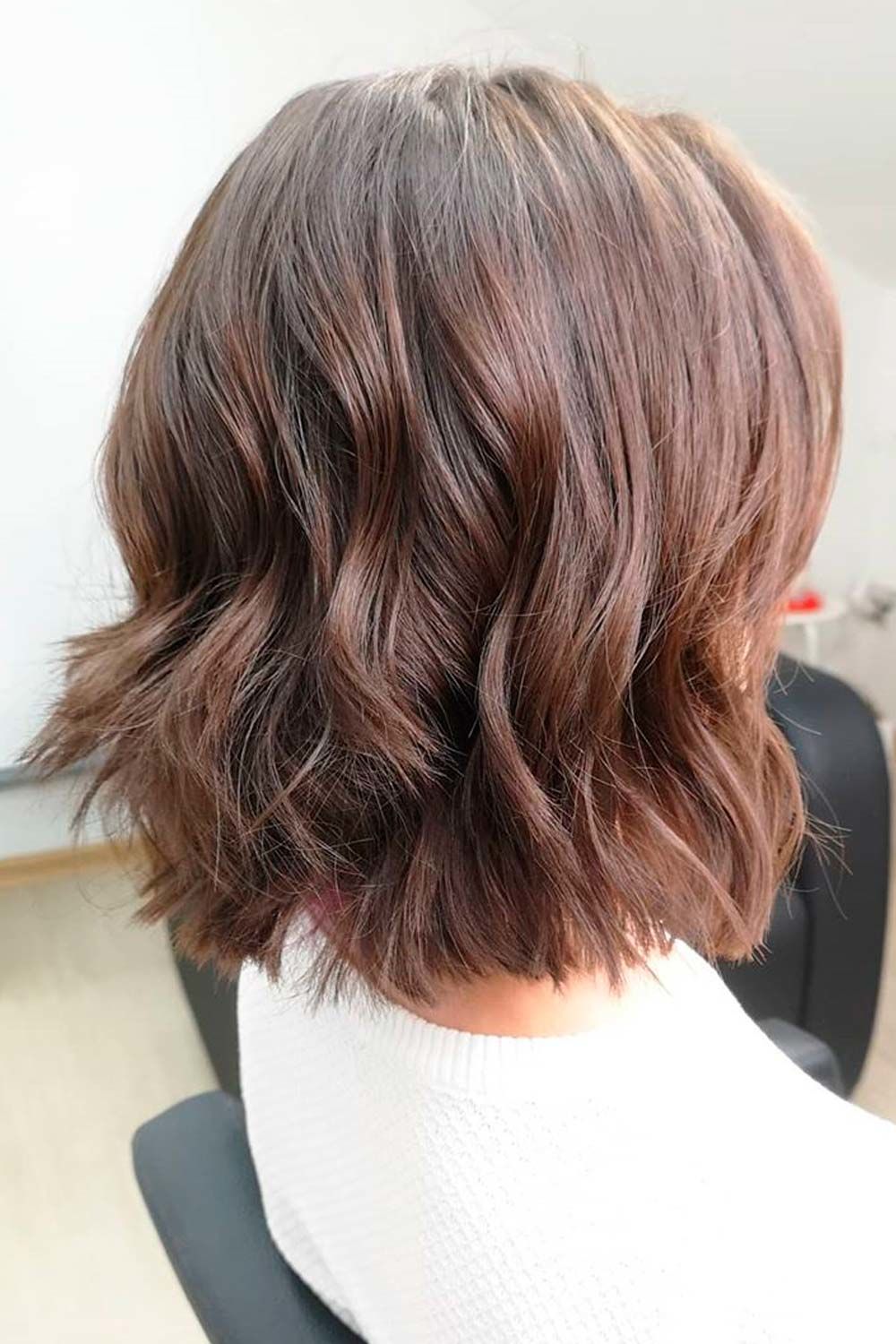 Don't be afraid to experiment with your blonde hair color. A color job doesn't have to be the boring one color with some highlights or lowlights added anymore. In modern times, it is perfectly acceptable to add some interesting colors to your hair such as the light platinum vibes in this model's photo. In addition to the trendy color on her locks, the ever-popular wavy hairstyle is a perfect balance between sleek, straight hairstyle and the conservative, curly hairstyle.
A-line Bob Haircut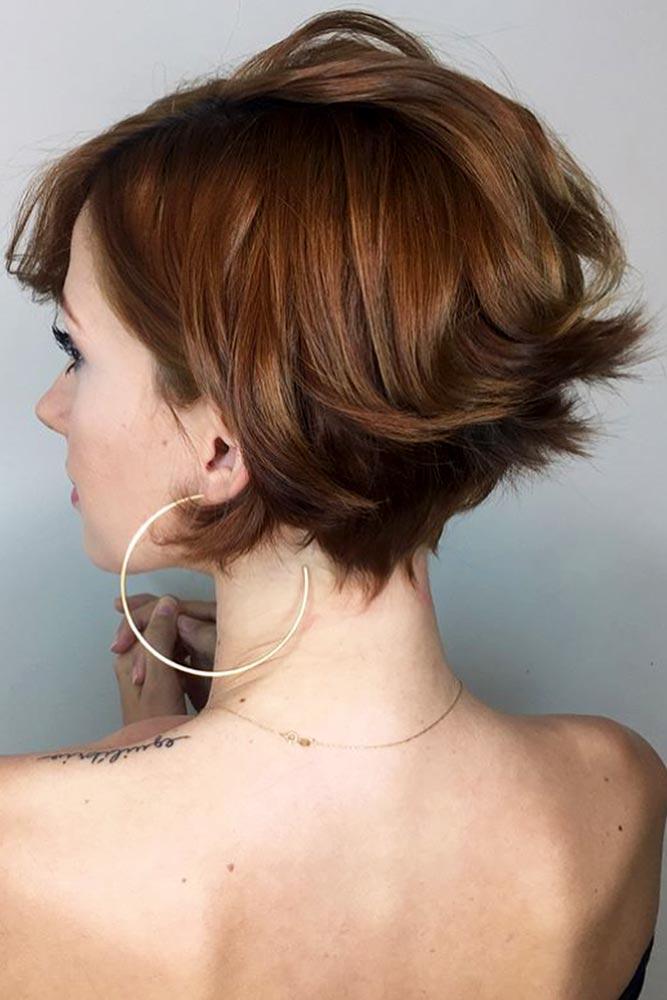 The styling options that A-line bob can give to you are simply countless. You can put up the shorter back locks, creating a sassy spiky look like the one you see in the pic or sport its straight version, where charming A-shaped silhouette emphasizes the beautiful texture of your hair. It's all up to you, as well as colors. This girl combines her bob with light chestnut brown hair color, which looks stylish and natural as a result.
Blunt Side-Parted Blonde Bob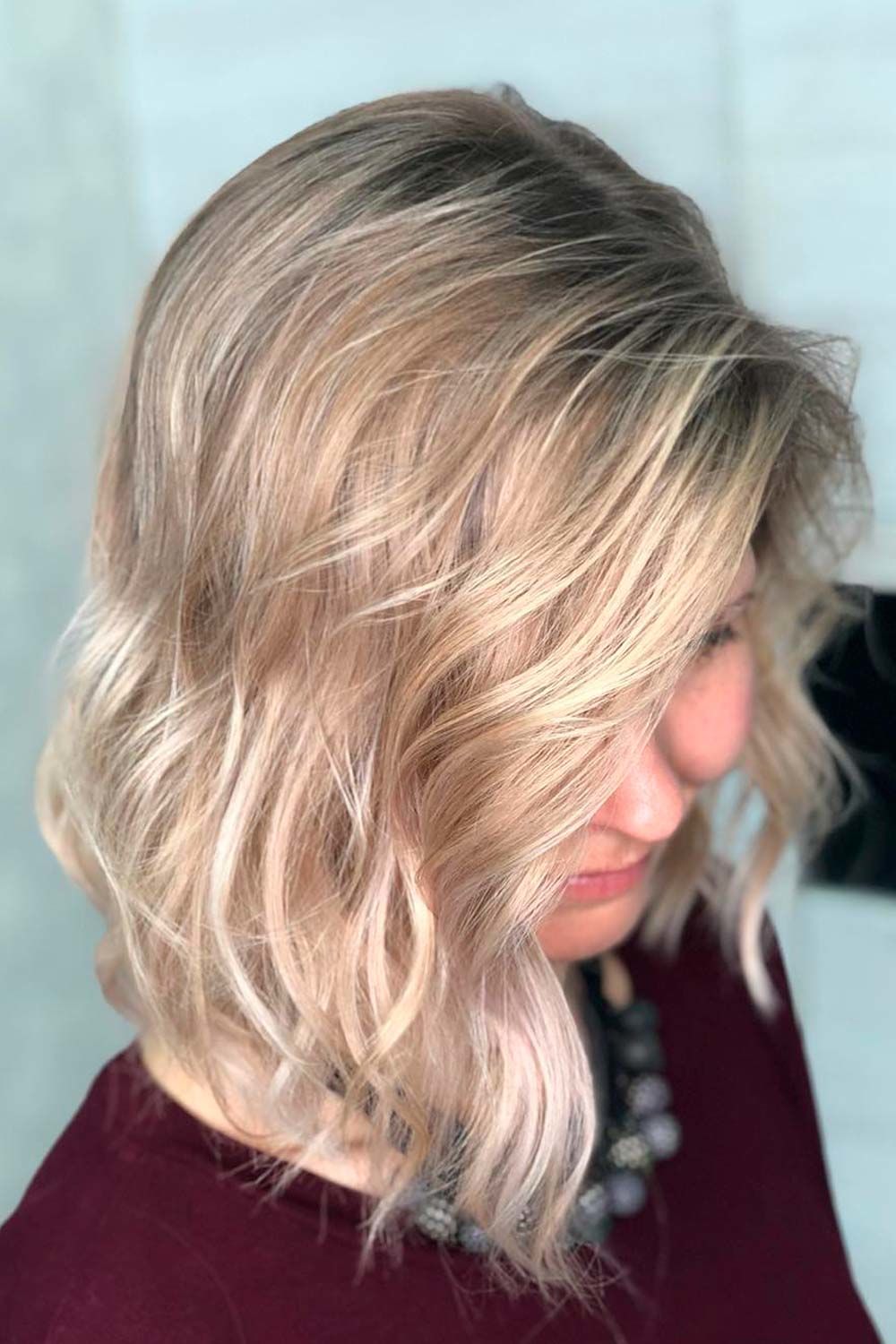 Even though blunt haircuts have a pretty simple one-length structure, they're by no means boring! When you have a perfectly leveled length with even graduation, any style you create will be amazingly precise and super defined. And once you give it a slightly wavy touch, you will see the real potential of a blunt silhouette. As for everyday styling, there's nothing more attractive and beautifying than side-parted waves, especially if they're a little bit messy!
Wavy Short Bob Hairstyles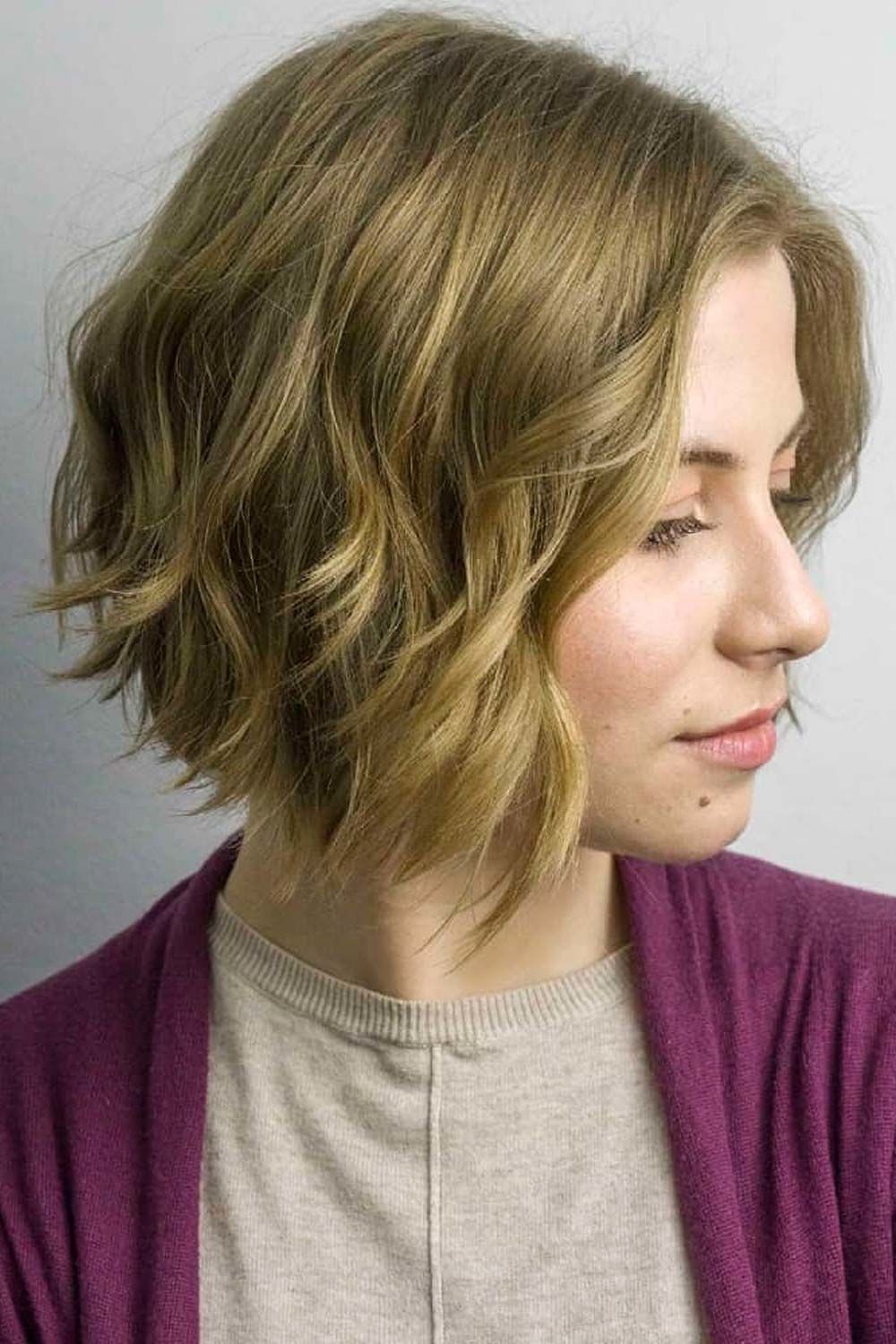 Nothing can give your hair more texture and movement than waves: despite their simplicity, they can work wonders to your hair. And the shorter your bob, the more prominent they are! You can wave it for your everyday look, as well as wave it for your special occasion; it will beautify everything.
Cute Bob Hairstyles With Top Knot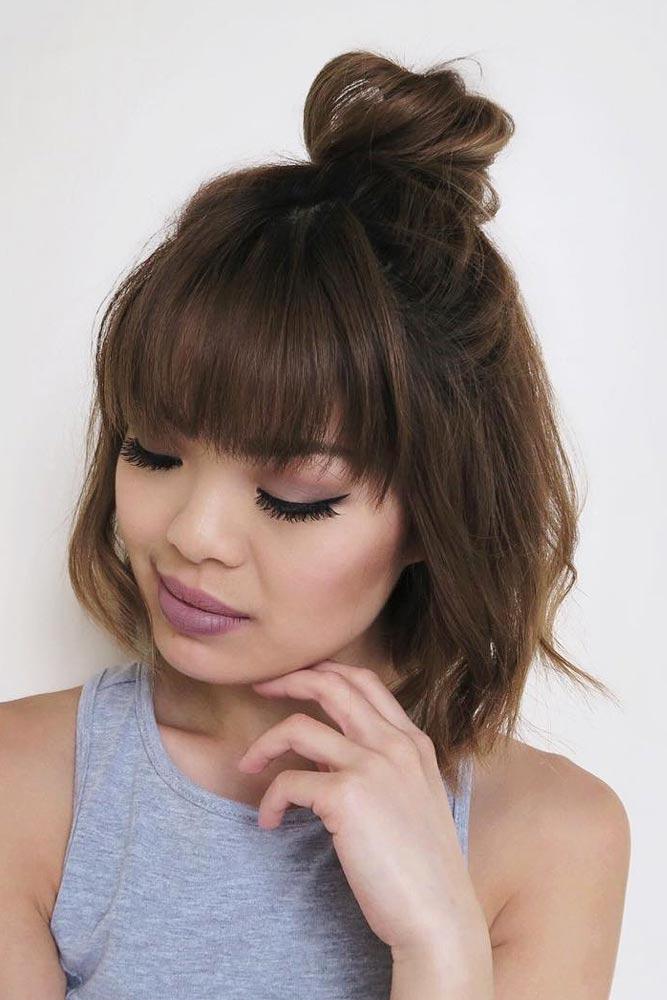 Who says that it's impossible to get a cute updo for short hair? These short bobs will dispel this myth once and for all! Section off your crown and twist it around to create a simple, yet adorable hairdo. Also, bangs would be a fantastic addition for such a girly look.
Braided Bob Hair Styles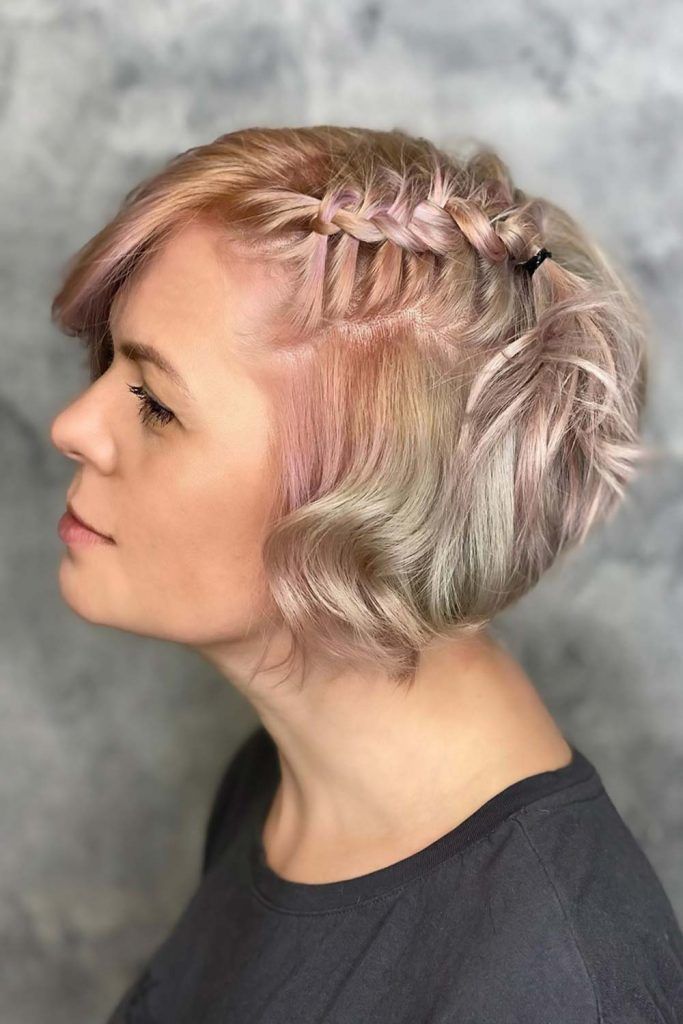 Braids can beautify any hair length, regardless of how short your hair is! In fact, even girls with pixies can pull it off, they just need to have bangs. And your short hair has no limitations, as well as your creativity. You can braid the crown vertically, for example, create a wreath of braids, or simply braid the sides. It's all up to your imagination. When you know how different the bob haircut can be, you've got everything for a stylish and trendy look. Besides a great number of cutting variations, the bob can also give you eternal styling freedom so you can experiment with various styles. From dramatic waves and curls to straight and sleek looks, with the amazing diversity of styles you can do with a bob, you will certainly be the center of attention.