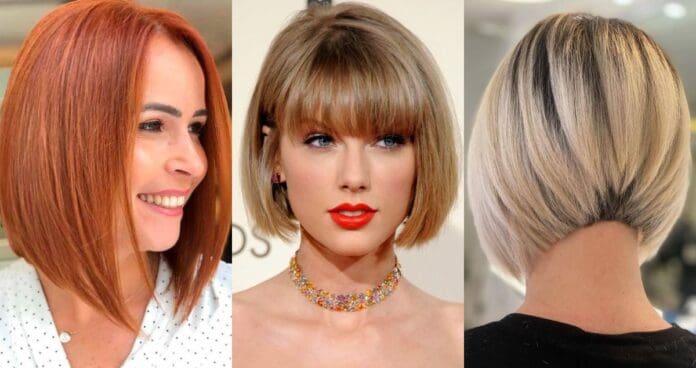 Short haircuts for women can be a huge dilemma, especially for the owners of long and thick hair. To tell the truth, do not be afraid to experiment a little. If you won't like your short cut, you can return to your long hair in a couple of months. By the way, short haircuts for curls look even better. Thick curly hair is extremely difficult to style because of its texture. Short hair will be perfect for this type of curly texture, and any other textures as well. Now, let's check out how short hair can help you take it up a notch for your look!
Short hair cuts: Celebrity Choices
Short hair allows women to feel the freedom of styling and sharpness of image they couldn't even dream of. As a matter of fact, wearing short haircuts in 2022 is a trend that has taken over women from all around the globe, and celebrities were the first fans on the list. Have a look at the latest iconic short cuts captured on the red carpet!
Anne Hathaway's Long Pixie Cut With Side Swept Bangs
If you are about to copy someone's look, why don't you steal it from your favorite celebrity? You've seen charming Anne Hathaway with many different lengths, and here she opts for a pixie haircut that shows off her best features while giving a slight frame to the forehead. A well-groomed long pixie accompanied by side-swept bangs is nothing but the best compliment to oval face shapes.
Karen Gillan With Pixie-Bob And Wavy Upswept Bangs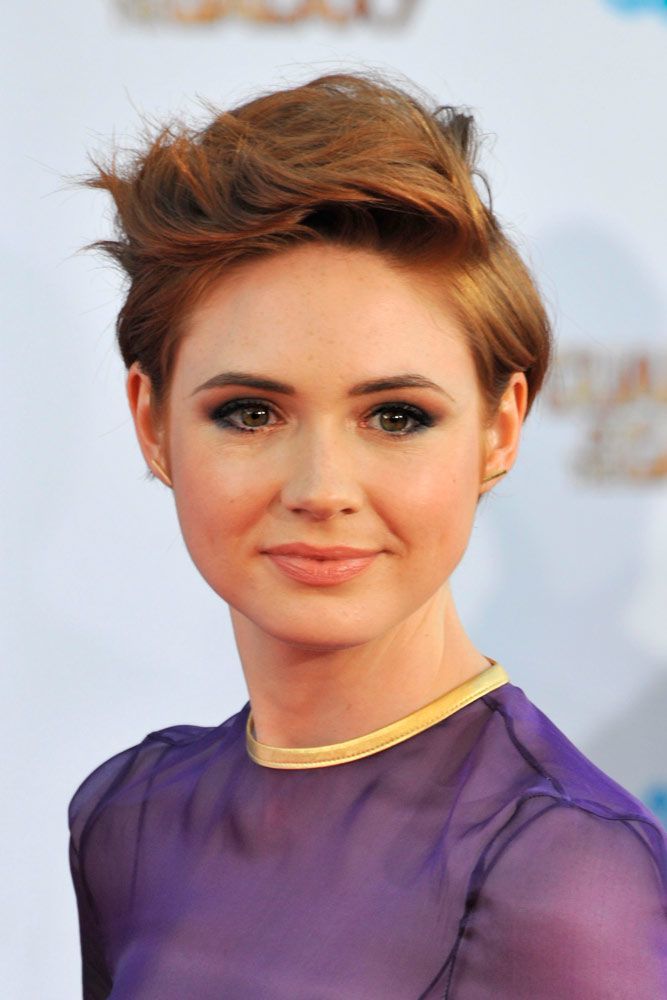 For one of her premiere looks, Karen Gillan also decided to show up with a shorter-than-usual haircut. This short version of pixie-bob gives a lot of volume to the back portion, and to keep the perfect balance in the front, the actress chose to go for wavy upswept bangs.
Michelle Williams's Pixie Haircut With Deep Side Part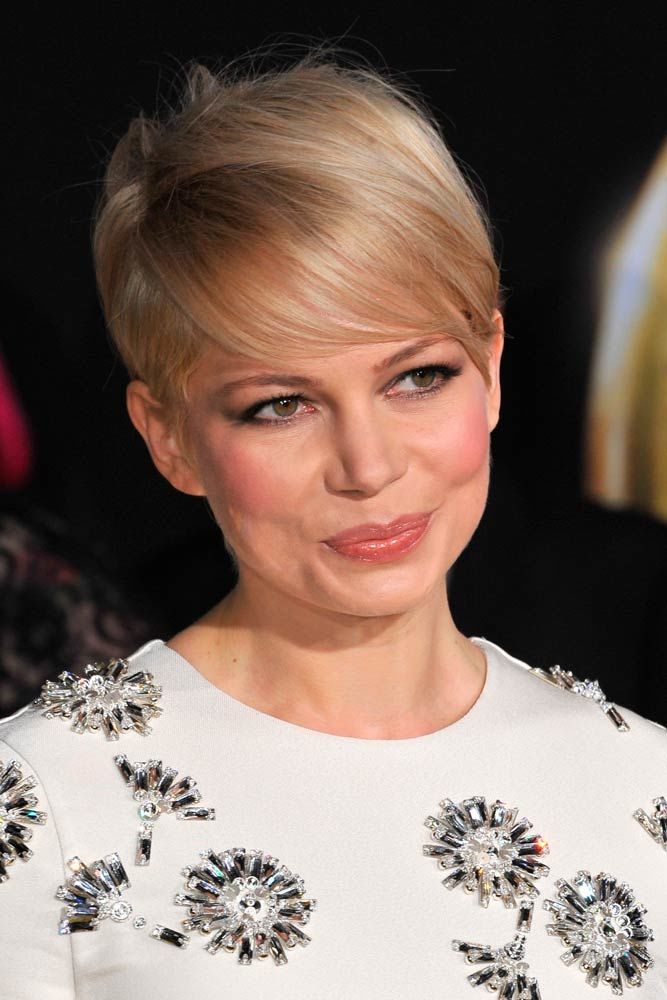 Michelle Williams's hairstylists know that one can't go wrong with a side-parted bang and pixie. Though her audience is used to seeing her with relatively long and full chevelure, such a well balanced and immaculate silhouette did impress everyone.
Long Pixie With Undercut – Perfect Rihanna's Style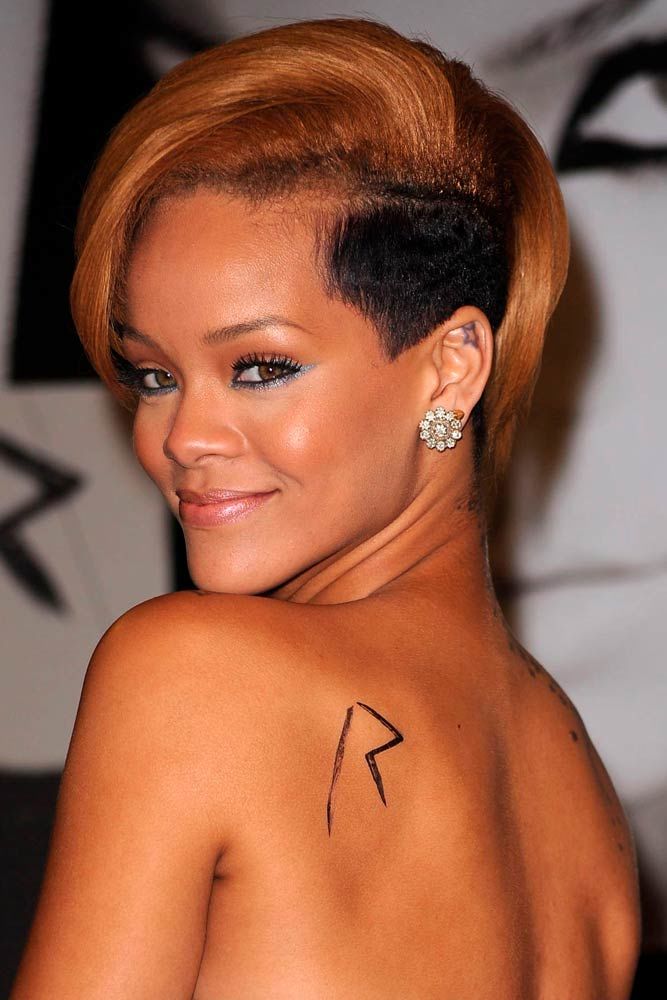 Sometimes we think that someone should write a book about Rihanna's transformation history. And this long pixie with an undercut really should be in the first chapter! The shaved sides make the dramatic top even more voluminous, and the play of colors does the attention-grabbing job.
Emma Stone's Blunt Bob With Bangs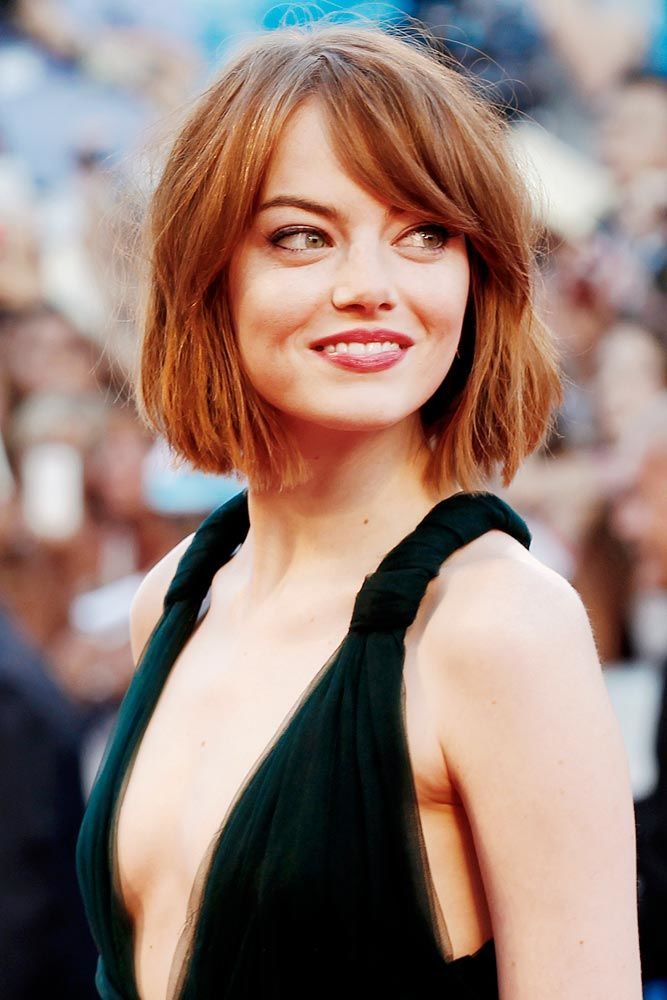 According to many looks of Emma Stone, a premiere look without bangs is a look wasted! Even though it's a simple blunt bob, the way everything in her appearance harmonizes is worth walking down the red carpet.
Short Layered Bob For Krysta Rodriguez
While many women think that short haircuts come into our lives as a commitment, this opinion has nothing to do with a layered bob like the one sported by Krysta Rodriguez! Not only do the layers give a decent shape to her bob but they also create a long-lasting volumetric body that won't disappear after her hair grows out.
Jessica Stroup's Classic Chin-Length Bob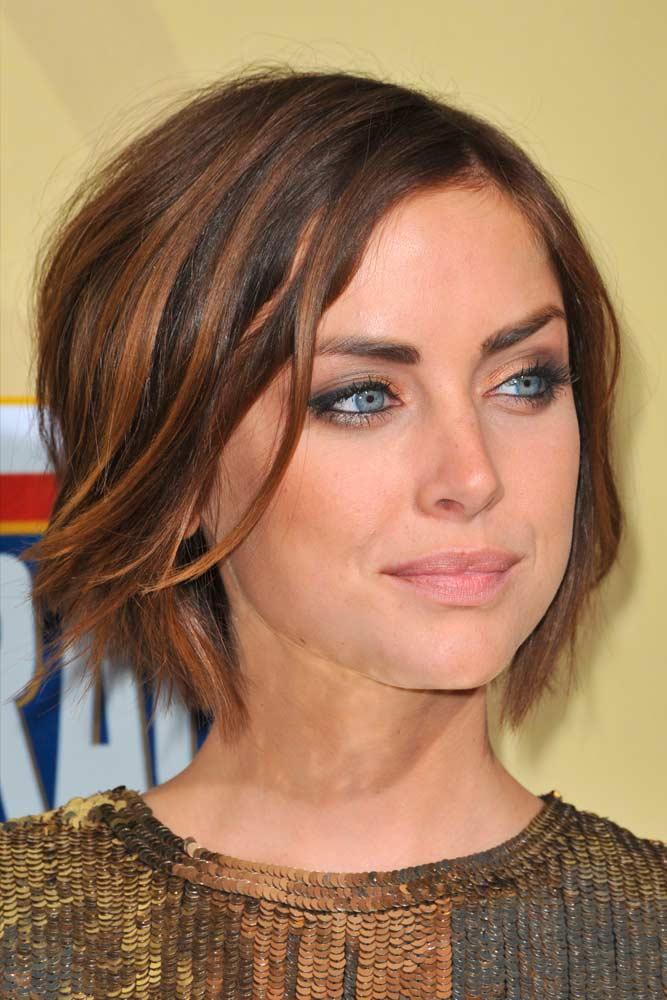 This minimalist premiere Jessica Stroup's bob haircut is here to show all ladies with fine hair that their locks won't always fall flat. With the length that slightly hits your chin and a soft, round angle, you can forget about plain looks once and for all.
Milla's Curly Bob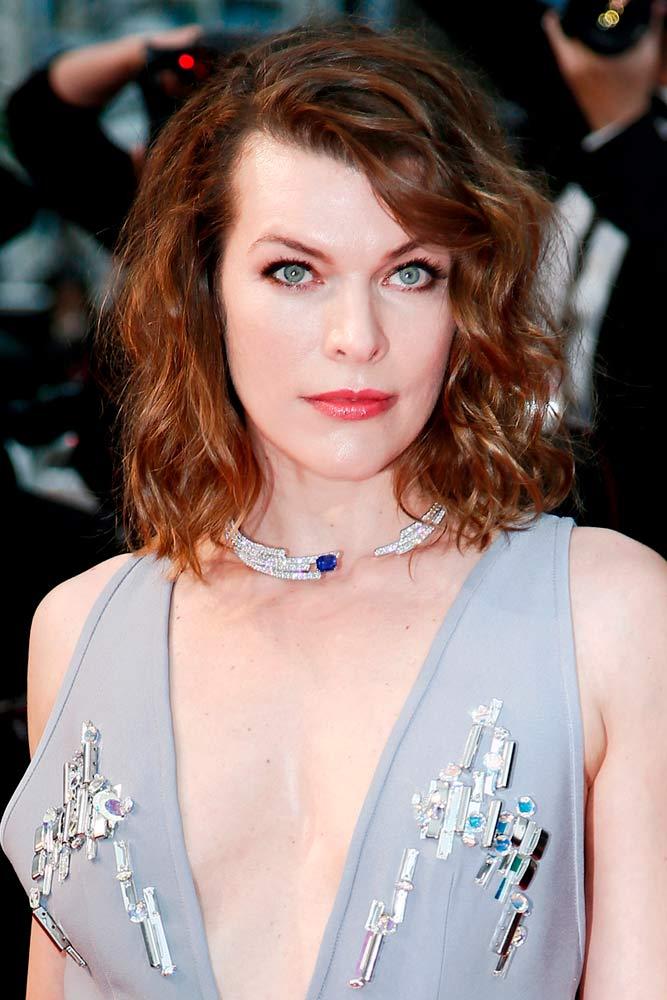 Milla Jovovich loves to amaze cameras with waves and curls, not for nothing. Such an effortless texture nicely softens her angled facial features while the short length keeps up with the bounce and volume.
Perfectly Sleek Bob On Kylie Jenner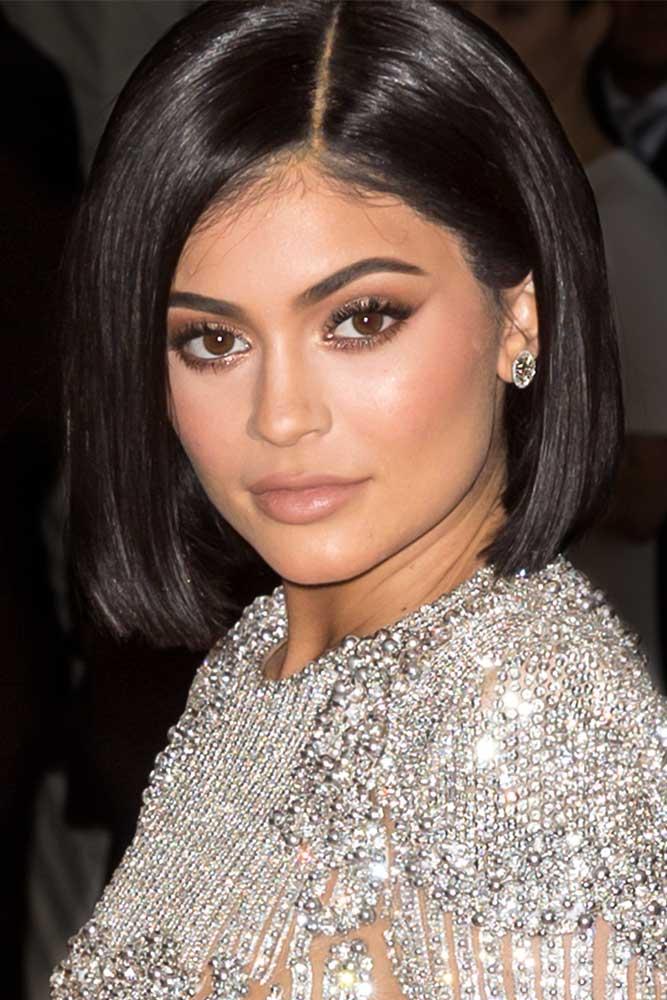 Everything that Kylie Jenner's stylists touch turns to gold: this fashionable look is living proof. She's tried lots of different colors and lengths, yet, this bob is still the most natural-looking idea. It's sleek and slightly asymmetrical cut, that's why it looks so refined.
Taylor Swift Style: Stacked Bob With Blunt Bangs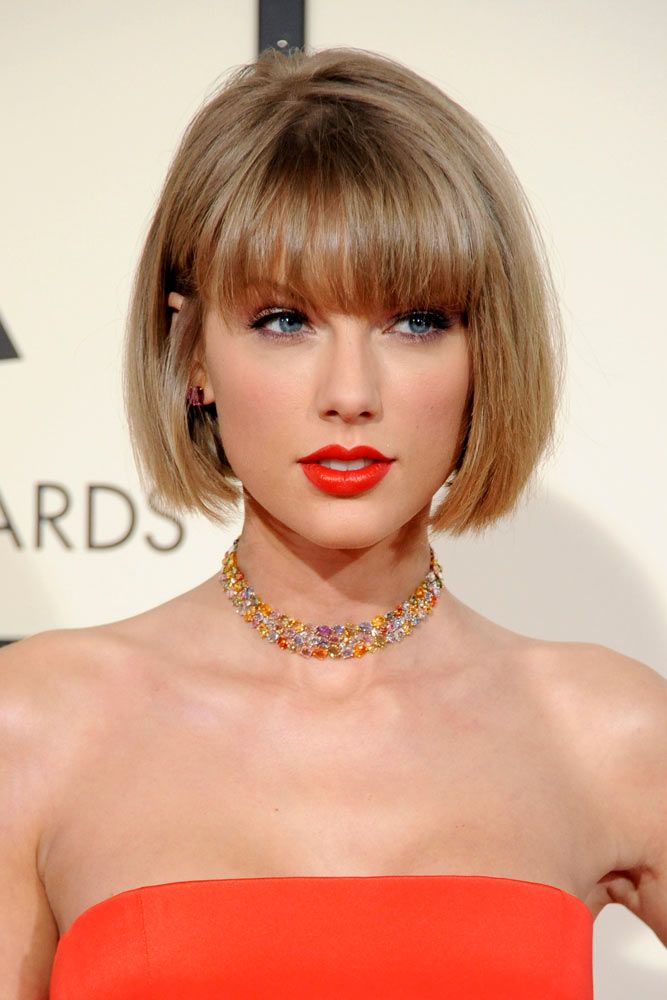 Taylor Swift seems to have personalized the idea of blunt bangs. Besides the voluminous body, her stacked bob gives a nice flaw-concealing touch, hiding up her big forehead.
Straight Bob Haircut Like Jennifer Aniston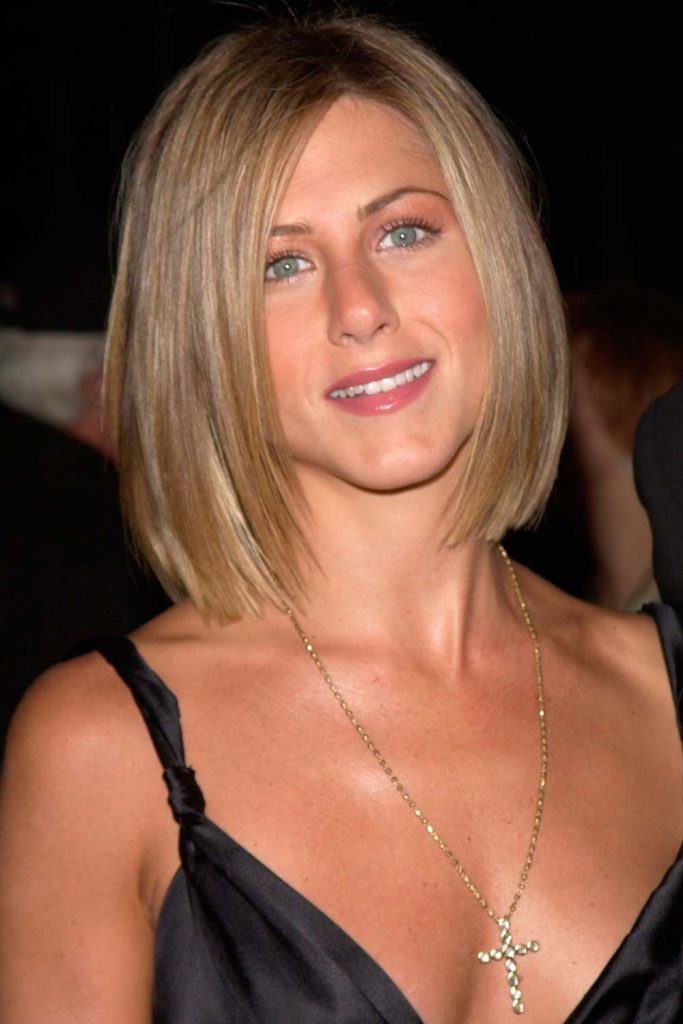 Scarlett Johansson`s Side Pixie Cut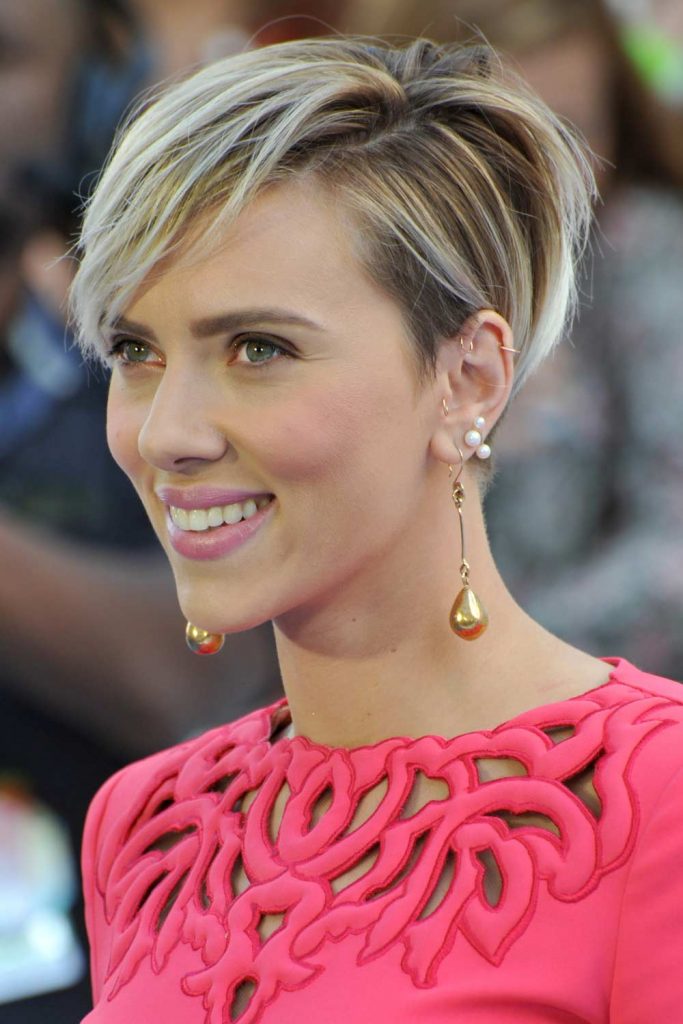 Lucy Liu`s Short Bob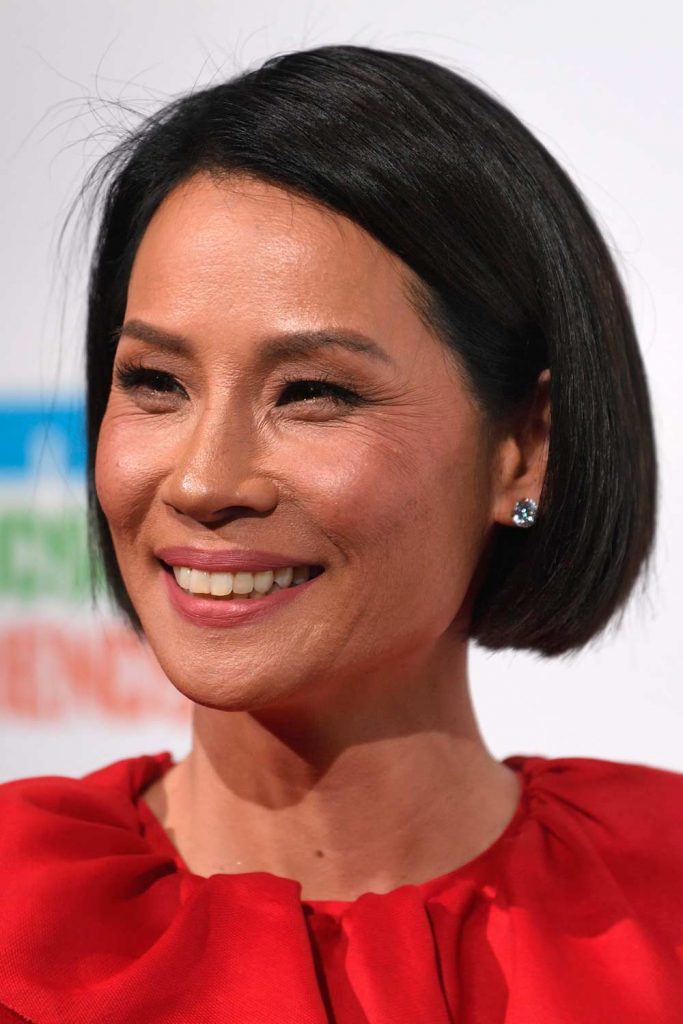 Spiked Up Pixie Haircut Like Halle Berry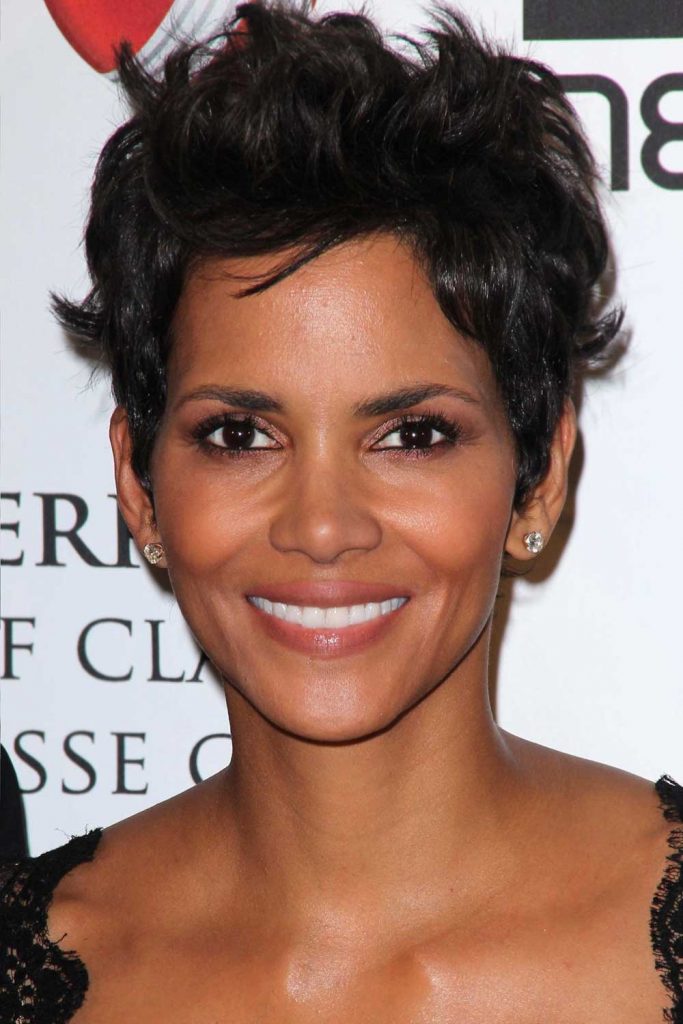 Brushed Up Long Pixie Cut With Short Sides by Miley Cyrus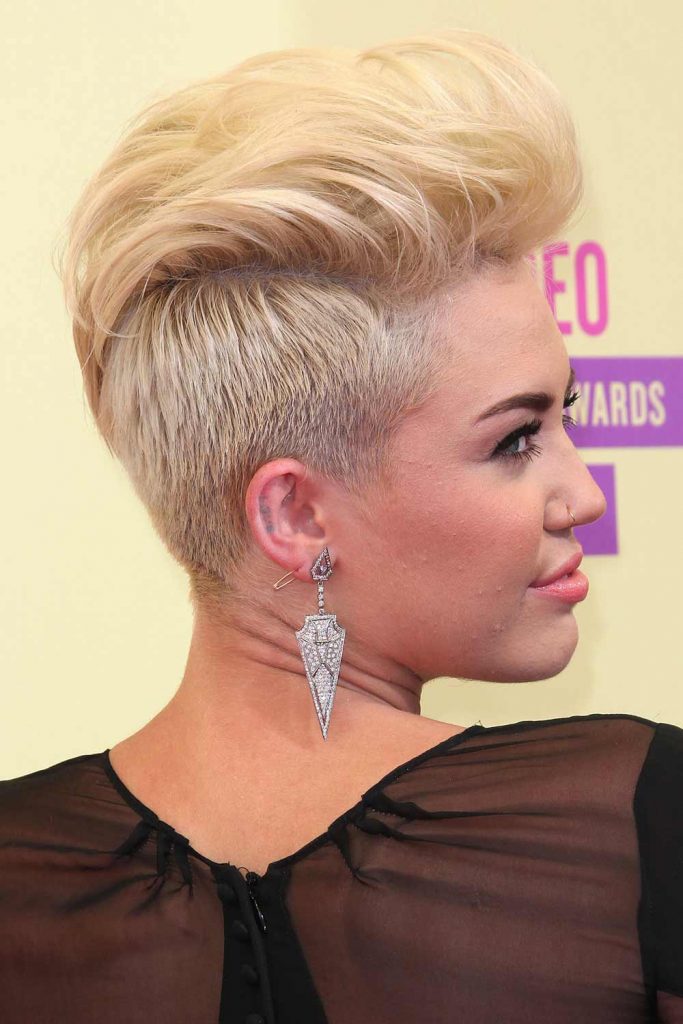 Perfect Short Haircuts To Make Facial Features More Distinctive
Unfortunately, we do not know who we should owe this trend to, but frankly speaking, these short haircuts are bomb dot com. Despite the fact that cutting your hair short has some disadvantages, the advantages are much bigger. A nice short haircut just line shag cut can make your facial features more distinctive, bring attention to your neck and shoulders, and it is easy to take care of.
Pushed Up Pixie Cut For Oval Face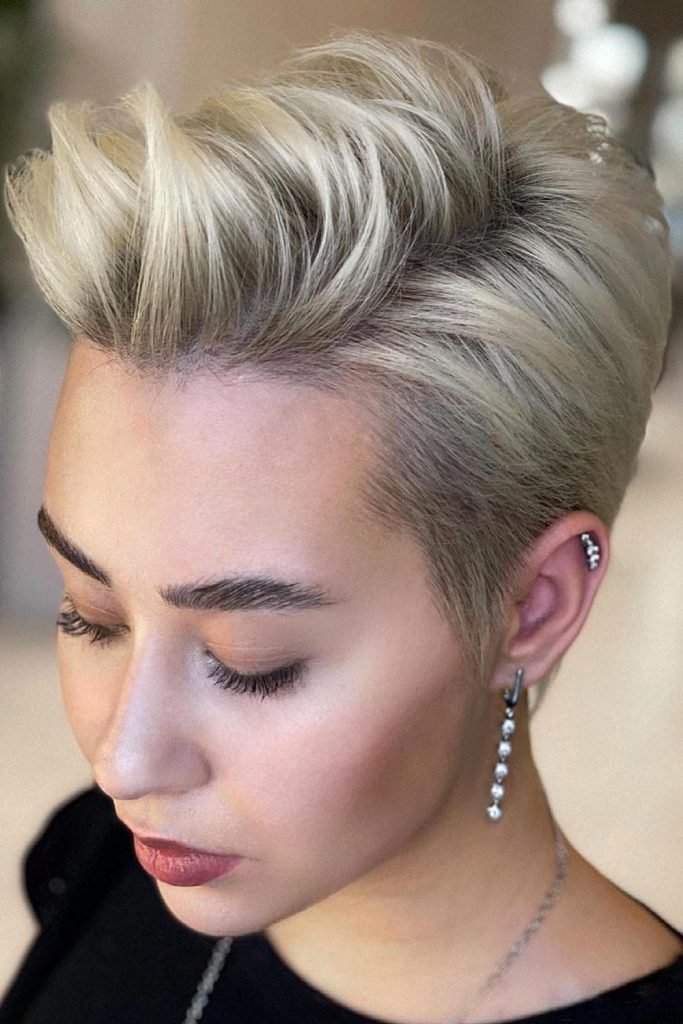 This is an absolutely sexy pixie cut. With the use of your preferred hair gels or pomades, you can make this look your very own. Of all the short haircuts for oval faces, this would have to be one of my favorites. Its seductive flare makes one almost irresistible. This cut is also one of a confident woman who is not afraid to make sure that everyone knows that she is comfortable in her own skin. The smoky eye makeup only enhances the seductive attributes of this cut.