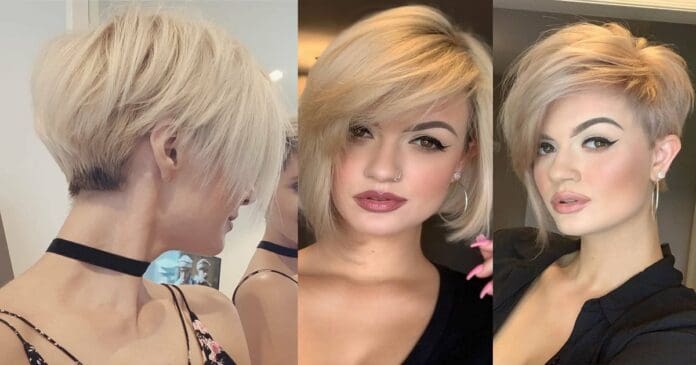 This new collection of brunette and blonde pixie haircuts shows off the latest cutting techniques and flattering styles. And you'll get to see the new season's colors that are so beautiful and bohemian!
1. Medium bob makeover to female pixie hairstyles & haircuts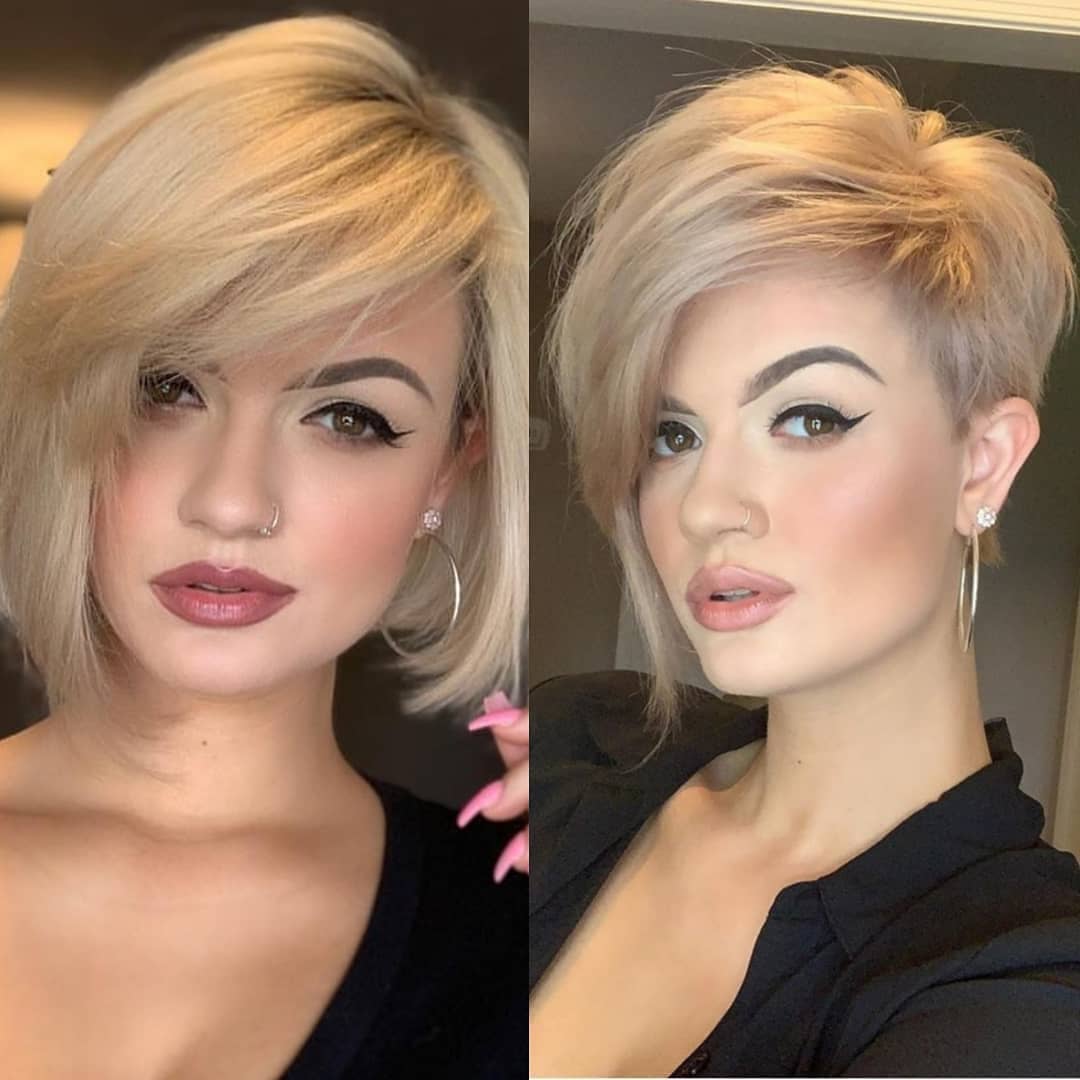 I have to admit that I think both of these cuts look fabulous. But the model wanted a shorter, edgier look and so she now has a glamorous pixie hairstyle. The asymmetry is emphasized to make it extra-trendy and the swep-over bangs with a long disconnected layer look very chic! The model's fine hair looks great in a pixie cut in cool, beige-blonde with a touch of gold-blonde balayage at the parting.
2. Platinum-blonde all over glamor on female pixie hairstyles & haircuts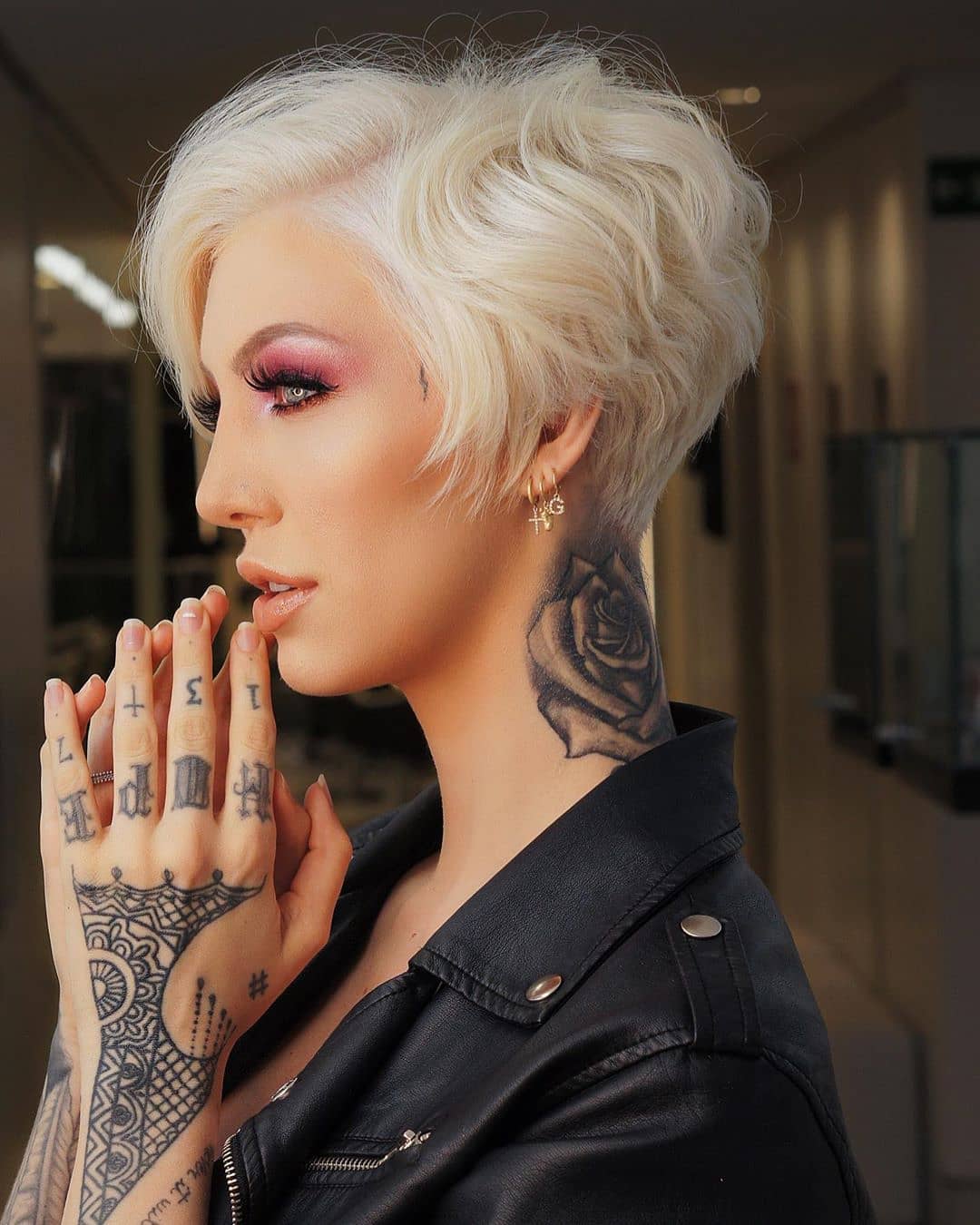 And here's another gorgeous short haircut that's full of shape, texture and movement. Height just below the crown curves in to a graduated finish at the nape. And this focuses on the dramatic, black rose tattoo on the model's neck. Waves on the sides give volume and lovely movement, with the tapered 4-tier side-points emphasising gorgeous cheek-bones. Cool white and warmer gold balayage add fantastic 3-D color depth!
3. Simple & stylish female pixie hairstyles & haircuts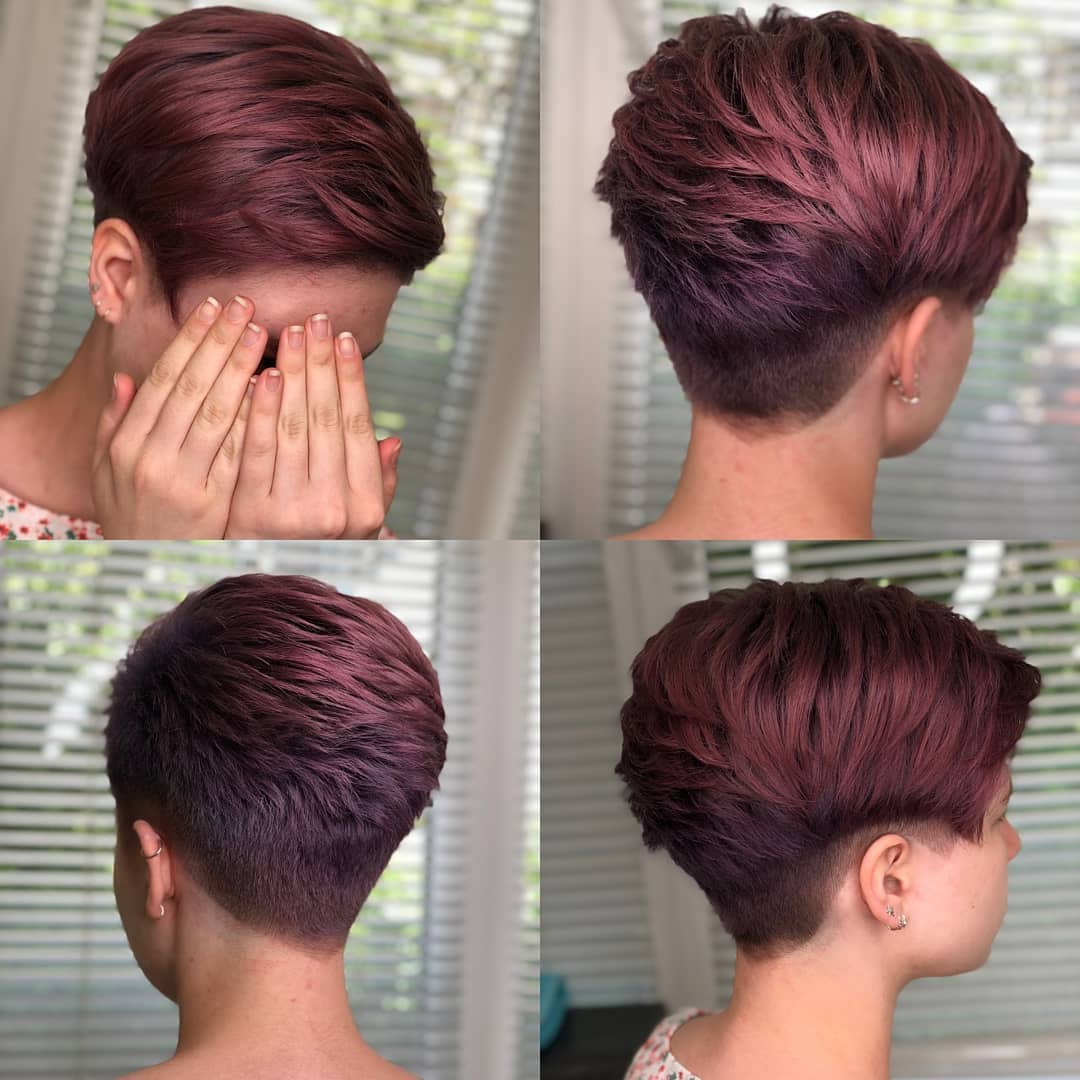 This simple cut is full of exciting new features to give it a contemporary twist for the new season. The clean cut line from ear to ear, dipping down to a soft V at the nape looks trendy and precise. And the side-styled crown and back is one of my favorite looks for short hair. Notice the 'shadow shaved' effect in the fourth image that echoes the shape of the hair above. And the deep side part creates a fashionable asymmetrical shape.
4. Black & white messy female pixie hairstyles & haircuts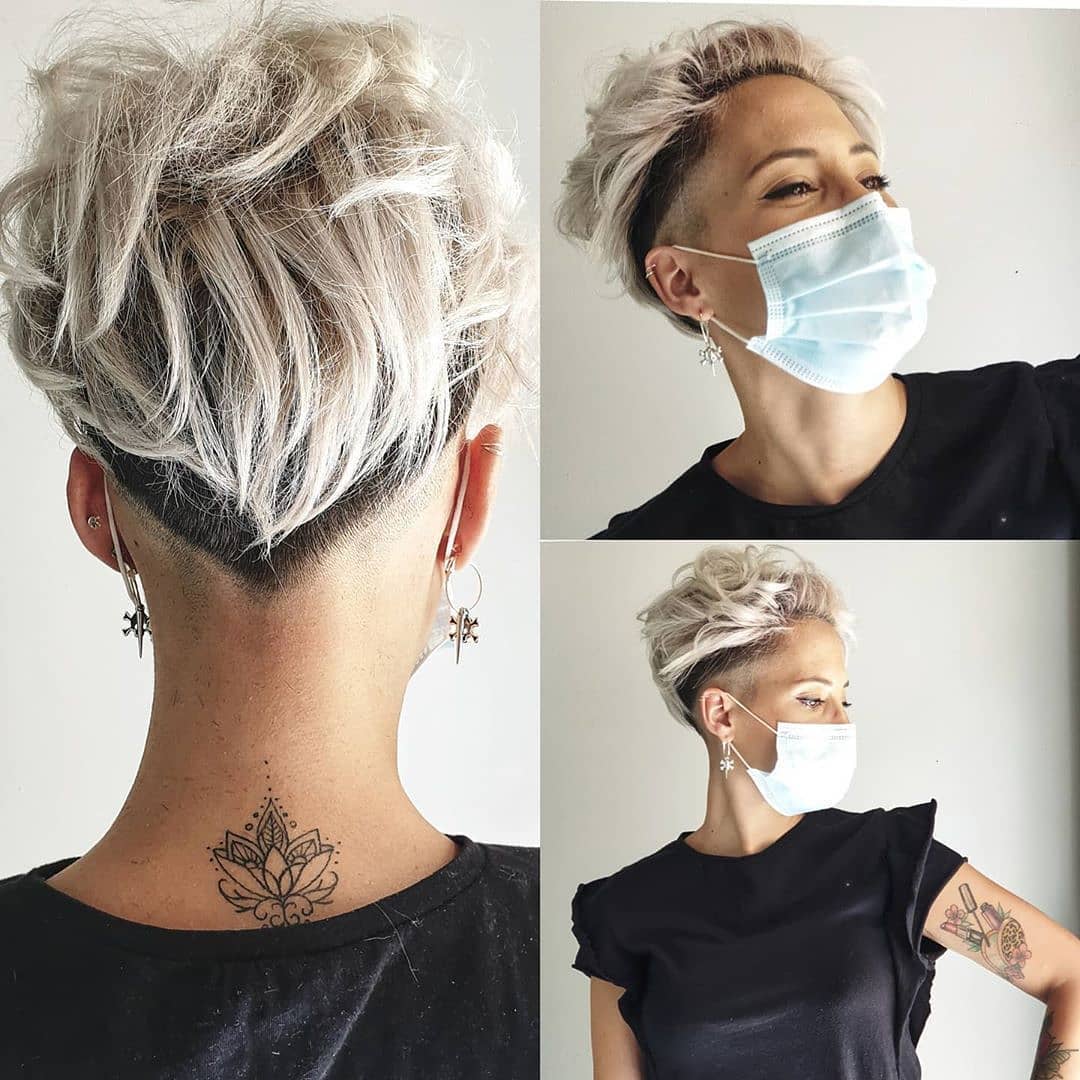 This arty pixie cut projects a bohemian image for an unconventional client. And it focuses on a variety of textures, which come together to create a very original new look. The back has a sharply angled black V pointing down to the pretty black flower tattoo at the nape. And the sides have edgy, contrasting shaved, buzzed and then layered hair sections. The ash-blonde top has lots of flattering height from large, tousled waves.
5. Futuristic silver-blonde short hairstyle with shaved undercut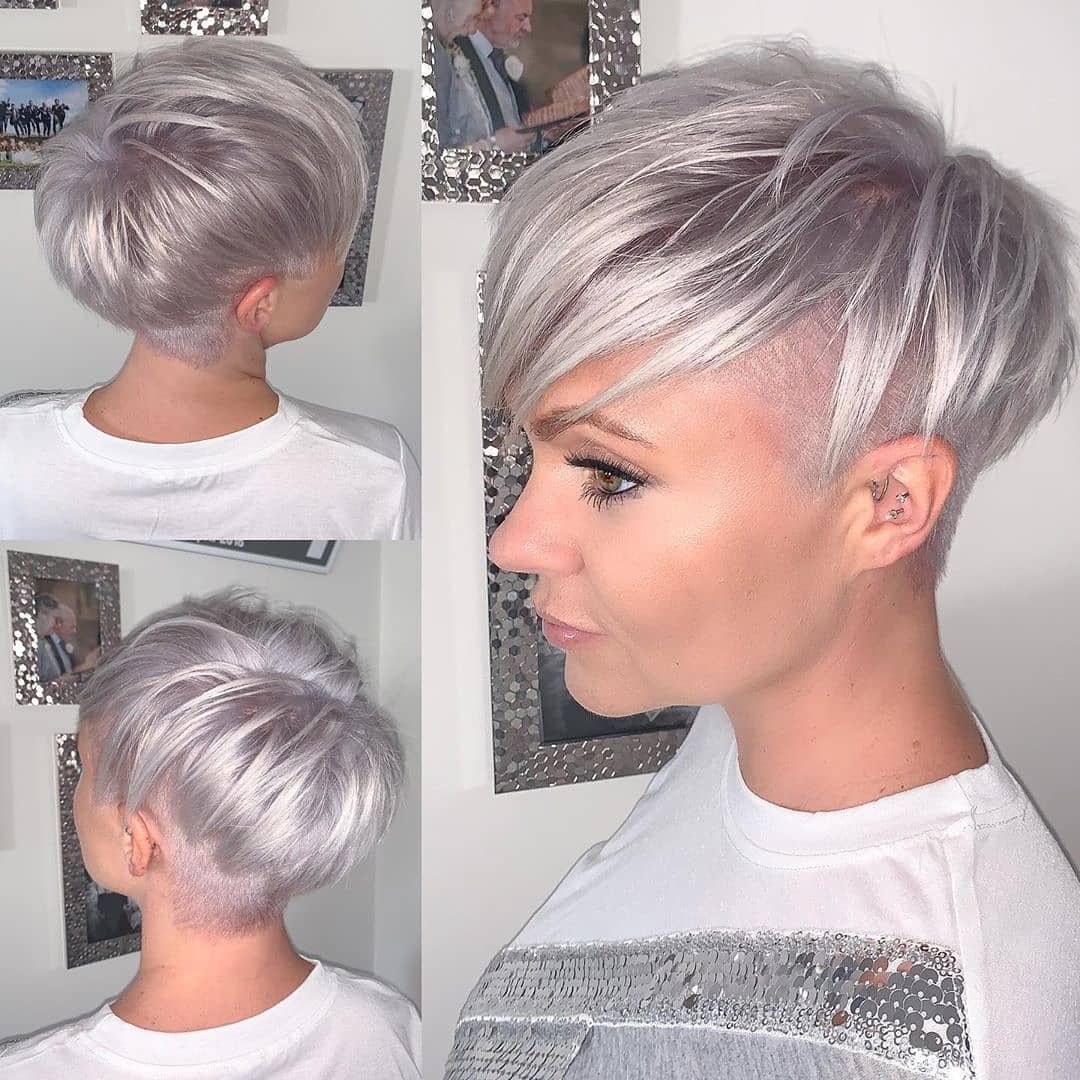 The first undercuts in women's hairstyles came in the 70's along with the UK Punk Movement. The idea was to reject the accepted idea of beauty and and substitute a new fashion for harsh shapes and glaring 'unatural' colors. But like the sea smoothing down a rock, fashion eventually softens the most extreme new trends to create a third look, which is a balance between both extremes. And this lavender-silver basin-cut really is super-cute!
6. Cool-blue white layered look with long bangs & shaved nape
This expert colorist has done a great job in emphasising the lovely blue eyes of this model. The blue tone on white-blonde suits skin with cool or neutral undertones. The style is a great choice for fine or thin hair types, as its color creates eye-catching impact, without the need for 'big hair'. I love how the blue tattoos have been accentuated by this cut. And the long, front bangs have a gentle curve and a little separation to soften the line!
7. Coffee-dark classic short straight cut with clean lines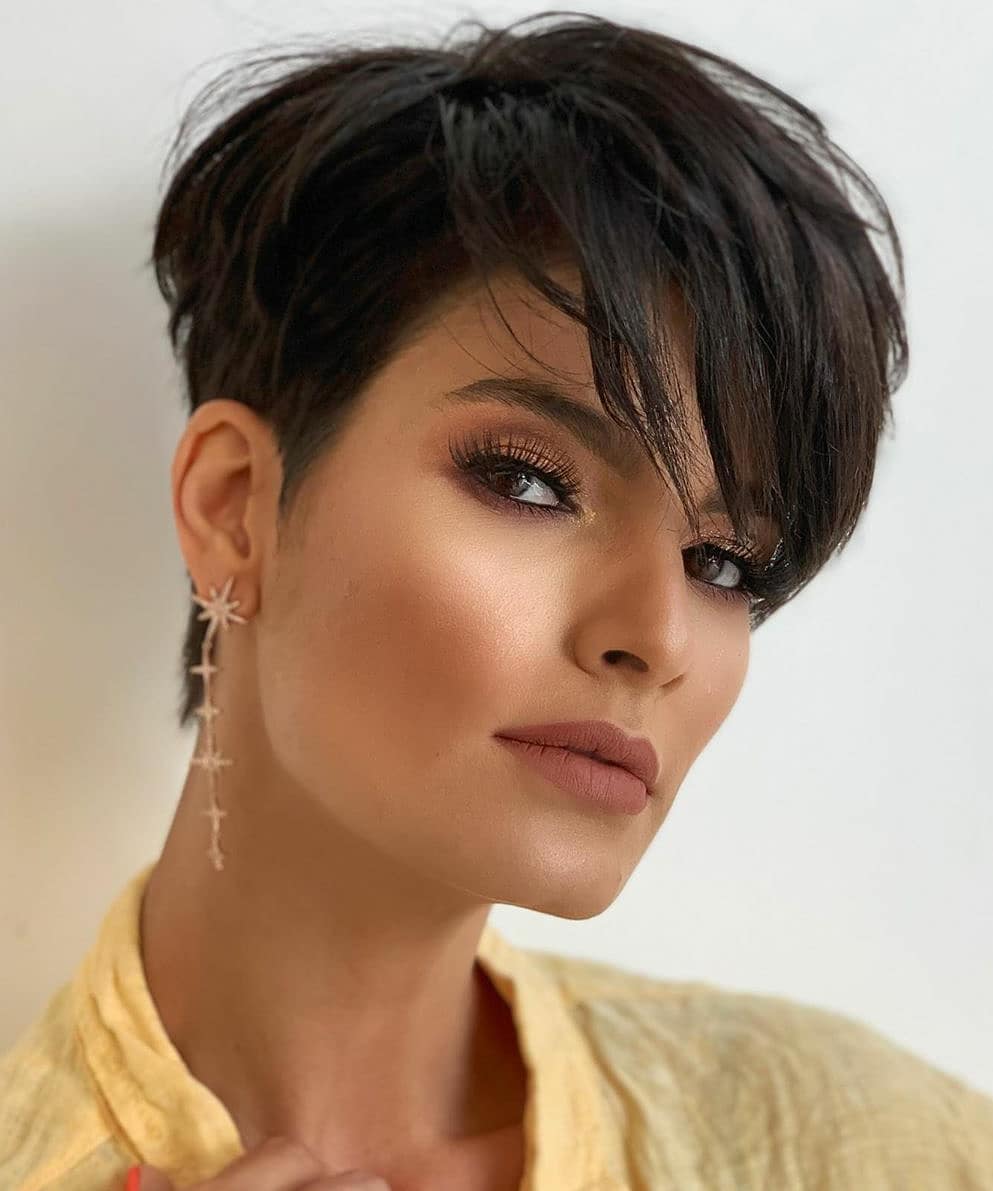 Pixies cuts are great for showing off a good bone structure and being one of the easiest ways to style and maintain a chic look! The lines are geometrical, but within that shape there are lots of softening features. For example, the blurred parting gives a gentler finish to the side part. And the separated strands of the side-swept bangs break-up the fringe to make the look light-weight, and not 'heavy'.
8. Mid-brown short hair comes to life with gold-blonde balayage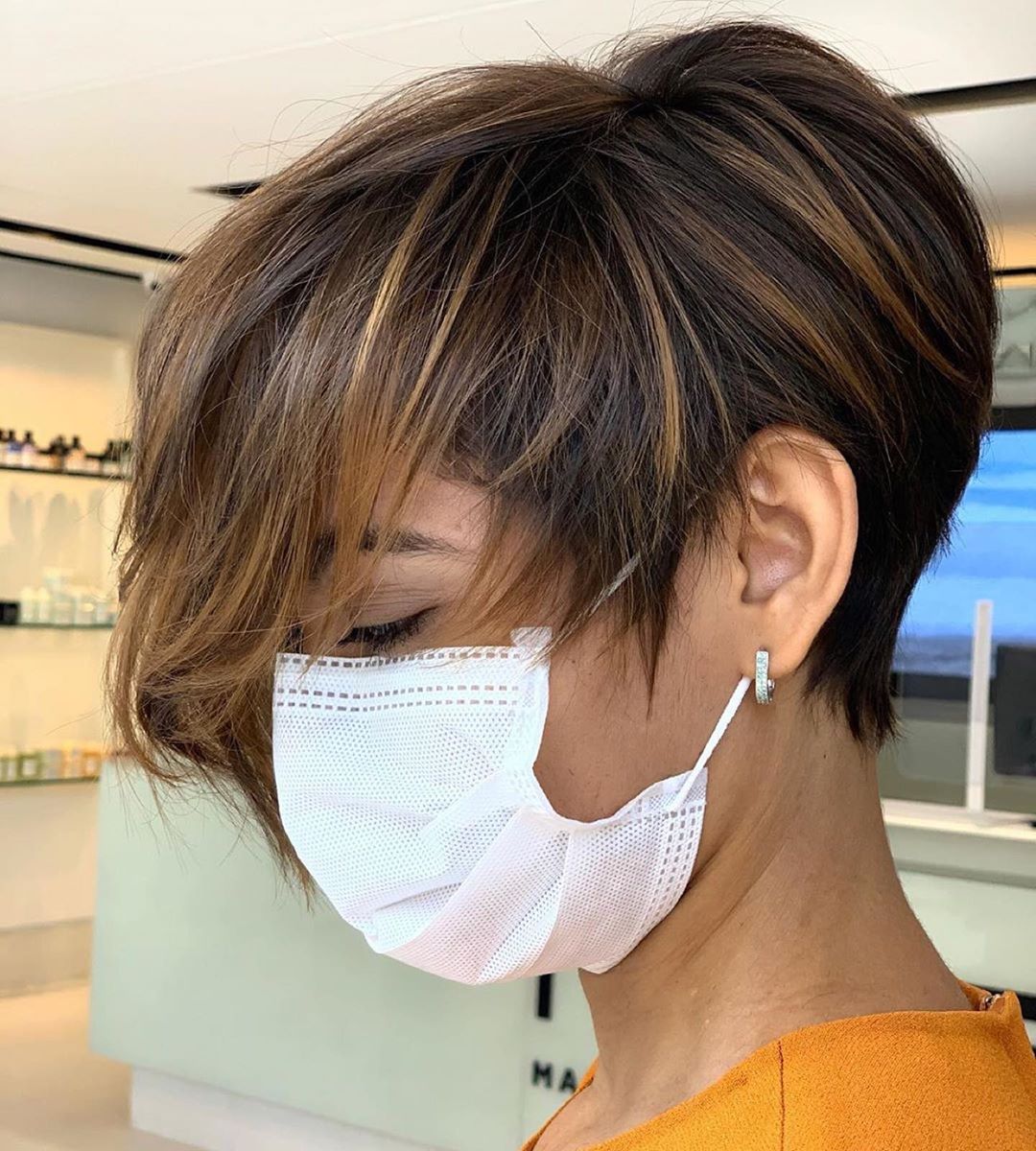 The vertical highlights add so much to a natural base color, like medium to light brown. The add 3-D color depth for a thicker look. And lots of interesting texture and reflected light. Hair styled behind the ear adds a youthful, casual look for women of all ages. And the asymmetric short cut is so good at balancing out different face shapes, that it's still one of the most popular short bob choices!
9. Black hair with natural wave and pretty tapered side profile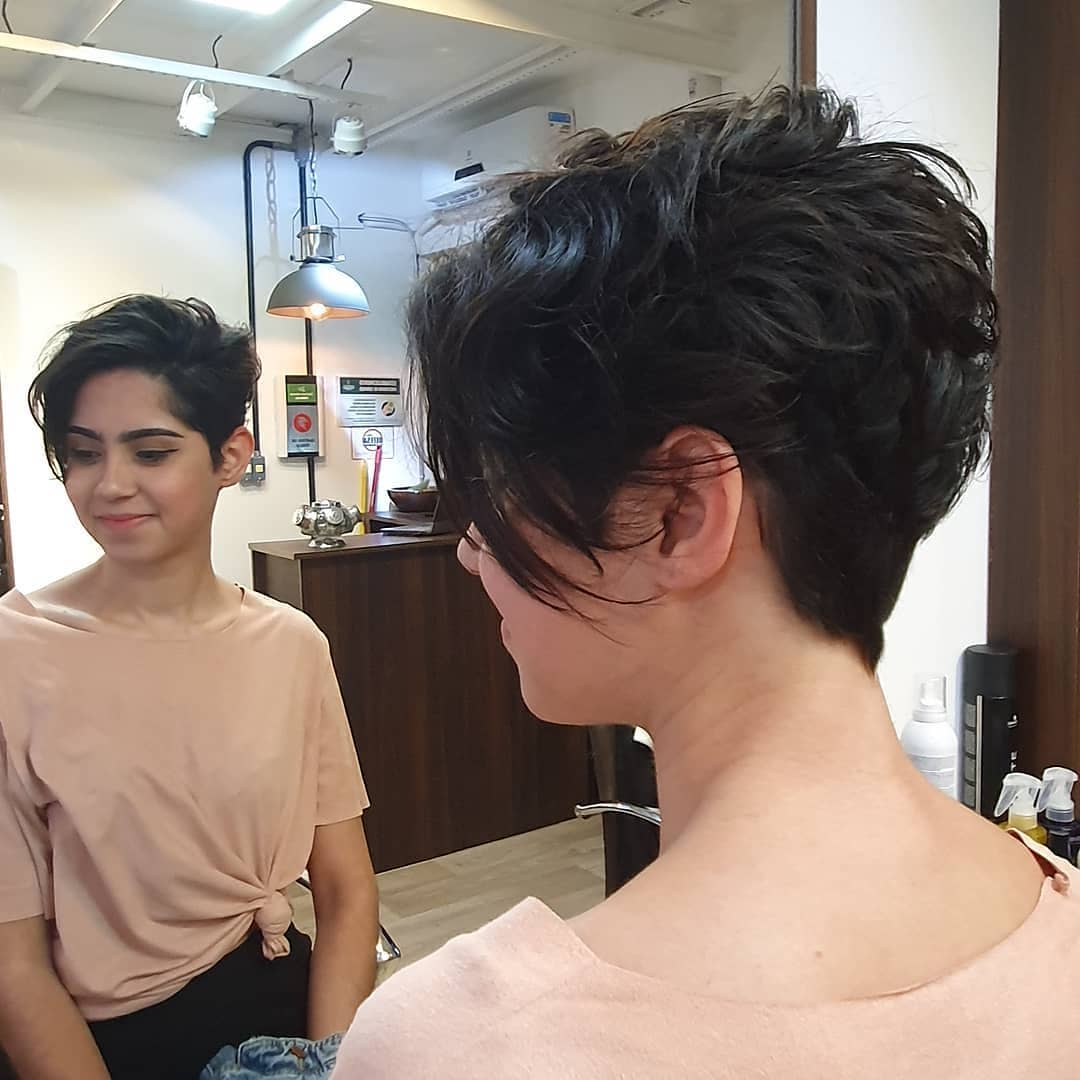 Coarse or thick curly black hair need a firm hand and a stylist who know how to get the most out of this texture. Sliced, vertical layers are tapered down in long V shapes, which completely removes the blunt, bushy ends. And so this cute side-swept pixie hairstyle has a dainty finish, curving around her hairline to avoid covering an already low forehead.
10. Heavily tapered side-swept blonde asymmetric short cut with brunette nape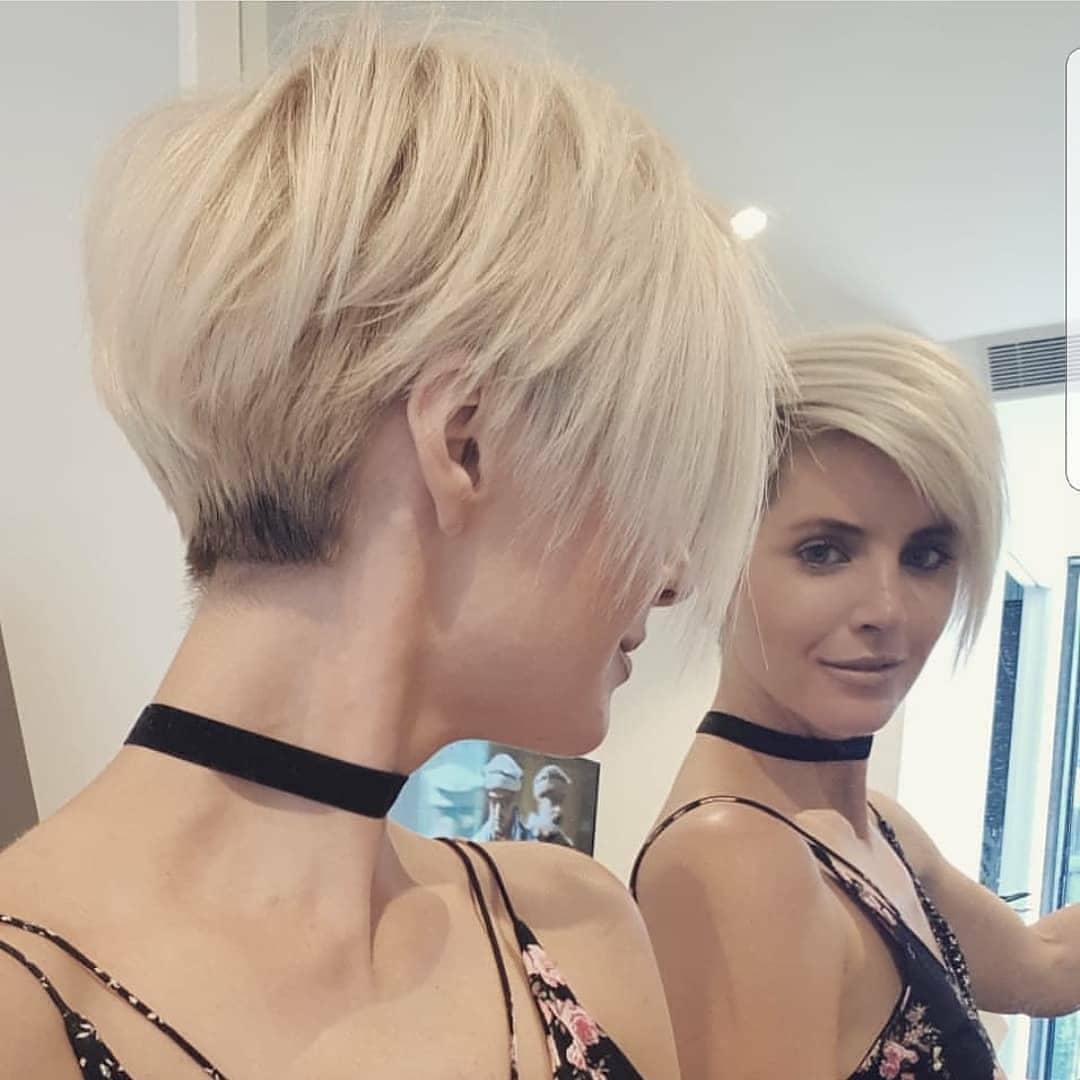 With thinned-out wispy sides, this short haircut looks edgy and harks back to the popular 'street' style blonde hairstyles. The color is a softer pale blonde than the harsh platinum-blonde from a few seasons ago, but the thinned out sides aren't the most flattering look in my opinion. And the timid bar of brown across the nape also looks a little passé to me. But the swept-over top section has height and volume that looks great!