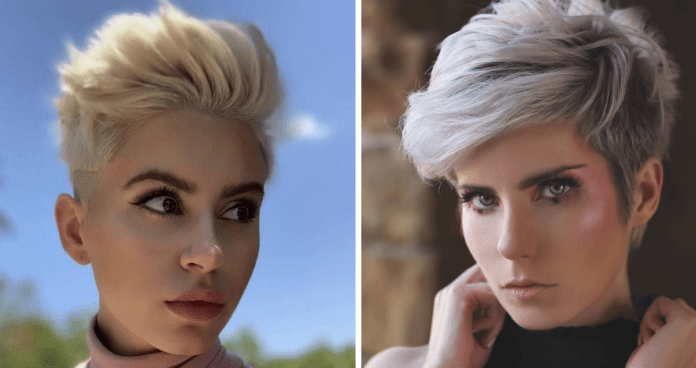 Stylish, casual and easy short hairstyles for women who always want to look their best are on sale today! Ash blonde still dominates high fashion and is easy to maintain in short cuts like these little beauties:
1. White ash-blonde chic pixie – casual & short hairstyles for women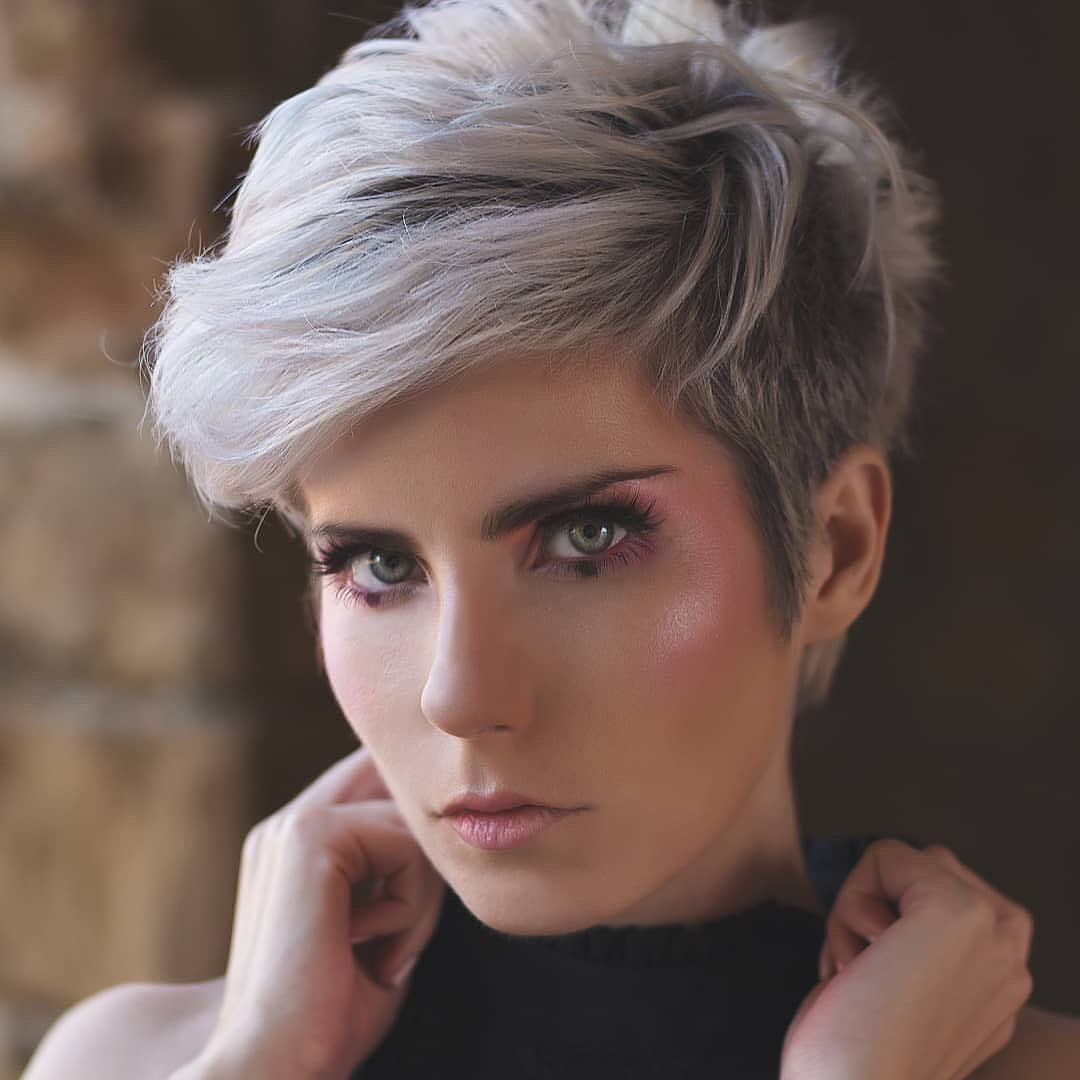 Credit
Here is a stunning and quite dramatic short hairstyle that can be worn for every day and special dates! Dark, graphite gray roots make a great backdrop for ash blonde balayage and uppers. Green eyes and pink lips suggest a skin with a cool undertone. And this is creatively complemented by a cool white blonde hairstyle. The dual colors bring out the different textures and accentuate the lighter bangs and edgy sides that frame the perfect pair of eyes!
2. Ash-blonde pixie with short side-points – casual & easy hairstyles for women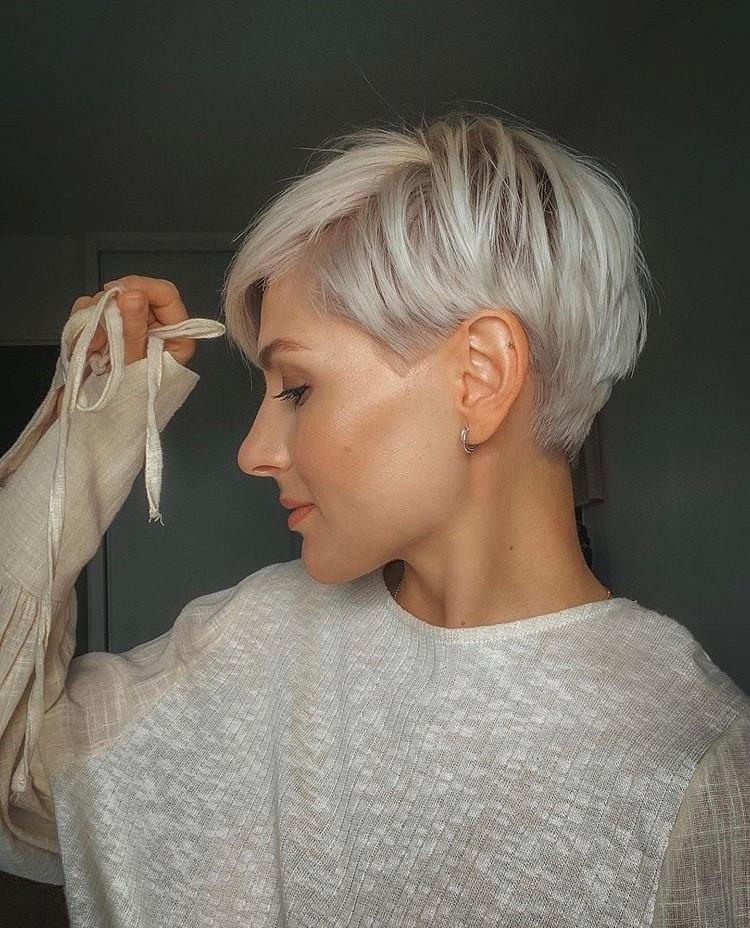 Credit
Here is a softer version of the ash blonde pixie cut. And you can get rid of the drama by keeping the roots the same color as the rest of the head. There is a very slight darkening of the roots, which creates shadows and texture on the curved layers. The lateral point is an inch or so in front of the ear and reaches halfway up the ear. As you can see, it turns out to be a neat triangle / arrow pointing to the well-defined cheekbones of the model.
3. Fancy short hairstyles – casual & easy hairstyle for women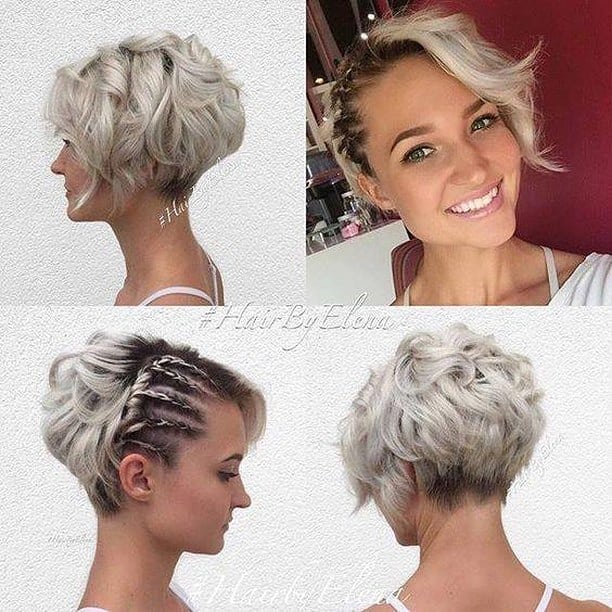 Credit
This stylist thoughtfully provided us with 4 looks of this beautiful short hair design for a special occasion. The upper side, resulting from the asymmetrical side parting, is wavy and voluminous. But the other side has a completely different profile and texture, with 5 cute dark braids. On the back, lush soft waves adorning the top of the head. And the front view is highly asymmetrical with a half bang framing the eye and cheekbone!
4. Edgy ash-blonde pixie – casual & easy short hairstyles for women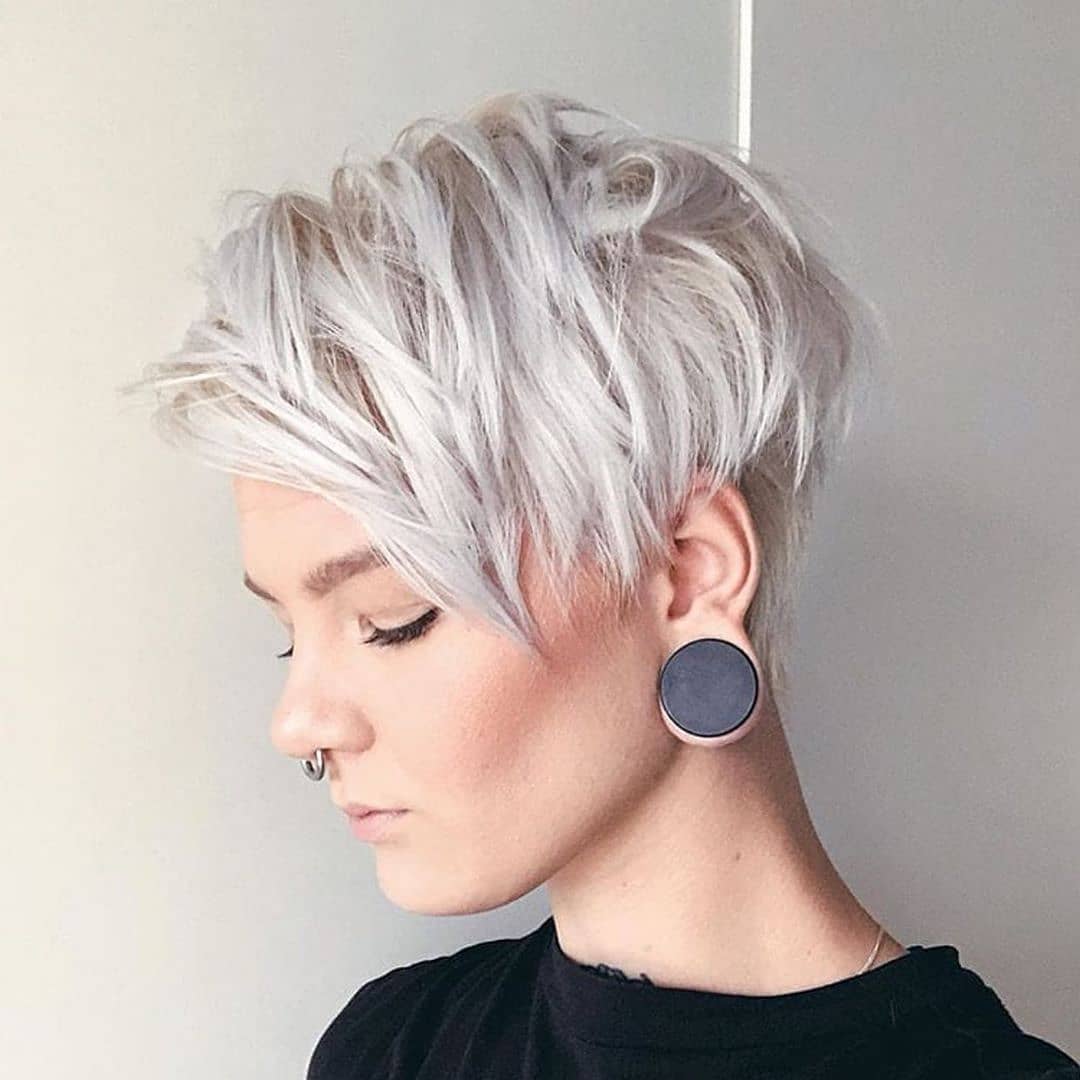 Credit
This trendy short hairstyle has subtle touches of blue and pink toner that pairs perfectly with the cool undertone of the model's face. Straight, strong "cut layers" create beautiful texture and movement on thick hair. And the cute pointed tips soften the line along the cheekbones. The sides are softer, with a "stretched" finish rather than sharp side points. A long bang covers half of the forehead and frames the eyes.
5. Girly Tin-Tin pixie haircut with cute twists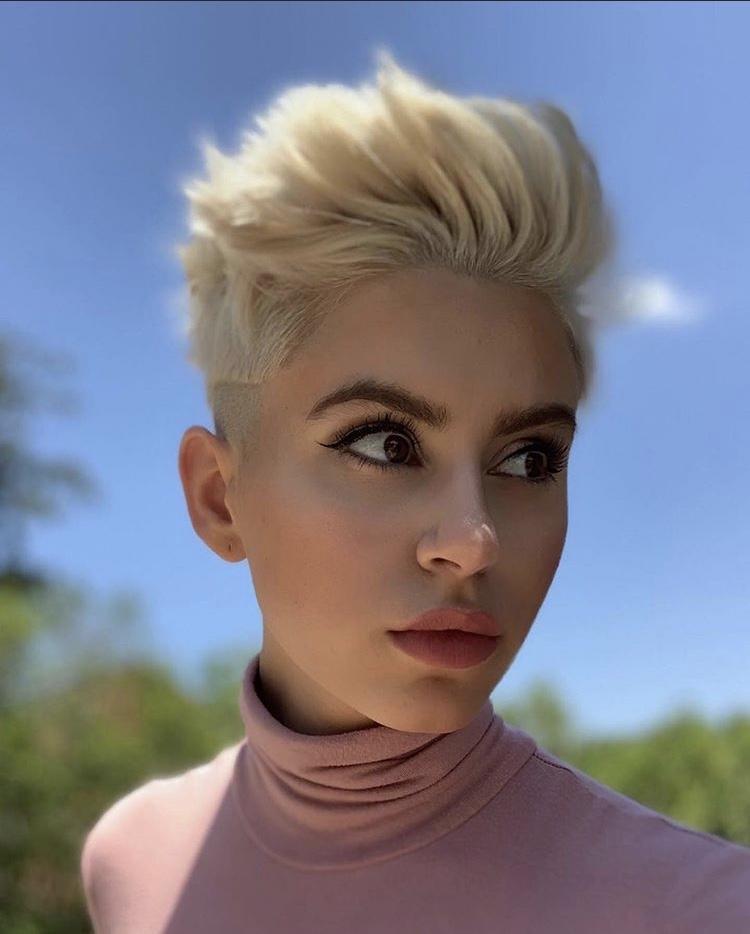 Credit
This short hairstyle suits oval face shapes that do not need correction, as it emphasizes the entire face. Inspired by Tin Tin's boyish style, the dramatic, wind-blown bangs are adorned with scalloped channels. They dilute the beautiful beige-blond color and showcase the three-dimensional depth created by the "shadow" roots. The ends of the top are left with a "changeable" finish. And the whiskey is buzzing and the rectangular mini-cut at the top at the bottom!
6. Brunette bed-head messy long pixie cut for straight hair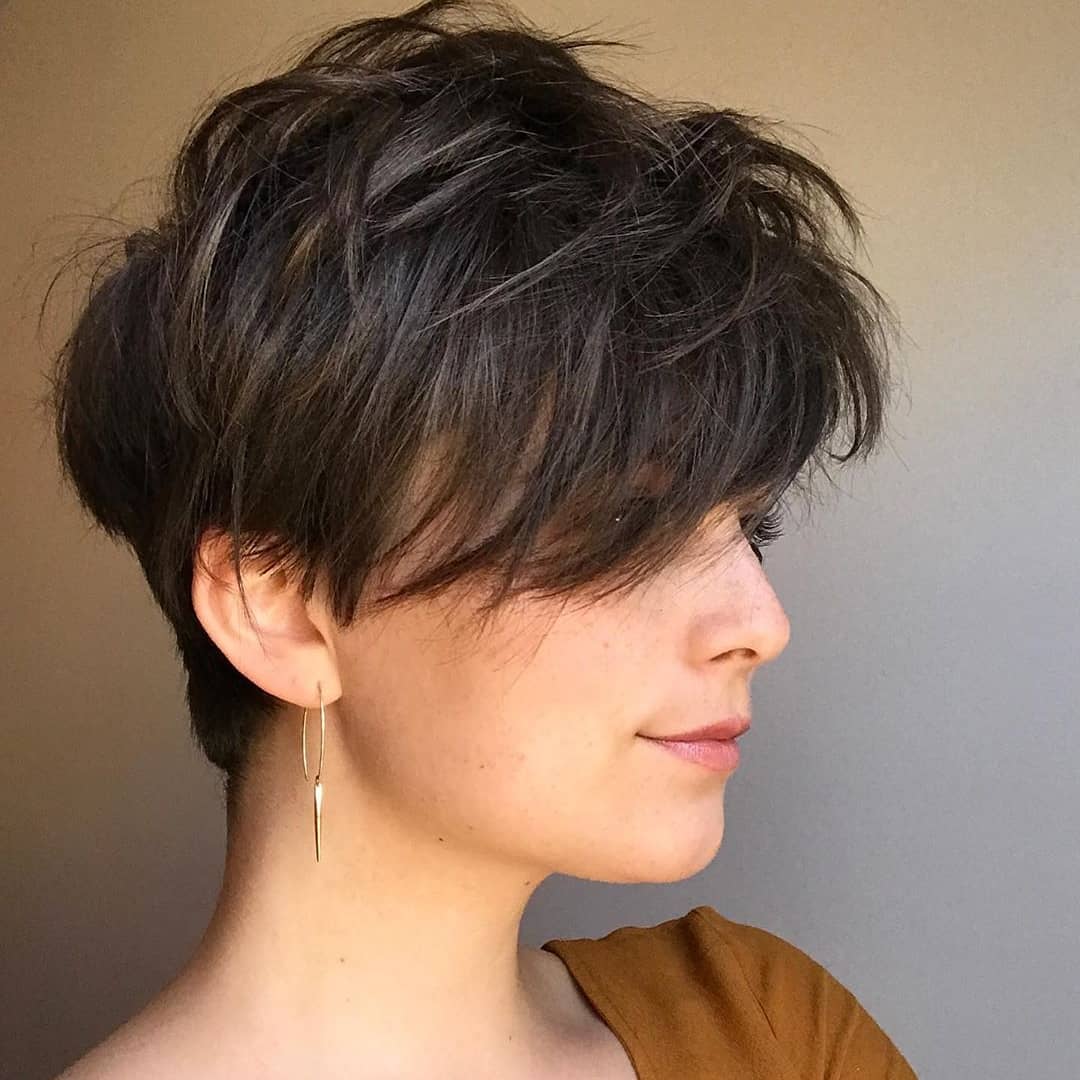 Credit
If you have straight hair, you may find it difficult to add flattering volume to your hair. And earlier it was solved by adding some curls. However, modern styles try to accommodate the hairstyle to our natural life, and if that means a messy, unattractive look is at the top of the style, so be it! The messy finish of the sliced ​​layers creates really interesting and eye-catching volume, movement and texture in just a few seconds! So always spend as much as you can on a top-notch stylist to get a haircut that always comes back in style!
7. Messy black and white long pixie haircut with disconnected layers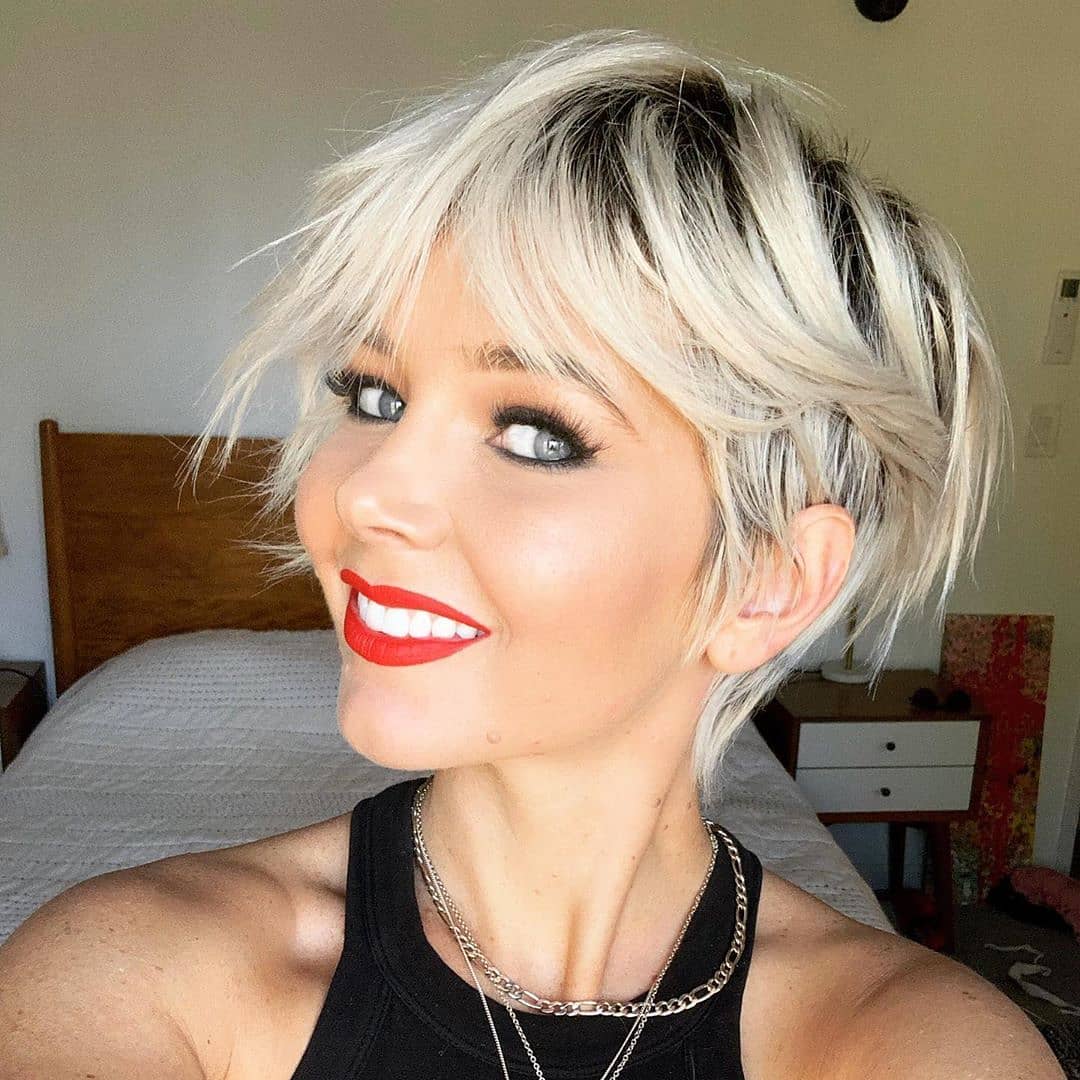 Credit
Some straight, thin hair is almost impossible to add volume. So don't keep fighting gravity, just let the stylist do the hair that suits your hair texture. This model's fine hair was thickened by bleaching to a light ash blonde hue. And the effect of three-dimensional color depth is achieved through contrasting black roots. The stylist cut the hair so that it dangled and styled it in interesting flat curves on the sides, parted to show the roots. The long nape complements the long, uneven and careless bangs, creating a daring look that will never get bored!
8. Light ash-brown and vanilla soft bob relaxed haircut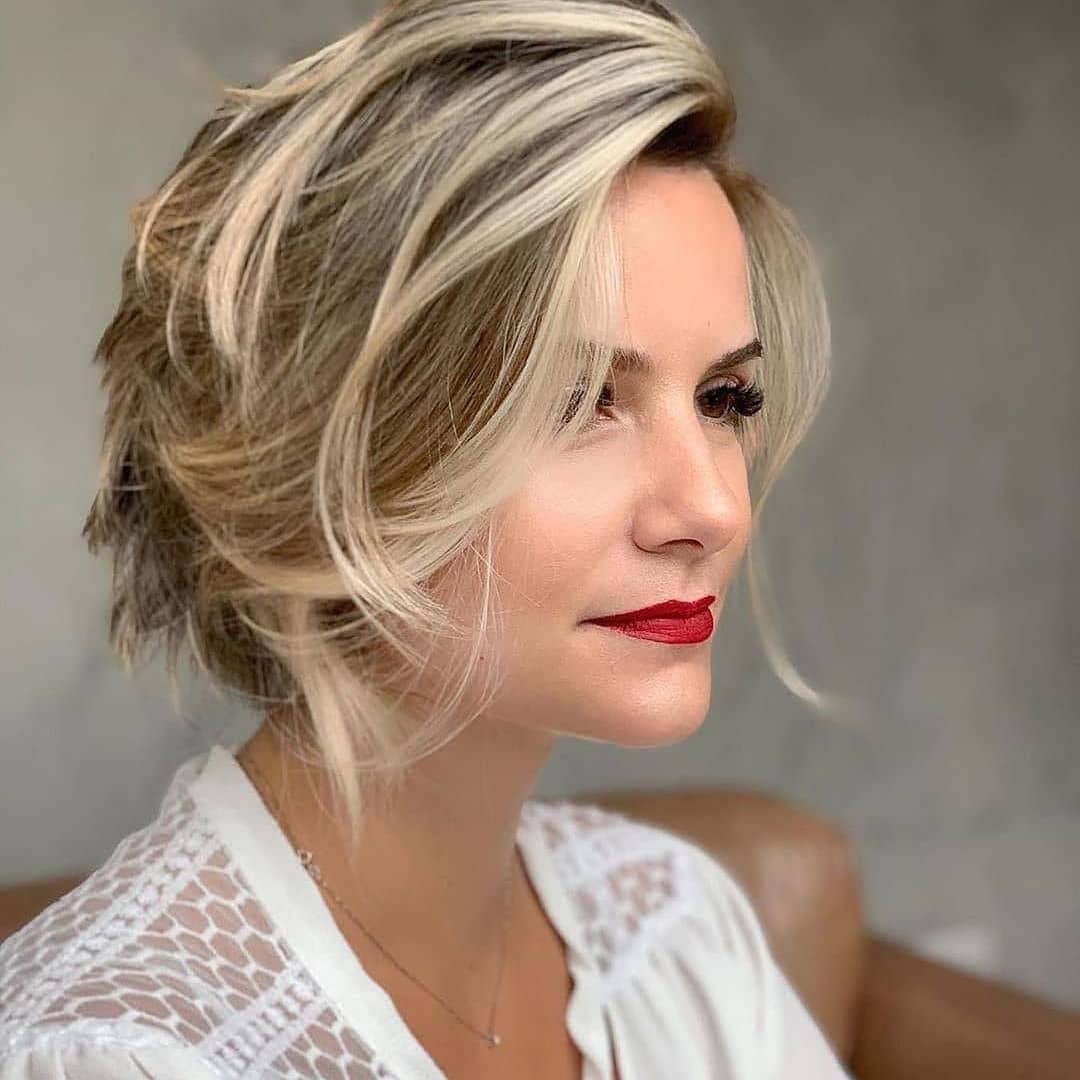 Credit
An experienced colorist used gorgeous soft balayage colors to make the long, straight strands of this mid-length haircut incredibly beautiful! Suitable for thick hair with lots of natural volume, this style looks like you just ran your fingers through your hair and you're done. And it will work just as well at home, thanks to a brilliant placement of flattering ash browns and light balayages!
9. Gun-metal silver-grey straight geometrical bob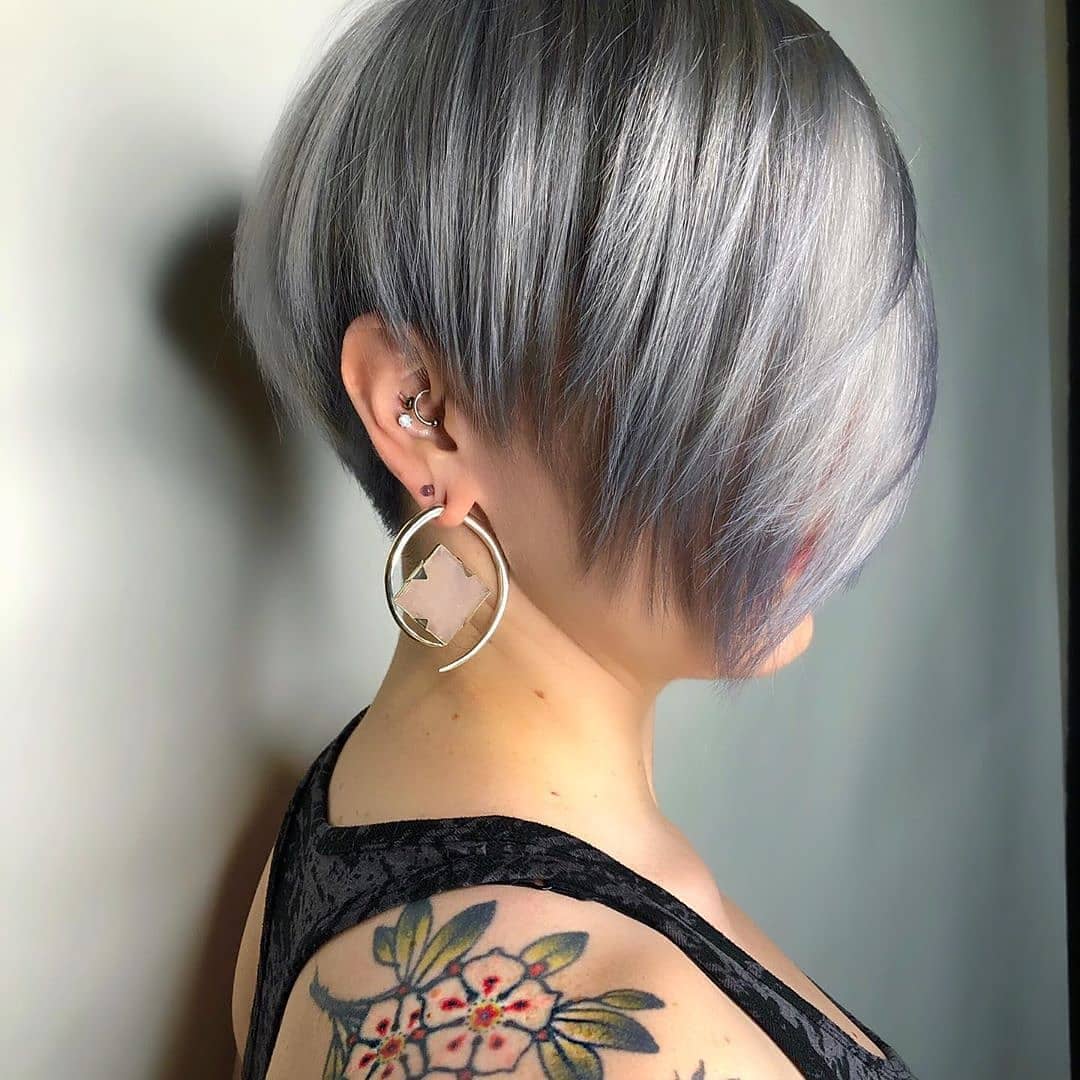 Credit
Adding a fantasy color to a classic geometric chin-length bob is a super way to give it a fresh, fashion twist. And if you're looking for a sophisticated color, rather than a teenage experiment, why not try this fabulous purple, silver and blonde look! The extra-long, side-swept fringe creates a sultry, peek-a-boo look that's bound to draw admiring glances in your direction!
10. Full-textured messy chin-length short haircut for fine hair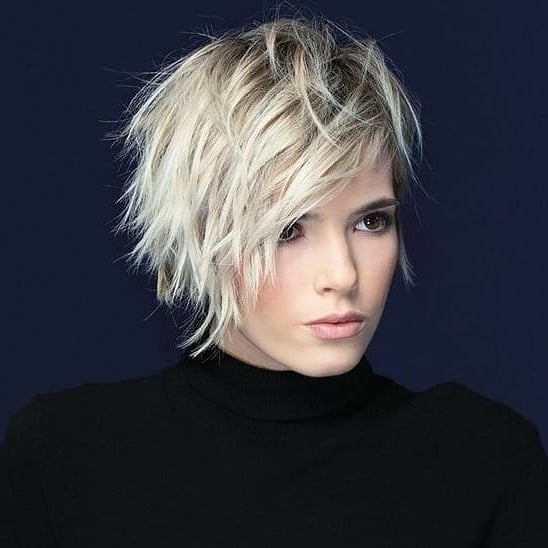 Credit
You can get loads of attractive movement and texture in fine hair with a short hairstyle full of layers. The stylist tapered the tips of the layers and gently encouraged them to flip outwards. This is a clever and effective way of adding volume that's very easy to replicate at home without effort! Defined strands brought forward from the crown add flattering height on top. And honey-blonde roots soften the style beautifully!