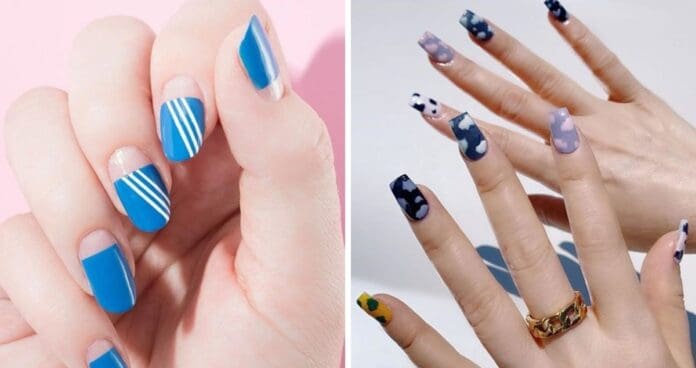 This season, shades of blue are trending on the runways and in everyday street style, making it one of the hottest colors of the year. Manicures are a great way to experiment with new styles and designs, as well as a great opportunity to test out the trendiest looks. Whether you're a fan of this cool shade or want to spice up your daily life, we've got you covered. Find your new favorite look with these cool blue nail designs.
1. Blue Adidas Inspired Nails
Are you a big fan of Adidas? This manicure takes inspiration from the brand's iconic logo and looks fantastic on every nail. To create this look, paint the base of your nail white and wait for the polish to dry. Then cut and stick-thin strips of tape, forming clean lines at an angle to your fingertip, and cover the entire nail bed with blue nail polish. Once the second coat is dry, you can remove the tape to reveal the pattern.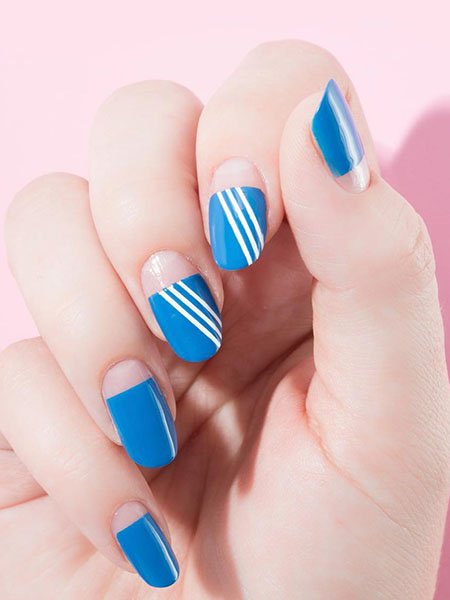 2. Blue and Yellow Nails
Align both sides of the color wheel with this cute manicure. Lemon shade next to ocean blue is a stunning option for those who like to try new things. Add some graphic black lines to break up the contrast of opposite shades. You can go for a reverse French manicure with two shades, or take Mondrian inspiration and leave it abstract. To make the lines very thin, use a fine art brush – you can use pieces of tape to keep your lines straight.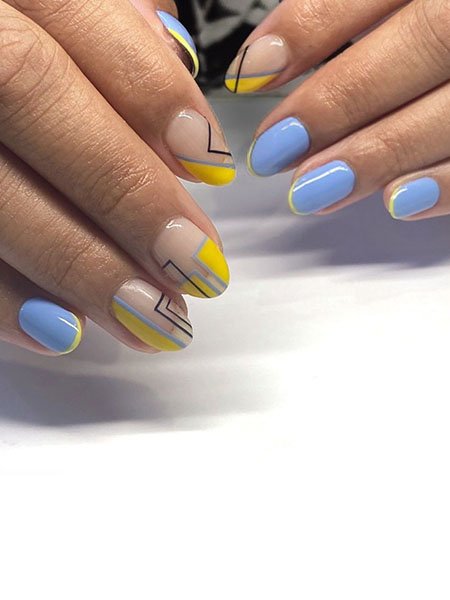 3. Blue + Gold Nails
Add a touch of decadence to your manicure with these gold and blue nails. The duck egg hue is a sophisticated shade for any season, while precious metal inclusions add volume and depth. The shiny 3D images look like someone has melted gold on your fingertips and it makes for a perfectly shaped nail or whole hand. Choose the shape and length that suits you best – everything works with this amazing design!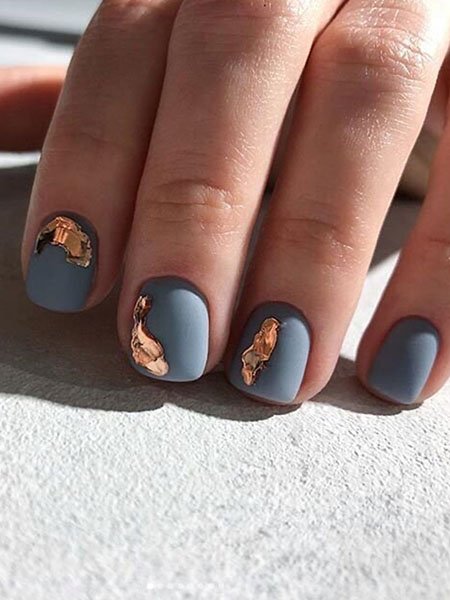 4. Blue Clouds Nail Art
Raise your head and think positively with these beautiful nails. The cloud design is a soft and simple piece of art that you can take with you everywhere and is suitable for any season. Choose different shades of blue, such as the color of the sky or even the reflection of the ocean. This style takes a lot of practice so be patient when reproducing the manicure – use small brushes to draw fine lines and shapes for perfect results.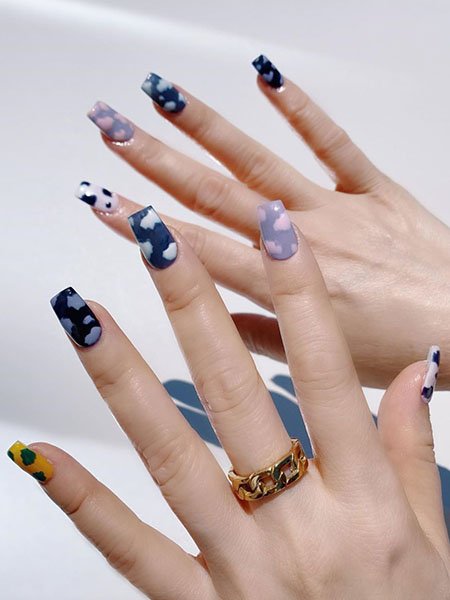 5. Blue Eyes Nail Art
See things from all angles with this eye-catching manicure. With the gorgeous blue of each nail bed, it will help you instantly stand out. The symbolism of this art has different meanings around the world and is a great addition to your ensemble. Try it all over your hand or on a special nail – add some gold decorative accents for the finishing touch.
6. Blue Leopard Print Nails
Show off your personality with these stunning leopard print paintings. The bright blue combined with neon yellow and orange creates just the right size for a chic overall look. Such a manicure can be done on nails of any length and shape – this is a bright and vibrant addition to your outfit.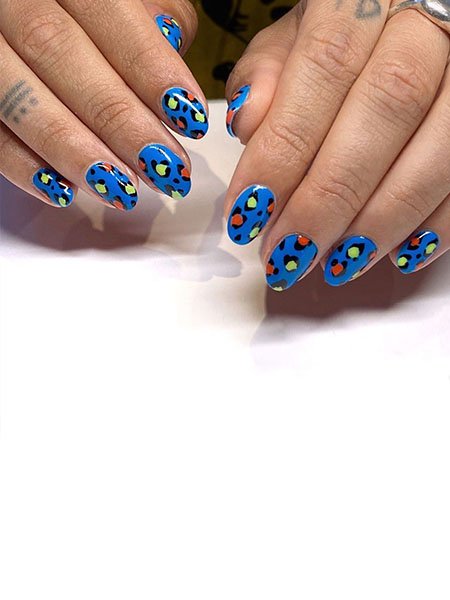 7. Blue Line Nail Art
Do you love ocean waves? Well, this manicure is perfect for you! Featuring organic nude-based blue lines, you have plenty of room to explore new shapes and designs with this whimsical art. Start with a few close-knit wavy lines on the pinky nail and let them continue on the next finger. It works with any shape and length – longer nails allow you to work with more space, but try different styles to see which one works best for you!