A textured bob with bangs is the term for short hair that is done unevenly along with ends cut to jagged edges. This kind of haircut will suit a variety of people whether they are having a youthful taste or planning to become a social media influencer. It will surely go with each of your styles as it is an integral part of short-length hair. A hairstylist Barrie Sykes from San Diego, CA, has some note-worthy suggestions for setting your bangs with a bob haircut. To find out, read the best suggestions below to rock with your textured bob with bangs!
Styling Blonde Textured Bob with Side Bangs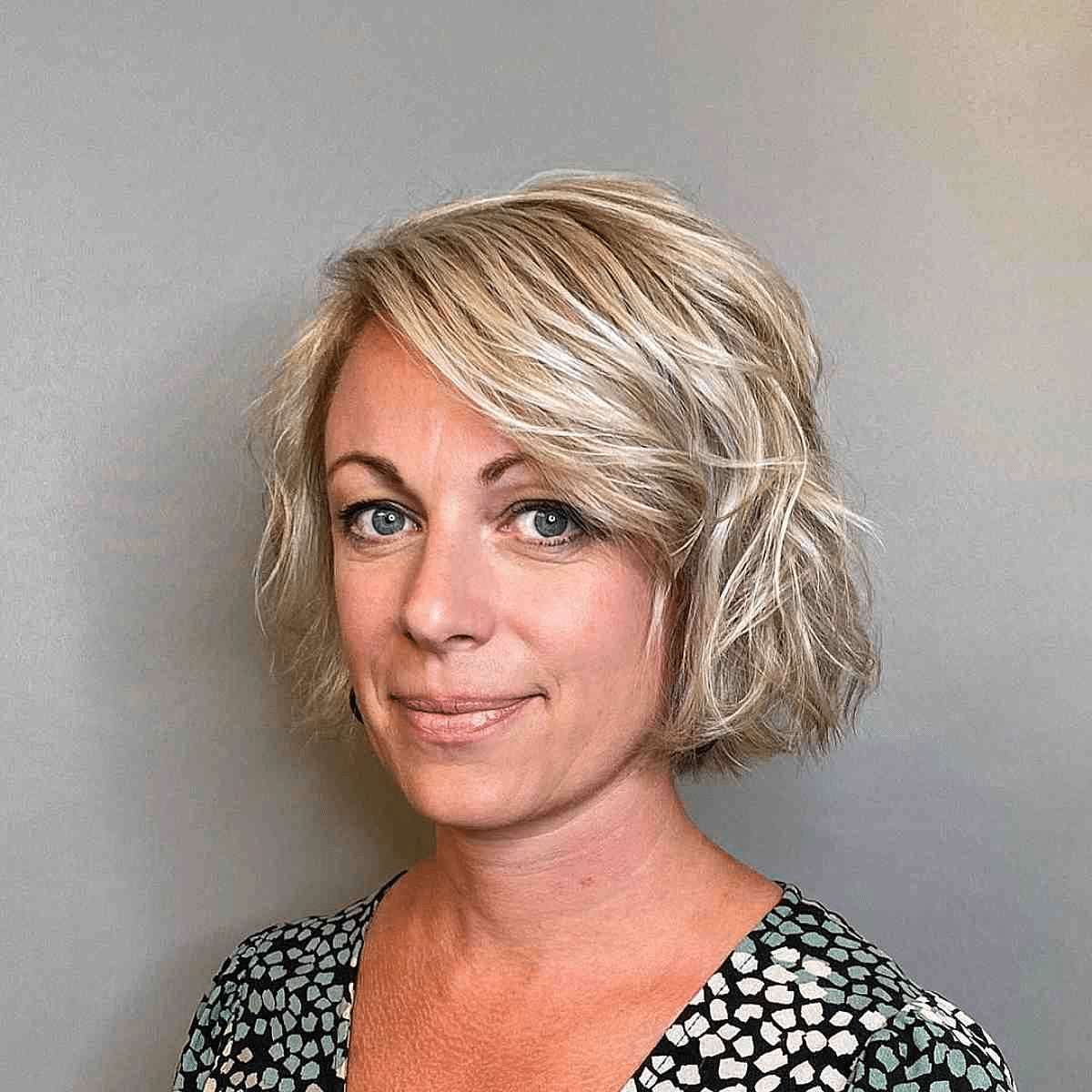 If you have wavy hair then my suggestion is to get a medium textured bob with bangs. This option will fit if you want a more basic look. Apart from that, you can play around with your hair if you ask for a shorter length. To be specific, the side fringes give volume to your hair making the overall look softer. Also, Over-drying this type of hair can cause frizz so you can make use of a texture or a curl-enhancing product for wet hair.
Natural Curls on Middle Part Short Hair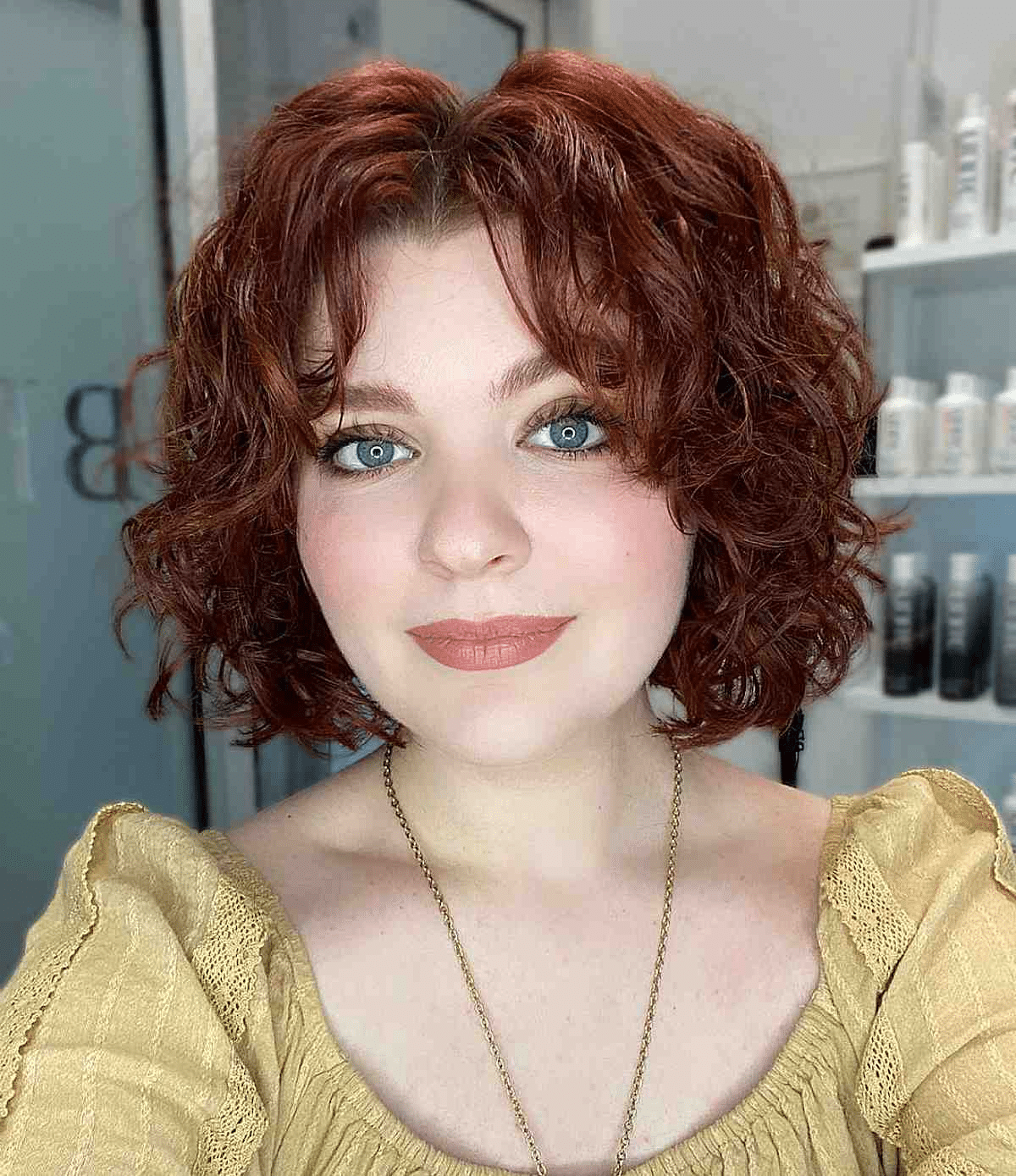 If you want your hair something of amusement then a curly bob is a great idea! It will help you achieve heavy layers while increasing the movement of your hair in an attractive manner. I would also suggest that you do not over-dry your hair, instead, use anti-frizz curl cream that will make your curls bounce in a magical flow.
Go with Feathered Bangs on Mini Stacked Bob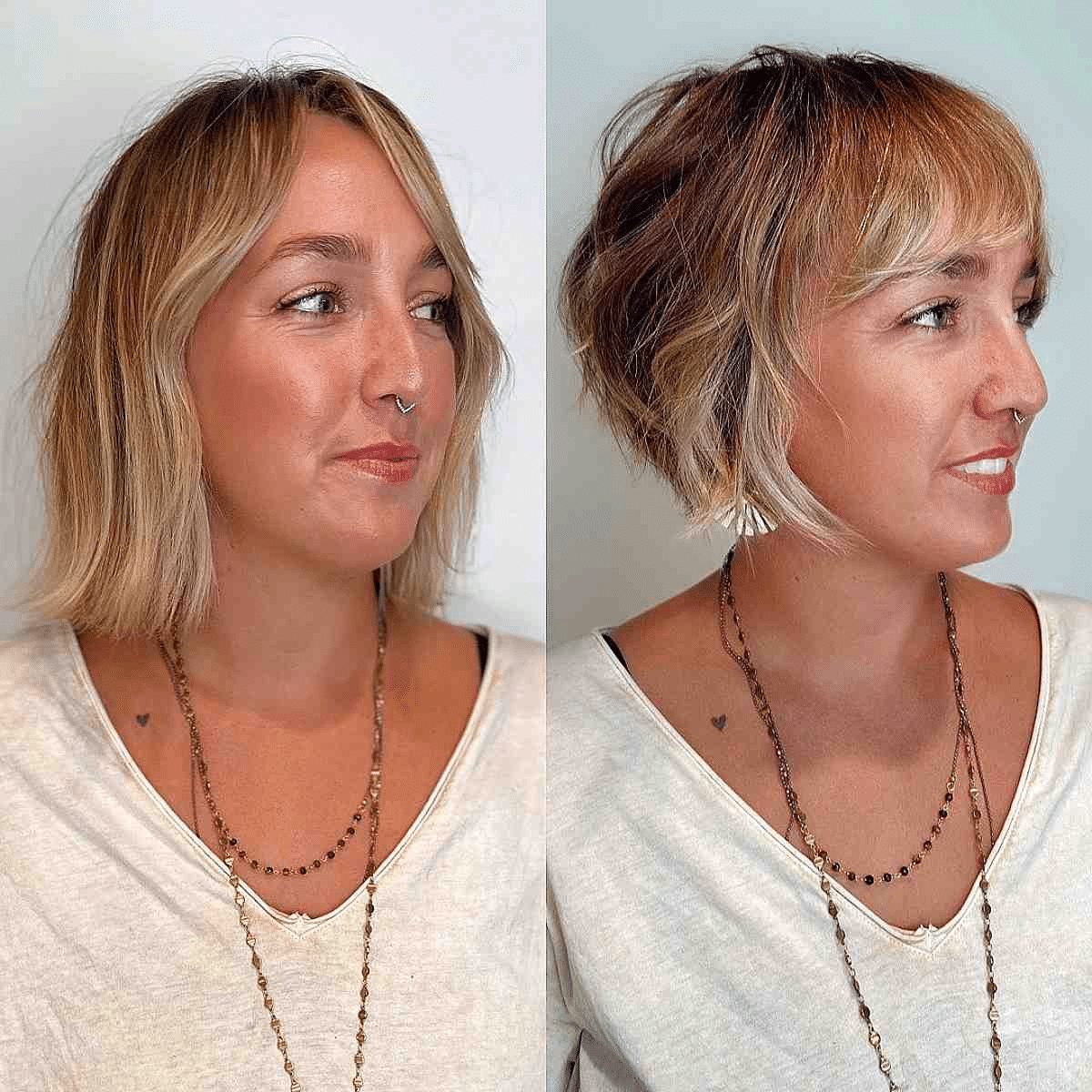 Are you a thin-haired girl? Not to worry, as thin hair can be styled in multiple ways comparatively before. One such technique is to get a mini stacked bob with feathered bangs that can be cut to a flipped shape to get a fluff. To get a bounce-textured bob with curtain bangs is a perfect option to choose. For styling, try a texture spray or styling wax. Whether you have hair density ranging from medium to thin or wavy hair this haircut will be a win for sure.
Try a Short Face-Framing Shag with Mini Choppy Bangs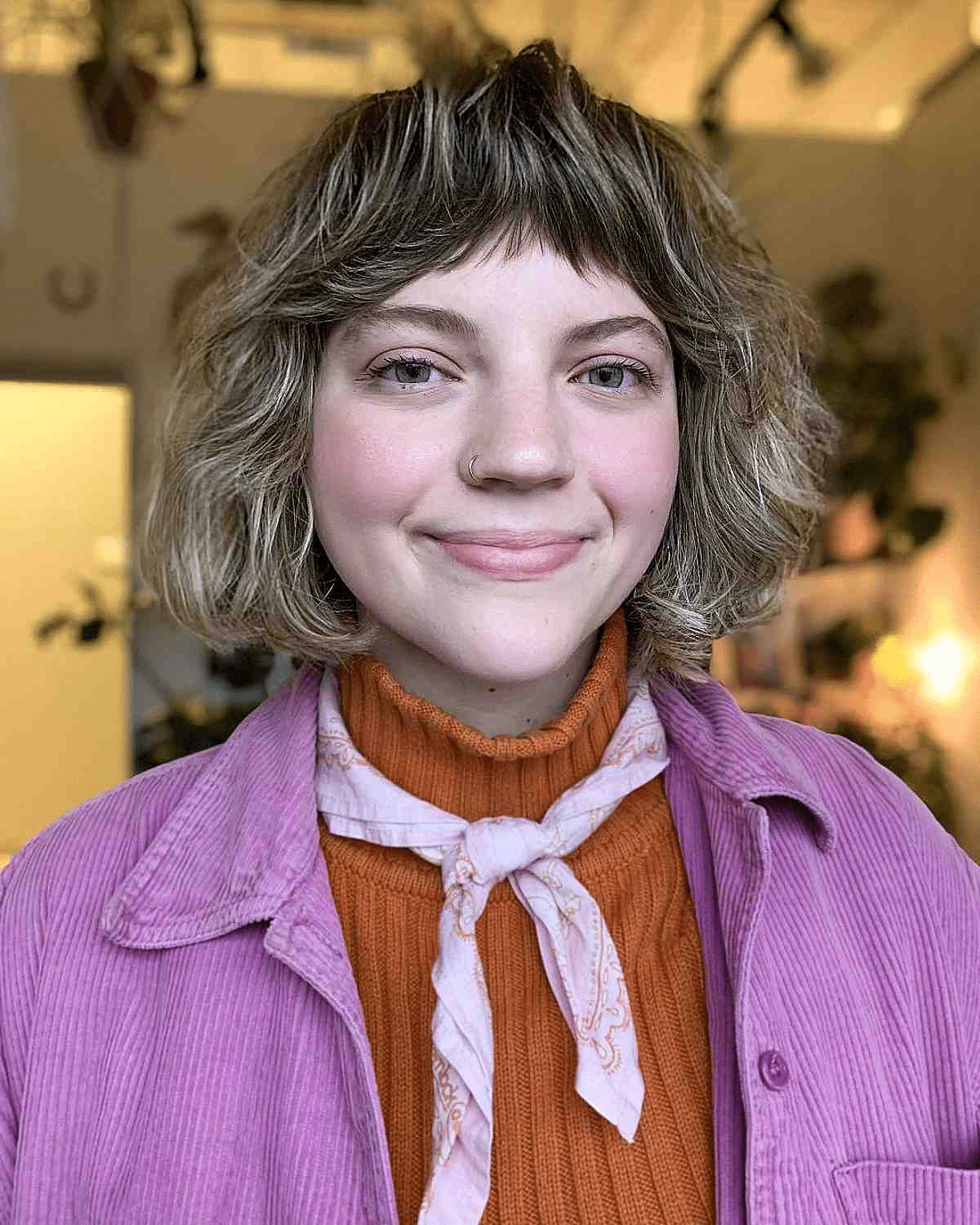 Get a short face-framing shag with mini choppy bangs for a clean-cut aura in a youthful style. To add, a shaggy bob is the best way to style if it's hard to deal with your natural hair. Such a haircut is quite a way in terms of maintenance and styling giving you a nice circular shape.
Layers with Messy French Bob Cut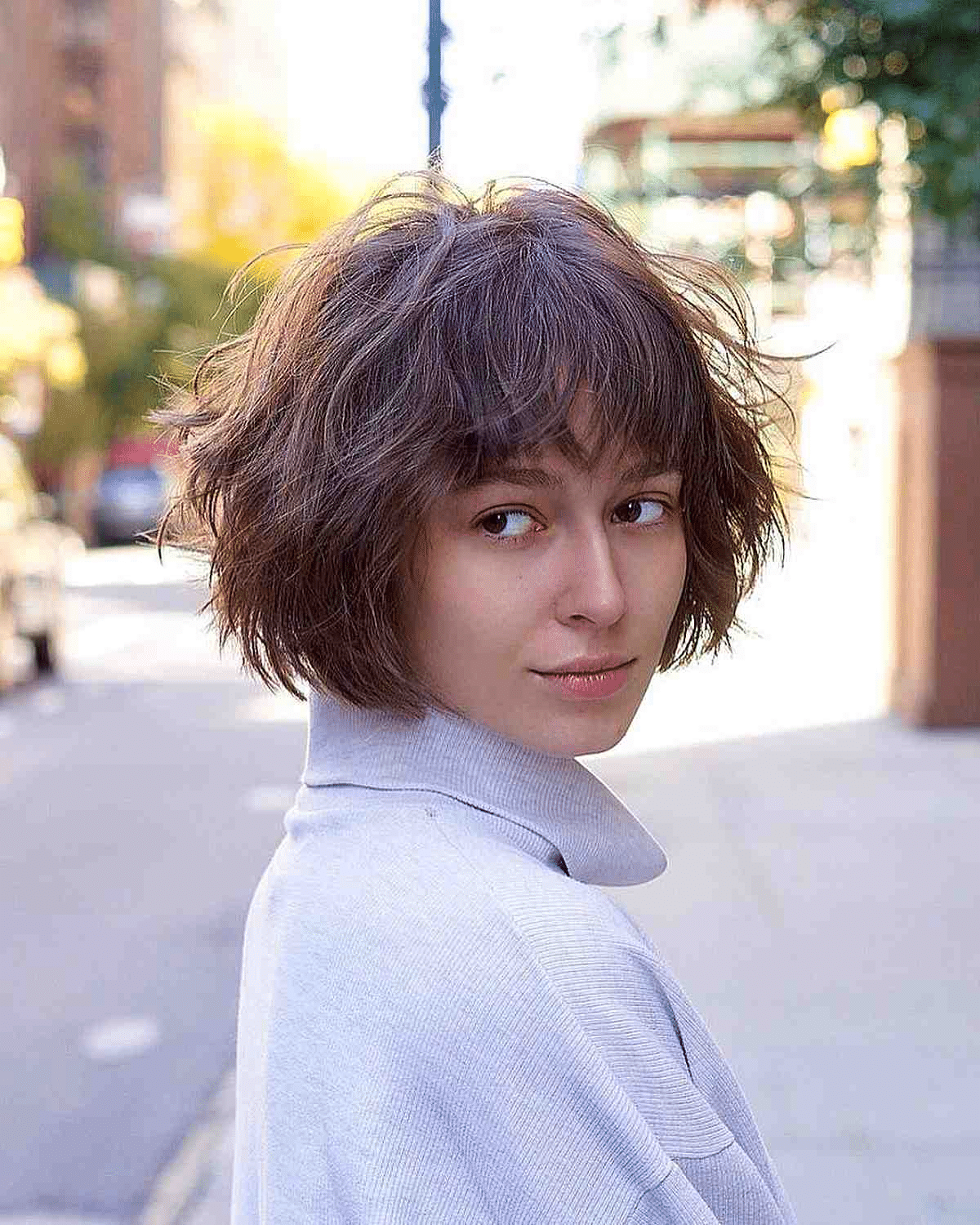 A haircut for a delicate featured girl is a jigsaw puzzle sometimes. The safest option to go with is a layered bob cut with your naturally ruffled hair. This will create natural volume in your hair with the layers creating motion beautifully. A full layered fringe will act as a face-framing along with the sides helping to make your jawline less prominent. To get a settled look for the ends, a seal salt spray is a must-try.
Layered Bob with Bangs Colored in Blonde Balayage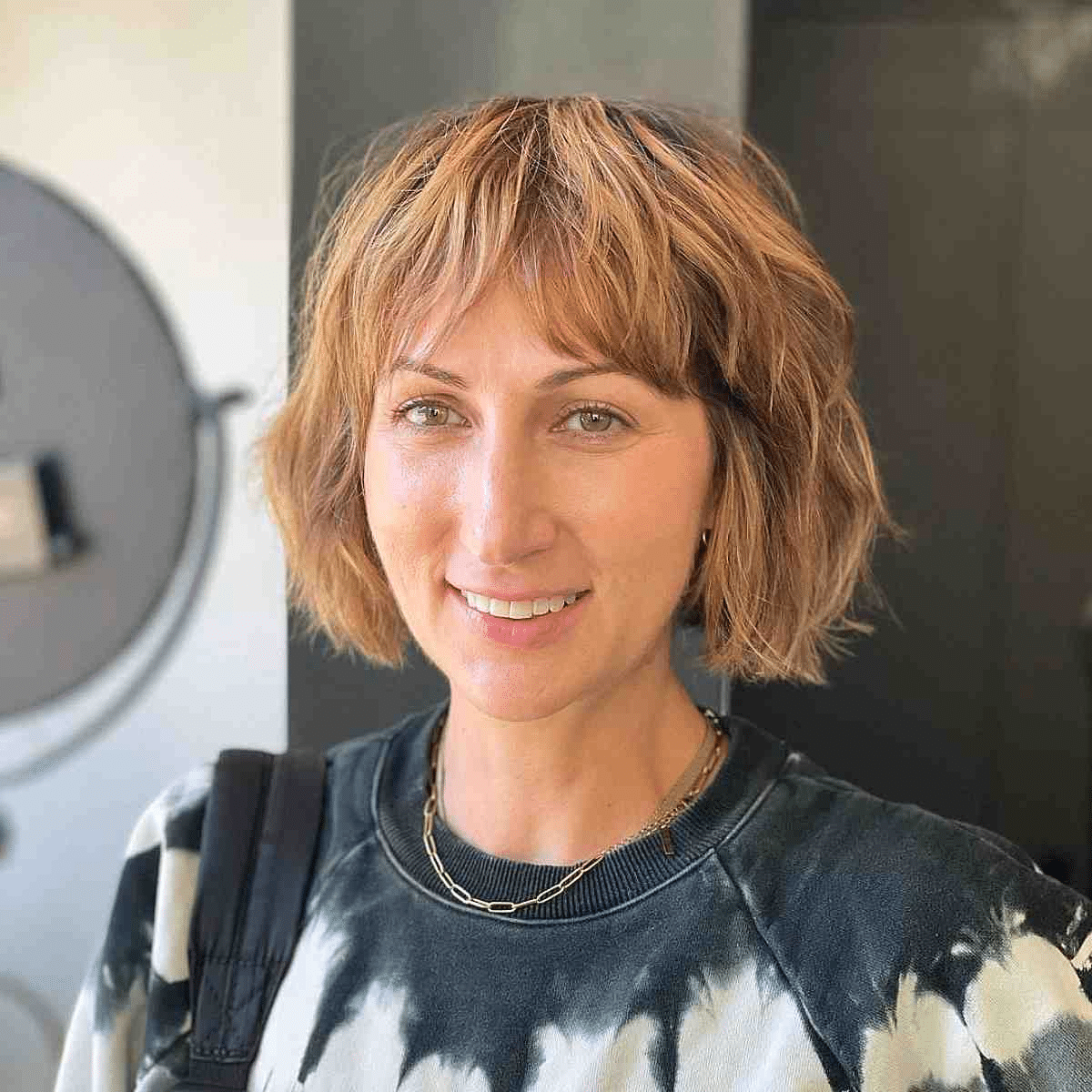 Either go for adding prominence to your face or dimensions a hair color can get the job done right. Blonde balayage is one such color through which your facial features can become praise-worthy. A layered bob specifically with shorter hair can be flaunted with a messy style. But if they are complemented with bangs they can add a polished look to your haircut. When both these combinations of color and cut are put together they give off a contemporary yet classic look.
Go for A Shaggy Bob with Micro Bangs and Big Waves
To get in style ask for a shaggy bob with micro bangs and big waves. For a signature look, a textured bob with bangs is just fantabulous. To exhibit a full look, thick hair with shorter lengths can highlight your curls. Whereas, having textured hair cut into fringes will leave your face in a round shape. Women from middle to young age can gratify everyone.
Textured Choppy Bob with Bangs in Light Copper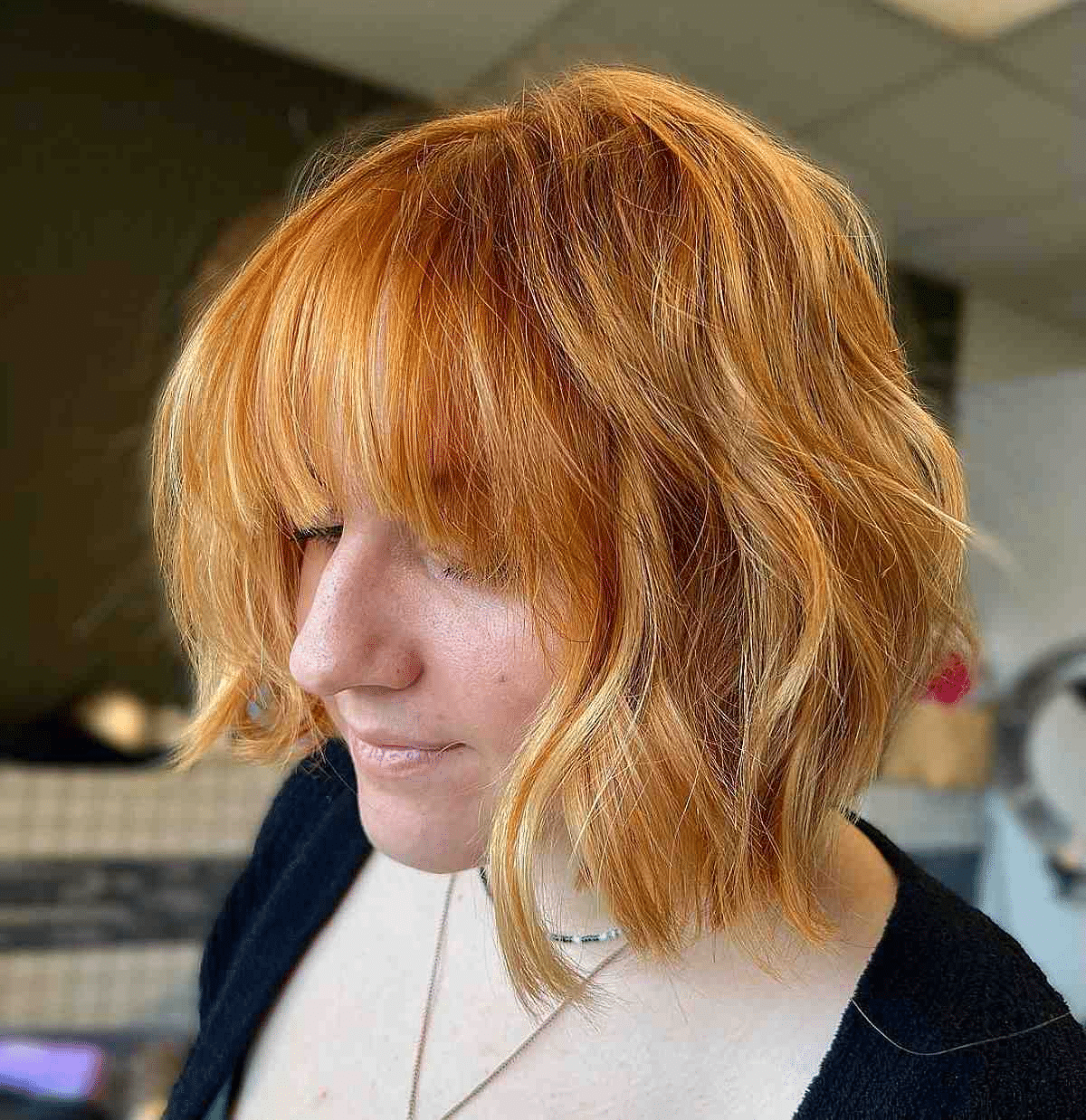 A chin-length textured bob with bangs is forever in the fashion trends. To get this hairstyle done, chop the hair short at the back, keeping slightly longer lengths at the front. Long layers will add to the weight of your hair. Moreover, ask your hairstylist to keep some of the bangs long to give a subtle look to your choppy bob. For the color, light copper blonde will make your complexion warmer and will perfectly work out to brighten it.
Short-Arched Bangs with Brunette Wavy Bob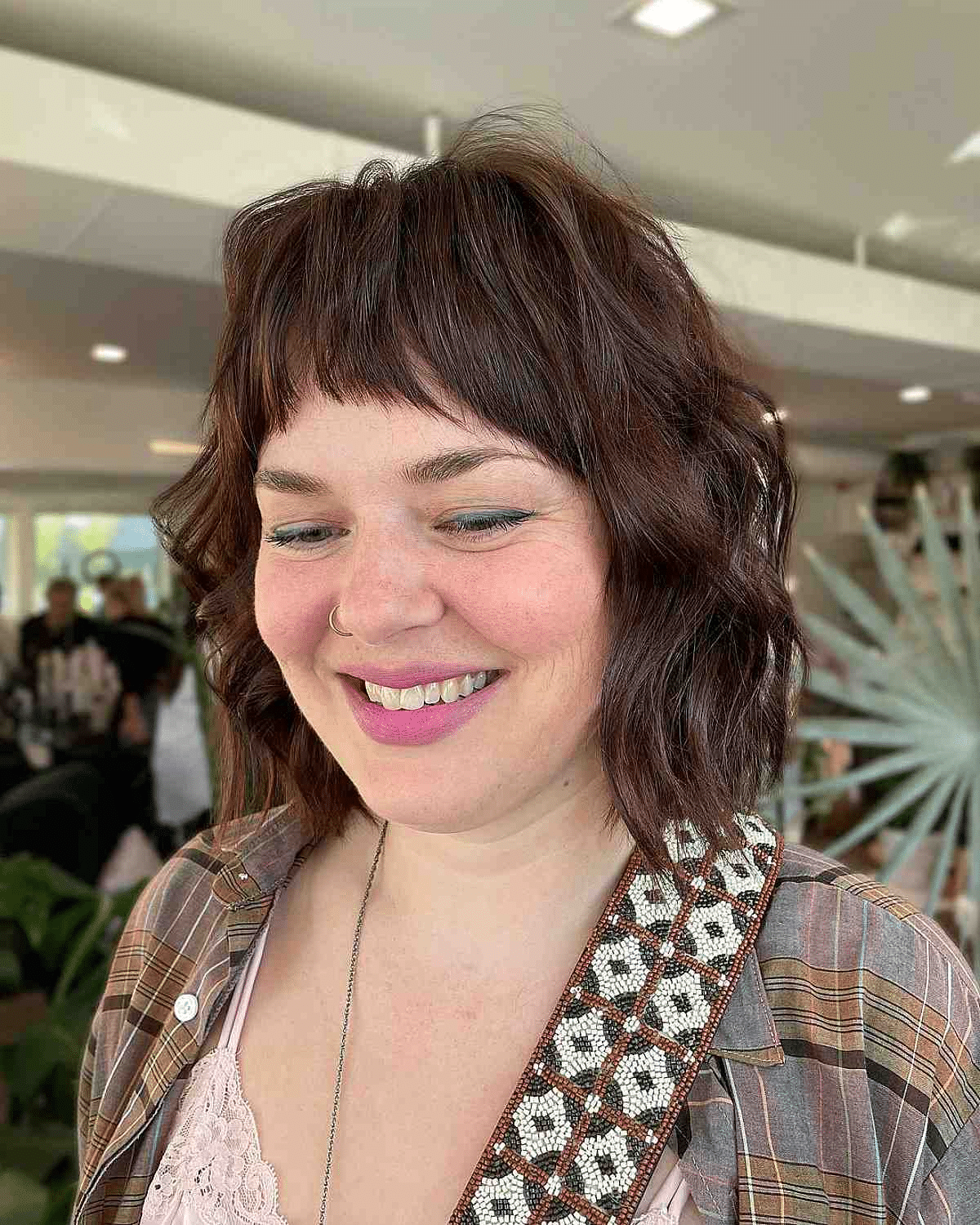 In case you want a transformation to your style, then a shoulder-length textured bob with bangs will magnify your natural hair. Getting a surface layer will make your hair fluffy whereas keeping lengths will leave your hair thicker. This type of dimensional and soft bangs gives off a trendy feel. It is suggested to use a dry textured spray after styling to get a more raw and settled result.
Bangs on Jaw-Length Wispy Bob for Aged Women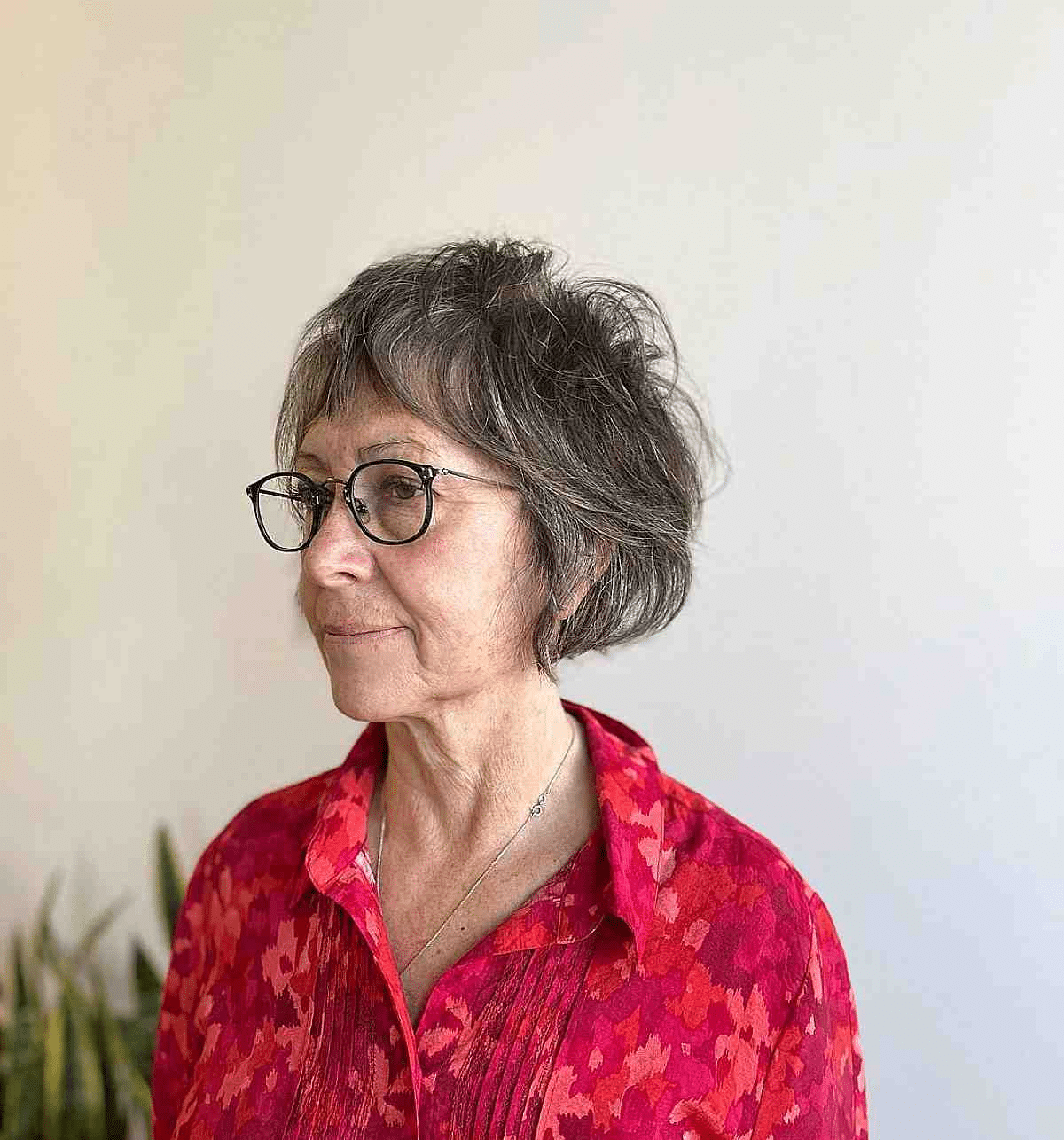 For women of a certain age, it is more necessary to take a haircut carefully. A short textured bob with bangs will work elusively at the same time lifting the face. Other than that, the hair will grow out thicker and a short bob with crown layers will prove to be voluminous for sure. To achieve a gratified look a soft wispy face frame will be absolutely a win.
Go with Wispy Long Bangs on A Razor Cut Bob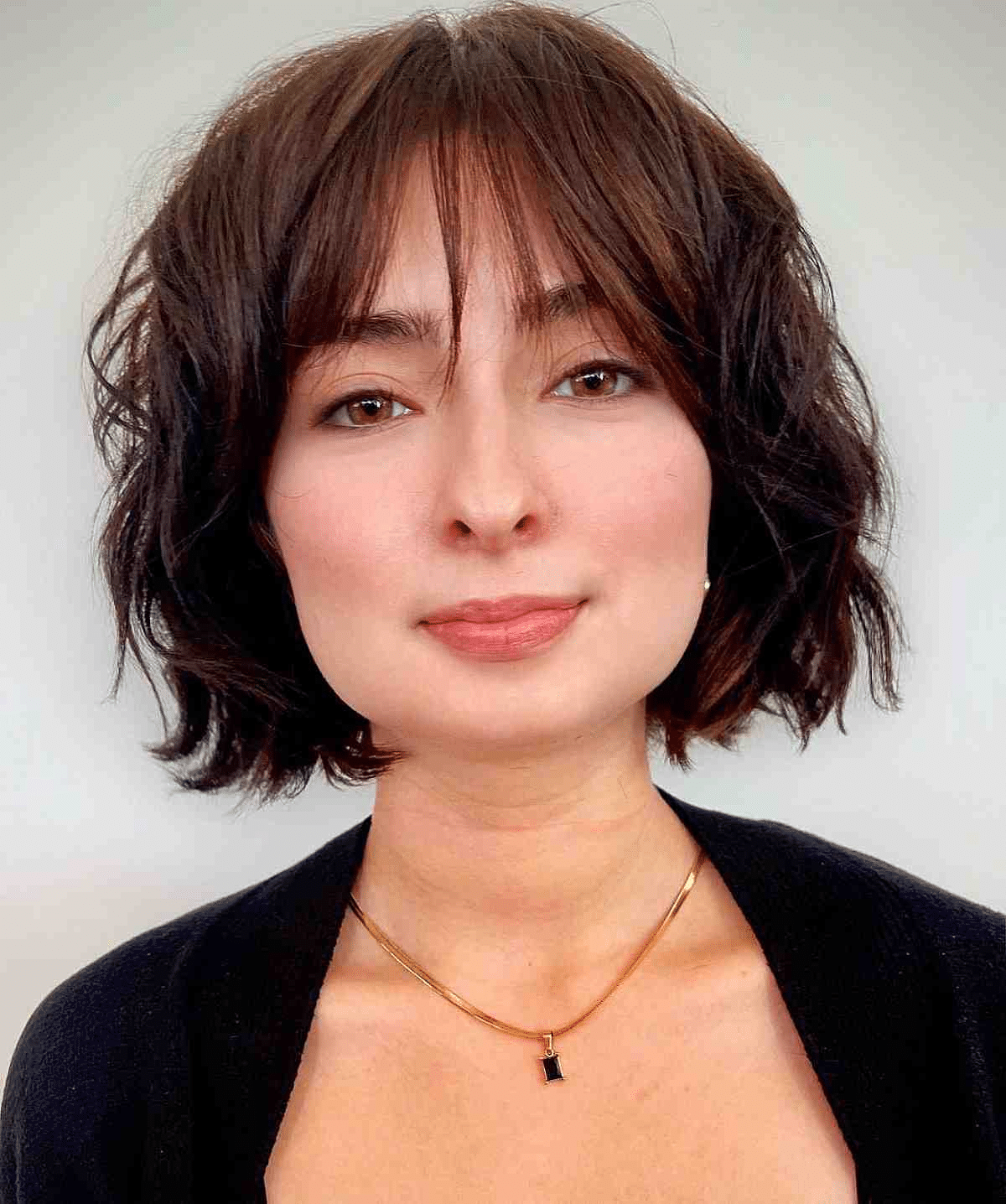 By asking for a chin-length bob with a soft wispy long fringe you can tone down your face. Also, this style will blow you out if your natural hair is thinner as it multiplies the volume of the hair. The chopped fringes will help you adapt to a variety of different looks all at once. Making use of a round brush will give your cut a proper pattern.