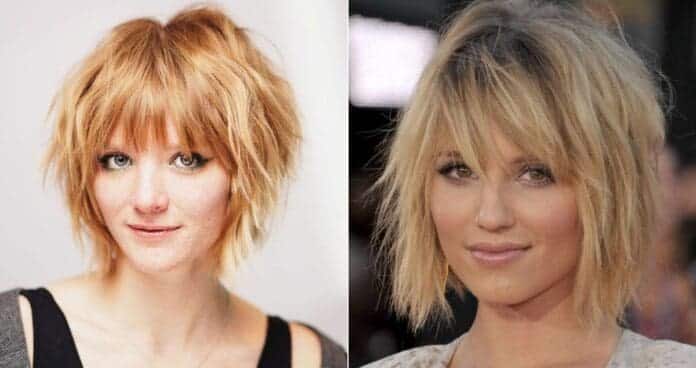 A Chin-length shag haircut is a combination of spiked edges with a short length falling right below the chin and worn in a ruffled style. This hairstyle adds fluff to your hair making it look grittier. Also, through this style, your layers will get more prominence. To get an insight into this haircut a stylist from Brooklyn, NY, named Jessi Bennet has all sorted it for you. Below are some images that highlight some immaculate ideas for a chin-length shag haircut. Have a look to collect a million compliments!
Styling Short Wolf Cut with Middle Part Bangs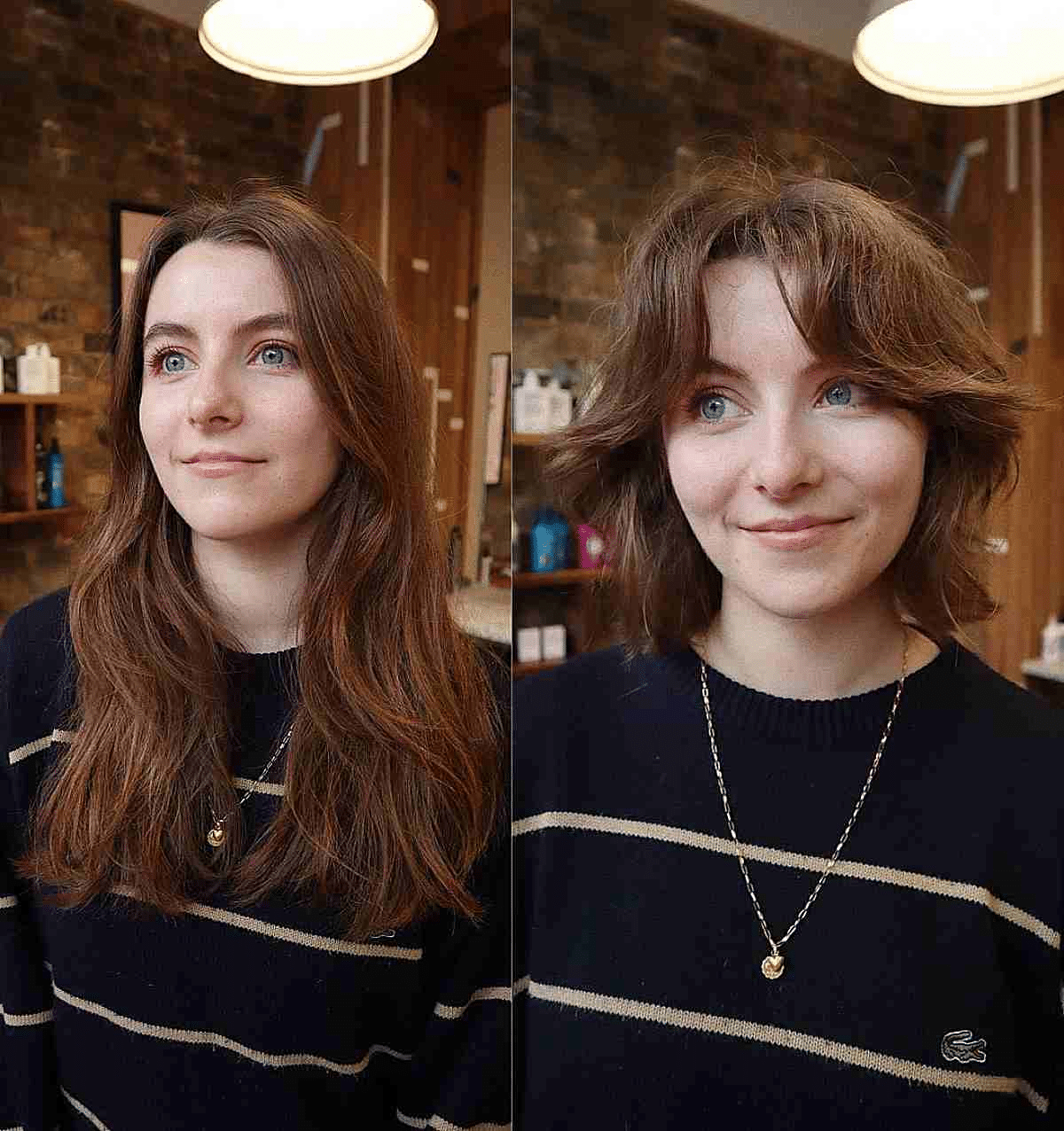 To rock your feathered layers a short wolf cut is nothing but a must-try. It is the best fit for girls with wavy hair confirming the latest fashion patterns. The shags look up to date on almost every hair type giving a full look with voluminous hair. Middle parting your bangs while using a round brush pull away from your face will create a '70s dramatic vibe.
Trendy Mini Curly Shag with Short Bangs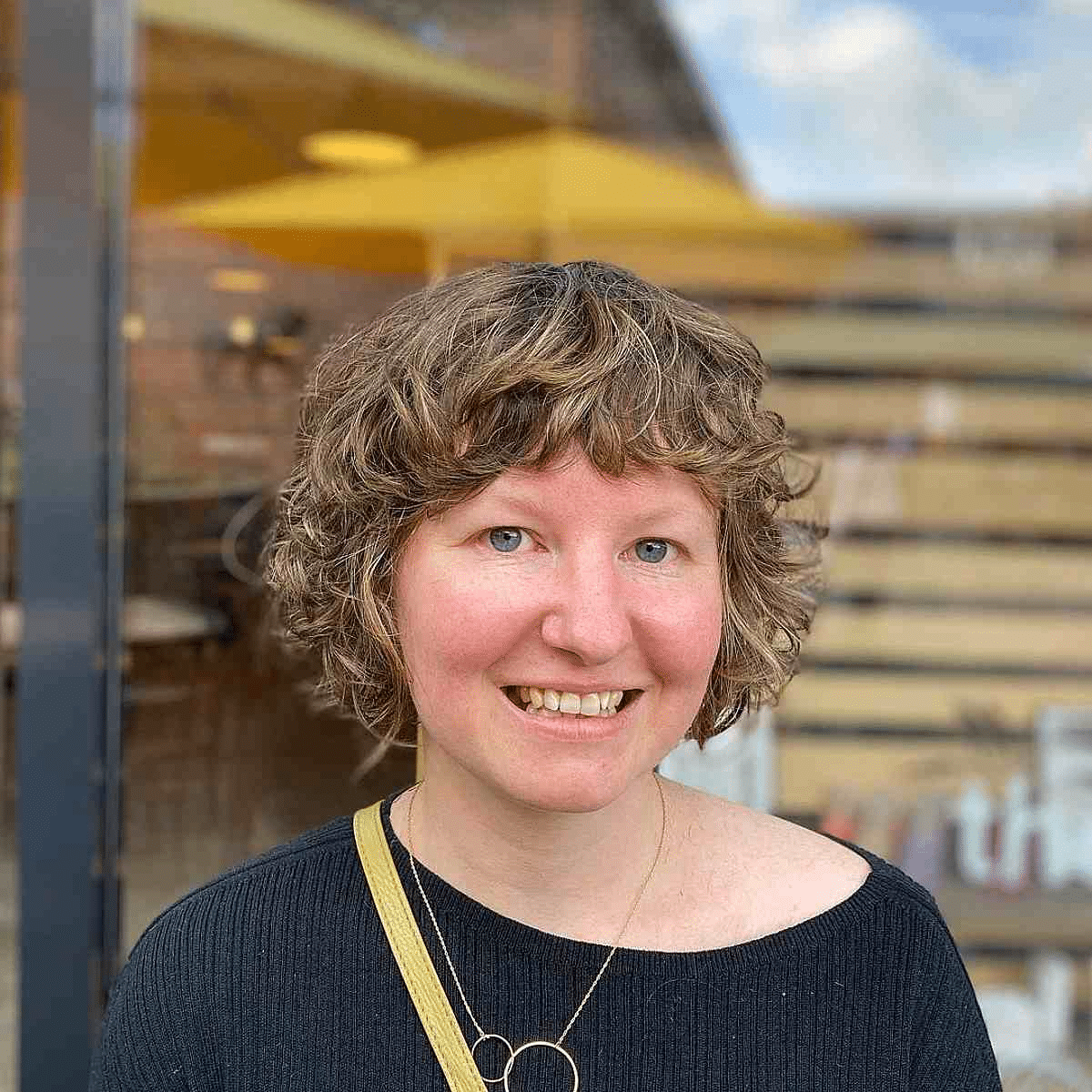 Opting for a mini curly shag with short bangs give off a contemporary feel. Your look will accentuate with layers of face-framing making you look more trendy. Besides, chin-length shaggy hair is best suited to the ones looking for low-maintenance haircuts. The shorter length of the hair makes it easily manageable while making your natural wave playful.
Shaggy Bixie Cut Alongside Feathered Layers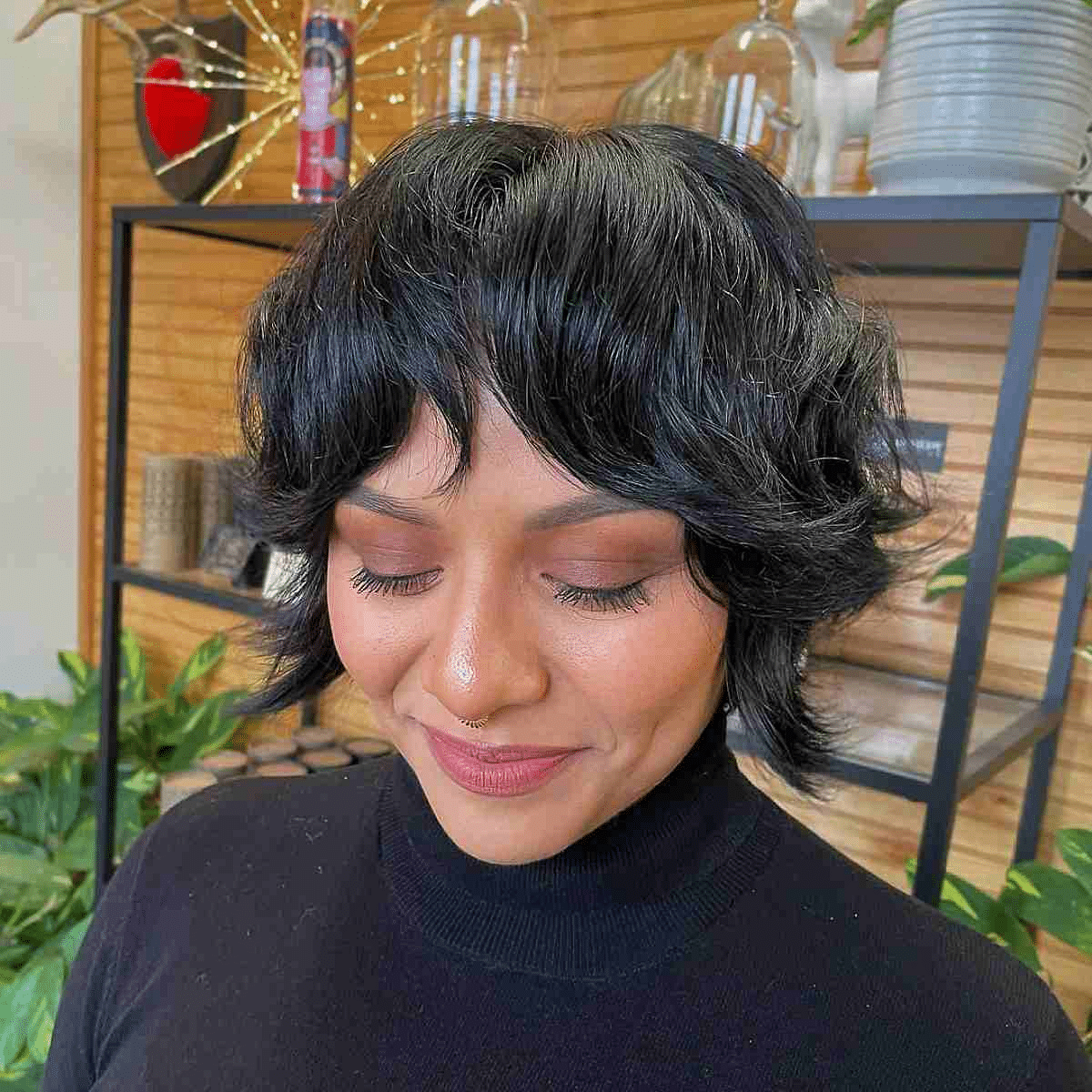 A Bixie Cut is the one you will need to get the spotlight. This hairstyle is an alluring combination of short layers and bangs that looks similar to pixie hair and a short bob cut. Girls get this hairdo to elevate their fine-looking hair which will add to their delicate features making them look appealing. For styling take the suggestion of your professional hair expert.
Bangs and Short Ruffled Shag Mullet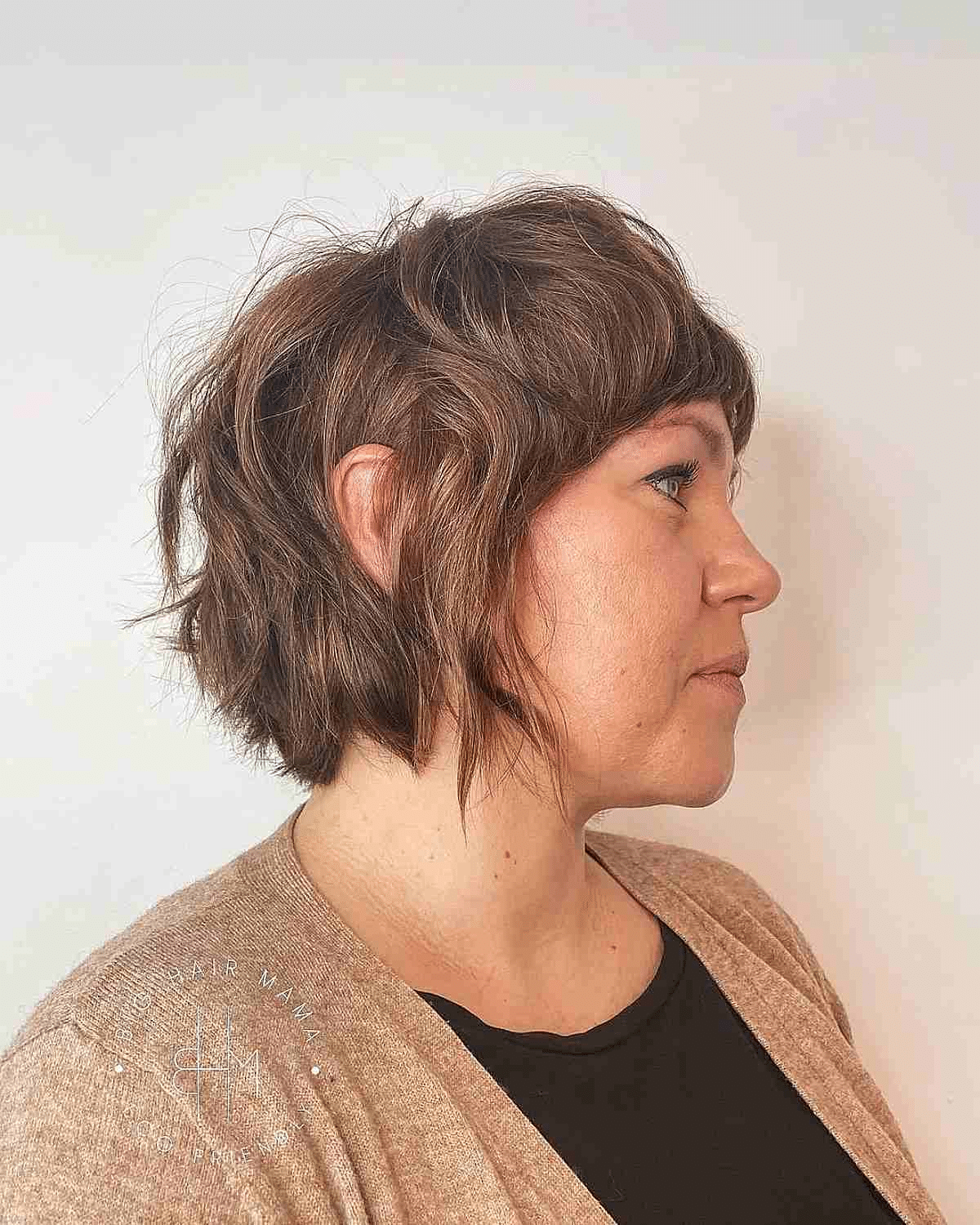 A chin-length shag haircut looks endearing in every way, and fortunately, it is back in trend again. If you are brave enough to go for short hair, a chin-length shaggy bob with bangs will look great on you. This kind of hairstyle can get aligned perfectly with either a square or a round jawline. It is suggested to ask your stylist to apply a texture spray or a paste to give a messy feel.
Try A Fluffy Shagged Bob with Face-Framing Layers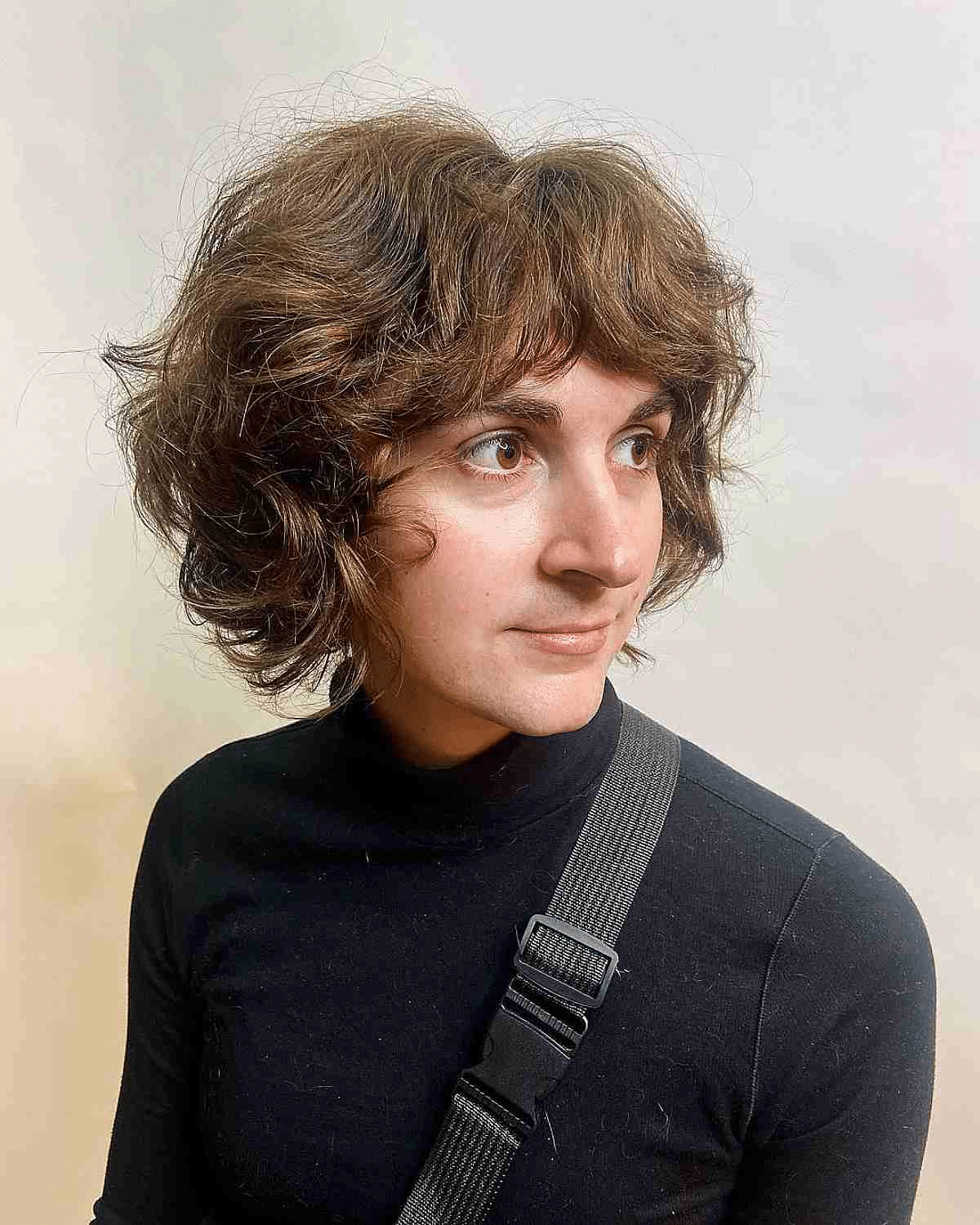 A chin-length shaggy bob paired with textured layers can give a raise to your waves or curls in a modern manner. Either boy or a girl, any type can go with this hairstyle as it folds the curls beautifully close to your face. A cone-shaped nape with an undercut will cause your hair to get a wave-like pattern falling towards the neck. This technique can lessen the chances of your hair looking like a typical triangle.
Straight Hair on Highlighted Shaggy Layers with a Shorter-Length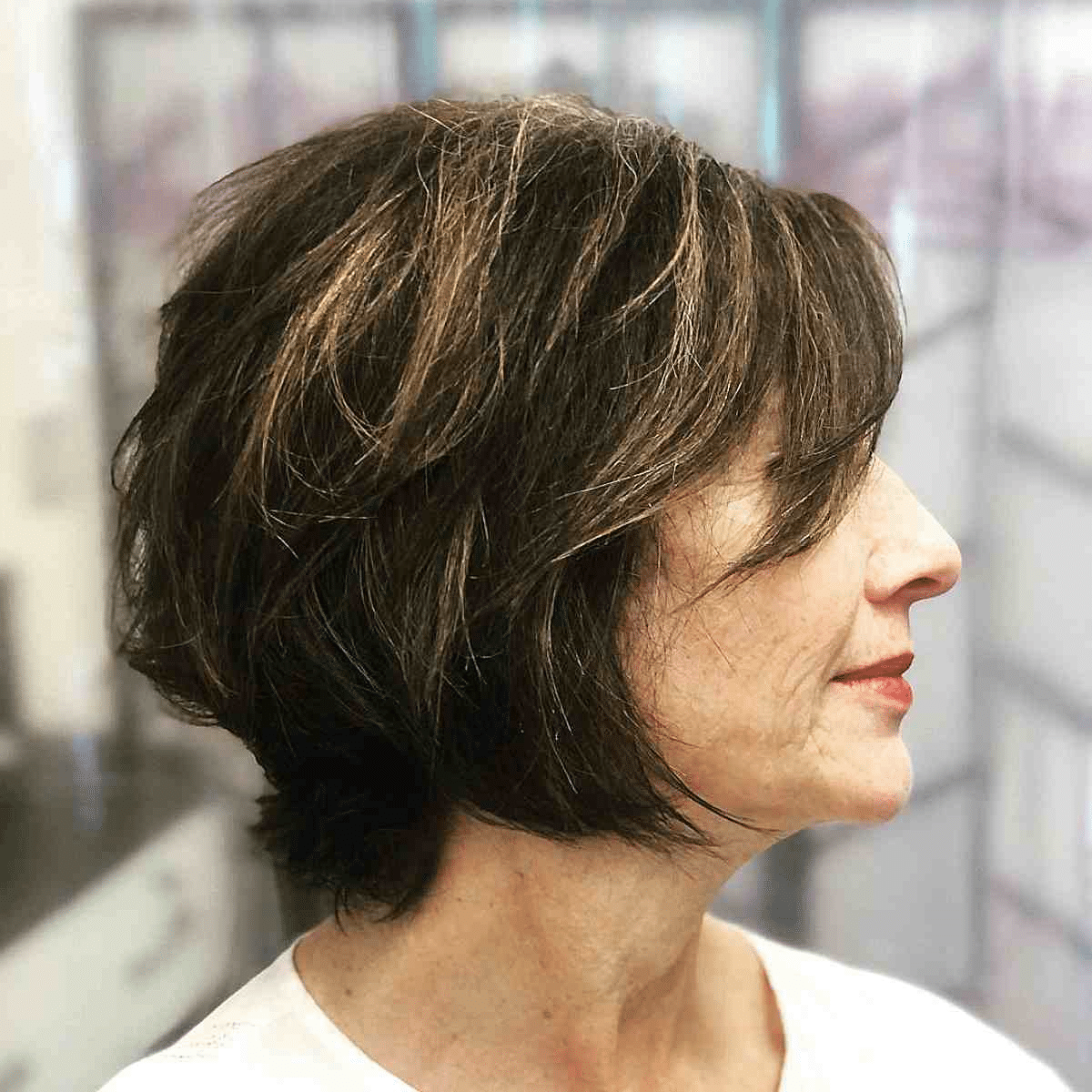 Wear your shorter hair with highlighted shaggy layers styled in a messy way to have a ball! The addition of layers to your style adds motion and proportion. Also, a chin-length shagged haircut can help you flaunt your hair in a sprinkling manner. Asking for shaggy layers will fix your thick hair as well. For a more seamless look, point-cutting will be a great option to go with.
Pairing Multi-Layered Bob with Mini Bangs on Wavy Hair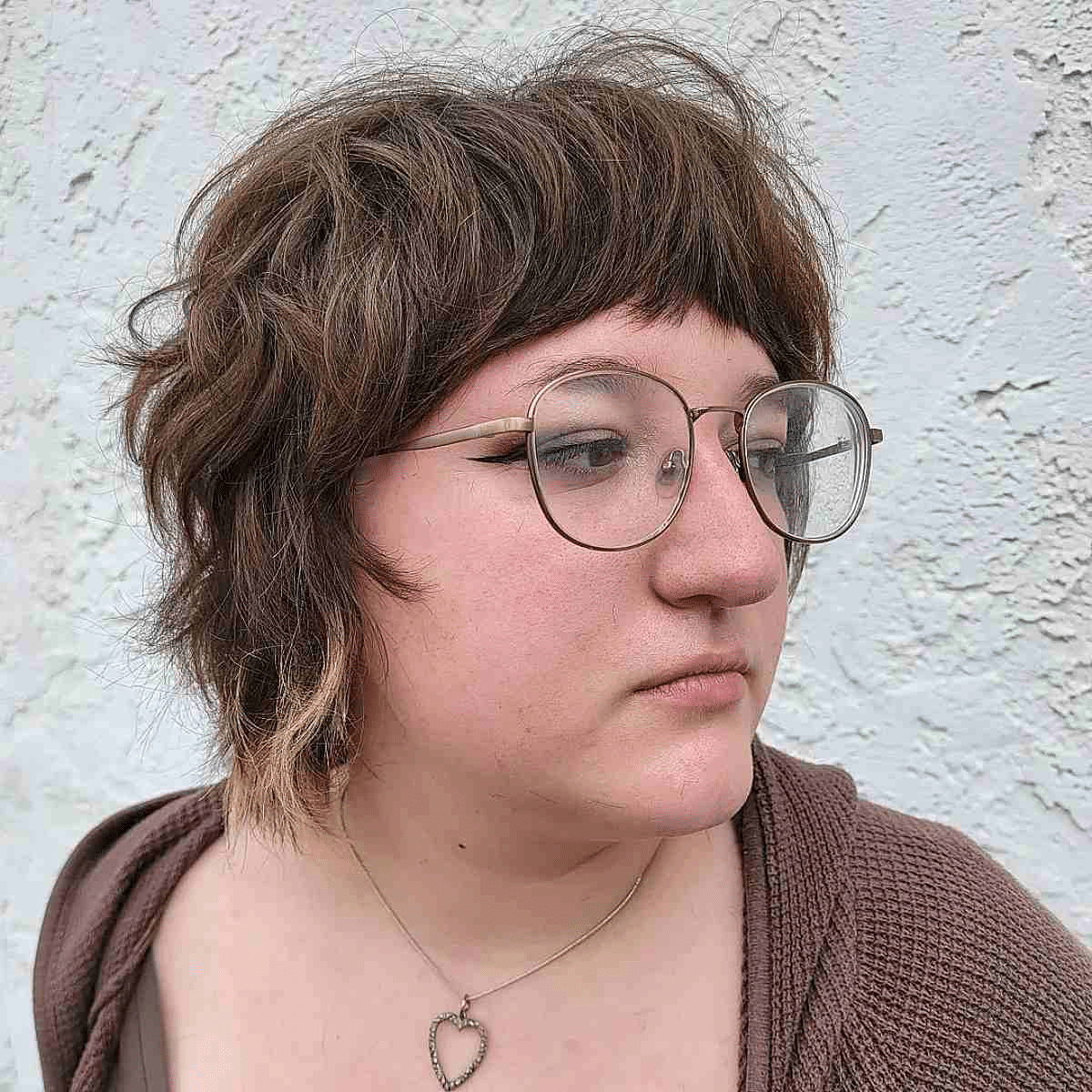 A Multi-layered bob with mini bangs on chin-length shag haircut on wavy hair can do wonders while giving you the spotlight. if you want to transform your bob cut then lots of square layers can make it look fresher than ever before. In this way, you can get a praise-worthy shape of your head crown, adjusting to your new look. Either straight or wavy hair, a chin-length shaggy haircut will serve both these types nicely. The result will be effortlessly natural!
Short Layered Shag with Long Layers on the Front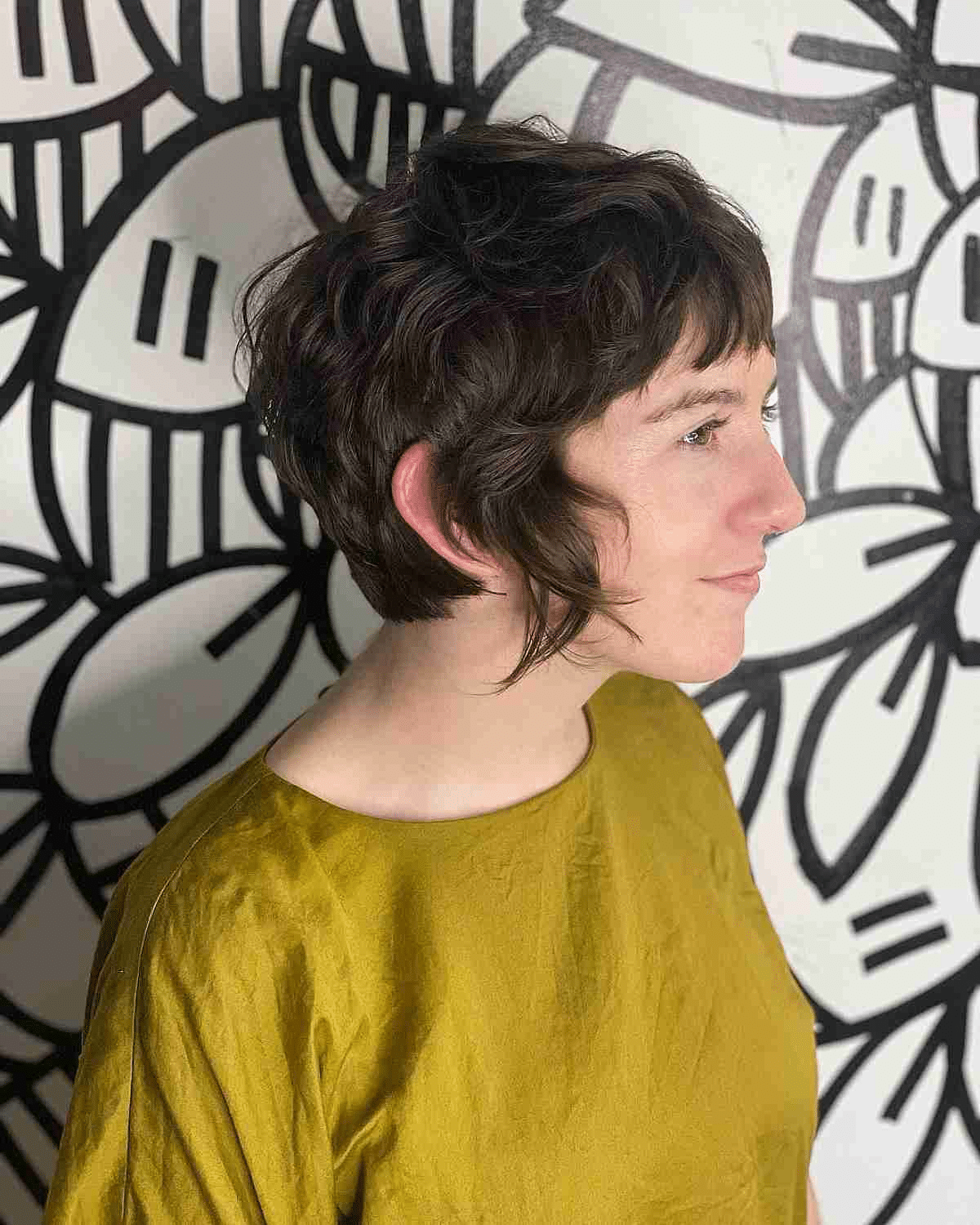 If you want to give your wide-stretched face a sleek cut with a shorter length, go for shaggy layers with a pixie haircut that will work for you. The layers cut shorter will direct your facial appearance inward. This style will contour your face, setting the width of your face small. To highlight more, a textured face-framing will shift the focus to your eyes embracing your overall appearance. Such a cut is ideal for the one who wants less exposure to the ears.
Style Chin-Length Choppy Shag with Curtain Bangs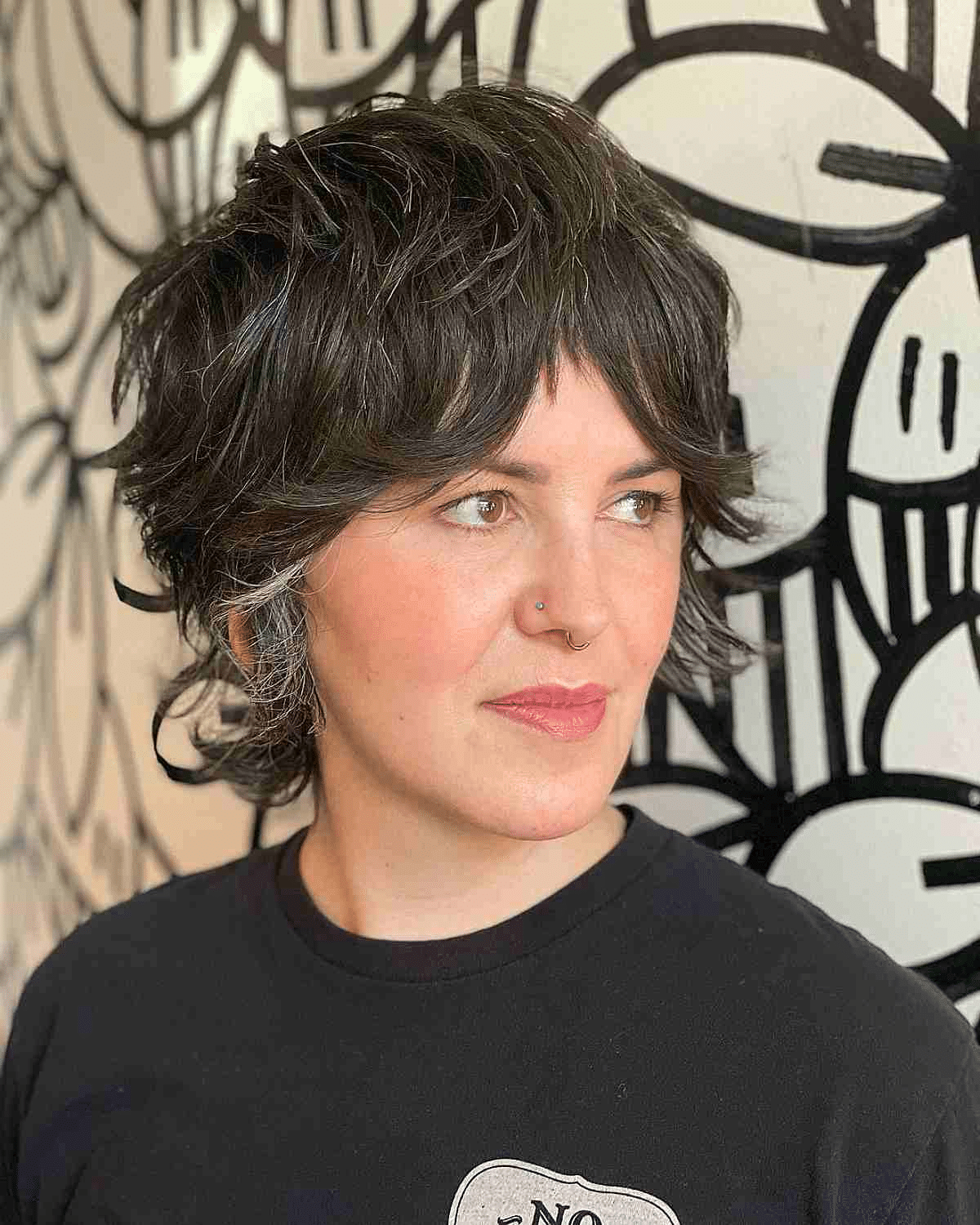 Are you one with a long face cut? A perfect chin-length shag cut will make a way out. Wisp your textured layers outward and it will make your hair spread all over giving your shape a wider shape. For going with this type of style consider a specialized hairstylist who is an expert at a chin-length shag haircut. To make your hair grow out naturally in a c-shape a flat iron is recommended.
Style your Curly Hair with A Shaggy Razor Cut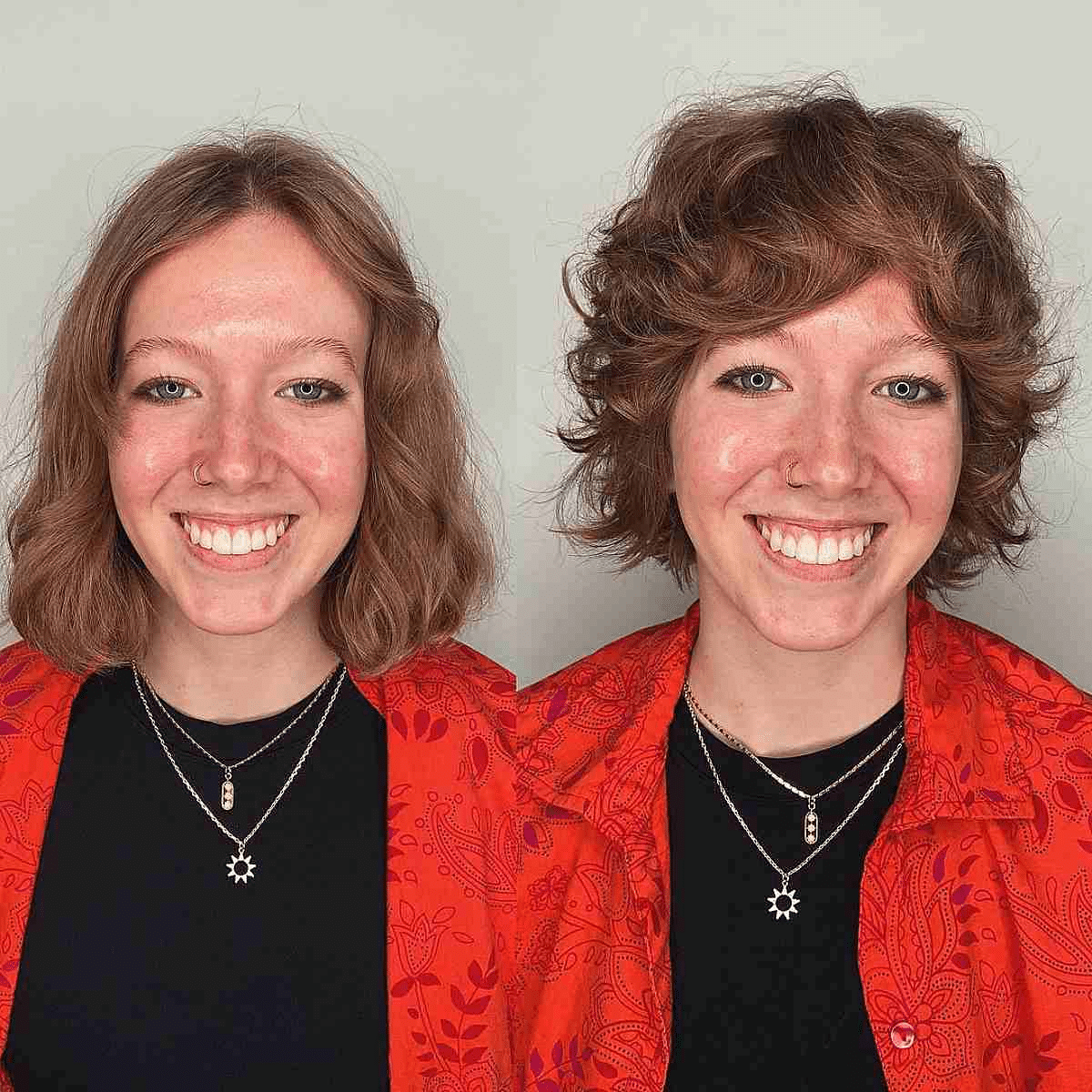 Curly hair is not a problem anymore. Curly hair with a razor cut can style your hair best with a short length exhibiting your curls with a bounce. The point to ponder is that using a razor for cutting your curly hair can lead to fizziness. Overcome this problem by using a straight razor to get denser hair. To make your curly waves more definitive, use a cream or a deva curl gel.
Blonde Shaggy Bob Colored in Pastel Pink Highlights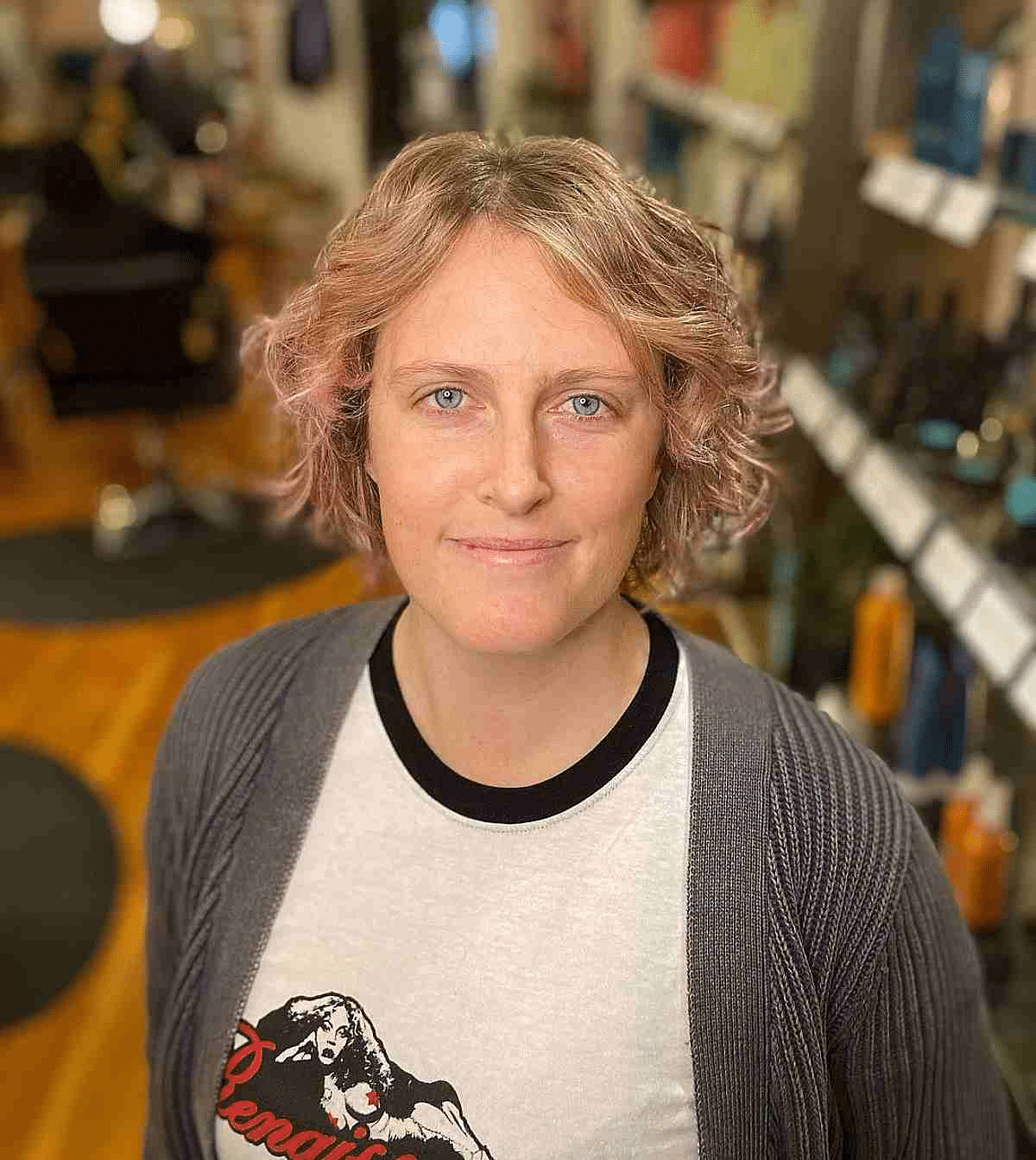 A shaggy bob calls for adding a wispier look to your textured hair. To achieve this style, multiple layers are added to your normal bob in a newfangled way. This cut particularly adds more style to naturally curly hair. More surprisingly variation in the length of layers and texture can be seen if you get it done on curly hair.
Chin-Length Shag for Thin Hair with Blunt Bangs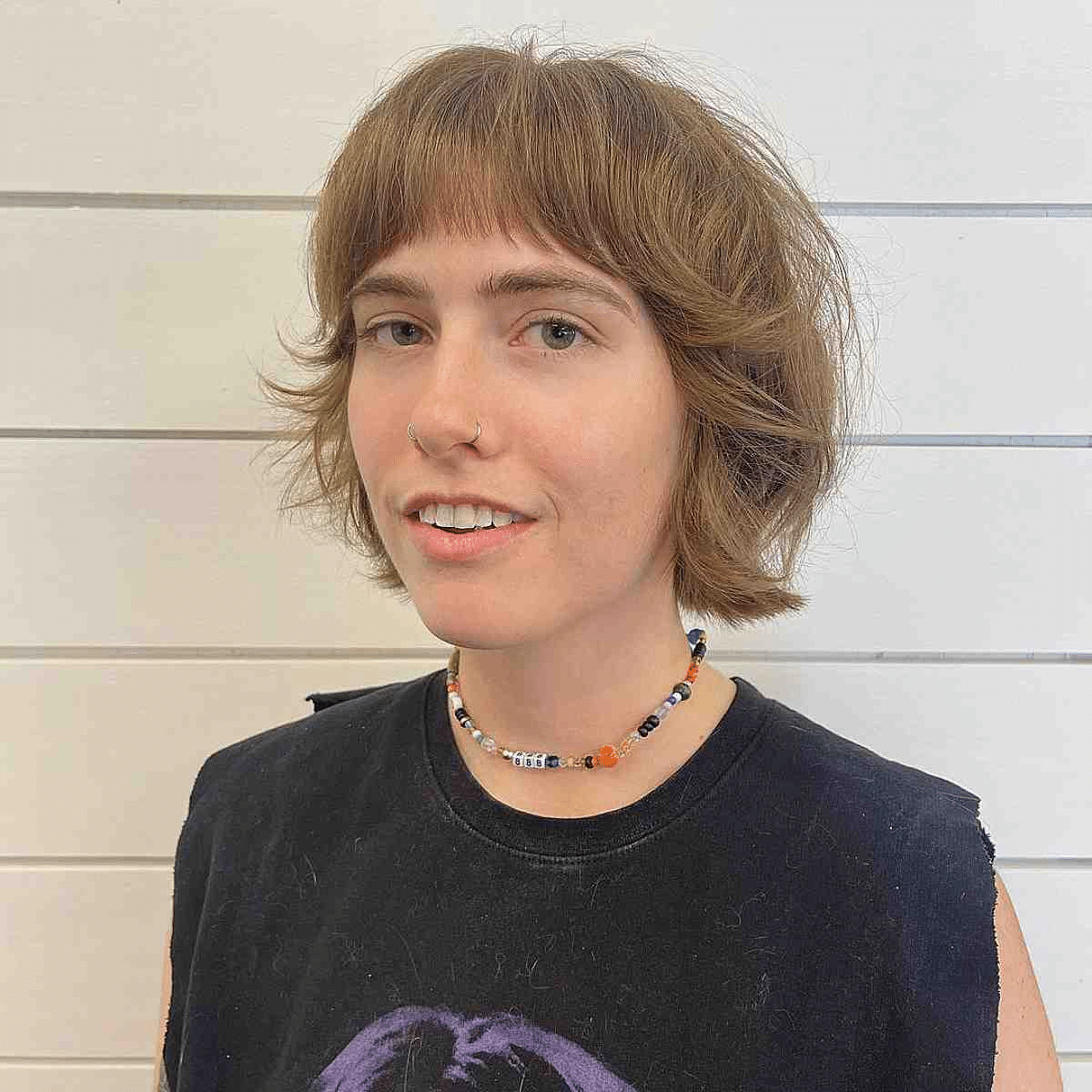 Chin-length shag haircut with bangs is on the top of the wheel of popularity these days. Young girls having a variety of hair lengths as well as textures are picking undone shag. Ranging from straight, curly, thin, or thicker hair this haircut is the best pick. To get a flawless look consider your stylist's opinion.
Try Face-Framing Wispy Bob on Sleek Hair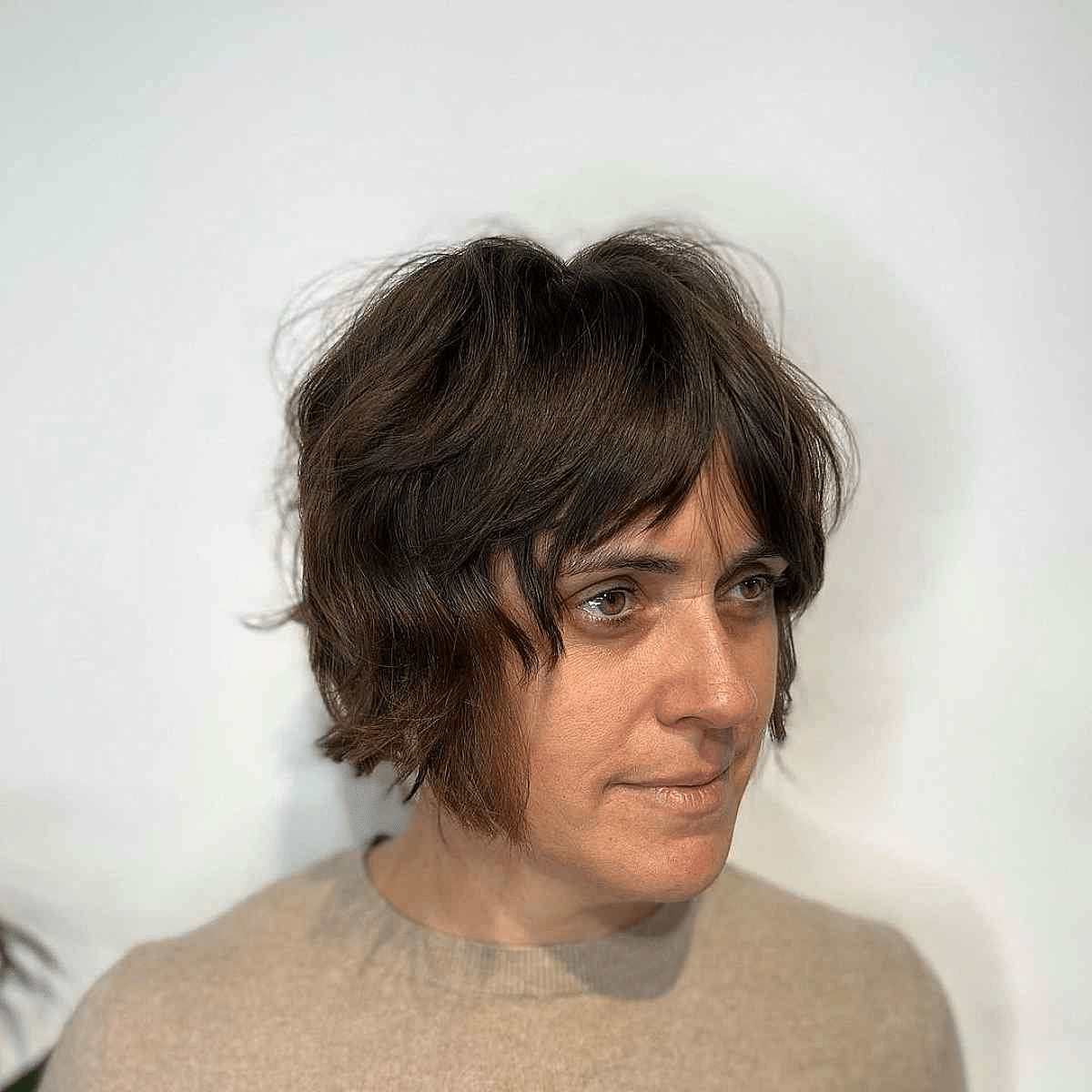 Are you looking for a recommendation for your fine hair? Get a shaggy bob done to give your hair dimension and texture. Long or short, this haircut goes well with every length due to its extended versatility. Also, keeping in mind your face shape, wear it either with bangs or without bangs both options will be a win. To get an increased texture and added style for your wispy bob, talk to your hairstylist for product recommendations.
Get A Bronde Choppy Bob with Shaggy Bangs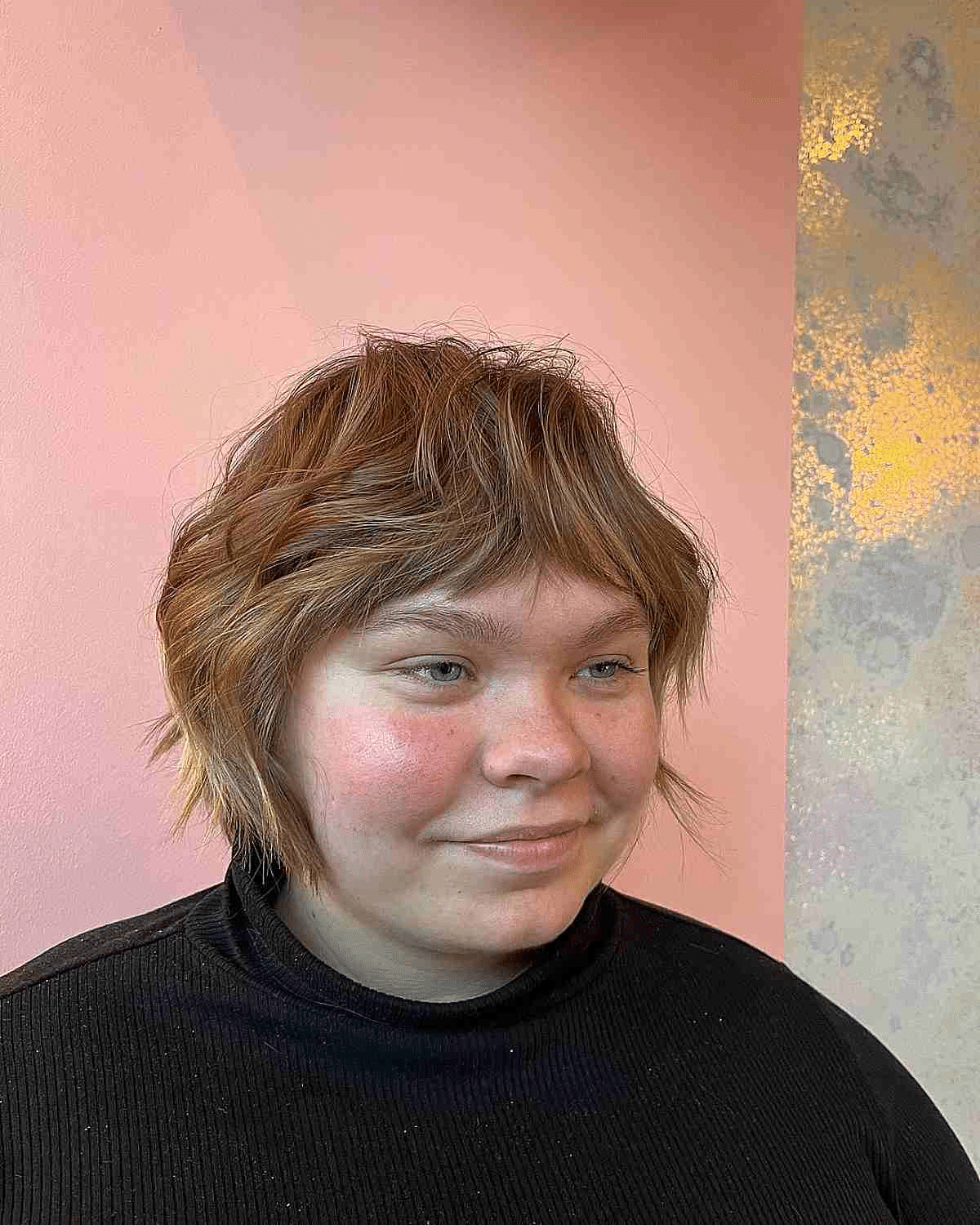 Fine hair can be hard when styling, but not anymore! A feathered French bob cut can get the job done right by adding texture in a full form. Your hair will look choppy while the layers will be softer making the hair feel thicker. Besides, the ends in the wispier form will add movement to your cut making it joyful. However, this style is best suggested for a round-shaped face. It makes your facial appearance thinner by directing the layers toward your face.
Setting A Textured Shaggy Crop with Very Short Layers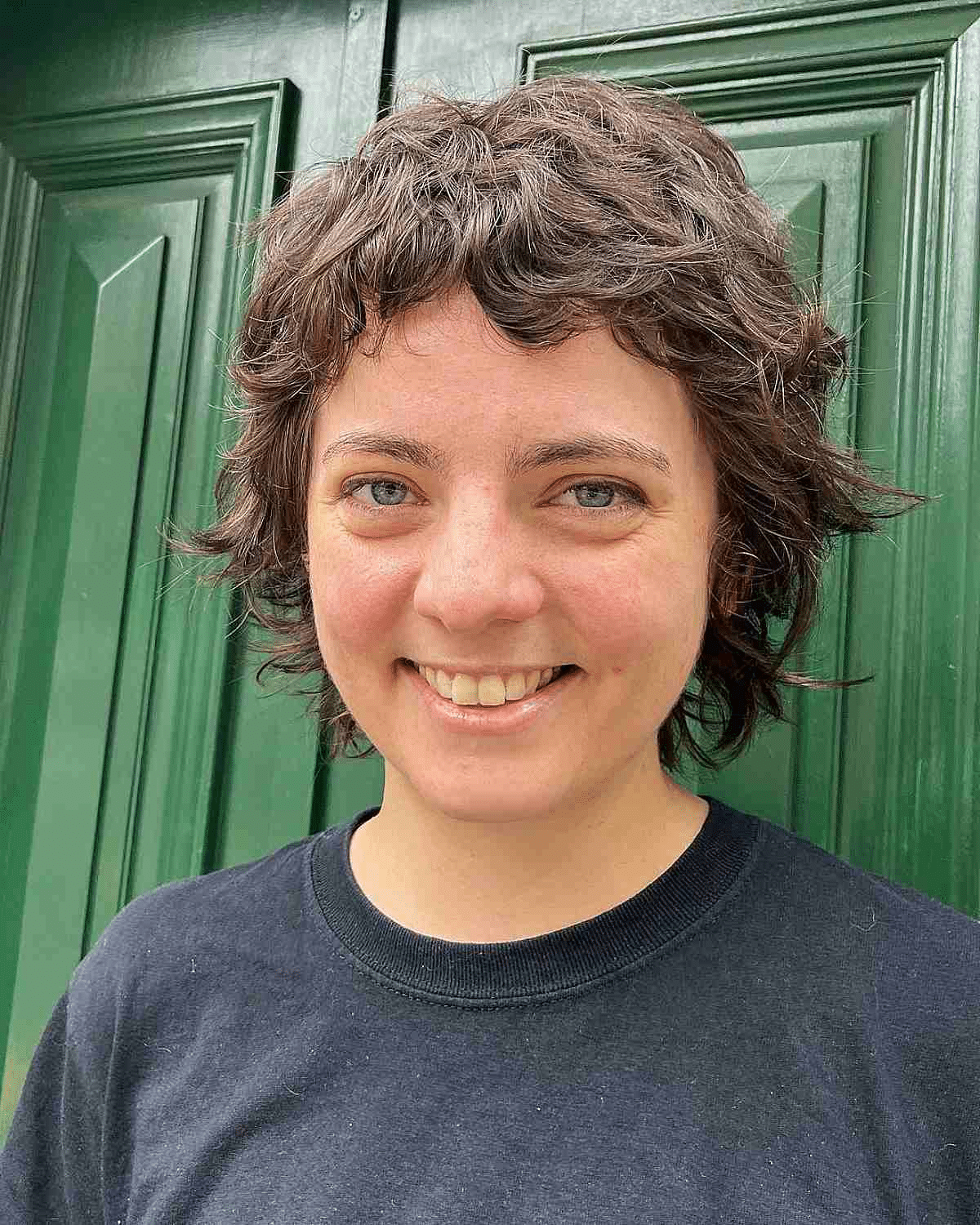 For a ruffled yet chic style, a textured shaggy crop with short layers is a must-try. If you are daring enough to opt for something unique then this haircut is specially designed for you. This chin-length shag haircut will rock on the girls having curly locks. A bigger benefit of wearing such a haircut is that it is low maintenance. Although asking for some razored layers will make your edges pointed.