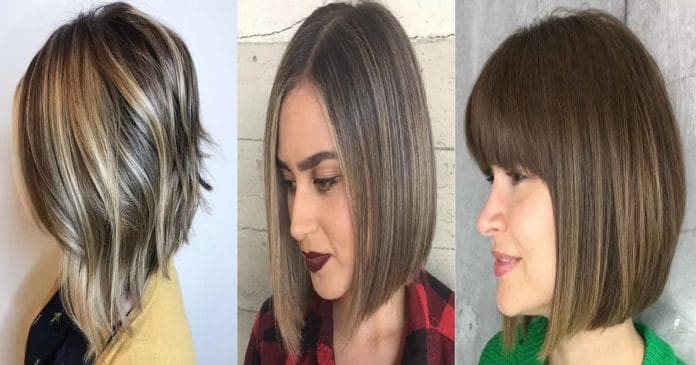 The classic medium bob haircut is elegant and sophisticated. You can make them look different depending on how you style them. You have the choice of bobs in a variety of styles: asymmetrical or symmetrical, straight and curly, shaggy or sleek, wavy and straight, asymmetrical or symmetrical. They offer you versatility and modernity. Take a look at our gallery of 18 bobs in the mid-length range and choose the best one to try.
Medium Bob Hairstyles
Our selection will include many natural-looking, messy bobs, but we also have a few straighter, more polished options. They are classics.
#1: Textured Wavy Midlength Cut
This bob is made up of many cute flicks that are aptly cut, toned, and tangled to look amazing. You can achieve a texture choppy bob by adjusting the length of your nape and adding angled front pieces. Styling your hair will be easy with a quality haircut for thick hair.
#2: Tapered Auburn Bob
For fine or medium-textured straight hair, medium bob haircuts with a tapered cut are best. This chic style is best paired with a rich, monochromatic color of hair and style with roots volume. Beautiful, elegant and feminine!
#3: Shaved Back Bob
A slightly layered bob with a surprising nape undercut will make your hair light and beautiful. The undercut hides under the top layer of hair and is great for women who are looking to trim their hair or want to use a simple styling trick to keep their locks in shape.
#4: Blonde Balayage Bob With Soft Layers
Bob hairstyles make it easy to showcase a balayage. It's simple and straight-forward, but when paired with subtle shades of blonde, it shows effortless style. Layers can be added to increase the depth of your look.
#5: Messy Brunette with Caramel Balayage
Add some curls to your shoulder-length bob. Highlights will brighten dark strands and give your cut texture. For the fun and flirty look you desire, mousse your hair.
#6: Choppy Inverted Bronde Bob
Can't decide between blonde and brunette? The bronde trend allows you to go for both. The bronde trend is made more unique by layered layers and a stacked back. This gives the bob sass and class all in one.
#7: Classic Bob with Straight Bangs
For a sophisticated and stylish coif, add a fringe to your bob hairstyle. Full bangs add volume and texture to straight hair while still keeping it fresh and timeless.
#8: Dimensional Blonde Balayage Lob
Medium bob hairstyles are easy to change and make your favorite cut more interesting. Invert your cut and use high-contrast styling to add visual interest. This shape not only looks cute but gives your hair more movement.
#9: Blunt Cut Bob With Textured Layers
Your bob cut will have a sharp edge if you add crisp, blunt ends. You can still have layers even if your cut is perfect. Different lengths will give the hairstyle a modern look and soften its boldness.
#10: Feminine rosewood Bob with Caramel Baklavage
This bob cut is pinky and feminine. It's elegant, classy, and exudes femininity. It is subtle in color and has a caramel tone. It is possible to play with many shades of the rainbow without being too loud or bold.
#11: Curly, Mid-Length Hairdo
This elegant hairstyle is suitable for formal occasions, but casual enough to wear every day. The fullness of the mid-length hairstyle is enhanced by the defined curls that highlight the various brown highlights.
#12: Finely Chopped Honey Blonde Bob
Medium-length bobs combine feminine waves with choppy layers for a look that's both elegant and edgy. This versatile cut can be worn down or up for work, or at a formal event.
#13: Razored Blonde and V-Cut Bob
Teasing your hair will make your cute medium-bob look even more adorable. This will give your hair texture and body, which is what straight hair needs. For all-day volume, spray it with hairspray.
#14: Textured Medium Hairstyle
Pros can achieve this textured, above-the-shoulder cut. This is not the case. Mixing dark and light hair colors can create a striped look. Although the different colors in the wavy hair are clearly visible, they blend together to create a harmonious look through layering.
#15: Wavy Shoulder Length bob
Extra body can be added to hair that falls below the shoulders. To create loose waves that frame and highlight your features, use a large barrel curling Iron. This style looks even more soft when paired with bangs.
#16: Discreet brown Bob for Fine Hair
The color of this brunette hairstyle is subtly enhanced by babylights. These hues blend seamlessly, adding dimension to both the blunt and straight bobs. You can also increase the wow factor of your hair by adding volume and layers.
#17: Voluminous Layers & Dark Roots
A high-contrast color will make you stand out. This medium bob haircut is so vibrant because of the stark contrast between its platinum ends and deep roots. Its sexy appeal is further enhanced by the fullness of this look.
#18: Shaggy Bob and Point-Cut Bangs
For women with naturally straight hair, bob cuts with layers or bangs are the best. First, curly hair can be difficult to straighten. Pin straight hair tends to be flat and fine. Textured layers can give your hair body.