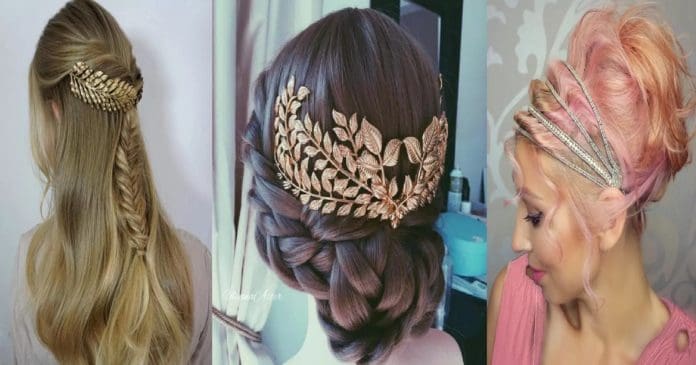 The elegance of the updos, the generous volume they create and the beautiful accessories which are often used to decorate the hair, make us dream about toga-wearing Olympian goddesses and wonder whether we mortals can ever look as magnificent. We have nothing but admiration for these hairstyles – and today we're going to share the ones we love the most!
Why Choose a Greek Hairstyle?
You simply can't overlook the limitless creativity a Greek hairstyle allows you to incorporate. Jewelry, braids and big, bouncy curls are head-turning ingredients in a hairstyle – and these elements are the essentials of a Greek-inspired hairdo. Take a look at these Greek goddess hairstyles we're obsessed with – and we're sure you'll be experimenting with these the moment you're done reading this!
#1: Messy Greek Bun with Fishtail Braids
If this messy Greek bun won't turn others green with hair envy, we don't know what will! The fishtail braid adds wonderful detail to the messy bun, while the golden headband is perfect for glamming it all up.
#2: Leaf-Decorated Low Braided Updo
If there's one thing your hair accessory collection is missing – it's this absolutely stunning decorative golden leaf back hairpiece. We adore how it transforms a low braided bun into a Greek-inspired goddess hairdo, which is absolutely perfect for a very special occasion – from prom to your wedding day.
#3: Voluminous Low Grecian Bun
Did we mention that Greek-inspired hairstyles are all about volume? Oh yes – they have the power to transform your hair from 'meh' to 'wow!'. This beautiful voluminous low Grecian bun is our proof.
#4: Romantic Half-Updo Hairstyle
There's nothing we love more than a big, messy braid! This romantic half-updo is all about the illusion of fullness, as the loops have been pulled apart. Use bobby pins to secure your braid in place – and you're bound to hear people whisper (good things).
#5: Volume and Curls Decorated Updo
Back hairpieces are our new obsession (well, one of them at least!). We simply can't get enough of low, Grecian buns and decorative gold hair pieces – whether we wear our hair up or down. Pair this hairpiece with voluminous, loose curls and you've successfully nailed the look.
#6: Playful Braided Bun Updo
Now, creating new hairstyles wouldn't be fun if you could't get a little playful every once in a while! How about this cheeky braided bun updo? It'll keep your hair in place, it'll score points for creativity – as well as receive a lot of compliments. A LOT.