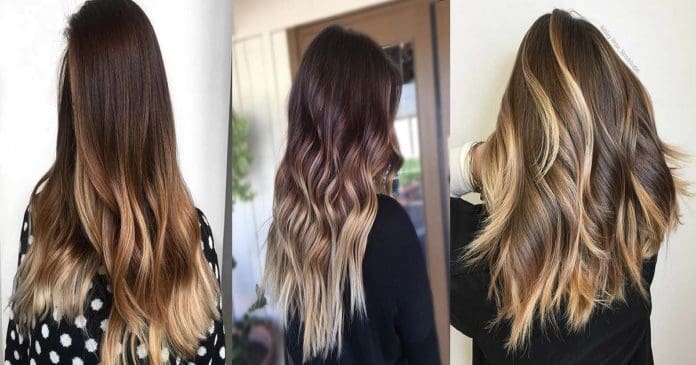 Nothing works better with darker and deeper brunette hair than lighter, blonder highlights. That's especially the case if you want a look that really stands out. There are a lot of benefits to have multi-tonal hair, some of which we'll go into throughout the course of these stunning blonde highlights for dark hair looks. We'd love to know which ones are your favourite. Make sure you come back and let us know!
1. BLONDE BALAYAGE HIGHLIGHTS
There are so many tones you can choose from when you're talking about adding stunning blonde highlights for dark hair. There are the cool beiges to start with, mixed in with the neutral and nude-like tones, going right up to more deeper, and darker shades – honey blondes with their slightly red tinges, for example, and brown sugar-like hues. It doesn't matter what kind of brunette you're rocking, there's a way to add highlights that's going to be super flattering for you.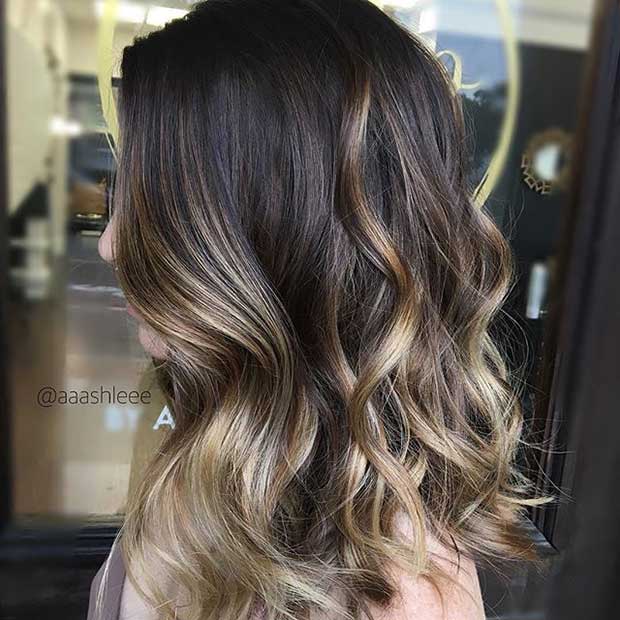 Instagram / aaashleee
2. HONEY BLONDE HIGHLIGHTS
How do you feel about honey highlights? It's a shade easily worn by many, regardless of skin tone and complexion. It's also a fun way of lightening the mood when you have naturally dark hair. Remember the highlighted areas will need to be bleached, so go for a less is more approach if you want to give your hair a break … It probably needs one.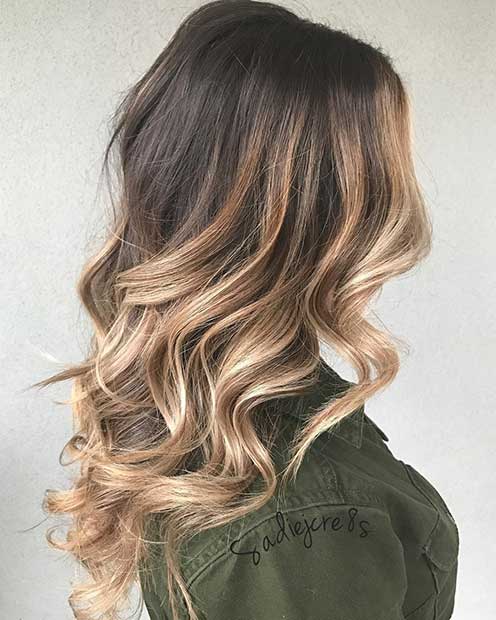 Instagram / sadiejcre8s
3. BLONDE & CARAMEL HIGHLIGHTS
There's a big reason why the balayage ombre is such a big hit right now – it's because the root regrowth allowance is phenomenol. You won't come across another hairstyle as easy to maintain as this one. As long as your highlights don't start right at the roots, with a darker shade ombre-ing into a lighter one, you can allow for more natural growth shades at the top. This means you can go an extra few weeks before salon appointments. That'll give your hair a break, and it'll save you a few hundreds dollars if you keep the look up for a few months too.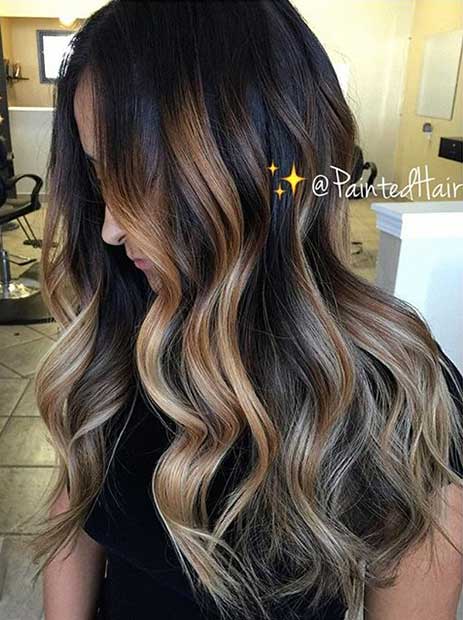 Instagram / paintedhair
4. HIGHLIGHTS ON DARK, LAYERED HAIR
If you want to add more of a dimension to your dark brown hair, why not think about adding a slightly more tangerine twist to your blonde highlights? The "Blorange" look is a really big one right now, and amidst a backdrop of a darker contrast will look quite spectacular.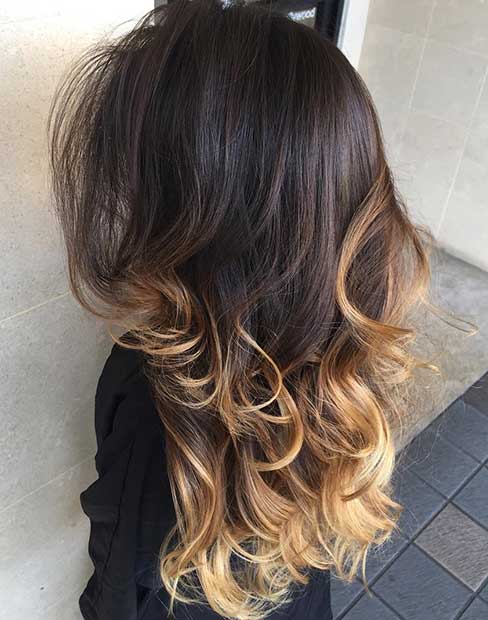 Instagram / hairluvbytiffany
5. BEIGE BLONDE
If you want to add some colour, but not too much colour, opt to have those highlights framing your face, rather than being scattered all around your face. It will stop you from needed to play around with your hair too much, saving it from treatments that are gong to be detrimental to its health. It'll be softer to pull off too.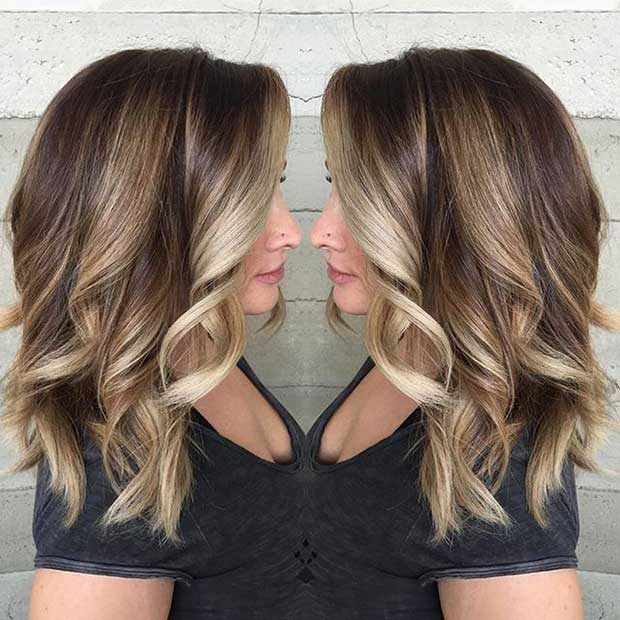 Instagram / butterflyloftsalon
6. DARK TO CARAMEL TO BLONDE OMBRE
This is a look that won't be easy to achieve at home, especially if you're not really a professional when it comes to dyeing your own hair. Gather as many pictures as you can to show a hairstylist what kind of finish you want. The more pictures you have of the kind of blonde highlights for dark hair that you want, the more you can convey that image to her / him. Also: the higher the chance you'll walk out of the salon with a killer look that everyone will be impressed with.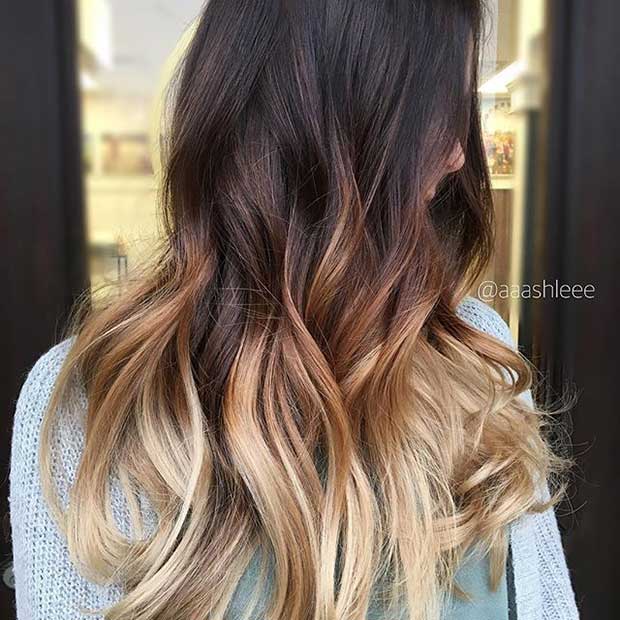 Instagram / aaashleee
7. SUN KISSED HAIR
If you have length on your side, this sun kissed hair is perfect for you. The aim of the game is to have the lighter tones hand-painted onto your hair, but only in the places where the sun would naturally hit it. These lighter tones will be mostly around the top layers of the hair, going back to the old-school way of highlighting. Forget the lowlights, and if you don't want to forget them, keep them relatively dark. You're meant to be shadowing and mimicking light and dark, remember?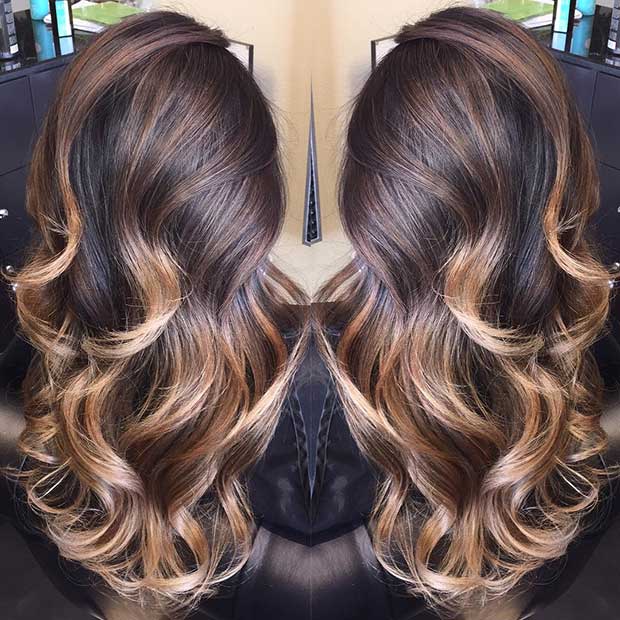 Instagram / jayrua_glam
8. BLONDE OMBRE
This is a really soft affair, and it's been made effortlessly glam with the help of those big rolling waves. A large round brush will help you to nail those, styling your hair as you dry it, using your hair dryer to boost volume. You'll also find a good volume-adding mousse will work wonders, especially if you want your hair to have staying power too.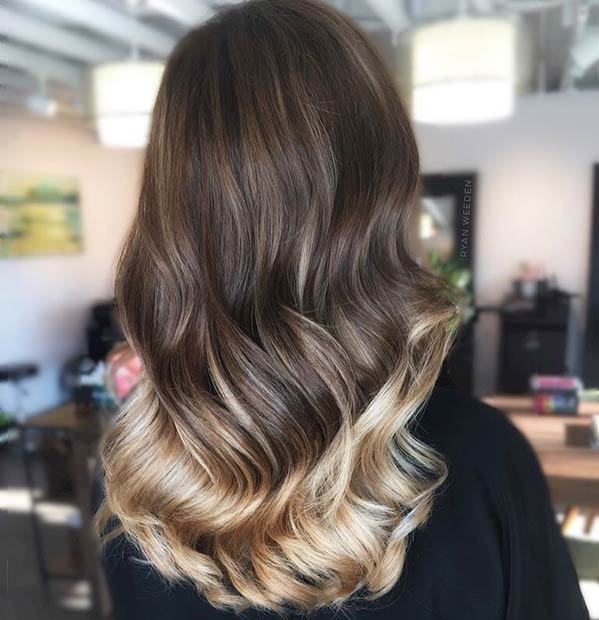 Instagram / mastersofbalayage
9. HIGHLIGHTED LOB
If you're currently growing out a bob, a lob is definitely the way forward. A lob is basically a long-bob … the name gives it away a little, don't you think? Add some beautiful blonde highlights to the occasion, lighter towards the centre and more intense towards the ends. This is the look you'll be left with.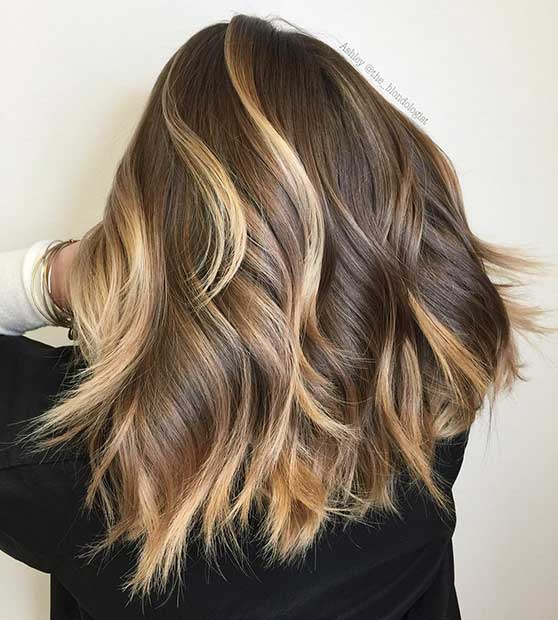 Instagram / the_blondologist
10. GOLDEN RIBBONS OF BLONDE
If you want something stunning yet simple, little peekaboo highlights popping out from the lengths of your naturally dark hair is a good way forward. There are also some slight red tinges in this look. As we mentioned before, there's so many ways of adding blonde highlights for dark hair, there's always going to be something that works really well for your hair and skin type.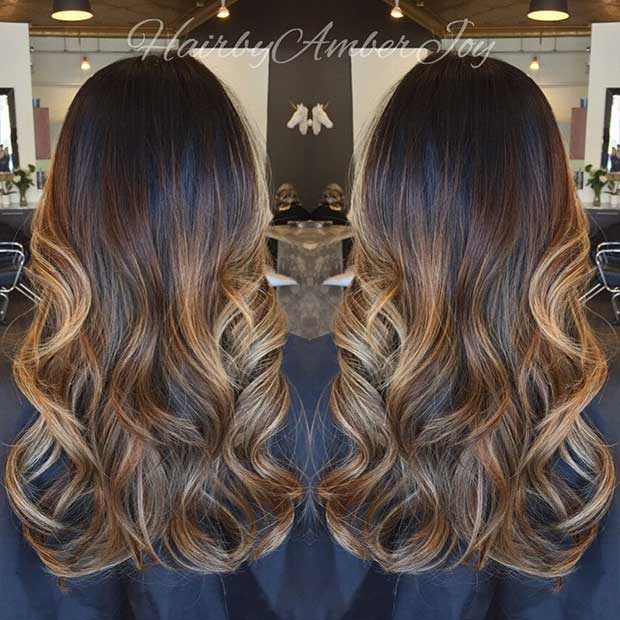 Instagram / hairbyamberjoy
11. SUBTLE BLONDE HIGHLIGHTS
If you have natural waves in your hair, don't automatically reach for the curling irons in order to get those bouncing curls. Constantly using heated styling tools is not very good practice for your hair. It will cause it to become dry, brittle, and very damaged. Rather than relying on those, add some highlights to help accentuate your natural waves. Encourage them to come out a little more with some scrunching with your hands, and some mousse or styling product of your choice.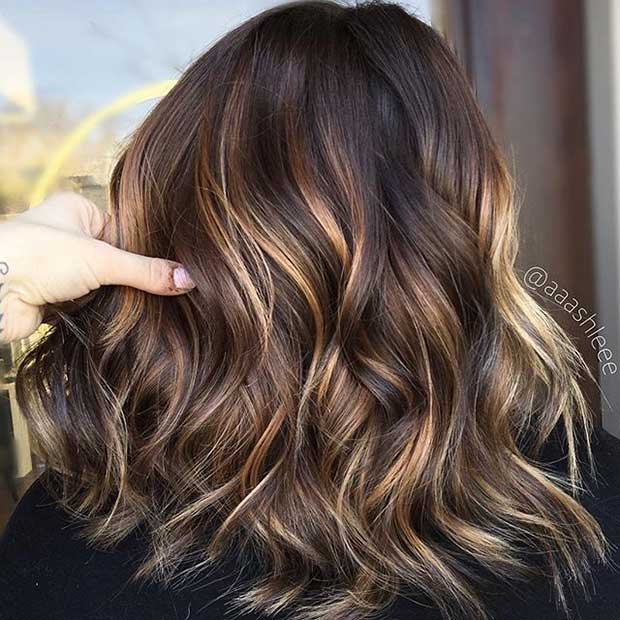 Instagram / aaashleee
12. BALAYAGED DARK HAIR
How about a touch of gold in your beautiful brown hair? This beautiful look – balayaged dark hair – has got a beautiful blend of different blonde tones, ranging from golds to rose golds, a slight tinge of copper, and the most beautiful caramel shades too. That's the best way to get hair that really stands out – go for as many dimensions as possible. You'll want to the transition between shades to be as fluid as possible.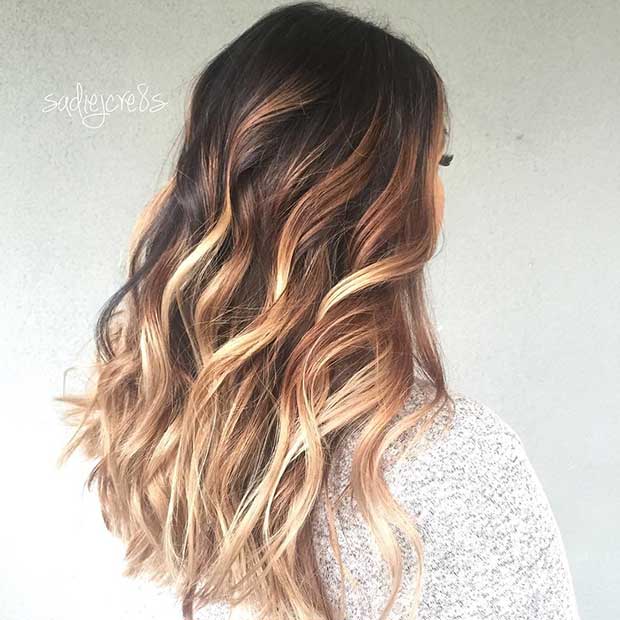 Instagram / sadiejcre8s
13. SANDY BLONDE
There's such a subtle gradient in this sandy blonde on dark hair look, you'd barely even recognise it was there. It definitely makes one hell of a difference! Go for as natural as you dare on the roots, combining a wonderful rich red tone to the centre. Then lighten into that bubbly blonde, with just the slightest touch of platinum for good measure. It's stunning, that's for sure.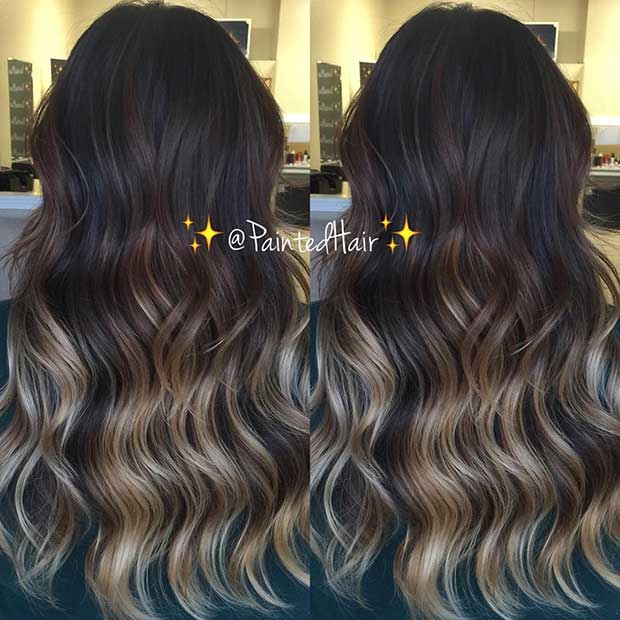 Instagram / paintedhair
14. COLOR MELT
A colour melt is a melt of colour together – it's basically fluid, like melting two chocolate liquid shades together. Molten browns with rich caramel blondes is the trick behind this stunning blonde highlights for dark hair look. Once again, as we previously suggested, the majority of those face-framing highlights have been added to the front of the layered look.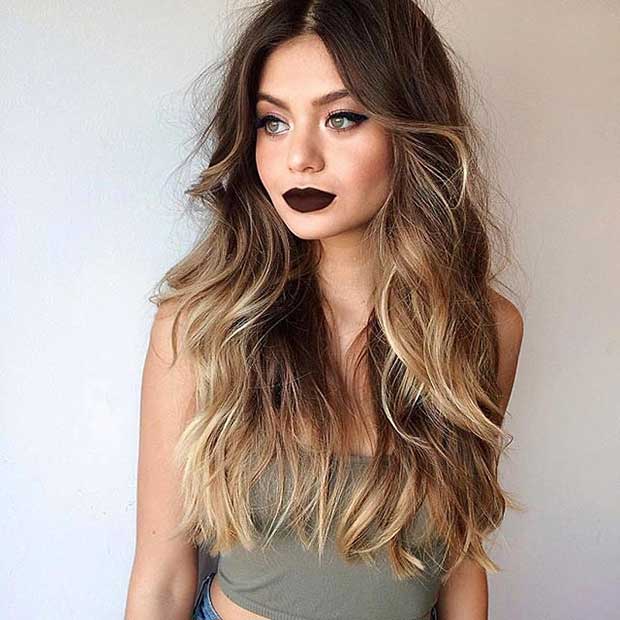 Instagram / cemgumush
15. VIBRANT PALE ENDS
If you want a really vibrant and bold shade towards the ends of your hair, you'll need to be prepared for the lightening treatments before hand. That's definitely the case if you have very dark hair naturally, in which case you may require separate and multiple sessions to get the desired effect. You'll need to bleach to go light, and that means making sure your hair is in good condition to start with. Plenty of conditioning treatments, ladies, and make sure you have the right products to care for your hair afterwards too.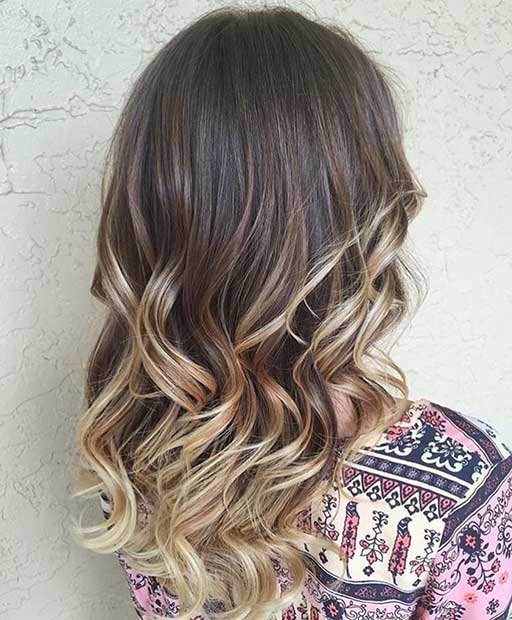 Instagram / mastersofbalayage
16. FACE FRAMING HIGHLIGHTS
Remember we said about those face-framing highlights? Well, this look shows you a rather extreme way to do it. If you can only go lighter in the smallest of sections of your hair, make your face and the ends the sections you opt for. It'll have the biggest impact on your locks.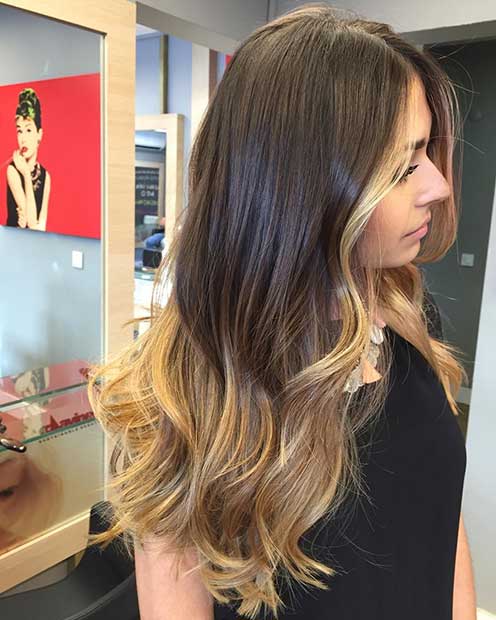 Instagram / emrahdemircii
17. CARAMEL + BLONDE
To keep these beautiful blonde highlights for dark hair as long as possible, the right products are essential. Make sure you're using a blonde-specific shampoo to really bring out those beautiful lighter tones. Once again, make sure you're using plenty of conditioner. When you go lighter, you definitely can't skip that stage of your hair care regime.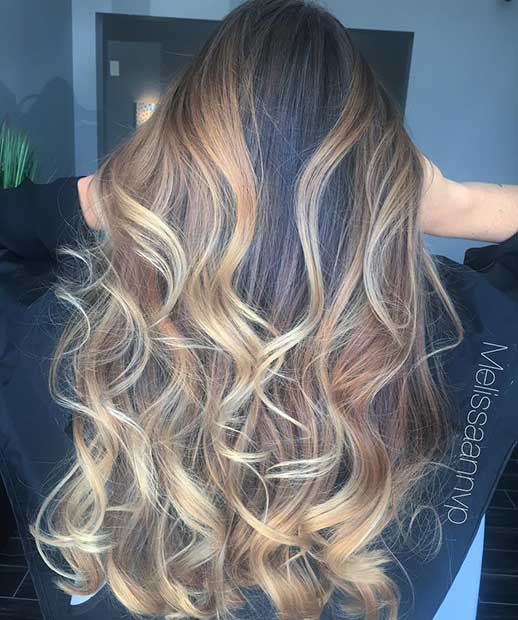 Instagram / melissaannvp
18. DARK BROWN BASE + BLONDE ENDS
If you do want to go for a shade that won't work well with your skin tone, keep the shade right to the very ends of your hair, as far away from your face as you can go. This gives you the opportunity to play around with more shades, without worrying about having to change up your entire makeup routine. This dark brown base with blonde ends is a great example of that.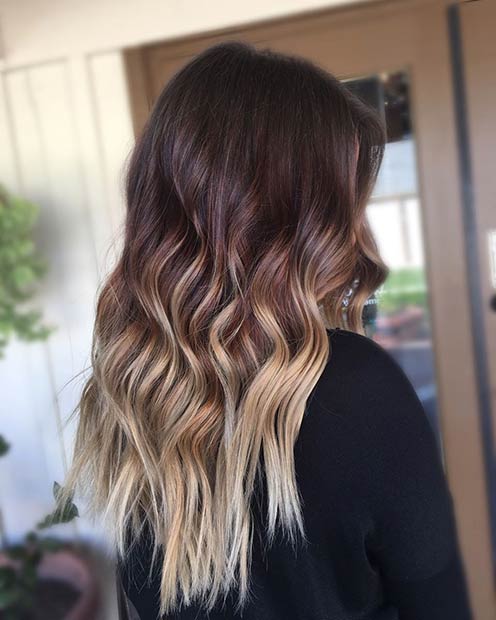 Instagram / jleighwebdoeshair
19. SOFT BLONDE LOWLIGHTS
If you've always wanted to go for a more copper hue to your 'do, forget all the rules like Kate Bosworth did (and does regularly). Do what you like. You can easily include red tones into a balayage blend like this. It gives you a chance to rock the shade without it being too much.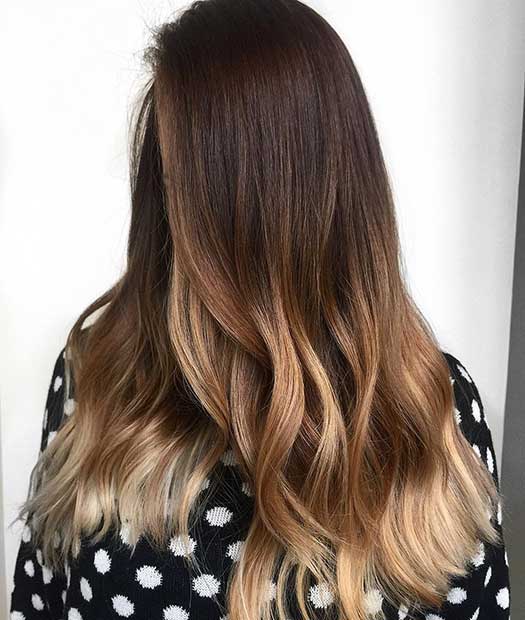 Instagram / prettylittleombre