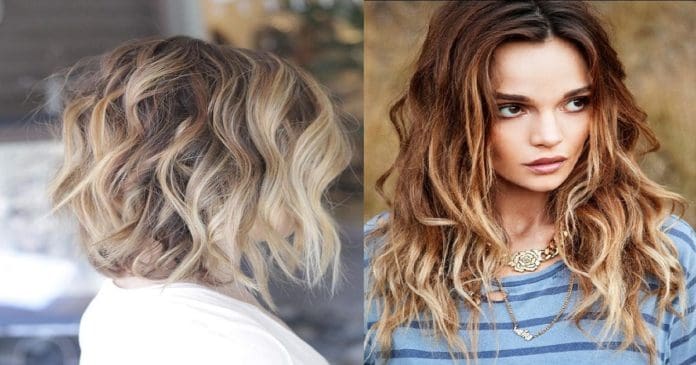 Keep right up to date with approaching trends here and now as we cover the major trends and the best hairstyles for you! Are you looking for a gorgeous new look? Would you like to know what the hottest hairstyles for women are at the moment? Luckily for you, you've come to the right place!  What's more – we'll even tell you how to recreate the looks! So let's begin.
#1. Gorgeous Grey Ombre Blend – Blunt, Straight Lob Hair Styles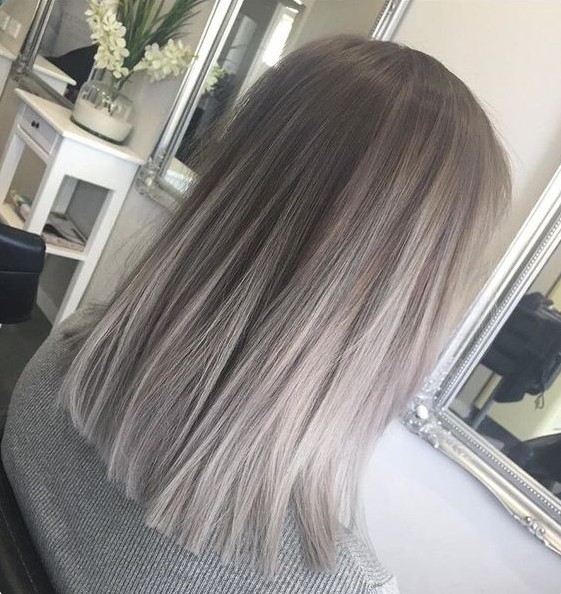 To style, this gorgeous grey ombre blend, start by chopping your hair in a sleek mid-length style. This falls roughly around shoulder length and is finished with blunt ends. Blend your hair from a dark grey to shiny silver using the ombre technique. Finish by keeping your hair straight and sleek to show off the colors at work!
#2. Silver Pixie Crop – Cute, Very Short Hair Cuts with Side Sweep Bangs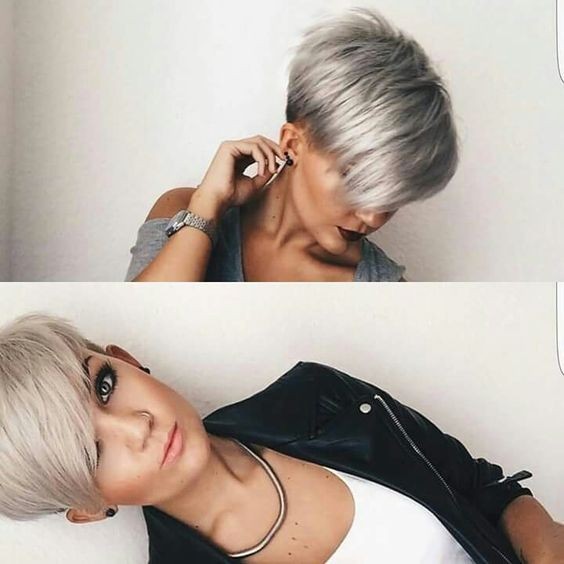 Copy this striking silver short haircut by creating a pixie cut and leaving a long sweeping fringe. Keep the bottom layer of the crop close to the head. Leave the top layer long with a deep side parting. Straighten the hair across the head for this stunning swept effect. Finish with a striking and shiny silver shade for a majestic and metallic style!
3.# Purple to Silver Bob with Sweeping Fringe – Shaved Short Haircut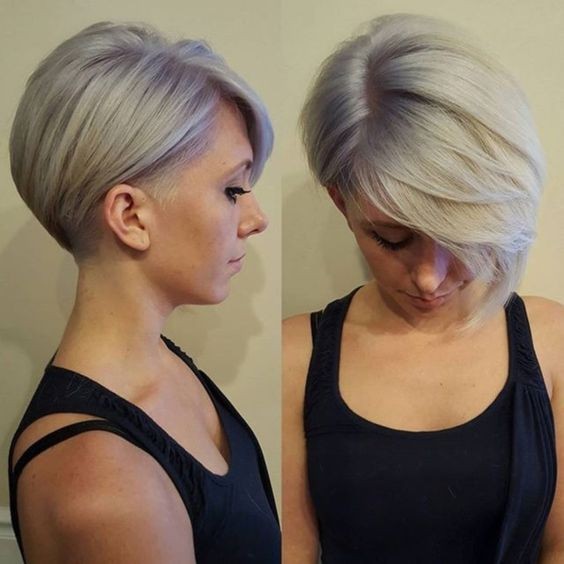 Blending purple and cream together will give your hair the subtle pop of colour you've craved. Starting with a purple shade at the roots, gently blend to cream throughout the rest of the hair. Keep one side of your bob short and close to the head, and the other long. Leave the fringe section long for a sweeping effect to frame the face.
#4. Curly Messy Bob with Blonde Highlights – Balayage, Messy Shoulder Length Hairstyles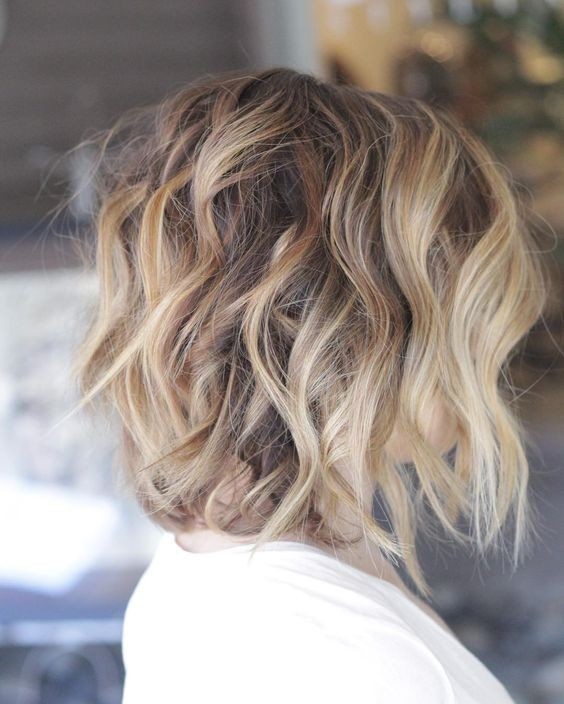 Messy bobs are oh so fashionable and recreating this look is simple. Start by opting for a crop which falls an inch or so above the shoulder. Use the balayage technique to blend the hair from brown to blond consequently creating a sun-kissed finish. Curl the hair from root to tip and drag your fingers through it for an amazing tousled effect.
#5. Copped Wedged Crop – Short Hairstyle Ideas for Women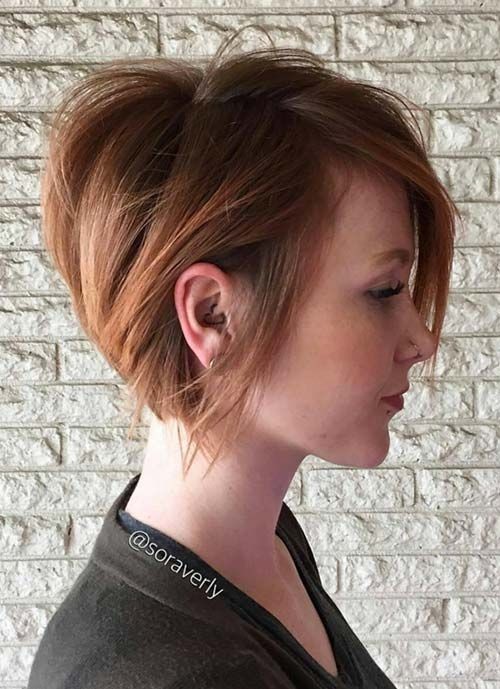 We think you'll agree that copper has never looked so good before! Start by choosing your fiery shade of red and dying your hair all over. Be brave and go for the chop, cutting all of your hair in line with your ear. Opt for a side parting to create a long sweeping fringe. Keep the layers at the back of the head short for the curved silhouette we can see in this lady's look!
#6. Long, Highlighted Style with Loose Curls – Balayage Shoulder Length Haircut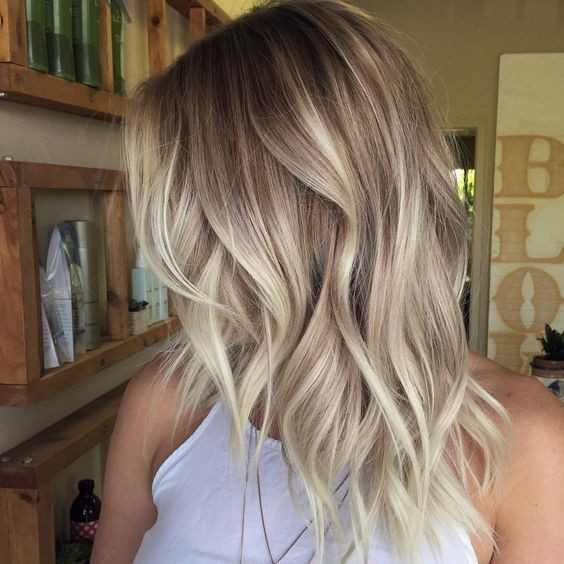 This long hair is brought to life by the gorgeous golden highlights which are worked around the front of the face and throughout the hair. Keep your highlights scattered loosely to create a subtle yet effective end result. Loosely curl your long hair from around the ear length down, and the end result is this gorgeous beach-ready style which we think is just stunning.