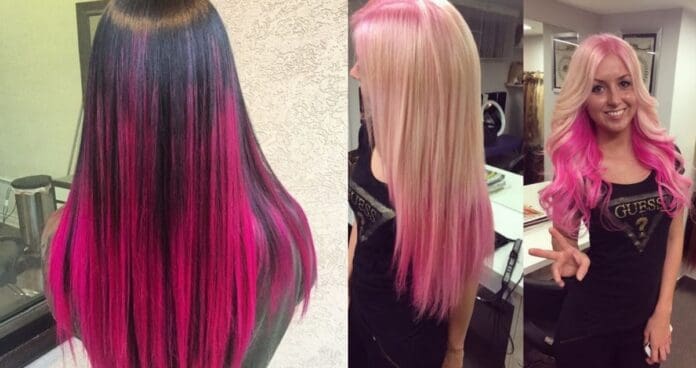 Got medium to long hair? Looking for a style that's both super feminine and ultra-contemporary? What can you do, after you've tried out different types of curls, chignons, and braids? You can dye your hair, of course! And since you're young, fun, and bold, you're going to want a look that says all that. Nothing does it better than a pink ombre. Here is a selection of the best ombre variations in the girliest color you can think of!
Pink Ombre
In most versions it looks funky and provocative, but you can certainly go for softer and subtle hues to create a romantic, ethereal look. View our gallery and pin the ideas you like the most!
#1: From Black to Pink
The pink ends of these waves look like the tongues of flame. Black hair is a good base for the bright pink accentuation. If you want to enhance the contrast even more, introduce the greenish shade. Green and red (or pink) are the colors that enhance each other.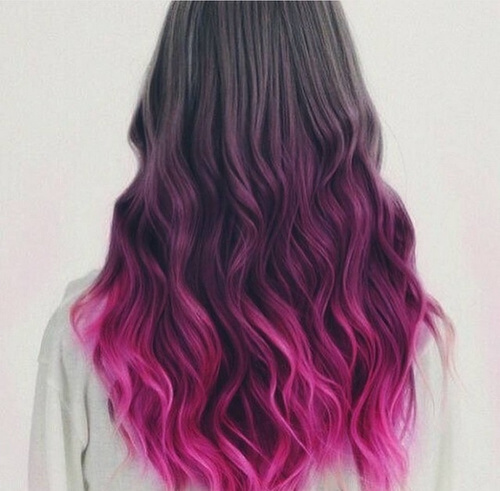 SOURCE
#2: Pretty in Pink… and Red
Some color 'experts' will argue that red and pink is a mismatch. However, in reality, this was the royal combination of hues, in the times of yore. Only kings were allowed to be seen wearing it. Nowadays, styles like this one, or its red to pink ombre alternatives, are likely to make any woman feel like a queen.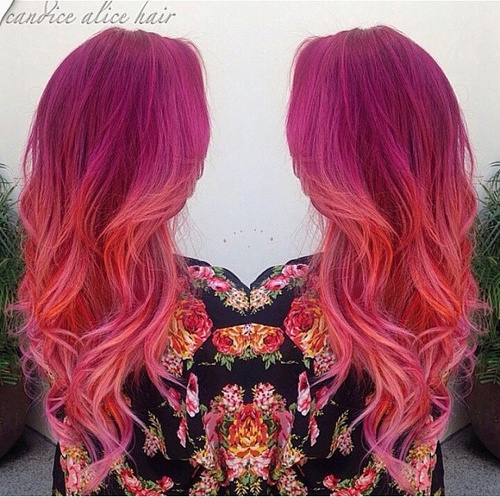 SOURCE
#3: Electrifying Pink Purple Combo
For a bold reverse ombre, throw in a cool shade of purple, which will perfectly offset the hotter-than-hot magenta pink of the top section. What is a better way to make this kind of style truly stand out? Well, curling it with an iron at the tips?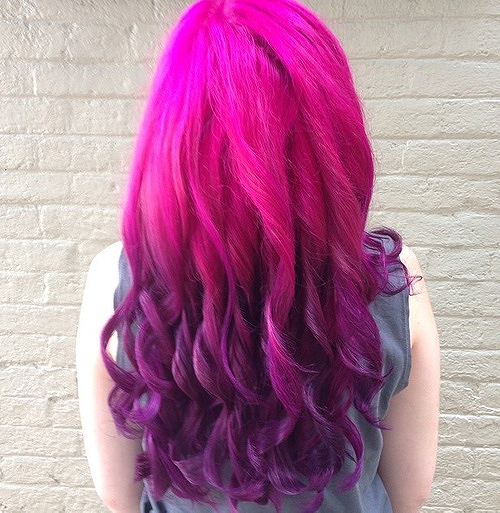 SOURCE
#4: Cotton Candy Colors: Blonde to Pink Ombre
So you've got very long, sleek blonde hair? Chances are you're also toned, tanned and ready to make a statement with something mind-blowing in your looks. Time to make a bold move, then. Dip-dye your hair with a bold hue. Go all out, with a flamingo pink shade like the model in the photo. You'll shine!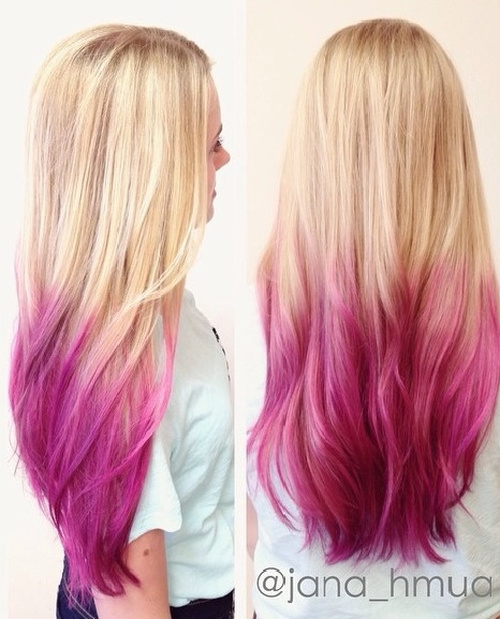 SOURCE
#5: Short, Sweet and Subtle Ombre
So far, our examples have all been about long, flowing locks. You might be tempted to believe that a girl sporting a pixie or a bob cut has no place trying to make this look work. Luckily, as this cute model proves, you'd be wrong. We're especially fond of the cool tones of pink and the complimenting strawberry blonde shade she's chosen for her style.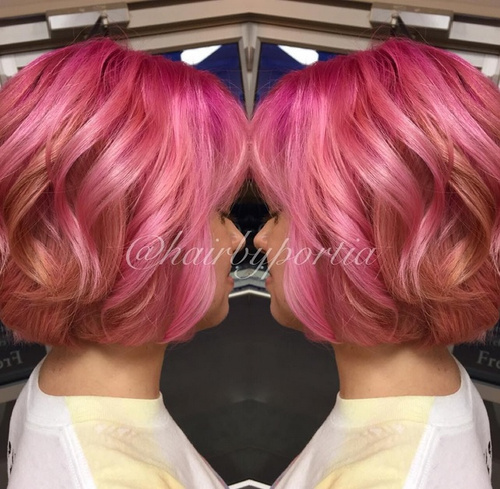 SOURCE
#6: Sassy Blonde to Sugary Pink
Speaking of lush manes, check out what you can do with some ample curls, framing your face in platinum blonde and light pink. This is a guaranteed superstar look that can be recommended for women with naturally blonde hair. You can also try it out if you've just bleached your locks and they look healthy enough to go on with your color experiments.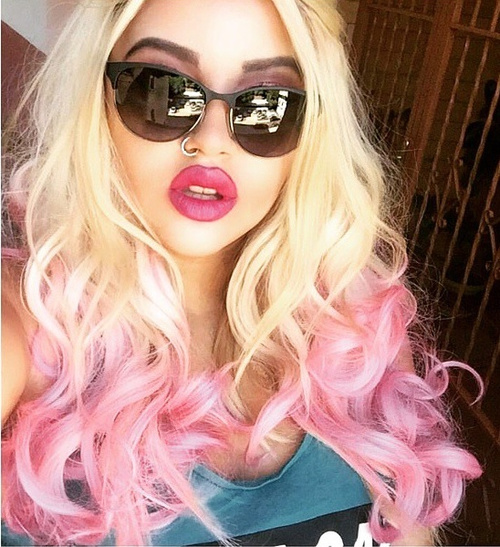 SOURCE
#7: Perfect Pastel Pink Ombre Hair
This exciting style is not about the shocking shades of fuchsia and magenta. If you want to make a statement with your long, wavy hair, but would rather keep it subtle, here's a thought. Opt for a more subdued, muted hue of lilac. You will look like a perpetually blooming spring flower.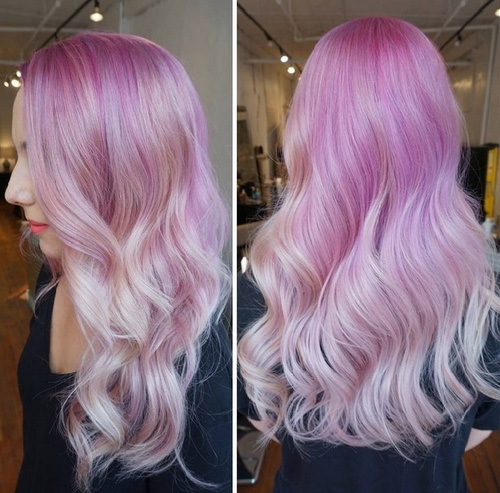 SOURCE
#8: Angelic Blonde to Soft Pink
Ombre hair can work amazingly well if your locks have been cut into a layered style. As long as the pink tones complement the way in which your hair layers naturally fall down on your shoulders, you'll be safe—not to mention stunning.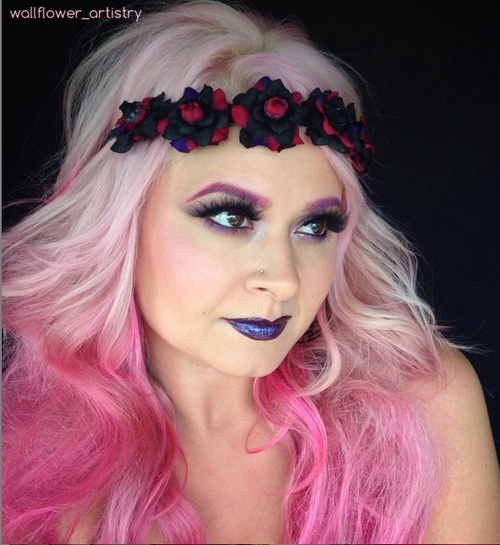 SOURCE