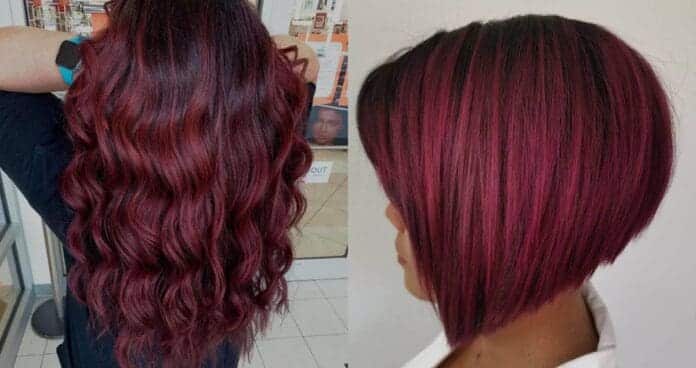 Black cherry hair color looks like a blend of dark, ruby red colors onto a black hair base. It adds a dramatic flair to anyone who wears it even with just the daintiest hint of sweet reddish hues! Anyone who desires a bold change can deviate from the usual dark brunette hair colors by embracing this wine-inspired shade. There are so many ways to add cherry black hair color, including highlights, ombre, balayage, and foiling and celebrities are perfect resources to see how to do it right. San Antonio hairstylist Brittany Banda is known for creating delicious black cherry hair shades, and it's making everyone crazy for this luxurious hue! "Keeping a regular hair care ritual is important to make the luscious pops of burgundy vibrant at all times," says Banda. "There are some cherry black hair dyes that can help you achieve this hair color. Most are not permanent, but to get the best out of this awesome color, a hair colorist can mix and match hair dyes to match your base color and skin tone." Before your next hair color appointment, check out our pictures of the best black cherry hair color ideas right now: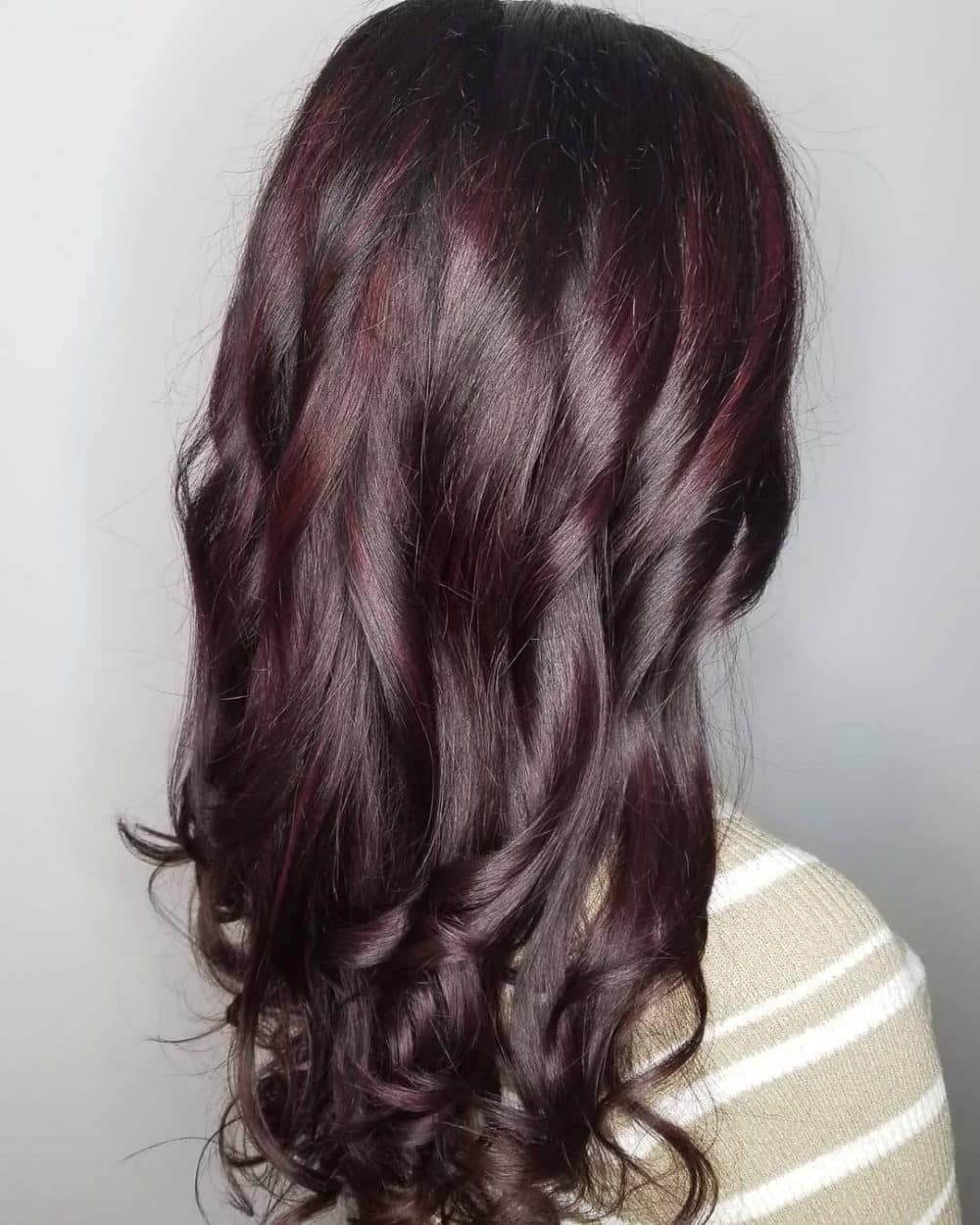 #1: Black Cherry Balayage
Mesmerizing long black cherry locks aged like a fine wine with a dark plum color.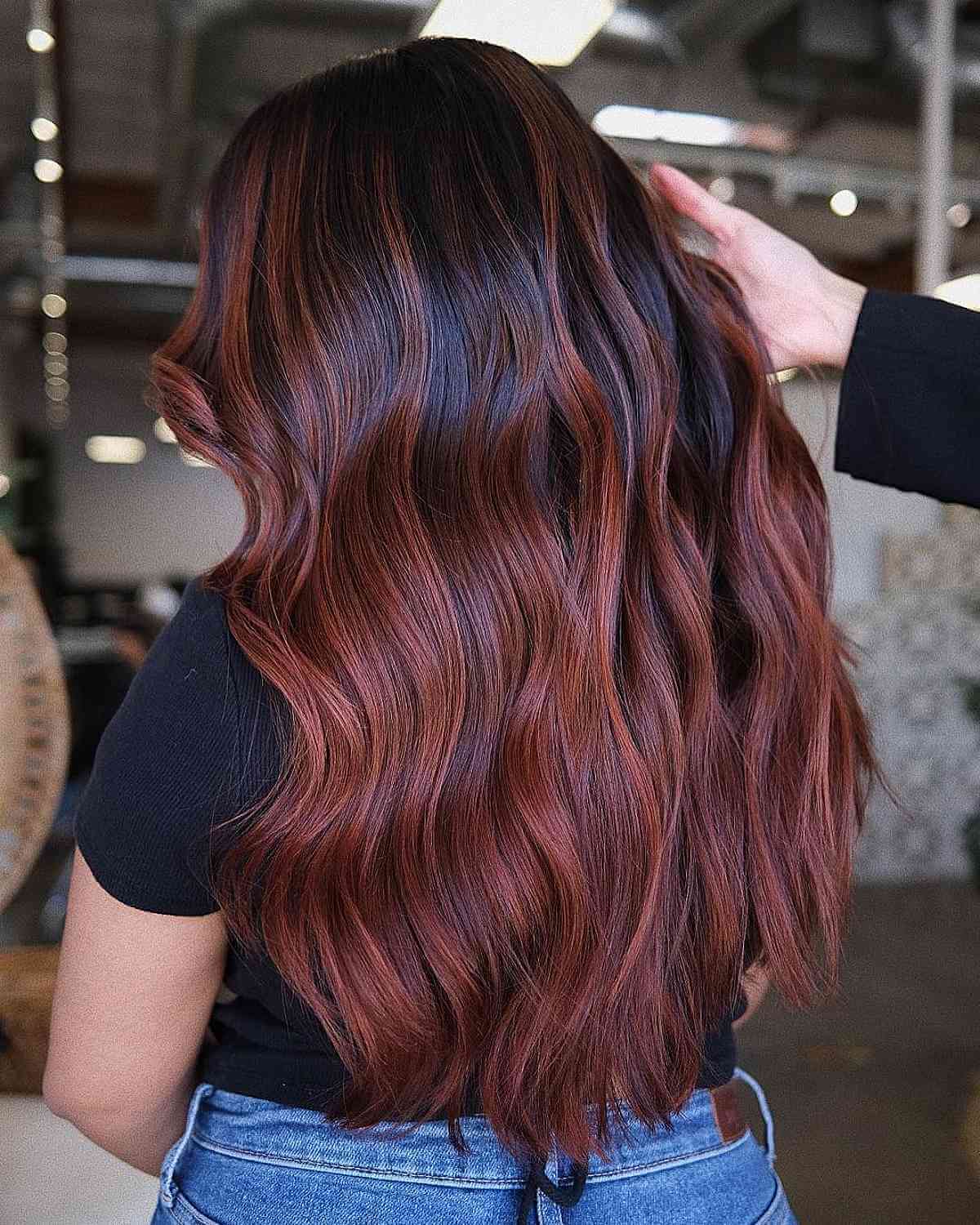 #2: Black Cherry Cola
Try a black cherry cola hair color if you're wanting high contrast hair! The deep black base melted into a red copper color is truly stunning. Use a shine serum when styling and let your color shine through.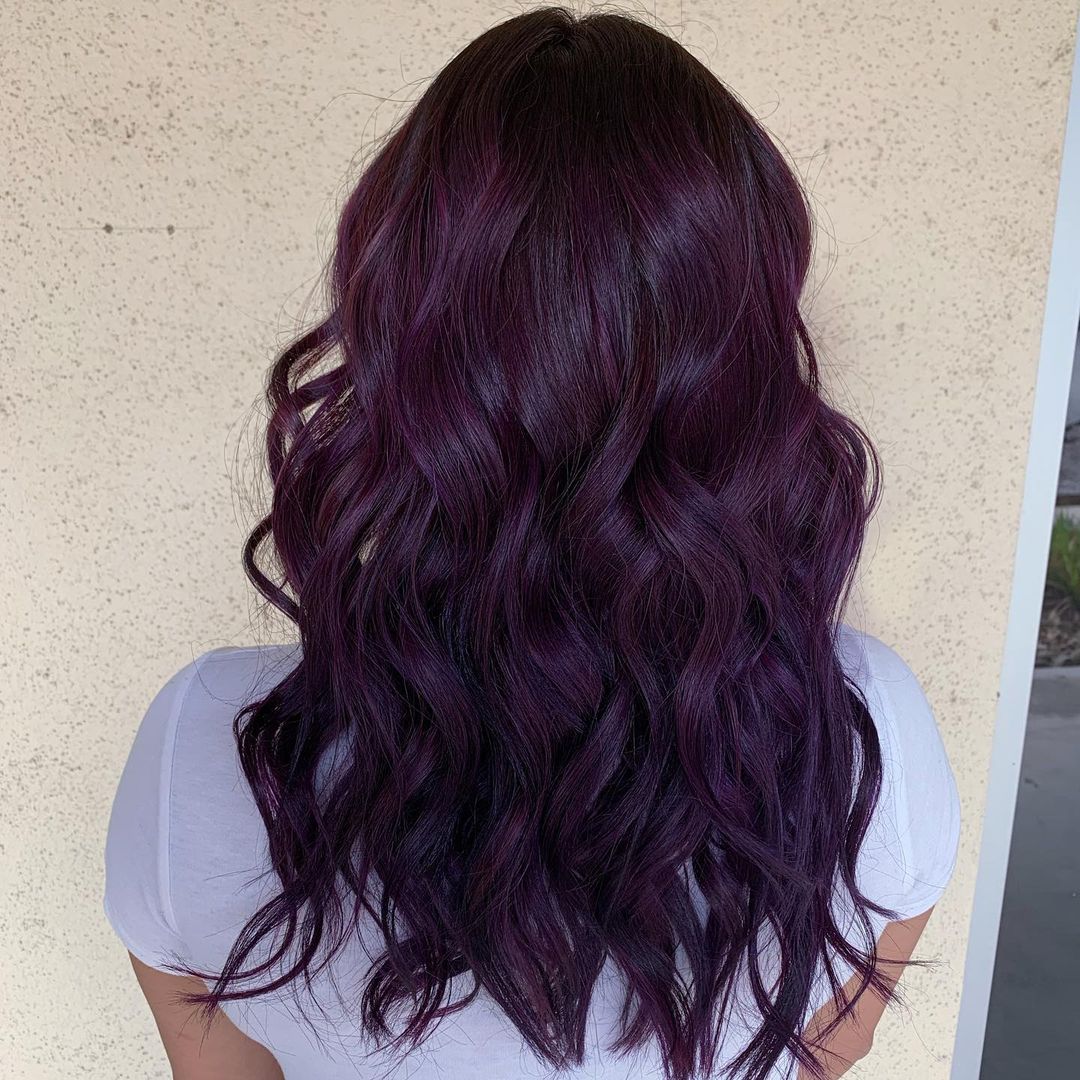 #3: Black Cherry + Eggplant Hair Color
Add a deep raisin hue to black cherry and you'll end up with a gorgeous deep eggplant – black cherry color.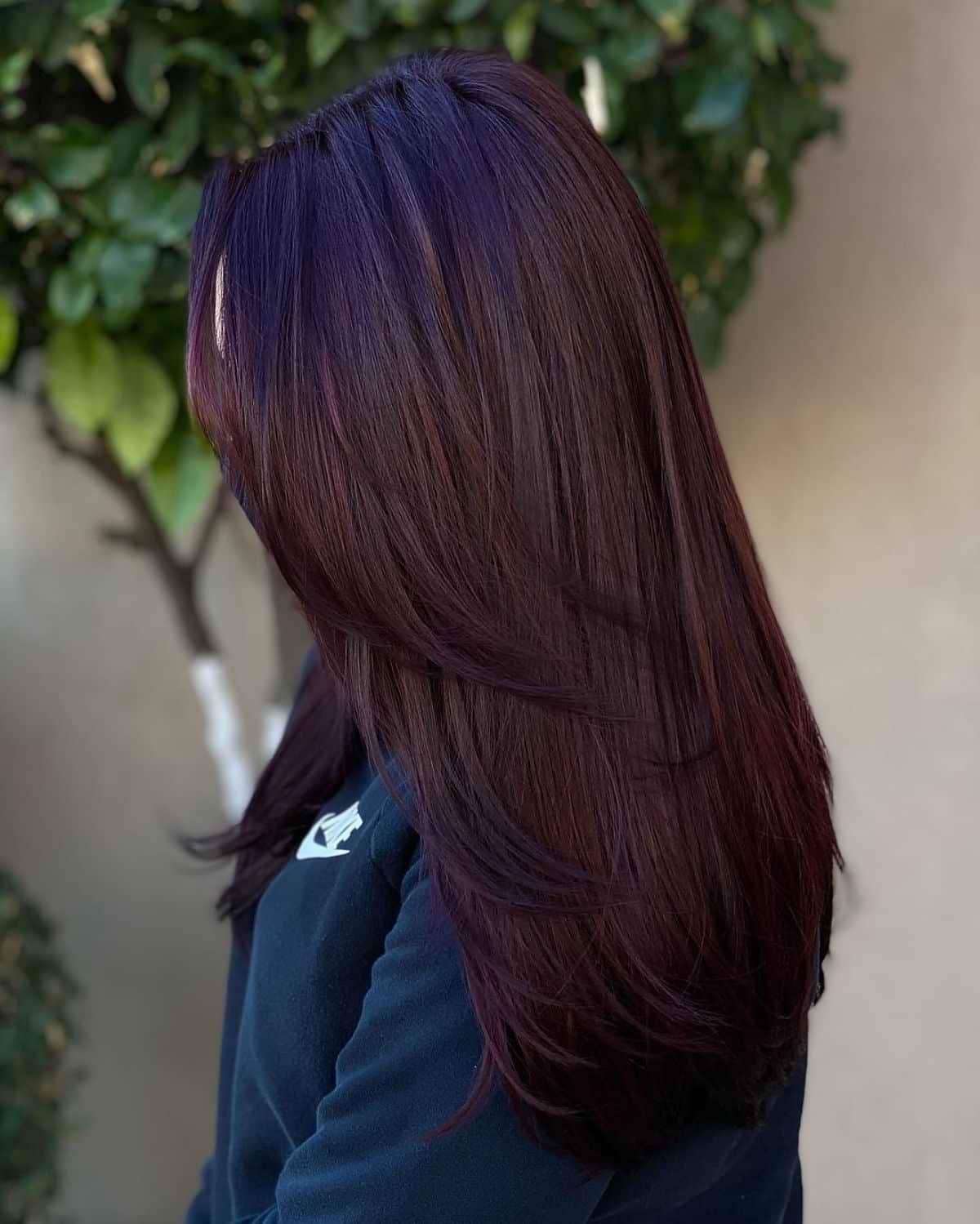 #4: Dark Chocolate Cherry Hair Color
A dark chocolate cherry hair color can brighten up your dull dark hair. The richness and depth of this color create shine with low maintenance.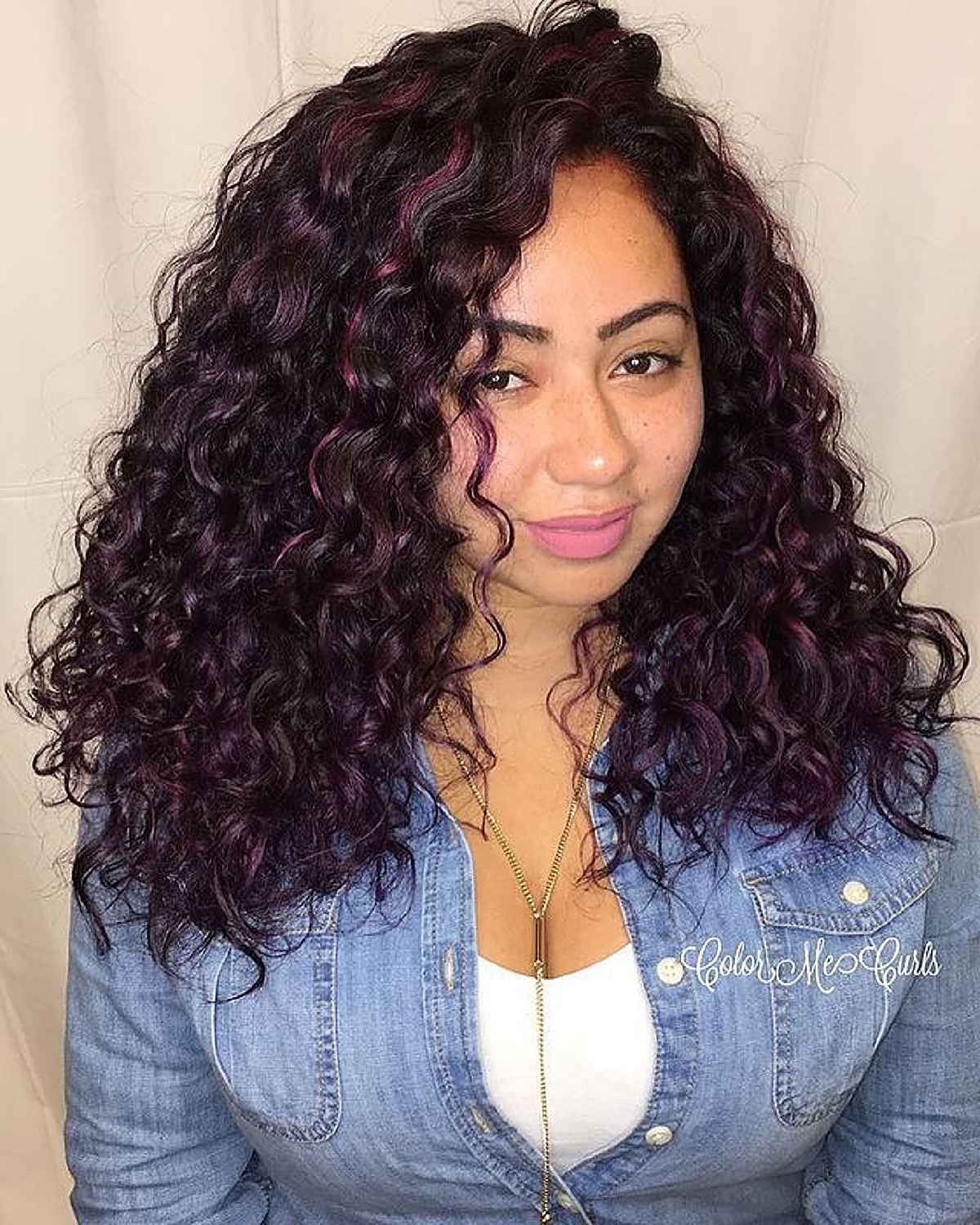 #5: Black Cherry Color for Natural Curly Hair
A black cherry color for natural curly hair makes your ringletts pop. Rock this rich color if you have thick, dark, curly hair and are looking for a chic way to incorporate this beautiful black cherry color into your hairstyle.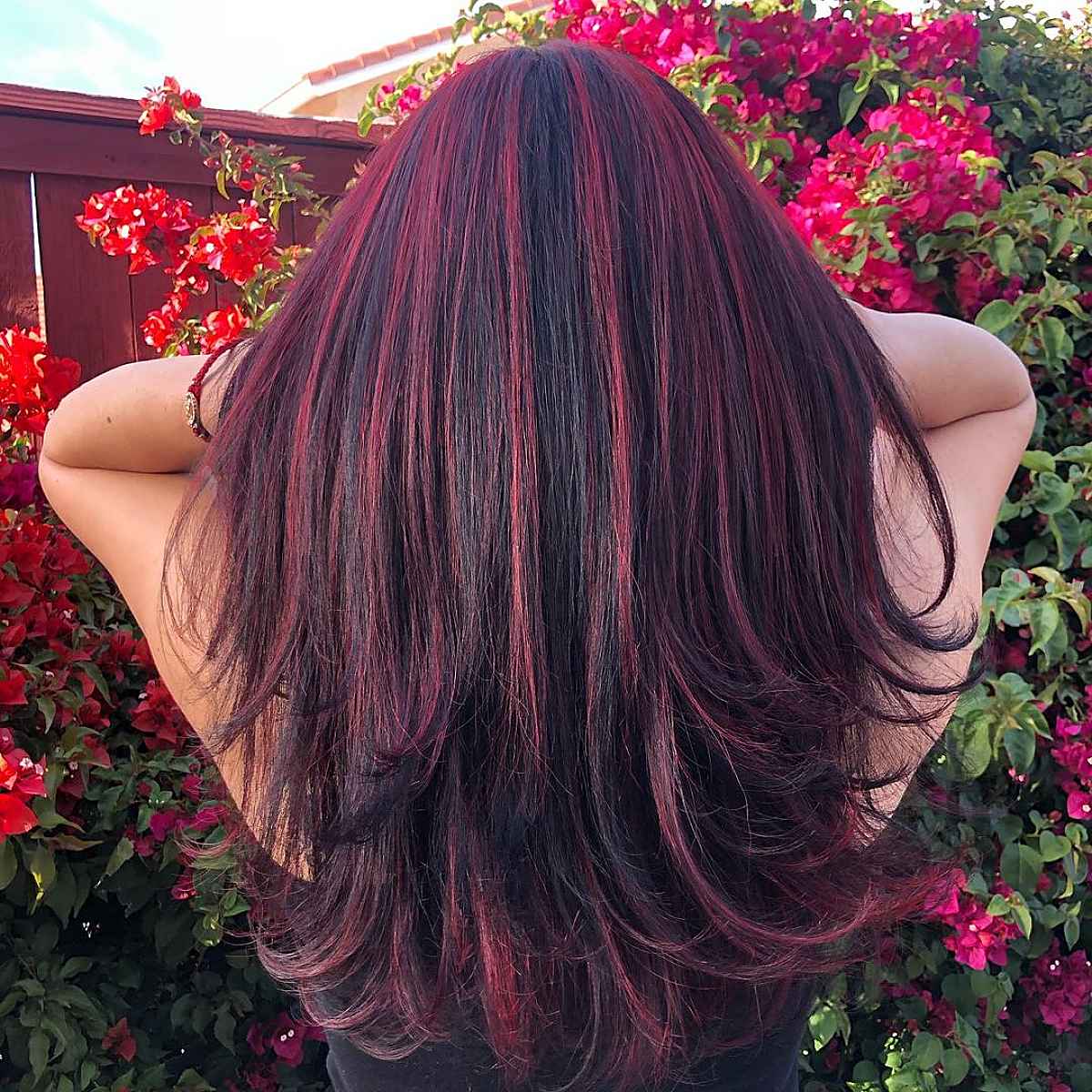 #6: Cherry Red Highlights on Dark Hair
Tired of the common blonde highlights? These cherry red highlights on dark hair are a beautiful alternative style. The pop of cherry red against dark hair creates a dramatic vibe which is sure to catch some attention and good vibes.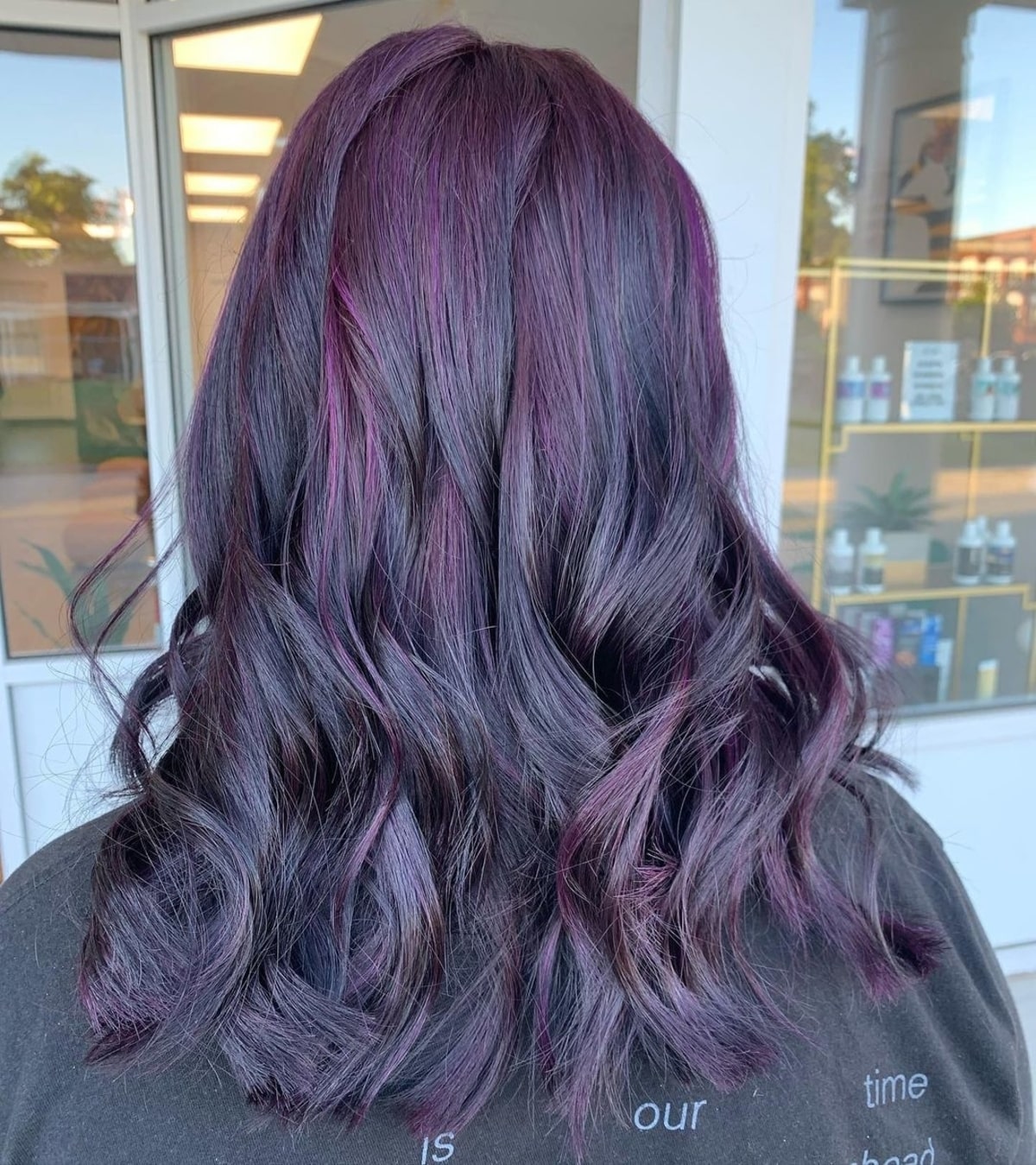 #7: Black Cherry with Soft Purple Highlights
Black cherry with soft purple highlights is for women who want bolder, warm pops of color on their naturally dark base. This hue can be fun to wear without it being too bright. To get this color, ask your colorist for a subtle black cherry color with purple highlights.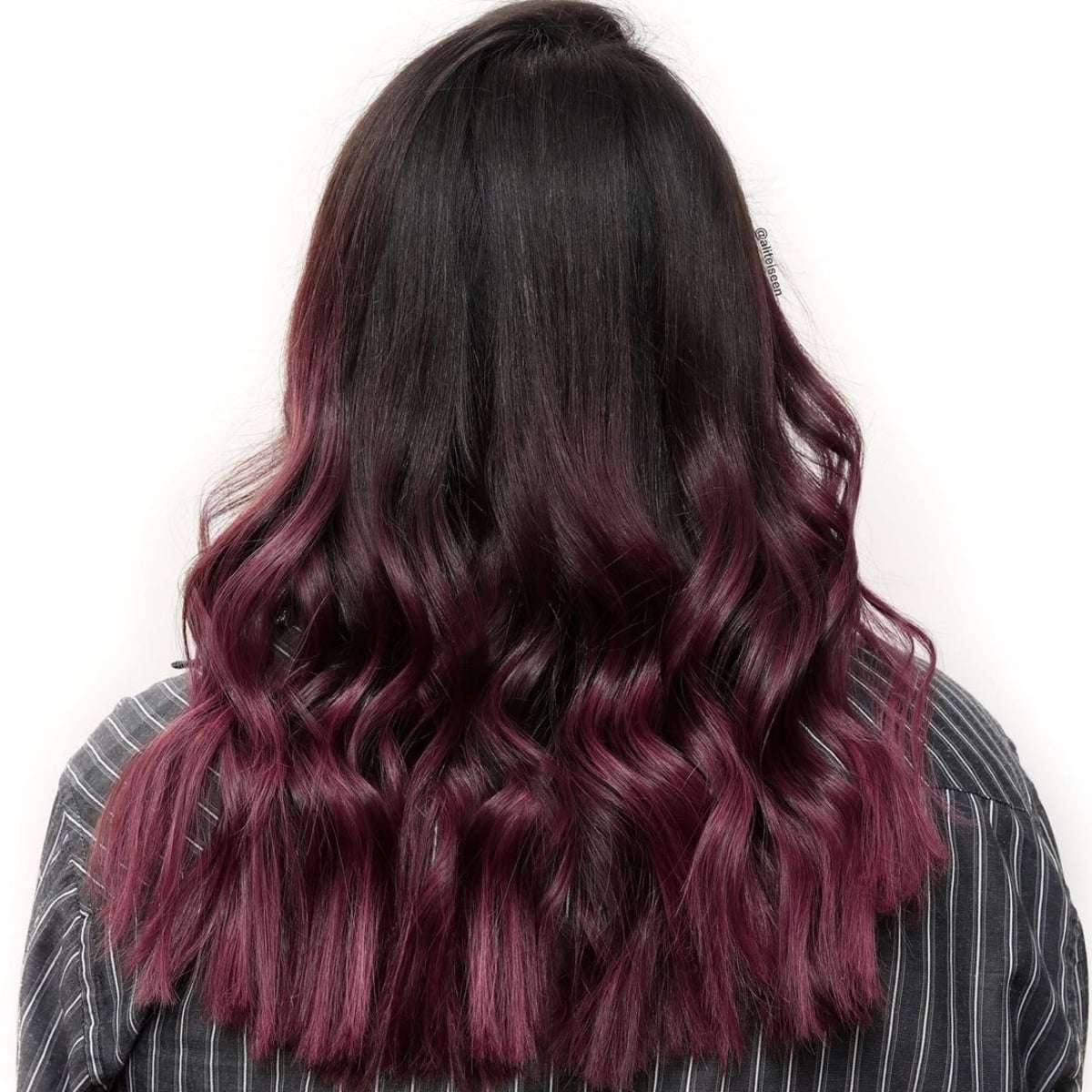 #8: Dark Hair with Bright Cherry Ends
Dark hair with bright cherry ends is for women who want to welcome a subtle hue of warm tones on their tresses. To get this color, ask your colorist for a balayage with cherry ends.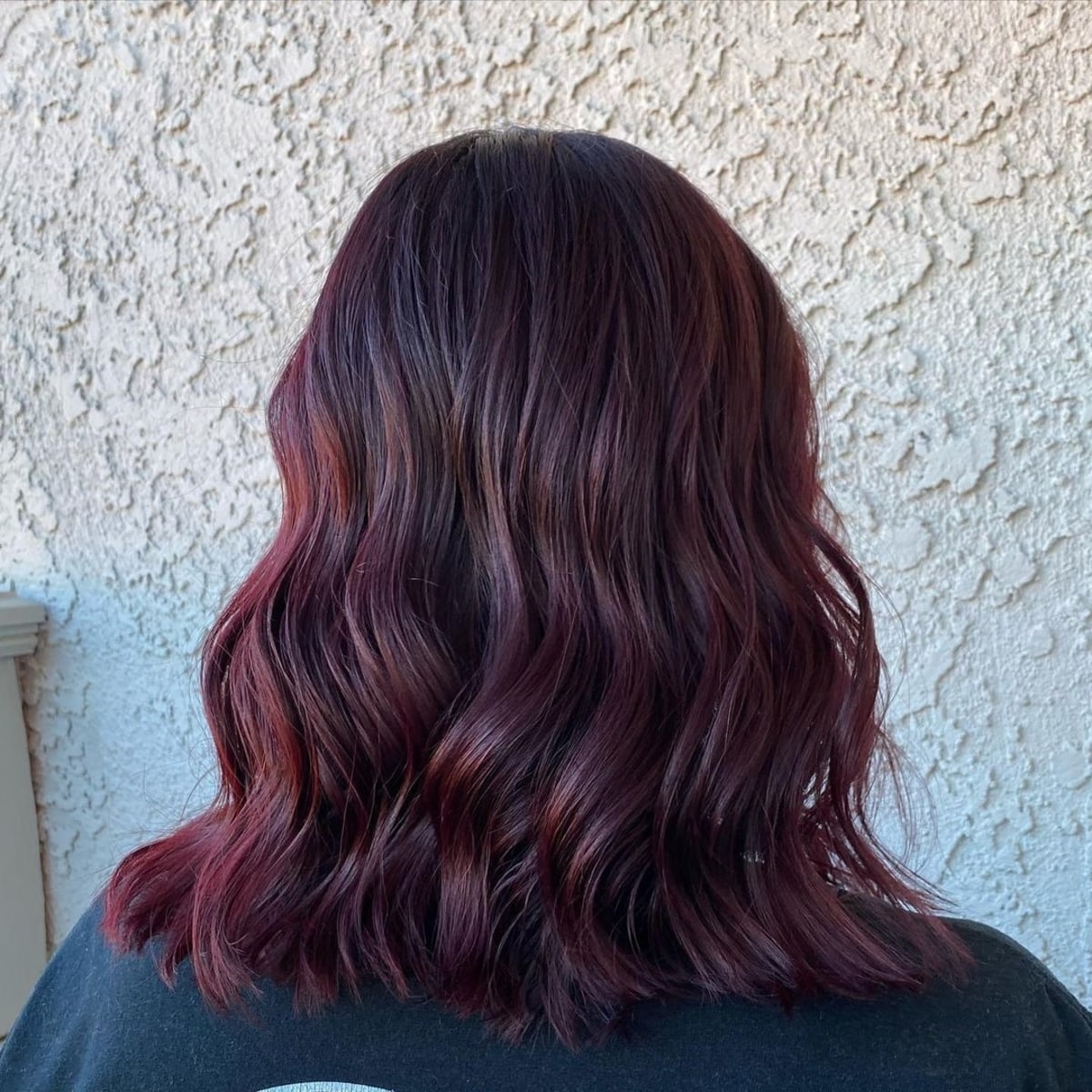 #9: Deep Violet Cherry Hair
A deep violet cherry hair color is perfect for women with a darker base color to help liven up those tresses. Make a bold statement all while looking healthy and luxurious.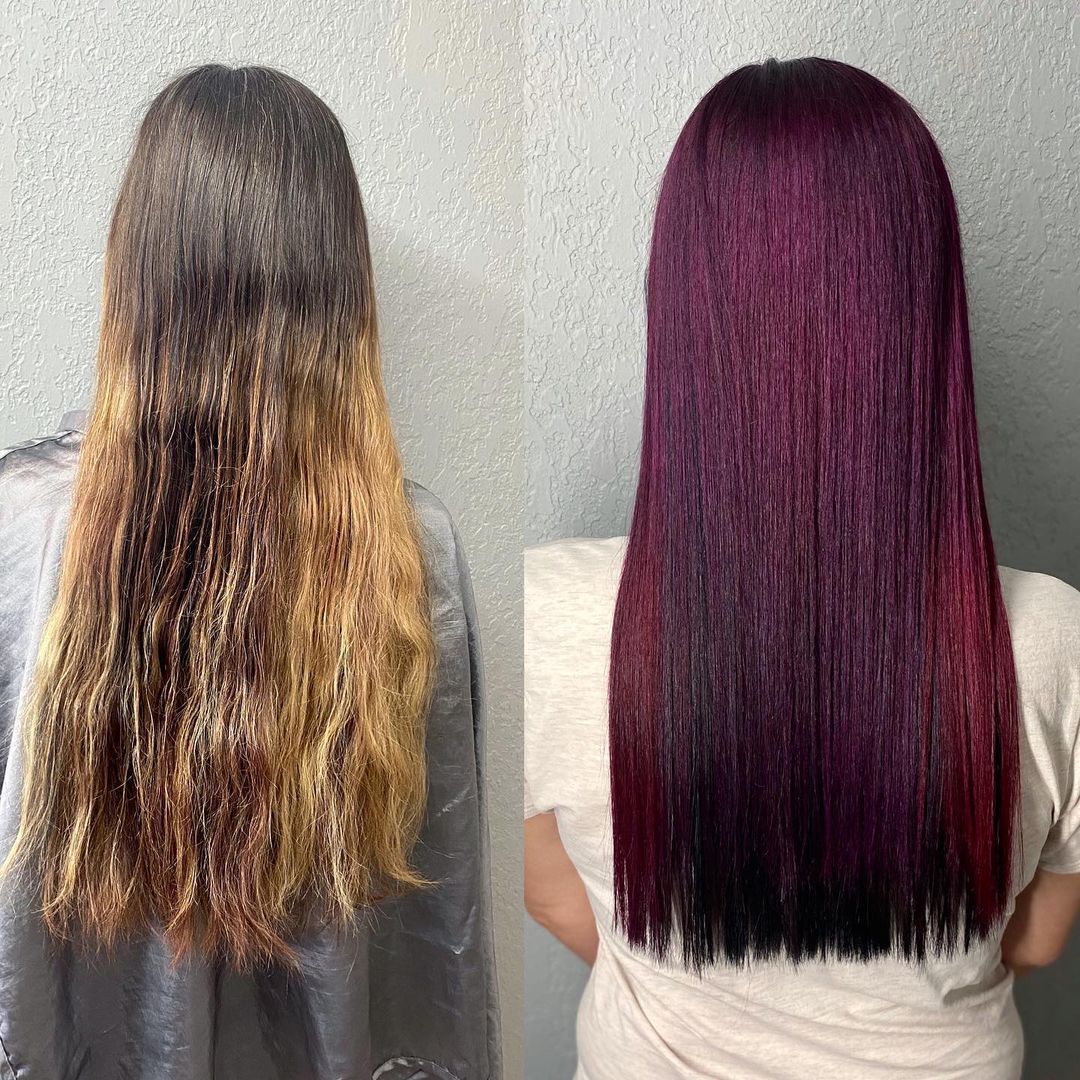 #10: Light Brown to Black Cherry Makeover
Have light brown hair? Consider this stunning black cherry brown hair makeover by stylist Cory. You'll achieve the color by combining deep violets and burgundy.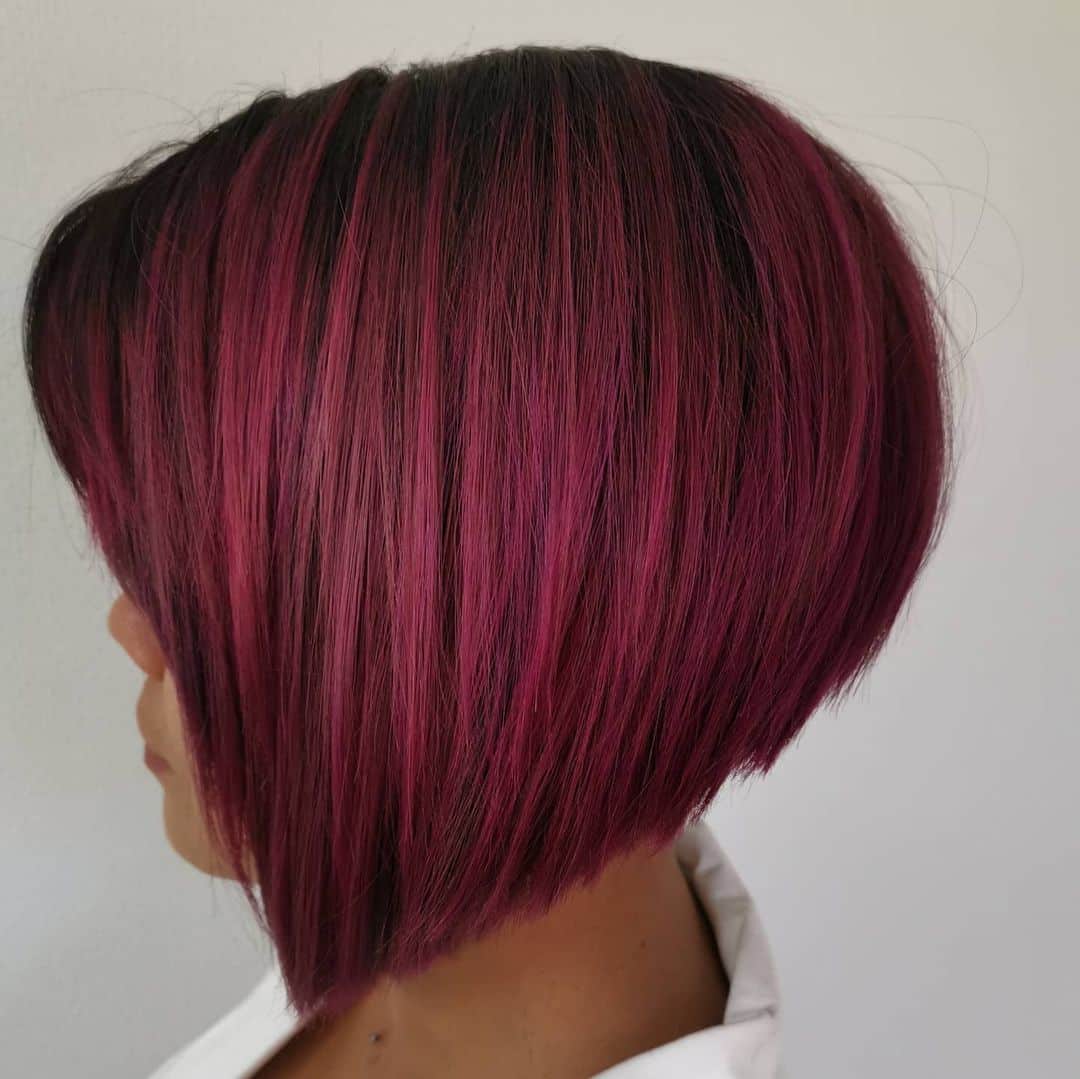 #11: Ruby Red + Black Cherry
Get a more vibrant cherry hue by blending in ruby red. Keeping the roots dark will allow the color to only require minimal maintenance. This sleek black cherry hairstyle looks perfect on ladies with straight tresses.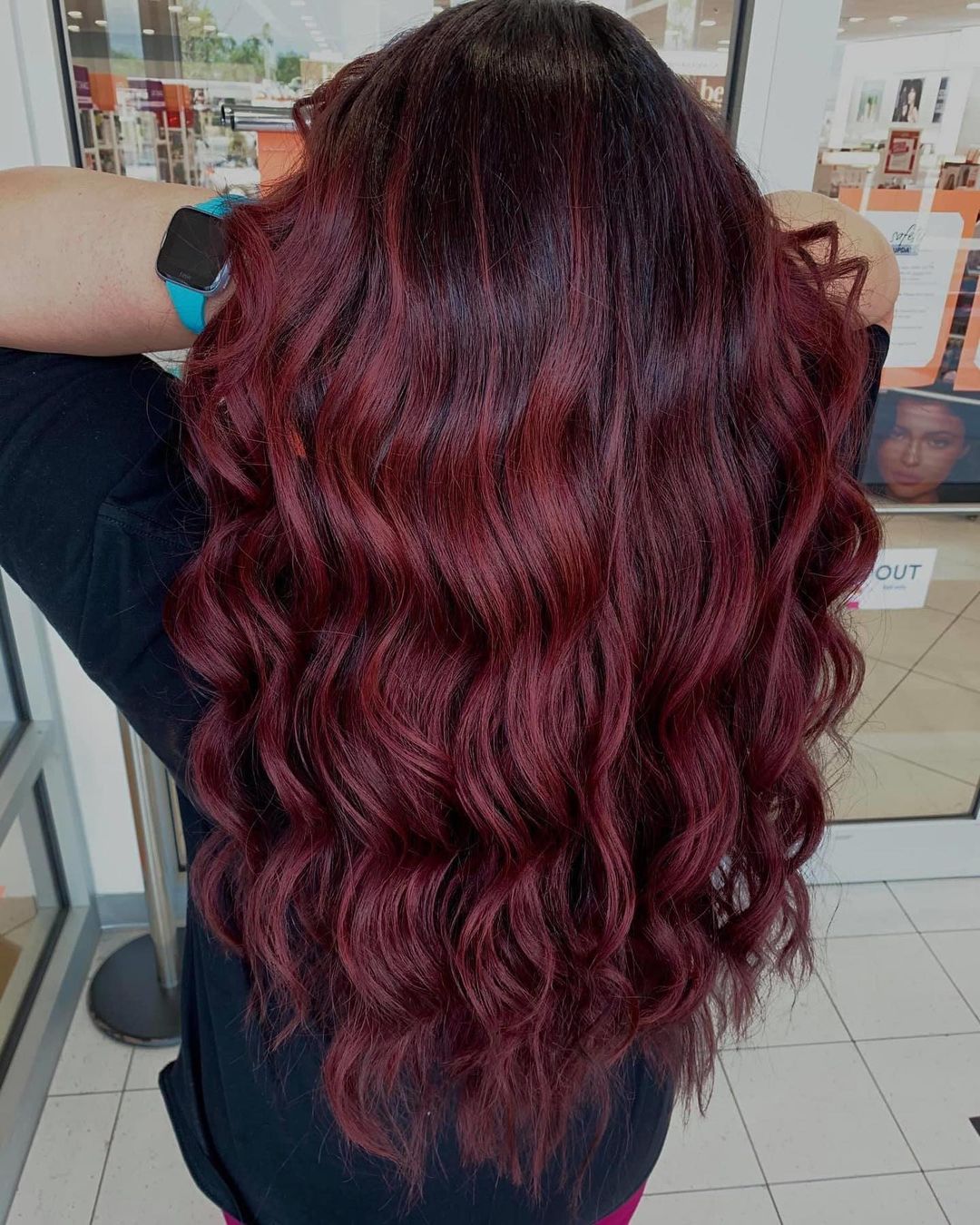 #12: Black Cherry Coke
If you have long, wavy hair, then consider getting a balayage of black cherry coke. The length and waves will add amazing depth and dimension to your cherry-colored hair.
Grab a semi-permanent hair dye if you just want to explore this shade for a few weeks.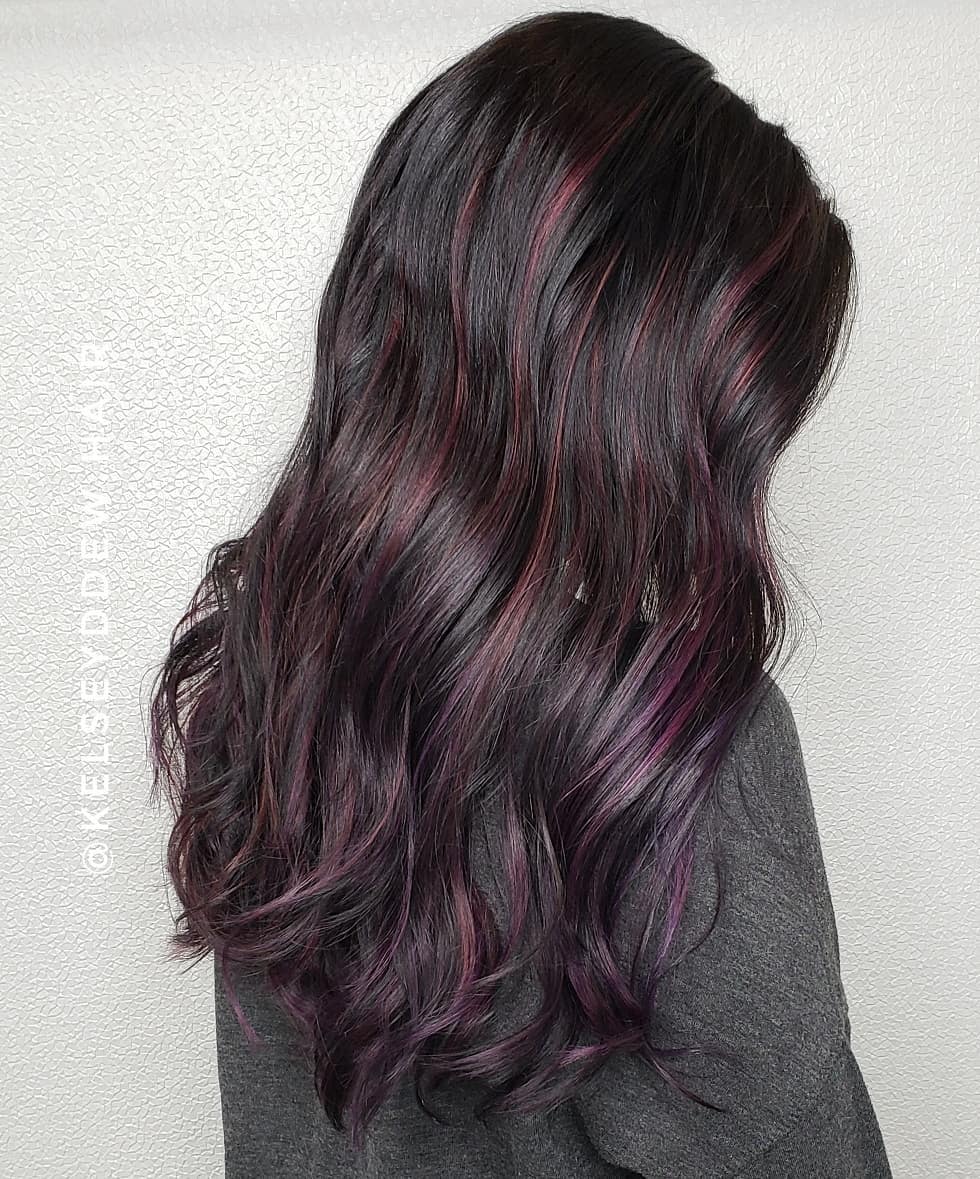 #13: Vibrant Black Cherry Highlights
Stylist Kelsey may have magical powers creating black cherry highlights this dazzling! Just the right blend of black and plum is what you'll need.
The shade will enhance your natural hair color, complementing some beach waves.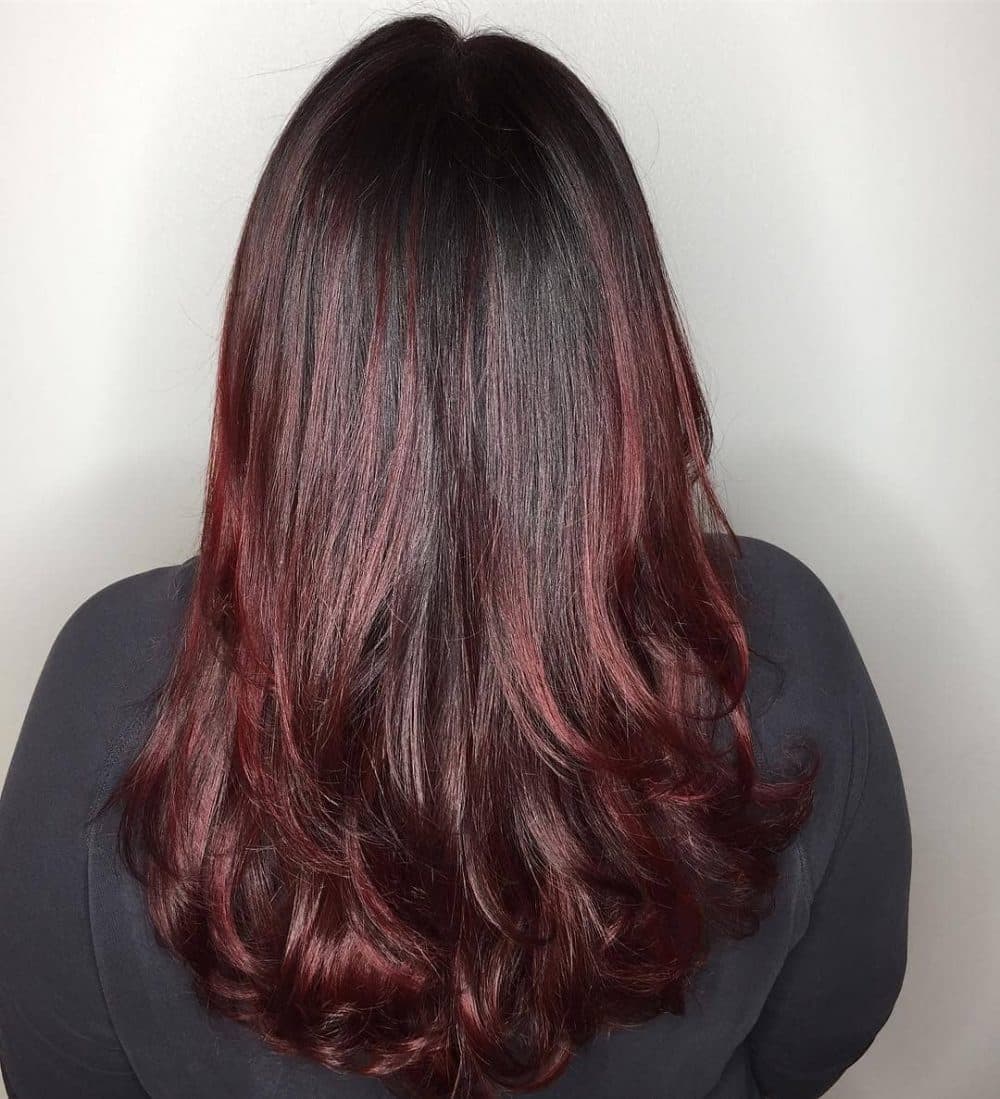 #14: Light Black Cherry Hair Balayage
Hesitant on a bold color change? Stylist Keera shows how a delicate sweep of reddish-black cherry tone can make all the difference on dark-haired ladies.
On wavy, curly, or straight texture, this color is sure to look amazing!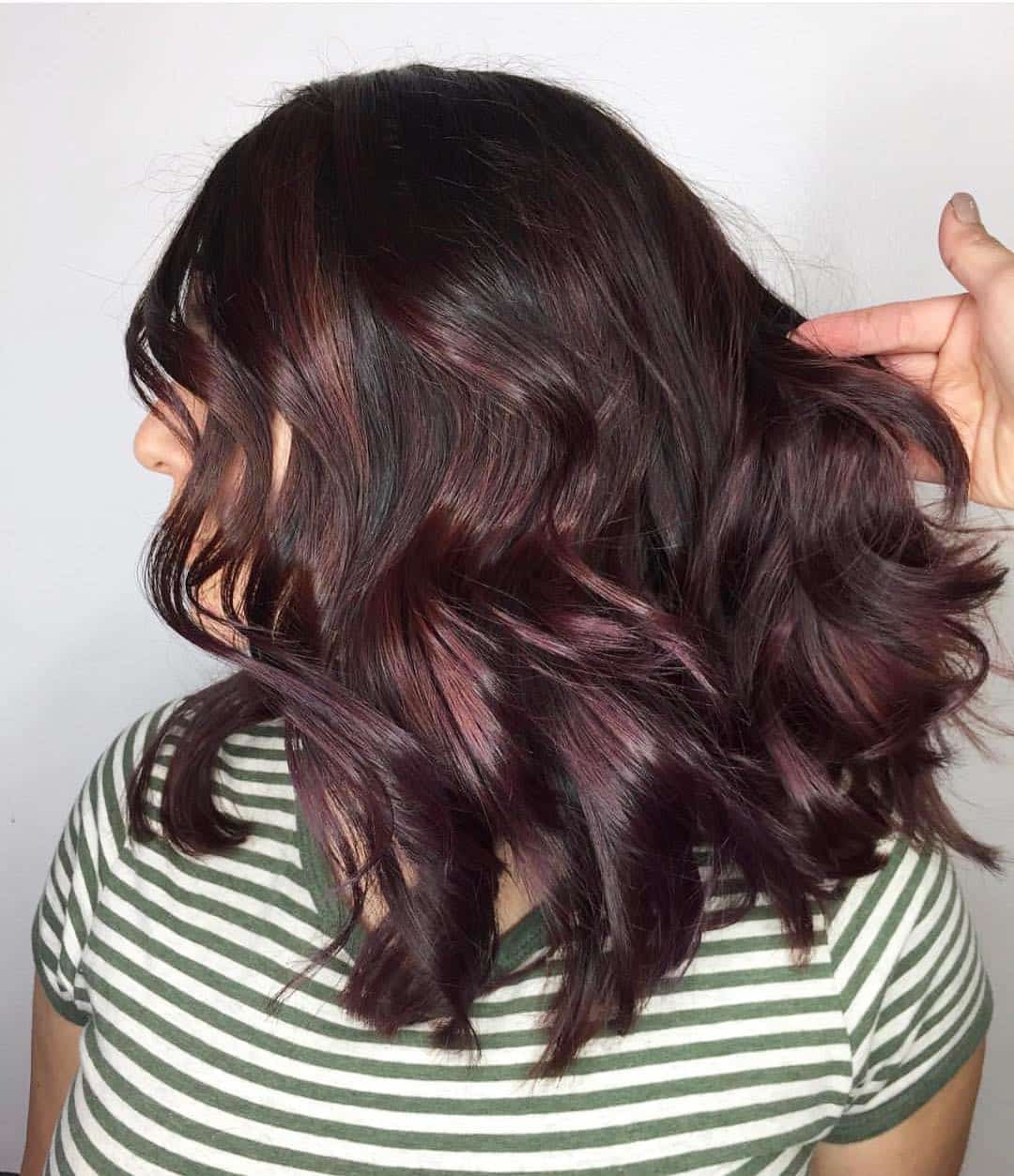 #15: Black Cherry and Brown on Medium-Length Locks
You may not notice the cherry-toned tint and color combination at first, but with the texture and form given by this medium black cherry haircut, you'll be able to appreciate such a lovely style.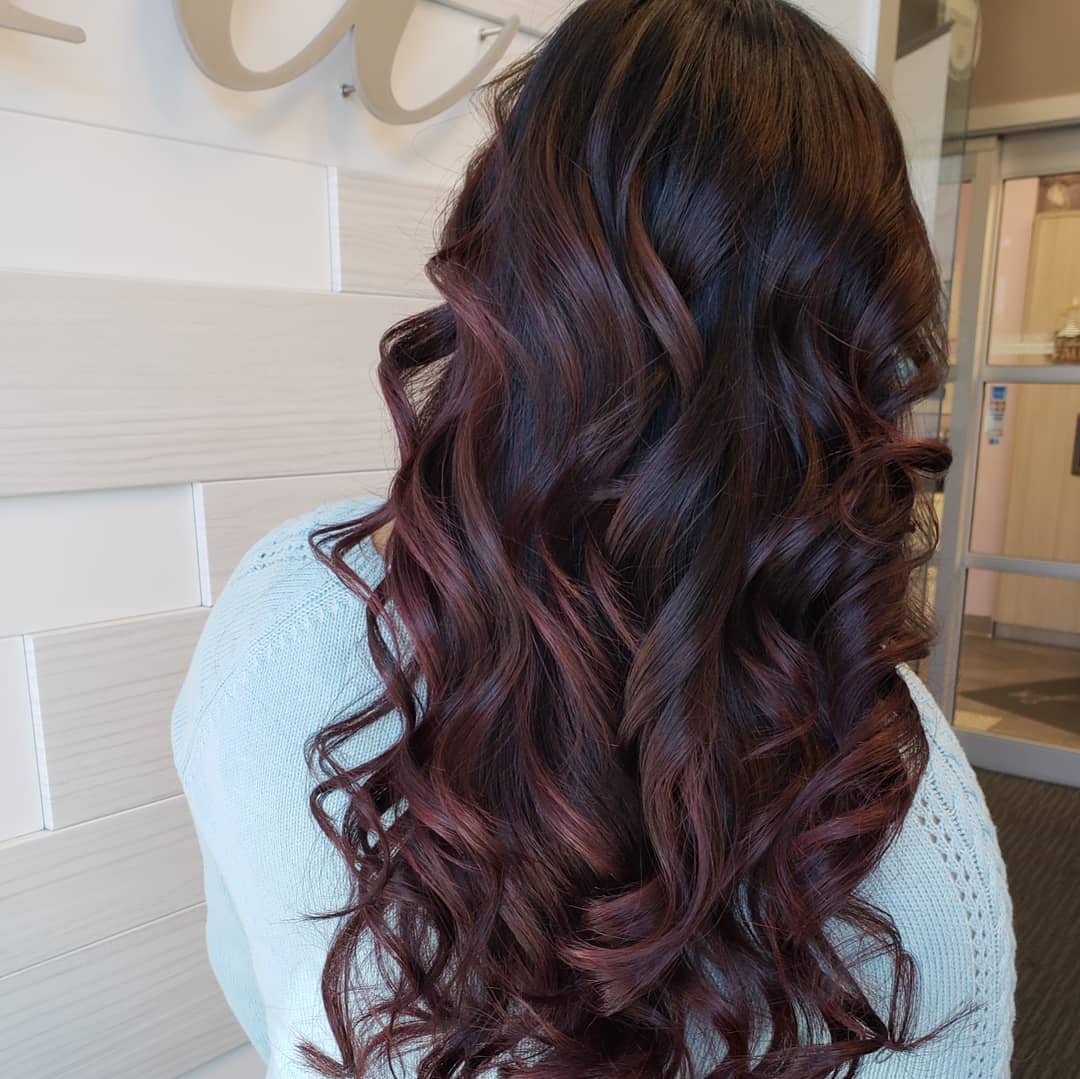 #16: Black Cherry Highlights on Dark Brown Hair
Coffee-colored hair dripping in Dr. Pepper soda. Stylist Destinee masters the art of dark-on-dark balayage with this black cherry hair dye.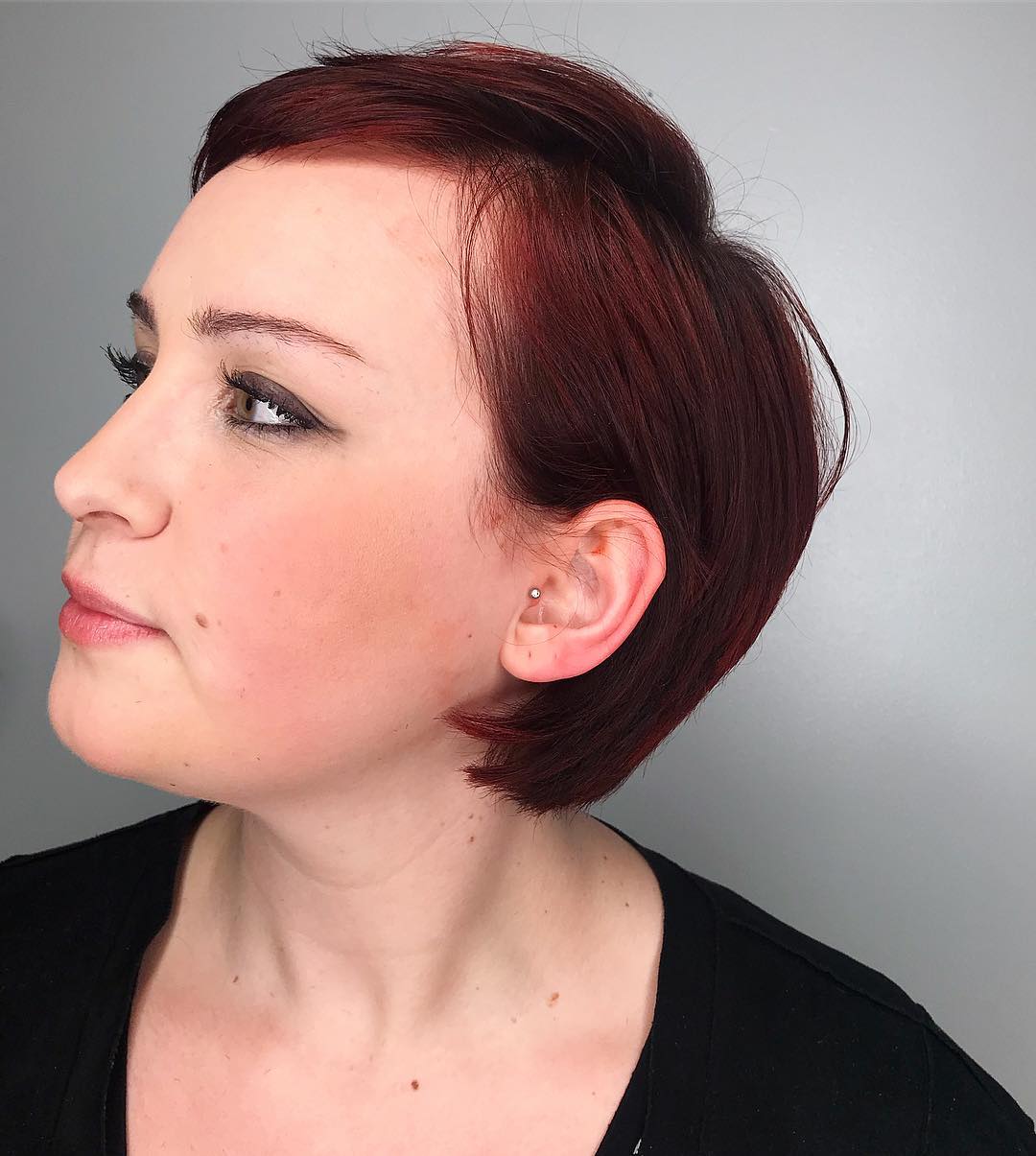 #17: Dark Cherry Pixie
Ooooh, the red queen must be envious of dark cherry red hair! Nape-long hair that is side-parted trumps out any other cut for this sensuous color.
Combining black cherry hair with a short pixie brings out lots of colors and also the natural skin tone.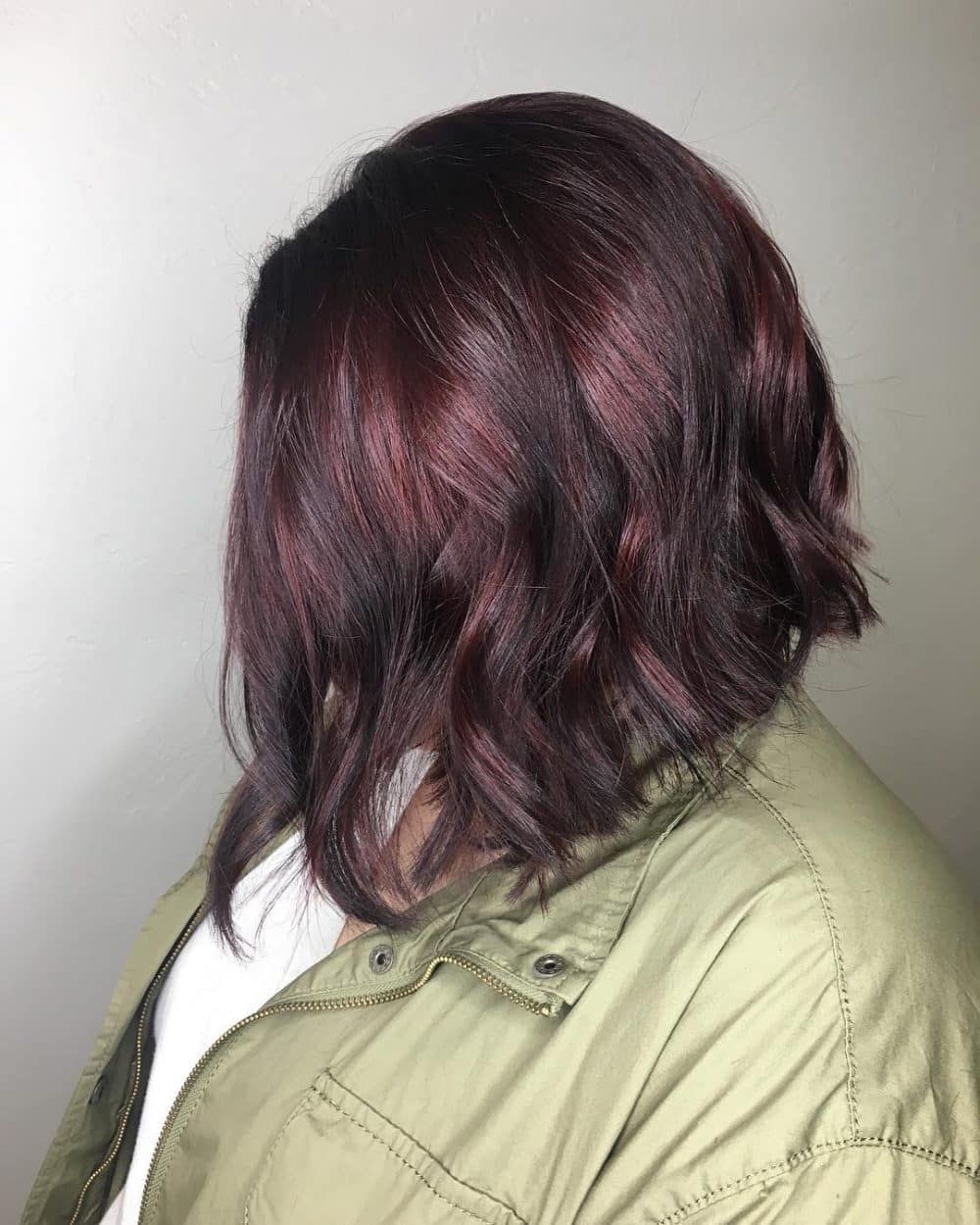 #18: Deep Burgundy Cherry on Shoulder-Length Locks
As the ray of sun hits your hair, the black cherry red color instantly shines through dark tresses. Mid-length hair adds charm to your already edgy dark cherry hair color.