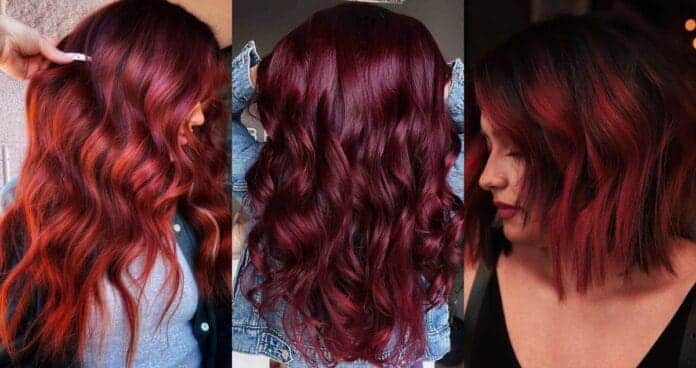 Red hair color is more than a color, it's an attitude. Redheads are fun, fierce, and ready to take on the world! If you have the desire for a red hair shade, then you're in the right place. Red hair colors can be natural, depending on the woman's melanin. The hues can be altered, varying from strawberry, copper, auburn, to burgundy. All you have to do is find the best red hair color for your skin tone and eye color. Before your next hair coloring appointment, check out these pictures of the best red hair color ideas.
#1: Fierce Red Mid-Length Hair with Loose Waves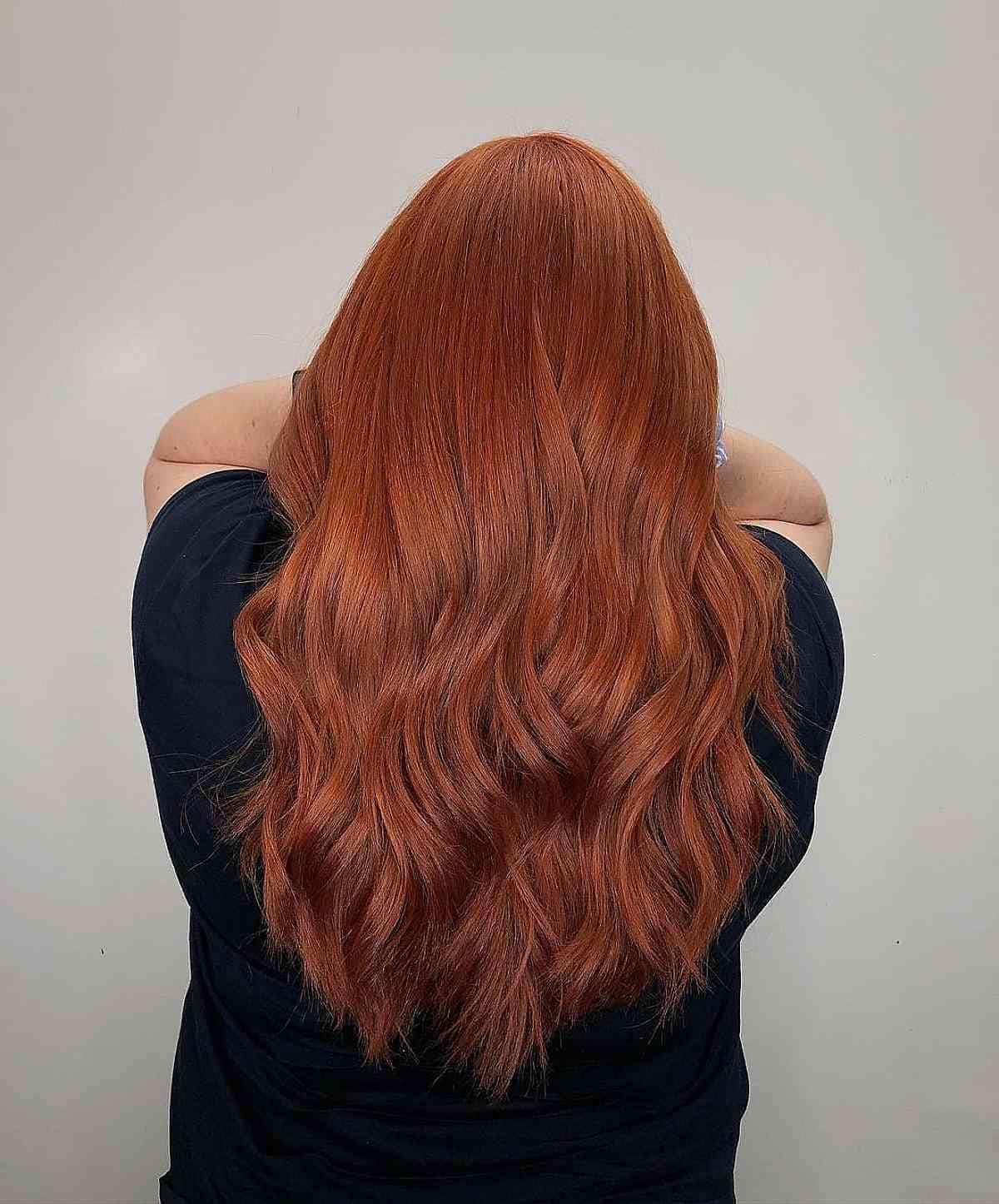 #2: Stunning Ginger Red Color
Add a youthful glow to your hair and complexion with a stunning ginger red color. Best for warm skin tones, a stunning red always adds vibrancy and life to your hair. Red and copper tones are light reflective, so watch your hair shine.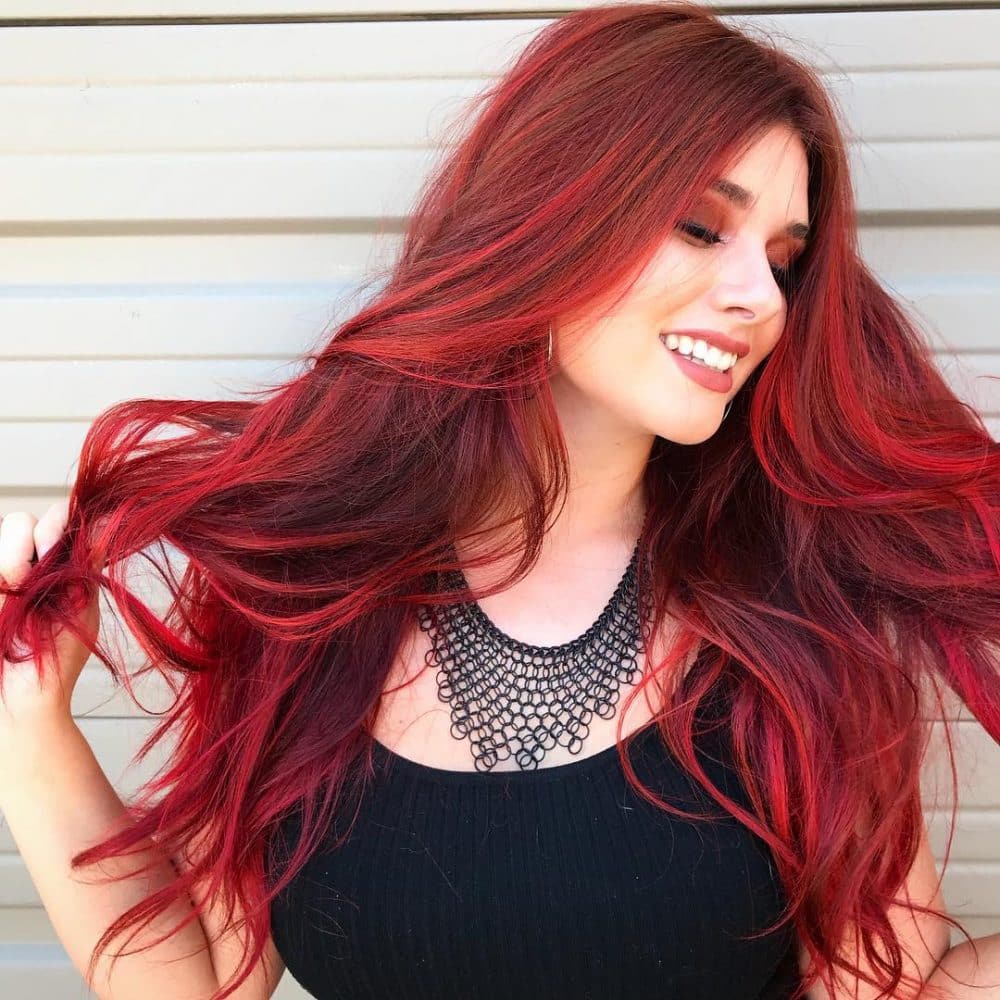 #3: Vibrant Fire Engine Red
This vibrant fire engine red is so spicy! Doesn't the bright red color almost look like a wig?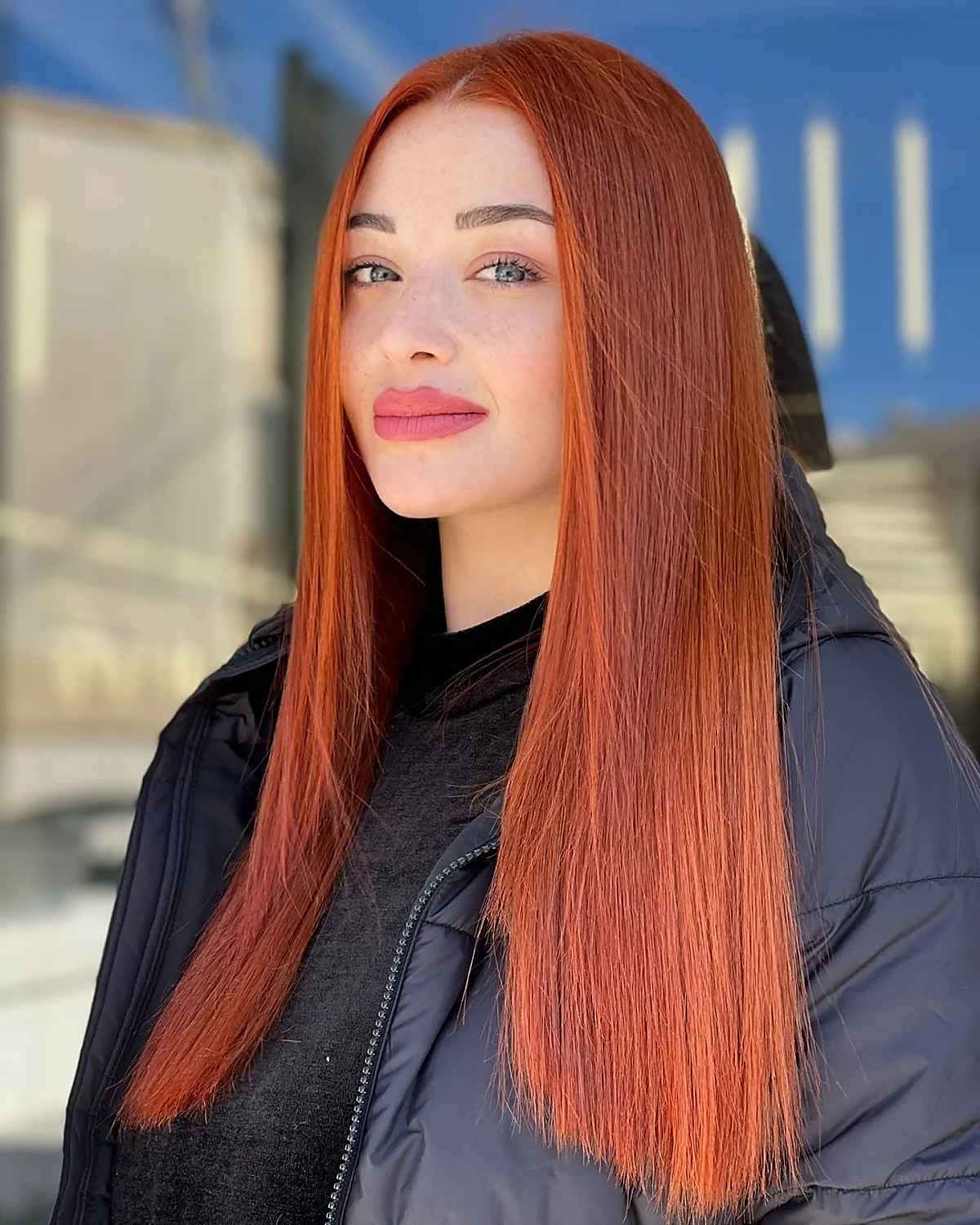 #4: Brick Red Middle-Parted Hair
Brick red middle-part hair is looking very appealing. You'll love wearing it each day! Keep your tresses, long, and let your red-haired sleek tresses shine. That's how the added color gets accentuated, too.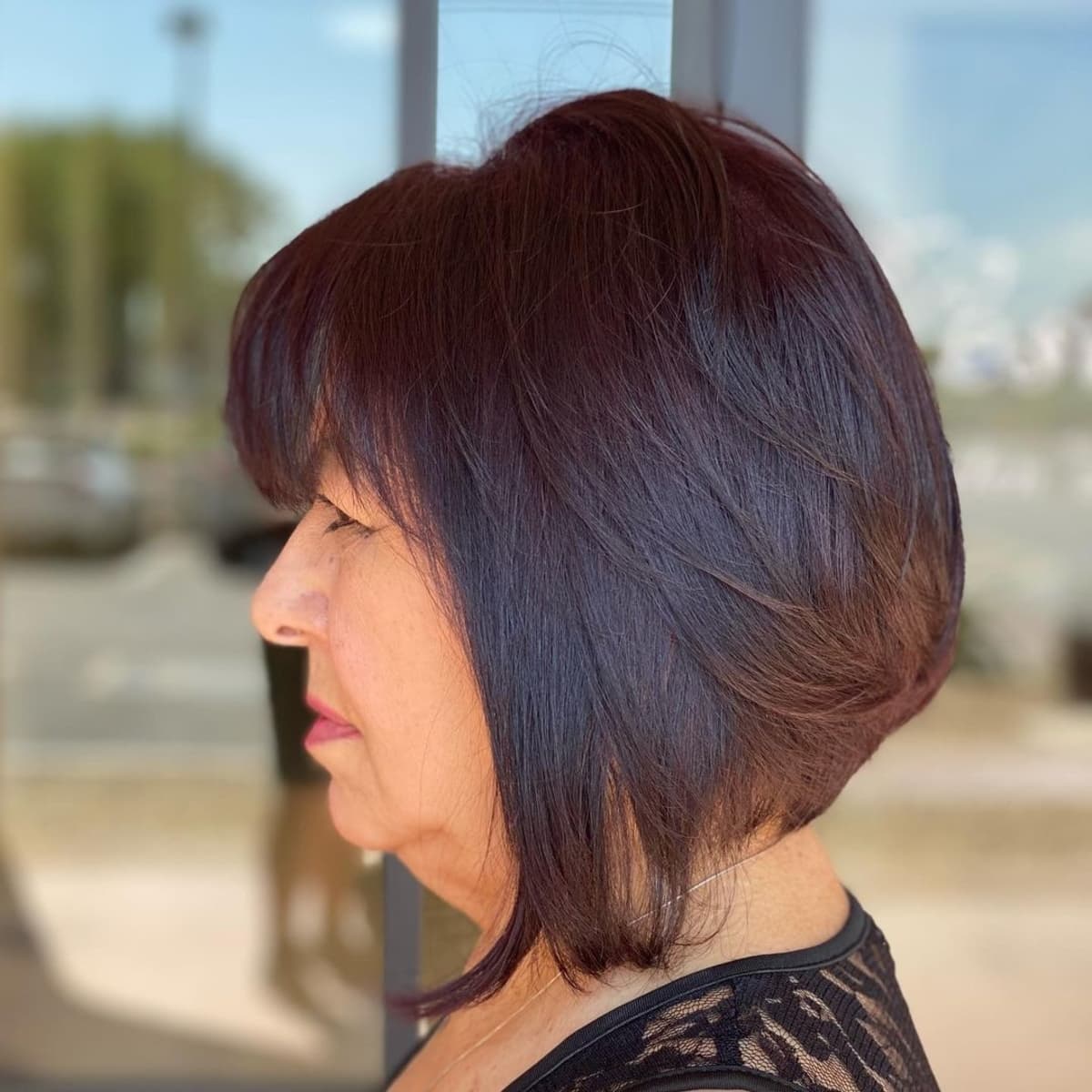 #5: Deep Mahogany for Women over 70
Deep mahogany for women over 70 glams up any look and adds some pizzazz to any existing color. The nice thing about deeper reddish/purple hues is that they can appear more neutral and brown when not in direct sunlight, creating subtleness and making it not so overbearing right away.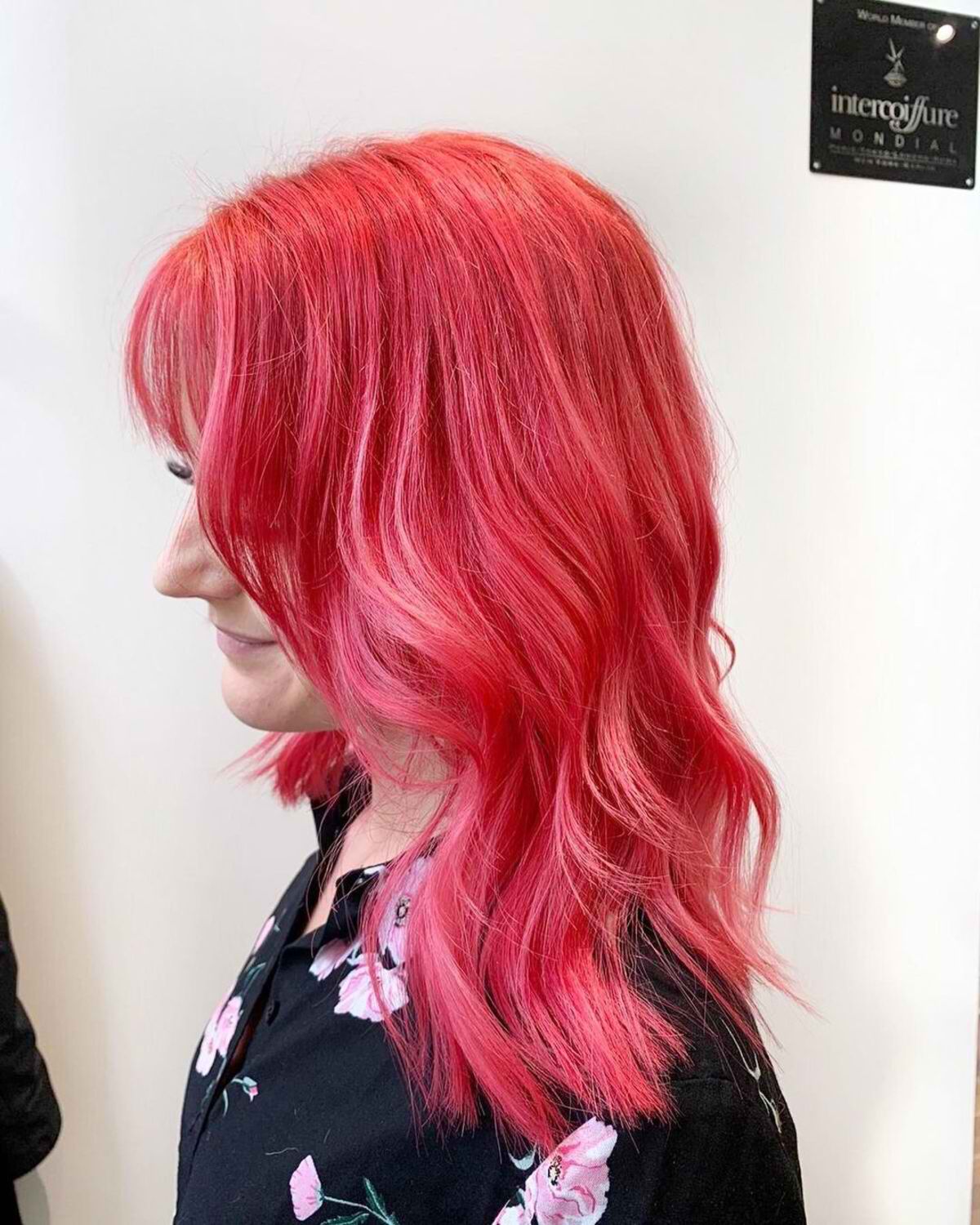 #6: Coral Red Hair Color
Coral red hair color is a beautiful choice for an all-over hue. Coral is the perfect combination of all the warm tones and suits many skin tones. Red tones do tend to fade more quickly, so regular salon visits are absolutely necessary.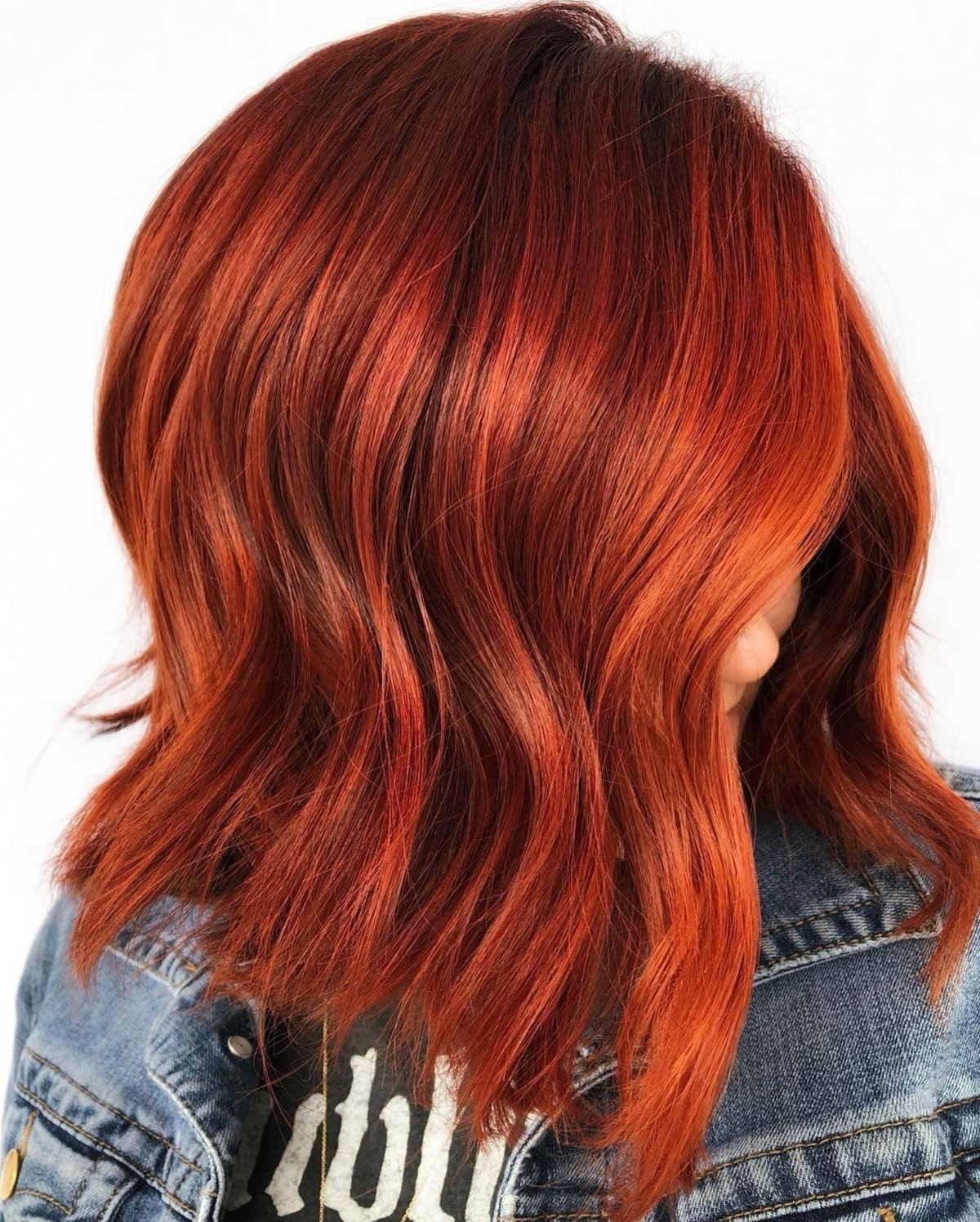 #7: Bright Strawberry Red Hair
Bright strawberry red hair is radiant, luminous, and vivid in color. Rich copper, red tones are great for natural redheads wanting to add depth and spice up their color. Strawberry red hair hue is vibrant and appears amazing on fair or even on darker skin tones. To show off your fiery red hair, use a flat iron to add loose waves that will show off the vibrancy of your hair.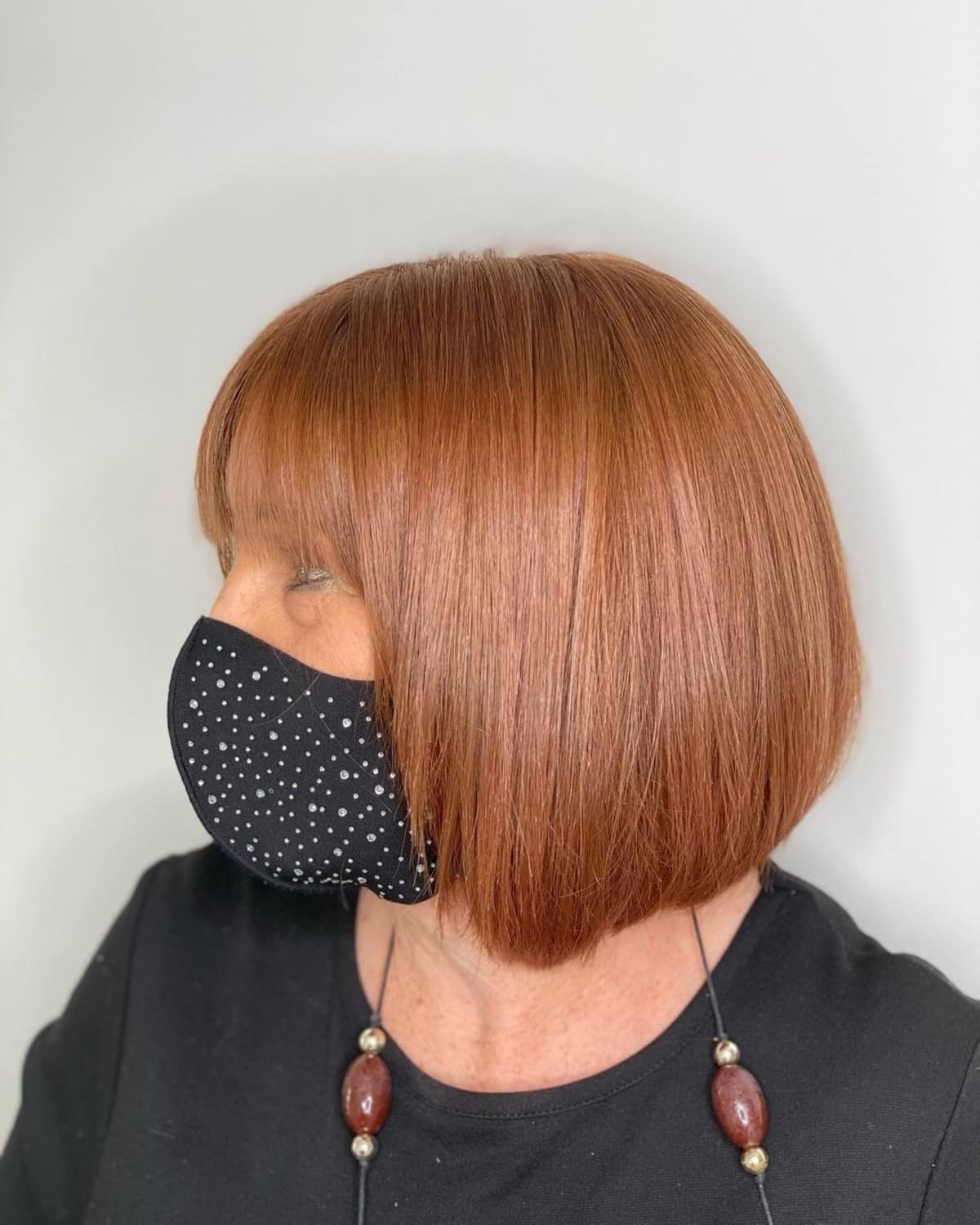 #8: Copper Tones for Women over 60
Gorgeous copper tones for women over 60 look best on medium skin tones with a slightly warm undertone. The warm copper hair color will accentuate the glow of your warm complexion.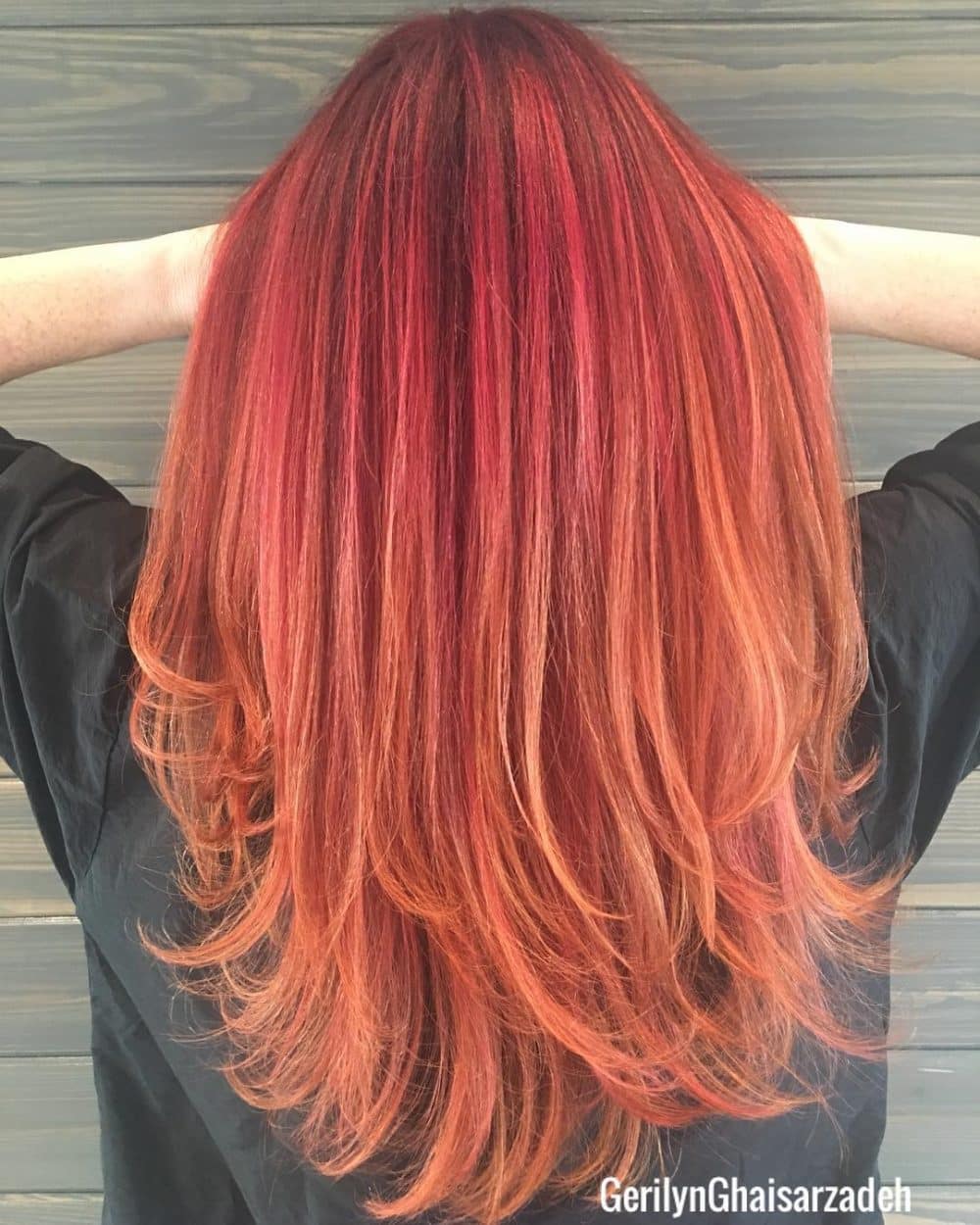 #9: Peachy Pink Undertones on Red Hair
Peachy pink undertones on red hair create an envy-inducing combination of colors. This peach pink balayage for long hair highlight these candy colors.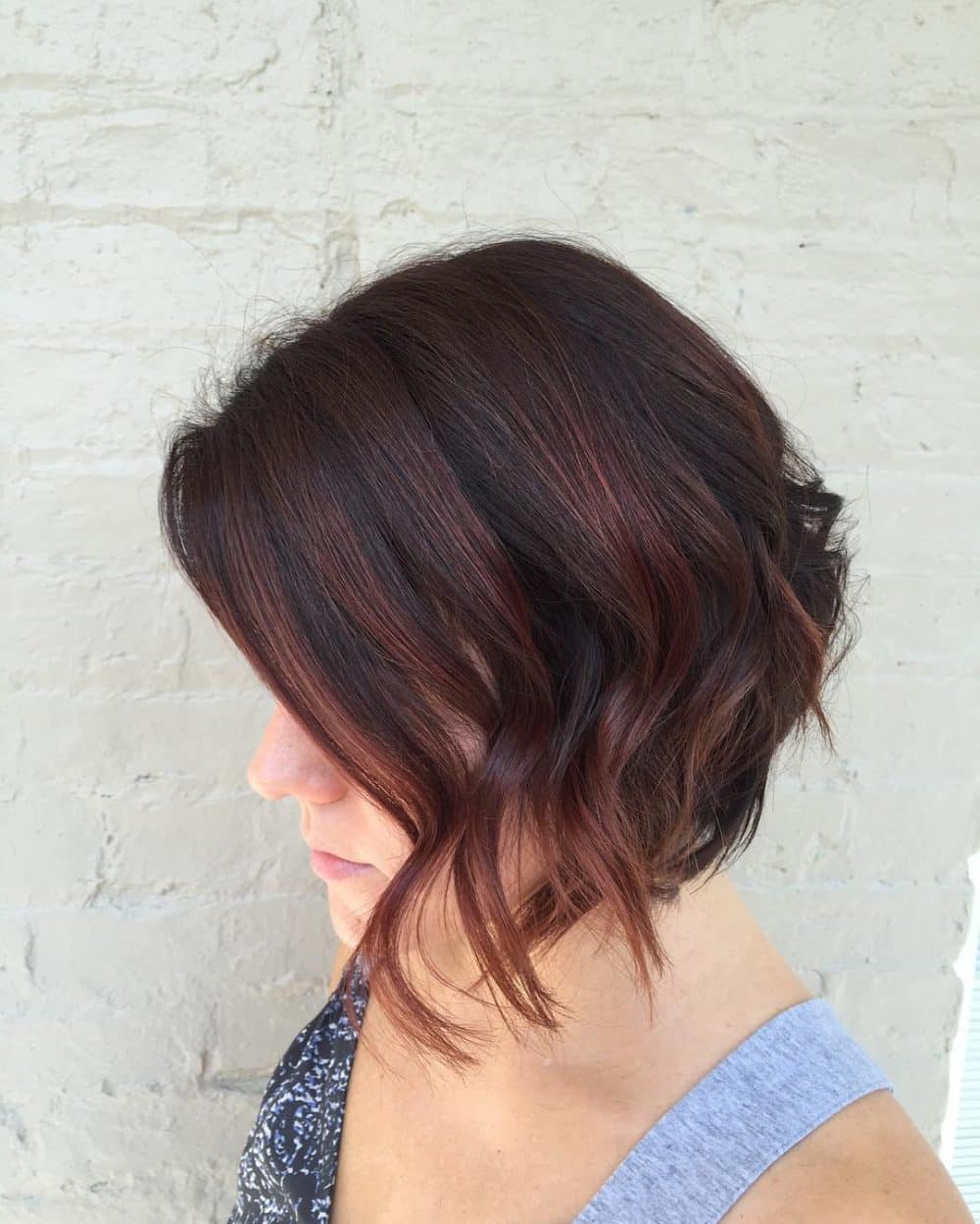 #10: Auburn Highlights
Auburn highlights are an easy way to attain that modern style of wearing reddish locks. Break up your bright red hair with darker hair dye and give yourself that sassy and trendy image in your photos.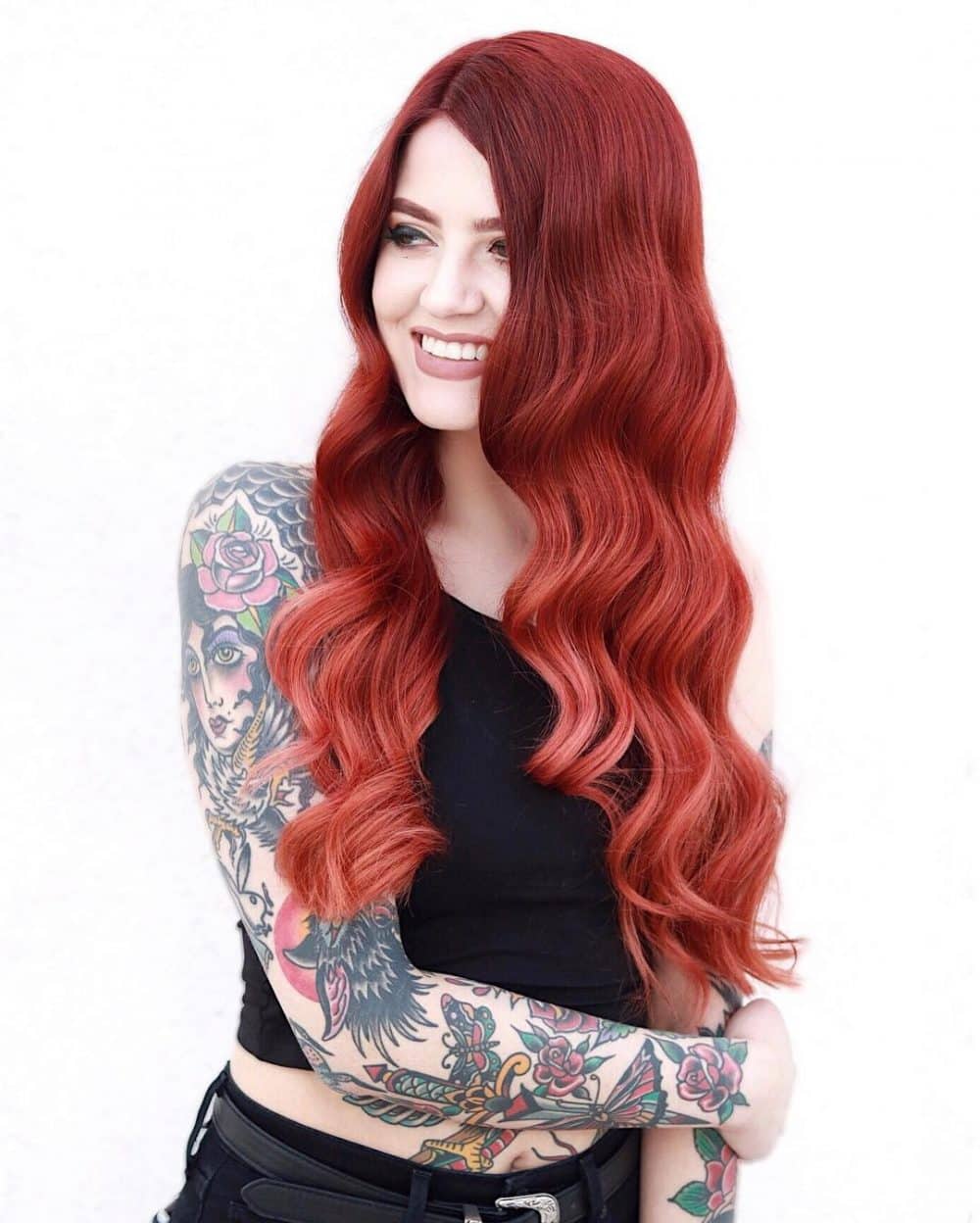 #11: Hints of Strawberry Ombre
Hints of strawberry ombre within this red hair will take you places! Flaunt the color in long waves, and enjoy a nice red hair day!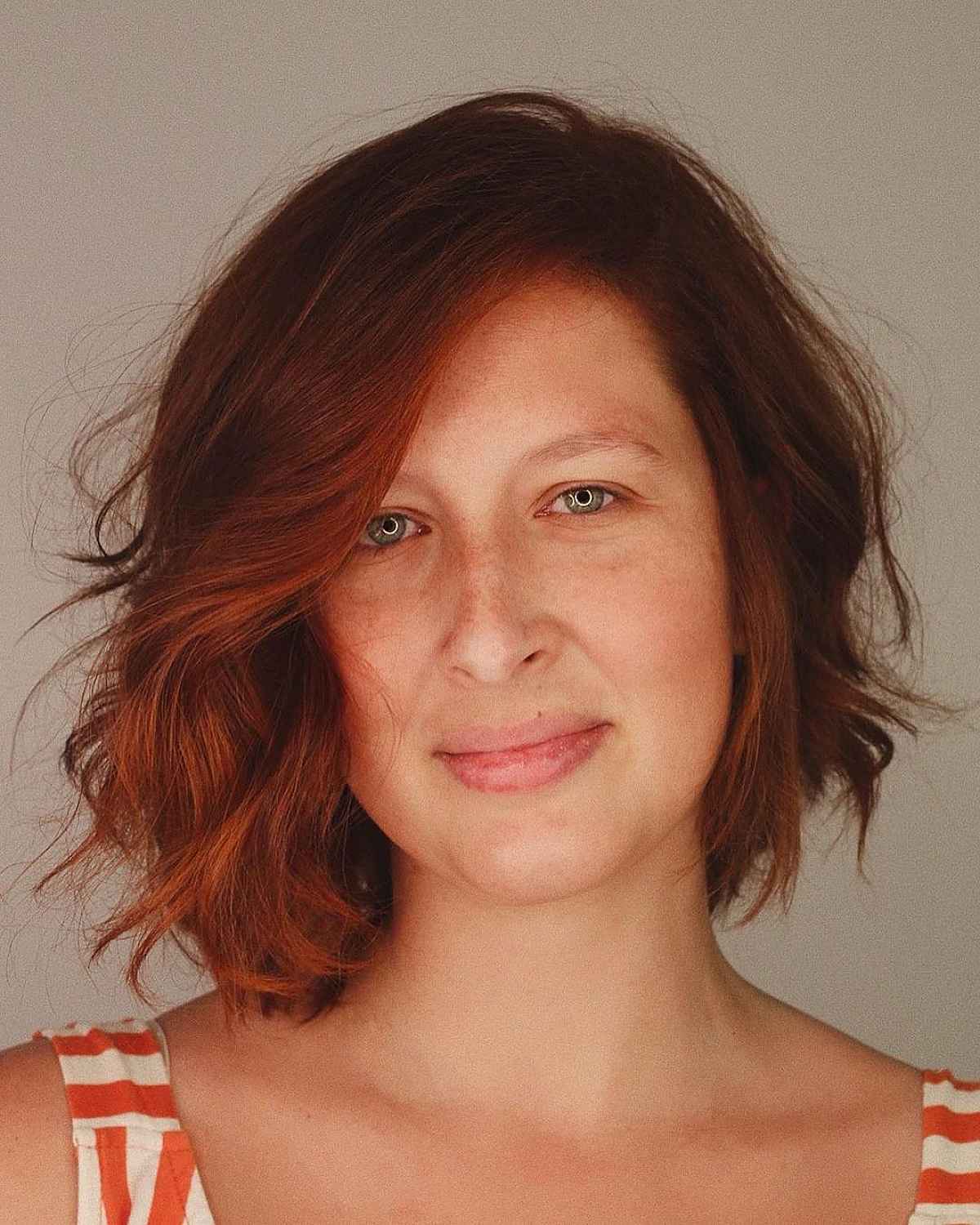 #12: Auburn Red Hair
This auburn red hair features a copper color melt. It gives a vibe à la Christina Hendricks. While coloring your red hair, keep it safe by using the best products recommended by your trusted stylist.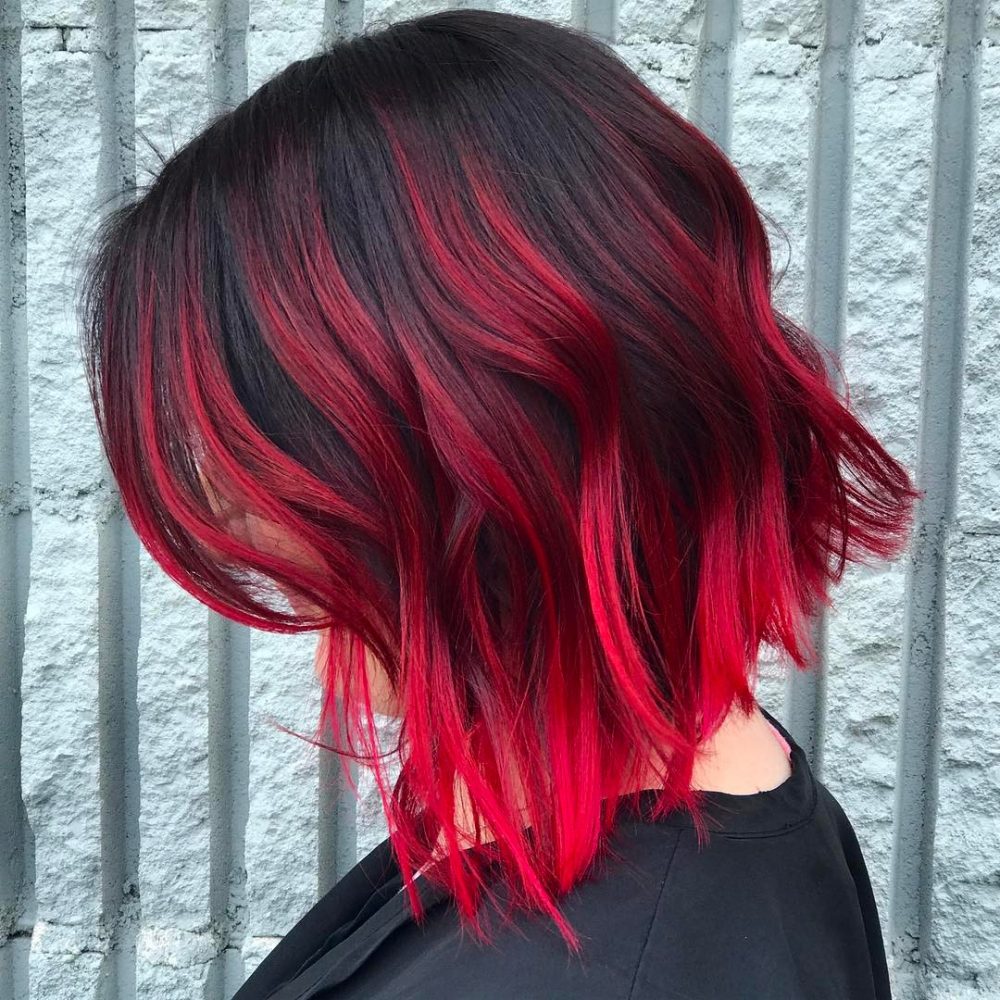 #13: Vivid Red Highlights
These vivid red highlights next to an edgy ombre are vibrant! Use color-safe products to keep the color vibrant. Don't worry about the black roots because you'll have no problem with the grow-out.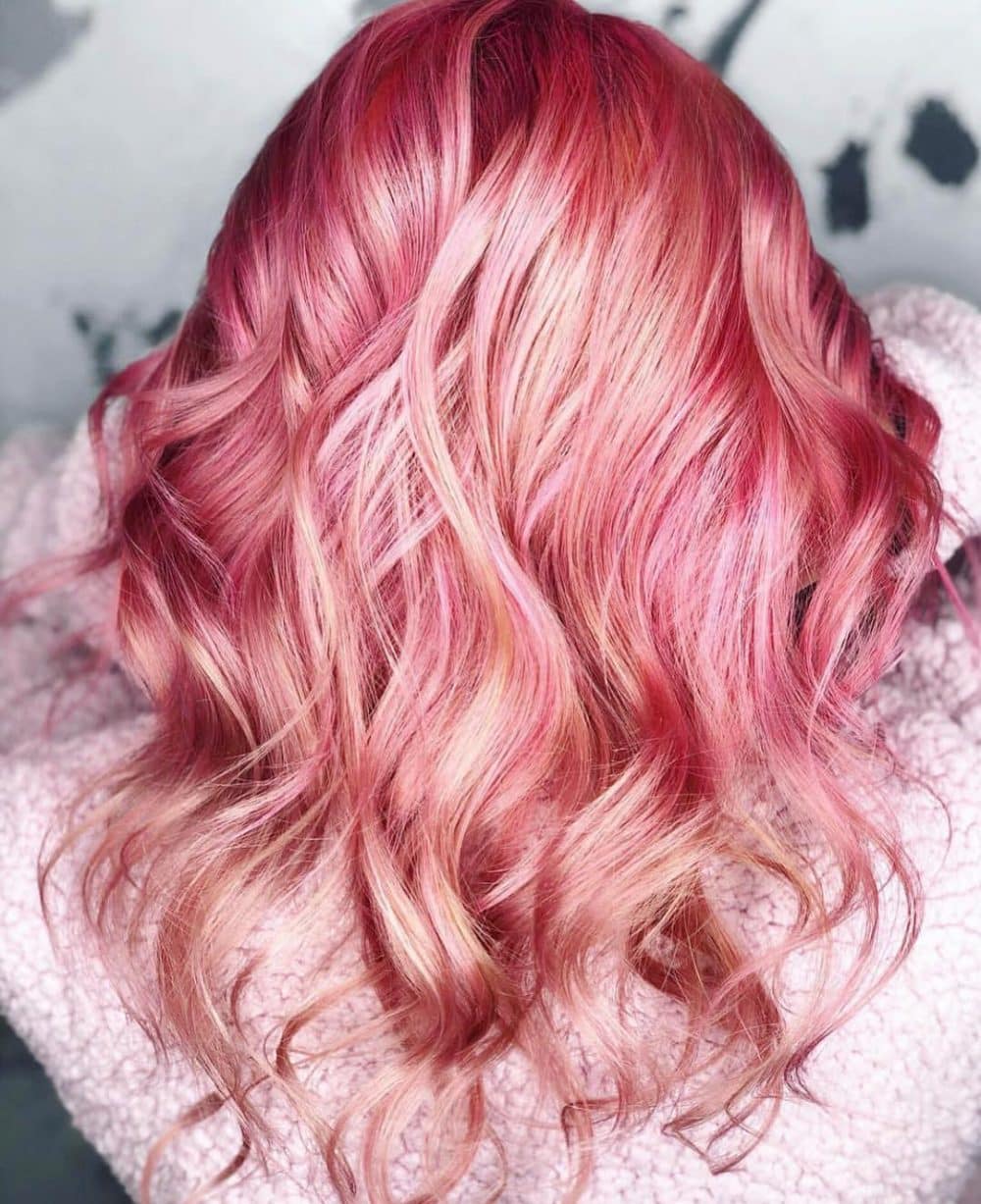 #14: Peachy Pastel Red Hair
This peachy pastel red hair is a mixture of pink pastel with peach undertones. This color melt goes on fair to neutral complexions.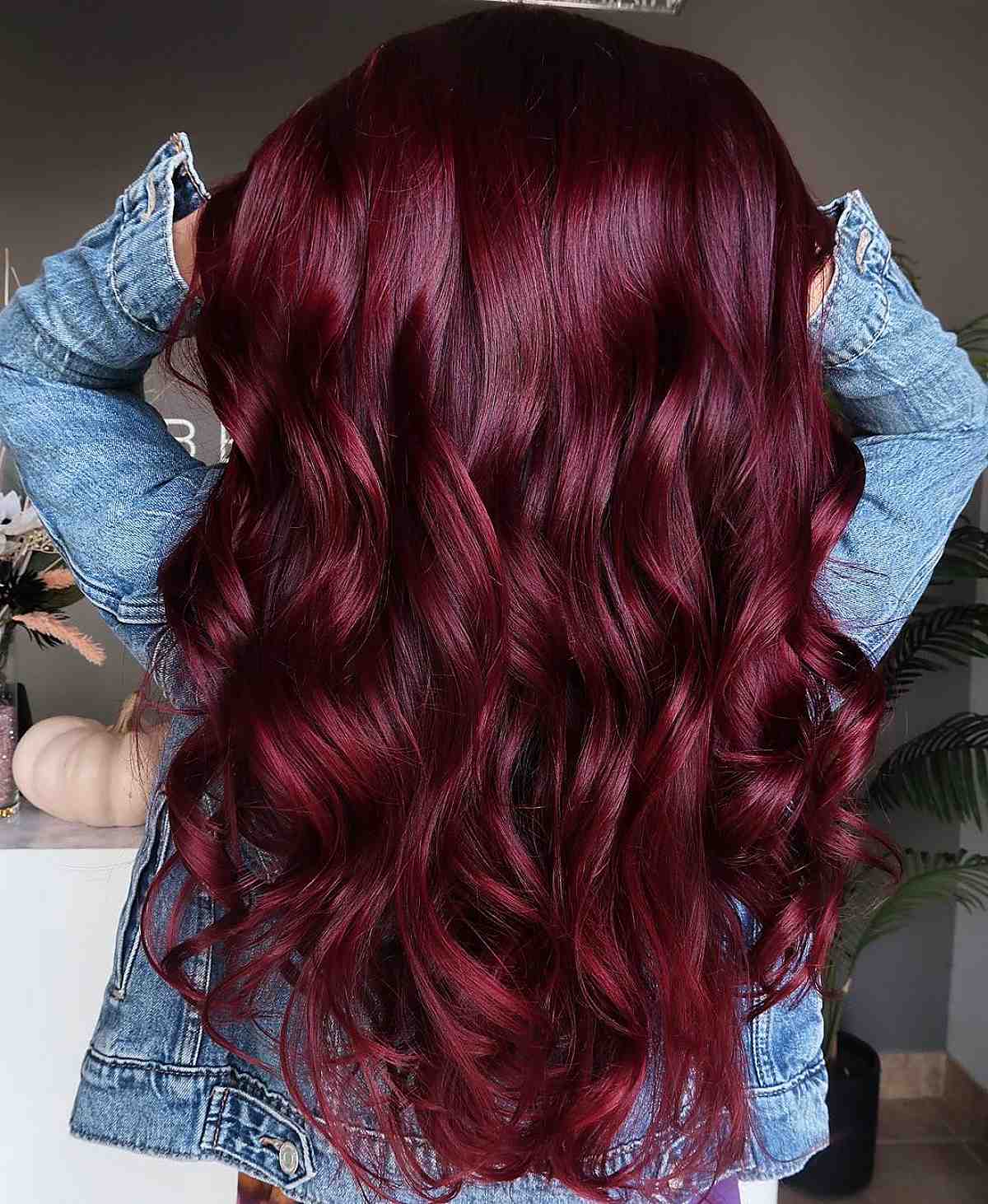 #15: Dark Ruby Red
This dark ruby red balayage leaves tresses looking edgier and dimensional. Style your hair with subtle waves, finishing it off with a shine spray, and see how the color pops out even better. This ruby red shade is a chic option for ladies with dark hair who want to embrace a fiery look now as a redhead!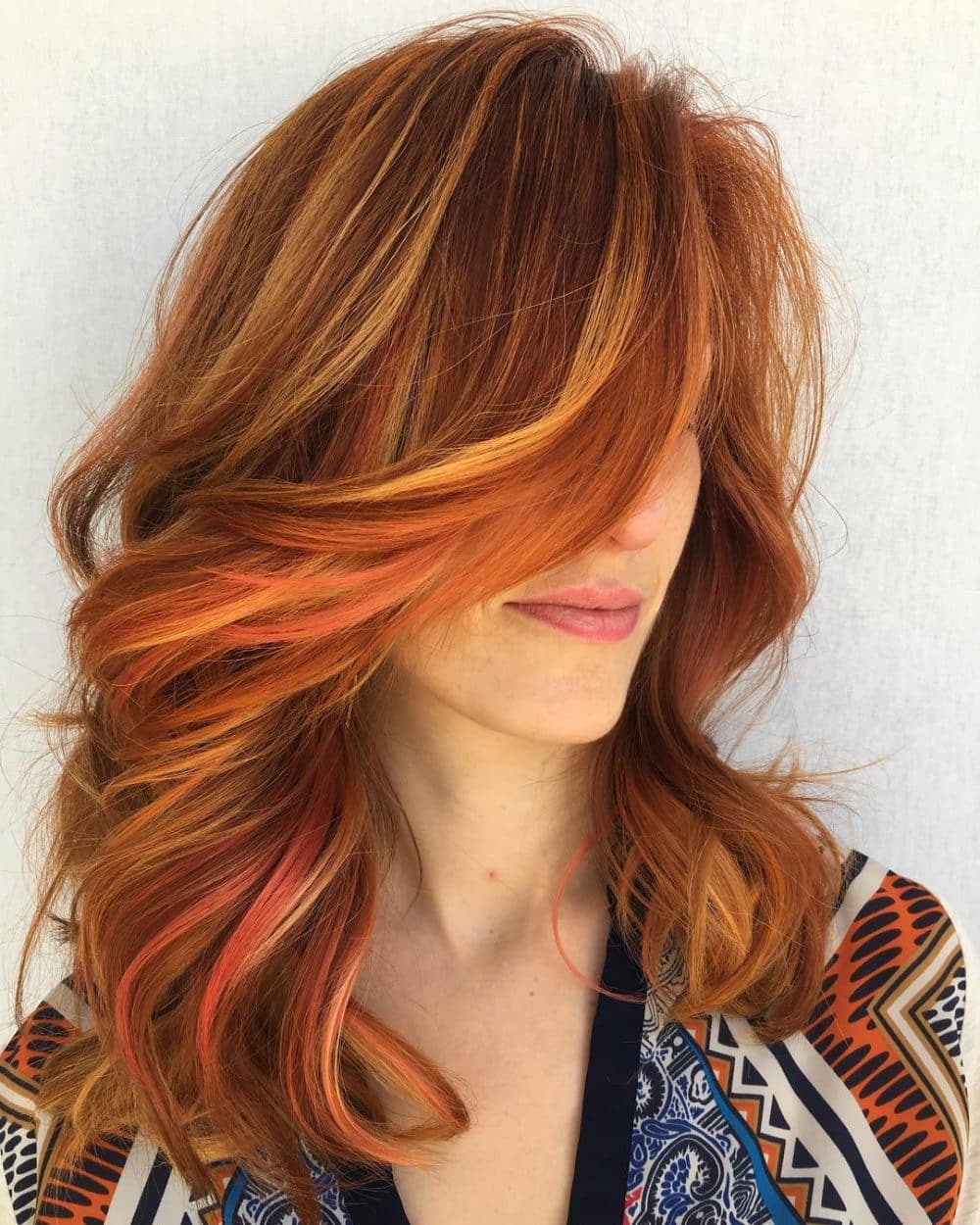 #16: Burnt Orange Red
Burnt orange red hair dye is a great way to spice up your plain ginger hair. Paint your strands with blonde highlights, plus some pink hues inside to give this orange-tinged red hair some dimension.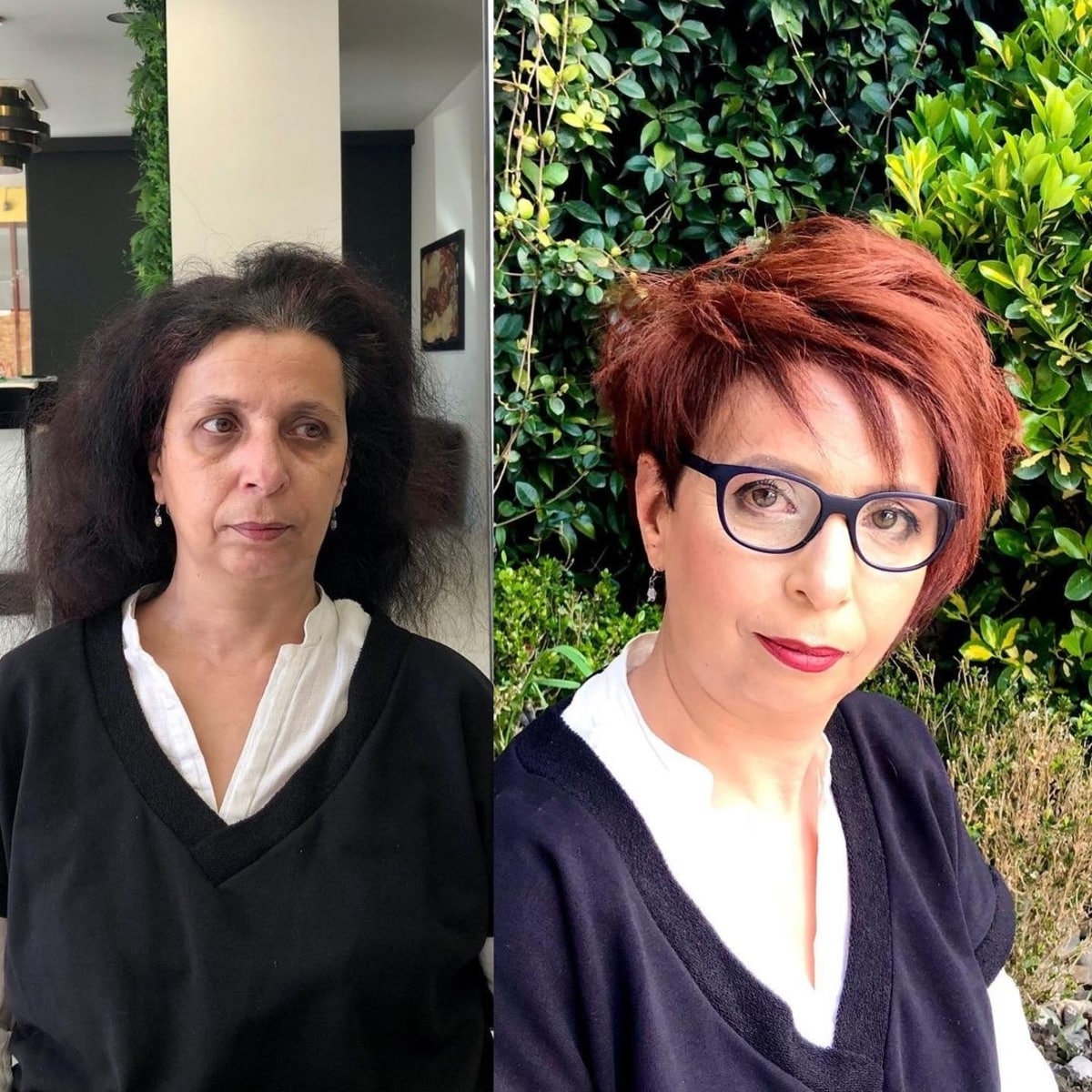 #17: Deep Sandy Red Shade for Women over 50
The deep sandy red shade for women over 50 adds character and edge to the woman wearing it. Beauty therapist Soubecas Ioannis of Greece made this vivid hair color come to life.
"It needs a good quality of hair to shine and exude luxury. Moisturizing care products and color-enhancing masks are vital for the upkeep," Ioannis explains.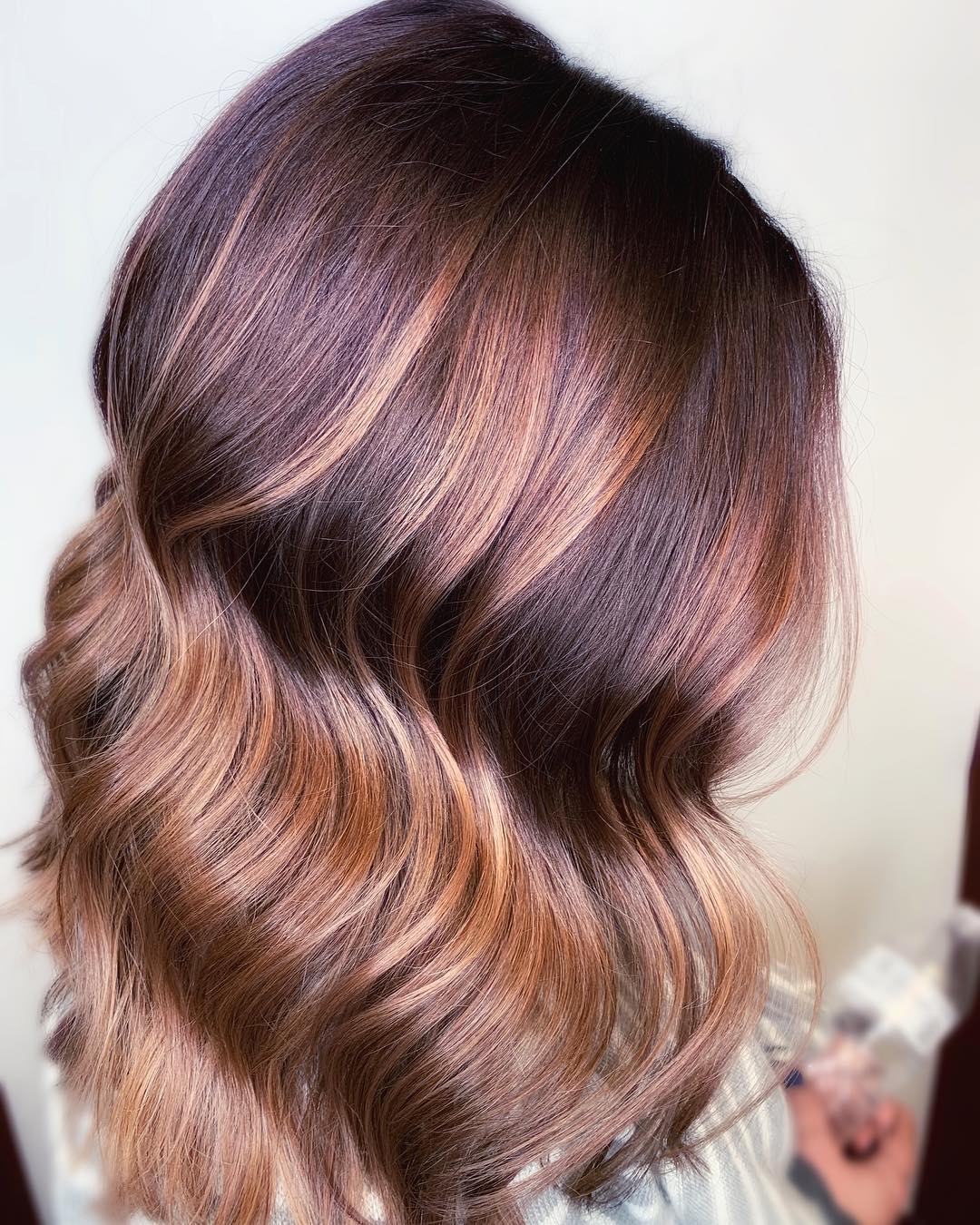 #18: Mahogany With Blonde Highlights
Mahogany with blonde highlights is a low-maintenance red color with a bit of spice! This particular color was created by salon owner and stylist Nicole LaFrance of Millbury, MA. "Warmer red hair colors like mahogany are absolutely stunning," says LaFrance. "Ask your stylist to keep the mahogany base through your hair. Then add in copper balayage pieces to give it a nice dimension." Red tends to fade faster than other colors. LaFrance says to touch up your balayage every 4-6 months. "A quick routine color melt will get this color looking completely refreshed!" "I always remind women that these are more high-maintenance than most colors because of the faster fade out," she adds. "Use cold water to wash your hair. Hot was will open that cuticle and make it easier for your color to slip out. Lastly, like having any other color service done, use a good leave-in conditioner once a week! This will help with any color-treated hair damage and restore your hair's moisture!"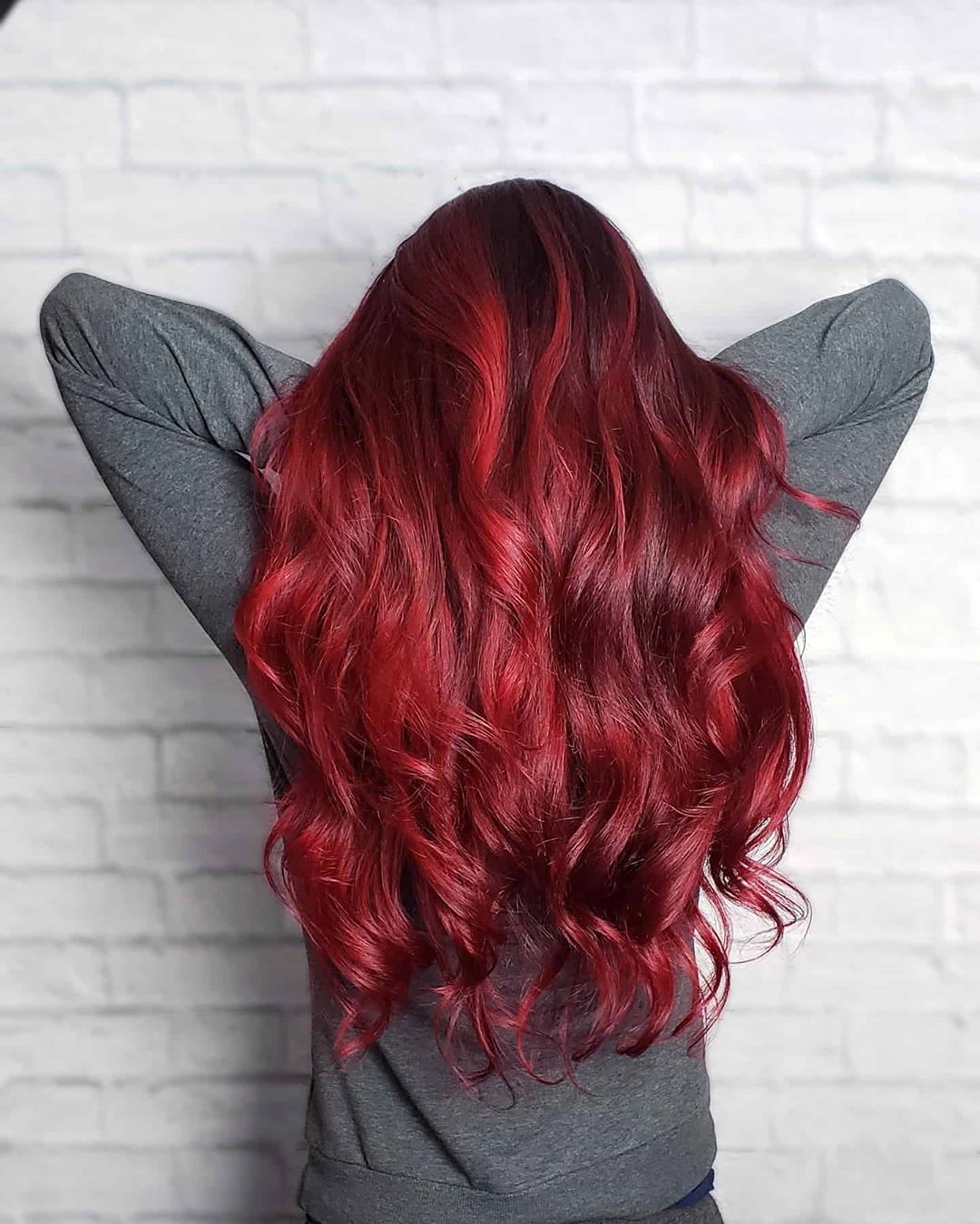 #19: Scarlet Red Balayage
This scarlet red balayage is a glorious pigment, and it does suit long-length tresses.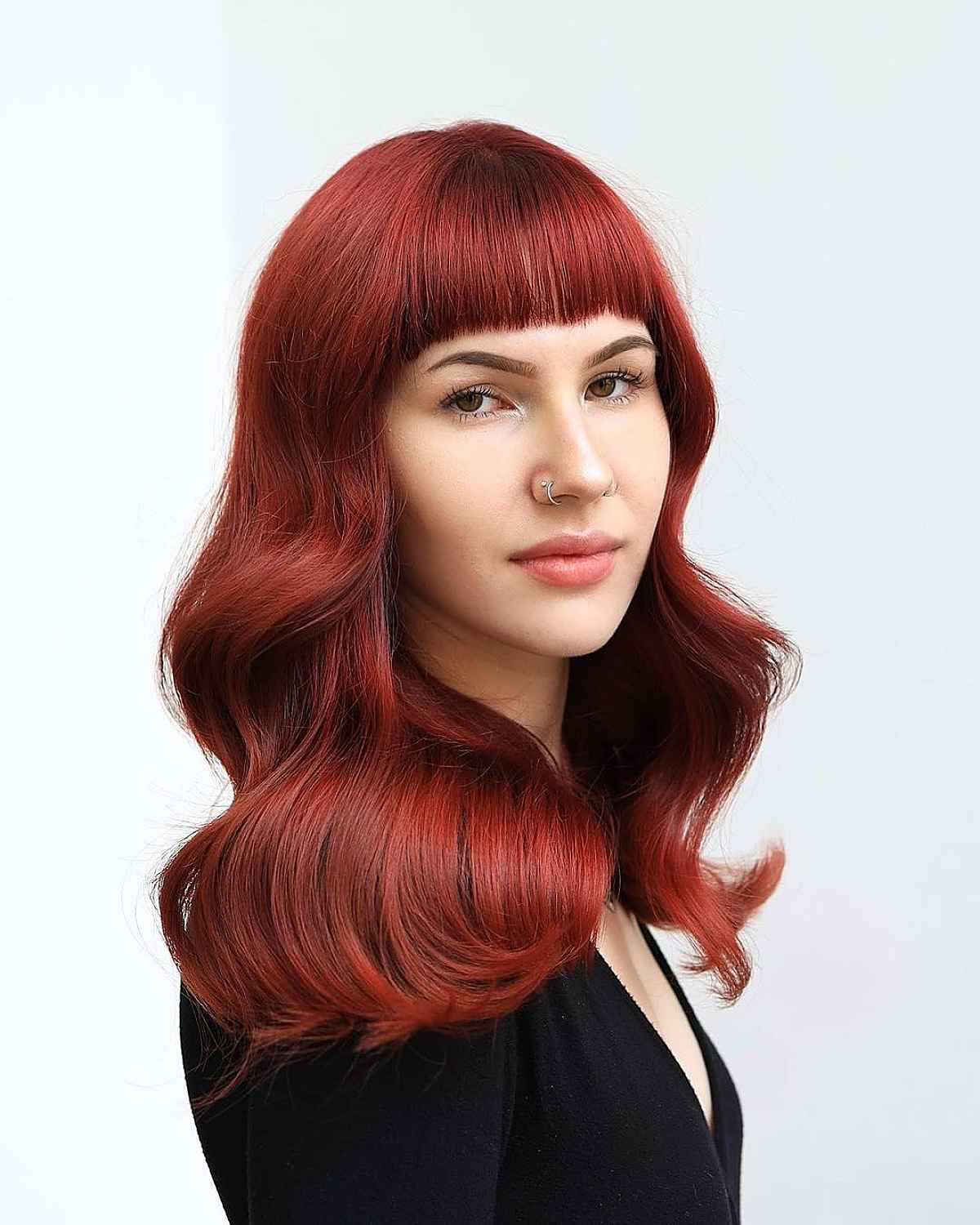 #20: Scarlet Red Hair Color
This scarlet red color is a fierce one-color application that adds the illusion of highs and lows in the hair. Women considering going for a scarlet tone definitely need to know a few things. First, this can bring out beautiful undertones in your skin that you've never noticed. There are many different shades, ranging from coppery red to violet-red or true red. Next, they fade fast, so get a good shampoo to not over-cleanse that new pretty tone right off the hair strand. Hair like this needs a touch-up every 4-6 weeks. Also, it's normal for these tones to stay a bit on the outside of the hair shaft especially if you go a semi. Seeing the color runoff in the water when washing or bleed onto towels is very normal, so grab some old ones or dark ones!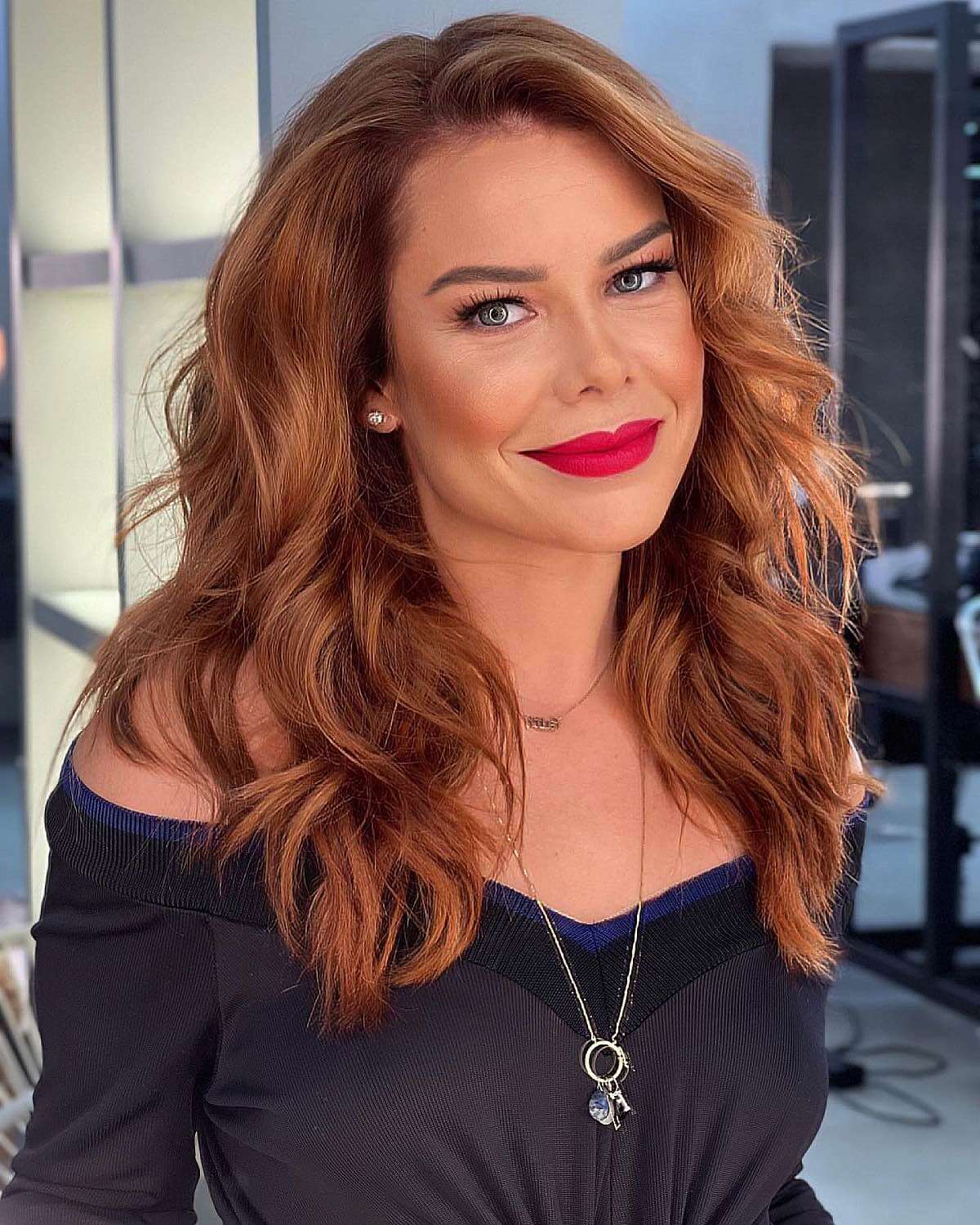 #21: Natural Redhead
A natural redhead is the rarest hair color for modern ladies. Nothing can go wrong for you lucky ladies who have natural red hair. This natural color is a modern take on the shag cut for long hair. You could air dry with some salt spray and still have a messy finish.
#22: Deeper Red Lowlights
Deeper red lowlights create a rich hair color that ladies will drool over. Its flattering reddish tone appears perfect on short, thick hair. Subtle choppy layers will accentuate the color even better.