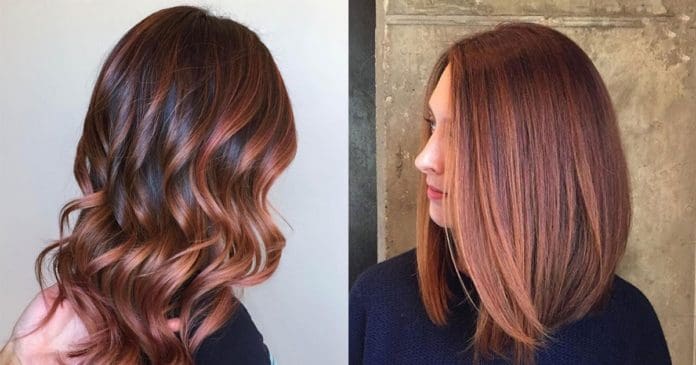 Generally speaking, trends don't really change, they shift. After a full year of cozy hues in 2018, colorists are seeing folks embrace warmer tones, go for unconventional shades, and also make subtle changes to really give their natural features a boost. Take a look!
Source
#1: Golden Ombre
Source
Sporting a very subtle, gradual change of color from the crown of your head to the extra-blonde tips will put you en pointe.
#2: Pink Roots
Source
Selena Gomez recently debuted her bleached blonde hair with natural dark roots and we think it's safe to say that is the first of a lot of root trends in 2018. The trend is to dye roots a color that will have them melt into your natural hair color. For example, these pink roots work well with the platinum blonde look.
#3: Soft Pink Color With Dark Roots
Source
Here is a curly pink hairstyle with deep dark roots. Can you hold yourself back from going to a barber shop?
#4: Notch Rose Gold
Source
This burnt orange, notch rose gold with purple layers is an excellent choice to keep you in tune with your natural elegance.
#5: Purplish Red Color
Source
If you are born with naturally curly hair, you might be upset about being constrained to only a few limited styles. But hold on a moment, don't you know that things can really be changed by dying your hair? For example, why not try this purplish red color, paired perfectly with ringlets.
#6: Fiery Fade
Source
A bright, natural-redhead orange shade combined with peachy strawberry blonde can make you look both sweet and chic.
#7: Smoked Peach Hair
Source
It's fantastic to kick off the New Year with this cool and beautiful hair color. Blend blorange and smoked peach with both tangerine and charcoal hues. You won't regret it.
#8: Light Rose Hair Color
Source
This style can be achieved by highlighting the roots and ensuring that the rosy shade fades into a subtle blush at the tips. Try bleaching first for that extra pop!
#9: Orangey Tones
Source
Orangey tones a good choice for blondes. The top lighter color contrasts with the darker bottom layer giving a different look from different angles.
#10: Pumpkin Spice
Source
Another trending color in 2018 and one that is suitable for women of all ages is pumpkin spice (also known as "gingersnap hair"). This color will give your hair a multidimensional look by painting varying shades of golden blonde or chestnut over copper strands, making them reminiscent of shimmery fall leaves in the sunlight.
#11: Pink-Copper Ecaille
Source
Pink hair has been around for a few years, and it is showing no sign of going away. It's a perfect way to refresh grown-out hair, and can be achieved with balayage techniques to even out your hair color tone.
#12: Amethyst Roots
Source
If you're platinum blonde and looking to have some fun, why not consider amethyst roots.  But remember to incorporate some color at the root in order to extend the time between touch-ups. Doing so will save your hair's health.
#13: Burnt Orange
Source
This hair color may remind you of Melisandre, (The Red Woman) – a fictional character in A Song of Ice and Fire (Game of Thrones) who has fiery red hair. It certainly leaves a deep impression on anyone who takes even a simple glance at you.
#14: Chocolate Rose Gold
Source
Chocolate is widely used in the hair and it works well with a dark hue like this.
#15: Blonde-Gray
Source
Blonde-gray hair color is not a bright color, but it will make you look elegant, refined when grounded by a solid inch of nearly-black roots. Just take a look Evan Rachel Wood, whose hair color is out of this world.
#16: Ronze
Source
This hair color works on pale skin as it lights up your complexion and makes you look both young and vibrant.
#17: Smoky Lilac
Source
If you're fond of being a little bit special, this color might be your dish – an ombre style and an unnatural shade shown off by hairstylist Kendall Noel. Her smokey lilac hair color transitions from a deep grayish purple down to a pale, foggy lavender, which looks mysterious to our eye.
#18: Dusty Lavender
Source
In this style these colors are used in a softer, less bold way. The usage of purple highlights on both sides gives the whole look a refreshing feeling.
#19: Pearlescent Hair Color
Source
This color reminds you of ocean's jewels, both pure and clean. What's more it works on all shades of blonde ranging from gold to platinum.