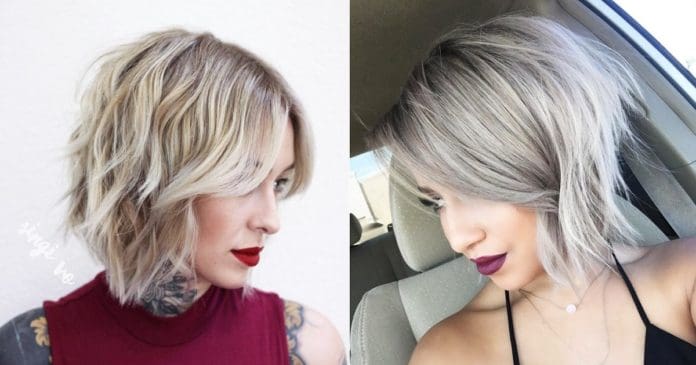 With trendy bobs, pixies and crops aplenty, 2019 is teeming with fabulous short hair ideas already, and believe us,  going short is a trend that will dominate this year.
From the lob to the bob, and the iconic pixie cut to one with fringes and bangs, these short haircuts incorporate every length, texture and personal preference you can imagine. They might be short in length but are definitely not short on style.
To help you get inspired, we've picked out the coolest 20 short hairstyle inspirations for 2018.Browse through to find your ideal short haircut.
#1: Chin-Grazing Bob
Source
We know that you are going to change up your hair in 2019, but don't want to do anything too crazy. Well, this chin-grazing bob is a fabulous way to go! It is a timeless hairstyle that can boost volume and confidence of fine haired ladies. With some layered sections, the overall style looks fuller and even more stunning.
#2: Choppy Pixie with Creative Color
Source
If you've had long hair for many years, choppy pixie styles are interesting to try. However, an ordinary pixie is a little boring. Why not add some wonderfully creative hair color? For example, the mixture of blue and lavender pictured here is the trendy hair color for 2019.
#3: An adorable braid
Source
For fine hair, this trendy pixie cut works really well. Just be sure to cut your hair short enough and go for a light hair color. Then, here comes the cool part. Instead of plaiting all of your hair, you can simply create an adorable braid on one side, transforming this style into an eye-catching look in 2019.
#4: A Punk Style
Source
Punk styles are always popular, especially this asymmetrical short haircut. Put most of your hair to one side and create some designs on the side with shorter hair. Rock a creative hair color, like pink or gray to really turn heads!
#5: Edgy Bob With Highlights
Source
With gilded highlights, this edgy bob with textured layers looks sassy and sun-kissed. If you want to make it unique and eye-catching though, just leave it messy, playful and untouched. You can rock this trendy tousled bob in 2019!
#6: Adorable Bedhead
Source
If you enjoy rocking messy bedhead hairstyles, this cute curly shag is the one that you should choose first. Lucky you! Bedhead styles are trending in 2019. It is easy to style and suitable for all hair types and any face shape. Go for a blonde hair color to highlight that feathered look.
#7: Silver Angel
Source
Go for a short hairstyle with light coloring and dark roots! It is a go-to style and easy to maintain. To get this shaggy haircut, long bangs are needed. Plus, move the curly part of hair away from your face and leave the ends straight. Choose cool-toned makeup and clothing to show off your perfect taste in styling.
#8: Gray Angel
Source
What a beauty! Going gray is still a popular trend this year for short hair. If you haven't tried it yet, it's time to bite the bullet now! Cut your hair into a shaggy short hairdo first, and take the whole look to a new level by wearing a metallic hue that will illuminate your style.
#9: Rock A Funky Pixie
Source
This trendy pixie cut is perfect for bold ladies who love to try something different. It can showcase your energetic and adventurous personality. Rock an undercut topped off and be sure to keep the roots dark. Use some hairspray to style the look.
#10: Choppy Bob with Smoky Color
Source
If you want a more manageable length hair, then this choppy bob is an alternative for short hair. With these beautiful and feathered layers, this style looks more dimensional. Hair color in the roots are smoke and lilac and the ends are mercury and lilac, both of which are trendy hair colors in 2019.Use a hair thickening mousse to achieve a more polished style.
#11: Chopped bangs
Source
This beautiful feathered bob covers chopped bangs and jagged edges, forming a shattered look. It is an irresistible short haircut that is perfect for miniature ladies who love the feeling of being the tomboy. This really is a popular choice at the moment!
#12: Extremely Short
Source
This no-fuss and sassy short haircut is perfect for girls who want low maintenance. To style this look, tousle your towel-dried hair with your fingers and use some styling gel to help keep your hair going in the right direction. Dark brown is the trendy color match for this style.
#13: Bob with Random Lengthy Layers
Source
Love this stunning bob? With random lengthy layers throughout your hairstyle, the short choppy hair looks fuller and more dimensional. Plus, you can choose contrasting hair colors like silver and pink to make the layers edgy and eye-catching.
#14: Pastel Balayage
Source
For this powerful bob style, the fashion-forward balayage hair color is the highlight. Cut your hair chopped first, and then go for pastel hues, like silver, pink and lavender. These are trendy and dazzling when paired with a red lip.
#15: Randomly Cut Pixie
Source
This choppy pixie cut is completely edgy and outlandish, which is why it is becoming more and more popular in 2019. The jagged layers at the crown build a messy style that is sharp, cool and fun. Also, pink and creamy white hair color can mix with each other perfectly. All you need to do is wear it with confidence.
#16: Timeless One-Length Bob
Source
This timeless bob is best for fine hair. With the soft curls under, it still looks like a classic bob. But, it's important to choose a fashionable silver hue at the ends and roots to transform it into one of the trendiest haircuts this year.
#17: Short Bob with Long Sexy Bangs
Source
This truly is a fantastic and alternative style! Though fundamentally it is a short-stacked bob, it has long bangs that can almost cover one side of your beautiful face to create a sense of mystery. It's enticing and revealing at the same time, and if you rock this sexy short bob, you should tuck the hair of the shorter side behind your ear.
#18: Blonde Balayage
Source
If you are looking for a go-to short haircut, choose this blonde balayage. This choppy bob improves the contrast of your hair color, thus thickening your hair visually. Without completely changing a haircut, you can experience a fresh new style.
#19: Hair Color Magic
Source
More hair color magic! Don't forget to play with the hair color in 2019. We all know that a traditional black bob can be very boring, and of course you don't want to try that. Well, why not try these partial black and blue balayage highlights instead. It looks both cool and sweet.