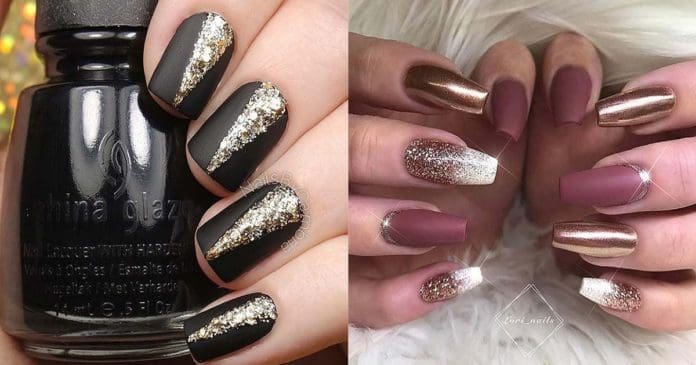 The party season is the perfect time to pull out all the stops on your nails. NYE calls for bold, glitzy and glamorous designs. There are so many amazing nail art ideas to choose from so it can be difficult finding the best ones. To help you with we have found 21 NYE nail ideas you need to try. Go into the new year in style with any of these nails designs!
1. GLAM GOLD SHIMMER NAILS
First up we have a beautiful gold nail design. The nails are in a long almond shape and have been painted in a shimmering gold. Nails like these can be done at home or at the nail salon. At home, you will need a gold polish and you could use your natural nails. Either way, this is a glam look that will suit any outfit and NYE event.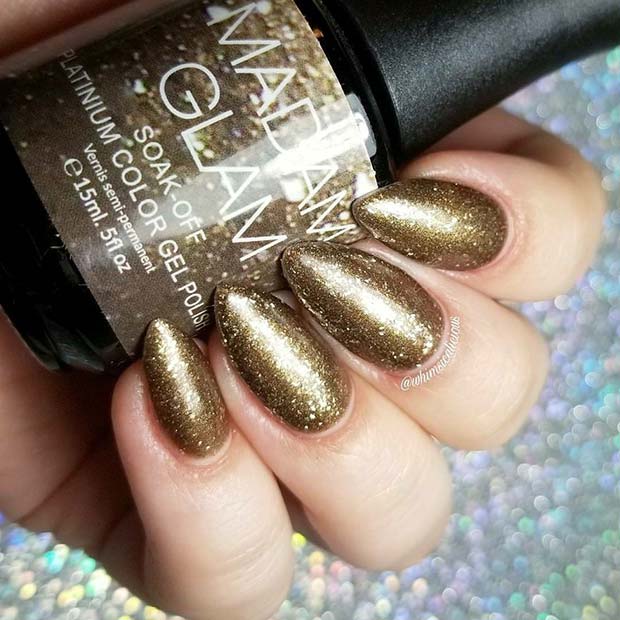 Source: @madam_glam
2. PRETTY NYE NAILS
Next, we have a gorgeous neutral manicure idea. There are four different colors and designs used. The thumb and little finger use Wet 'N' Wild Beauty French White Cream, the index nail uses Sally Hansen Bare It All, the middle nail uses Sally Hansen Golden-I and the ring finger uses Forever 21 Silver. The white and nude nails have been mattified. You could recreate this or just one of the styles used.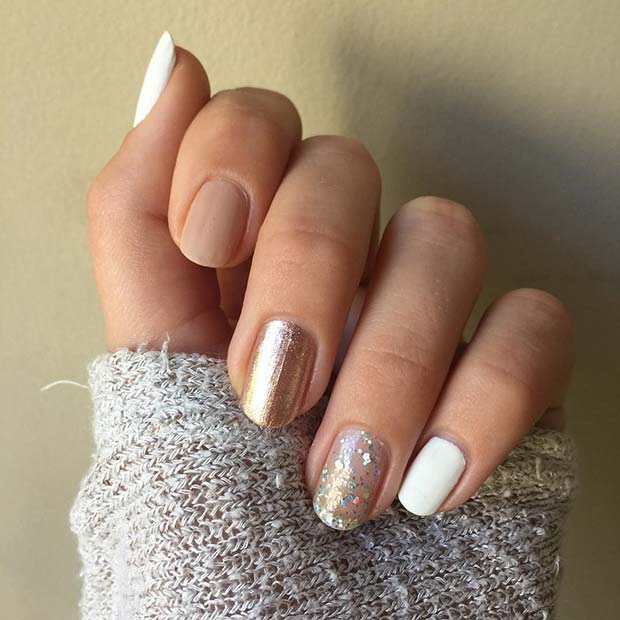 Source: @swimminglotusnails
3. BURGUNDY AND GLITTER
Burgundy is a must-have color for the winter. So, it would be a great color choice for your NYE nails. These nails feature a matte burgundy with two burgundy glitter nails. With a design like this your nails will be trendy and party ready.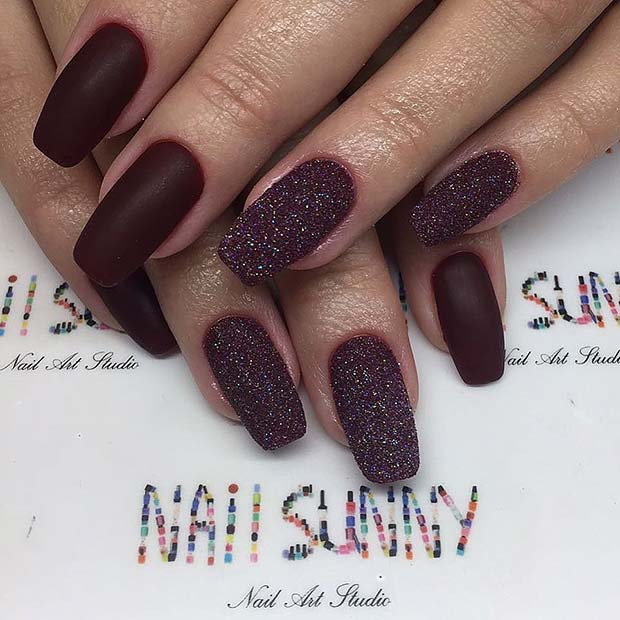 Source: @nail_sunny
4. NYE THEME NAILS
If you want fun, novelty and stylish nails then this next idea is for you. The nails all have a design in a NYE theme. One nail has a champagne glass, one has fireworks and the rest have gold glitter. You could recreate these in any colors and use just one design or all of them. These would look super cute for any new year event.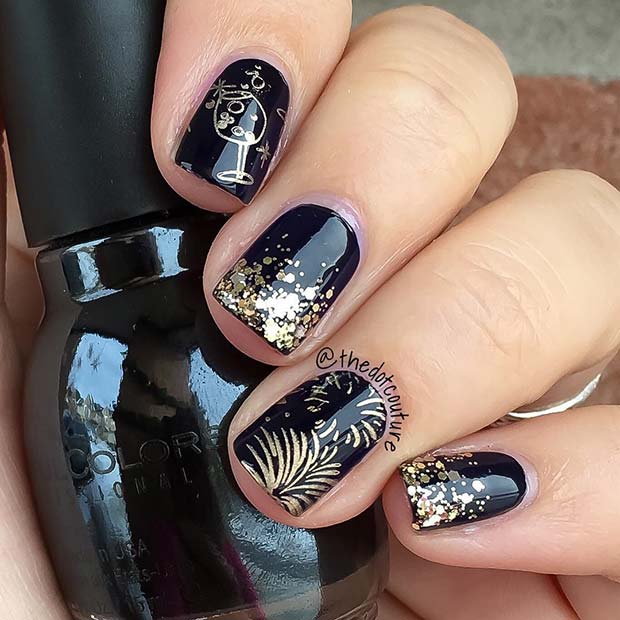 Source: @thedotcouture
5. GOLD, PINK AND WHITE
Next, we have a nail idea that is stunning and glamorous. The nails use gold polish, a pretty pink polish and white polish. There are also glitter accents to. You could recreate these different designs or just choose one. Either way you will have one stylish manicure.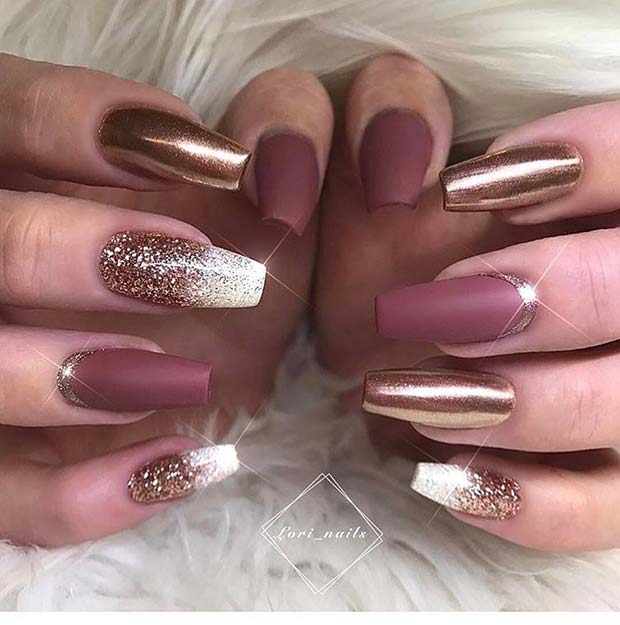 Source: @glamourgirlsnailworld
6. CHROME AND GLITTER
Our next nail idea is perfect for the ladies who like vibrant nails. These nails feature a purple/blue chrome and one nail is silver glitter. This chrome look is a very on trend so would make perfect NYE nails. A design like this will suit all nail lengths.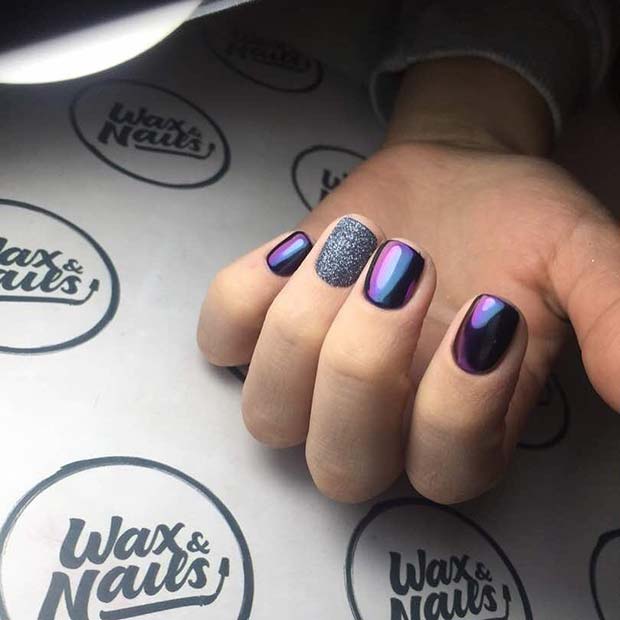 Source: @waxandnails_kg
7. GLITTER FRENCH MANICURE
Give your French manicure a party twist by adding glitter. This manicure features a nude base color with silver glitter tips. We love this glitzy design it is perfect for the party season. You could recreate your mani in these colors or maybe in a gold glitter instead.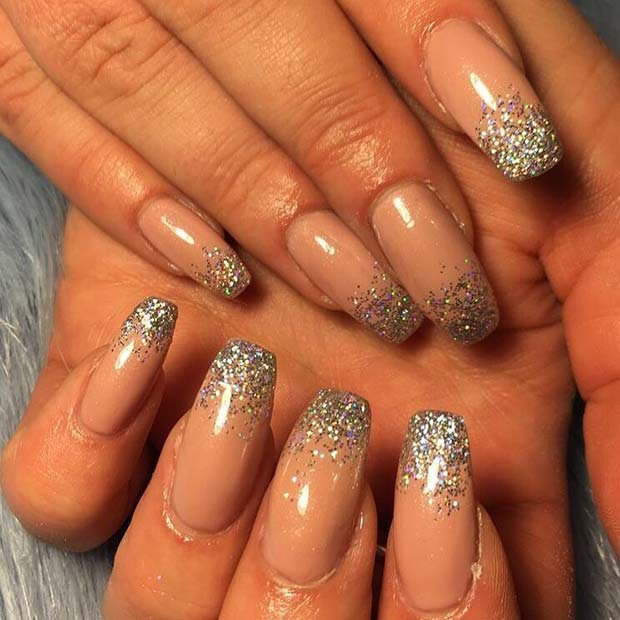 Source: @nailsby.ashleigh
8. PINK AND GEM NAIL DESIGN
Add some sparkle to your nails with embellishments like these. Lots of products where used to create all the different design but the bling thumb nail uses iridescent studs in different sizes. Gems like these can be bought online. You could recreate a design like this or experiment and create your own. Bling nails will look amazing for any NYE party.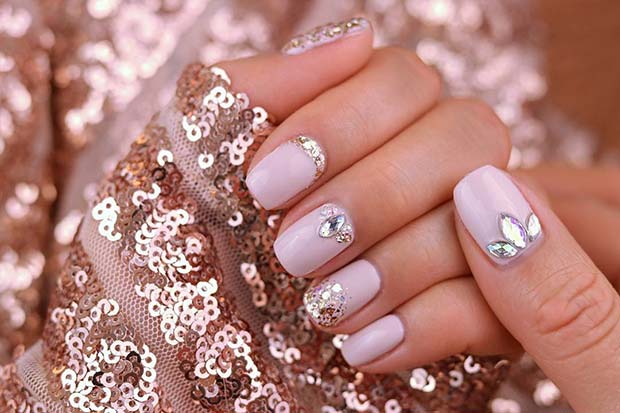 Source: @alicegoldenvalley
9. NAVY AND GLITTER
Next, we have a navy and glitter nail idea. The nails are painted navy with about half the nail covered in glitter. This is a design that could be created at home or in a nail salon. Something like this is great for the ladies who want a nice manicure that is quite simple to create. It would suit all nail lengths and you could try different colors.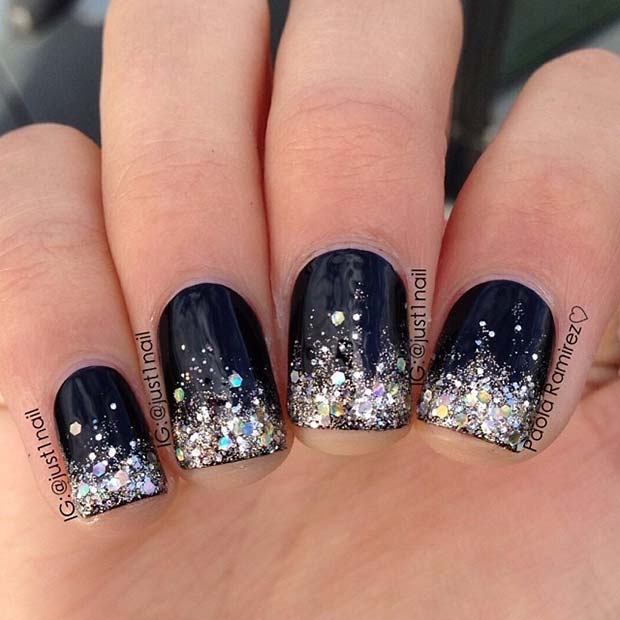 Source: @just1nail
10. BLING NAIL DESIGN
NYE is a special occasion so why not add some gems to your nails? This next nail design has a subtle ombre color with a small gem on the end of each nail. You could recreate this ombre look or just have one block color and gems. This is a glitzy idea perfect for a party.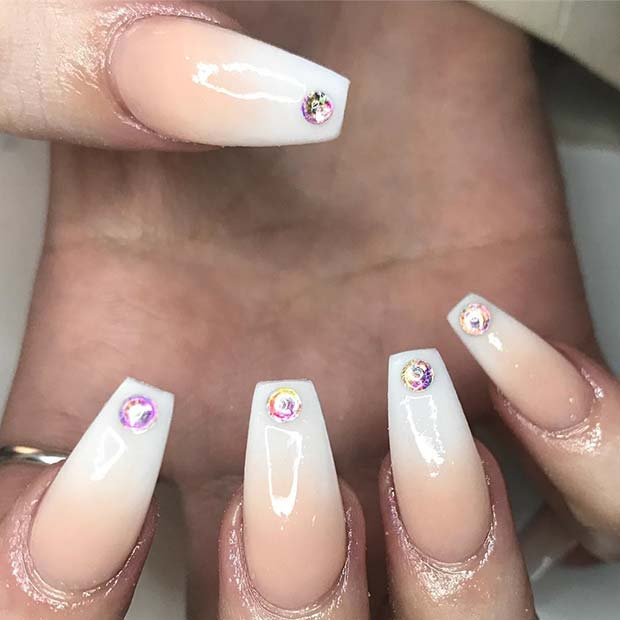 Source: @jodiemariesnails95
11. PRETTY PINK GLITTER NAILS
If you prefer subtler nails, then this nail design is for you. The nails are in a long oval shape and have a soft pink nail color with subtle silver glitter over the top. Nails like these would suit any lady and any nail length. Not only that but you could wear these nails after NYE too.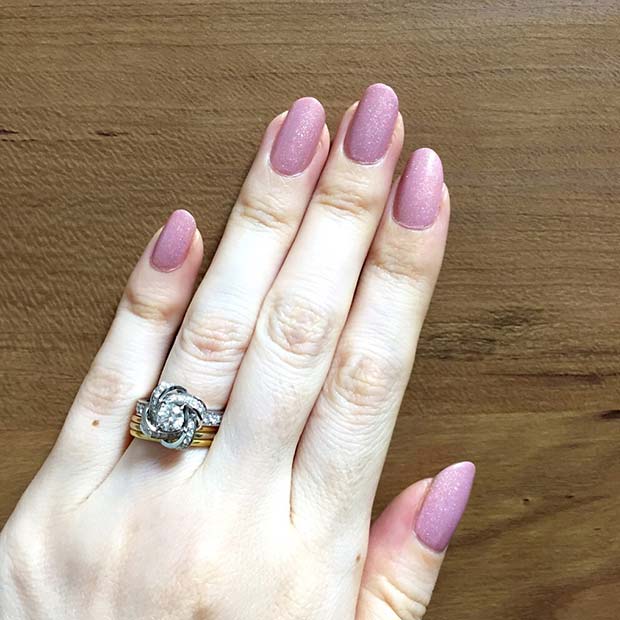 Source: @non_non4888
12. TRENDY METALLIC NAILS
Metallic nails are perfect for any party especially an NYE party. The nails will catch the light and will add some trendy glitz to your look. You can get metallic nails in any color you like. Gold would be very glam too. A design like this will suit any nail length too.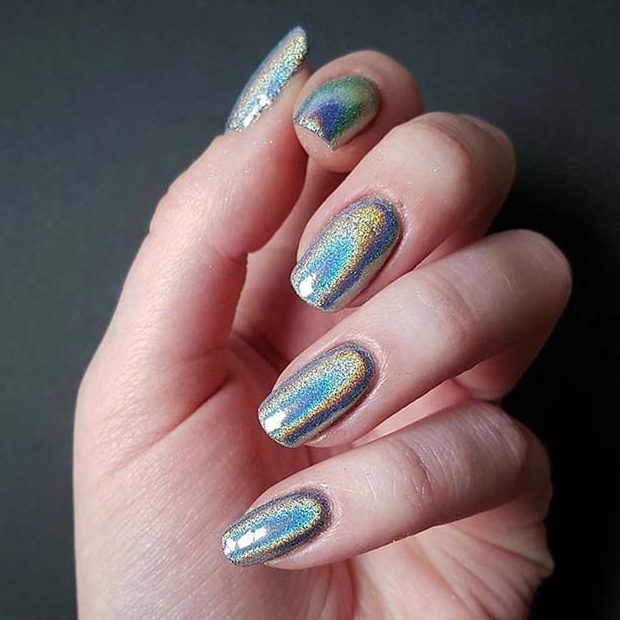 Source: @madam_glam
13. BLACK GLITTER
Want a chic and sparkly look? Then these nails are for you. The design is simple, it is a black nail polish with silver glitter on the top. To create a similar look at home just paint your nails in black and then put a glitter coat over the top. Nails like these are super stylish and will suit everyone.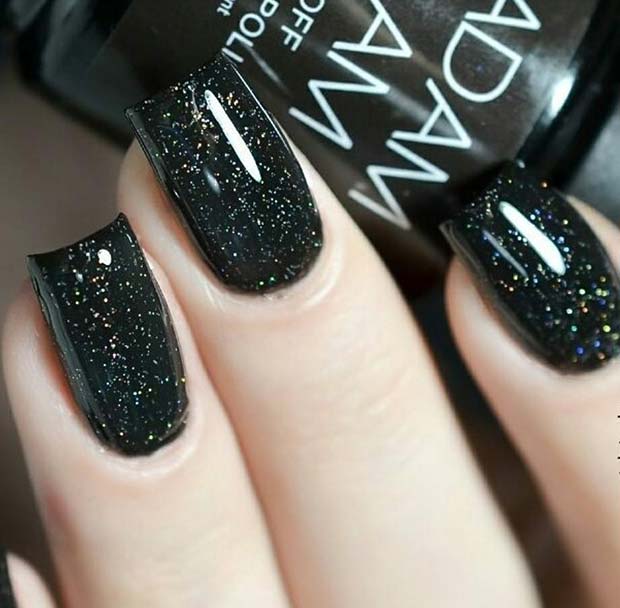 Source: @madam_glam
14. SILVER GLITTER NAILS
If you liked the glitter French manicure from earlier in the post, then you may like this idea too. It is a similar idea, but the nails are a different shape and the different color. The nails are lighter, and the glitter is more delicate. This is perfect for someone who wants pretty and sparkly nails for NYE.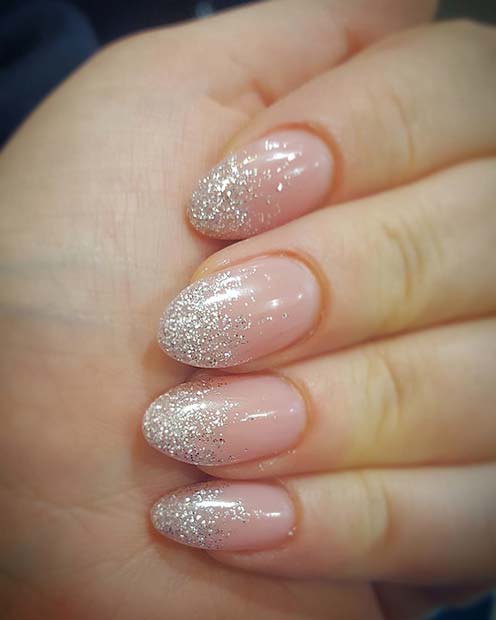 Source: @ninacreatesnails
15. GOLD GLITTER NAILS
Prefer nails that are bolder? Then these nails are for you! These nails are completely covered in gold and will shine brightly. You could recreate these or in any other color, but gold is super glam. Glitter like this will look great on any nail length.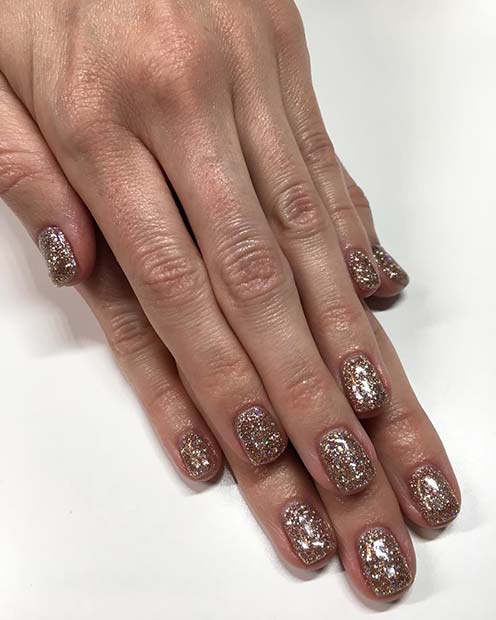 Source: @becks_gelnails
16. STYLISH BLACK NAIL IDEA
Our next nail idea features glitter nails and nails with a funky design. All the nails are painted black with two shimmering nails and one of the nails has a chevron style design. We love this nail because the design is clear which breaks up the black and gives it a chic look. You could recreate this whole look or just go for one. We recommend the chevron style!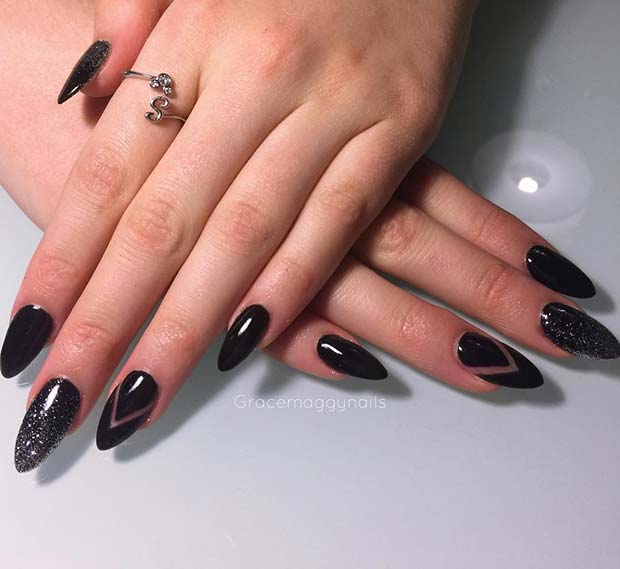 Source: @gracemaggynails
17. CHROME MERMAID NAILS
We featured a nail design earlier in the post that had a purple/blue chrome effect. This next nail idea is a different take on the mermaid chrome. These nails are in stiletto shape with a "mermaid" chrome. The chrome effect has streaks of green, blue, pink and purple. We love these nails they will wow at any event.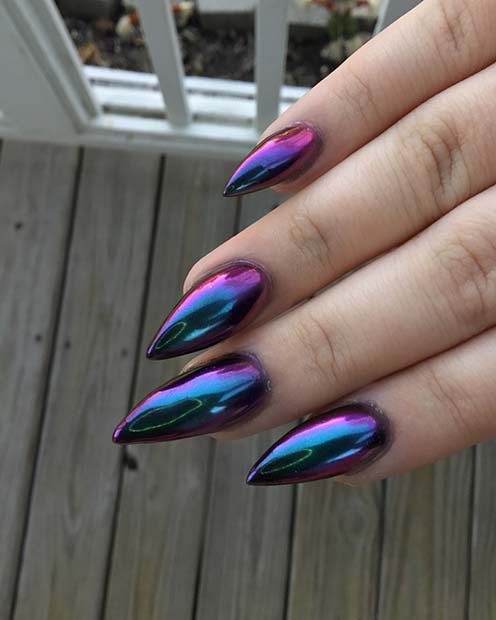 Source: @cheyennesnails_
18. CHIC BLACK AND GOLD GLITTER DESIGN
Next, we have a stunning black and gold nail design to show you. The nails are painted matte black and have a gold glitter triangle shape on them. We love this color combo and think the unique shape gives them a super stylish look. You could recreate these in any color, black and silver would be gorgeous too.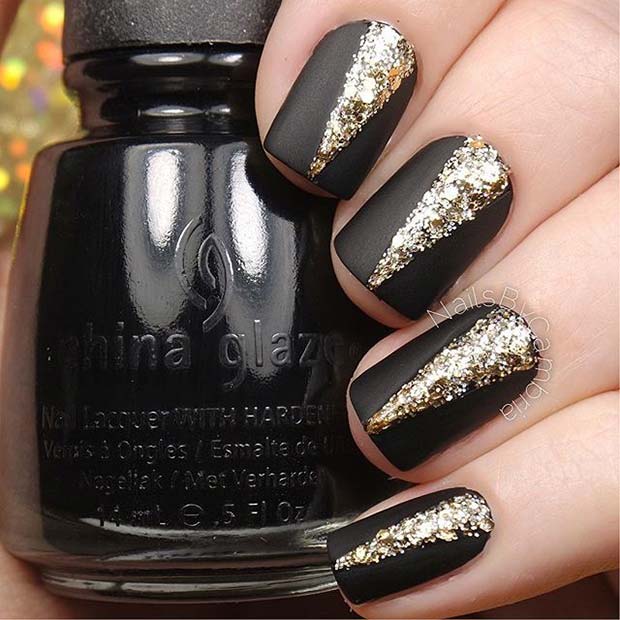 Source: @nailsbycambria
19. PINK AND GLITTER NAIL DESIGN
Pink nails always look super cute. This nail idea features a light pink with two silver glitter accent nails. This is a pretty and elegant design. You could go for a similar manicure with just the pink color or add some glitter as it is NYE. Either way pink will always be a hit. You could have any nail length and shape with this simple design too.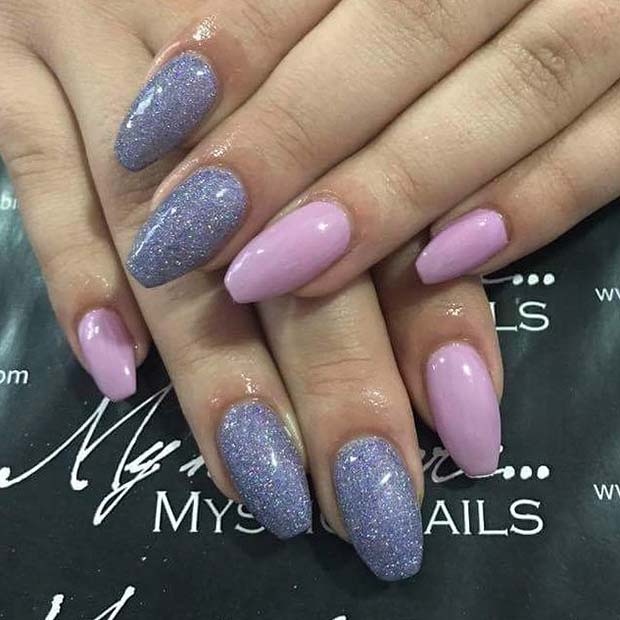 Source: @keti_dance_nails