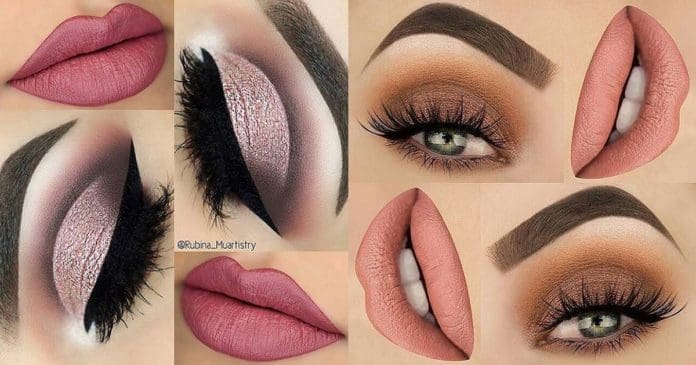 Spring has brought with it fresh new trends, not only in fashion but also in beauty. You have probably already updated your wardrobe but now it's time to give your makeup bag a refresh too. There are so many gorgeous makeup styles out there. We have narrowed the search down to 20 looks that are a stylish spring must have.
1. FLASH OF BLUE
Our first look has a beautiful flash of blue. This is one of the easiest ways to update your look because it has a classic eyeliner style on the upper lid and the blue on the bottom. The classic eyeliner might be something you wear already and the blue will refresh it for the new season.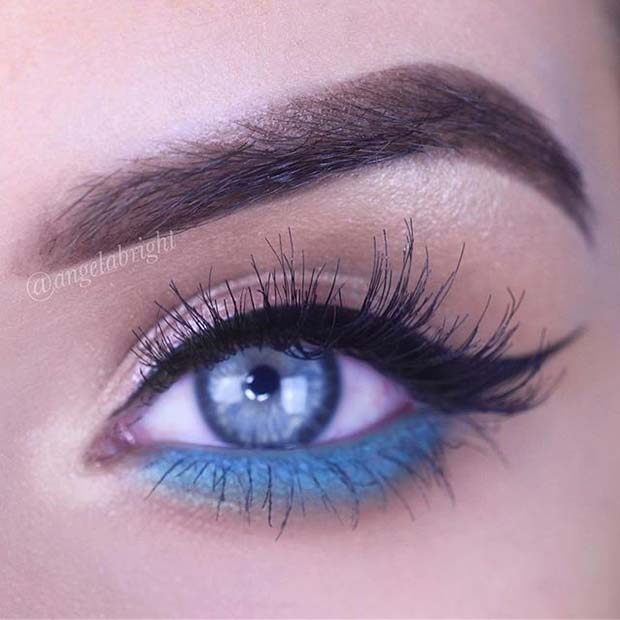 Source: @angelabright
2. BARELY THERE
One of the big trends of the season is a fresh face with a bright lipstick. It is easy to create you can just use light shadows and a light sweep of mascara with a vibrant lipstick. You could even be brave and just go natural. However, you choose to wear we can see that this is a gorgeous look for the spring and summer.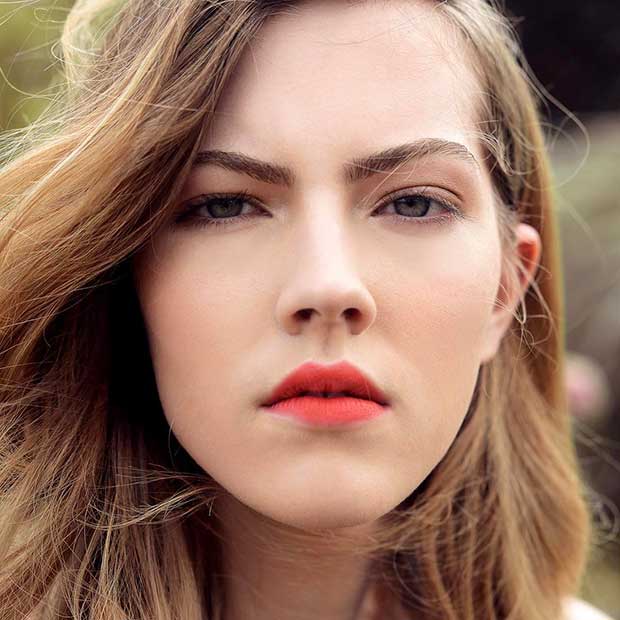 Source: @kireimakeup
3. BOLD LIP COLOR
It is time to step up your lip color game. This season is all about experimenting and creating a bold look, so it's time for the light shades to step aside. Try a bright orange tone like this one. You'll make a stylish statement for any occasion.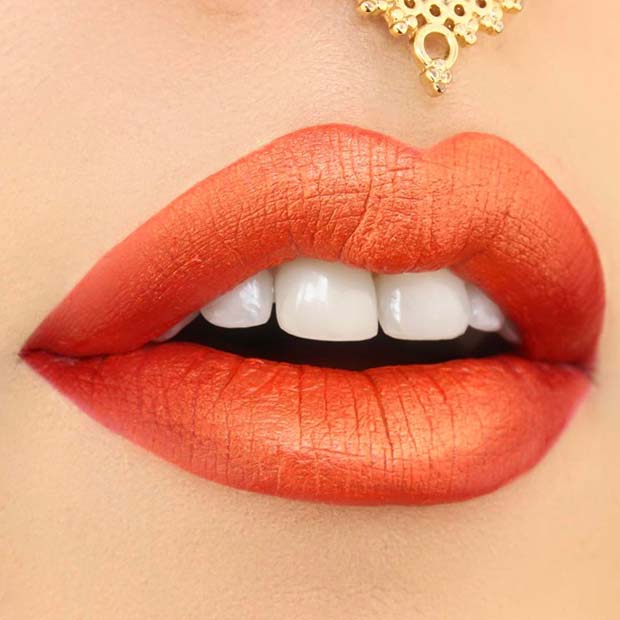 Source: @andeedoll
4. NUDE MAKEUP
If bright colors are just not your thing, then fear not! We have found a stunning look created using a nude color palette. This is a simple look that everyone could re-create. It is a timeless style that will look chic all year round.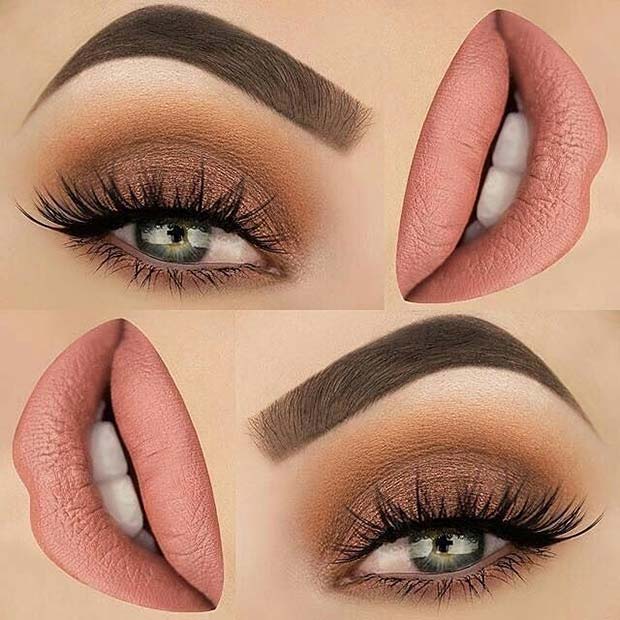 Source: @farrahjuliann
5. VIBRANT ORANGE AND BLUE
Fashion and beauty is a way to express your personality and have some fun. The next makeup look shows how we can experiment with different mascaras and shadows to create a unique style. This palette combines some of the hottest colors of the season. It is a simple idea that will make a stylish impact.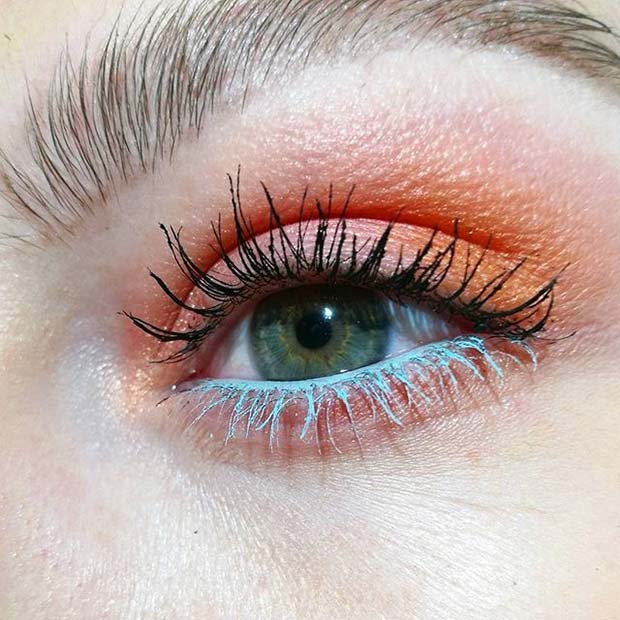 Source: @oslocityfss
6. MULTI COLOR EYE SHADOW
The next look is for the trendsetters. This funky style combines many shades and breaks the mold of matching our eye colors. You could go all out like this and create four different blends on the top and the bottom. If you're just giving it a try have a go at not matching underneath the eyes. It is a fun look to try this spring.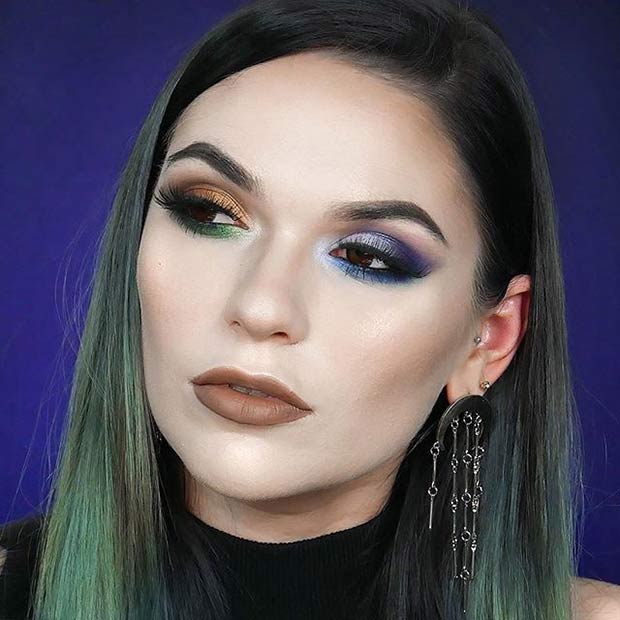 Source: @alicexlockhart
7. RED LIPS
A classic red lip never goes out of fashion, making it a style favourite again for this season. Red will instantly add a touch of glamour to your look. It will go with everything and can be worn for any occasion. There is a shade of red to suit everyone so give it a go.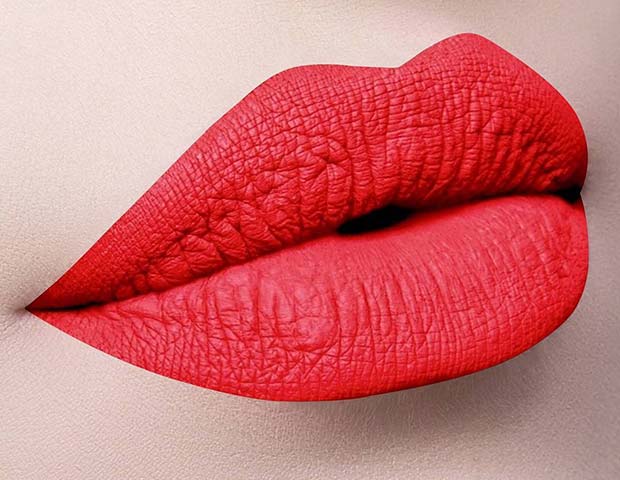 Source: @cosmetics_parfums_ua
8. SPRING PURPLE
Makeup is an easy way to add the seasons colors to your look. You don't to splash out on an outfit, just a lipstick or eyeliner. This purple look is super stylish. It's chic, glam and on trend. Any of the seasons shades would work with a makeup style like this. Just a flick of eyeliner and sweep of lipstick and you're good to go.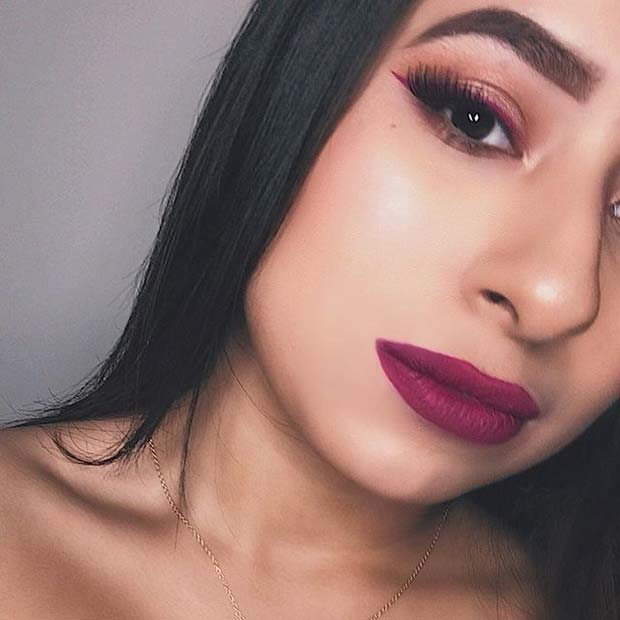 Source: @beatbysof
9. LIGHT GLITTER
Add some sparkle to your look this spring with glitter! Glitter is fun and will jazz up your look. You can be as bold as you like with this. Add a lot for a statement maker or try a subtle sweep like this one. It just gives your makeup and extra special touch. Would be great for parties.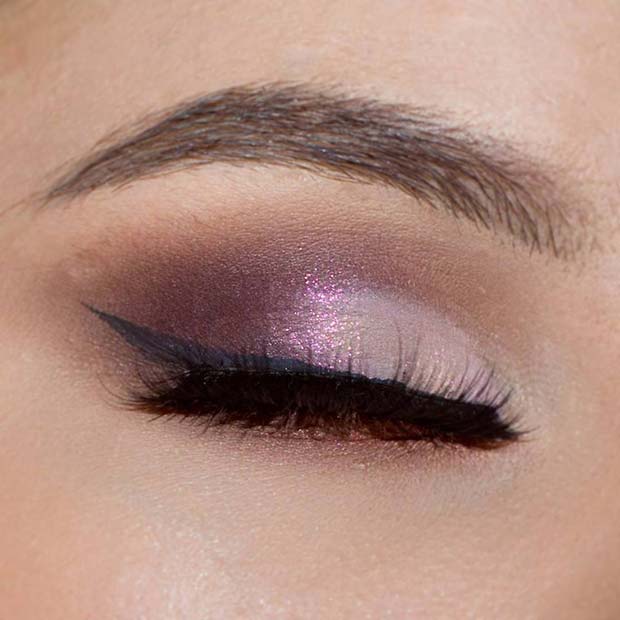 Source: @darieczka
10. CLASSIC EYELINER
Just like red lips, classic black eyeliner never goes out of style. The black eyeliner looks chic and sophisticated with the neutral eye shadows and lips. This is a great staple look that will be on trend season after season. You could mix it up by adding different shades of shadows and lip colors.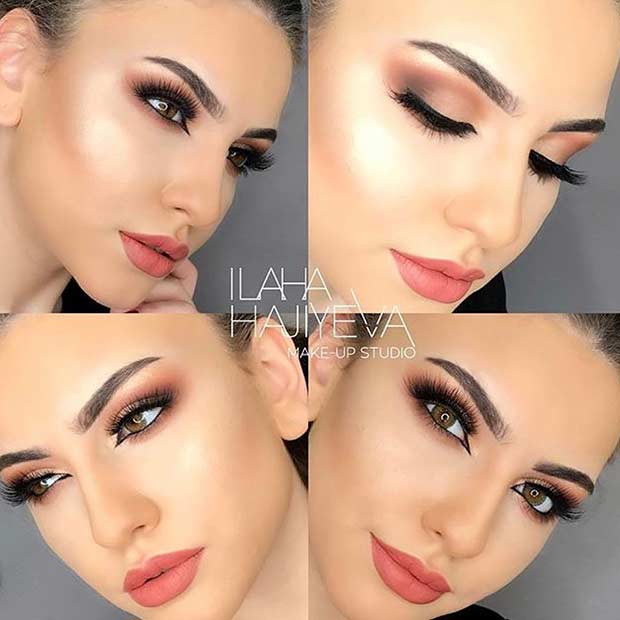 Source: @ilahahajiyeva_makeup_beauty
11. COLOR SWAP
We love this fun and funky look! This topsy-turvy style is a simple idea that creates a quirky effect. If you like trying new things and love to be bold then give this a try. The colors look beautiful for spring and can be changed to your favorite shades.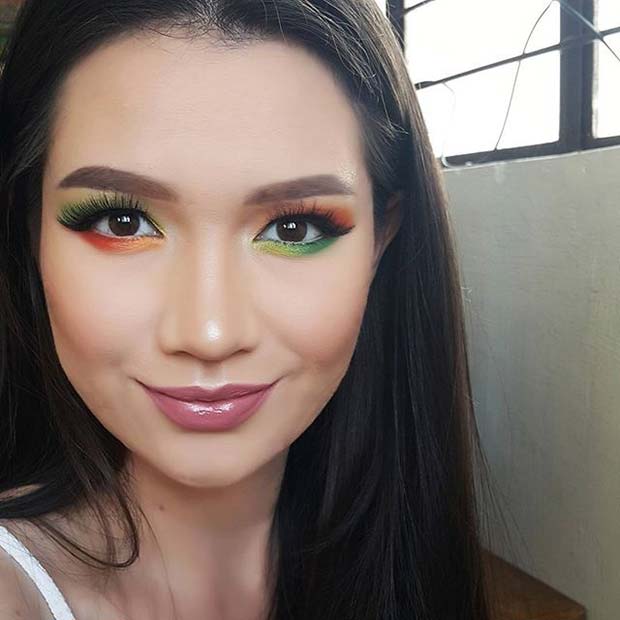 Source: @nejmedhurst
12. PASTEL EYE MAKEUP
You couldn't have spring without pastel colors. These soft tones make a comeback every year. With eye makeup like this you can see why! This is a beautiful blend of light tones and creates a stunning look. Would be perfect for everyday and also special occasions like weddings. Everyone loves pastel shades at weddings.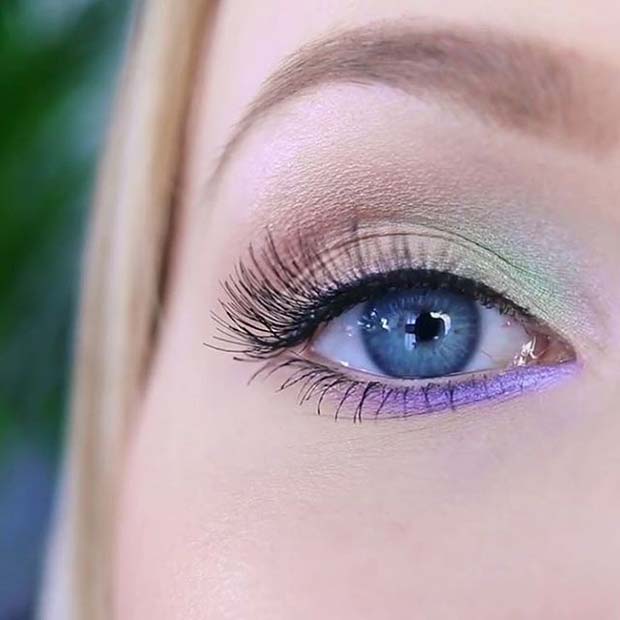 Source: @thebeauty2go
13. POP OF PURPLE
Our next look can be created in a few ways. You could create this bold look with the bright colors of the eyes and vibrant lips. This would be an awesome look for festival season! If the whole state look isn't for you try just the lips or eyes. The trendsetting style will still be there. Almost any color could be used.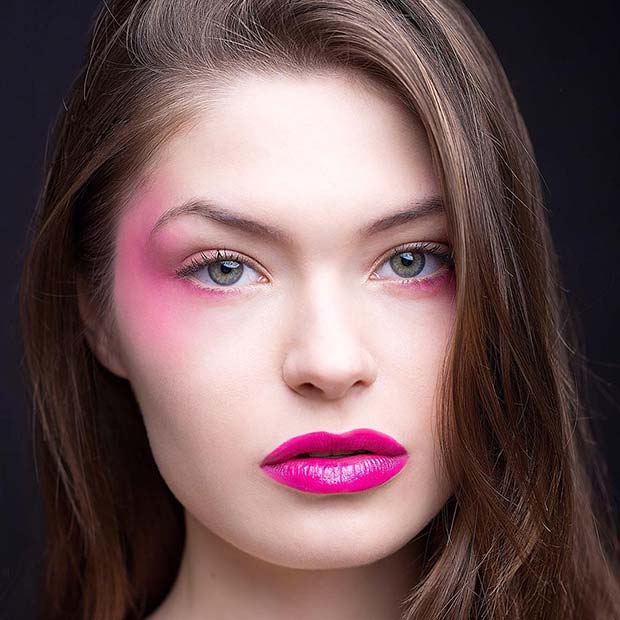 Source: @laurelenamakeup
14. PRETTY IN PINK
Pink is always a popular color at this time of year. It's bright, fun and feminine. A little pop of pink on your eyelids will refresh your whole look for the new season. There are so many shades of pink available to suit every eye and skin color. Just experiment to find what you like.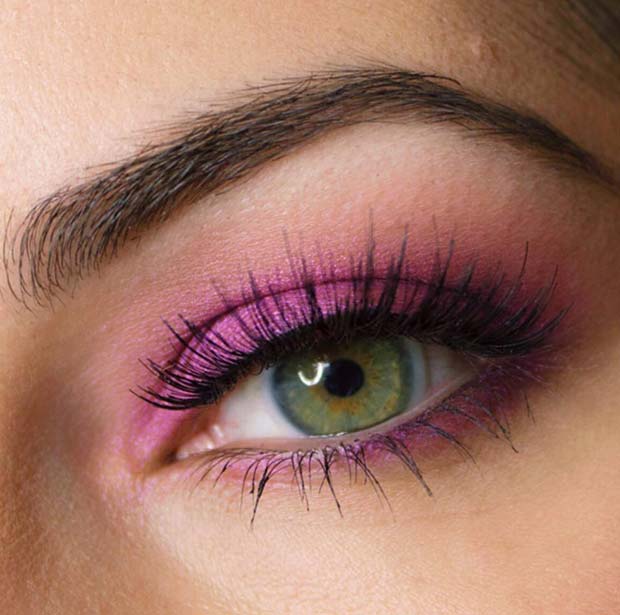 Source: @themakeupartist.ca
15. BLUE EYELINER
Here is the classic eyeliner flick with a twist! Instead of the dark black color try a rich blue like this. You still get the drama of the eyeliner but it has a fresh spring vibe. We love this and it has opened up the idea to all the other colors that could be used. The bright lipstick finishes off the look beautifully.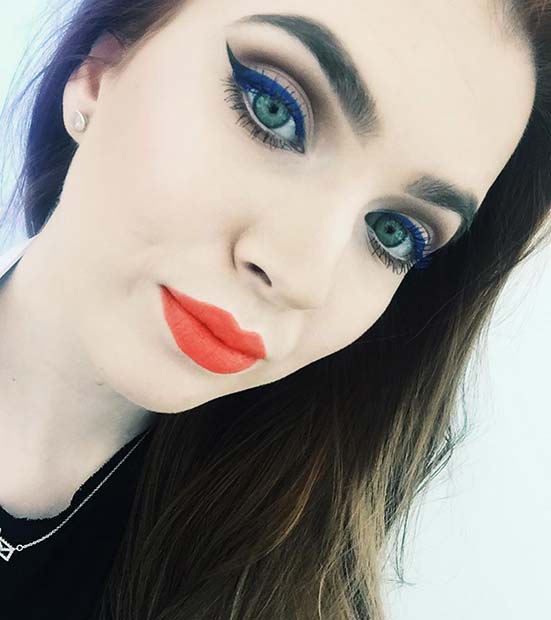 Source: @nin_hurcikova
16. VIBRANT PINK LIP COLOR
We have covered wearing pink eyeshadow for the season and here is how to wear pink lipstick in style. This candy pink is gorgeous and will brighten up any look. Bright lip colors will give your face a lift and make you look instantly spring ready.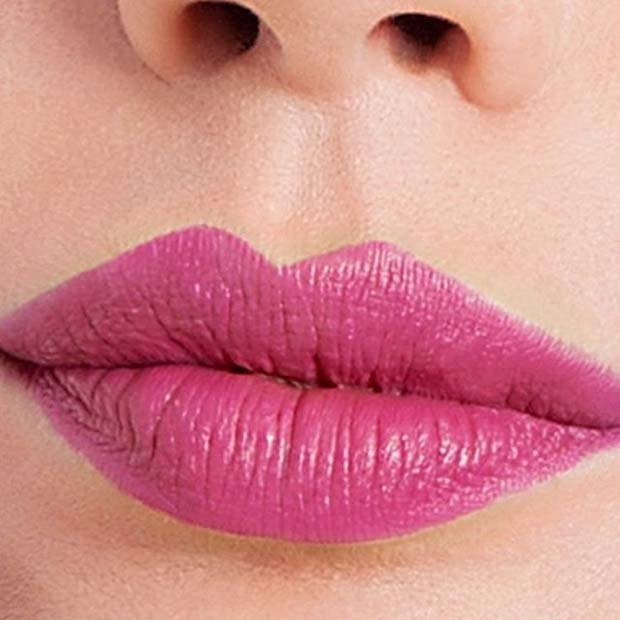 Source: @nouveaucosmeticsmilano
17. GLITTERING GOLD
If you're looking for something glam then this is the look for you! The glittering gold eyeshadow gives a beautiful bronzed look that will make you look sun-kissed for the warmer weather. It is a gorgeous style for spring and will look fab in summer to. Would be perfect for a special occasion.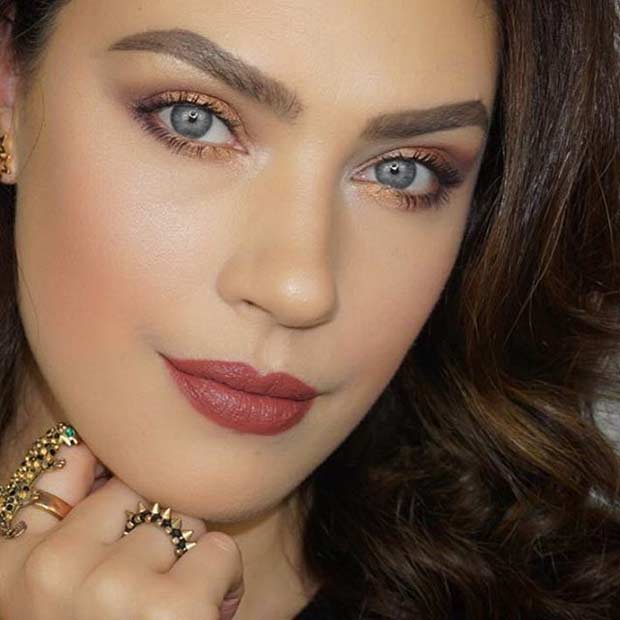 Source: @carollago
18. SPRING GLAMOUR
Our next look will just wow. The use of glitter and pink tones are just stunning. Makeup like this is guaranteed to up your style game. As it is super glamorous a look like this would be great for a special event, night out or date night.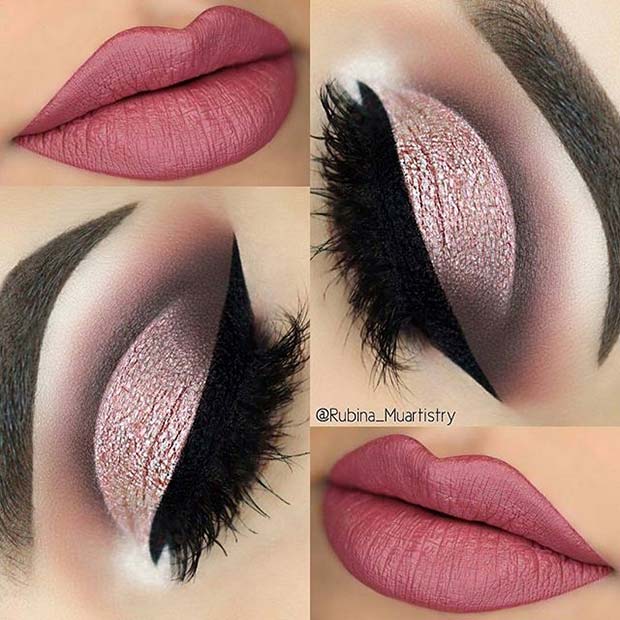 Source: @rubina_muartistry
19. FLASH OF ORANGE
Orange is one of the must have colors of the season and it looks very trendy as a lip color. It is a shade that doesn't need much else, it speaks for itself. So, if trying this vibrant tone try keeping the eyes light and natural looking. Something like this is an easy look to create making it perfect for busy fashionistas on the go.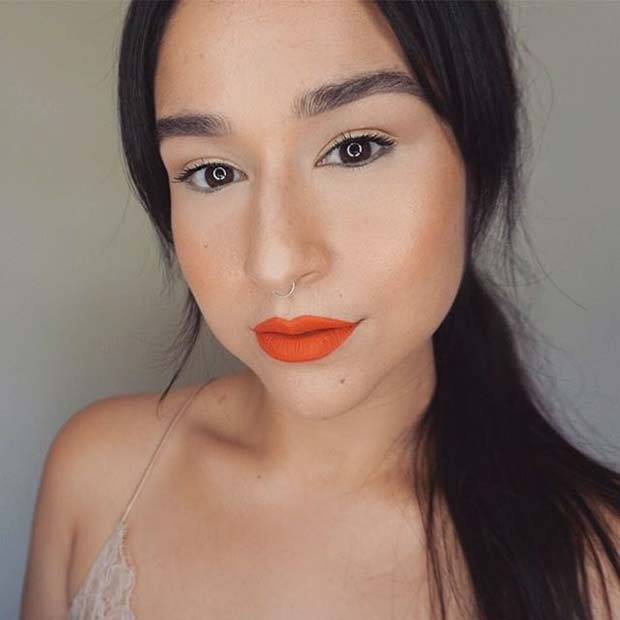 Source: @classicneens
20. SPRING PASTELS
Here is another way to add spring pastels to your makeup. This is a bold style but provides a lot of inspiration. Pastel colors are a must have!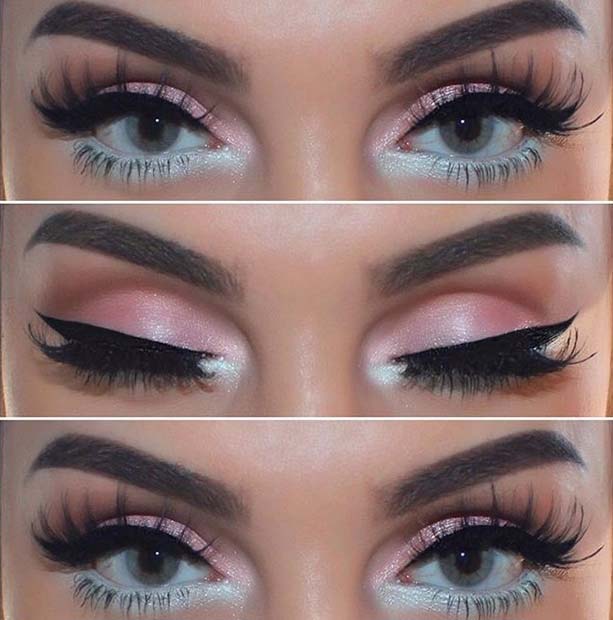 Source: @efpemakeup
We hope you have been inspired by these makeup ideas. We have!