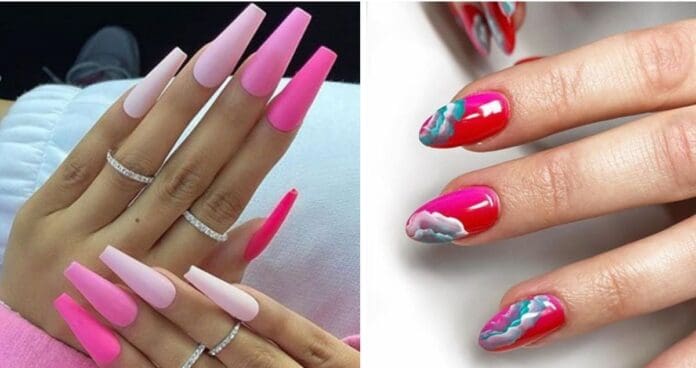 Pink is such an amazingly versatile nail color that there is bound to be a shade that everyone will love. Use it to create charming designs from happy smiling faces and loving hearts to abstract art and elegant ombre. Whether you choose a sweet pastel shade or a bright and vibrant neon shade, you will be inspired by this pink nail design.
1. Smiley Face Nail Art
Wear your feelings on your nails with this happy pink nail art. Depending on how stable your hand is, you can draw these emojis freehand. In addition, stickers or false nails are also a great option. The neutral pink glitter background looks pretty and makes faces stand out. Also, the great thing about this design is that if pink is not your favorite color, you can change it to any color combination.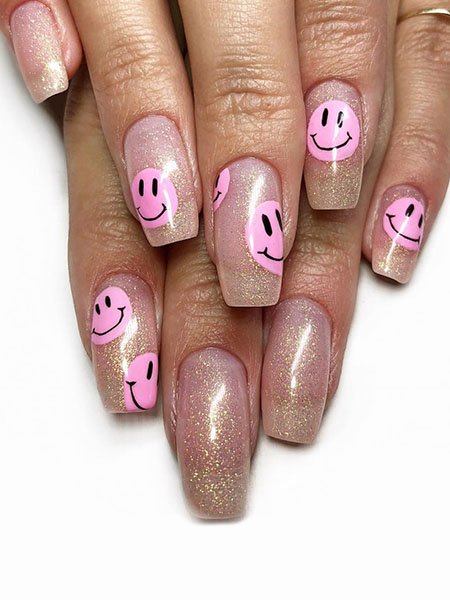 2. Shades of Pink Nails
Why choose one shade of pink when you can have several. This stunning look works best when you have different depths of pink from the same color family. Use the same warm or cool shades and go lighter with each color. Apply the darkest shade to your thumbs and work from there. You can choose a matte or glossy finish depending on your personal preference. It's simple yet elegant with a playful, fun twist.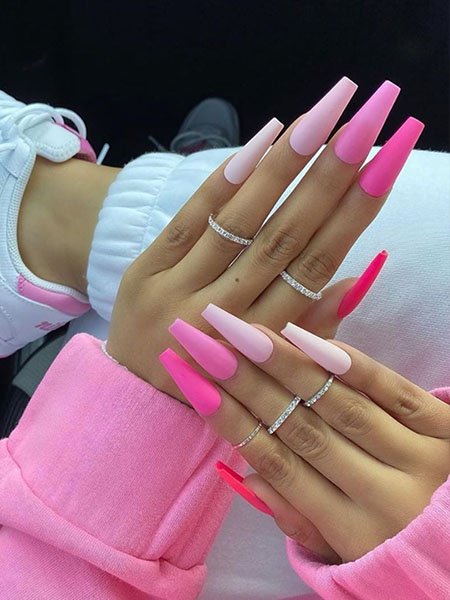 3. Pink Ombre Nails
Ombre nails are on trend right now and pink is the perfect shade for this design. A smooth transition from dark to light looks amazing and is a great way to combine multiple colors. In addition, you can achieve this effect using nail polish, powder, acrylic or gels. It can be a little tricky with some colors like black; however, pink is a great place to start because it's easier to achieve the perfect fade with it.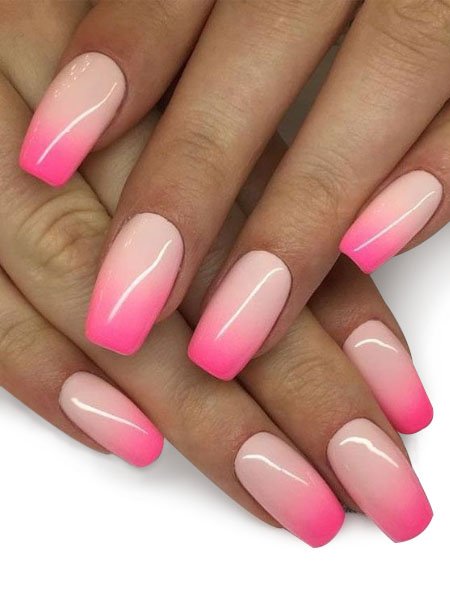 4. Pink Watercolour Effect Nails
Channel your inner artist and unleash your creative juices with beautiful pink watercolor nails. This design is a unique take on rainbow nails that looks incredible yet is very easy to achieve. Apply a base coat, then a coat of white polish and a top coat. Then apply a drop of your first color to a non-porous surface and add a couple of drops of acetone before mixing. Then, using a thin brush, smear the paint on the nail with smearing movements. Repeat with the rest of the colors until you achieve the desired effect. Finally, coat it with a shiny top coat to prevent chipping and wear. You will instantly feel like an artist with this piece of art at your fingertips.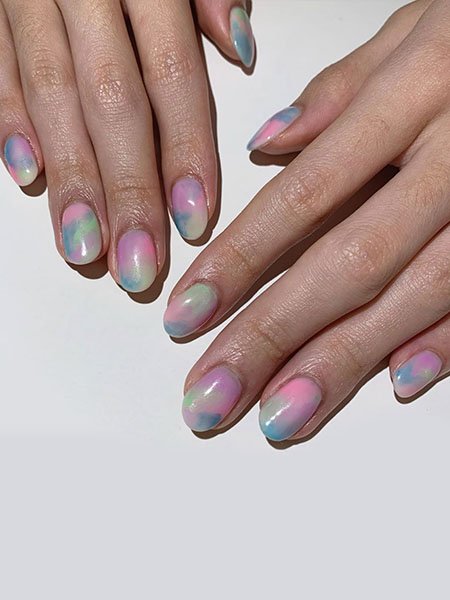 5. Pink Pop Art Nails
Return to Saturday morning cartoons and cheap candy on the corner with these fun pink pop art nails. Sailor Moon and strawberry Hubba Bubba were the dream of every teenage girl. However, just because those years have passed doesn't mean you can relive them. Just be sure to visit a good manicurist with a steady hand to bring your vision to life. Why not try other fun TV and candy combinations like Laffy Taffy and Eliza Thornberry or Chupa Chups and The Powerpuff Girls.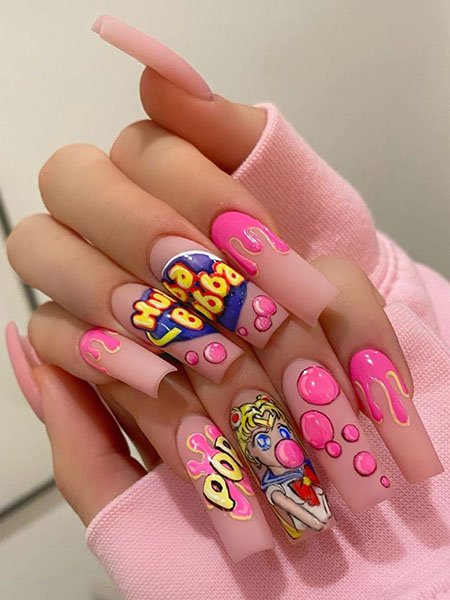 6. Pink Nails with Minnie Mouse Detail
Disney fans will love this adorable design featuring the original princess, the one and only Minnie Mouse. This pattern works best on round or square nails, which adds to the innocence of the art. The soft pink color contrasts beautifully with the white nail, drawing attention to the Minnie motif. Meanwhile, white polka dots tie the whole look together. It's a beautiful tribute to a well-known character without being overly luxurious.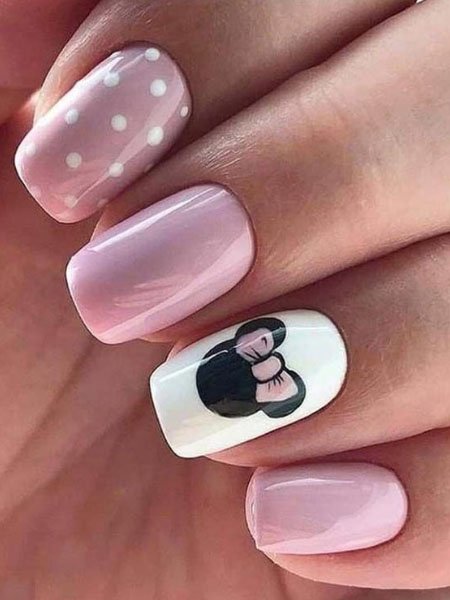 7. Pink Holographic Nail Art
Add sparkle and shine to your manicure with holographic nail art. This is an energetic take on pink nails that refract light and create a rainbow of colors. This look will be appropriate both at the summer festival and at the pool in Las Vegas. You can use holographic powder or foil sheets to create this look. The best part is that the holographic design looks great on nails of any length and shape.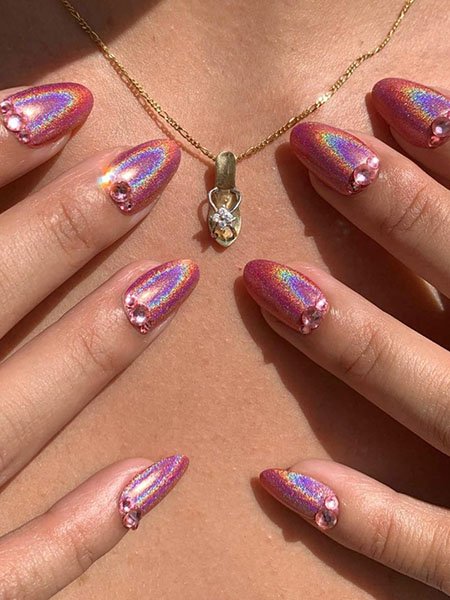 8. Pink Hearts Nail Art
Why wear your heart on your sleeve when you can wear it on your nails? This favorite look is cute, innocent and perfect for a date night. Just choose a light pink color for the background and then use a thin brush to paint hearts with a darker shade on the nail. If you want to change something, try drawing a combination of small and large hearts. Your partner will feel your love for him as soon as he takes your well-groomed hand.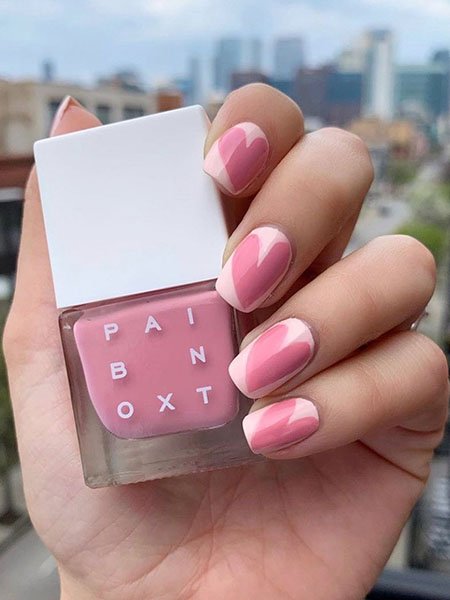 9. Pink Dalmatian Nails
This Dalmatian design is made for dog owners. Show your appreciation for the adorable pink-and-brown spotted hound. All you need is a thin brush to paint hot pink blotches on nude or pastel backgrounds. The fun colors ensure you have more of a Roger and Anita vibe rather than an evil Cruella De Vil.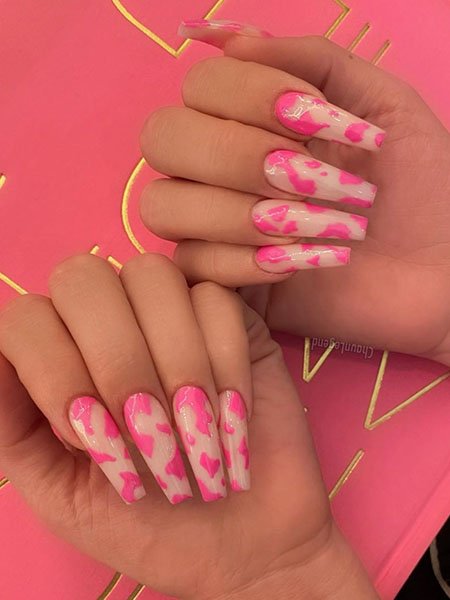 10. Pink and Purple Nails
Pink and purple make a beautiful pair. This simple design uses white space and clean lines to create a fun, easy-to-carry look that's perfect for the weekend. All you need to do this yourself is your pink and purple shades, a top coat, and some nail tape to keep your lines crisp. Start with a lighter color, secure the area with tape, and fill it in. Wait for it to dry completely before trying the second color and then apply the topcoat. This design works best on medium-length oval or almond-shaped nails.