Pink is such a multi-faceted nail shade that there's likely to be one everyone will appreciate. Make beautiful designs, from happy smiley eyes and sweet hearts to abstract art, and elegant ombre. No matter if you opt for a delicate pastel shade or a vibrant and bright neon color you'll be enthralled by this pretty nail design.
1. Smiley Face Nail Art
Show your love for your nails by wearing this cheerful manicure. Based on how steady the hand you have, could draw these emojis in freehand. Also fake nails or stickers can also be a good alternative. This neutral background is beautiful and makes people stand out. Another great thing with the design, is, if pink isn't your preferred shade, it is possible to alter the color to any combination of colors.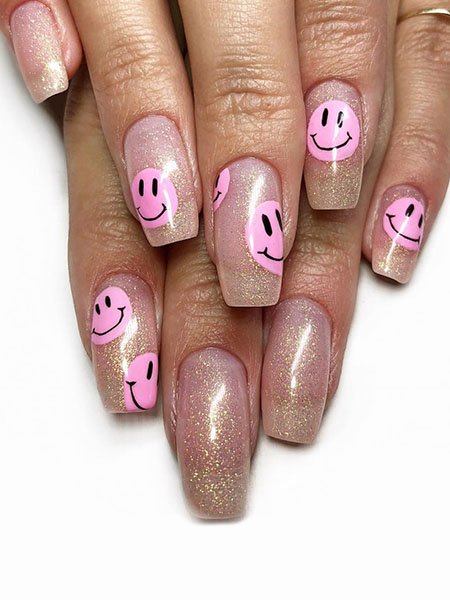 2. Shades of Pink Nails
Why settle for only one shade of pink when could have a variety. This stunning style is ideal when you have multiple shades of pink in similar color families. Apply the same cool or warm shades and lighten with each shade. Apply the darkest shade on your thumbs, then work from there. You can opt for the glossy or matte look depending on your own personal preferences. It's elegant and simple with a an exciting, fun twist.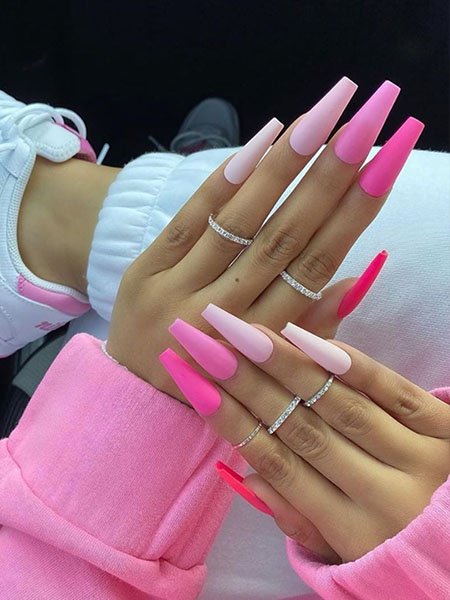 3. Pink Ombre Nails
Ombre nails are trending at the moment, as is pink, which happens to be the ideal color for this style. The seamless transition from light to dark looks stunning and is a fantastic option to blend various shades. You can also create this effect with nails, polish, or gels. It's a bit difficult with certain colors, such as black, however, pink is the best color to begin because it's much easier to create the perfect fade using it.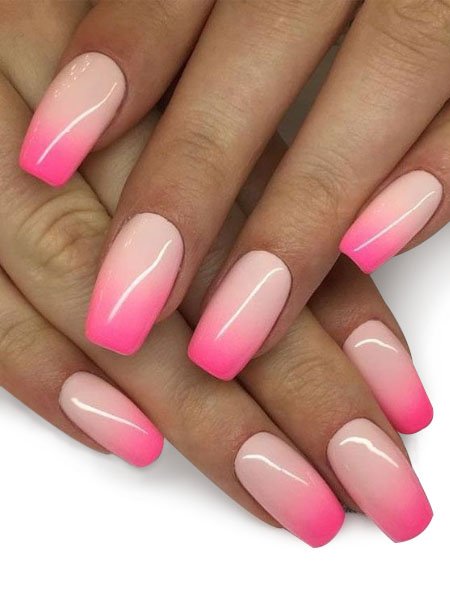 4. Pink Watercolour Effect Nails
Find your inner artist and unleash your creativity by adorning your nails with gorgeous pink watercolors. This is a different design which looks stunning and is easy to create. Apply the base coat, followed by an application of white polish and then a top coat. After that, apply a drop of your primary color on an unporous surface. Add two drops of acetone to mix. Utilizing a small brush, spread the color on the nail by smears. Repeat the process with the rest of your colors till you have the desired look. Then, you can finish it off with a glossy top coat to stop the paint from chipping and wearing. You'll instantly feel like an artist when you hold this masterpiece right at your fingertips.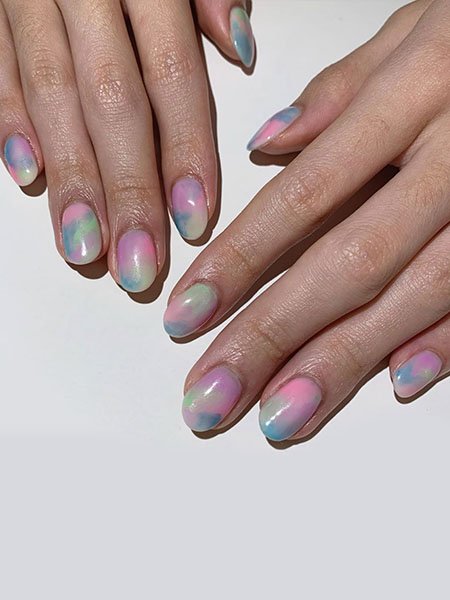 5. Pink Pop Art Nails
Bring back Saturday morning cartoons, and the inexpensive candy at the corner with these cute pop art pink nails. Sailor Moon and Strawberry Hubba Bubba were the dream of every teenager. But just because these years are over doesn't mean that you are unable to revisit these memories. Be sure to seek out a skilled manicurist with an experienced hands to help bring the dream to reality. You can also try other exciting combination of candy and TV such as Laffy Taffy as well as Eliza Thornberry or Chupa Chups and The Powerpuff Girls.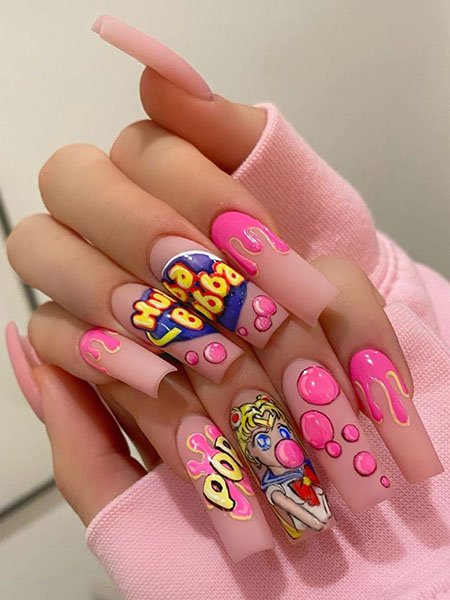 6. Pink Nails with Minnie Mouse Detail
Disney fans will be thrilled by this adorable design that features Minnie Mouse, the original princess. Minnie Mouse. Minnie Mouse. This design works best on square or round nails, that adds to the quaintness that is the essence of art. The soft pink shade is stunningly contrasted with nails of white, bringing focus to it's Minnie motif. The white polka dots bring the entire design together. It's a lovely tribute to a famous character , without being extravagant.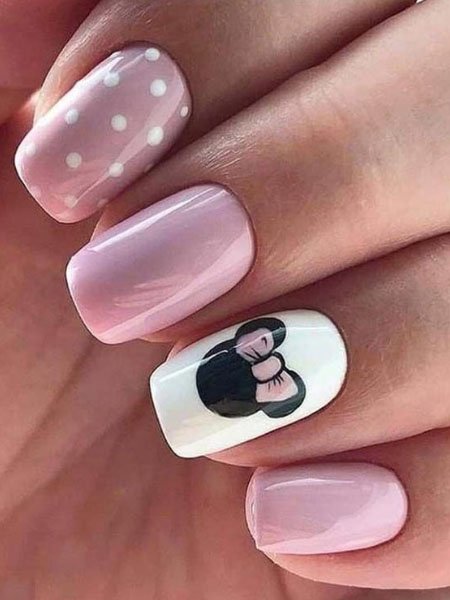 7. Pink Holographic Nail Art
Bring sparkle and shine to your manicure by using Holographic nail art. This is a fun version of pink nails that reflect light and produce the appearance of a rainbow. This style is suitable for summer festivals as well as at the pool in Las Vegas. You can apply foil sheets or holographic powder to achieve this look. The greatest feature is that this holographic pattern can be seen on nail of all lengths or shape.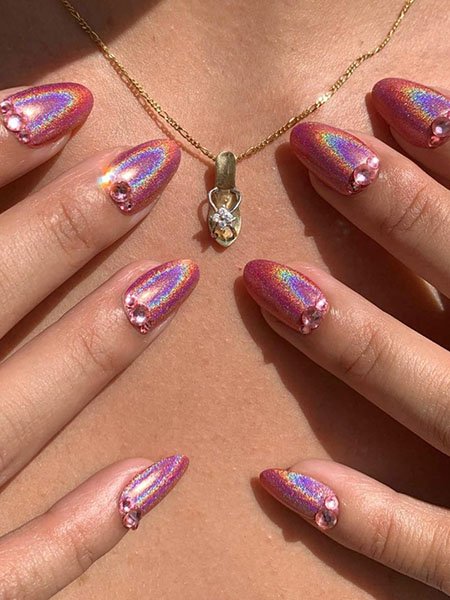 8. Pink Hearts Nail Art
What's the point of wearing your love on your sleeves when it could wear the same sentiment on nails? This style is cute innocent and ideal for a romantic night out. Choose an icy pink color for the background , and apply a fine brush to draw hearts with darker hues on your nail. If you're looking to modify the look of something, you can draw an assortment of large and small hearts. Your loved one will feel the love you have for him the moment the moment he touches your freshly groomed hand.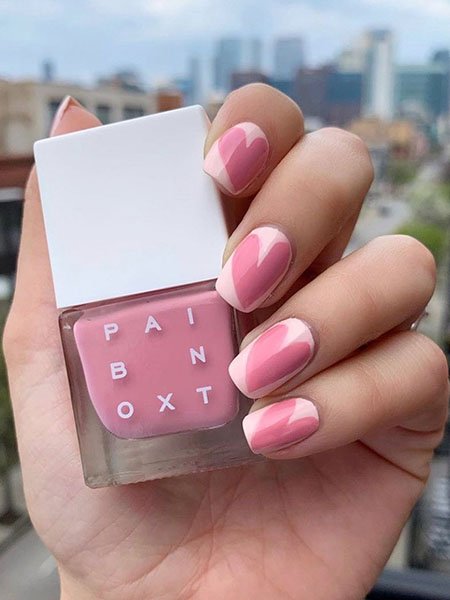 9. Pink Dalmatian Nails
It's a Dalmatian design is specifically designed for pet owners. It is a way to show your appreciation for the adorable brown-and-pink canine. All you require is a fine brush to apply hot pink blotches over pastel or naked backgrounds. The vibrant colors will ensure that you'll have an Roger and Anita style instead of a sinister Cruella De Vil.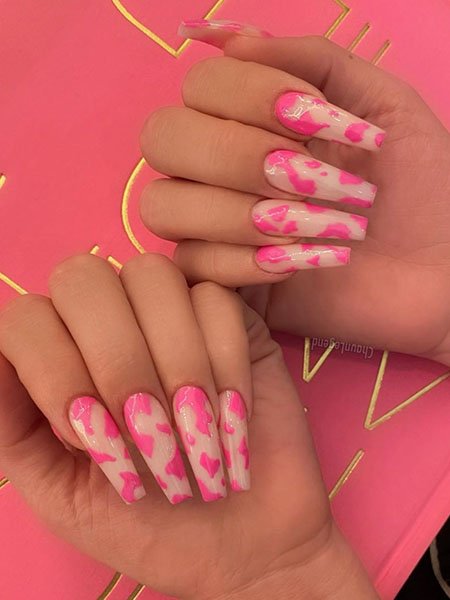 10. Pink and Purple Nails
Pink and purple are stunning combination. This simple style makes use of clear lines and white space to create a playful easy-to-wear look that's great for a weekend. All you'll need to do it yourself is colors of purple and pink and a top coat as well as some tape for keeping your lines clean. Begin with a lighter shade and secure the area using tape and then add the color. Let it dry completely before applying the next color. Then add the finish. This style is ideal for medium-length oval nails or almond-shaped nails.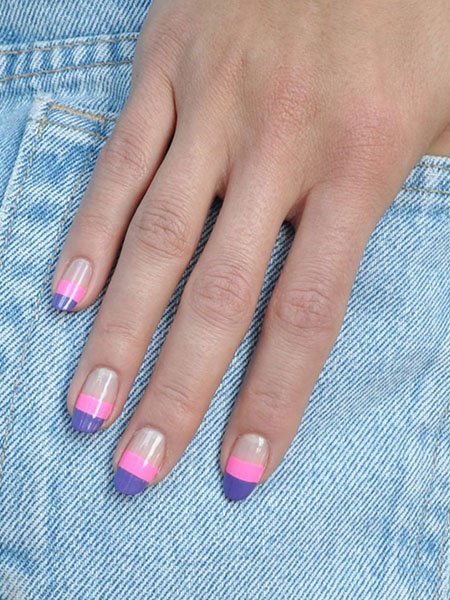 11. Pink and Nude Nail Art
Make sure you choose something different with a pink and un-nude nail art. While this manicure might seem boring sometimes, it employs black and gold-colored stickers to give it a certain make it pop. In addition, a vivid coral pink color on the other nails creates the style and adds a pop of color. This style is elegant and enjoyable.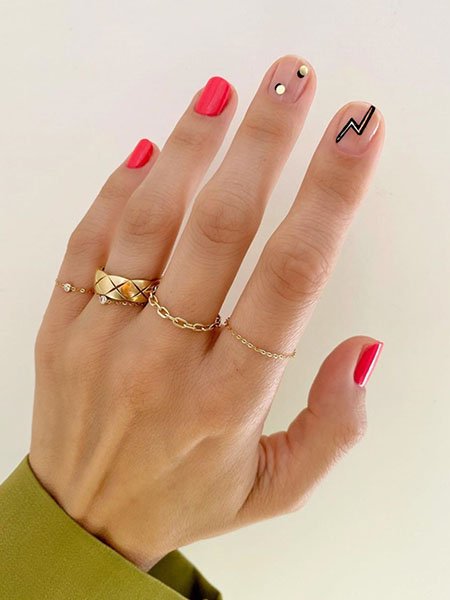 12. Pink and Green Nails
If you're unable to be able to get Harry Styles' Watermelon Sugar tune out of your head, this cute design is for you. The colors of pink and green recall delicious fruit, and are an ideal treat for hot summer days. It's also easy to create. All you have to do is tap the ends of your green nail with nail tape to create a clean edge. After drying you can apply a second coat of pink to one horizontal side of the nail. It is possible to apply black dots if would like to recreate the watermelon ambiance.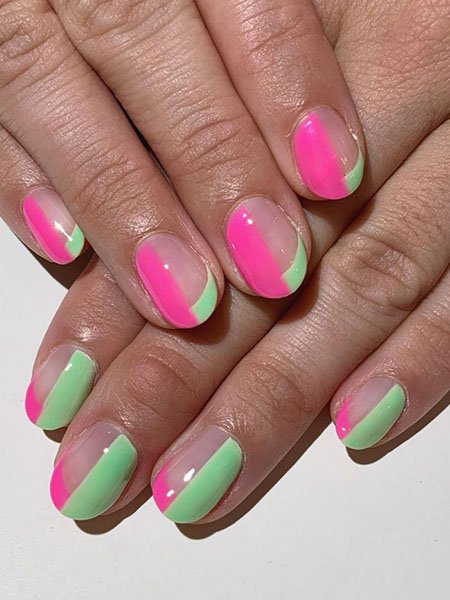 13. Pink and Gold Glitter Nails
Include some fairy dust in your nails by adding gold and pink glitter nails. This sparkling style is ideal for girls' birthday parties, New Year's Eve or any celebration. It's youthful, fun and striking. Utilize nail tape to cut an arc at the bottom of the nail, close towards the cuticle. After that, apply the gold base coat as well as glitter polish to add. Apply glitter polish on the sponge and then dab it onto your nails to conceal glitter when it appears a bit thin. Finish the manicure with hot pink to the tips. If you don't own gold glitter nail polish could use nail decals for the same look.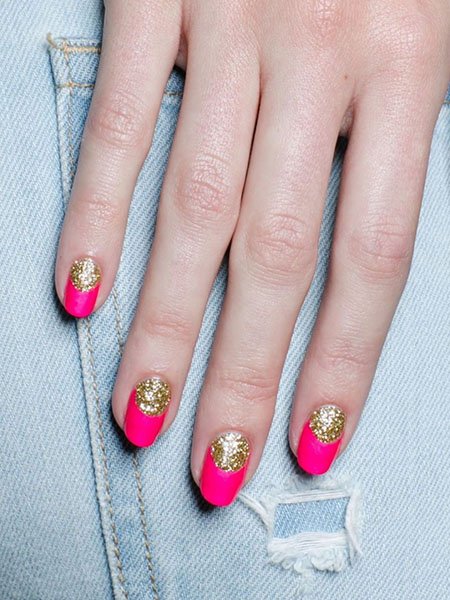 14. Pink Abstract Art Nails
Abstract art doesn't have to be confined to galleries, it should be seen in every day every day. This art style in pink utilizes the stark contrast of the pale pink, black, and white to create a stunning masterpiece. The open area of the nail creates the illusion of empty space, which gives it an extra dimension and interest. This is the perfect style for the bold and artistic individuals who want something different from an ordinary manicure.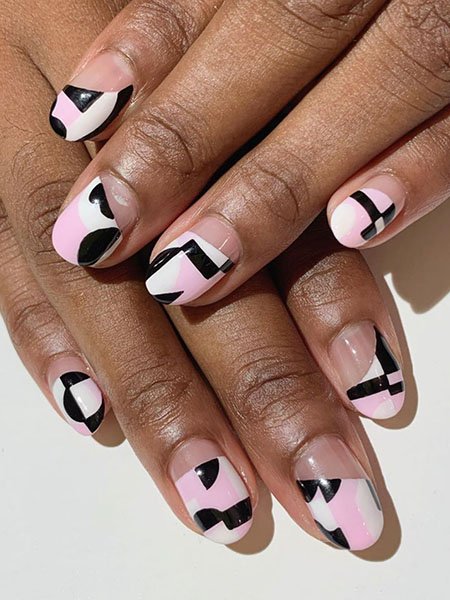 15. Neon Pink and Baby Blue Nail Art
Although neon pink with baby blue might not be the most perfect combination but they are actually working in opposite directions. As with other styles in this collection This style also makes use of white space to add details and interest. Make use of this combination to make a great backdrop for an event such as brunch or even a bachelorette party. Wear it with faded jeans as well as a white classic shirt and let your hair be the talk of the town.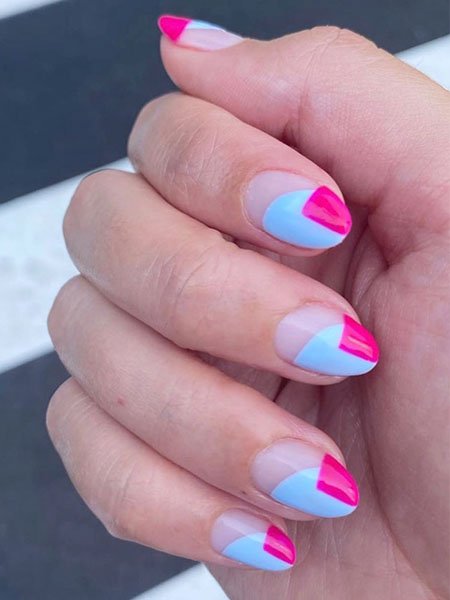 16. Mosaic Neon Pink Nails
The amazing neon pink nail mosaics require time, but are worth the effort. The combination of vibrant texture and color looks stunning. To create one of your own, require the base color and an orange stick, fine tweezers and miniature pink nail polish. Apply the polish quickly, while it has not dried, you can use the stick of orange or even tweezers place your glitters in the order you want. Then, you can finish it off with a top coat to ensure that the look lasts. you are able to proudly show off your new look to everyone you meet.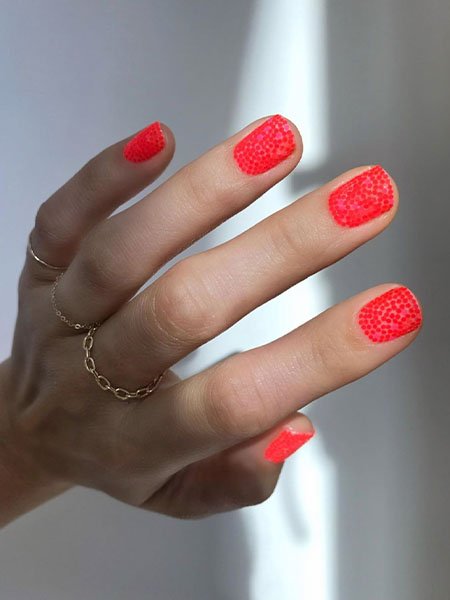 17. Modern French Pink Manicure
French manicures are stylish and timeless. But, at times, you might want something different. The trendy pink French manicure is a combination of two worlds. Make use of a strong hand tape or nail adhesive to create the outline of a hot pink over the edge of your flesh-colored nail. It's intriguing without going excessive and provides subtle hue. This is an excellent alternative for situations when the nail color is too large, for example, at work.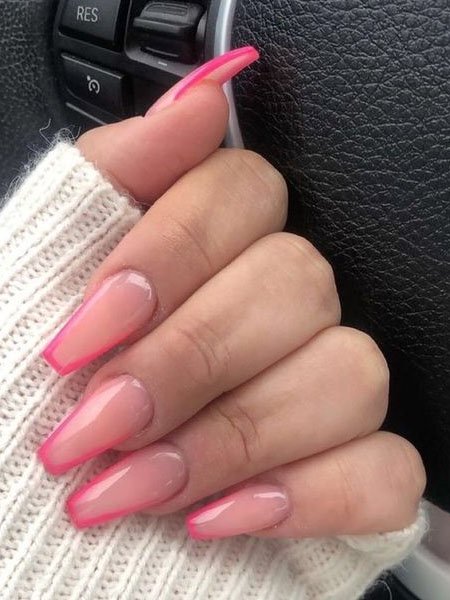 18. Gift Wrap Pink Nail Design
Dress yourself like the present you're giving! This cute pink design incorporates the best gift wrapping and adds a touch of elegance to your nails. From cute polka dots , candy stripes, and the love heart, it's an eclectic mix of modern fashions. The pastel palette performs well, however should you wish to make the colors more vibrant hot pink can be a good choice too.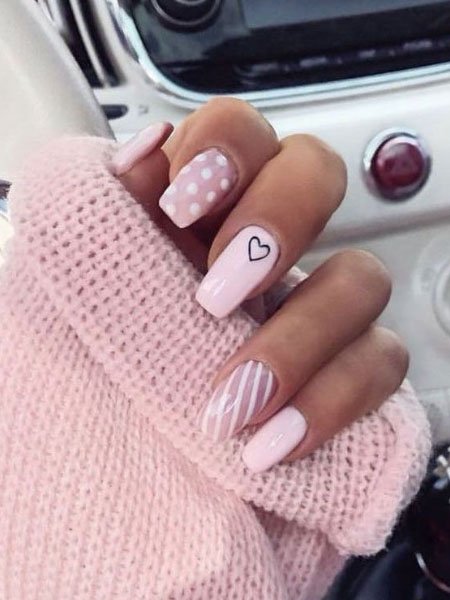 19. Contemporary Nail Art
This distinctive pink nail art creates vertical ombres with details like the popular resin art which is currently going through the social networks. Make use of a sponge to create an ombre rose-red base and then select two colors to create the wave effect. Include a few drops for each hue on an unporous surface and some drops of Acetone. Mix them to smooth the texture. After that, you can make waves using a fine brush using paint at a time. You can also use a straw blow the paint out when it's still damp to create a wave-like effect. It's a bit difficult to master the method however once you master it you'll be able to create your own only limit.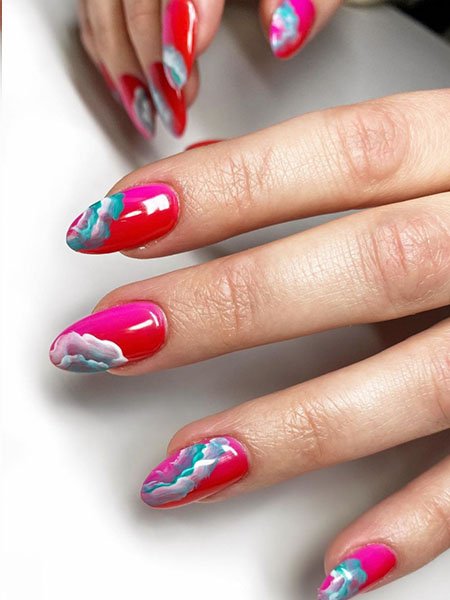 20. Beverly Hills Hotel Inspired Art
The Beverly Hills Hotel is a luxurious and historic Los Angeles hotel that has been welcoming guests to its doors for more than 100 years. Honor this landmark with nail art inspired by its unique pastel pink interior and lush palm trees. Choose a warm pastel pink base coat. Next, using a small brush paint palm trees and leaves of the tropical plants. It is best to get the best results mixing whites and greens for more dimension. This manicure can make you look as elegant as Hollywood stars that grace hotel lobby areas.