From autumn leaves, to cooler temperatures, and striking shades, this season is among the most inspiring fashion seasons. No matter what you love about browns and neutrals, never forget to add a splash of colour to your outfit or opt for a minimalist look throughout the year We've found an ideal fall nail look that fashion-conscious ladies will be able to appreciate.
1. Column Chart Design Nails
Use fall colors to create a playful look. This playful geometric design draws the inspiration of bar charts and employs shades that are ideal for the time of year. For this simple manicure Take smaller pieces of tape and apply them in the manner you prefer. You can add some flair to the appearance by altering the placement that the lines are on your fingers. Whatever the length and shape of your nails this can be a great option to add some flair to your outfit.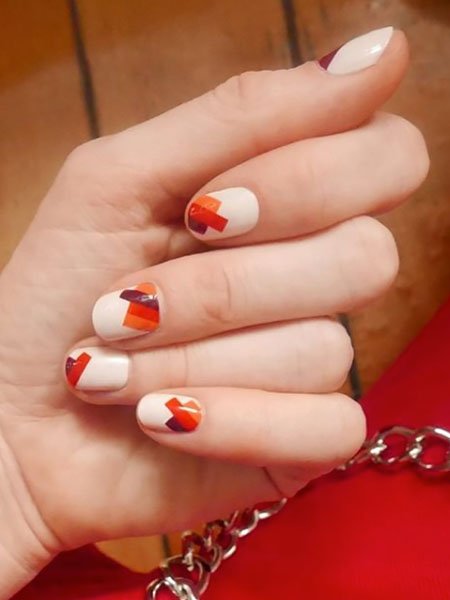 2. Fall Leaves Nails
Certain things truly represent the autumn season, for instance, the falling leaves. The combination of naked and black nail polishes and delicate art work recalls an autumnal masterpiece that is on every fingertip. With a small brush and nature-inspired colors, apply delicate floral designs on the edges and tips of the nails. However, make sure they cover one third of the area to lengthen the fingers and give them a more elegant. For a chic look, put on black nails. This is the perfect way to embrace the winter months and remain fashionable.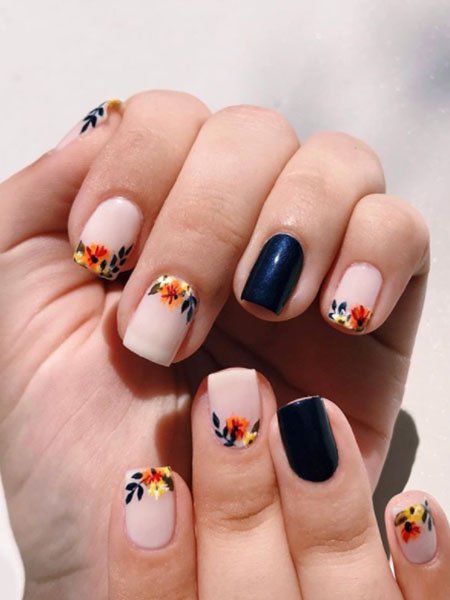 3. Mustard Nails
It's one of the most prominent shades of the season, therefore why not use it wherever you go? The mustard nails are basic in style, but highly effective when used. The color is perfect for all skin tones , so it's suitable for all skin tones. It's possible to pair this shade with blues, grays, and browns to create the perfect outfit for your beautiful fall wardrobe.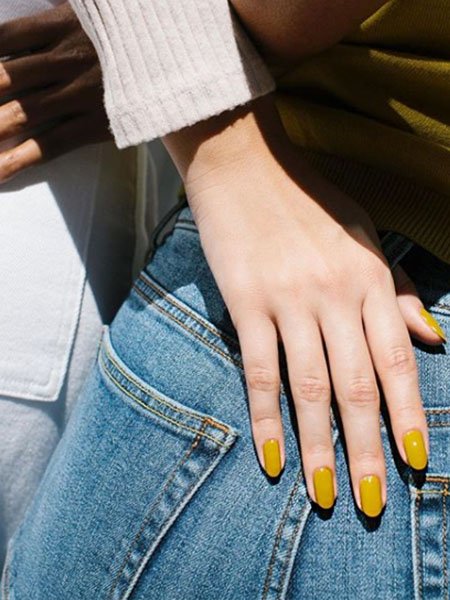 4. Autumn Marble Effect Manicure
This is among the most sought-after trends of the season, and it's not without reason. From warm purples to rich oranges the nail art is the ideal accessory with stunning autumn hues. The brush's organic swirls glide over your fingertips and leave a little naked nail to create the best effect. Make tiny white blobs and light pink to the darker hues to give depth to this fantastical art.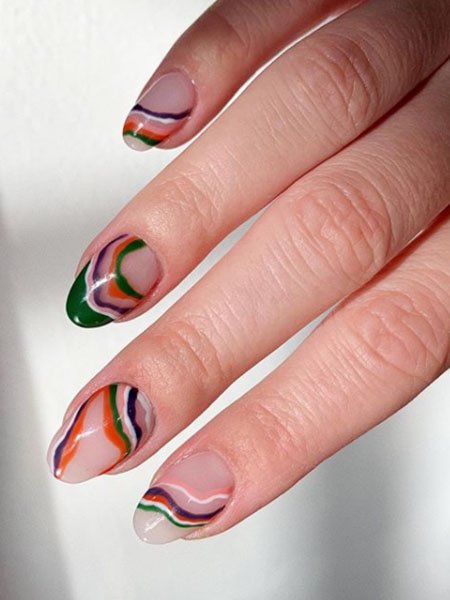 5. Organic Shape Manicure
Let your nails speak for themselves by using this fun nail design. If you love to play with different designs, styles, and colors this is the perfect nail art for you. Make the crescent more rounded between the cuticle and the ring with two or three block shades, and then lengthen the tips of others using the latest French nail design. Choose shades that include blue, red and brown alternate shades using geometric lines. This style can be used for any skin tone. Now is the perfect time to test this out.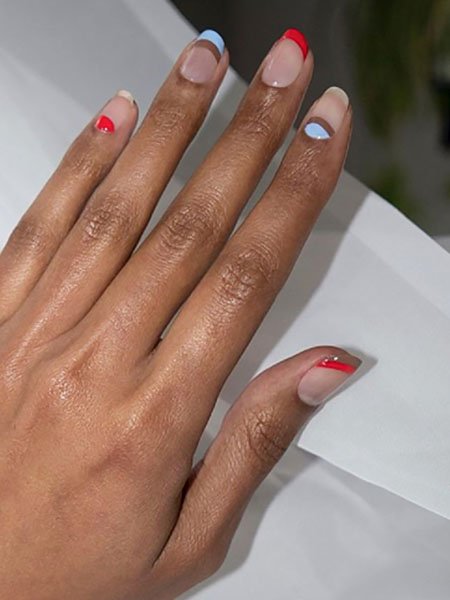 6. Muted Fall Stripe Nails
Let the spirit Gucci girl and take a dive into this gorgeous manicure. With muted greens and pinks the autumn nail art is sure to make any outfit more vibrant. Utilizing bottles of green as well as cranberry red, and a soft neutral pink, you are able to create this style. To create straight lines consistently make small pieces of tape placed in the middle of your fingers and reverse the colors on both hands. This is the ideal fall style for those who are fashion-conscious.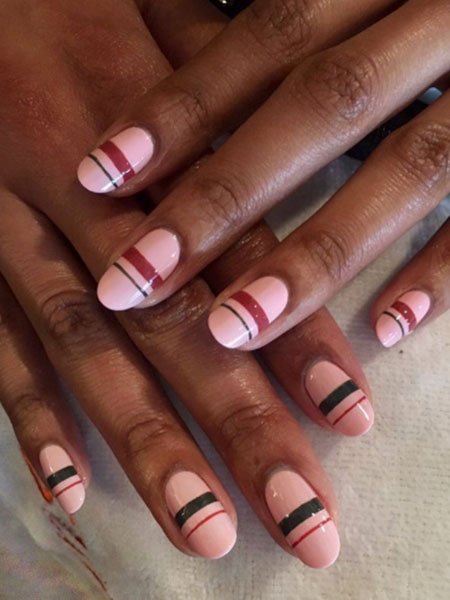 7. Halloween-Inspired Manicure
Are you a Halloween lover? You can make your look more spooky to the real thing with this creepy manicure. The classic pumpkin style gets an imaginative makeover as it is placed on the cuticle of each finger . the rest of the headspace will lengthen the fingers, making them appear fashionable. It is possible to create a terrifying face with the orange winter squash, wear it unadorned, or even include some additional spooky details. Prepare to enjoy this one of the best cherished annual celebrations with the style of your choice!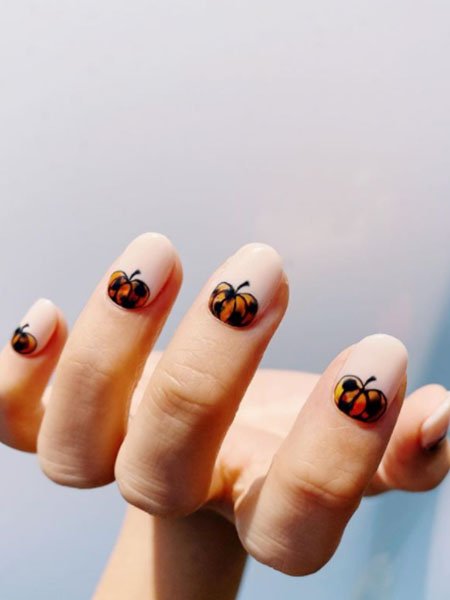 8. Autumn Cloud Nails
This season the climate starts to change as the cold begins to set in. Enjoy the beginning in the fresh season creating these beautiful clouds with your hands. No matter if you are a fan of traditional grays and blues, or you prefer to stick with neutral colors it's a great method to inject some personality into your outfit. You can leave space underneath the color of the solid to help the hue pop even more. With such an amazing design, you'll feel as if you're in the sky.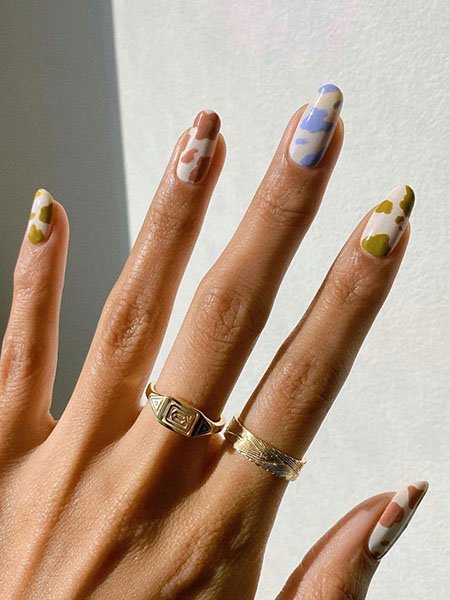 9. Amber Leopard Nails
It's one of the trends that has been popular for quite a while and has been popular for a long time, animal prints are never going out of style. The amber leopard print is a rage and it's clear the reason why: it's enjoyable to wear. From all angles your nails reflect light and appear to be tortoiseshell-like – soft and beautiful. You are free to play in the design you apply as no two layers are identical therefore how can your nail polish appear this way?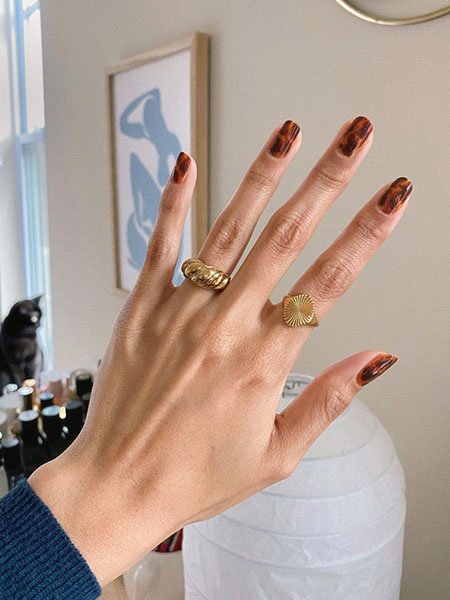 10. Geometric Plum Nails
Sometimes, the most basic drawings will stay in your mind for the rest of time. This simple design is easy to replicate and looks stunning across all skin tones. Tape one nail's side, and apply multiple coats of a beautiful plum shade. When the nail polish is dry and you have removed the sticky part the nail bed is left with a clean and classy manicure that's certain to draw some admiration!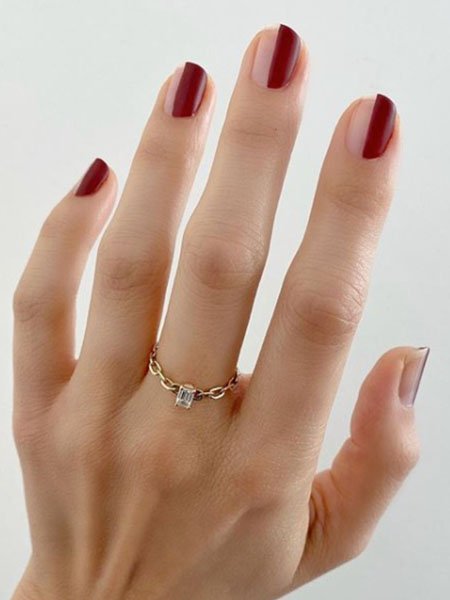 11. Monochrome Green Manicure
One of the most sought-after shades this year is the green and it's going to make a stunning manicure. This geometric pattern is simple to recreate at home and is timeless. With tape pieces to tape the other half of your fingertip in a diagonal. Pick two shades of cool shade that is dark and light for your fingers to appear longer, apply a coat of polish to the bottom of your nail with a more intense polish. Join the top and the bottom, and cover them with a clear top.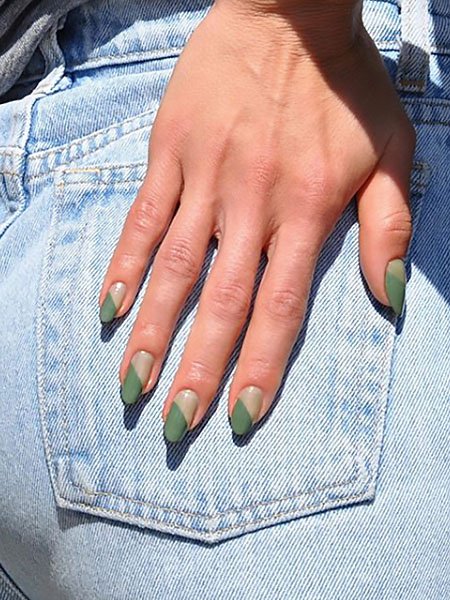 12. Shades of Grey Gradient Nails
The trend of gradients has spread across the globe and is easy to duplicate by using autumn shades. Choose white shades, light dusty rose, black, and gray. Apply one shade to each finger. To achieve an even look you can begin by blending light into dark and leave the thumb as the small finger. It's a simple design however it makes an impact.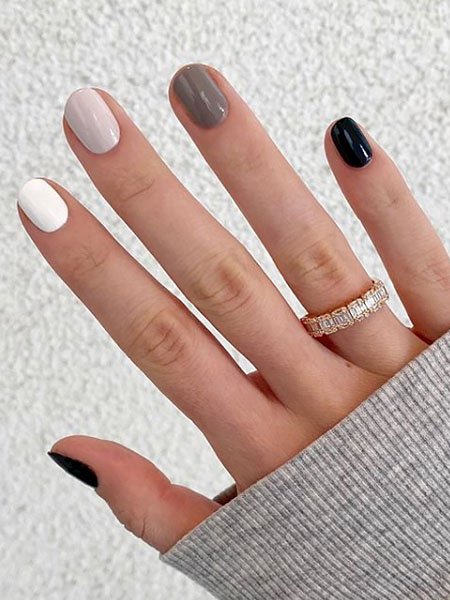 13. Gold Flake Nail Art
Keep warm as the weather changes with this comfortable and stylish manicure. It starts as a simple, naive manicure will gradually transform into golden flakes with your fingertips. It is an extremely difficult art therefore it is highly recommended that you test this technique by working with a professional nail technician. For this style you'll require clear polish, gold leaf and tweezers. After you've applied the shade base, be sure to arrange the pieces in correct places and then apply the final coat of topcoat to hold it in place. For the greatest effect, keep your thumb and your little finger left uncut.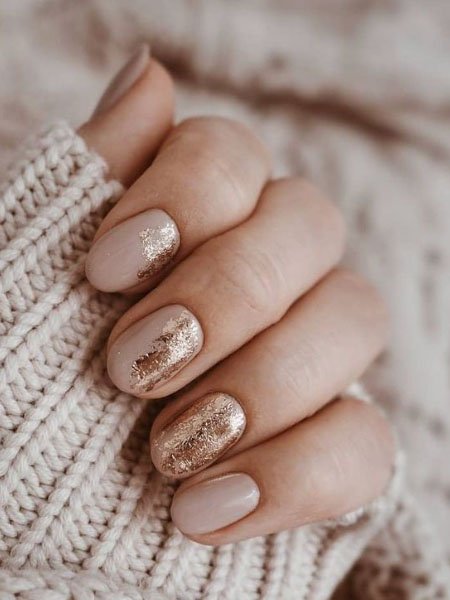 14. Negative Space Manicure
Take your classic manicure up a notch with this wacky negative space. The thing that makes this design attractive is the naked nail underneath, which is paired with modernist shapes that are vibrant in shades. By using tape, cut rectangles across the finger. apply white and black leaving a tiny red dot in between each design. Without a base coat your arms will appear longer and appear to be artwork.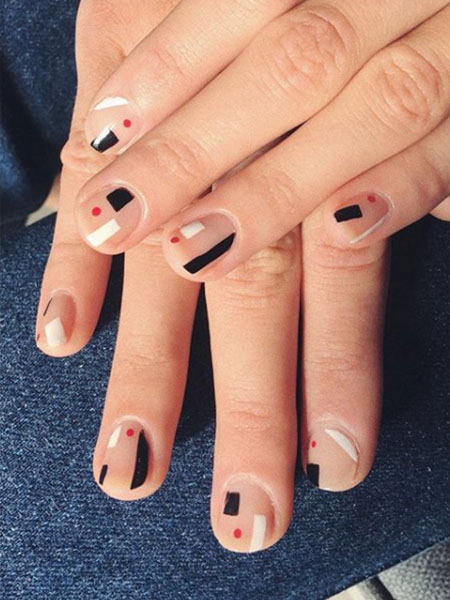 15. Cafe Latte Manicure
Get your day started by this latte-inspired manicure. The inspiration comes from a simple beverage, this nail art is completed in two brown shades and finished with cream. To recreate the appearance, coat the entire nail with an easy stone or a naked color. Then, lightly paint the other half with chocolate. With a lighter shade, carefully cut out a similar however smaller size. Create a fine border around the design as well as the bottom. It's easy to be buzzed by these stylish fingers.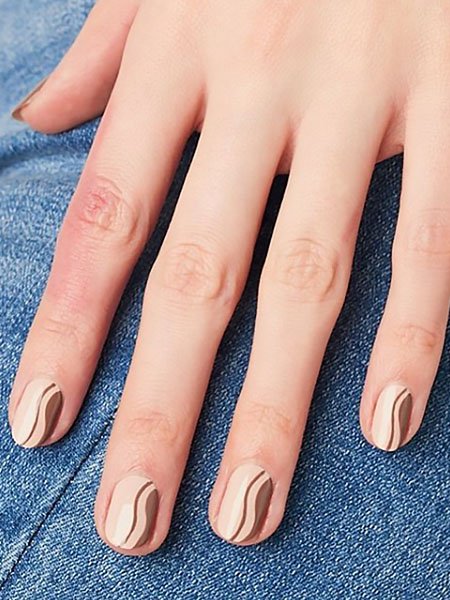 16. Classic Nude Nails
There's a certain manicure that we are able to trust and this is certainly among them. The classic manicure that is naked received a makeover and is very simple to recreate. Choose the two colors that complement your skin tone. Paint the entire bottom on your fingers with the light hue. After drying then apply another layer on top, but this one of a darker shade. Make sure to leave a tiny space around the cuticle, and create an organic cuticle shape. Dress in a sheer jacket and you'll look great for any event.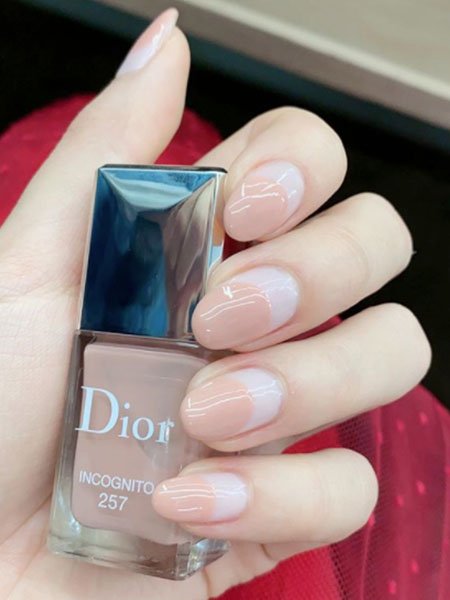 17. Autumn Blooms
Although spring is usually a prime season for flowers, you can take advantage of them at any season. This new manicure is a mix of neutrals and fall browns to create a unique look. Begin by coloring your fingers with a light stone shade and two other fingers in a soft peanut shade. After drying apply a small brush to paint delicate flowers onto each nail. Apply opposite colors to paint flowers onto the tips. Then, finish the design with tiny black dots placed at the center of the design.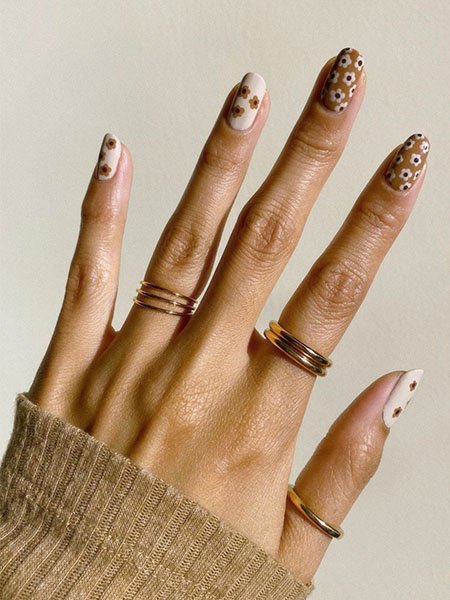 18. Fall Mood Board
This season is a time for color design inspiration from catwalks and nature with fall golden brown leaves blue skies as well as orange pumpkins and an intense emerald shade. Show off that mood board with your nails to show off the season you love, and in style. Each fingertip is drawn with one shade. There's no specific gradient, so you can choose the order of shades you'd like. If you like monochrome outfits it's the perfect final touch to what you're wearing.
19. Arty Neutral Tones
Show off your personality using your hands and enjoy the beauty of autumn by wearing this beautiful neutral manicure. Utilizing only 2 shades of color, this provides lots of dimension and sophistication with a natural and fluid style. Draw your fingers in the same shade, but leave one of them in the front for stroke. Next, with a different tone, let your imagination run wild by drawing subtle flowers or creating an illusion of marbles. If you're not familiar with manicure, seek out a skilled nail artist to create an incredible design. This is a fashionable option to sport the most popular color this season.
20. Subtle Star Manicure
One of the most popular trends that we've seen on runways of this year is the elegant star manicure. Ideal for autumn the minimalist nail art is stunning on all types of people and is slender enough to wear everywhere. Place your fingertip's base in a neutral or nude shade and add a few gold stars over. To prevent the stars from falling, you can cover them with a layer or two of top coat. This makes them shiny and fresh. From work to a Halloween event This is the ideal option to dress up to celebrate the season.