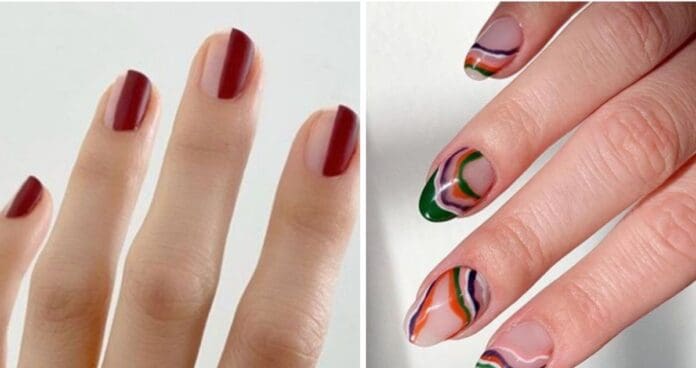 From falling leaves to cooler temperatures and stunning hues, this season is one of the most inspiring for fashion. Whether you prefer browns and neutrals, always add pops of color to your outfit, or keep it minimal all year round, we've found the perfect fall nail design that all fashionistas will love.
1. Column Chart Design Nails
Take fall colors and give them a fun look. This whimsical geometric design takes inspiration from bar charts and uses hues that are perfect for the season. To create this monochrome manicure, take small pieces of tape and stick them in the style you like best – add a twist to the overall look by changing the position of the stripes on each finger. Regardless of the length and shape of your nails, this is a versatile way to spruce up your ensemble.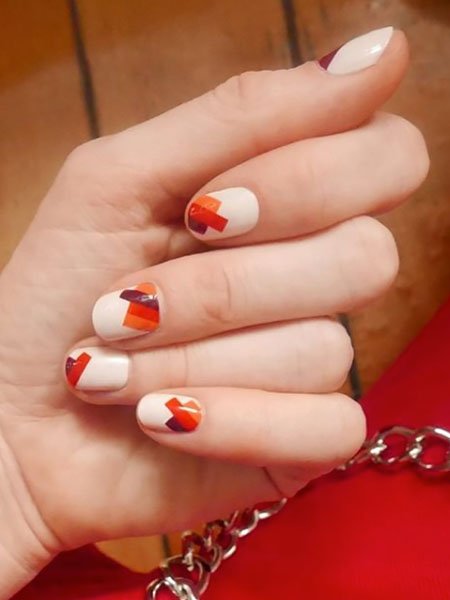 2. Fall Leaves Nails
Some things really represent autumn, and one of them is falling leaves. This combination of nude and black nail polish and delicate artwork is reminiscent of an autumn masterpiece on every fingertip. With a thin brush and nature-inspired paints, paint delicate flowers on the tips and tips of the nails, but make sure they take up a third of the space – this will elongate the fingers and make them graceful. For high fashion, add a black nail. This is a great way to enjoy the cold season and stay stylish.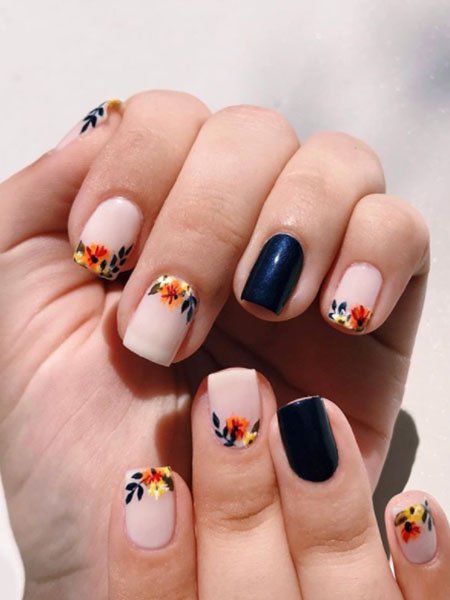 3. Mustard Nails
It is one of the most significant colors of the season, so why not wear it everywhere? These mustard nails are simple in design but very effective in action. The yellow-green shade is perfect for all skin tones – it's perfect for everyone. You can pair this shade with grays, blues and browns for the perfect companion for a stunning fall wardrobe.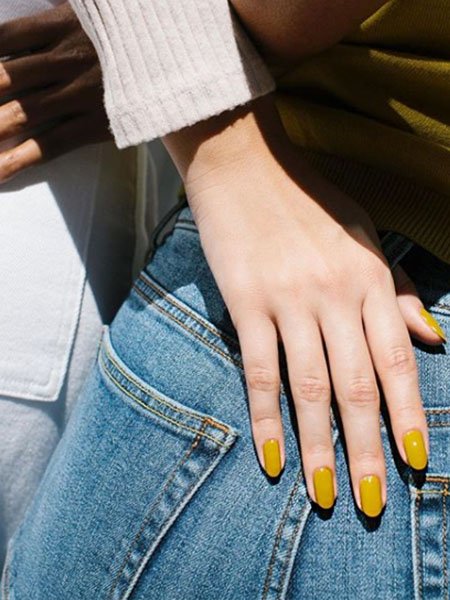 4. Autumn Marble Effect Manicure
This is one of the hottest designs of the season, and for good reason. From rich purples to warm oranges, this marble effect manicure is the perfect fall accessory in stunning fall hues. Let the brush's organic swirls follow you over each finger, leaving a bit of bare nail underneath for maximum effect. Add small blobs of white and pale pink to the deeper hues to add even more dimension to this fantasy art.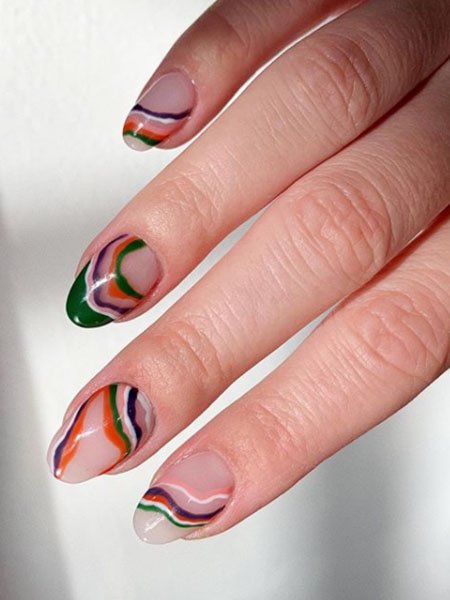 5. Organic Shape Manicure
Let your fingers speak for themselves with this whimsical nail design. For those who love to experiment with colors, styles and patterns, this is the perfect manicure for you. Fill in the crescent next to the cuticle with one or two block shades and lengthen the tips of others with an updated French manicure style. Use shades such as brown, red and blue, alternating shades with geometric lines. This is a style that is perfect for any skin tone and now is the time to try it out.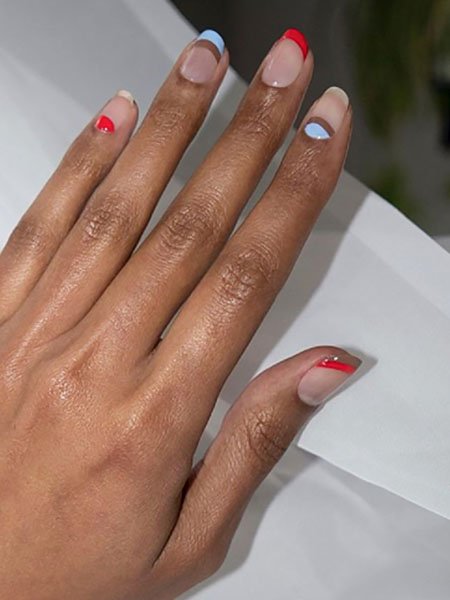 6. Muted Fall Stripe Nails
Unleash your inner Gucci girl and dive into this stunning manicure. Featuring muted pinks and greens, this fall nail art is sure to brighten up any outfit. Using bottle green, cranberry red and soft neutral pink, you can easily recreate this look. To consistently create straight lines, use small pieces of tape in the center of your finger and invert the colors on each hand. This is the perfect fall design for fashion lovers.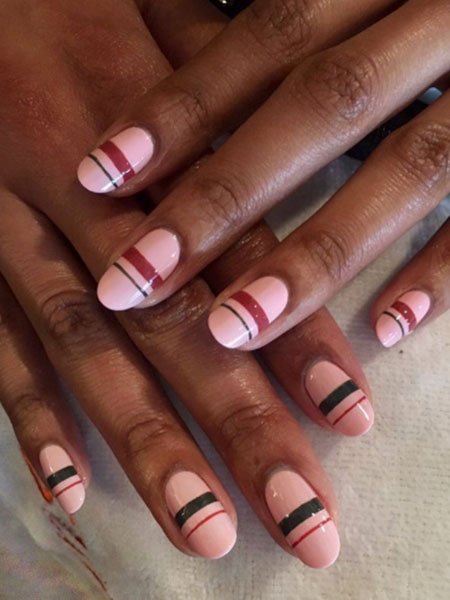 7. Halloween-Inspired Manicure
Are you a big Halloween fan? Make your outfit look closer than ever with this scary spooky manicure. The classic pumpkin design gets a whimsical update as it sits at the cuticle of each finger – the remaining headspace will elongate the fingertips and look super trendy. You can create a scary face inside the orange winter squash, leave it naked, or add some extra spooky details. Get ready to celebrate one of the most loved annual events in style!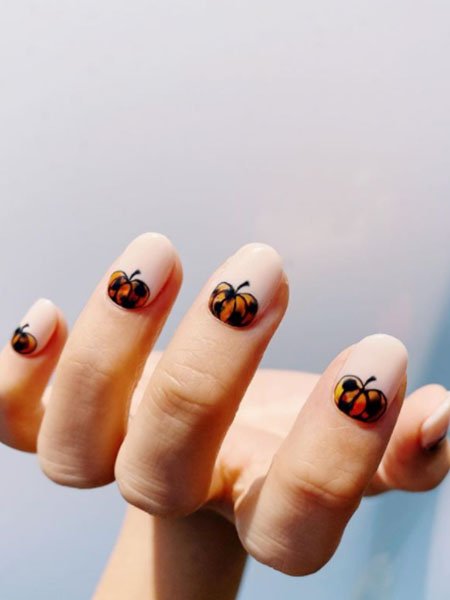 8. Autumn Cloud Nails
At this time of the year, the atmosphere begins to change and the cold sets in. Celebrate the start of the new season by recreating these stunning clouds with your own hands. Whether you prefer traditional shades of blues and grays or want to use neutrals, this is a great way to add some flair to your ensemble. Leave space under the solid color to make the hue stand out even more. With such a stunning design, you will feel like you are touching the sky.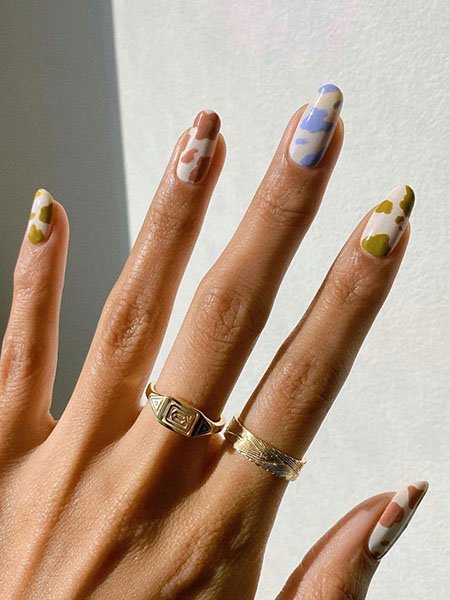 9. Amber Leopard Nails
As one of the trends that has been around for many years, the animal print is not going anywhere. This amber leopard print is totally on trend and it's easy to see why – it's incredibly fun to wear. From all sides, your nails will reflect the light and appear tortoiseshell – gentle and charming. Feel free to be liberal with the design on top – no two layers are the same, so why should your manicure be that way?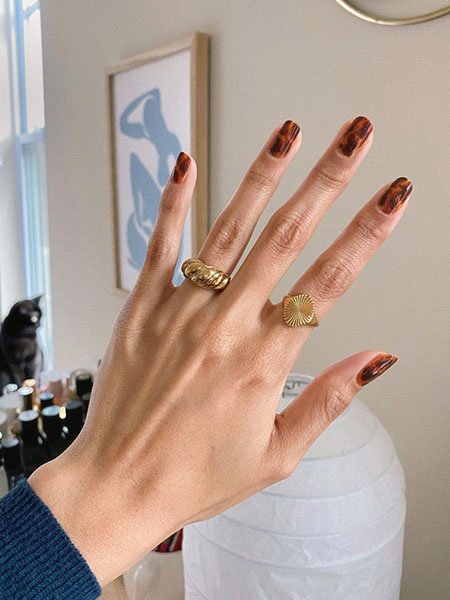 10. Geometric Plum Nails
Sometimes the simplest drawings stay with you forever. This understated design is easy to recreate and looks great on all skin tones. Cover one side of the nail bed with tape and apply several coats of a rich plum shade. Once the nail polish is dry and you remove the sticky side, you are left with a sleek and elegant manicure that is sure to garner a few compliments!