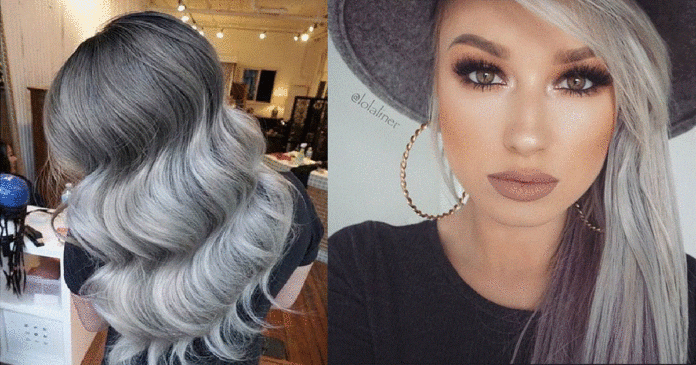 It has become one of the most unusual of trends but grey or silver hair seems to have become a bit of a "thing" recently. Once upon a time women were expected to hide their grey's but nowadays, it's the trendiest color you can rock.
Rocked by the likes of Pink, Kelly Osborne, Rita Ora and even Cara Delavigne, here's 21 of the hottest grey hair looks you should be aiming for!
1. MERMAID GREY LOCKS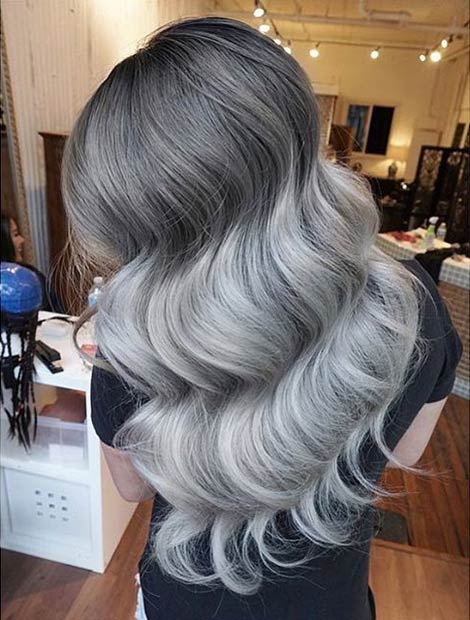 Instagram / evalam_
Grey hair means minimal commitment and although getting the right shade can be somewhat tricky, the semi-permanent and temporary dyes are easily washed out in two to eight washes. The longer you want it to last, the more often you will need to touch it up. Whether you want a long term look or a short term fix, it's certainly a great shade to be inspired by.
2. GREY AND PINK HAIR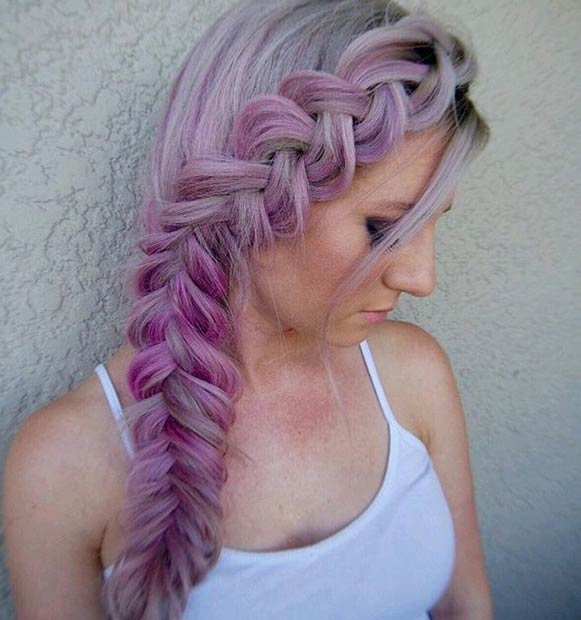 Instagram / wifeofastylist
If you like to play around with color, why not try this silvery-grey to pinky-purple ombré style? The light grey color provides the perfect backdrop for a wide variety of colors so be sure to experiment a little. If you go for semi-permanent or wash-in, wash-out colors, you can easily switch it up or rinse it out if you're not happy with it.
3. SILVER GREY PONYTAIL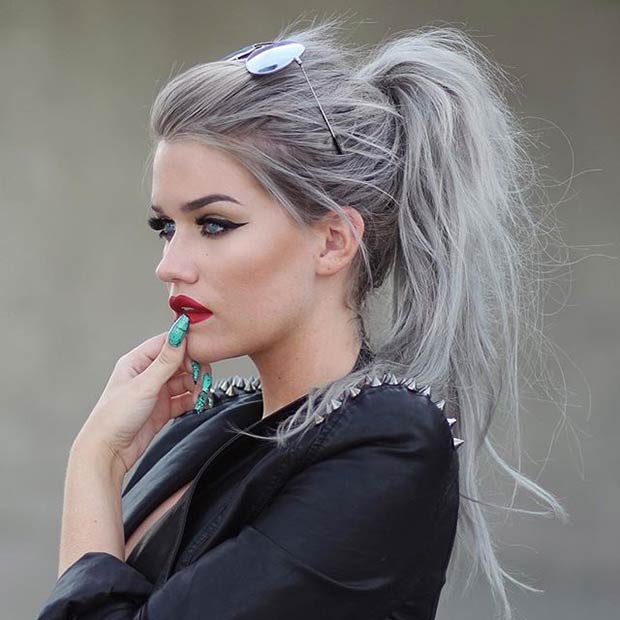 Instagram / ssssamanthaa
The vampy, gray, scruffy up do is a brave look but one that packs a powerful punch. Little Mix's Perrie Edwards carried off this look for a while and it's one that works really well for the coming winter/festive season! Simply add plenty of black eyeliner and a killer red or dark plum lip for a look that definitely stands out from the crowd.
4. SILVER MELT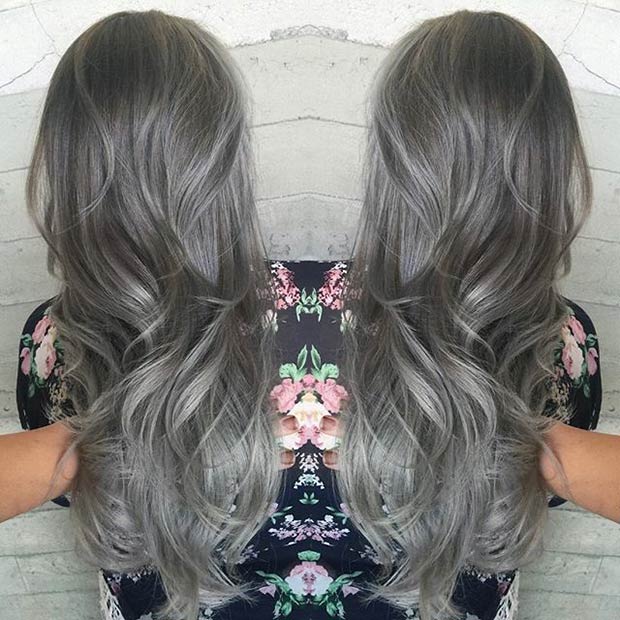 Instagram / harttofcolor
It can be hard work getting just the right shade of silver especially if you don't already have light-colored hair. The best advice you'll hear for achieve this beautiful metallic style is to have it done professionally!
5. BARELY THERE GREY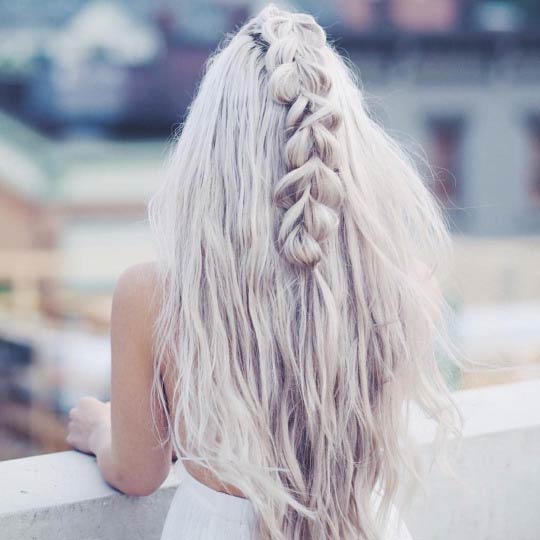 Source: tumblr.com
Barely there silver hues is another great way to reinvent blonde hair and is a really cute and subtle way to switch things up. Ellie Goulding paired the look with blonde hair and baby pink lipstick but you really could experiment with different colours.
6. SNOW WHITE HAIR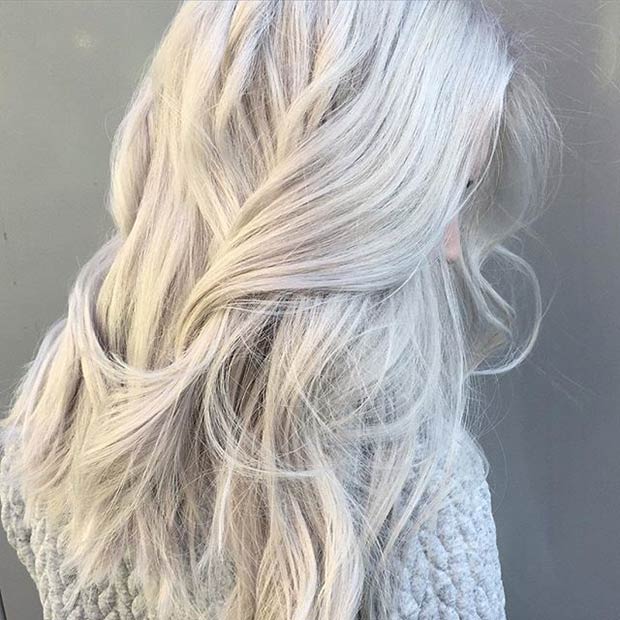 Instagram / marije_salonb
You can easily achieve this Snow White-grey look with the help of white or silver toner. Just make sure you don't leave it in too long otherwise you'll struggle to rid your locks of those lilac hues that can often get left behind.
7. GRAY TO PASTEL BLUE DIP DYE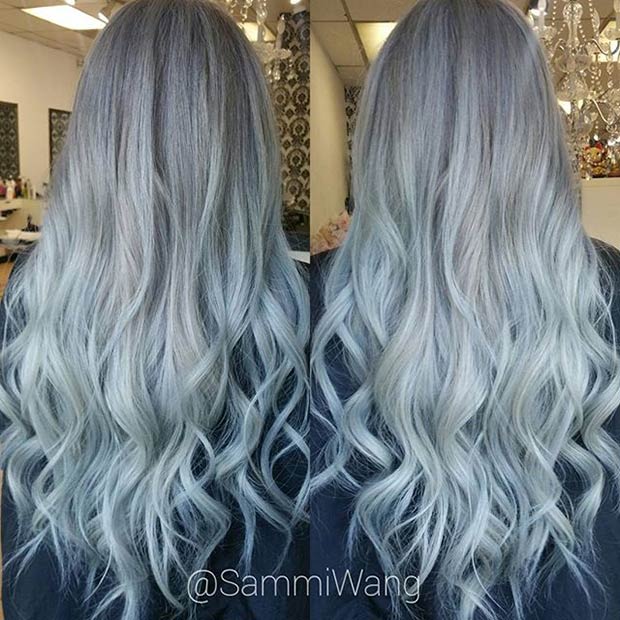 Instagram / sammiiwang
Dip-dye locks are like ombré but without the subtle fading. Rihanna rocked this look for a while and it's perfect for those who aren't quite ready to dye their full head of hair! It doesn't matter if it doesn't look quite perfect and is a great way to reinvent your hair… a little at a time!
8. VIOLET TO SILVER HAIR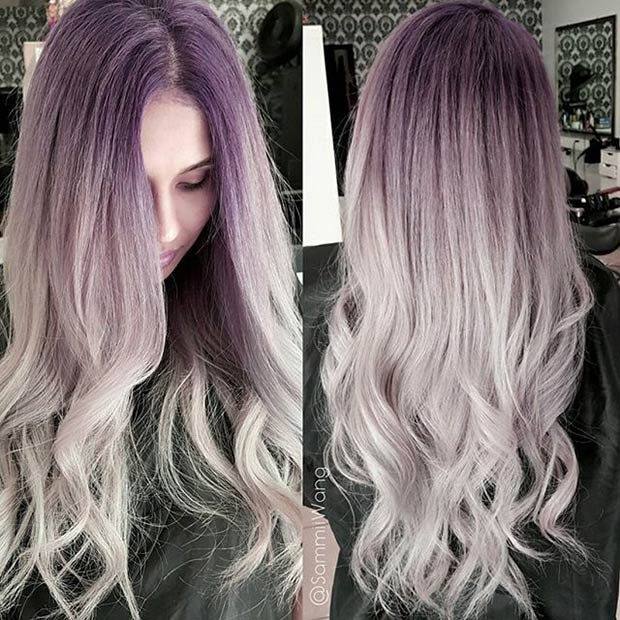 Instagram / sammiiwang
This really unique look is simply the reverse of a silver or grey to lilac/purple ombré. If you don't want to keep re-bleaching your roots to achieve the lightened grey color, try going with a deep, rich plum-purple color instead.
9. GREY BOB HAIRSTYLE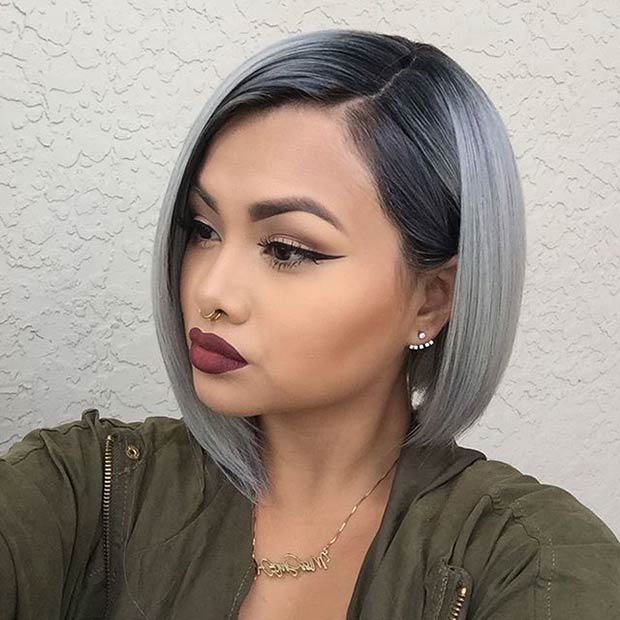 Instagram / missgraceha
This sleek, shiny metallic bob is great for hair that isn't too difficult to maintain. Although going for the chop can be a tough choice, experimenting with color can make things a little easier. That's definitely the case when you see this grey bobbed beauty!
10. FROSTY GREY AND LILAC HAIR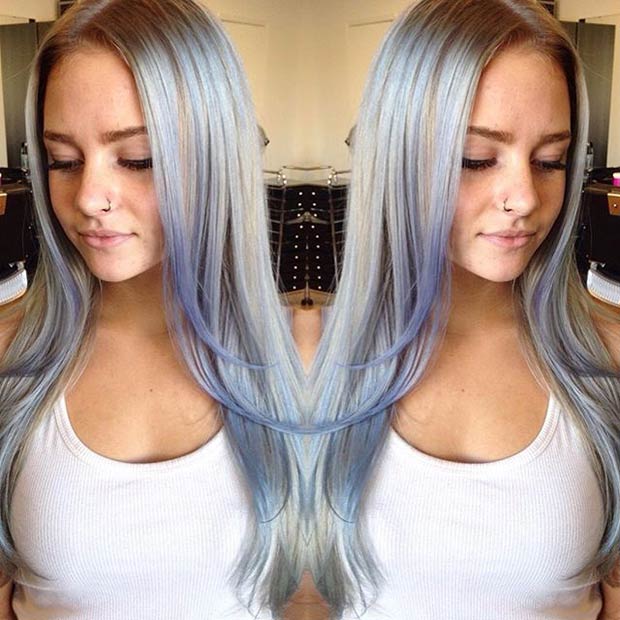 Instagram / parlourhairlounge
You will often find your hair goes a lilac shade when you first attempt to go grey or silver but that's no worries as this is just as in style. Gennifer Goodwin was recently a fan of this look and the best news is, it doesn't matter if you end up with lilac strands by accident. You can just say you were aiming for that look!
11. FIFTY SHADES OF GREY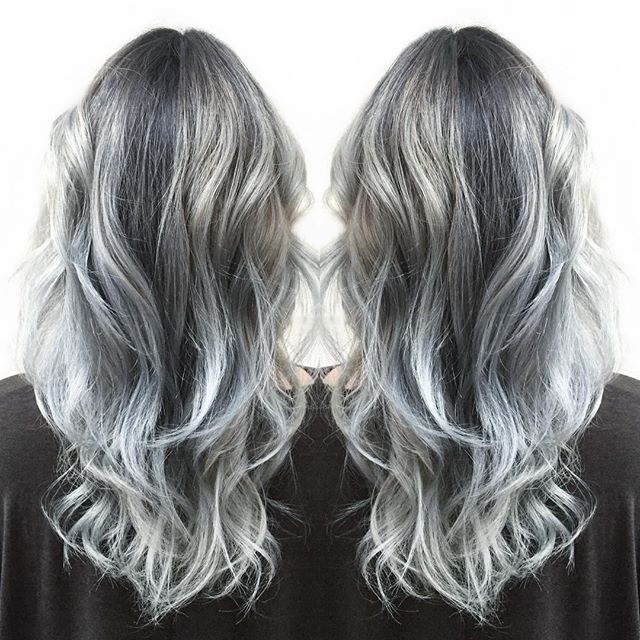 Instagram / marije_salonb
Rather than trying to achieve one solid silver or grey tone across your hair, opt for lots of different shades of grey to really make the look come alive. You'll find it easier to blend and wash out when it's more multi-toned, and it'll also help bring some serious depth to otherwise lacklustre locks.
12. DARK GREY TO SILVER DIP DYE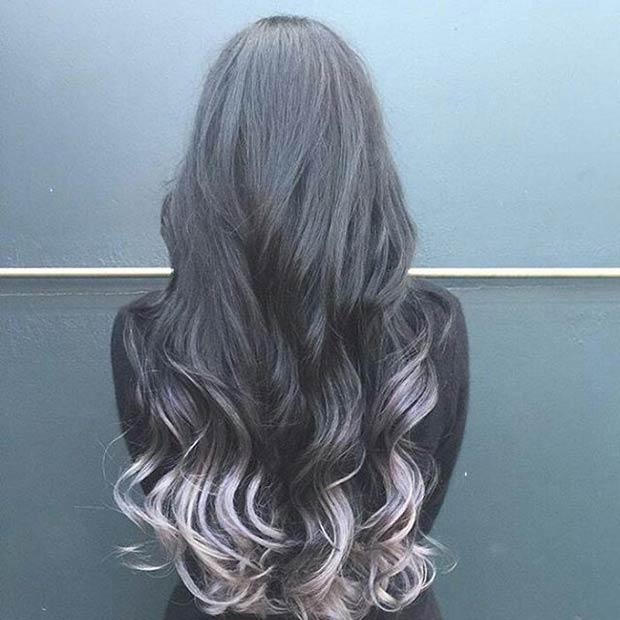 Instagram / notonlybeauty
Dark to silver ombré grey is such a great style to try if you're dabbling with new shades and colours for the first time. Kylie Jenner recently spotted this look and if you don't have the length, you could always look at 'cheating' with hair extensions!
13. GREY HAIR + POP OF RAINBOW\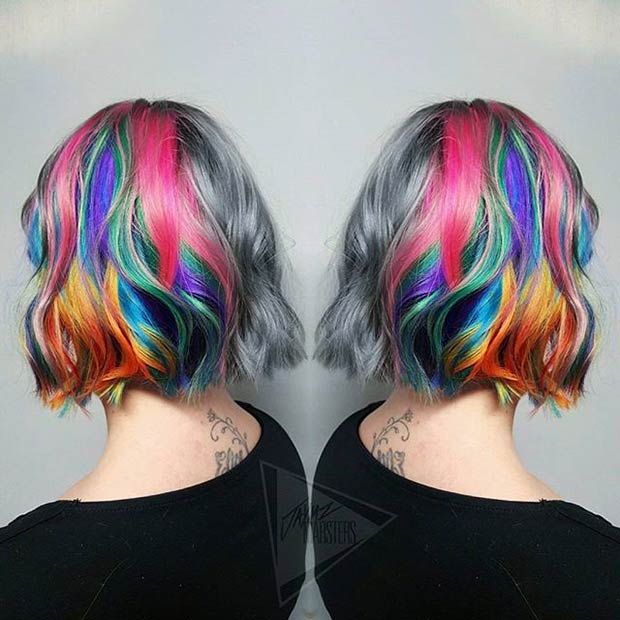 Instagram / jaymz.marsters
This amazing hair dye job just shows you exactly how versatile grey hair can be. We've seen it with pinks and other pastel colors but here you get to see it working its magic with this rainbow themed look. Rainbow highlights will help to keep things unique and individual and you could play around with so many different shades and hues. So why aren't you?
14. SILVERY-BLUE TWISTS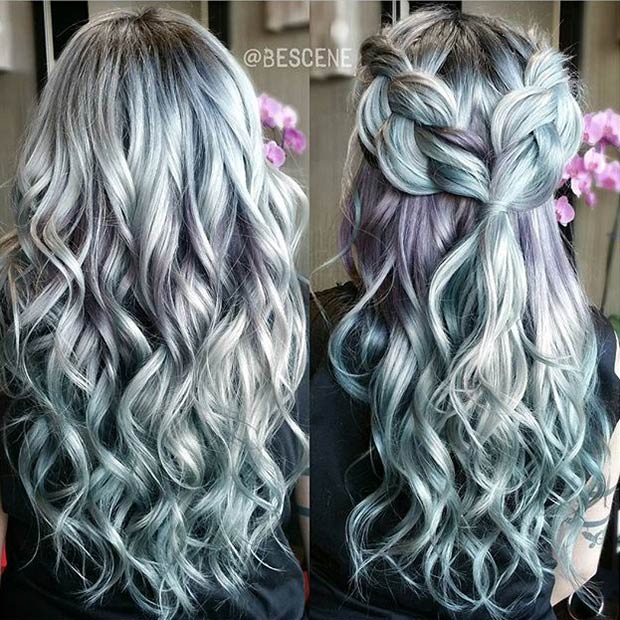 Instagram / bescene
Having different shades of similar but varying colors is a great way to bring some depth to your hair. In the light this hair will change from silver to pastel blues, white, and even lilacs at times. By twisting or braiding the hair, you get to show off the beautiful range of colors you have running through. These curls are easy to achieve with your hair straighteners and there are plenty of tutorials online you could follow. Mermaid is all the rage these days and you don't get much more mermaid than this.
15. GREY SHADES ON NATURAL HAIR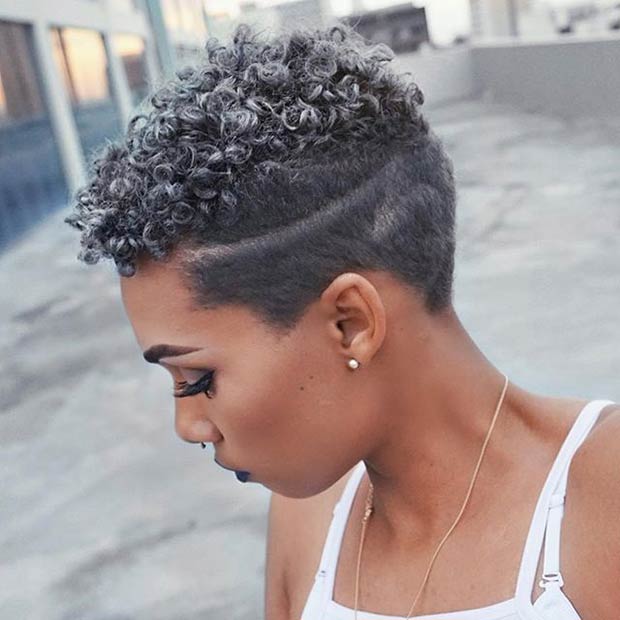 Instagram / itstoian
To achieve these icy-cool tones of silver and grey you must be prepared for a lot of conditioning and pre-lightening treatments. Before you bleach your hair, you should avoid washing it for two or three days (if you can manage it) and this oil build-up will help prevent the bleach from affecting or burning your scalp. Bad conditioned hair will never look good so if your hair isn't strong enough to accept this bleaching and lightening, don't try and put it through that.
16. LIQUID METAL + SUBTLE BLUE HIGHLIGHTS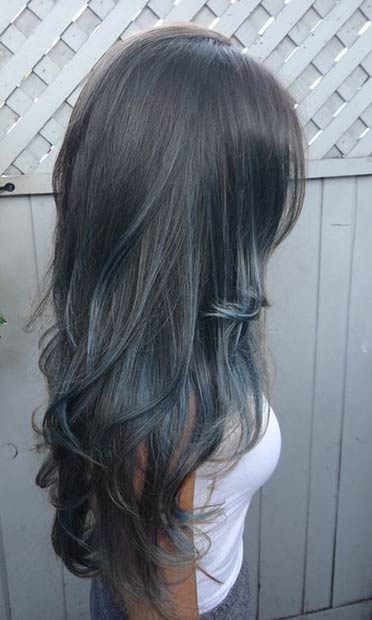 Source: pinterest.com
This darker grey look is best achieved at home by looking at diluting darker, black semi-permanent dyes. It's quite a tough one to get right if this is your first time so as we've said before, a professional hairstylist is always the best choice. This beautiful look just goes to show you don't need to go icy cool in order to recreate the hottest winter trend, and even warmer, darker greys can have just as much of an impact.
17. PERFECT "GRANNY HAIR" LOOK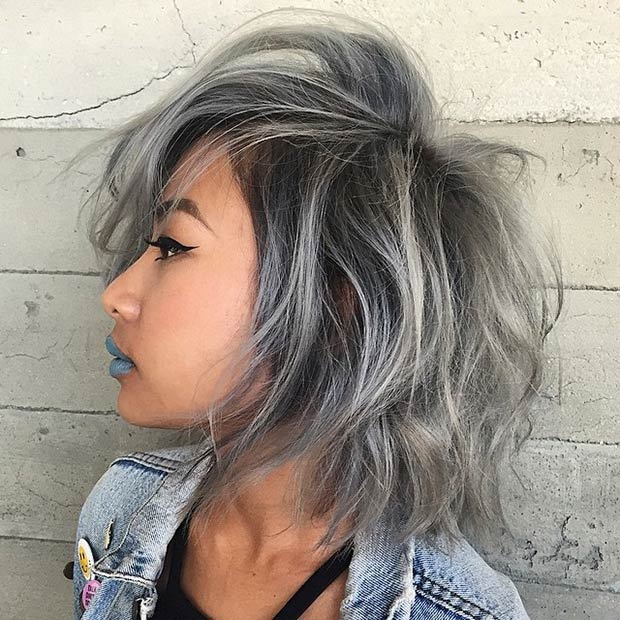 Instagram / butterflyloftsalon
In order to keep your hair looking just as good as it did the day you walked out of the salon, you'll need to be prepared to put in a little leg work yourself at home. Using a 'depositing' product will help to build up the colors and shades in between the trips to the salon and you can find many of them in drug and beauty stores. It will often look purple in the bottle but it does turn your hair grey! The purple helps to filter out the yellowing in just-bleached hair.
18. ICY COOL + BOLD LIPS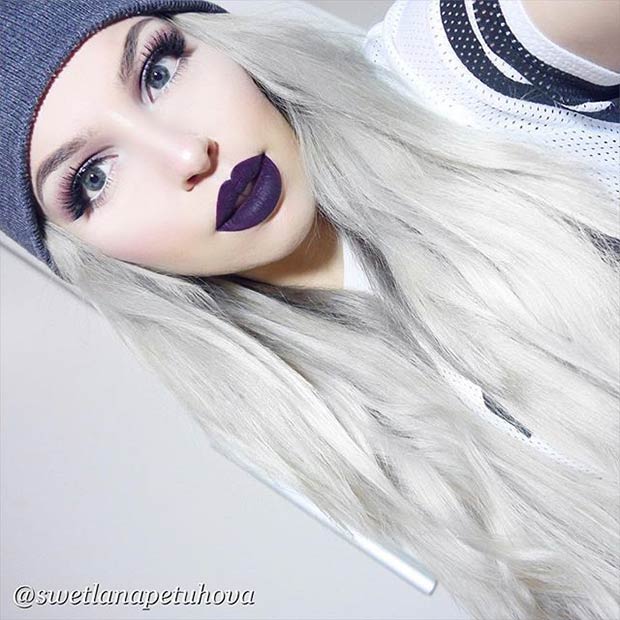 Instagram / swetlanapetuhova
You may need to change your makeup routine a little to match your new hair especially if you go icy white like this beautiful style. If you would normally go for neutral, nude shades, go a little bolder to add a pop of color. Deep purples and plums work perfectly with this icy hue so why not use your new hair as the perfect opportunity to experiment a little more?
19. METAL DREAMS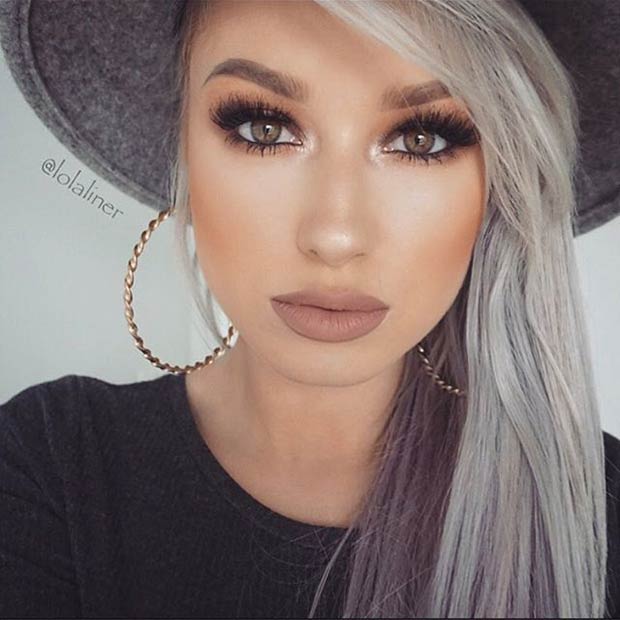 Instagram / lolaliner
To ensure your hair keeps looking in great condition, make sure you use a good quality conditioner to protect it from all those lightening and bleaching procedures. If you don't, the hair will dry out, become brittle and may even break and that aside, the color won't stick to it as well. You need to have good conditioned hair before you start thinking about playing around with this kind of style so if it's not quite there yet, give your locks a little more TLC and rethink in a few weeks.
20. ICE QUEEN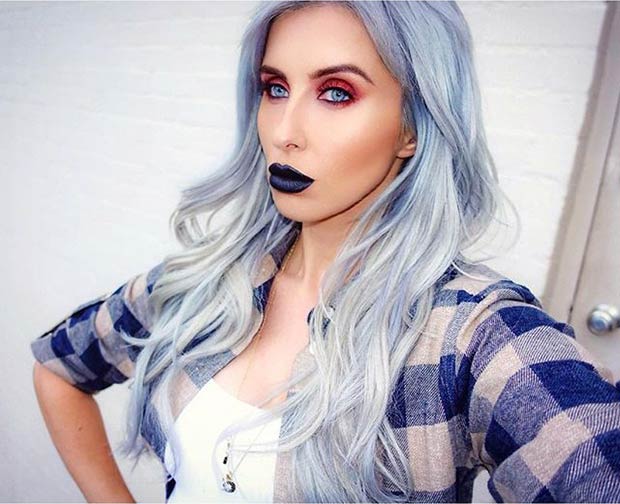 Instagram / norvina
It's so icy white, it's basically blue which certainly puts an interesting spin on this almost Frozen-inspired hair style. They are two colors that just compliment each other perfectly so why not team them together for your grey and silver hair? Pick random strands to adorn with the babiest of blue dye you can find or even go for a half and half style – the top of the hair silver and the bottom blue. The decision is yours! Get creative!