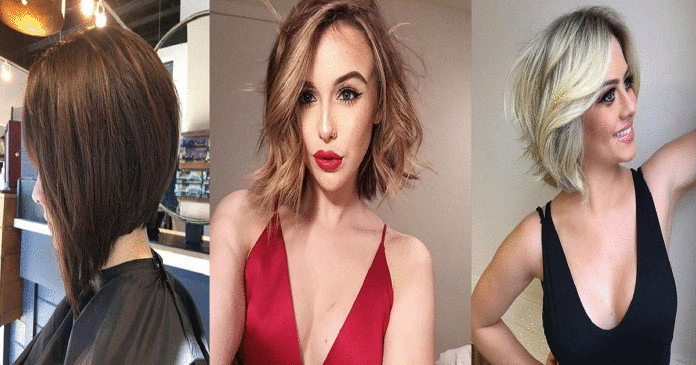 The short bob hairstyle is such a classic look and one that always comes back into fashion. For the summer of 2016, everyone seems to be going for the chop from Demi Lovato and her chocolate-brown sleek and shaped bob to Jemima Khan's long and lazy lob – long bob. With more and more ways to wear this short style, and easier ways of growing the look out too once you want long hair again, there has never before been a better time to go for the chop and in case you needed a little more inspiration… Here are 31 short bob hairstyles to inspire your next look:
1. INVERTED BOB CUT + BLONDE OMBRE
Just because you don't have length on your side doesn't mean you can't play around with color and different tones and shades of color in your hair.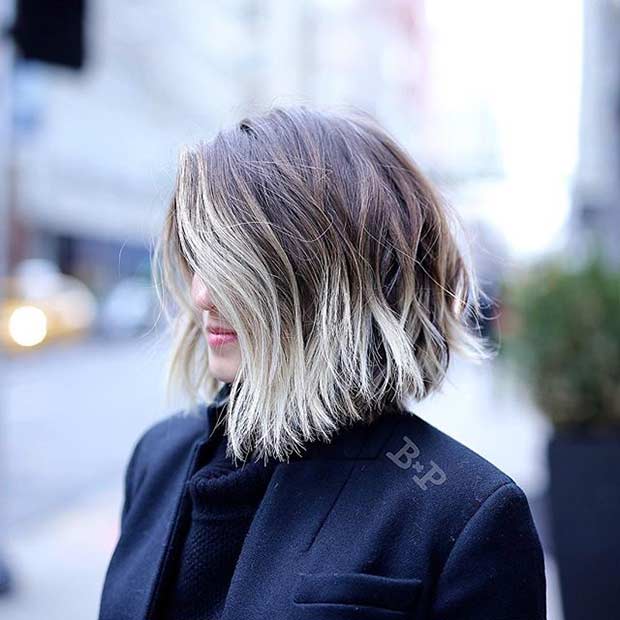 We love this look – the bob cut with blonde ombre, two looks that are very much on-trend right now and are set to continue right through the seasons.
2. SHORT A LINE BOB + BLONDE BALAYAGE HIGHLIGHTS
Slightly more structured, this short A-line bob has been accentuated wonderfully with blonde balayage highlights, adding depth and dimension to a look that might otherwise come across quite flat and lifeless.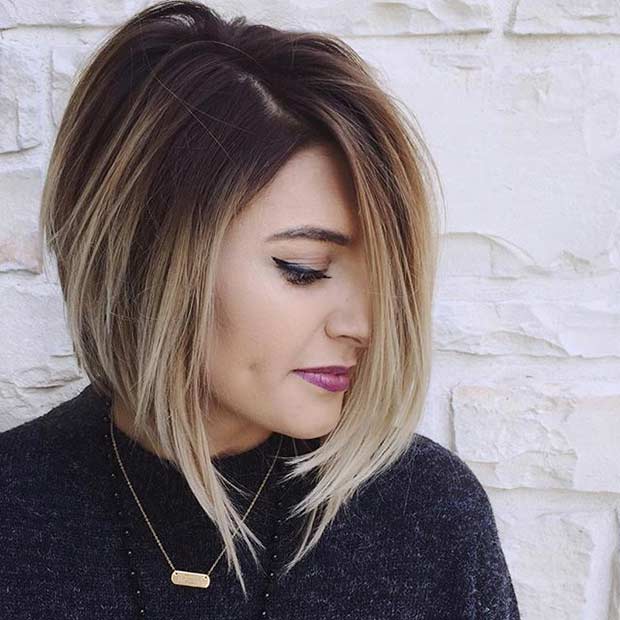 The balayage / ombre look is very much in-demand right now so this look is another that will make a statement for all the right reasons.
3. MESSY BOB HAIRSTYLE
For the girls that don't want structured locks, or just want a way to wear their smart and sleek bob slightly dressier and edgier from time to time, this messy bob hairstyle is super awesome.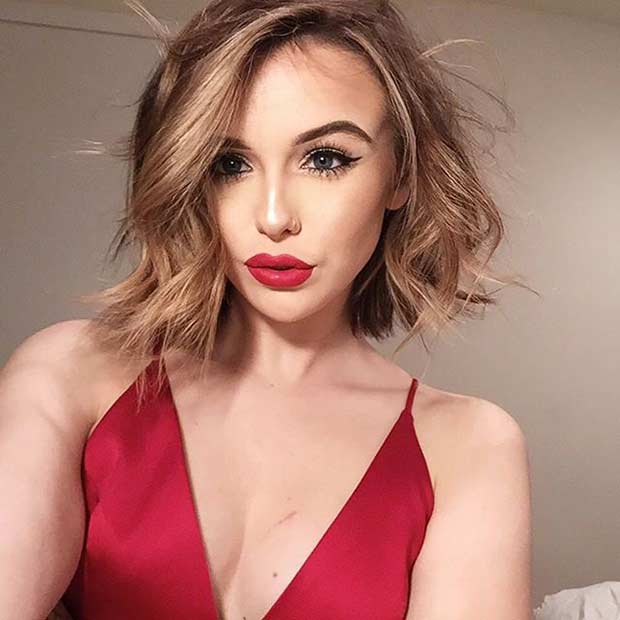 Use a curling wand to add those beautiful wide ringlets, and tease them out with your fingers. Heated rollers can be used to add some oomph at the roots if that's your problem area, and some hairspray will keep the look in check. Remember, you don't have the weight of long hair so the curls won't fall out as quickly! Bonus!
4. ASH BLONDE SLICKED BACK BOB
Still the simple bob but this time, worn slightly differently. The 80's trends are coming back and just one of them was wet-looked slicked-back hair.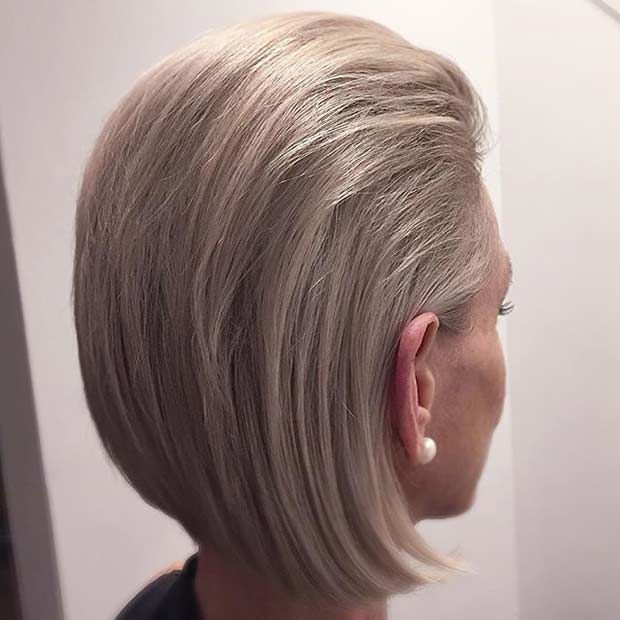 If that's a little too much for you, keep things relatively simple with this look – the ash blonde slicked back bob. Simply use a comb and some wet-look gel (as much as you're brave enough to use) to comb the hair back away from your face and back towards the nape of the neck, behind the ears. It's a simple look and one that packs an impact, but definitely isn't for the faint-hearted.
5. CURLY, BURGUNDY BOB HAIRSTYLE
Who wants subtle hair when you could have a stunning look like this one – a curly, burgundy bob hairstyle that is sassy for all the right reasons!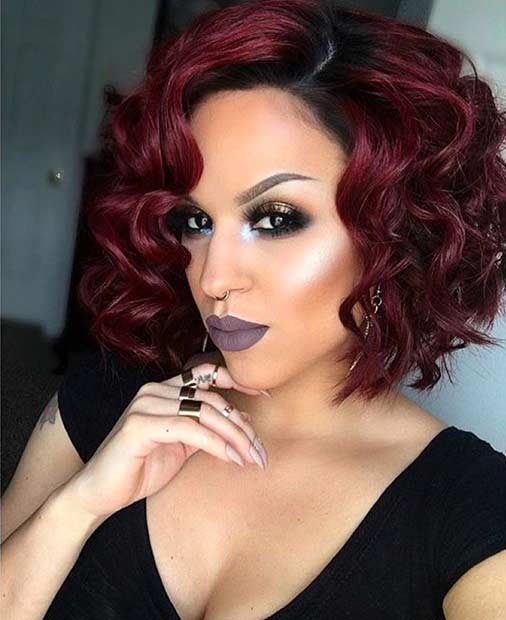 That red color is absolutely beautiful and works well with her amazing makeup skills, plus those curls add a little something extra to the mix, offering a great way to liven up your short hair for a big date or occasion.
6. ASYMMETRICAL BOB
If you have a round faced, a bob and, in fact, short hair in general can be very difficult to wear. There's always the worry that the cut will make your face look rounder which, when you're worried about it to begin with, is not a good thing.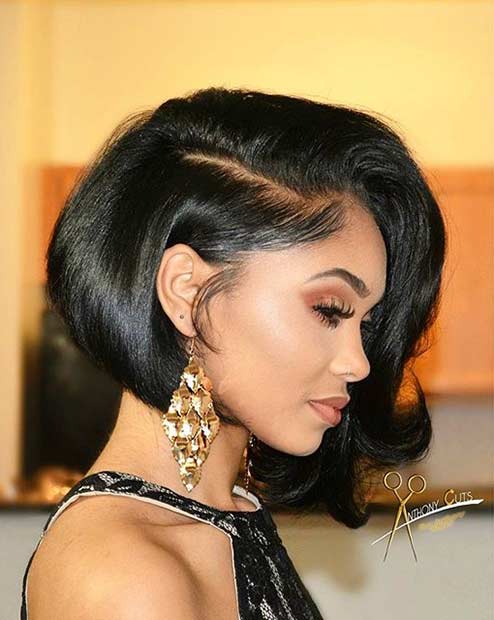 One way to counteract that round concern with short hair is to go for an asymmetrical style which helps to balance things out. The focal point won't be in the centre of your head as it would be with a centre parting, and the off-centre location will help to offset the roundness of your face. It's a very clever trick!
7. TEXTURED SHORT BOB CUT
When all else fails, just add some texture. It helps to liven up any look as you can see form this graduated bob, longer at the front and shorter at the back, tousled with some mousse, some waves added with a curling wand, and a slightly off-centre parting thrown into the mix.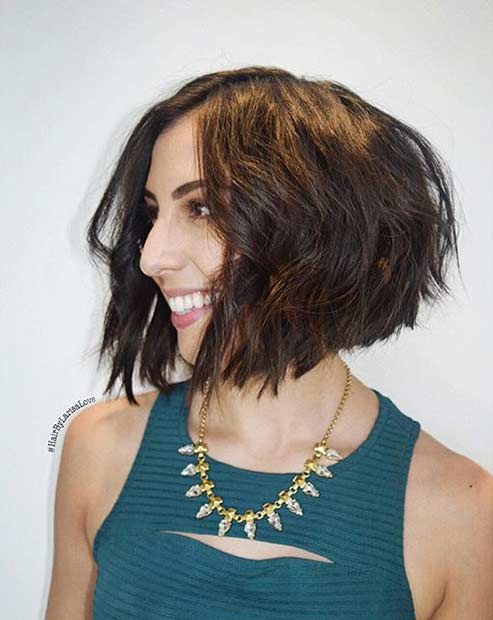 It would need just about ten minutes to perfect this look at home and in order to get that big volume you want, try blow-drying your hair upside down.
8. CUTE & WAVY SHORT BOB
If you have a square face, layers are your best friend with short bob hairstyles, especially cute and flicked out curls that start around the jaw line and beneath that.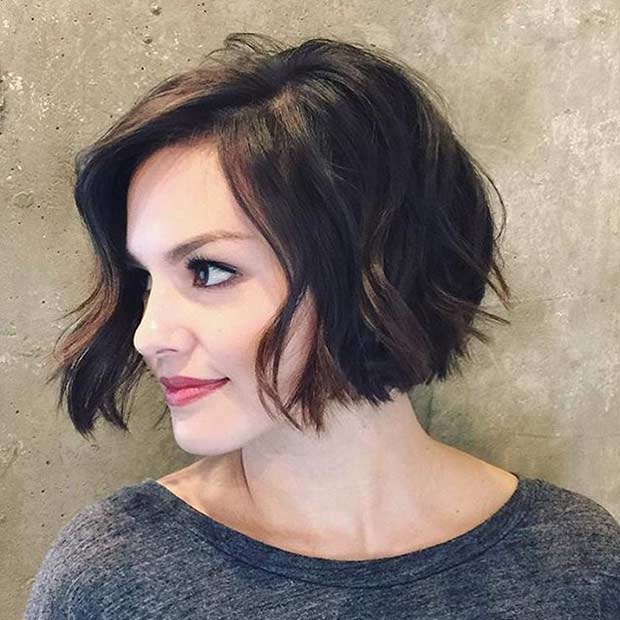 If you have a one-length cut with a square face, you'll make it appear squarer still and you may find that the bob look just won't suit you. Opt for something lighter and feathered rather than sharp and sleek and you'll have about the right idea.
9. MESSY BLUNT BOB
This look is very Kim Kardashian-esque and there's a good reason for that – it's bang on trend. Most of the Kardashian sisters have rocked the messy bob like this at some point, blonde, brunette and in the case of Kylie Jenner, even pastel shades too.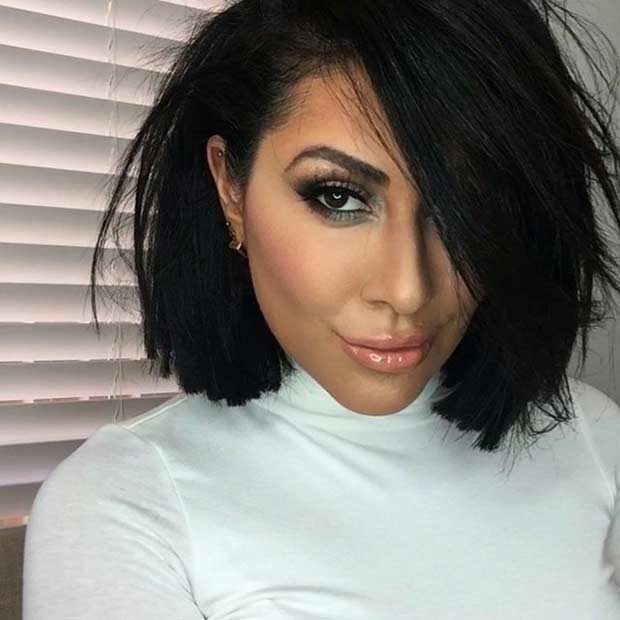 Opt for a blunt cut that falls just below the chin and have some choppier layers thrown to add texture and bulk. When you're styling it, try using a textured wax to get that mussed up look.
10. BLONDE BOB WITH LAYERS
If you're a slightly older woman, a harsh bob can be too much for your delicate facial features and ideally you want a look that will soften your face rather than the opposite.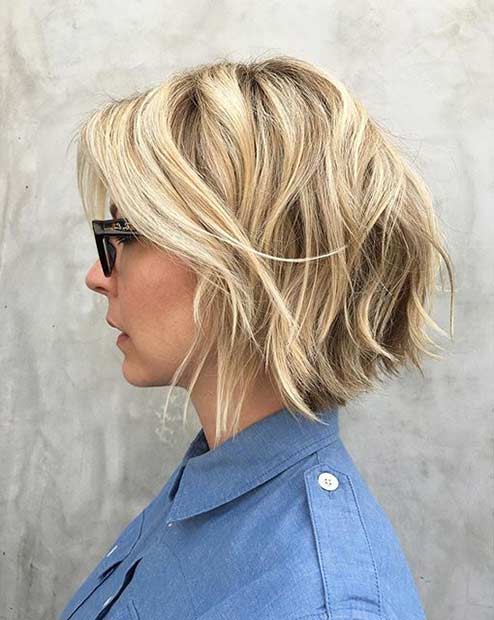 One way to get this with short bob hairstyles is to go for a bob with layers and in this case, a beautiful blonde bob with layers that will easily grow out to ombre mid-length hair with minimal maintenance.
11. BRONDE BOXED BOB
Bronde is the go-to look for this summer, a mixture of brown and blonde to give a beautiful nude color that any Mac lipstick lover would be proud of. There's only one thing matching your nude makeup palette this summer and that's your hair!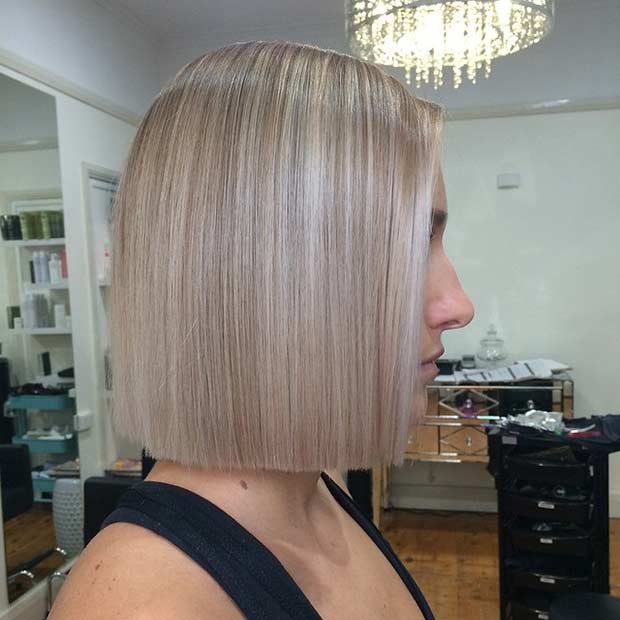 This really is a stunning shade, and one that's much-loved by the likes of the Kardashians. Even Jennifer Lopez recently rocked the bronde bombshell look.
12. CHOPPY BLUNT BOB FOR BRUNETTES
For the non-blondes, here's another example, a way of wearing a slightly layered (but one-length) short bob.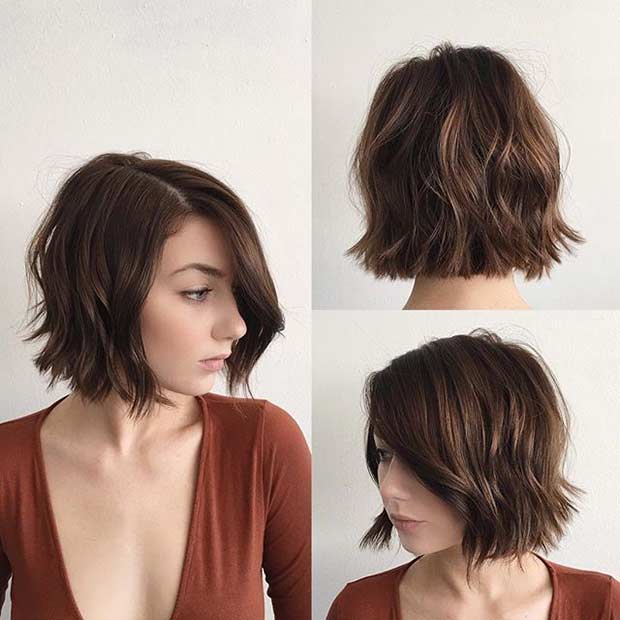 As you can see, some minimal lighter highlights have been added for depth but for the most part, this is easily a cut you could rock with your natural hair color, and a few sun-bleached highlights if you get to spend enough time out in the sunshine!
13. CHIN LENGTH BOB CUT
Chin length is a great length to go for if you have an oval face, and you can even rock a centre parting if you add those pretty little wavy curls.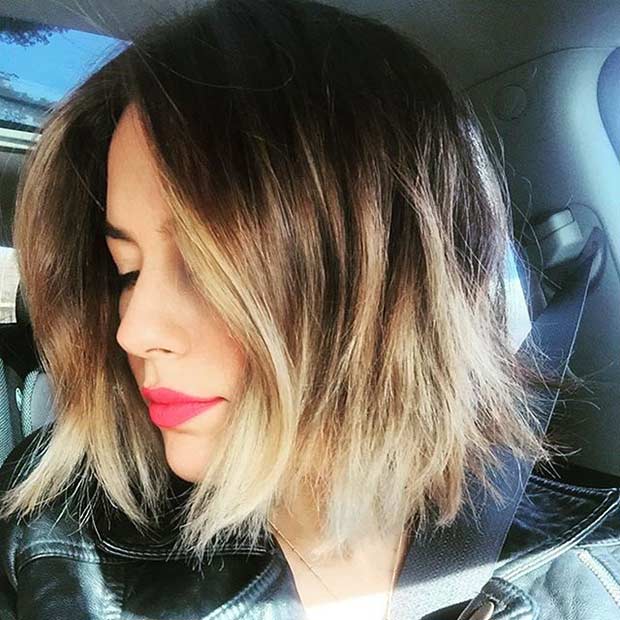 There have been the addition of some blonder, lighter highlights towards the ends of the hair which helps to add some oomph to the style.
14. SHORT & ASYMMETRICAL STYLE
There's something very no nonsense about a short and asymmetrical style like this one. It's a very powerful look, bold and brave, sleek and sharp.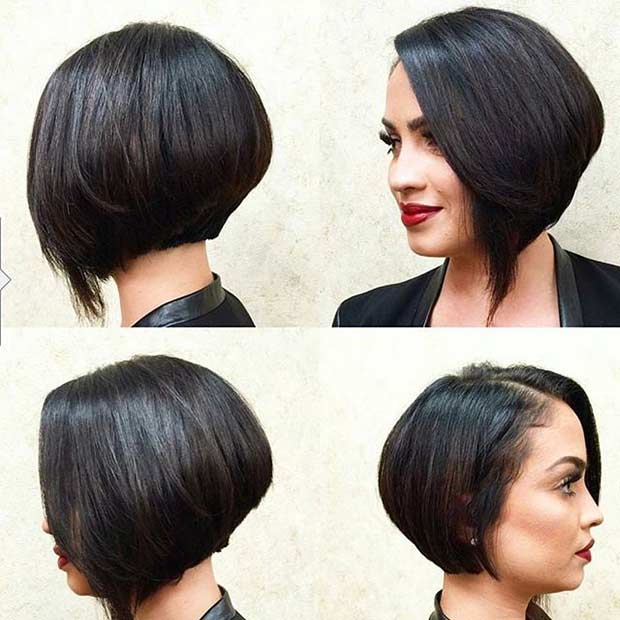 The good news is that this hair can easily be made lighter and flirtier with the addition of a few simple curls, and you could even 'punk' the look up with plenty of volume at the roots, keeping the sides slicked back. Think faux-mohawk and you have about the right idea.
15. CURLY, BEIGE BLONDE BOB
For slim and oval faces, a side parting can help to round the face off a little more, again giving another way to wear short hair without worrying about the right shaped bob for your face.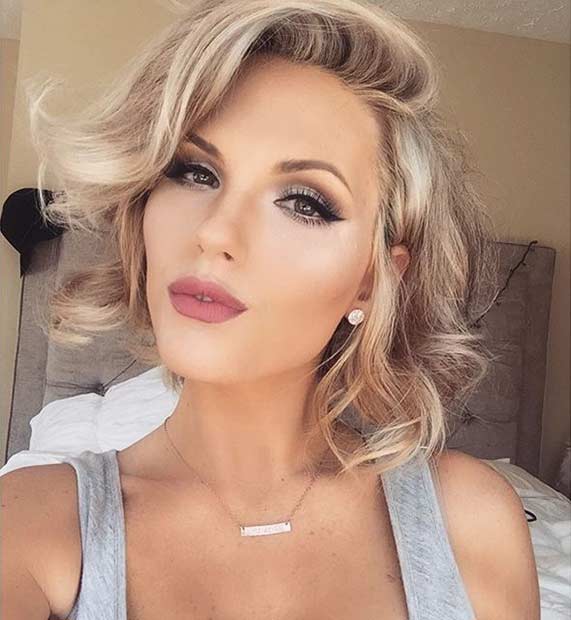 A one-length bob cut to just the chin with a heavy side parting is a great look for many face shapes, and it's a hairstyle with quite the celebrity following too – Emma Roberts recently sported this look in a beautiful beige blonde.
16. BOB HAIRSTYLE FOR BLACK WOMEN
These deep parting is beautiful but only works when you make it super sharp and sleek. The one benefit you have with hair for black women is that you need minimal oomph to create volume, enabling you to create a look like this with ease.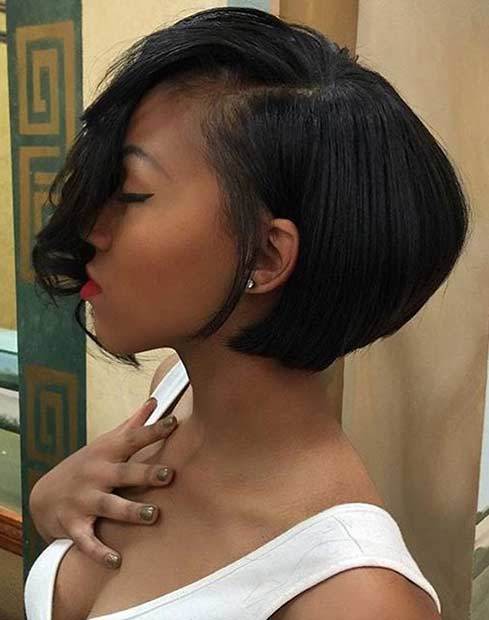 You can use your hair straighteners to both straighten and curl with those look. Just flick the fronts out as you pull it down the length of your hair to add a few tousled twirls.
17. VOLUMINOUS BOB STYLE
If you have a full face, the best short bob hairstyles will be those that help to soften – think wispy ends and fluttery feathery layers and you have about the right idea.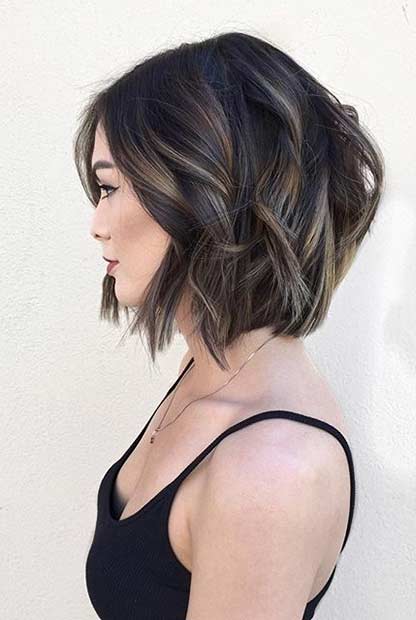 You can even wear bangs with a look like this, something recently rocked by Katharine McPhee. Simply make the bangs wisp and slightly floating towards one side of the face and you'll be good to go.
18. SHORT BOB HAIRCUT WITH BANGS
Bangs can be quite hard work when you're looking at short hair but there are ways of doing it so that it suits your face shape.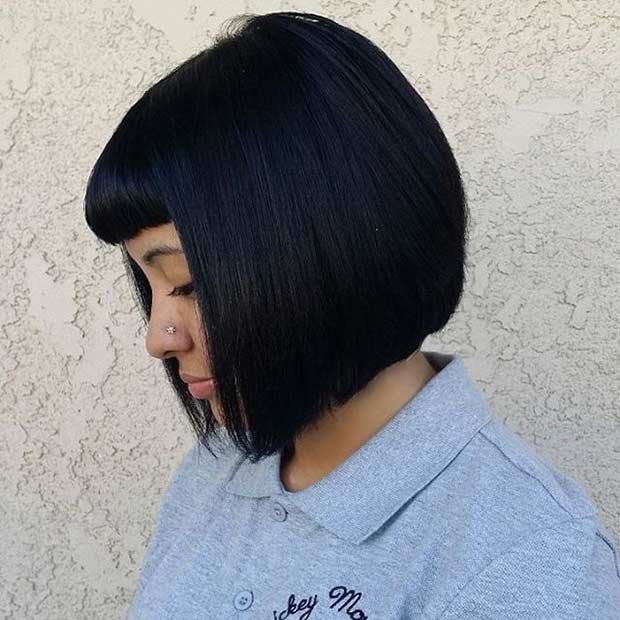 If you have a high forehead, keep the bangs cut to above your eyebrows for a really quirky look. It's very retro and vintage and looks great with sunglasses. Just make sure your eyebrows are on point.
19. MESSY, LAYERED CUT + BALAYAGE HIGHLIGHTS
Balayage and ombre highlights are the perfect accompaniment for a messy and layered cut like this one.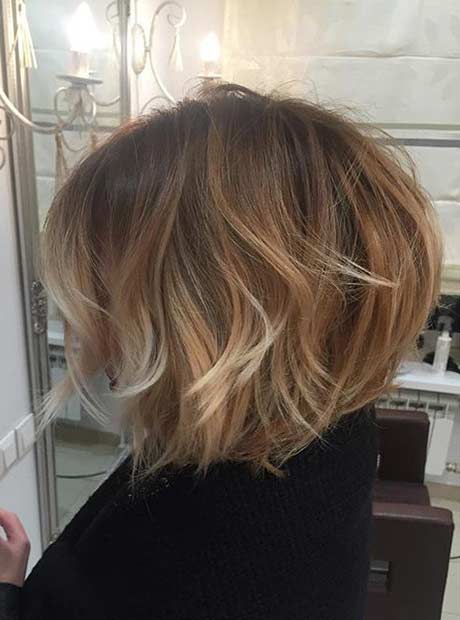 When you only have a short length of hair to work with, playing around with shades and colors can seem like hard work but with the right combo of colours, like these blonde and caramel waves, you'll have a picture-perfect look in no time at all.
20. CURLY, SHORT BRUNETTE BOB
There's something very vintage glam about this look, those side-swept curls and those big red lips. It takes barely any time at all to get a look like this once you've perfected the art of those curls.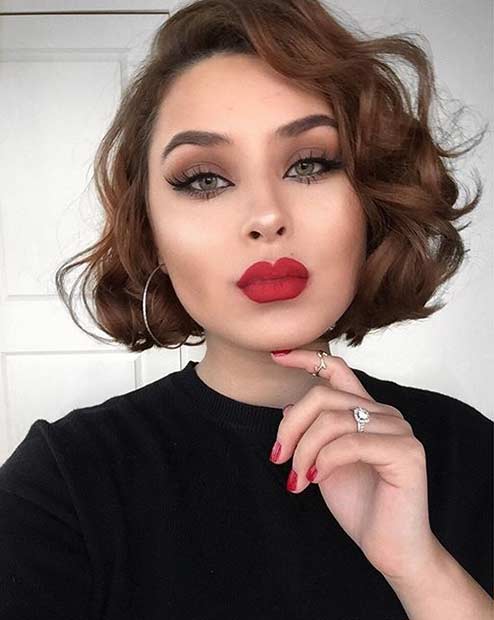 A wand is probably better than curling tongs for this look. With the hair already styled, with the side parting in place, simply take sections and curl them in all directions and angles. The waves are designed to be all the same so don't make them that way.
21. STRAIGHT, A-LINE BOB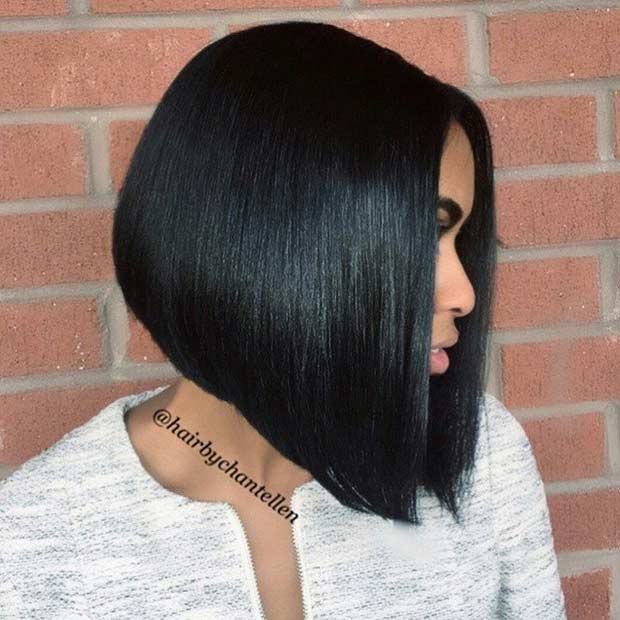 This sharp and clean cut screams with class and style. A-line bob haircut is one of the most popular cuts nowadays… and we can see why.
22. INVERTED BOB HAIRCUT
If you have a heart face shape, your chin will often be much narrower than the rest of your face, making it harder to wear shorter hair styles. One way to counteract this is to go with a slightly longer bob, especially with some face-framing layers beneath the chin to help level things out.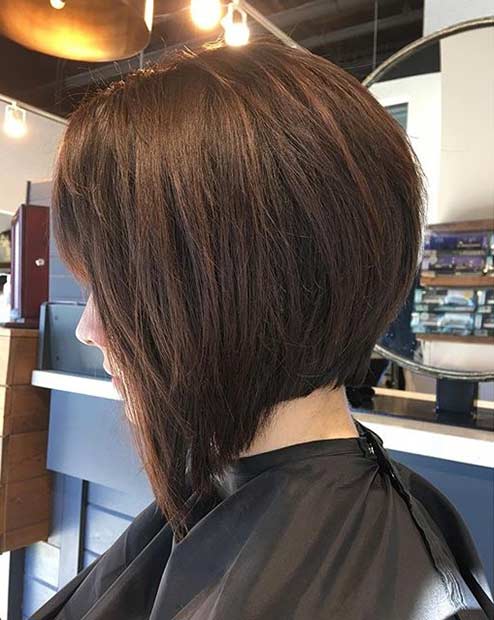 Alternatively, you could go for a look like this one – the inverted bob. Adding longer layers at the front make them much easier to wear and less harsh on the face. This is one of the most versatile and simple ways to wear your hair short.
23. BOUNCY, BLONDE BOB
Charlize Theron recently sported a bob very much like this – a beautiful icy blonde and bouncy bob, layers thrown in to add volume, and additional lighter highlights to add more dimension.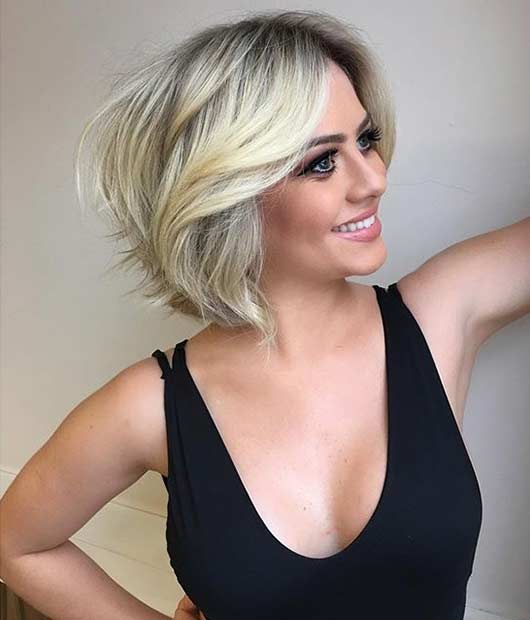 If you have thin hair, this is the right kind of bob to go for – one that helps to add extra volume. With some heated rollers and your hair dryer, this look would be a breeze to recreate, and everyone knows shorter hair is easier to maintain on a day to day basis too.
24. CURLY, LAYERED BOB CUT
If you're not sure about taking the plunge and having your long locks chopped off, opt for something a bit longer than the average bob.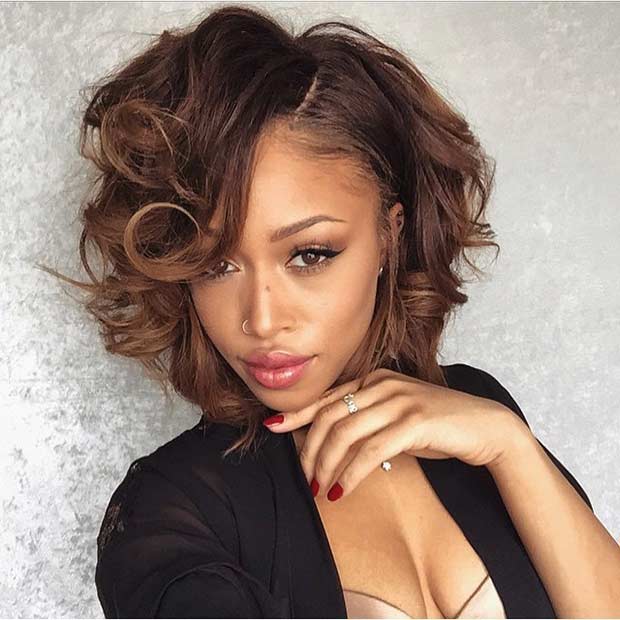 The lob, or long bob, is about shoulder-skimming length which is not only a more flattering cut for many women, but also helps to add some weight helping to be not so flyaway and also easier to manage.
25. PERFECT BOB CUT FOR THIN HAIR
The reason this bob is great for thin hair is because it helps to make it appear thicker. A clever combination of layers, the right length and some subtle highlights all work together to add a three-dimensional look.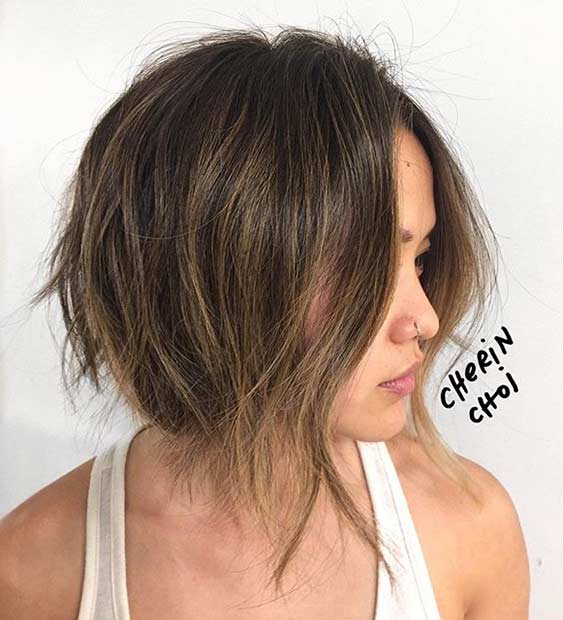 That's just what you're looking for when you have thin and flyaway hair.
26. CHOPPY CUT + BLONDE HIGHLIGHTS
Edgier and funkier than their sleeker cousins, this choppy bob with blonde highlights is seriously #hairgoals. We love the way different tones of ash blonde and caramel highlights have been used here, adding depth to a look that has already been pumped up with those ragged layers around the edges.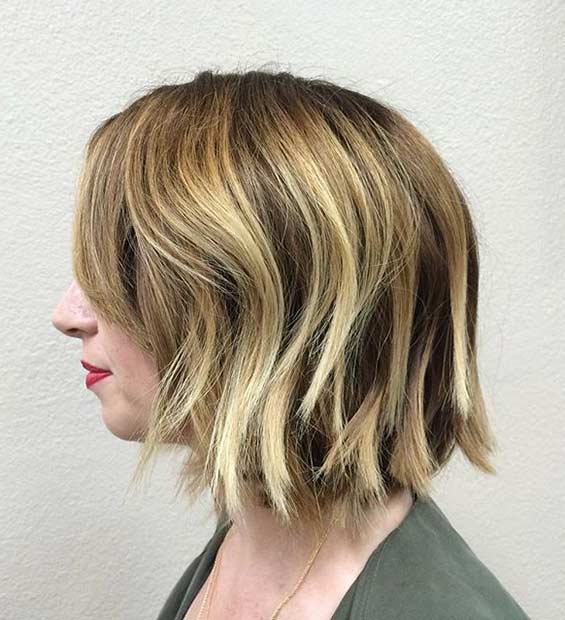 It's seriously cool and we love it, a great way to wear short bob hairstyles but still having a colored edge to it.
27. CUTE BOB HAIRCUT
For an easy way to wear your bob that requires minimal effort, simply flick it over to the side just like you can see here with this cute bob haircut.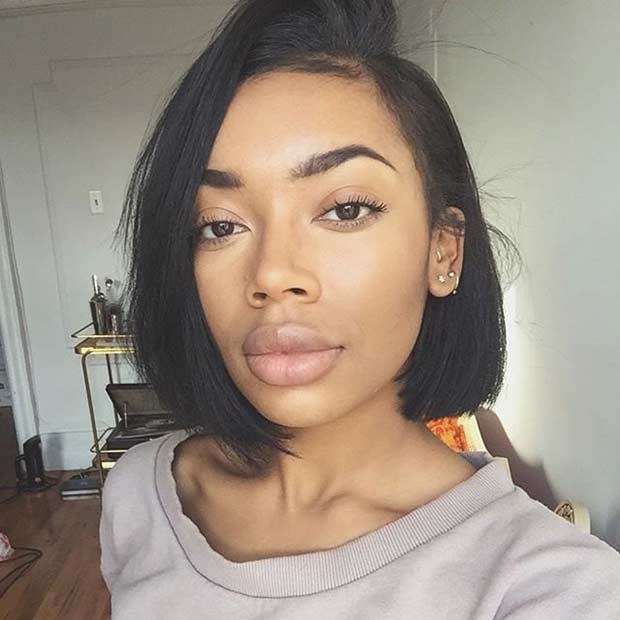 It takes a second to just flick it over, using a spritz of hairspray to hold it in place, and it adds a brand new and very easy way to wear your short bob hairstyles without even thinking about it.
28. SHORT & VOLUMINOUS CUT
Super short is very brave for many women and this one is no exception. The volume stops it from looking like a real severe and intense short bobbed haircut but make no mistakes, this is seriously short hair.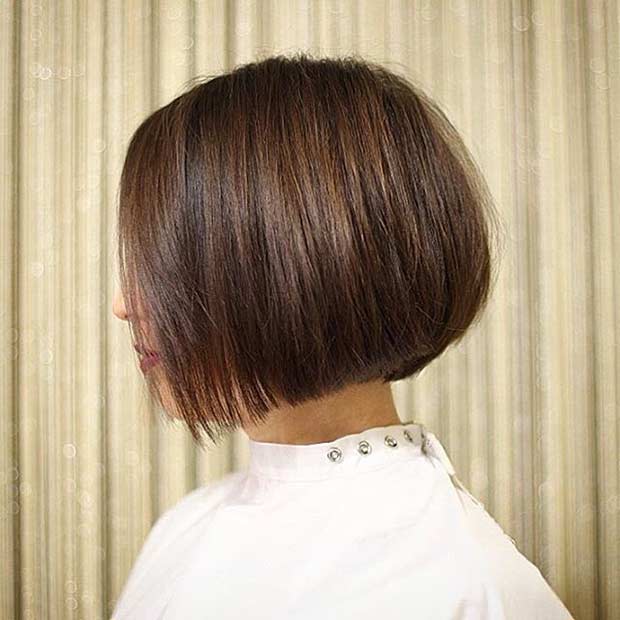 If you want a way to revitalize your hair and give it a new lease of life, a really good cut is always a really great idea. Is it time to ask your hairstylist whether or not you could pull off this fabulous look?
29. MESSY, TEXTURED BOB CUT
If you already have an asymmetrically cut bob, you should definitely go for the messy and textured look. It's super easy with the right know-how…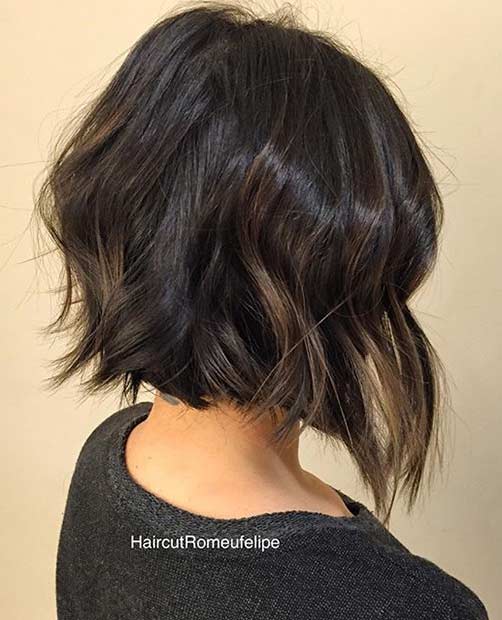 Apply mousse to wet hair and blow-dry upside down to give it plenty of volume and oomph at the roots. Then add some random ringlets with your curling iron and pull out with your fingers. Muss it all up with your fingers and add a touch of backcombing at the roots if you lack volume throughout the day and you're good to go. A brilliant hairstyle that once again takes minimal effort.