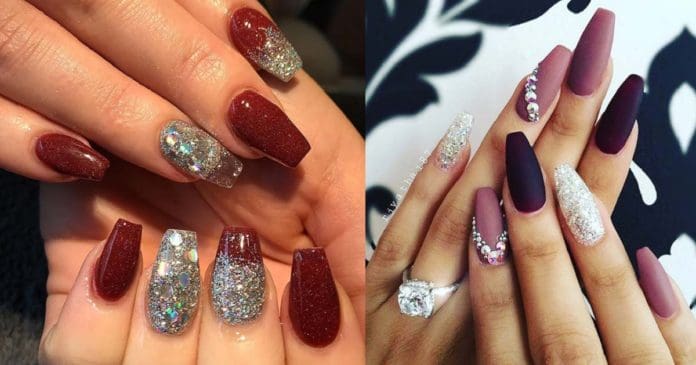 Winter is almost here! The season will soon be changing and so will the fashion. It is not just your outfits that you should think about but your nails too. Nails can be a stylish way to add the season's colors and prints to your look. To give you some inspiration we have found 23 winter nail ideas. There is something for everyone from nail art masters to beginners. Take a look to find your favorite.
1. METALLIC PLAID NAIL DESIGNS
First up we have this metallic plaid nail art. Plaid is a must-have trend for the winter so wearing it on your nails will give you a stylish manicure. Painting this pattern can be tricky but with practice, you can create nails like these at home. There are tutorials online to help you. You can paint your nails in any color but try and keep in the silver colors as this suits the winter perfectly.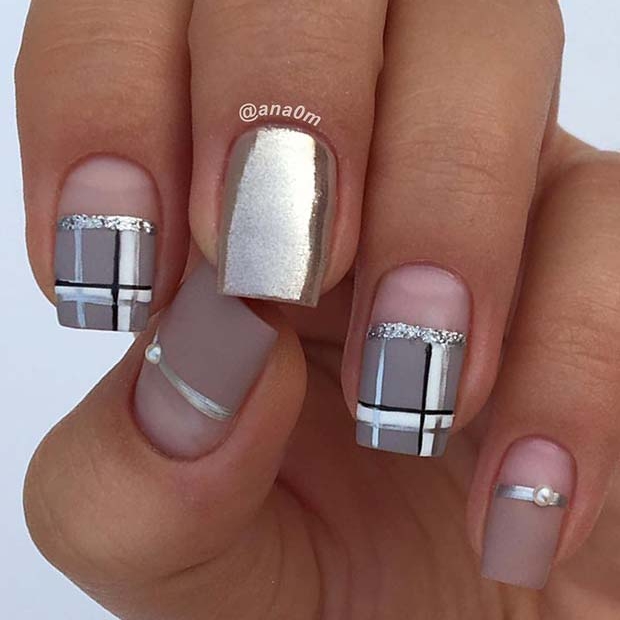 2. WINTER LACE NAILS
Warm colors like dark red are a great choice for the winter. If you like red nails but want to make a statement, jazz them up by adding a lace design like this one featured. The nails are a beautiful red with white lace accents. You can add in the lighter color to or just keep them red. Lace can be created freehand or with transfers.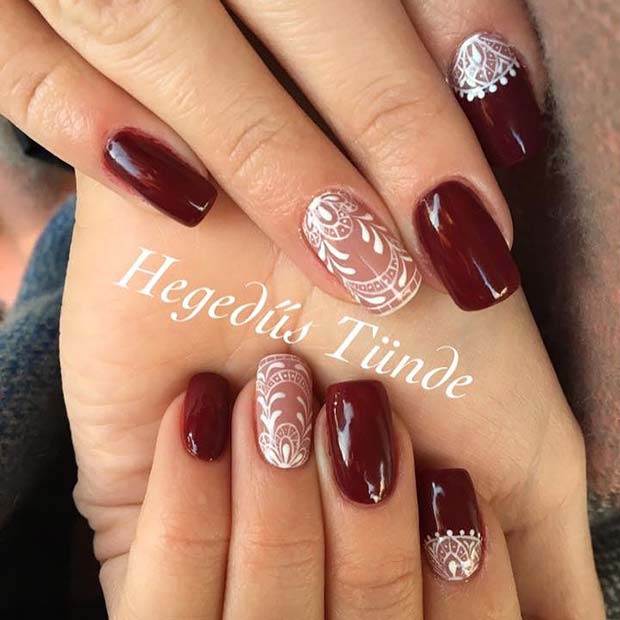 3. BORDEAUX AND GLITTER NAILS
We couldn't have winter nail ideas without mentioning glitter! Glitter is perfect for the winter season especially when Christmas and new year comes around. Our next pick features a red Bordeaux color with silver glitter accent nails. Nails like these will be perfect for a party.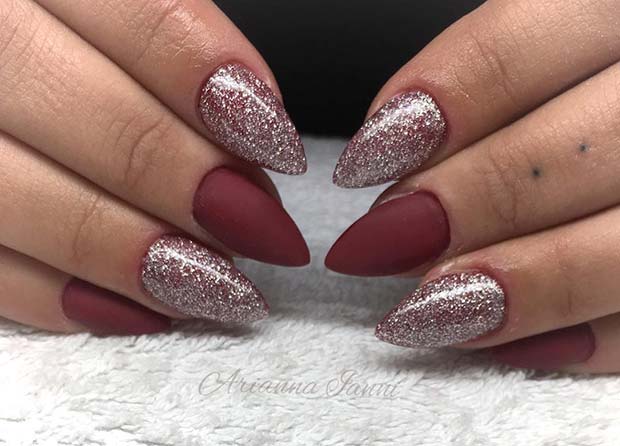 4. ROSE GOLD GLITTER NAILS
Rose gold is very popular this year. It has featured in many things from fashion to home decor. This next idea shows how you can wear it in your nails too. The nails are long with an ombre rose gold glitter effect. Nails like these are the glamorous way to wear rose gold. You can buy rose gold glitter polishes from many stores.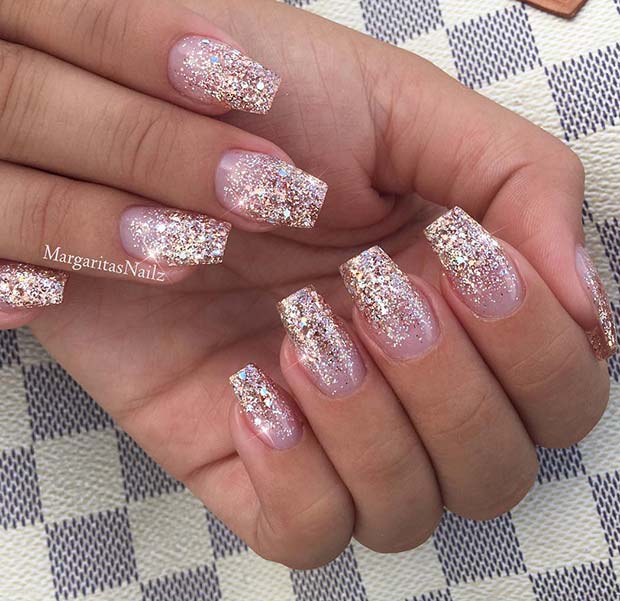 5. PURPLE AND SPARKLE DESIGN
Purple is a stylish color choice for the winter season. It is a cute color that brighten up your look. There are so many beautiful purple polishes available so why choose just one? This next nail idea shows how you can wear multiple tones in one manicure. You could recreate something like this with the glitter and accent nails or not. Just choose different purple polishes.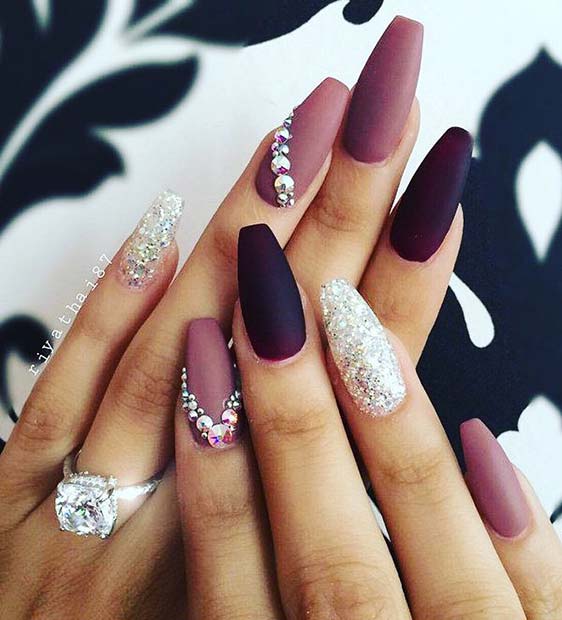 6. WINTERGREEN NAILS WITH LACE ACCENT NAIL
If you liked the lace design from earlier in the post then you might like this next idea to. These nails feature a lace accent nail but this one is painted in elegant black. The lace nail has been paired with dark green polish. Green and black are a trendy color combo for winter. You can create lace freehand or with stencils so have a practice.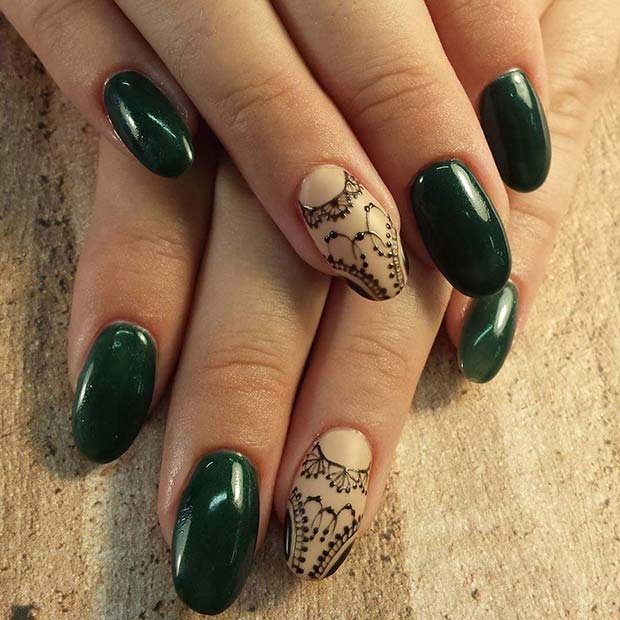 7. PURPLE AND WHITE SPLAT DESIGN
Next, we have a creative nail idea. It features a purple polish with a white splat design. The splats can be created with a splatter design nail polish or it can be created freehand. If you want a purple design like this one you will have to create it yourself. So, get a purple and white polish and have fun making dots.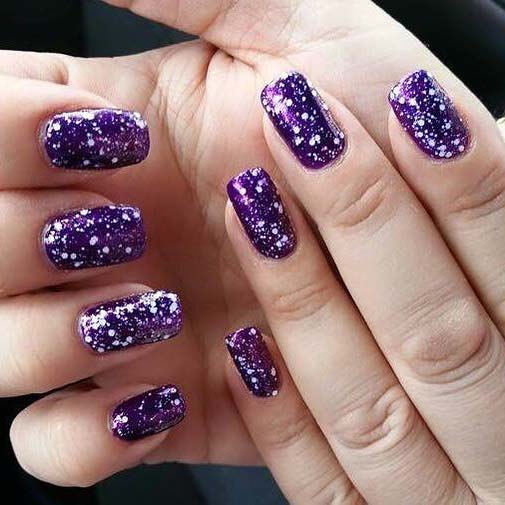 8. LEOPARD PRINT AND GEM WINTER NAIL IDEAS
Looking for statement-making winter nail ideas? Then this next pick could be for you. These nails feature a variety of different designs including leopard print, sparkly gem nails and nails with chains. You could just take one or two elements out of this design or try and recreate them all. The gems and chain can be stuck on with a topcoat and glue while the leopard print can be created freehand or with stickers.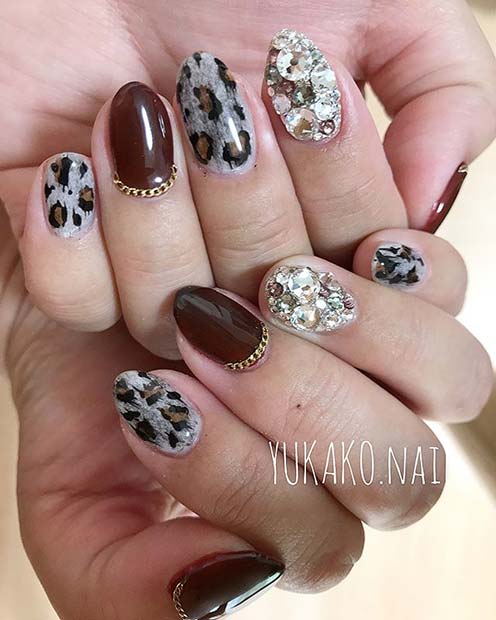 9. RED AND SILVER GLITTER NAIL DESIGNS
Winter is a special time of year because when this season arrives so does Christmas! Christmas is an occasion that requires red and/or glitter. This next nail idea gives you both must-have elements in one manicure. You can recreate this look with a burgundy nail polish and a silver glitter polish. Create accent nails and ombre or make up your own design.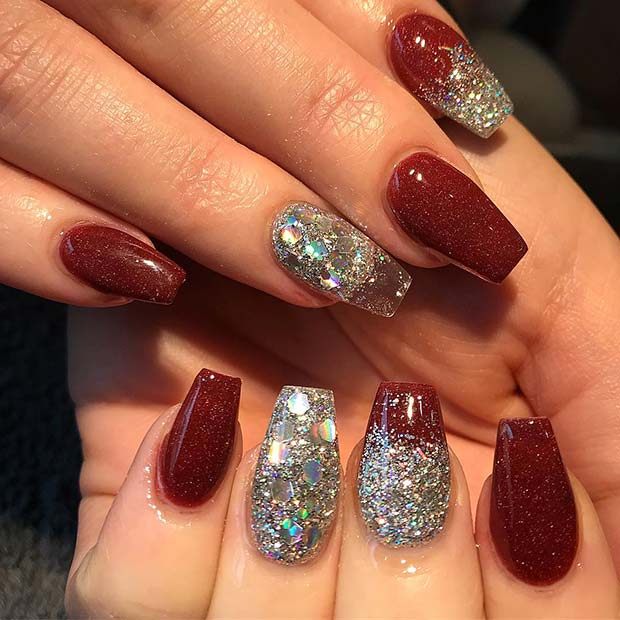 10. DARK PURPLE NAILS WITH GOLD GLITTER ACCENT NAIL
Purple and gold are such a glamorous combination. These nails feature a very dark purple with a gold glitter accent nail. Nails like these will suit any occasion from a day out to a night out or special occasion. You can recreate this look easily at home with similar colors.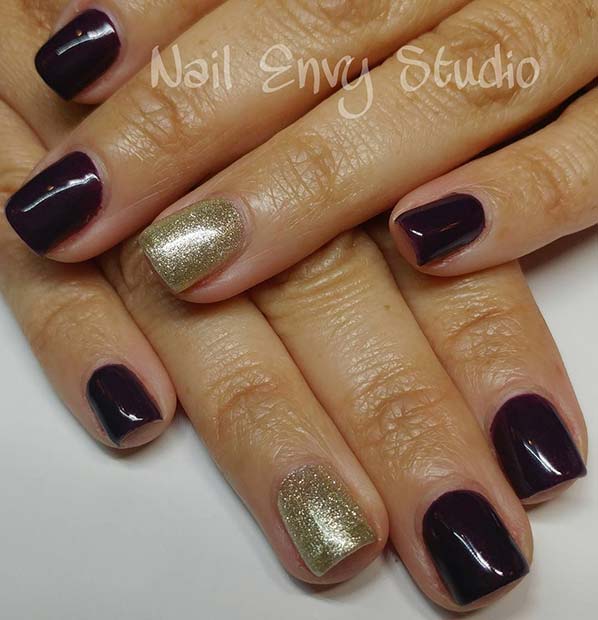 11. WINTER RED AND GOLD NAILS
Our next idea shows how you can jazz up your nails. This manicure features beautiful red nails but each hand has one accent nail. The accent nail has gold embellishments. You could recreate something like this with any red polish and embellishments. For a glam look try gems for a trendy look try gold pieces like these.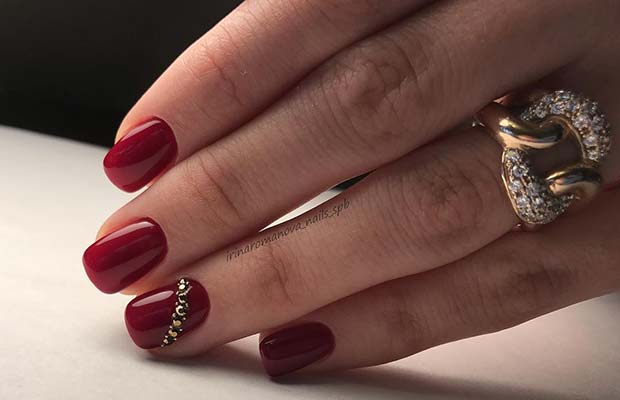 12. CHIC BLACK LEAF DESIGN
Looking for winter nail ideas that are chic and stylish? Then these next nails could be what you are looking for. This manicure features a nude color polish with one black leaf accent nail. The leaf design is very elegant and simple. Nails like these are perfect for the women who like subtle nails but want to try something different.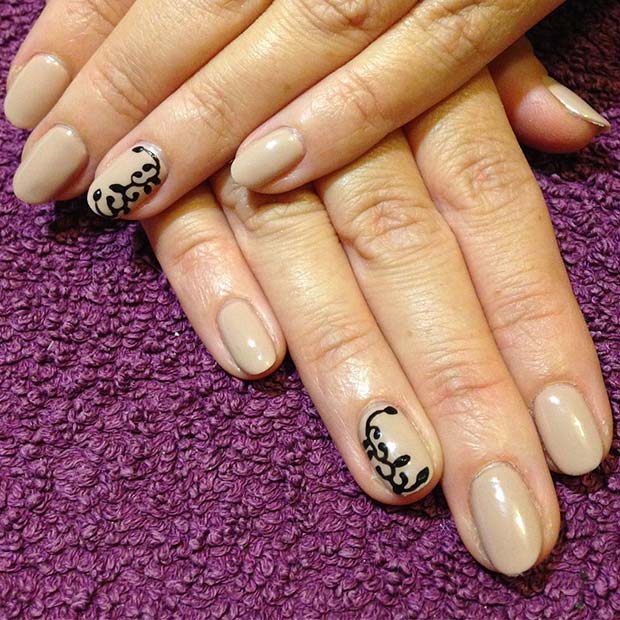 13. GLAM GOLD GLITTER NAILS
Gold glitter looks very glamorous on nails. Not only that but glitter is perfect for this time of year as it suits the party season. All over glitter like this is easy to recreate at home. You can purchase a gold glitter polish and just give your nails a couple of coats.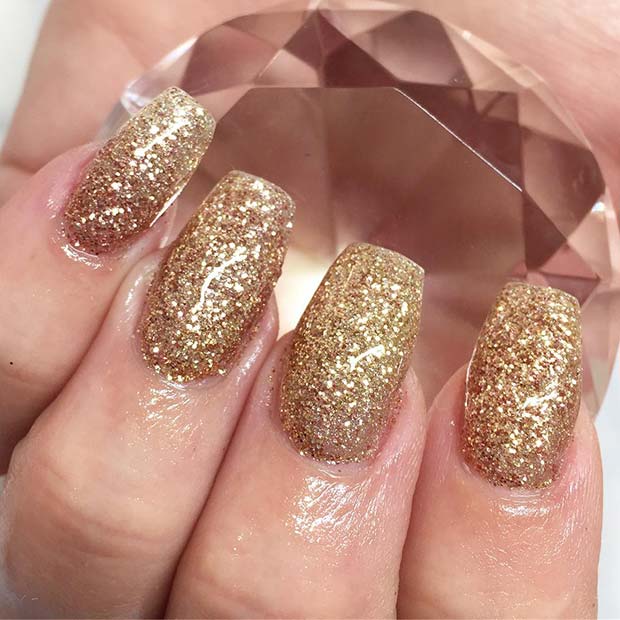 14. BLACK AND WHITE MARBLE NAILS
Marble nails look cool and trendy. Creating this look at home is not as difficult as you might think as there are many tutorials online to help you. When creating your look try a white and black combo like this one. White and black is chic and black suits the darker color palette of the winter. We love this look!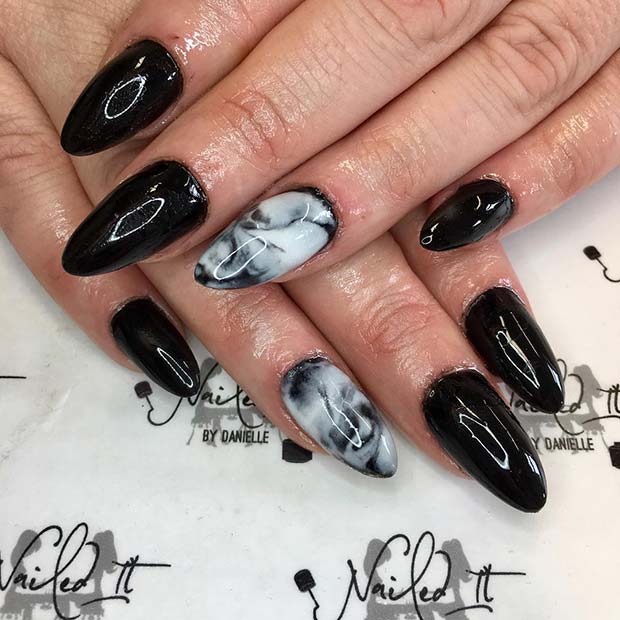 15. GLITTER AND VIBRANT COLOR DESIGN
If the darker winter colors are not your thing then go for a brighter manicure like this one. The vibrant red will brighten up your winter look. You could just have a similar color on its own or you could add the silver glitter accent nail too. The silver glitter will give the nails that extra special finishing touch.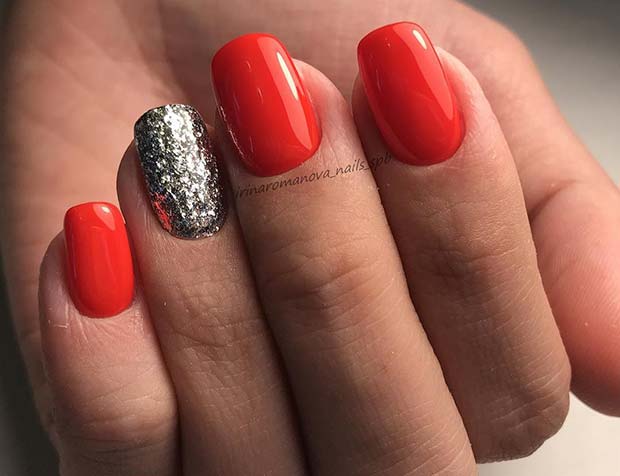 16. DARK POLISH AND GOLD LEAF NAIL DESIGN
Next, we have a manicure that uses a very dark red polish. The red polish will look stunning on its own but you could jazz it up with accent nails like these. Glitter will give the nails glamour while the leaves give the nails a Christmas vibe. To get the leaf look you could use stencils or stickers.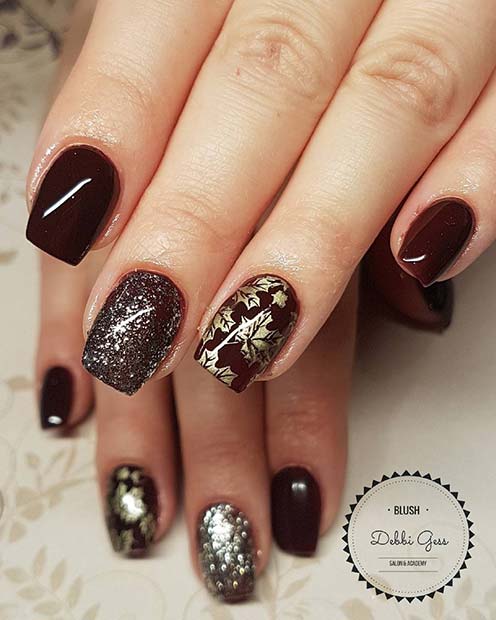 17. BLACK AND GOLD NAILS
Black and gold is a super stylish combination. This next nail idea shows a black and gold manicure that is perfect for parties. To recreate this simply all you will need is a black nail polish and a gold glitter polish. You can have just black with a gold glitter accent nail or sweep the glitter over the black for a glitzy look or even both.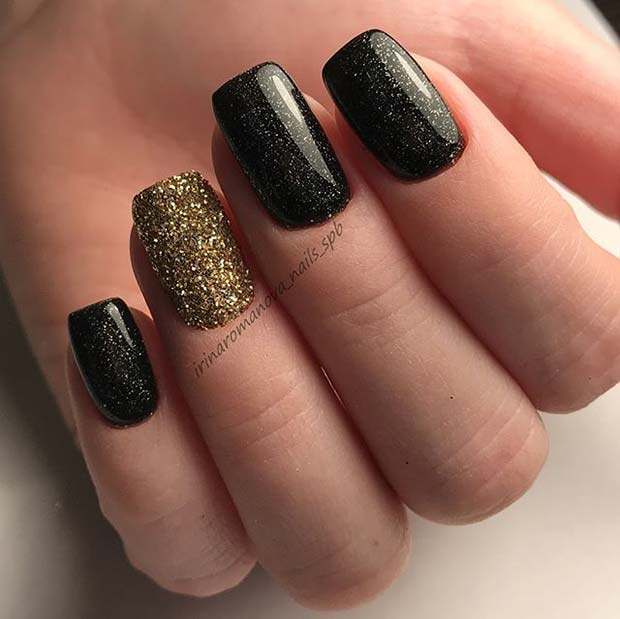 18. PURPLE MATTE AND SHINE NAILS
Matte nail colors have been a huge trend. This next nail idea shows how to mix shiny and matte polishes for a stylish look. These nails feature three different purple shades in a combo of shiny and matte. Just get similar colors to recreate the look. For a special occasion you could even add in the glitter accent nail.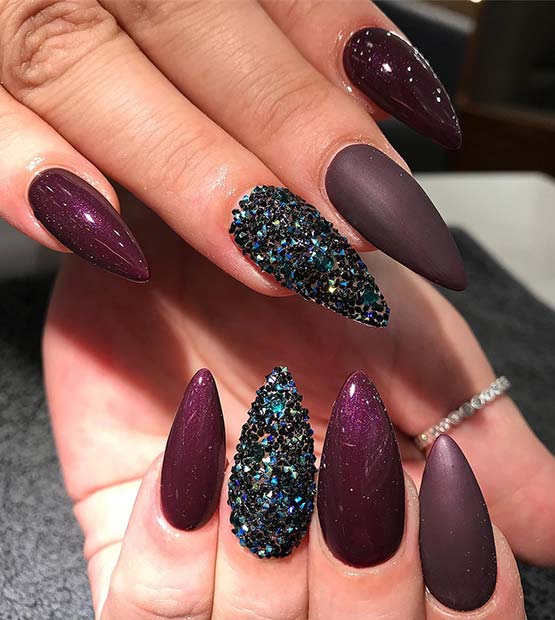 19. WINTER SWEATER NAIL ART
Looking for unique winter nail ideas? Then this next pick could be for you. These nails feature a textured 3D sweater design. This is an awesome technique that will give you a statement-making manicure. There are lots of tutorials online to help you create the look or you could just take this picture to your nail salon. We love this nail idea!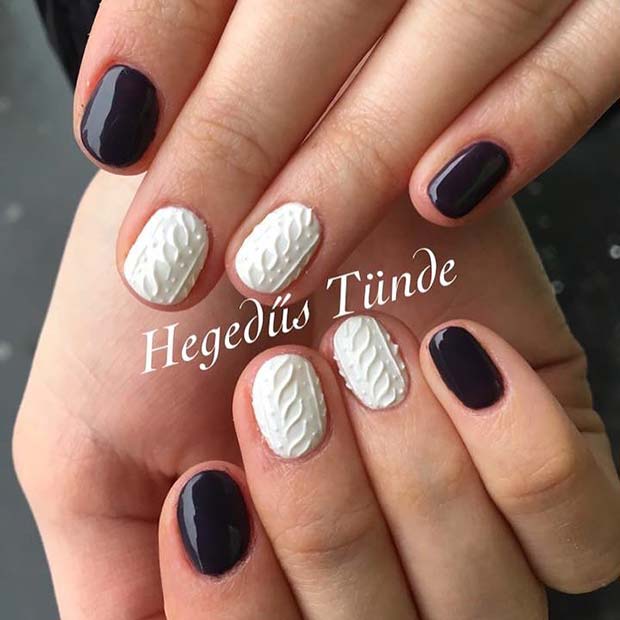 20. BLACK AND ORANGE GLITTER NAILS
Orange is another color that will warm up your winter outfits. A stylish way to way orange is with black like the manicure featured. These nails feature a sweep of orange glitter over black polish. This is a trendy combo that can be easily recreated at home.