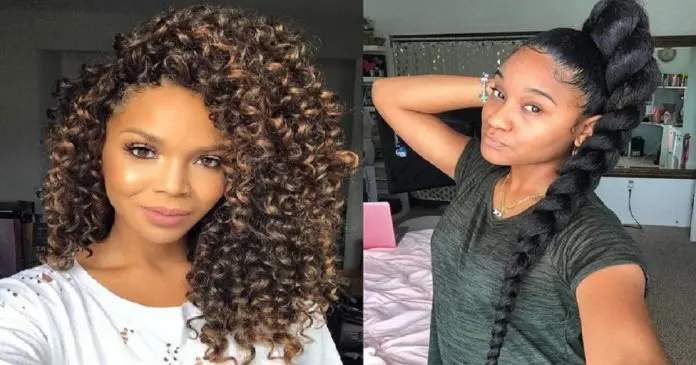 Who's ready for some fun this summer? We've compiled the most beautiful Nigerian attachment hairstyles to give you a plethora of options to pick from as you determine your next hair-do. Some of these hairstyles are classics that never go out of style while others are new styles that have gone mainstream in recent years. Either way, there isn't one you wouldn't love to try as they are all beautiful and chic.
The below hairstyles with attachment should meet every taste of Nigerian women, you should totally give these a go.
1. Pick and Drop
This hairstyle is popular among Nigerian women and it is often used to achieve a curly look without using weaves. It's made like mini box braids but the braids are not done completely. They are done halfway, leaving the rest unbraided. It can be rocked straight but it is mostly used to achieve curly looks.
2. Crochet Braids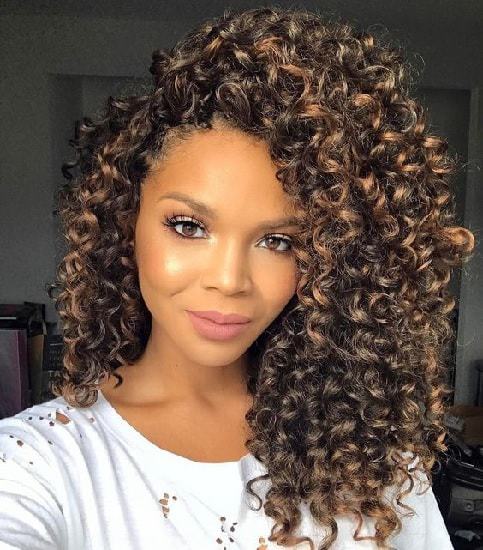 Crochet braids have been around for the past 4-5 years and they don't seem to be going anywhere just yet. They are easy, convenient and save a lot of time. They are done on a base of cornrows. A crochet latch hook is used to install the attachment on the base. This trendy hairstyle can be done with loose hair or braided hair. It can also be done on individual braids using a new technique.
3. Box Braids
When you think of Nigerian hairstyles with attachment, the classic box braids are what come to mind first. The attachments are added at the root of the hair and braided completely to the tips. They can be short or long, curled or straight. To make this look even better, add some metallic cuffs or beads as accessories.
4. Micro Twists
These are thread-sized twists. They are so tiny that when viewed from afar they look like loose hair. Micro twists are often worn for long periods as a protective style. However, you should be mindful of your edges in order to prevent alopecia.
5. Senegalese Twists
Senegalese twists are medium sized twists done with attachment although they can be done with other extensions like wool. The twists are usually two-strand and tightly woven to look like ropes.
6. Ghana Braids
It is a complex weaving style which creates a variety of pattern on the head. This pattern can be done vertically, horizontally or zigzags. This attachment hairstyle for Nigerian women looks like a cornrow style.
7. Jumbo Braids
A convenient hairstyle with attachment is the jumbo braid. Jumbo braids are bigger sized box braids. While box braids measure an average size likened to that of a pen, jumbo braids are often the width of two or three fingers as seen in the picture above.
8. Bantu Knots
Bantu knots are known by other names across Nigeria. The shape of this hairstyle done with attachment is similar to the sea animal, periwinkle. To achieve this look, a section of hair is braided then wound around itself on the spot and secured at the base of the section. On its own, it's an afro-centric look that Nigerian women love, when unraveled, they give big bouncy curls that are just as good-looking.
9. Twin Braids

'Twin braids' is the name given to identical cornrows done on two sections of the head. The cornrows can be just two or each side can be braided in a 'clap' format and then braided as one.
10. Sleek Ponytail Braids
The slicked back giant ponytail braid is a fabulous way to edge up the high bun with only one giant braid of attachment. To get this look, use the kanekalon hair as is, without cutting them as they are usually done for box braids. This makes the ponytail long and thick enough for the final look. After laying your hair with a gel, pack it up in a bun then braid the attachment around it and all the way down to its ends. Add some accessories as you deem fit and you're ready to slay.
11. Braided Shuku
A beautiful Nigerian Braided ponytail hairstyle which is also known as 'shuku'. It's a cute braided hairstyle that is very popular among Nigerian women. The cornrows are usually done as feed-in braids with attachment. This helps give it a neater and more uniform look. The ponytails can be high on the head or low, the location is done based on preference.
12. Fulani Braids
Fulani braids have gone mainstream in the past year but they have been around as long as the Fulani women who live in northern Nigeria. Although there is no one style that is Fulani, they are unique for combining beads, braiding the hair facing forward as opposed to behind. They either use one or all of these features to create the distinct look. They are cute and still in so get out your beads and put your Fulani on.
13. Different Braid Sizes
Like the Fulani braids, these big and small sized cornrows have gone mainstream. What was usually sported by high school students is now being rocked by not only Nigerian women but other country's women who have an appreciation for the style. This Nigerian hairstyle with attachment can also be styled in a way that could pass for Fulani braids.
14.  Tree Braids

Tree braids are feed in braids that have sections removed as the cornrow progresses. This makes it look quite like a tree, hence the name. Although tree braids are inherently braids, the finished look is loose hair that looks like a sew-in.
15. Marley Twists
Marley twists are among the most popular hairstyles with attachment for Nigerian women. They are medium to big sized twists that are done using the Marley attachment. The Marley attachment is also known as afro kinky hair. It has a rougher texture compared to kanekalon braiding hair. This makes it preferred among women with natural hair who like the rough texture for its similarity to natural hair.
16. Faux Locs
Locs are beautiful but require a lot of patience which many ladies do not have. But you do not have to loc your hair permanently to get this look when you can wear faux locs. Faux locs are temporary, they only require the attachment braid hair to be wrapped around a section of hair to achieve the loc look. They can be done with kanekalon attachment although Marley hair and wool can be used to get a more realistic look.
17. Curled Braids/Twists

A Nigerian hairstyle with the attachments that's in trend right now. Box braids don't have to be straight. By braiding, twisting and bantuing them and dipping in hot water, you can achieve curly braids. You can try this as an original hairstyle or you could jazz up your old box braids by curling them for a different look.
18. Beyonce 'Say Yes' Style

The side feed-in braids were made popular by pop icon, Beyonce when she rocked them in her former bandmate, Michelle William's music video. Since then it's been a favorite hairstyle with the attachment for Nigerian women.
19. Ombre Braids

Ombre attachment braids are a different take on the classic plain braiding hair. When this style came on the scene, it was usually done by attaching lighter colored extensions to the ends of darker colored extensions, to an extent, this is still being done. However, now there are ready-made ombre attachments that can be used for any of the afore-mentioned Nigerian hairstyles with attachment.
20. Ghana Braids
Feed-in braids are popularly called Ghana braids among Nigerian women. They are done by adding extensions to cornrows in small increments as opposed to using one portion of extension from the edges to the tips. Most, if not all cornrow styles are done with the Ghana braids technique for uniformity and neatness.
Best Nigerian Weavon Hairstyles
Attachment hairstyles are popular among Nigerian women and now you know why. Will you be trying any of these hairstyles? Let us know how it turns out!