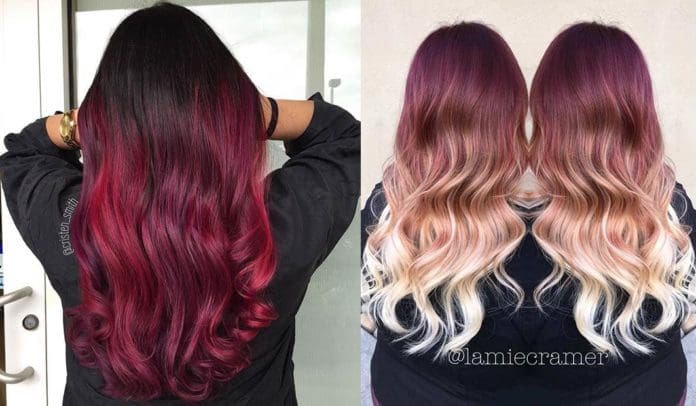 Red Ombre is still trending guys!  If you are changing your hair, forget about having the standard highlights go for ombre hair.  Ombre hair has been around for a few years now and it is still going strong. Many celebrities love this hairstyle and we do too.  It is a way to show off your style and character with colors you love. A low maintenance hairstyle that looks great for many months.
When Ombre first appeared it was a lot brighter and the contrast between the two colors was a lot bolder but nowadays, people are opting for their own Ombre style and this may be subtle or bold.  It doesn't have to be a bright and shocking red color to look amazing. If you like the natural red copper colors, then this will work as well as the bright colors. Your hair can be transformed by adding Ombre to your hairstyle and the ends of your hair will seem thicker and healthier.
We have 28 of the best looking red ombre hair colors for you to think about.
1. BLACK TO RASPBERRY RED OMBRE
This is a gorgeous dark Ombre Hairstyle.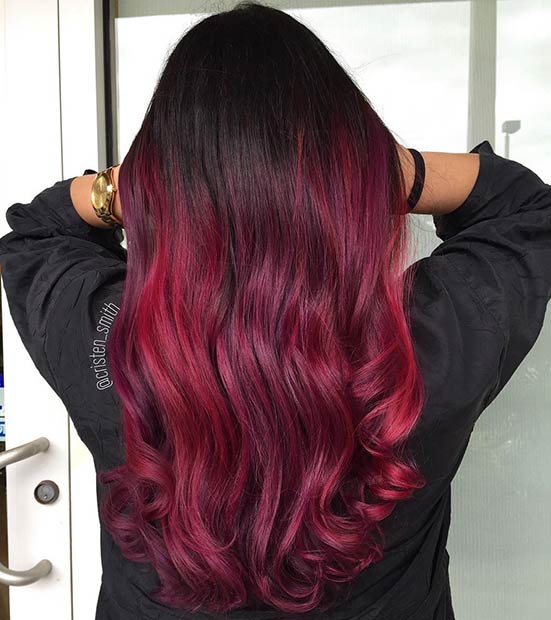 Source: @cristen_smith
Black and raspberry red look amazing.  It can be hard to achieve this gradual Ombre style if you do dye it yourself but with a little practice, you will be a pro in no time.  Just make sure that you gradually blend the darker section into the lighter red section. Best to keep the top section black because then you don't have to worry about getting your roots done.
2. RED TO GOLDEN BLONDE OMBRE
Choosing red and golden blonde will show off your hairstyle and tips.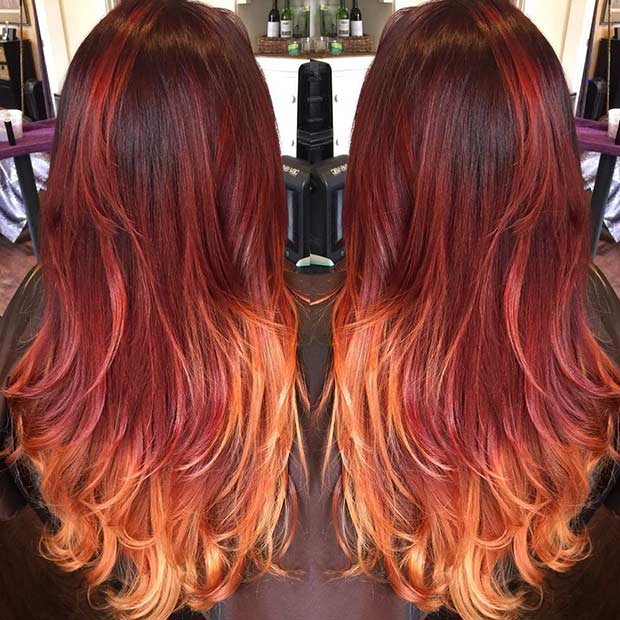 Source: @hairbyamandajorene
By having the lighter golden blonde colour at the bottom, it will highlight your hairstyle and cut.  You hair tips will look healthy.
3. RED TO COPPER BALAYAGE OMBRE
How about red to copper?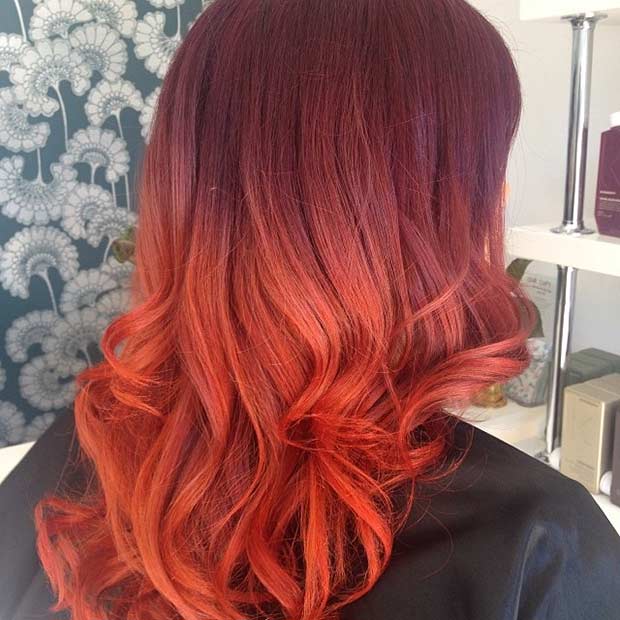 Source: @hairbytashalouisec
This will set your hair alive.  It is a brighter red shade which will stand out and give off a warmer feel.
4. BLACK TO VIBRANT RED OMBRE
The best thing about having Ombre style hair is that you don't need to dye your entire hair to feel the difference.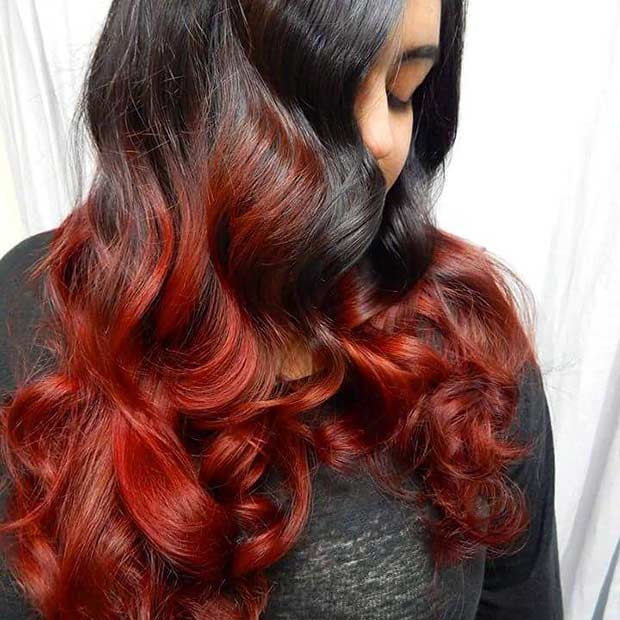 Source: @alix_maya
Having a black to vibrant style will instantly boost your hair and you will feel fresh and revitalised.
5. BURGUNDY RED TO BLONDE OMBRE
We love this style.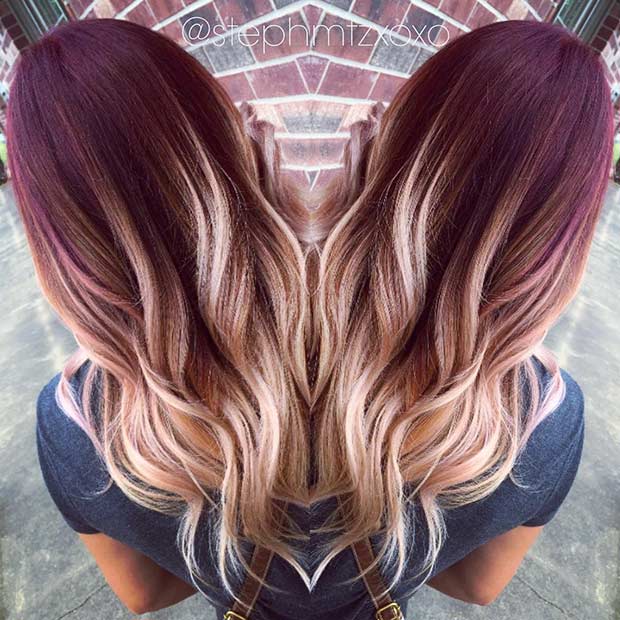 Source: @hairbystephany
Burgundy red and blonde work so well together.  Before we saw this photo, we weren't too sure about the two colours together, but after seeing this, we are in love!  The darker burgundy roots looks fab and with the blonde tips, just finishes the look.
6. DEEP DARK RED TO A VIBRANT CANDY RED OMBRE
If you are naturally dark haired, keep your roots dark.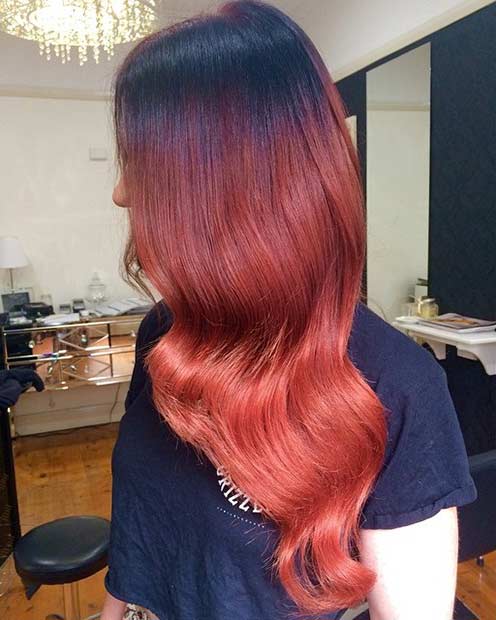 Source: @hairbytashalouisec
This way, you don't need to visit your hairdresser every so often to get your roots done.  Add a touch of deep dark red and blend it into a candy red ombre colour, which looks so immaculate and sexy.
7. SHINY, DARK RED OMBRE
Dark red looks so shiny and healthy.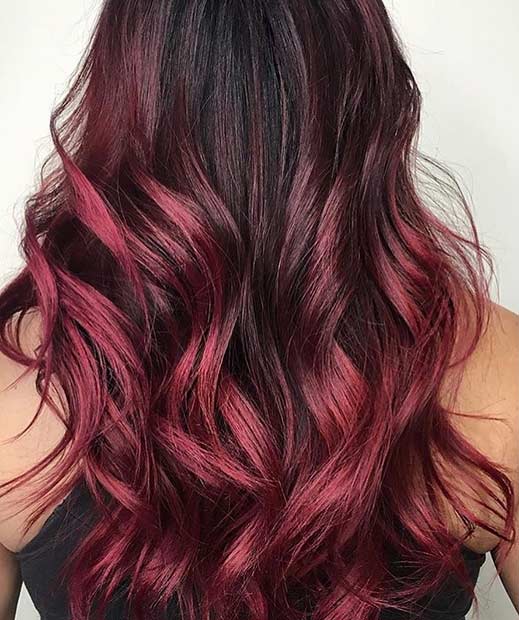 Source: @mastersofbalayage
It adds a subtle hint of colour and it looks stunning.  Treat the streets as your catwalk with this hairstyle and you will feel and look amazing!