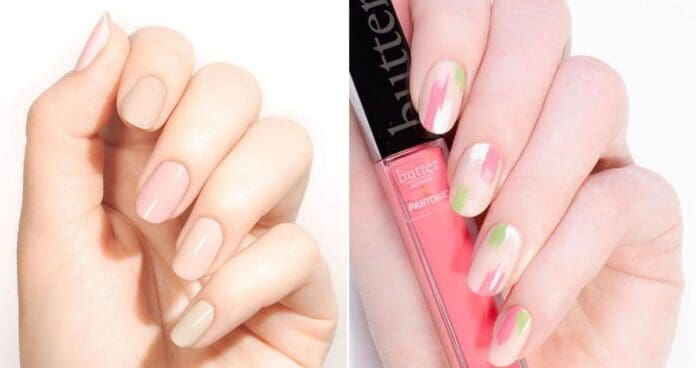 What makes a nude manicure so exceptional is that it provides the wearer with a blank canvas to work with – you can add flowers, stripes, your favorite colors, and everything in between. No matter what shape, length, or aesthetic you prefer, there is something here that is sure to spark inspiration. The beauty of this style is that it helps elongate your fingers and will instantly spruce up any outfit you wear. Whether you're sitting at home or waiting for your fresh new set, it's time to get inspired by these trendy nude nail design ideas.
1. Classic Nude Nails
For those days when you don't know what to wear, classic nude polish is a perfect choice. This style elongates the fingertips and creates a crisp line on the hands. Choose the shade that best reflects your natural skin tone – you can choose a shade lighter for a subtle look, or something a little darker for high fashion. This manicure is so elegant and timeless that it can be used with nails of any length and style – it's a blank canvas that looks amazing on everyone.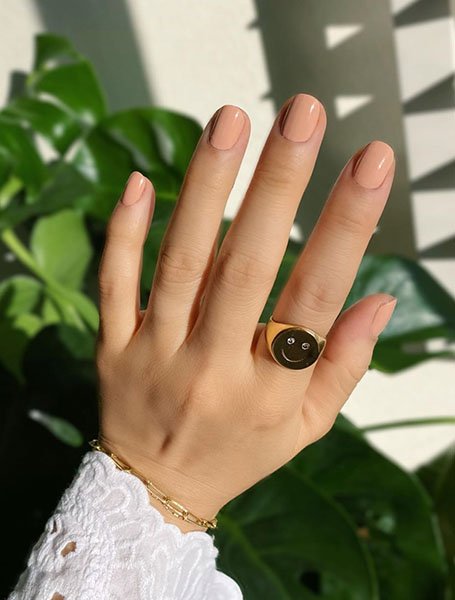 2. Different Shades of Nude
Why have one shade of nude when you can have five? This fun and whimsical take on a classic manicure combine various shades of neutral pinks and browns for a recognizable palette. Apply colors in a gradient to your fingertips or dab them on your nails from time to time. Soft pink, sand, eggshell, and stone are the perfect hues to start with – there is so much freedom in this style.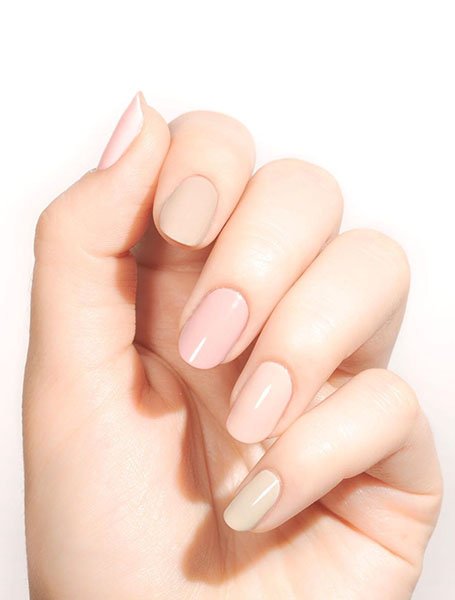 3. Nude Abstract Nail Art
Add some fun to your nude manicure with a few extra shades? This 2000s-inspired abstract art uses bold splashes of color and looks like someone painted them with a big brush. Use fruity tones like watermelon and lime to create volume in neutral tones, and add crisp white to even it out. For best results, choose a nail polish pen with a fine tip so you can apply extra detail. You can swipe the design with your fingertips or save it for a special nail.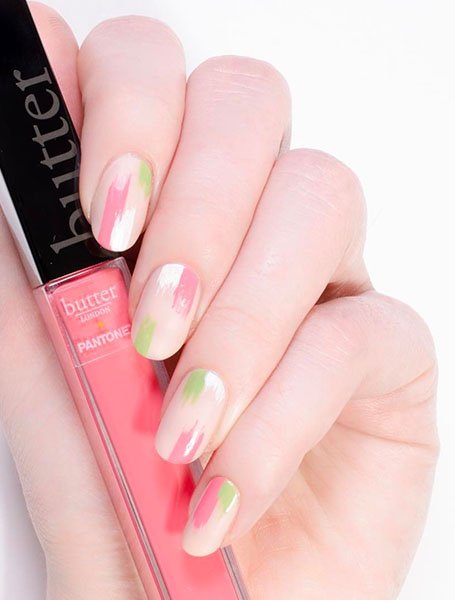 4. Nude and Baby Blue Nails
Refresh a bright manicure by adding nude details. This modern and whimsical design allows a bright shade to be the hero of your nails, while a neutral shade helps create depth. Choose an inverted crescent moon pattern on the nail bed and paint the most dominant part with a bright shade, leaving the rest with more subtle color. It will elongate your arms and compliment almost any outfit you wear.
5. Nude and Black Nail Art
You can take the work of art with you wherever you go when you have these nails. Bold black lines stand out perfectly against the nude shades, while the updated version of the French manicure perfectly complements the whimsical eye design. This art is perfect for oval or square nails, but it's a great choice for any length. 60s mod art is a bold step away from tradition, but it's a wild way to update your current style.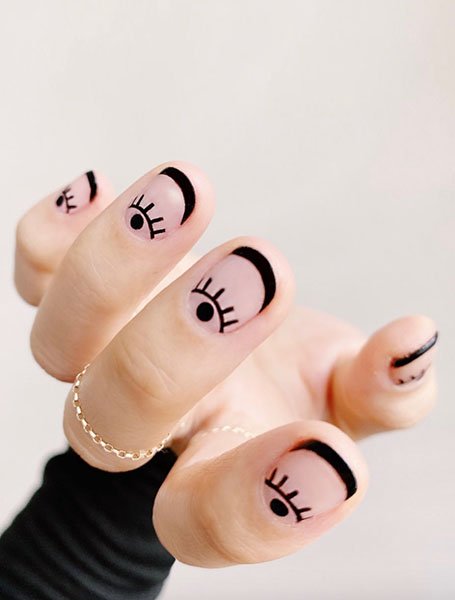 6. Nude and Color Ombre Nail Art
Enjoy the fresh and vibrant colors of summer by layering them on a nude manicure. A soft gradient, made in light colors, creates an atmosphere of a sunny and tropical holiday. By allowing the shades to move in the same direction across the nails, we will create uniformity between the different shades and an overall synergy in the design. Choose from pastels, neon hues, or dusty blues and pinks to create this ombre design.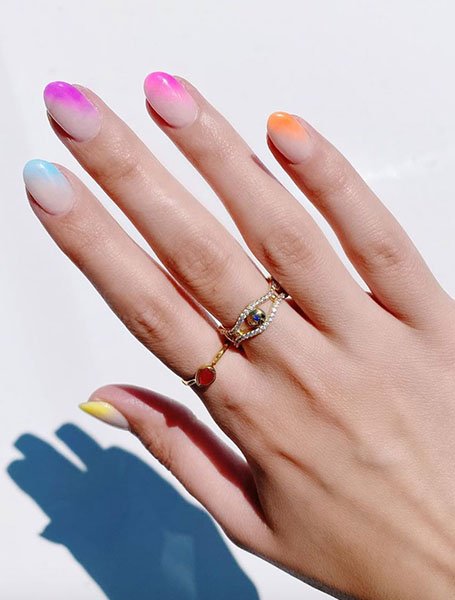 7. Nude Base Floral Nail Art
Unleash your inner fairytale princess with this sophisticated manicure. A bouquet draped over the cuticle adds a beautiful and feminine touch to a traditional nude manicure. Use a wide range of colors to make the overall design more natural and organic, or opt for monochromatic hues like pink, blue or yellow. Leaves and twigs give the overall style the perfect finishing touch and add a few sporadic dots along the edges to elongate the fingers. This is a stunning option for everyday wear and a great way to reconnect with nature.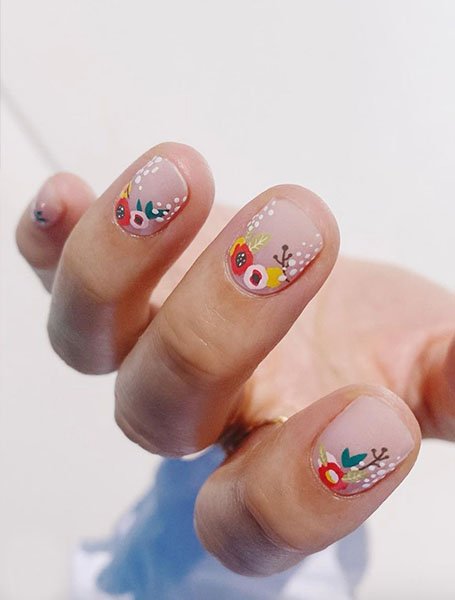 8. Nude Camouflage Nail Art
This nude camouflage manicure is the perfect combination of beauty and muscularity and is the best option for those who like to experiment. Find shades you like, like khaki, pink, or blue, that works great with neutrals. To do this at home, practice the design a couple of times – it may seem simple, but mastering it can be tricky. This is a timeless, unusual, and fresh way to do nails, why not give it a try?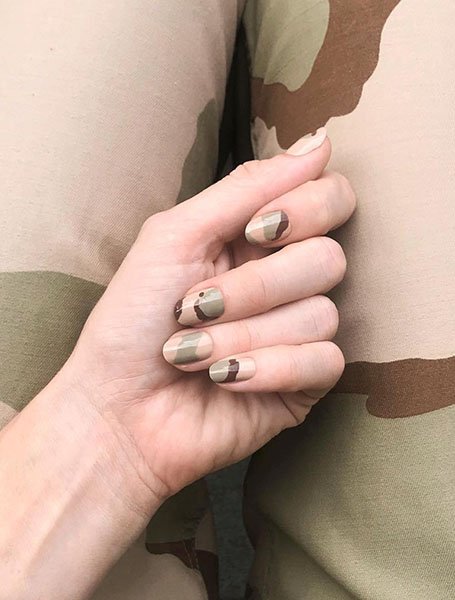 9. Nude French Manicure
The elegant French manicure has been all the rage ever since it became popular, and for good reason. The timeless design features a thin white line at the tip of the nail leaving a nude tint on the rest of the finger. This style will not only decorate any event, but also lengthen the arms and emphasize your outfit. You can choose any length or shape you prefer for this style – this is a versatile option that suits everyone.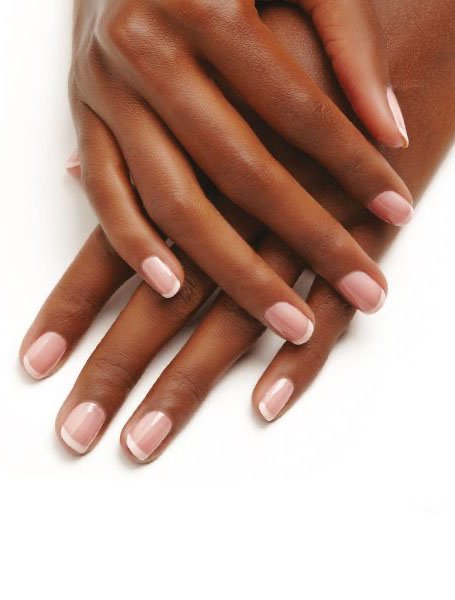 10. Nude Nail + Rose Gold Detail
Rose gold and nude are two shades that go great together. This bold geometric design makes any outfit unique yet elegant enough to wear to a fashion event. Paint 3/4 of your nails with the neutral shade of your choice, leaving the rest bare. Then, using a piece of metallic tape or polish, apply a thin strip between the painted and bare nail, this will fill in the gap and create harmony between the design.